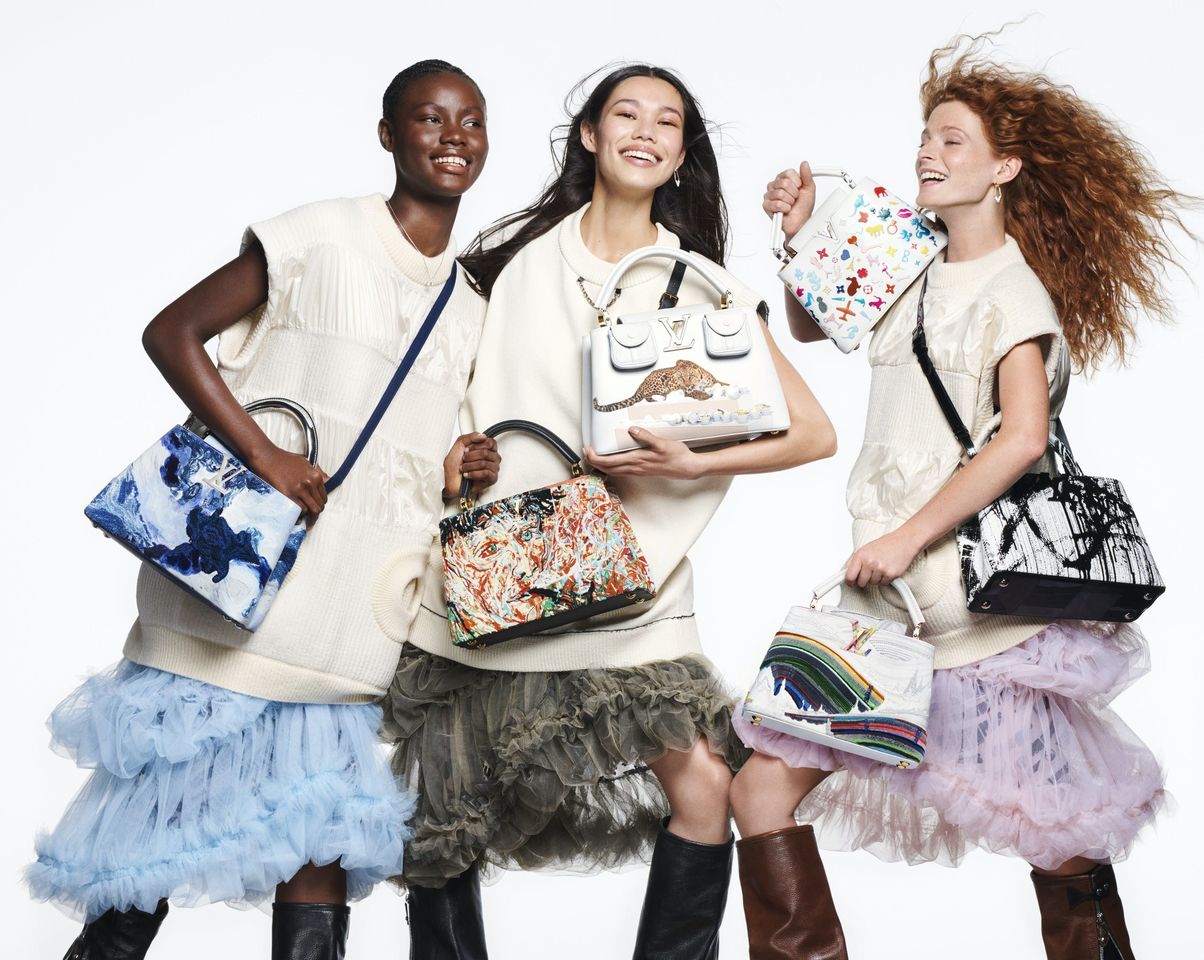 Louis Vuitton enlisted six artists to use its Capucines handbag as a blank canvas and remake it for the modern customer. Paola Pivi, Zeng Fanzhi, Vik Muniz, Donna Huanca, Huang Yuxing, and Gregor Hildebrandt all took turns adorning the bag with their artwork.
The Capucines bag is named after Rue Neuve-des-Capucines, the street in Paris where founder Louis Vuitton opened his first store in 1854. The 2021 Artycapucines Collection is the third in the series and each bag will be a limited-edition item, with only 200 of every style made.



The original Capucines bag was released in Louis Vuitton's Fall/Winter 2013 collection, and has since become a staple item for the brand. The front features a metal, interlocking "LV." It comes with detachable straps and hardware reminiscent of Louis Vuitton's classic trunks. The Capucines bag can be worn on the arm or crossbody.

Paola Pivi's interpretation of the bag is based upon her 2007 piece "One Cup of Cappuccino Then I Go." The front of the bag is taken over by a fierce leopard, first stiched and then overprinted onto the leather to create a fur-like texture. Each of the remaining components are then individually added, including gold-colored lambskin cappuccinos gilded with real gold leaf. Pivi also added two safari-inspired pockets, a first for the Capucines.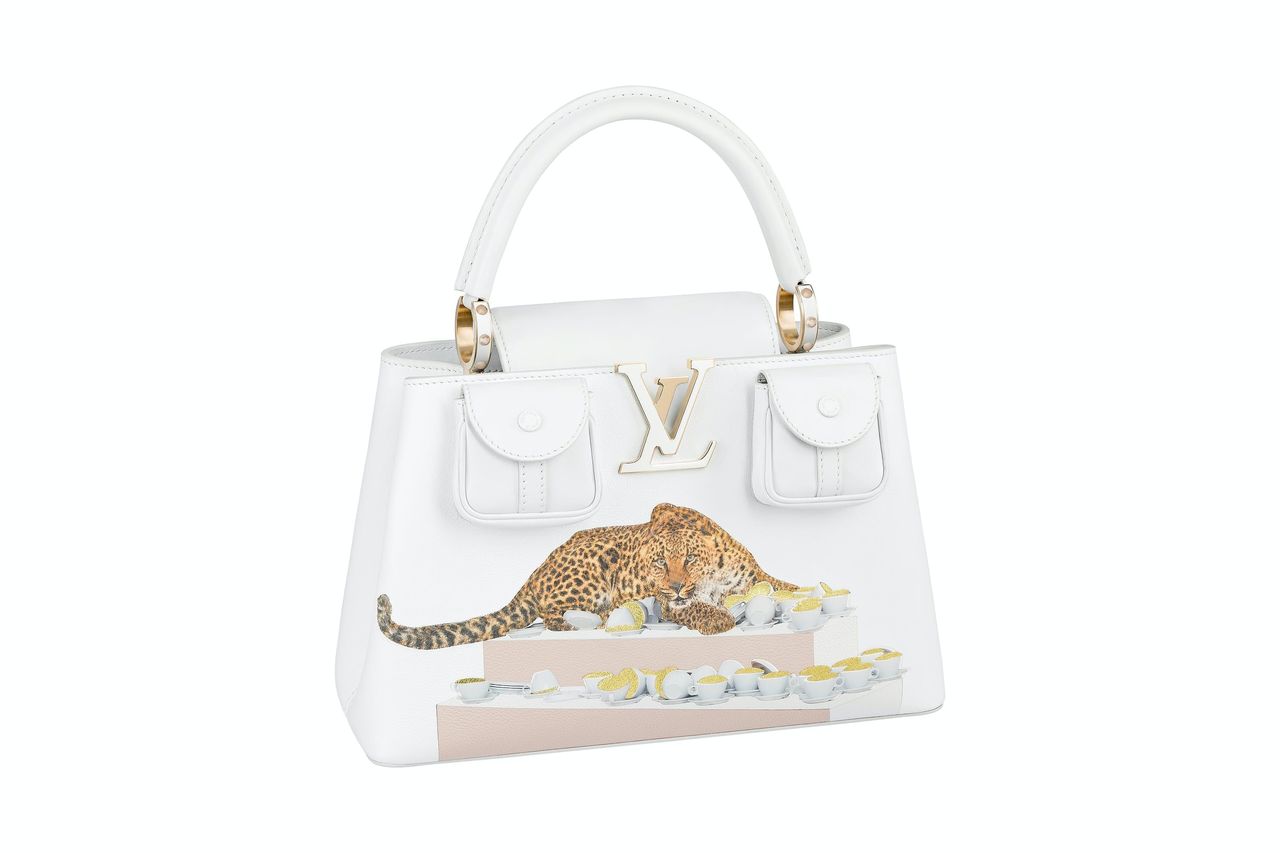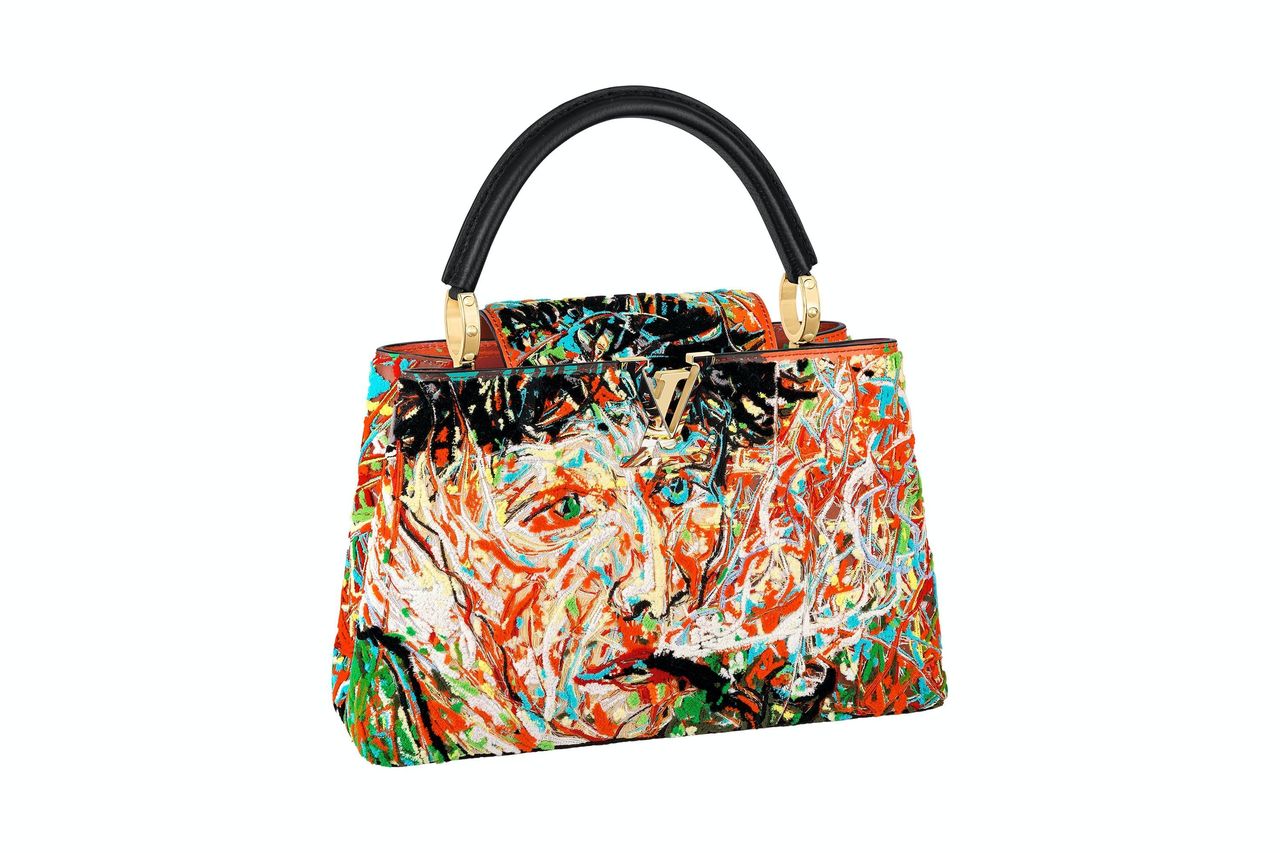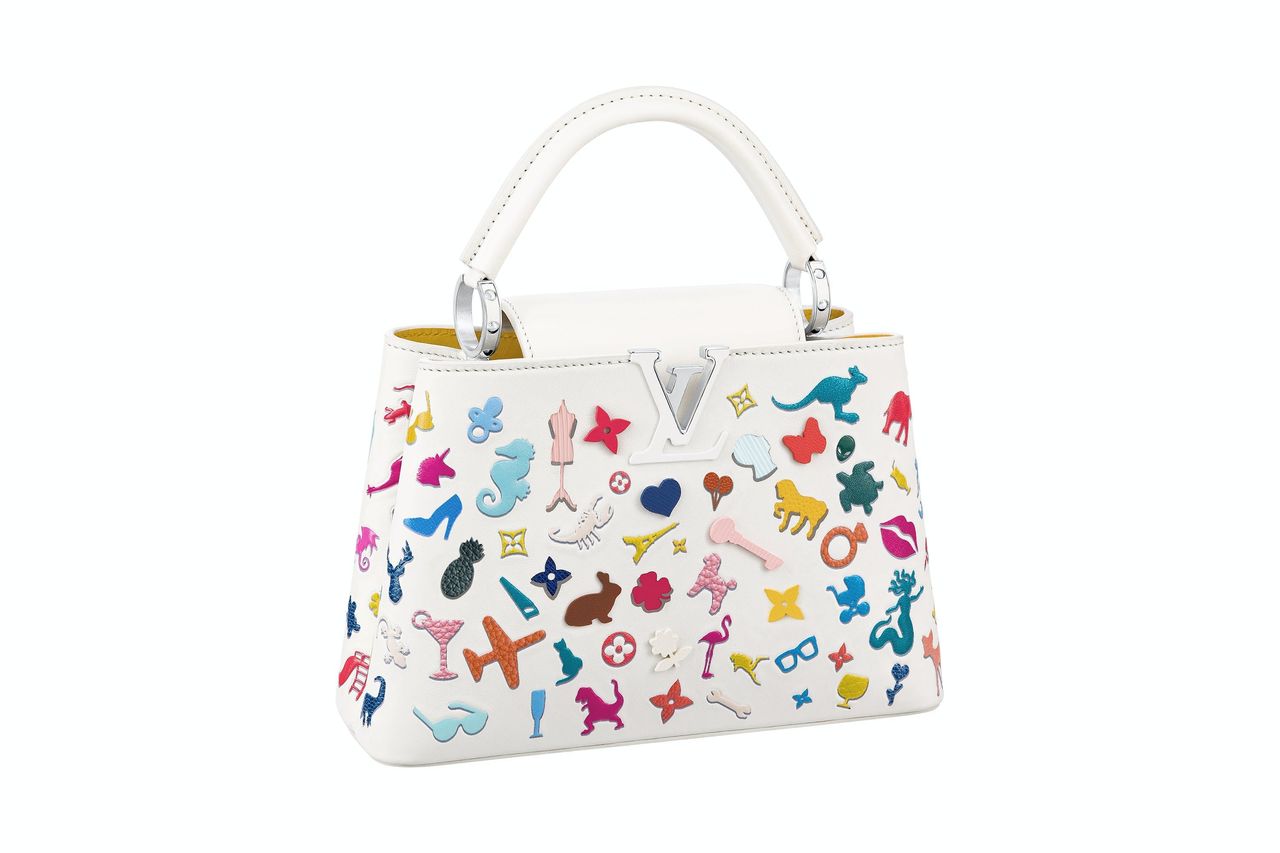 Zeng Fanzhi's Capucines evokes the eccentric portraits of Vincent Van Gogh. Fanzhi originally reinterpreted Van Gogh's work in 2017, and transferring that piece onto leather was a laborious process. A variety of embroidery techniques, including chenille-yarn tufting, work to turn Fanzhi's art into a 3D, leather surface with threads of 42 different colours and over 700,000 embroidery stitches.

Vik Muniz's BB-sized Capucines bag is inspired by his 2019 "Quasi Tutto" series. The white bag is littered with 154 whimsical charms, including a dress form, seahorse, pacifier, and cocktail. Charms are added a number of ways. Some sre embossed using inkjet printing, while others sre inlaid as reused Heritage leather from Louis Vuitton workshops, a win for Muniz's sustainable sensibilities.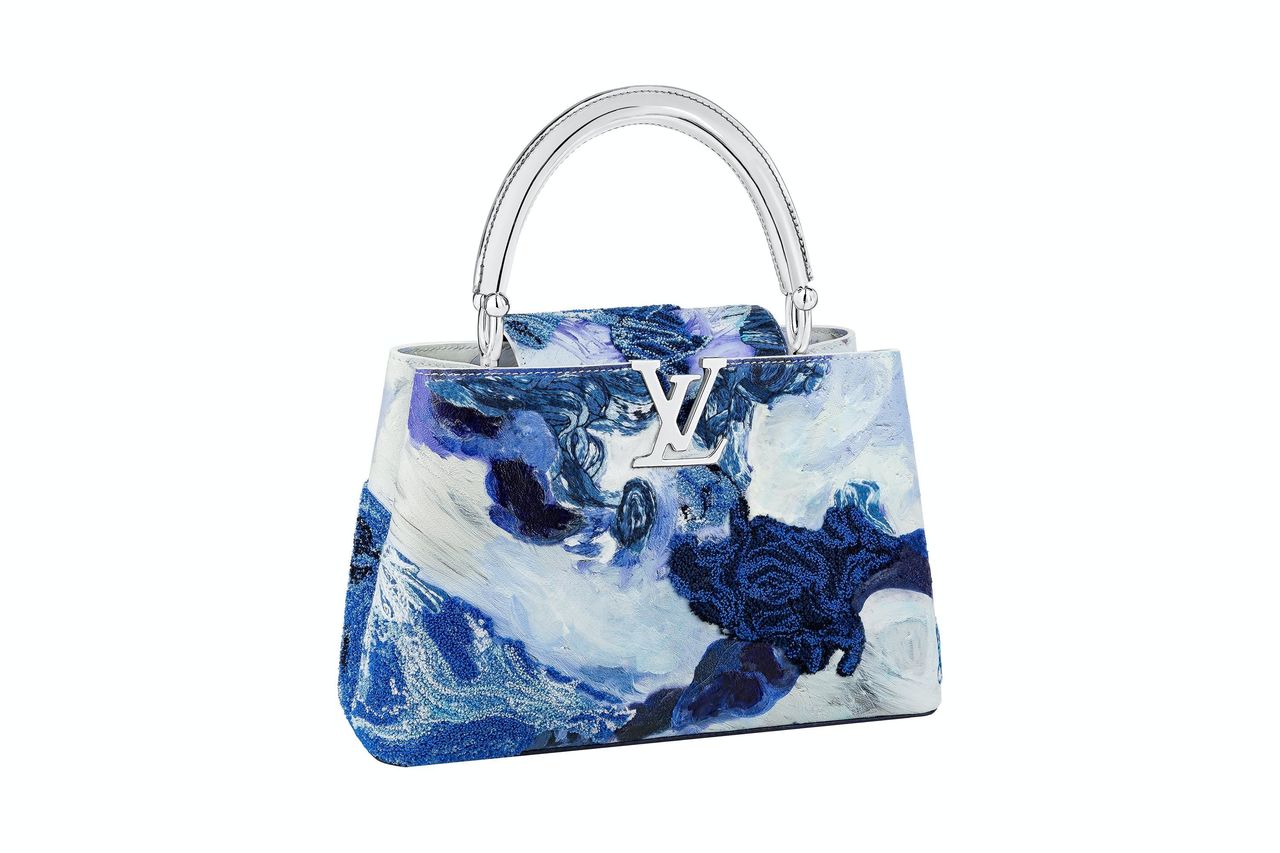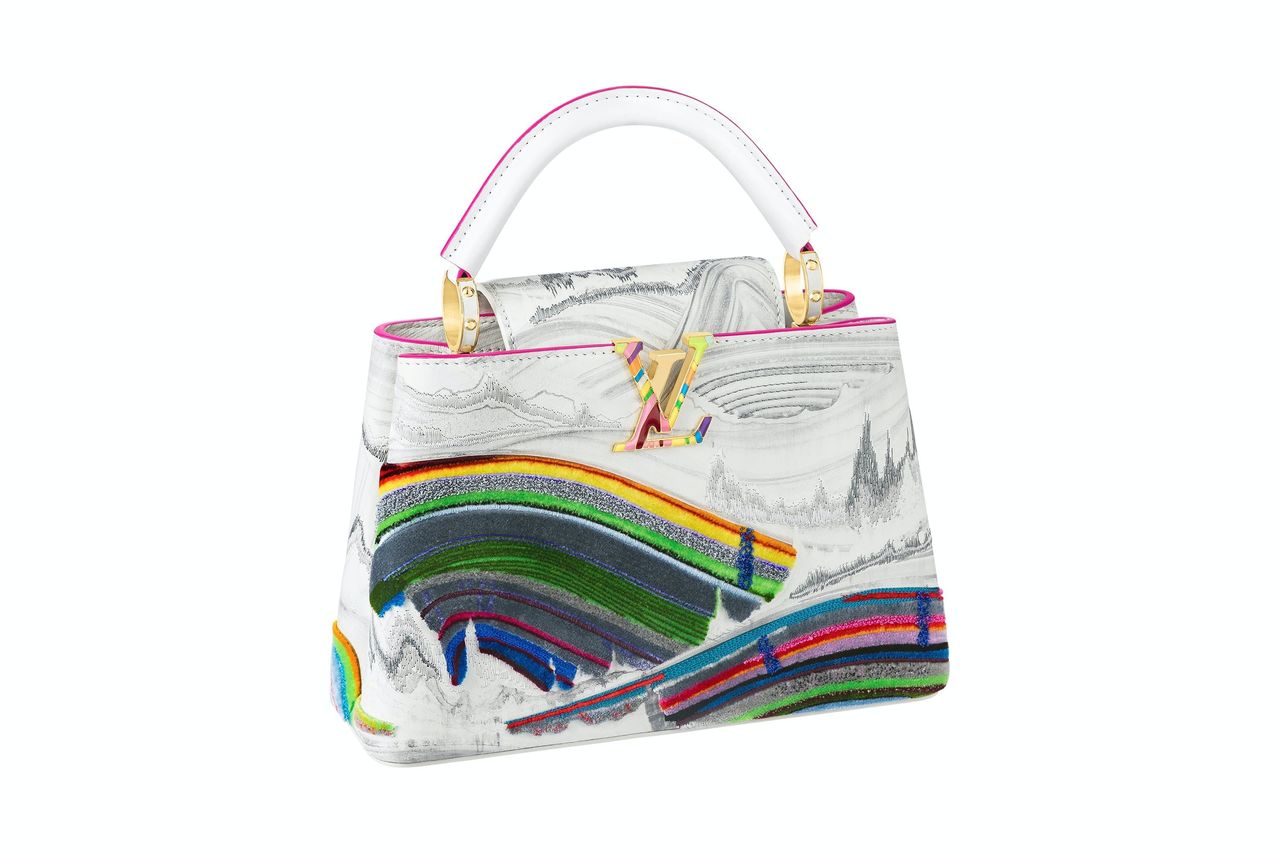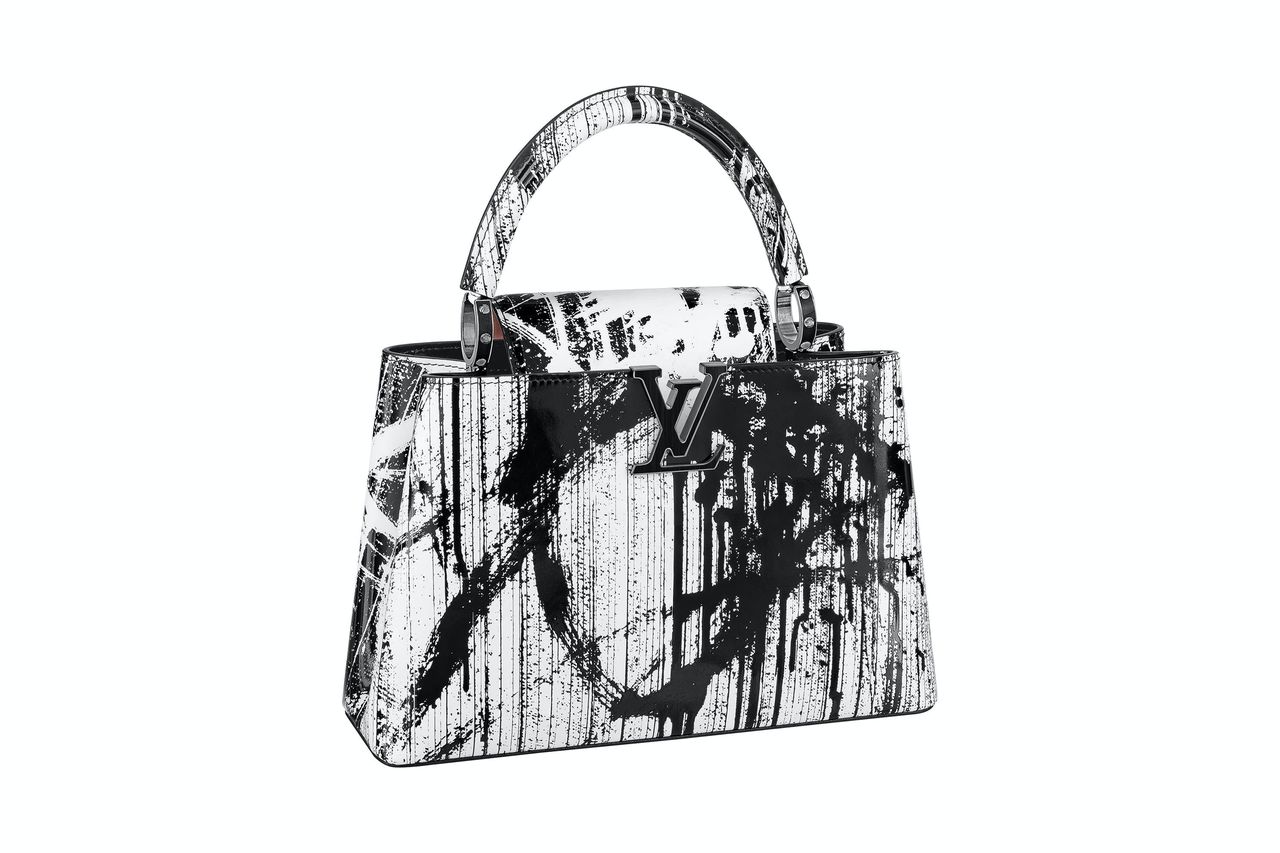 Donna Huanca's "Cara de Fuego" and "Muyal Jol" paintings serve as the foundation of her Capucines. The artist's work dissects the shape of the female body. The pieces are 3D printed onto the bag's white leather, and then embroidered over in sections to add texture to the work. The bag is then hand-painted to mimic Huanca's layered brushstrokes. The rings holding the handle to the bag are modeled after body-piercing rings, further drawing the female body into the work.

Huang Yuxing's BB-sized Capucines is based on his 2019 painting "The Colossus Hidden Deep in the Hills." The foundation of Yuxing's painting is first printed on the bag and embroidered with gray thread. The colorful mountain landscape is then added using tufting-stitch embroidery, and paint drips, a reccuring motif in Yuxing's work, is created with point de bouclette embroidery in metallic thread. The "LV" logo is inlaid with candy-striped enamel. Hot pink silk lines the interior.

Finally, Gregor Hildebrandt's Capucines is adorned with original artwork, created specifically for this project. It is reminiscent of his trademark "rip-off" technique, in which magnetic dust from old recording tape is used to create black and white pieces. The bag is screen-printed white leather with a "positive" white background image on the front and a "negative" black background image on the back. The LV logo comes in black gunmetal inlaid with vinyl records, while the interior is lined in smooth leather dyed to match the striking pink logo of Hildebrant's record label, Grzegorzki Records.