The starting point is the new archeology of the dress. Reflecting on space, time, past, and present, John Galliano develops an alchemical creative process for presenting the new co-ed "Artisanal" 2021 collection by Maison Margiela. During Paris Fashion Week, he unveiled the film entitled "A Folk Horror Tale," conscripted by the creative director together with director Olivier Dahan. At the base of everything, there is the need to establish a new order, to restart from nature with an Haute Couture collection transmitted through the generations and ancient traditions. In a way, it's a new community of Maison Margiela.

"I found poetry in the reflection," says Galliano, who takes up the deconstructions of materials from the heritage of the Maison to build a dress made by Hélène Vitali with fragments of mirror and leather laces. And then there is the story, transferred to clothes with pieces of newspapers embroidered by hand on fabrics by Celia Pym, a message launched to remember the past and establish a better future.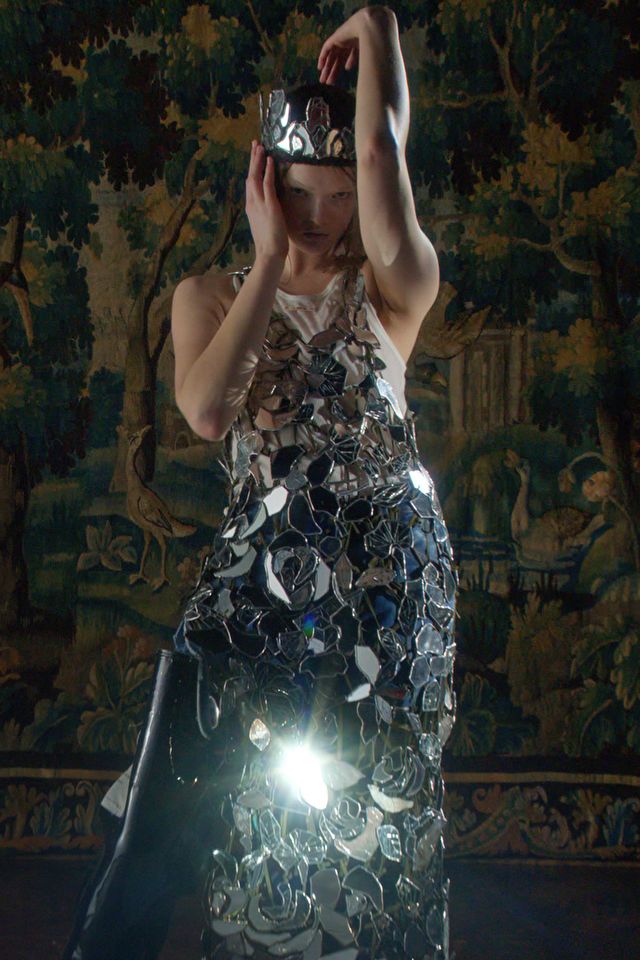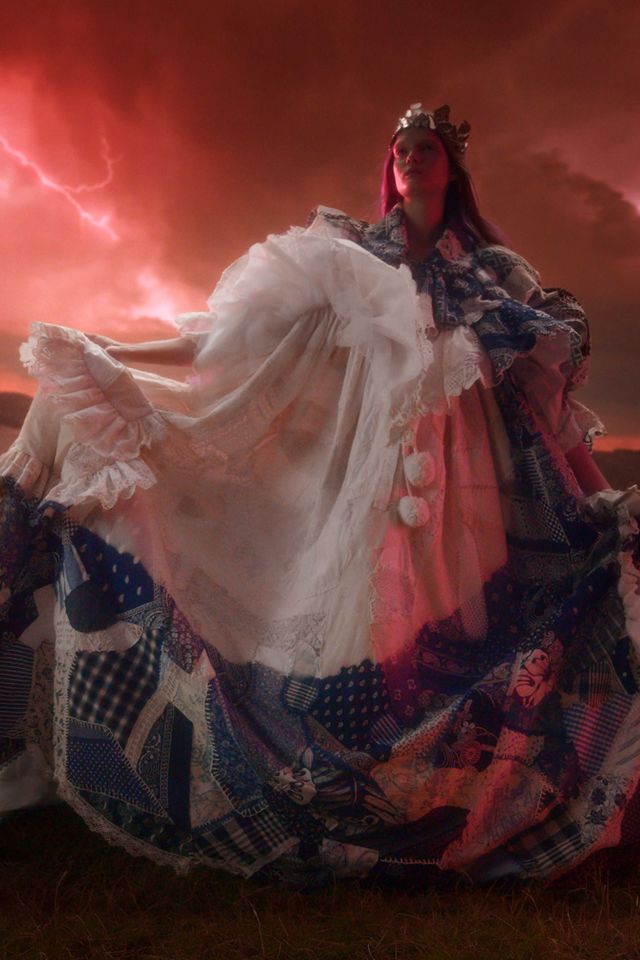 Maison Margiela the co-ed collection 'Artisanal' 2021, frames from the film "A FOLK HORROR TALE"

With Maison Margiela's "Artisanal" collection, a new technique is introduced, l'essorage, which could metaphorically be inspired by the process that the alchemists carried out. It is based on the recycling and subsequent upcycle of fabrics from stock or charity stores, materials that are magnified eight to twelve times and then shrunk through chemical washes and treatments that reveal the authentic colors. Galliano draws on the blue works of Anna Sokolova, reminiscent of the art of Delft ceramic painting in a sinister but at the same time graceful version. Pictorial illustrations that are transformed into blue embroidery on fabric majolica, reassembled at a later time as if they were a sweater in knitwear.

Another core of Maison Margiela's co-ed Fall/Winter 2021 Haute Couture collection is denim, which is brought back to the original use of fishermen. Blue denim trousers are worn with very high fishing boots and padded jackets and layered in a couture version on impressive dresses. Once again, there's a return to nature with animal masks made of cardboard used in the moment of the ritual. Carvings that offer prints in a three-dimensional version, tricorn and sailor hats that bring us back to the culture of the Dutch fisherman and imposing dresses built by assembly.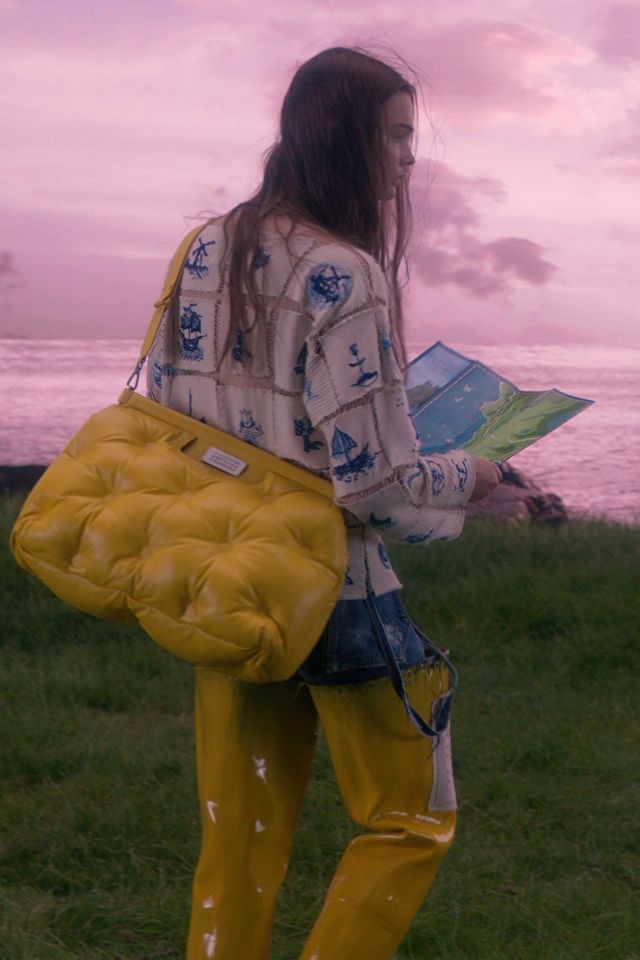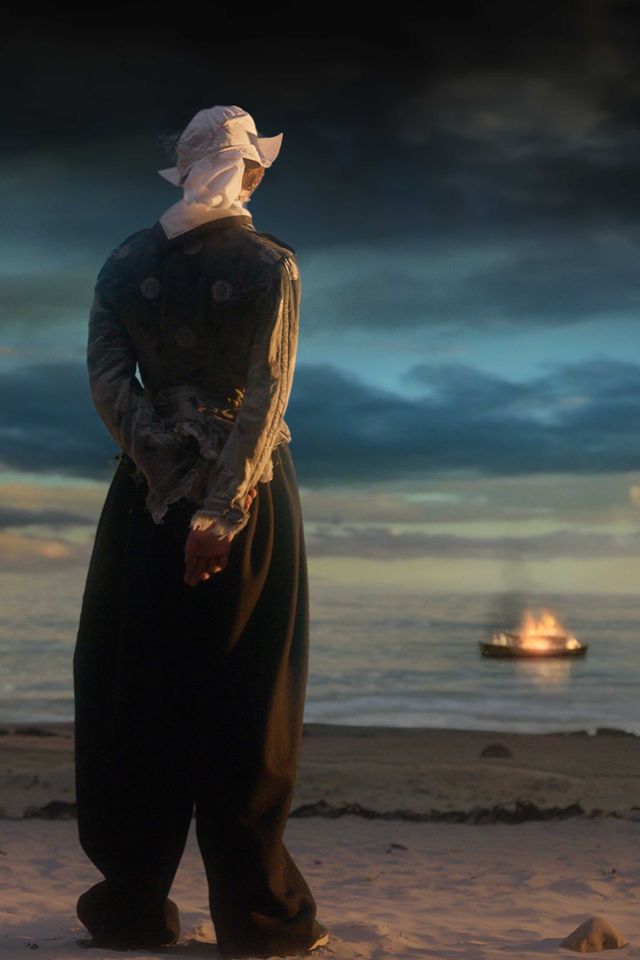 Maison Margiela the co-ed collection 'Artisanal' 2021, frames from the film "A FOLK HORROR TALE"

A folk tale with horror colors. The video conceived by Galliano and Dahan for the new collection tells this new sense of historical community brought back to nature in a version untied by time and space. A 3D photorealistic badge emerges made with effects, lights, LED software, unreal landscapes that want to imitate reality inspired by the paintings of Flemish painting.