One year into our "new normal" it should come as no surprise that Milan Men's Fashion Week Fall 2021 was not business as usual. What is surprising? The incurred changes actually acted as a catalyst for brands old and new, determined to coin the clothes of our ever uncertain future.

In like manner to September's Spring/Summer 2021 womenswear fashion weeks, the five day schedule of Fall/Winter 2021 menswear shows was a blend of few physical runways, digital presentations, and in some cases a combination of the two. What made this format different in Milan from the last was its marriage with the year's Fashion Film Festival Milano, a short fashion film preview event launched six years ago by Costanza Etro (the wife of Kean Etro and sister-in-law to Veronica Etro of the Etro label). The opportunity to combine crafts tickled the fancy of some, Danish designer Jannik Wikkelsø and his Copenhagen label Han Kjøbenhavn among them. Wikkelsø authored an almost 14-minute long short film titled "The Rose Elf," a narrative of tragic romance, heroism, and revenge. Seeing as this was Wikkelsø's longest short fashion film (previous years going no more than 5-and-a-half minutes) it seems the intention was to push his creative, which he most certainly did. Overall the conjunctive result of the fashion and film merger was one of a refreshing consensus that, no, runway shows are not dead, but neither will alternative methods of showcasing be when the coronavirus sees its end.

A similar collective attitude shined through the 39 collections presented, many of which were making their Milan runway or otherwise debut. Conveyed most succinctly by Silvia Fendi's Saturday afternoon livestream, the designer set the tone in Milan through a loudspeaker bumping a Not Waving beat over which looped Fendi herself contemplating "normality." The Fendi Men's Fall/Winter 2021 show itself was fast paced, the clothes to the point. Weaving through the illuminated color changing rectangles of Noel Fielding's art installation were slouchy pajama piped evening suits, knitted long-john jumpers, and a variety of luxurious feather filled bathrobe-like jackets.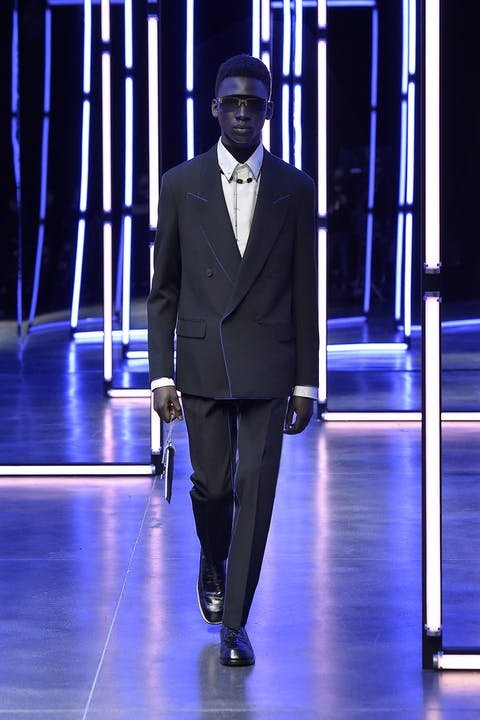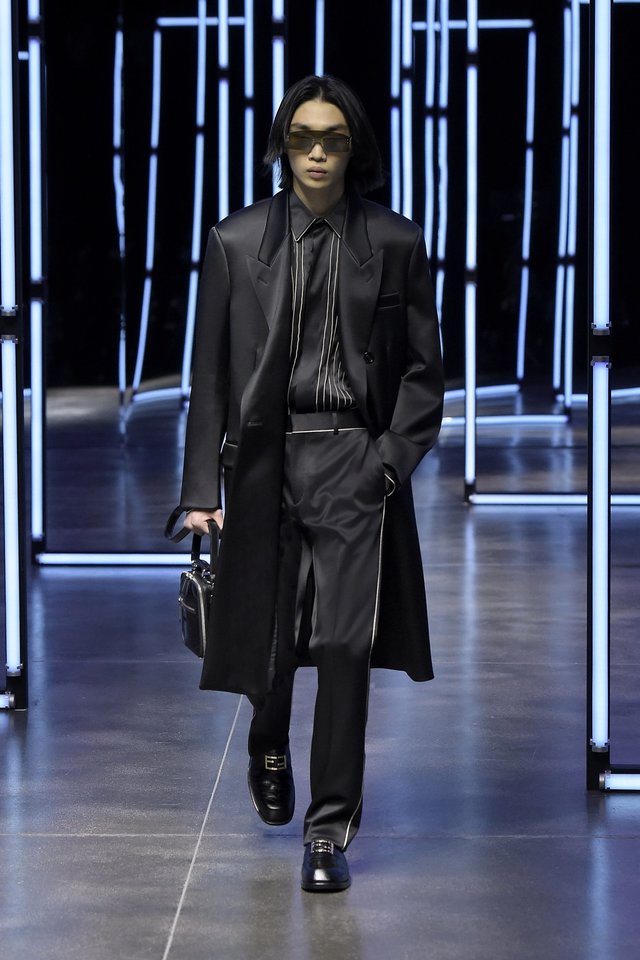 One silk-jacquard rendition of these bed-to-bodega trenches stood out for its playfully squigly stitchwork, courtesy of Fielding. The artist and host of popular Netflix series The Great British Baking Show had a hand in a number of memorable pieces mainly for his graphics. The colorfully combined effect on the collection was one of progressively playful comfort, a departure from the overwhelmingly dystopic utilitarian theme many seemed stuck to these past five days.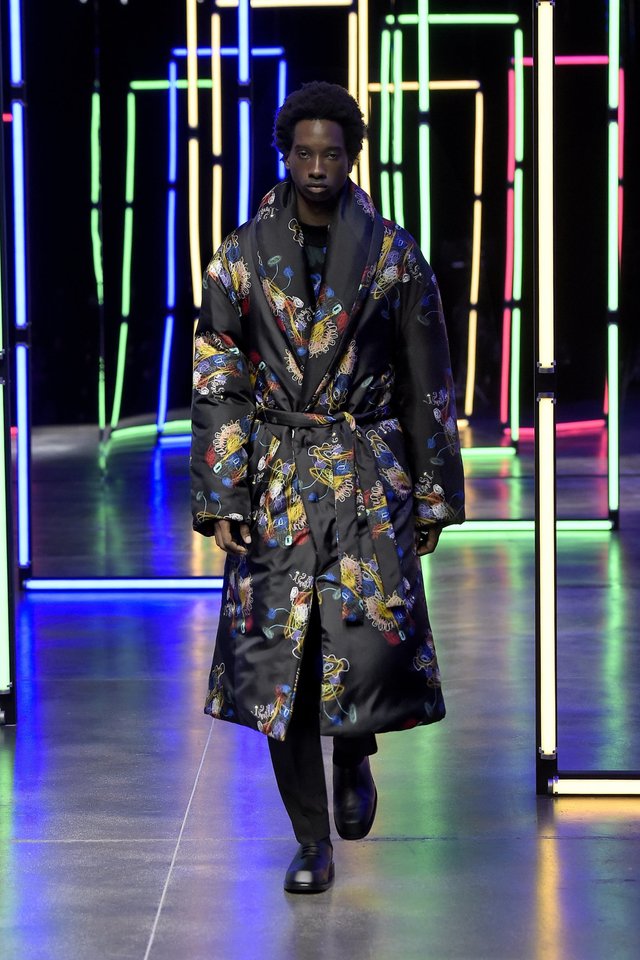 Fendi Men's Fall/Winter 2021

No doubt, the continually unfortunate circumstances of our times understandably inspire an apocalyptic attitude. Several designers leaned into this with a bloodied gray tracksuit from Tokyo-based Children of The Discordance or a warfare functional but face-obscuring puffer coat from Rome-based Gall. Others achieved a balance of uniformity and forward thinking, namely Ermenegildo Zegna who's usually formal attire hit the reset button. Maintaining the careful craftsmanship typical of the brand, creative director Alessandro Sartori steered away from tradition with trench coats transformed by dressing gown belts, generous knits, and an abandonment of the dress shoe for cushy shearling-lined slippers instead. The contemporary shift of Sartori's clothes and fun-filled short film of dancing Zenga-ed down characters signals to regularly tweed-bound brands like Kiton, Tod's, and Eleventy that a compromise with their comfort craving customers can be made, and made well.


Ermengildo Men's Zenga Fall/Winter 2021

Playing also with ideas of plush tactility and softer sensory experiences was Prada. The second co-creative directorial debut of Miuccia Prada and Raf Simons, the two sought to stimulate the senses with every unexpected aspect of the live, but virtual runway. A departure for Prada both sartorially and through the lack of plotline, the Men's Fall/Winter 2021 collection reflected a familiar set of Simons-esque concepts. Set in an abstract architectural fantasy sphere of shaggy fuchsia walls and marbled mint floors, thermal underwear-like ankle-to-wrist knits underlaid every look. The only exception being when the patterned long underwear was the look.


Prada Men's Fall/Winter 2021

Square shouldered jackets, oversized bombers, and knee knocking button downs with rolled sleeves echoed seasons of Simons' recent past. Prada's mark on the collection was made clear via the impressive color code which spanned a variety of pale pinks, canary yellows, royal purples, orange tinted reds, and more.

Interesting takeaways from the pair's Men's Fall/Winter 2021 assembly were offered after the show when students from across the globe dialed in for a Q&A session similar to September's post-show proceedings. One question asked about the tactile, sometimes Shetland, other times leather or even nylon, nature of the clothes. Its answer led to an explanation of the designers' cooperative mission: to fulfill their audience's "intimate and personal desire for contact, from our need for exchange and relationship." The Prada duo's mission of conceptualizing clothes as a kind of meta-physical brand of therapy seems to have hit the nail on its head in Milan. The idea was reiterated the entire week with the repetitive use of knit, shearling, sherpa, Shetland, and so on.

Generous amounts of layering saw its way onto the Etro runway as well. A wearable collage of powerful paisley, plaid, and cheetah print patterns, Kean Etro held nothing back with this latest melee of menswear. Chocolate velvet smoking jackets topped clay cable knit sweaters. Upcycled logo clad jaquareds met repurposed metal jewelry pieces. Personal luggage tags made for knifty accessories featured among brightly accented sneakers and sweater vests. Etro envisioned for the collection a future reality of self-stylizing customers. Empowered to be their own designers, these personas were persuaded by time spent exploring the depths of their closets in quarantine to mix and match the ordinarily un-mix-and-matchable.

Perhaps not as eclectic as Etro, stacked outerwear nevertheless continued to make appearances throughout the week. Sporty puffers over bright windbreakers and kitchy hoodies stomped their way down a strobing Spyder runway. Military-strapped backpacks over electric blue ski jackets, tie-dyed nylon button downs, or lime green sweatshirts fit for an NYC skater-boy found themselves photographed in an ambiguous snowscape for MSGM. Cocoon-like puffer coats over color blocked shin brushing t-shirt gowns, and pastel turtlenecks appeared virtually on somewhat unsettling (minus the newly added french bulldog avatar which was very cute) 3D-rendered characters for subversive Italian menswear brand Sunnei.

The sleekest outerwear offering came from Seoul, Korea menswear meainstay Solid Homme. After 30 years of local popularity, designer Woo Young Mi decided it was time to introduce her label to the world, but not without taking a few chances. Rather than repeat her past successes, Young Mi reimagined them in the Fall/Winter 2021 collection appropriately titled "New Olds." From cream puffer coats, to one linear leather bomber, and a variety of crisply subdued overcoats, the Korean designer balanced innovation with a healthy dose of restraint. An attractive motif sprinkled throughout, ascot ties appeared in silk, ribbed knit, and wooly cashmeres.


Solid Homme Men's Fall/Winter 2021

Several African designers made impressive Milan premieres, most notably Tokyo James and Lagos Space Programme. Both explored coalescing ideas of gender identity and nationality, taking control of their continents global narrative as it pertains to fashion and the queer African experience. James, who splits his production between London and Lagos, Nigeria, is known for his Savile Row caliber gender-fluid suiting. For this first men's fashion week in Milan, James seemed to err on the side of caution compared to previous collections, although ruched leather pants, chained suit jackets, and sequin dress shirts may be considered bold for many.

Nigeria-born non-binary designer Adeju Thompson of Lagos Space Programme crafted a far simpler collection. And yet, they were more succesful in myth busting archtypes of queer African deisgn. Tited "Project 5," the loose fitting assembly of drawstring pants, printed dresses, skirts, and shawls peered intimatley into Thompson's life as a non-binary person.

The presence of so many new-to-Milan men's brands this year like Solid Homme, Tokyo James, and Lagos Space Programme is an exciting change of pace. An obvious question for many in regards to the development would have to be about their timing: why now, during a pandemic? This is arguably the most technically challenging time to launch a label globally, and yet so many are stepping up to the plate. In part it could be due to the lack of larger brands participation like Gucci, Versace, and Bottega Veneta. But their absence in and of itself is symbolic of a larger adaptive shift happening all across fashion. Heritage houses are breaking tradition on the runway and behind the scenes, and in doing so making way for new voices. Looking ahead to Paris Men's Fashion Week Fall/Winter 2021, the 126-year-old house of Berluti released a one minute, one second long teaser "Living Apart Together," kicking off the six-day Paris runway season by announcing it would actually be presenting via a livestream on March 5 in Shanghai. If that humorous, painstakingly short clip isn't telling of the times we're living in, nothing else is. As vaccines begin to circulate internationlly it will be interesting to see if the industry maintains this current progressive trajectory. Like most of this past year though, it will take time, a lot of waiting, and patience to find out.