Fashion designer Mireille Dagher will present her latest collection at
Couture Fashion Week
at 4:00 p.m. on Saturday February 19, 2011. Marking the second appearance of the prominent Lebanese designer at the prestigious event, the fashion show will be held in the legendary Grand Ballroom of the Waldorf-Astoria on Park Avenue, New York City.
Mireille Dagher holds a degree in fashion design from CAMM (College Artistique de la Mode Moderne) in Beirut, as well as a master's degree in psychology from Lebanese University. Her dual areas of expertise give her a unique perspective on the tastes of her clientele.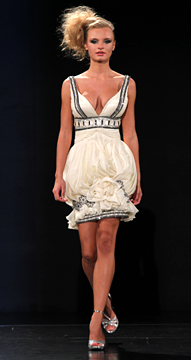 Ms. Dagher entered the fashion field as a sales agent and went on to serve as the head designer of a major couture fashion house in Beirut. In 2001 she launched her own fashion label which serves a loyal and growing clientele throughout the Middle East and other areas of the globe. She is a favorite designer of numerous Middle Eastern celebrities, first ladies, princesses and socialites. She has also designed gowns for important beauty pageants.
Ms. Dagher's designs have been featured in many prominent fashion magazines in the Middle East and her runway shows have been broadcast worldwide by fashion channels such as FTV, FTV Arabia, HIA, LBC international, MBC1, ANB, Dubai TV and others.
The designer currently supervises a professional staff of 35 at the busy Mireille Dagher Salon de Couture, including the creation, production and marketing of evening and bridal dresses. From concept to sketch to the final fitting, Ms. Dagher's impeccable designs are all hand made with meticulous attention to detail. Her couture salon recently relocated to a stunning 1,000 square meter space at Vega Center, outside Beirut.
For more information, visit the designer's website: www.MireilleDagher.com
Couture Fashion Week is a multi-day event showcasing couture and luxury fashion. It also includes exhibits of luxury brands and fine art as well as world-class entertainment and receptions. The event is held at the Waldorf-Astoria in New York City and occasionally in other selected cities and is attended by upscale consumers, invited VIPs, the press and high-end store buyers. Couture Fashion Week offers unique branding opportunities for luxury products and services.
Visit the event website for more information:
www.CoutureFashionWeek.com