NYC is the city of dreams, and the first one out of the gate for Fashion Month. See what the city's designers have to offer for Spring 2021 with the best looks from each standout collection.


Michael Kors Collection

"Even in a very dark moment ... I am an optimist," said Michael Kors in a BTS short that accompanied his collection video. "I'm still convinced that people will do the right thing. That we can work to a better future." At their best, Kors' collections are filled with classic American sportswear, the sort of sort of pragmatic yet elegant pieces that are so very New York. And spring 2021 had that in spades, from refined takes on pajama dressing such as crepe de chine bathrobe dresses and pajama pants to breezy linen gauze pareos and crushed satin charmeuse maxis paired with luxe cashmere and cashgora knits. Filmed at a New York Restoration Project community garden in the Bronx (to which Kors, who is major supporter of food insecurity causes, made a donation), the show featured a live performance of Carol King's "Up On the Roof" by American Idol winner Just Sam. All together, it was a poetic love letter to the resilience of the city.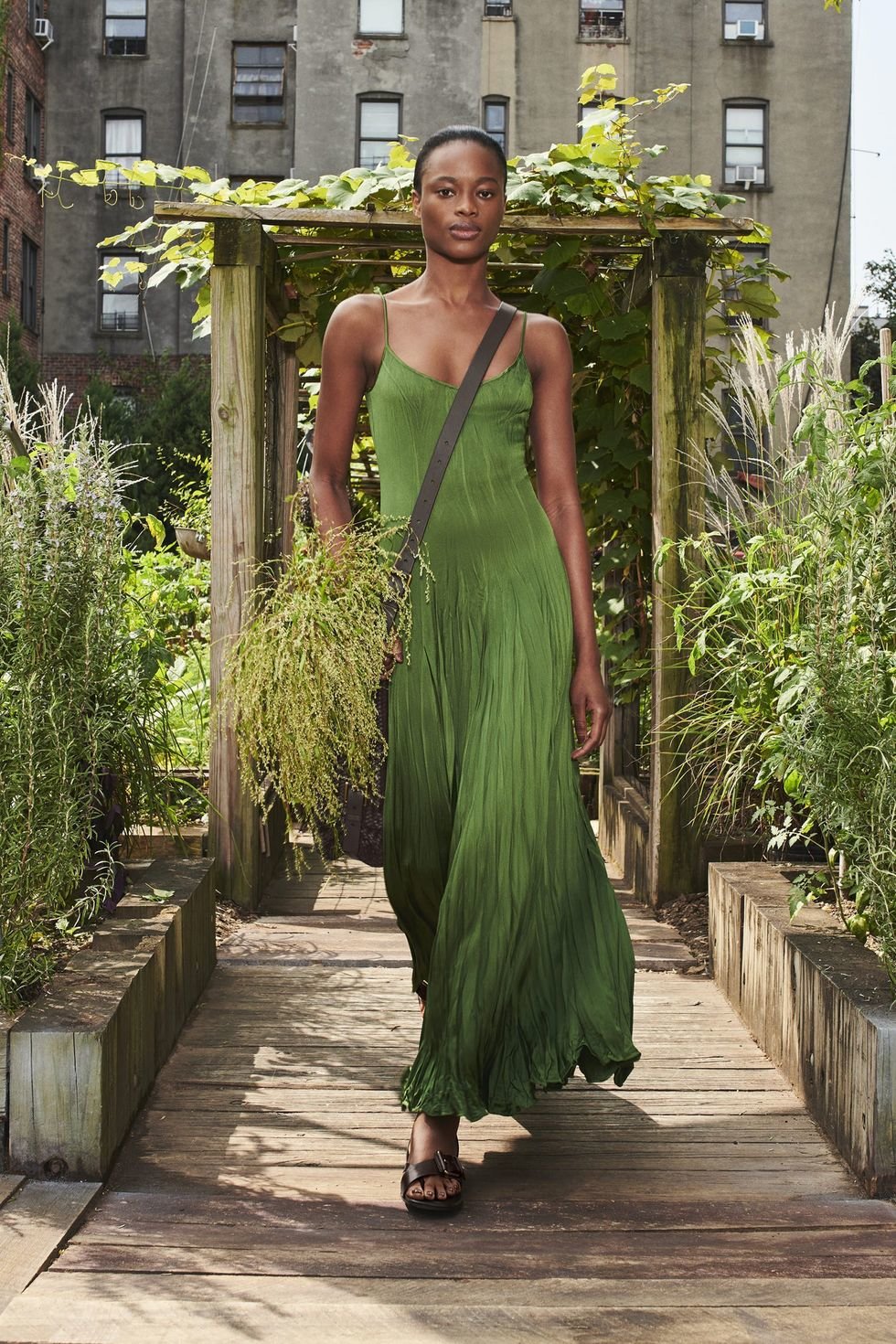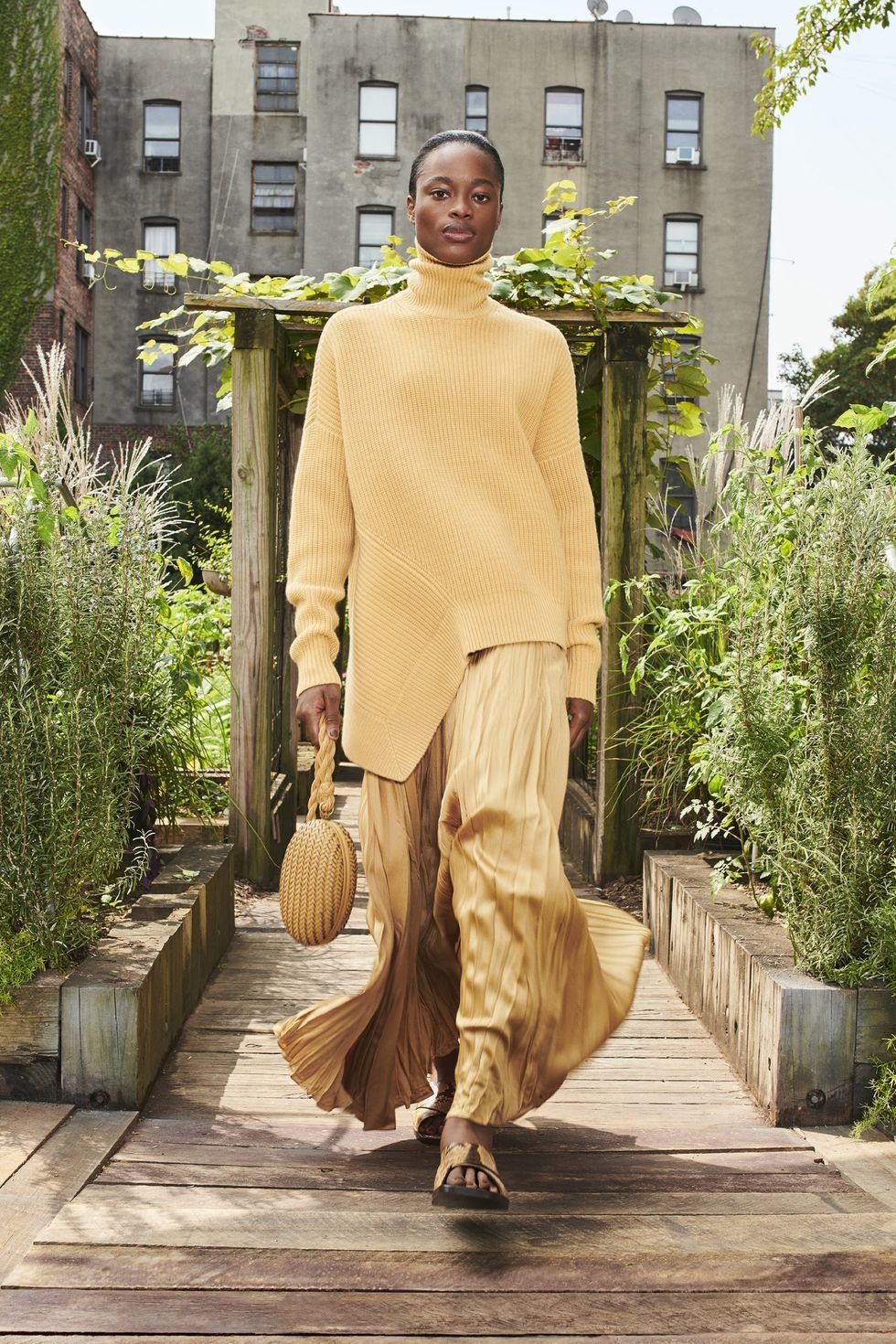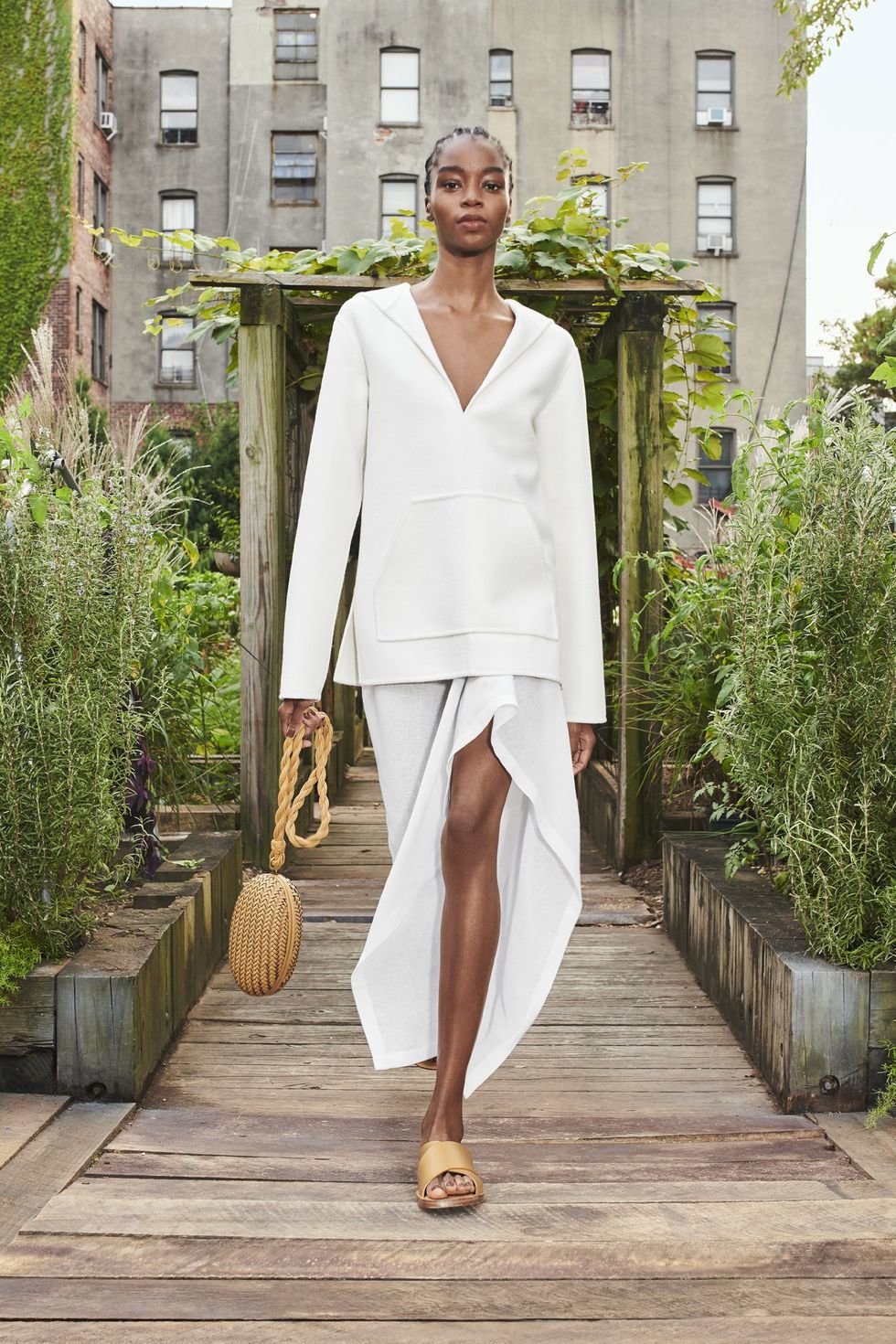 Carolina Herrera

For all the designers who went to the drawing board this spring thinking of practicality and pieces meant for a life lived closer to home, others went guns blazing in the opposite direction. Wes Gordon belongs to the second camp and found himself falling deeper in love with fashion as he returned to his atelier post-lockdown. "Fashion is healing for the soul," he said in the show notes, a way to make "ordinary moments extraordinary." He committed to making this collection ultra-Carolina too, taking all the color, volume, and feminine accents the label is known for and turning the volume way up. The result, not surprisingly, will thrill the Herrera woman. There are puffed sleeves, floor-sweeping silhouettes, bows, and polka dots. Nods to Mrs. Herrera, perennial best-dressed lister, are throughout, from the belted gowns to the crisp white shirt tucked into a mini with embroidered tulips that gleam like jewels. All together, these clothes put you in a New York City doyenne frame of mind.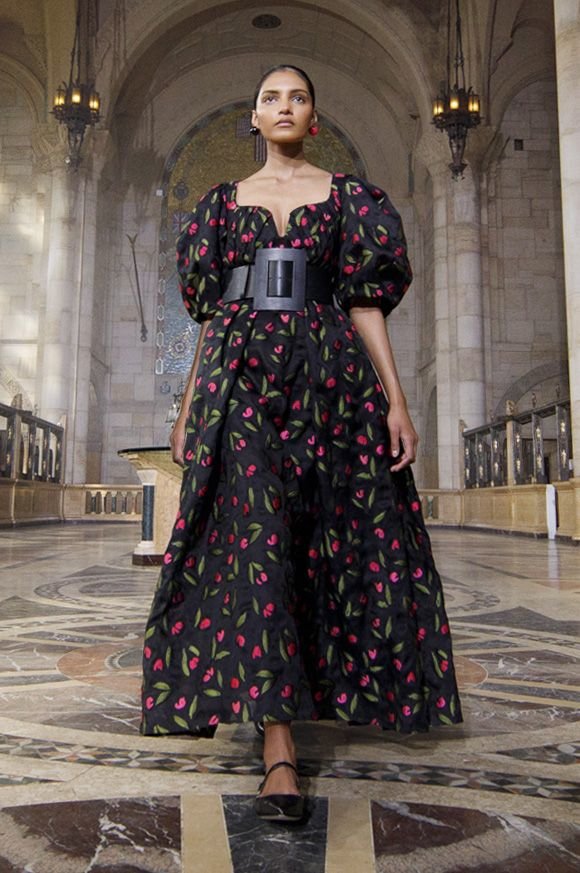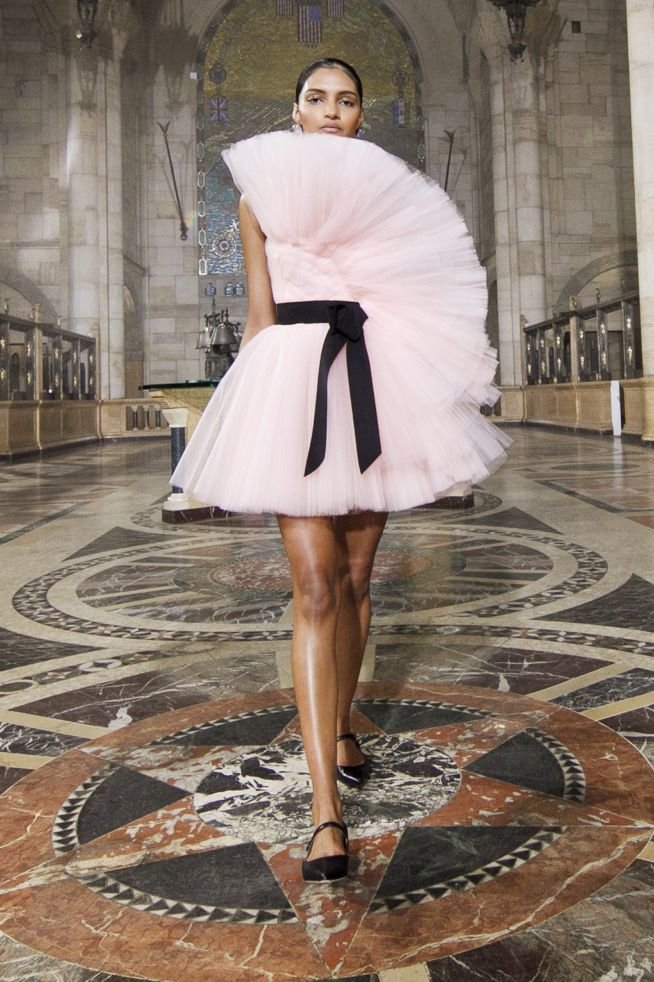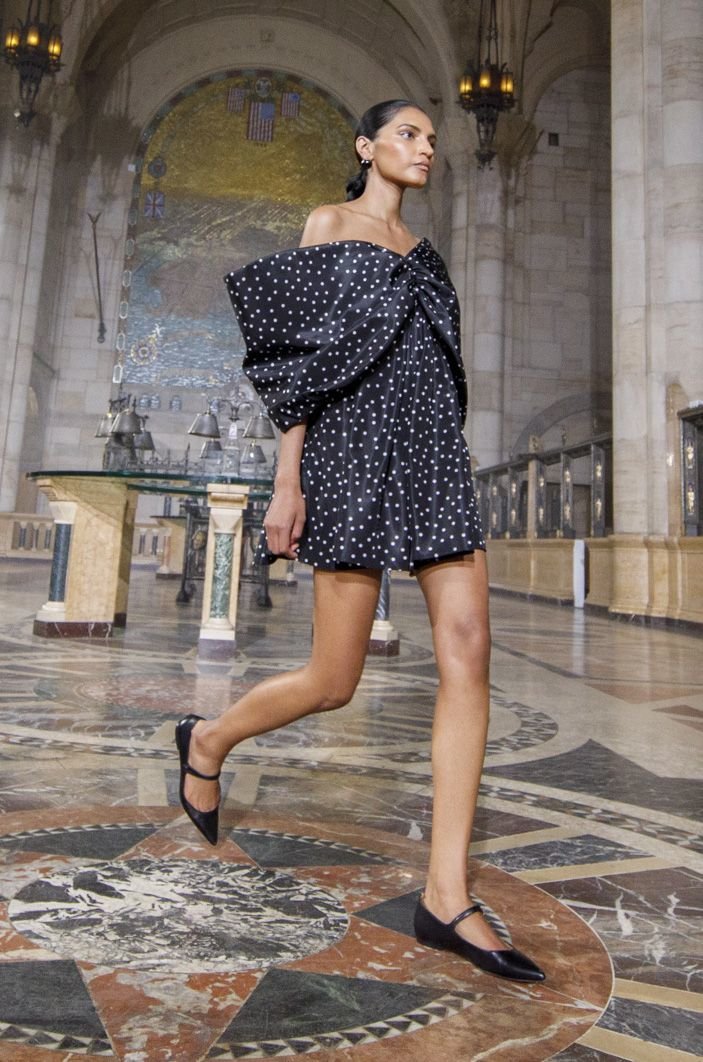 Christopher John Rogers

For many designers, quarantine was a time of reckoning what really matters, of tapering down to the bare essentials. This sentiment certainly rang true for Christopher John Rogers, who presented a collection inspired by kindergarten mainstays of primary colors and geometrical shapes. "Really thinking about what inspires us, and how we feel when we make clothes that we love was the starting point for this new collection," John Rogers tells BAZAAR.com. "During the beginning of quarantine, I spent some of my time doodling using old crayons and colored pencils—not rendering anything representational, but just having fun with color. Manifesting that energy into clothes was what this collection was all about." He was also inspired by artists Corita Kent and Angela de la Cruz, and how they used simple forms to create momentous works that comment on the socio-political climate. The results? A lineup of oversized silk suits in bright hues, gowns with corset-like bustiers, and colorblocked knit dresses that are playful, vibrant, and speak to the optimism that is so needed in these uncertain times.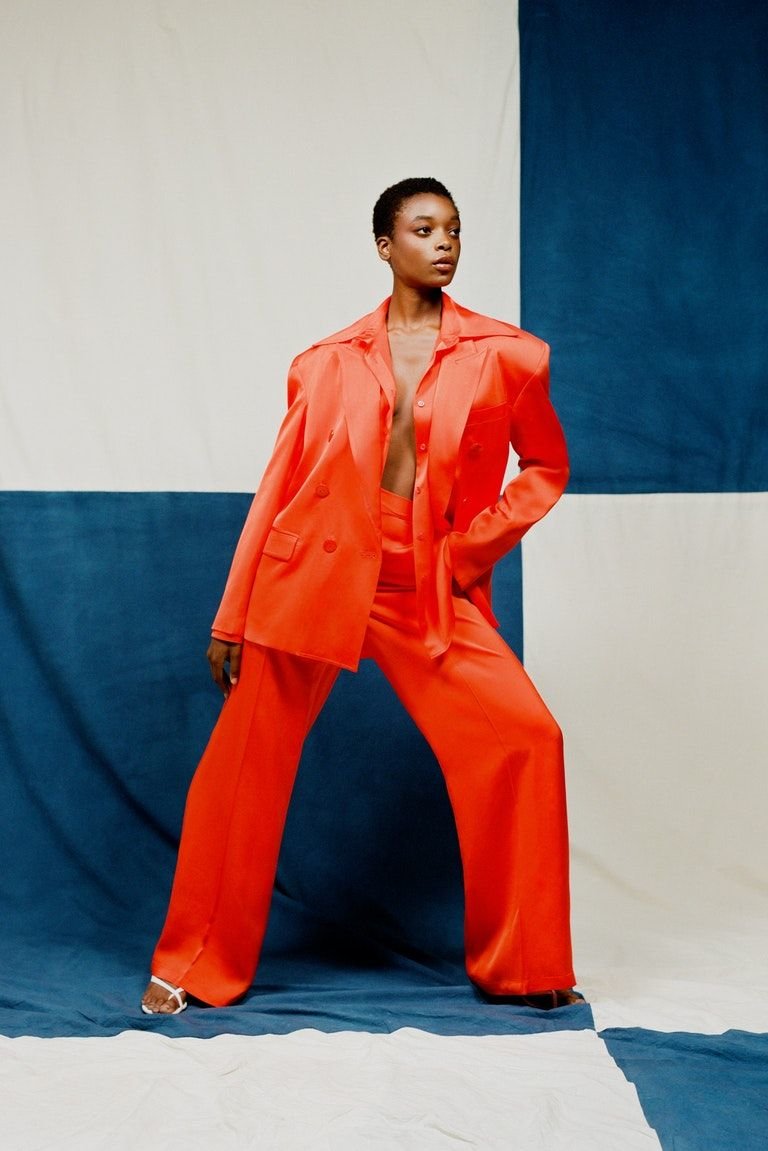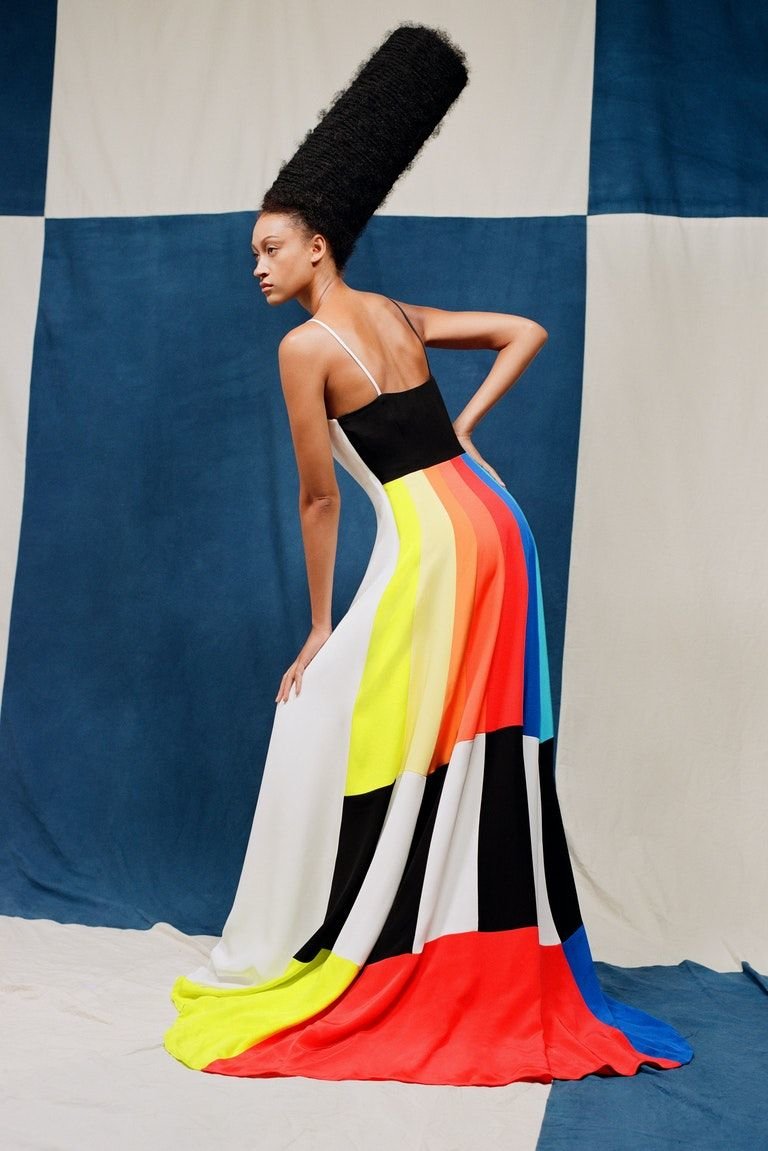 Coach

Stuart Vevers is on a mission to lower Coach's carbon footprint. To that end, the lookbook for Coach Forever, as the creative director named his spring 2021 collection, makes the case for slow fashion. It remixes the American heritage brand's past, present, and future styles in remotely shot portraits of 16 international, multigenerational celebrities shot by Juergen Teller. "Past" and "Present" comprise fall 2020 styles and reissued greatest hits from the recent archive—a Keith Haring t-shirt (2018) and NASA logo sweatshirt (2017)—as well as a made in New York capsule, all of which are available immediately. "Future," of course, is the newness you're going to be wanting next spring. And at Coach, what's old is new again: trench coats inspired by classic '60s Bonnie Cashin pieces as well as actual vintage jeans and oversized men's shirting that Vevers has given a new lease on life with seasonal embroidery. Taken together they offer a vision for a more mindful future, one involving pieces to buy and love forever.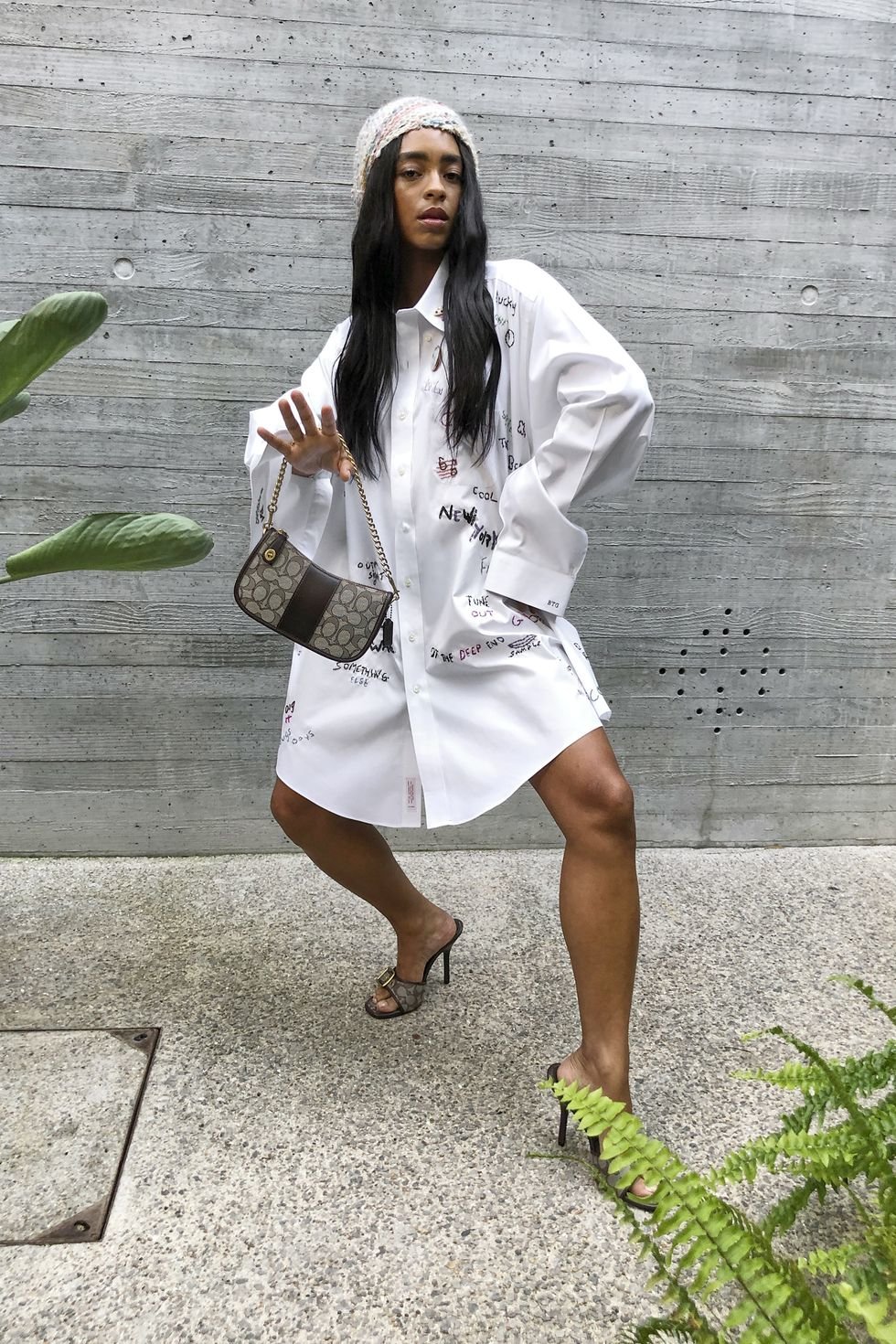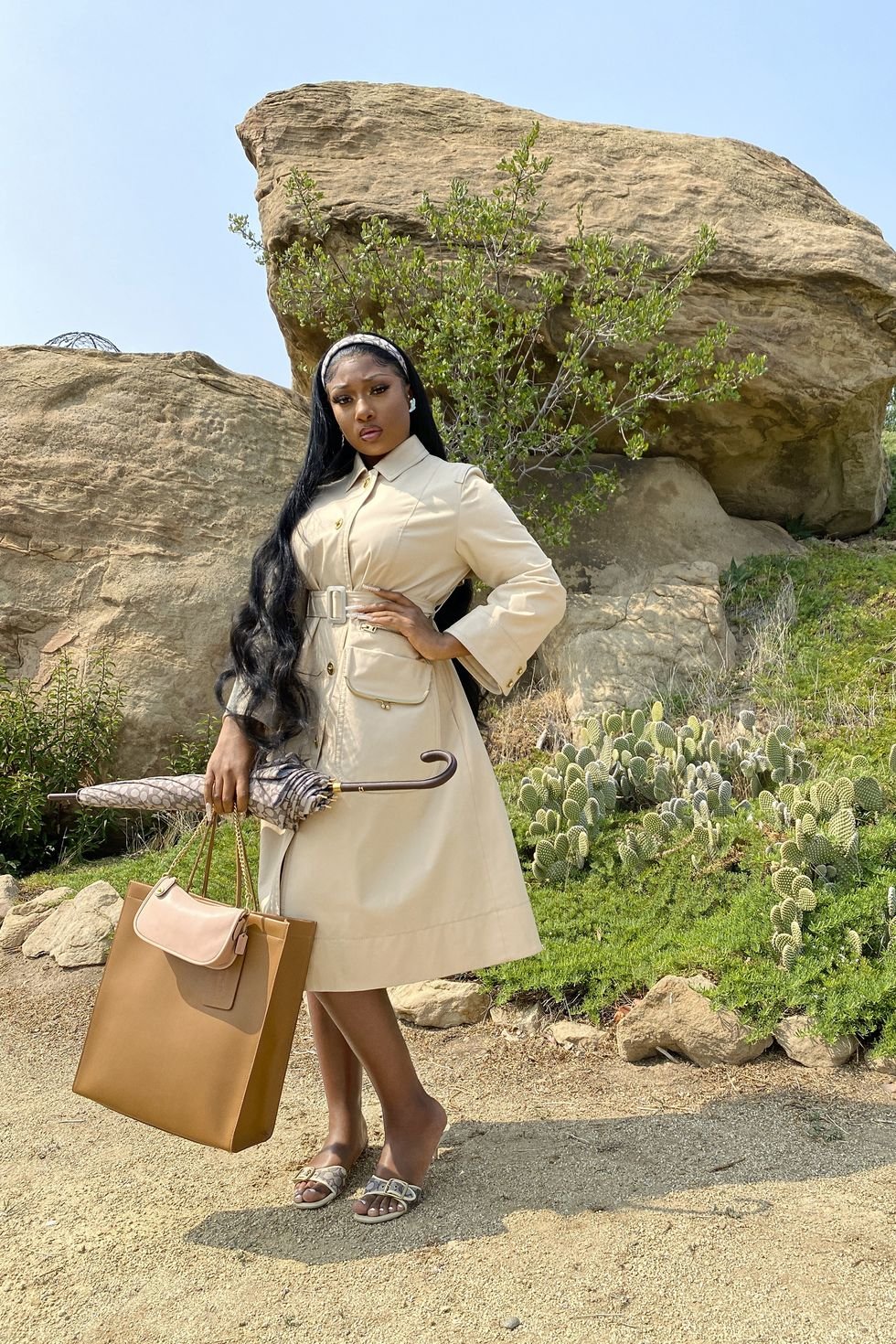 Tom Ford

In a candid letter to accompany his Spring 2021 collection, Tom Ford explains his mindset while designing this collection, saying, "fashion itself just seemed like an extravagance. It was hard to focus, to concentrate, and to be inspired." Continuing, "I thought about skipping the season altogether. After all when no one can go out of their house, who needs new clothes?" But design a collection, he did, inspired in part by a documentary about the fashion illustrator Antonio Lopez that Ford watched while in lock-down and the women in his circle like model Pat Cleveland. The result is a mix of what the CFDA president calls, "classic relaxed clothes but clothes that make me smile. Clothes to have a bit of fun in." Think: silky PJs, knit maxi dresses, cobalt logo leisure sets, bikinis and printed caftans, some airy statement gowns, and a leopard print jumpsuit. Chill but not staid. This is still Tom Ford, after all.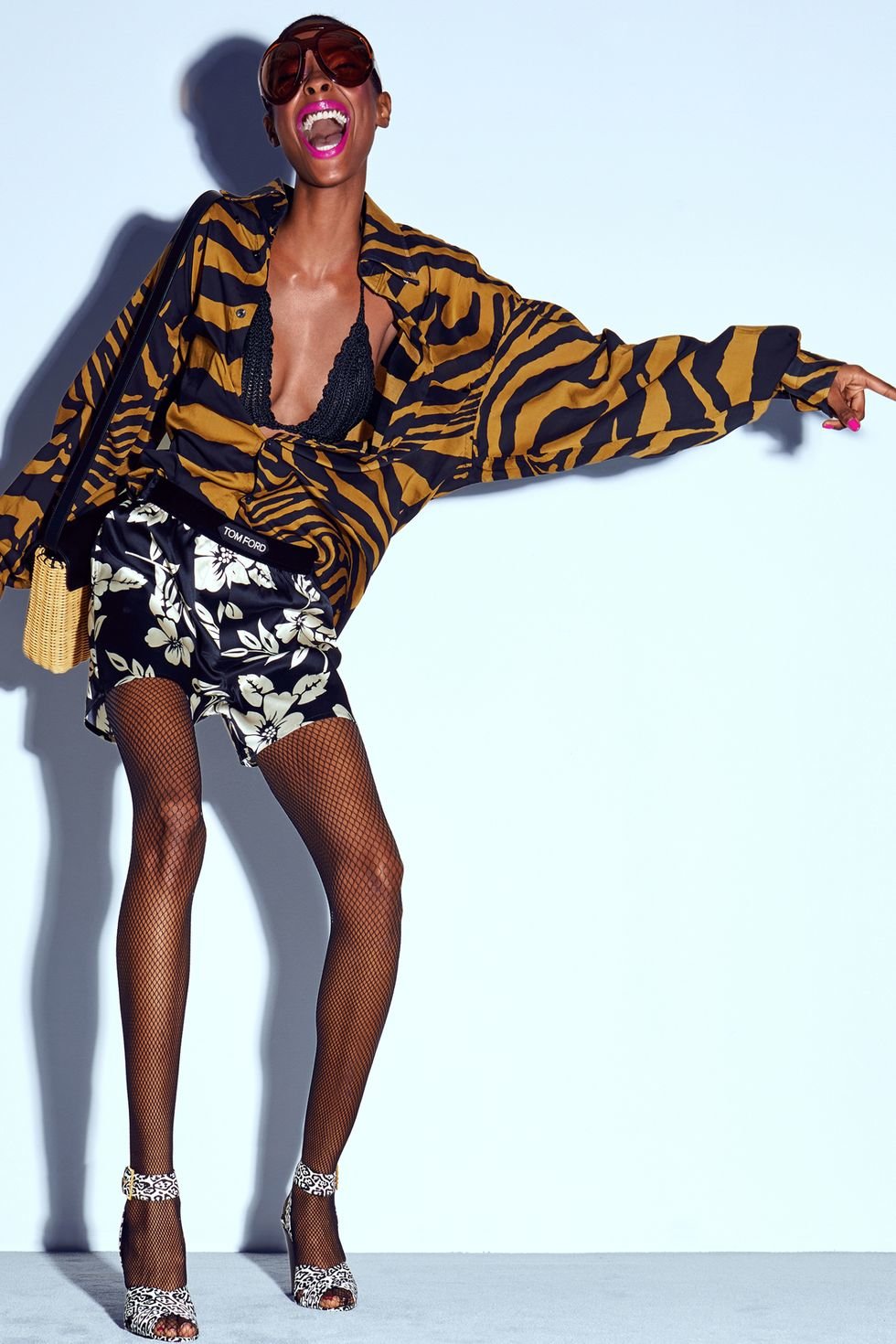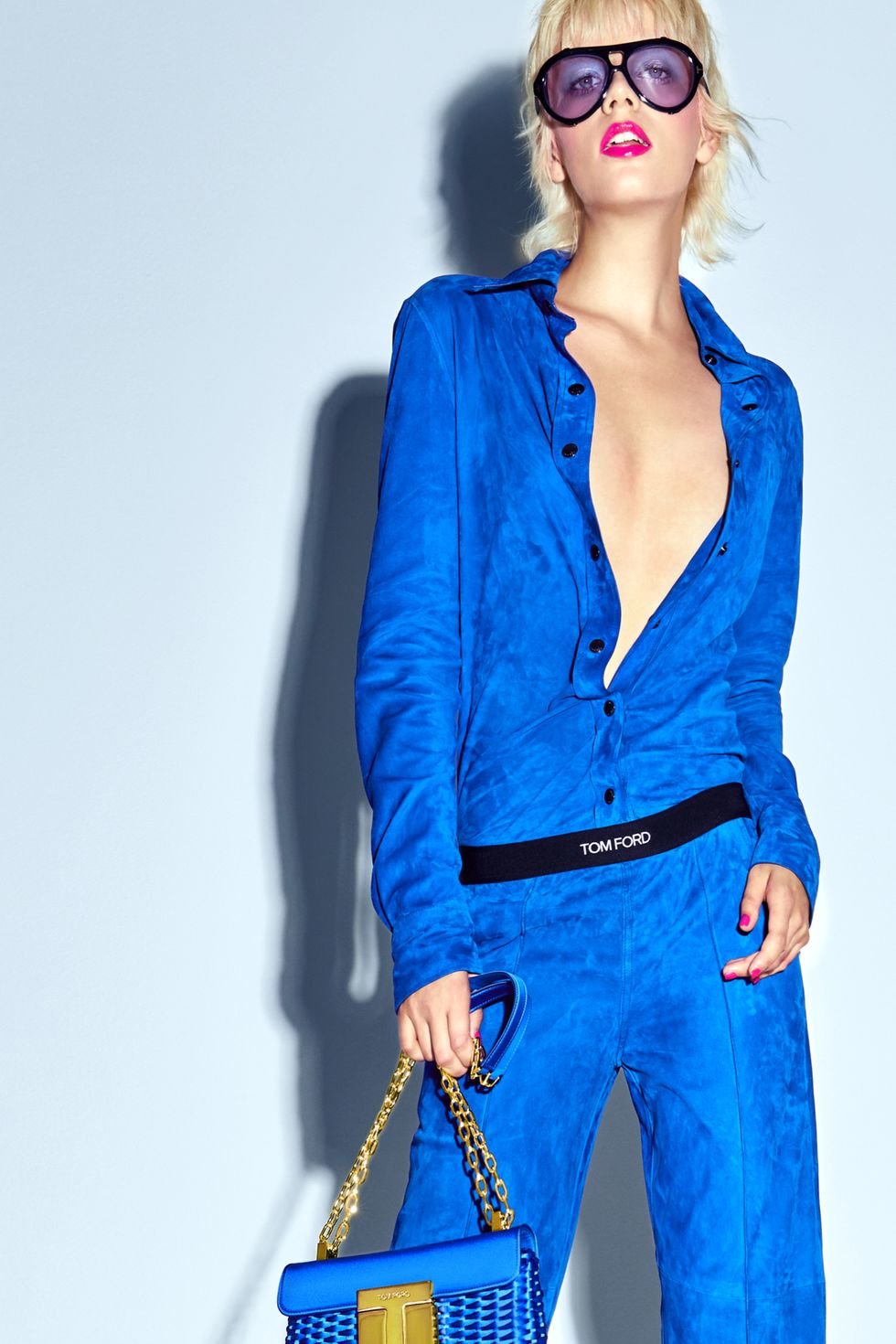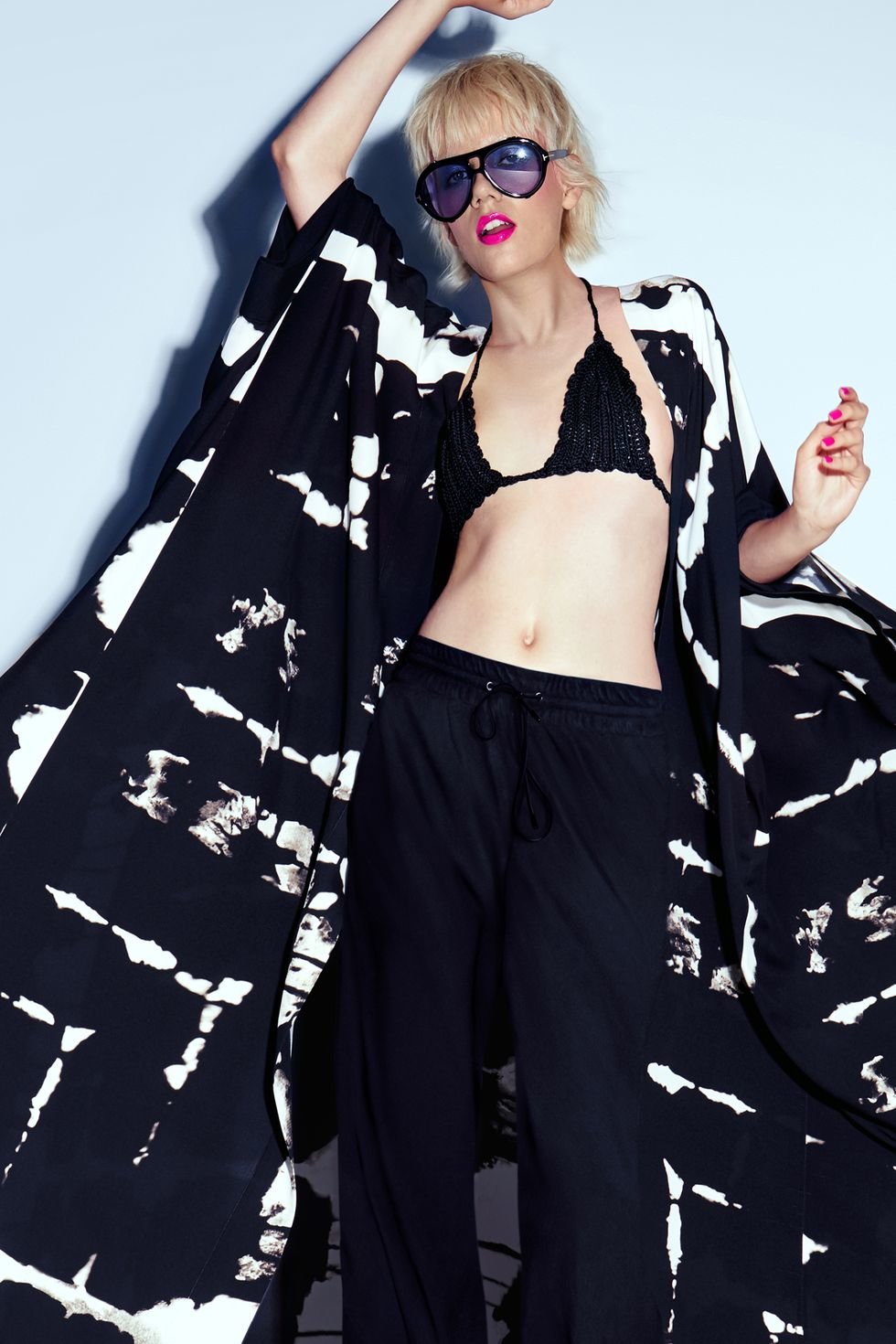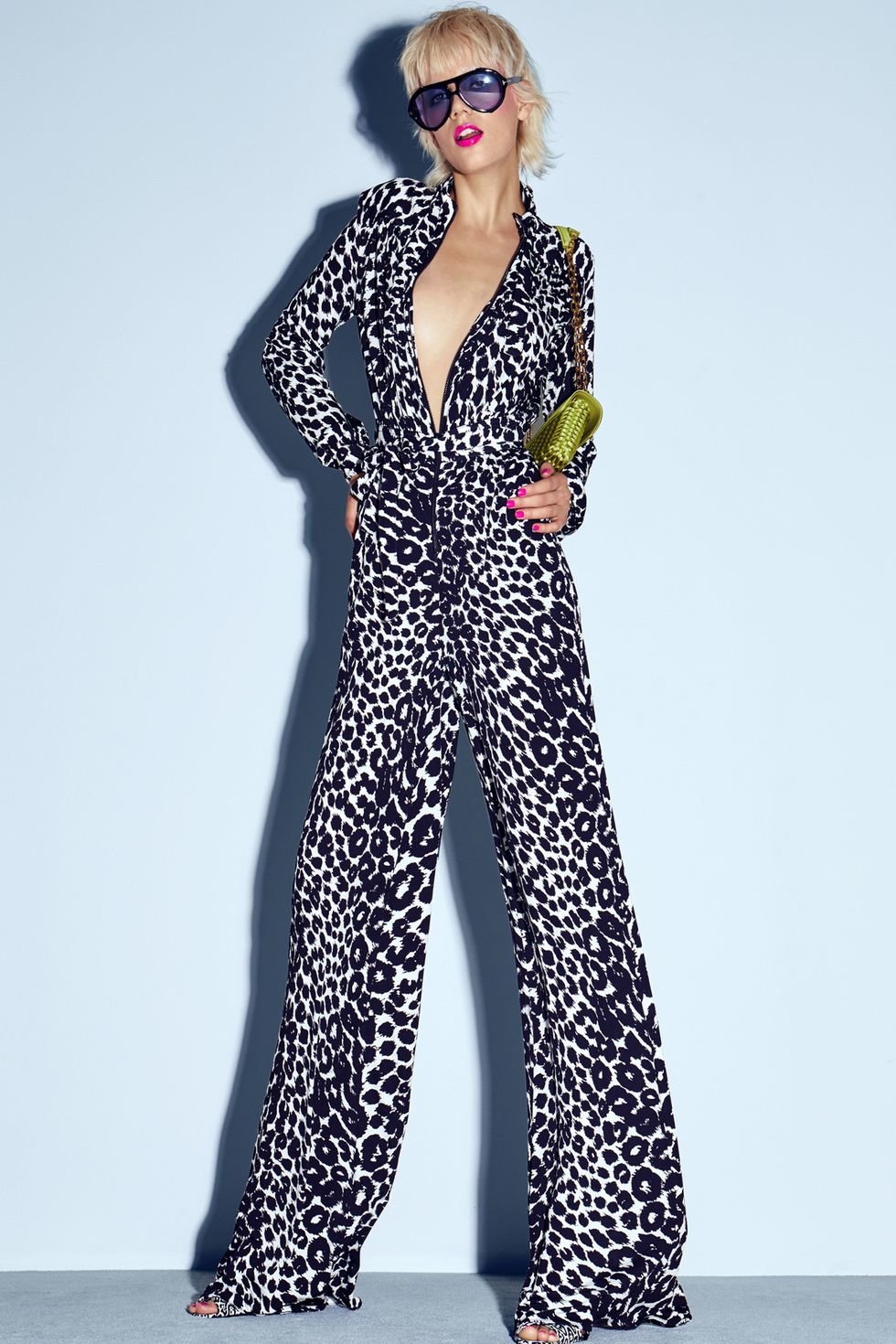 Eckhaus Latta

With COVID times leaving native New Yorkers to explore their hometown on daily strolls and long haul jogs, there seemed no better place to showcase an array of easy daytime pieces than on a running path underneath the FDR Drive. And like any leg-stretching daytime stroll, the chic cast of Eckhaus Latta's latest show donned masks for their strut down the jogging lane cum runway. Per the DNA of the outside-the-box brand, a poem was presented in lieu of show notes. It resonated, as did the clothes. "We wanted you to be comfortable," Mike Eckhaus and Zoe Latta said. Indeed, in loads of crochet and knitwear pieces that would be just as effortless barefoot at home as they would be (distanced) at the office or a weekend brunch—al fresco, of course.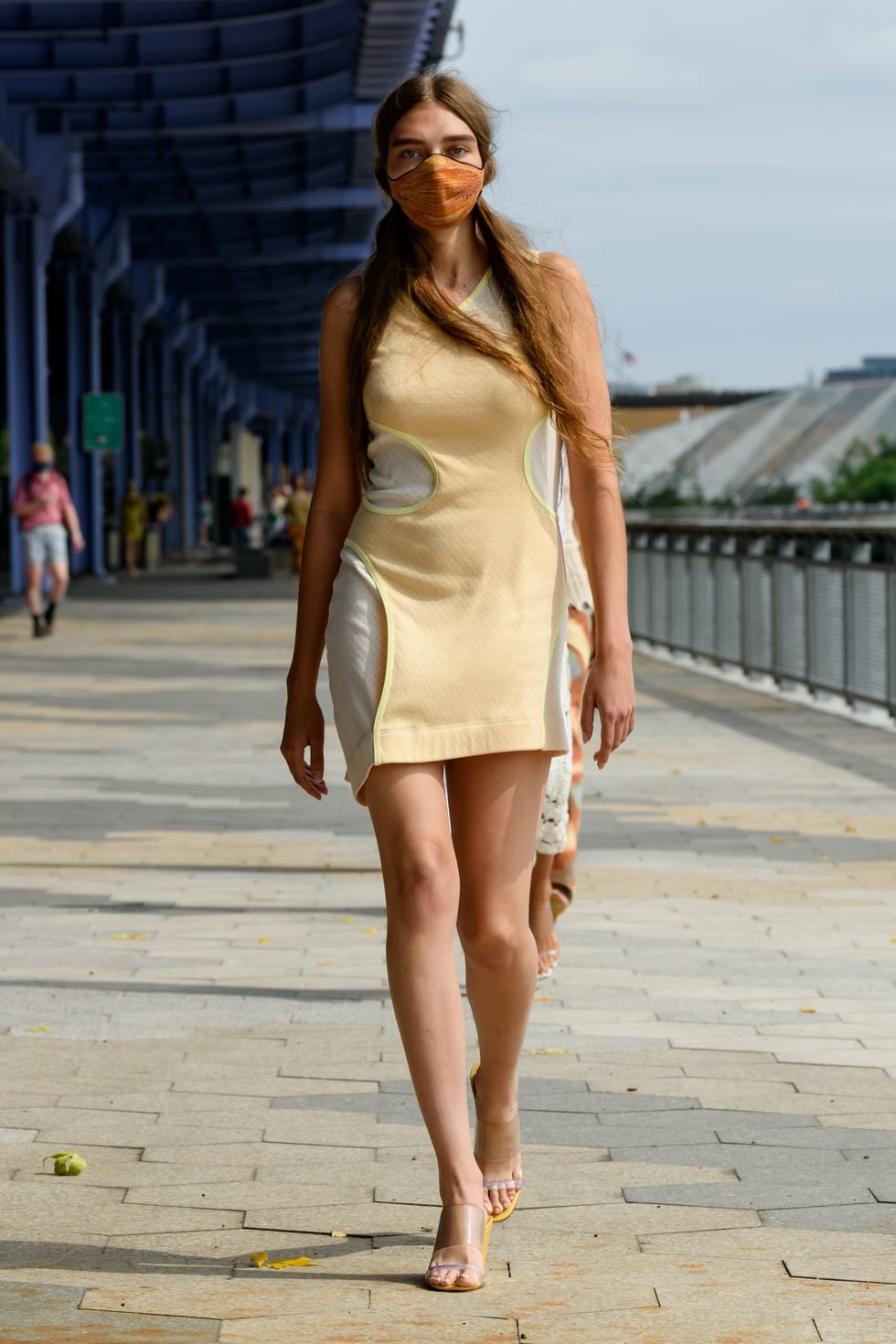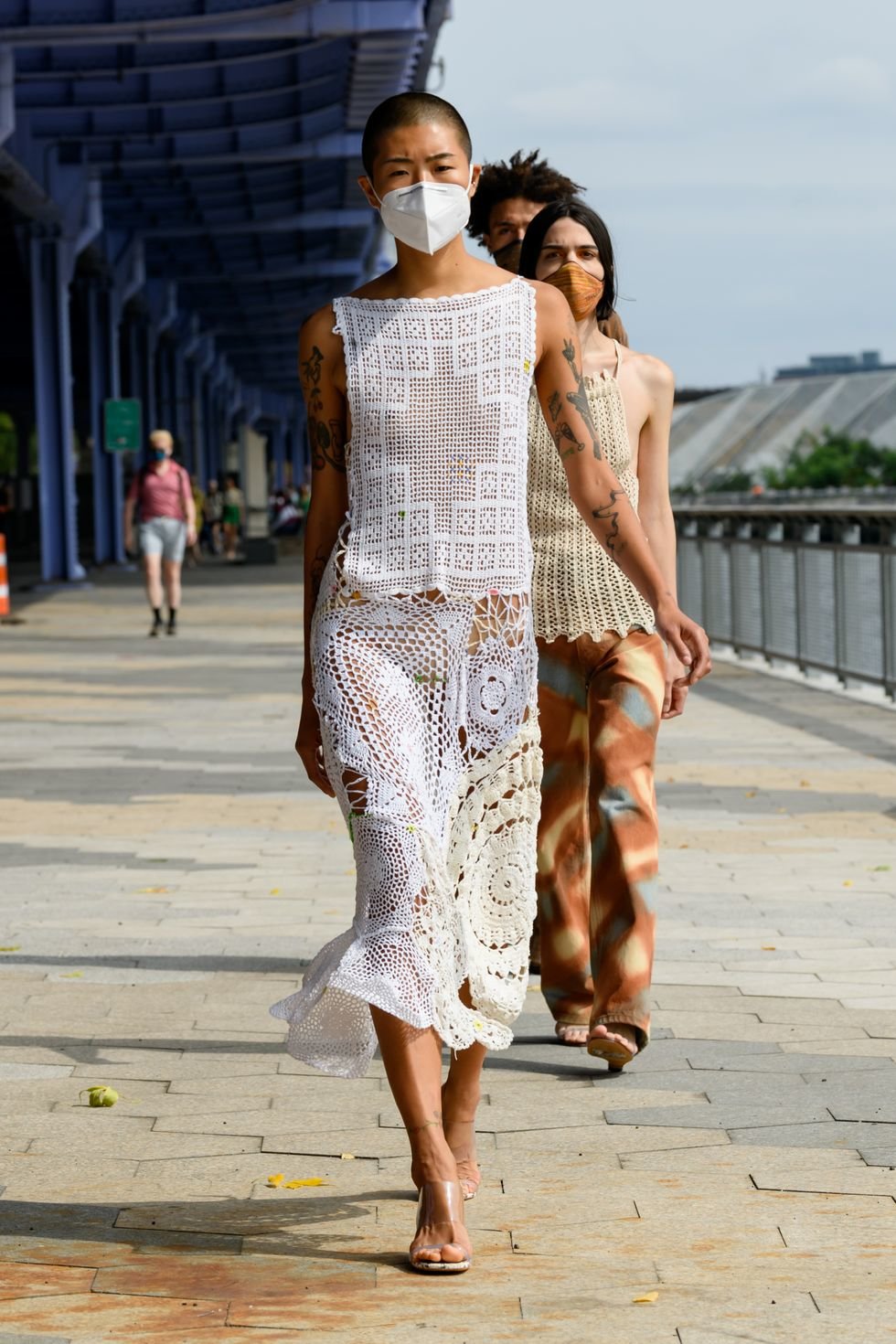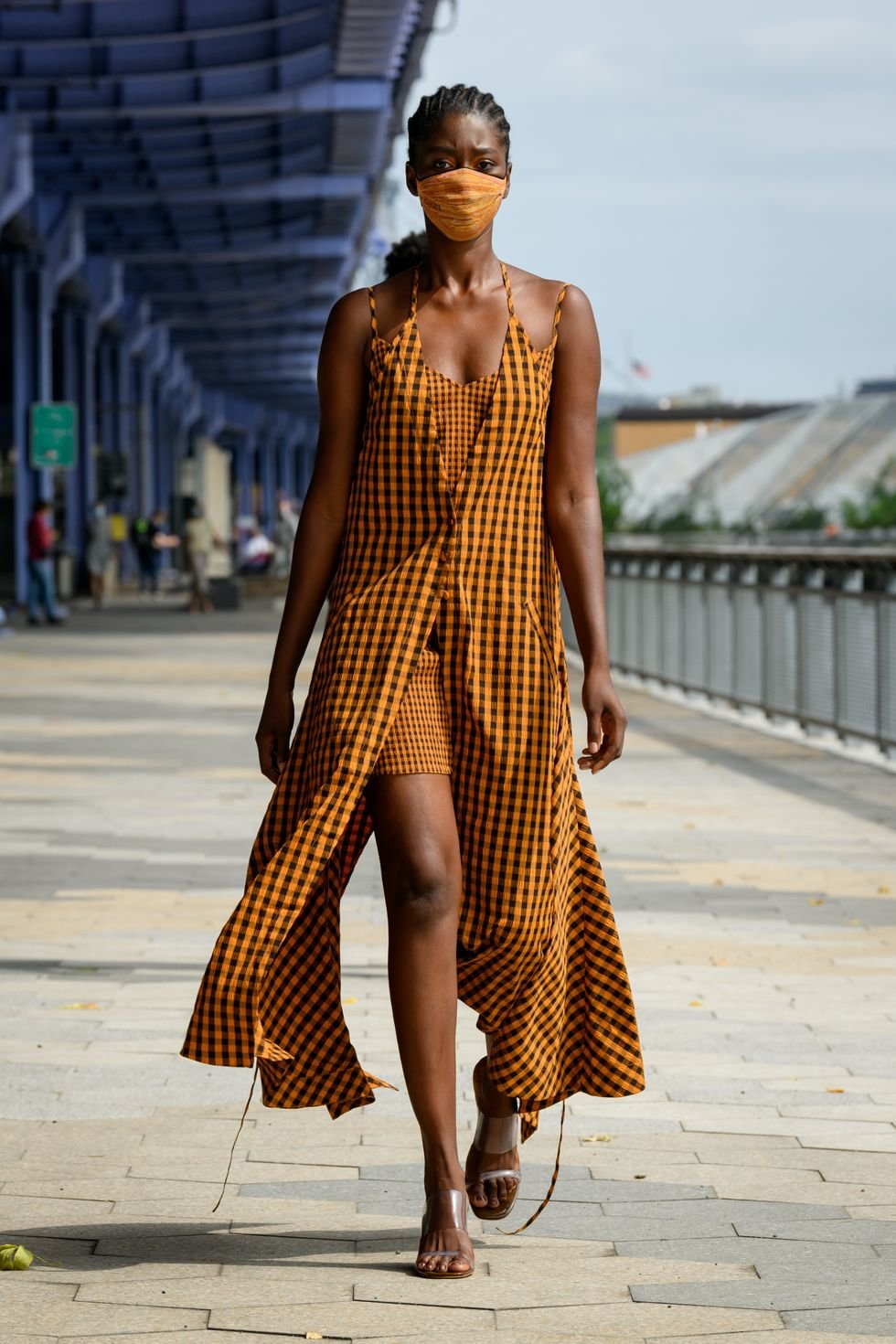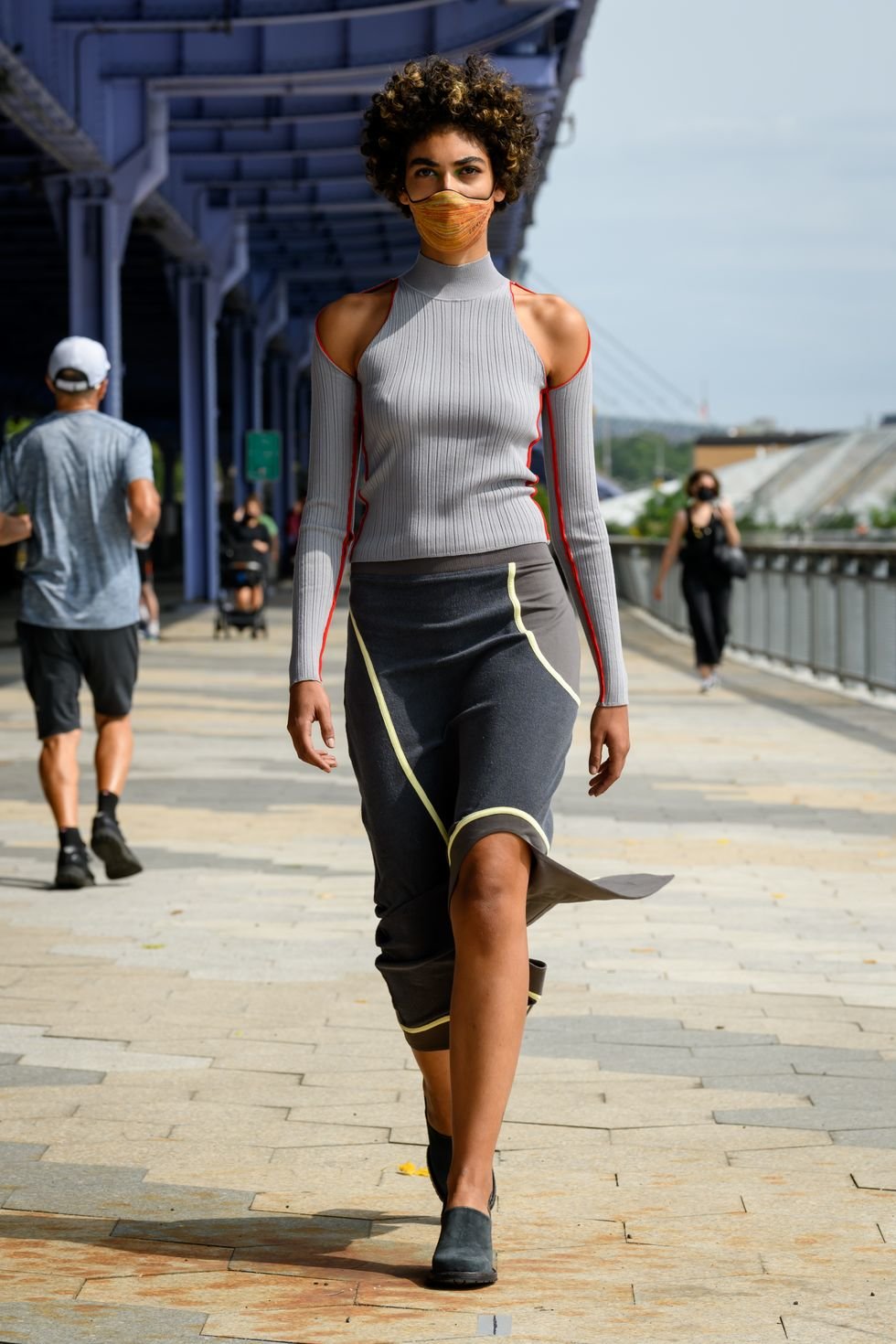 Christian Siriano

In a season that was marked overwhelmingly by digital lookbooks consisting of no-fuss basics, Chrstian Siriano presented a backyard spectacle in Westport, Connecticut that brought the pomp and pageantry. The designer's quarantine doldrums—spent binging on favorite films from his childhood like Clueless, Troop Beverly Hills, and Don't Tell Mom the Babysitter's Dead—inspired a whimsical collection filled with bikini tops and larger-than-life ball skirts, frocks with pronounced shoulders, and suits cast in playful patterns. He paired all of the looks with SJP by Sarah Jessica Parker heels and the season's most important accessory, and one that was absent from too many presentations at New York Fashion Week: matching masks. He also used some of those face coverings, as well as wide-brimmed hats and a fishtail dress, to send another important message: "Vote."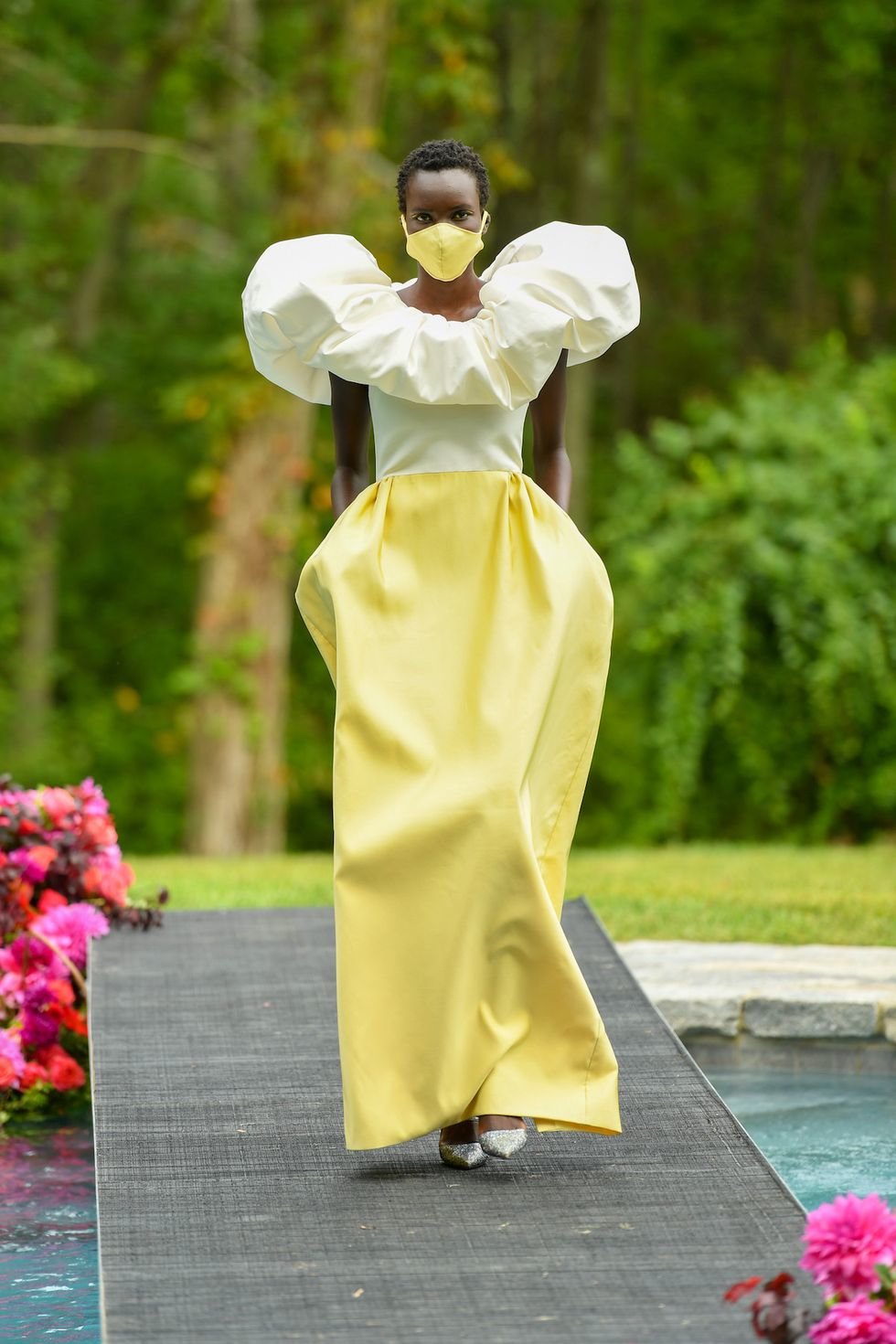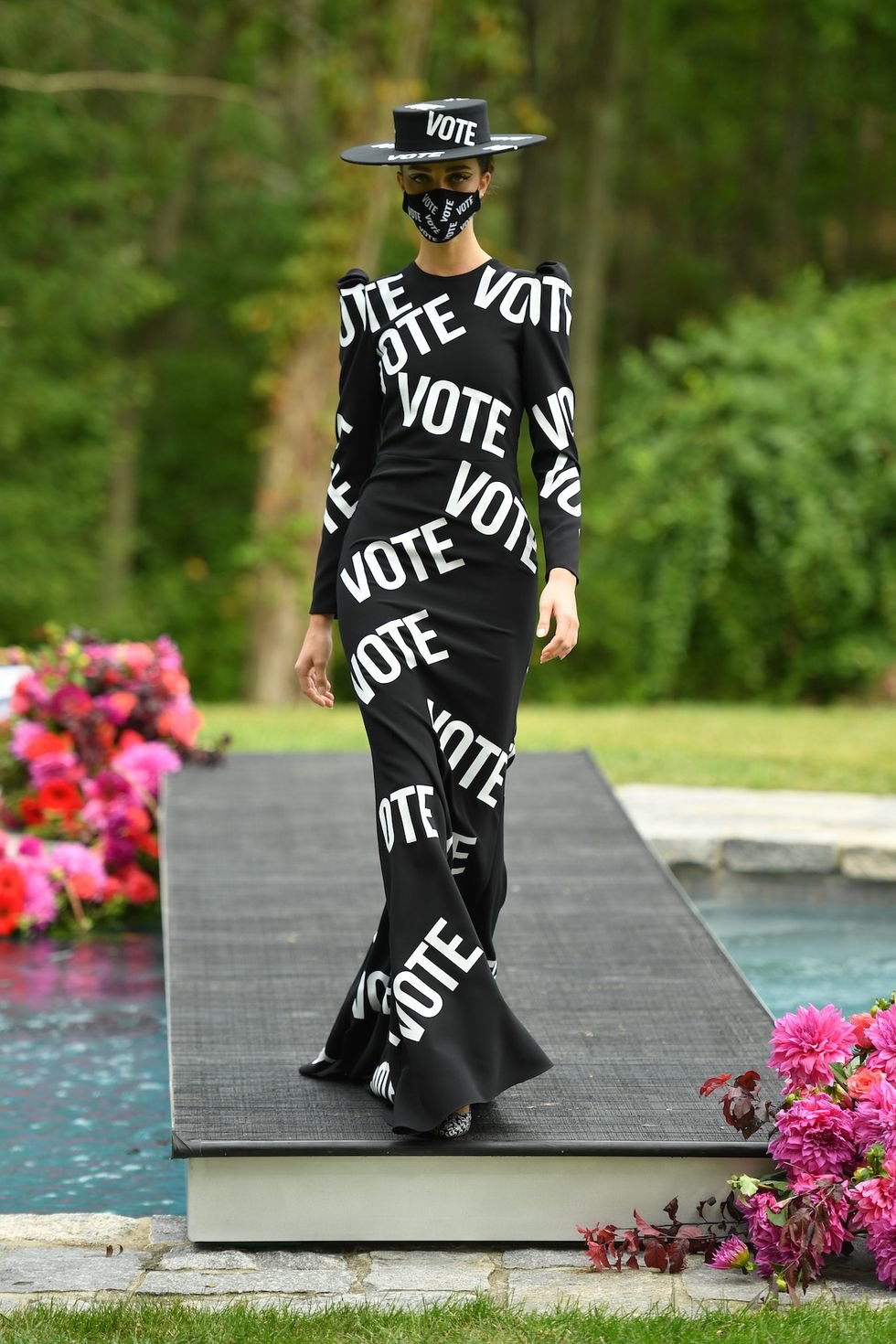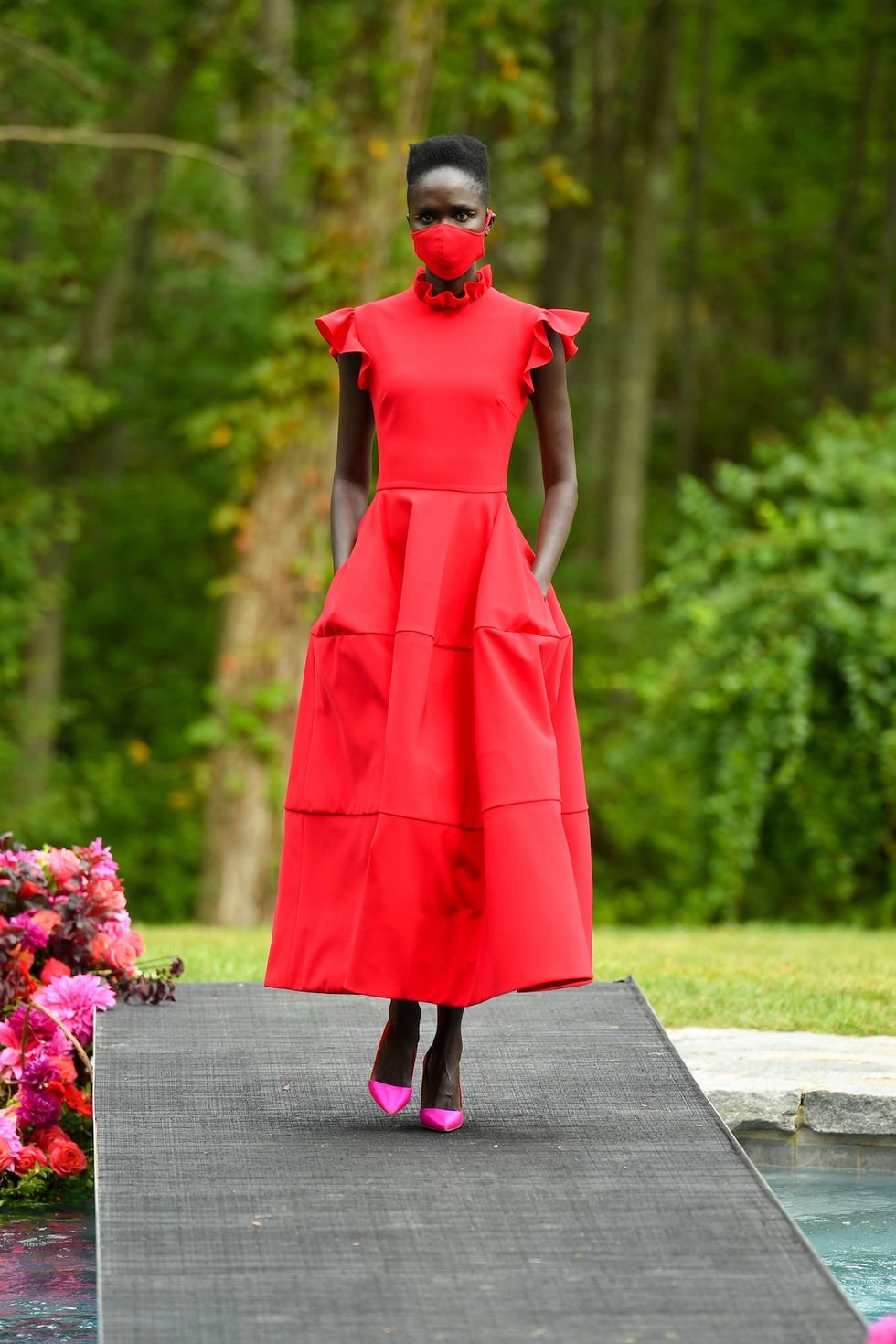 Jason Wu

Jason Wu is one of the few designers who presented in-person for New York Fashion Week, keeping his show small and adhering to COVID-19 restrictions. Set against tropical foliage on a boardwalk-inspired runway that calls to mind one of Wu's favorite destinations, Tulum, Mexico, the designer showed a range of easy warm-weather ready maxi dresses and suiting in bold, bright shades of orange and yellow, offset with blues and greens. The cotton poplins and lightweight knits are part of his new contemporary-priced line, and serve as inviting propositions to wear on an escape from the city—or for a new life in closer proximity to nature. Wu took his bow wearing one of the "Distance Yourself From Hate" masks he designed in collaboration with Fabien Baron to benefit Gay Men's Health Crisis, an organization food and PPE to communities of color who have been disproportionately affected by the coronavirus pandemic and social injustice.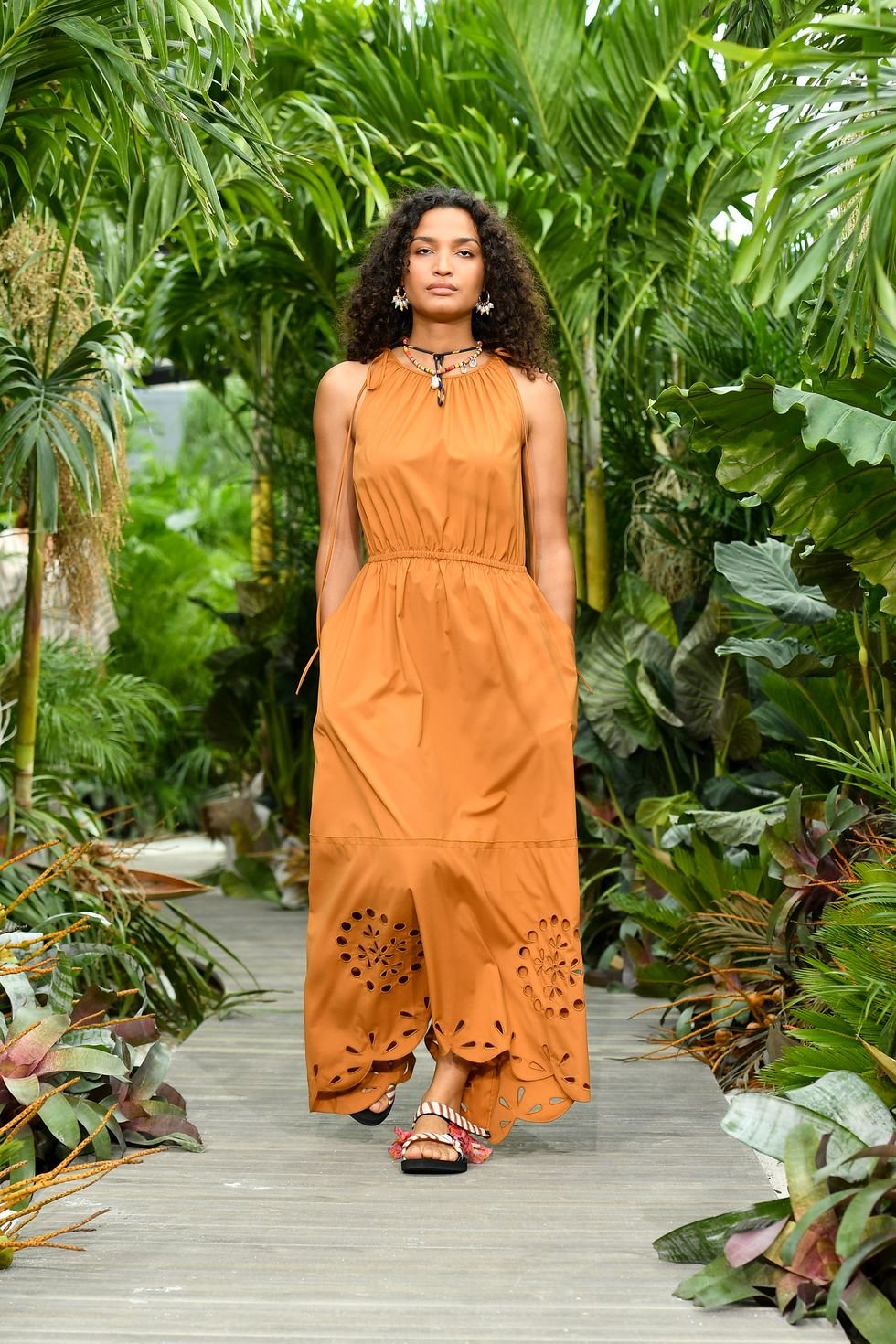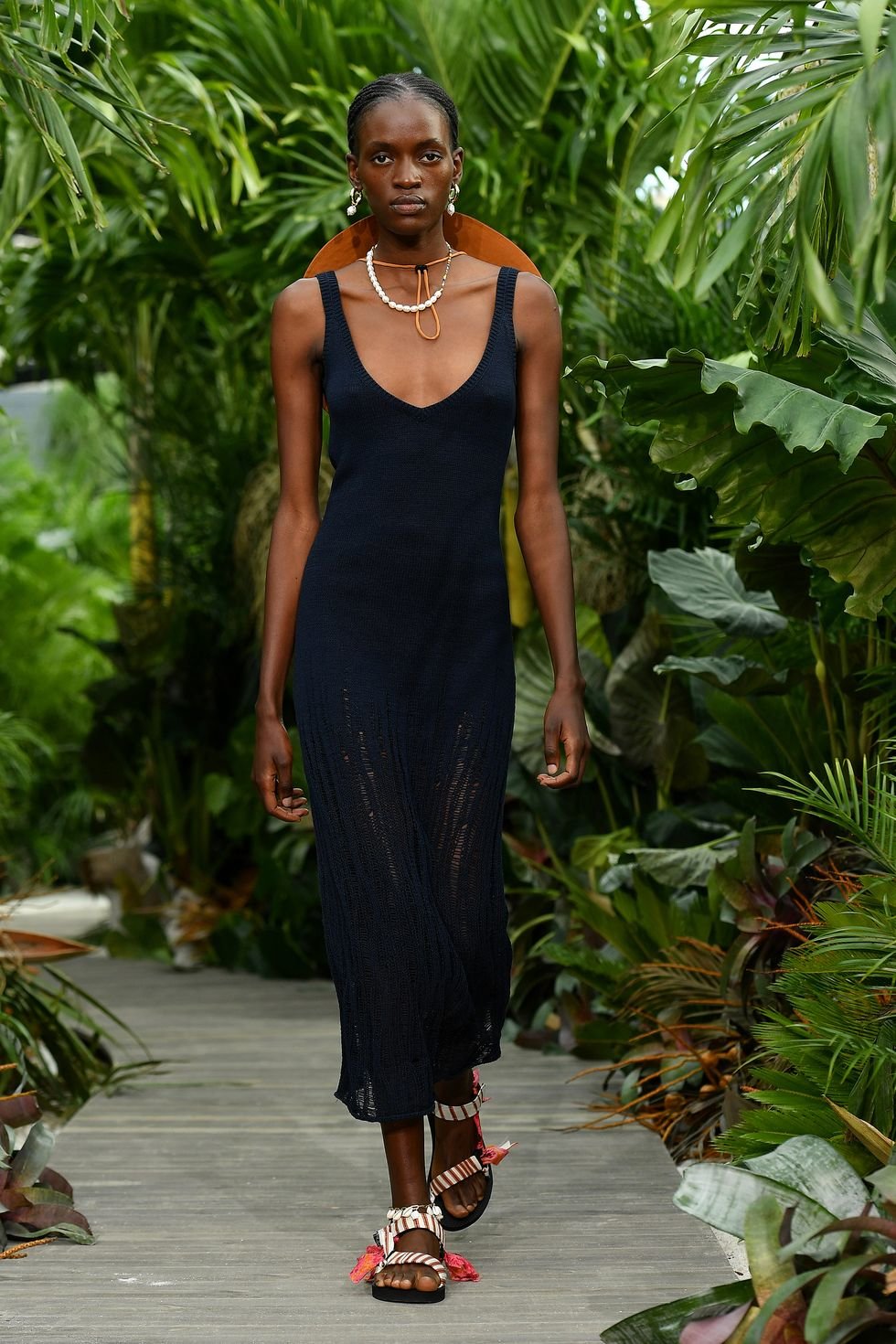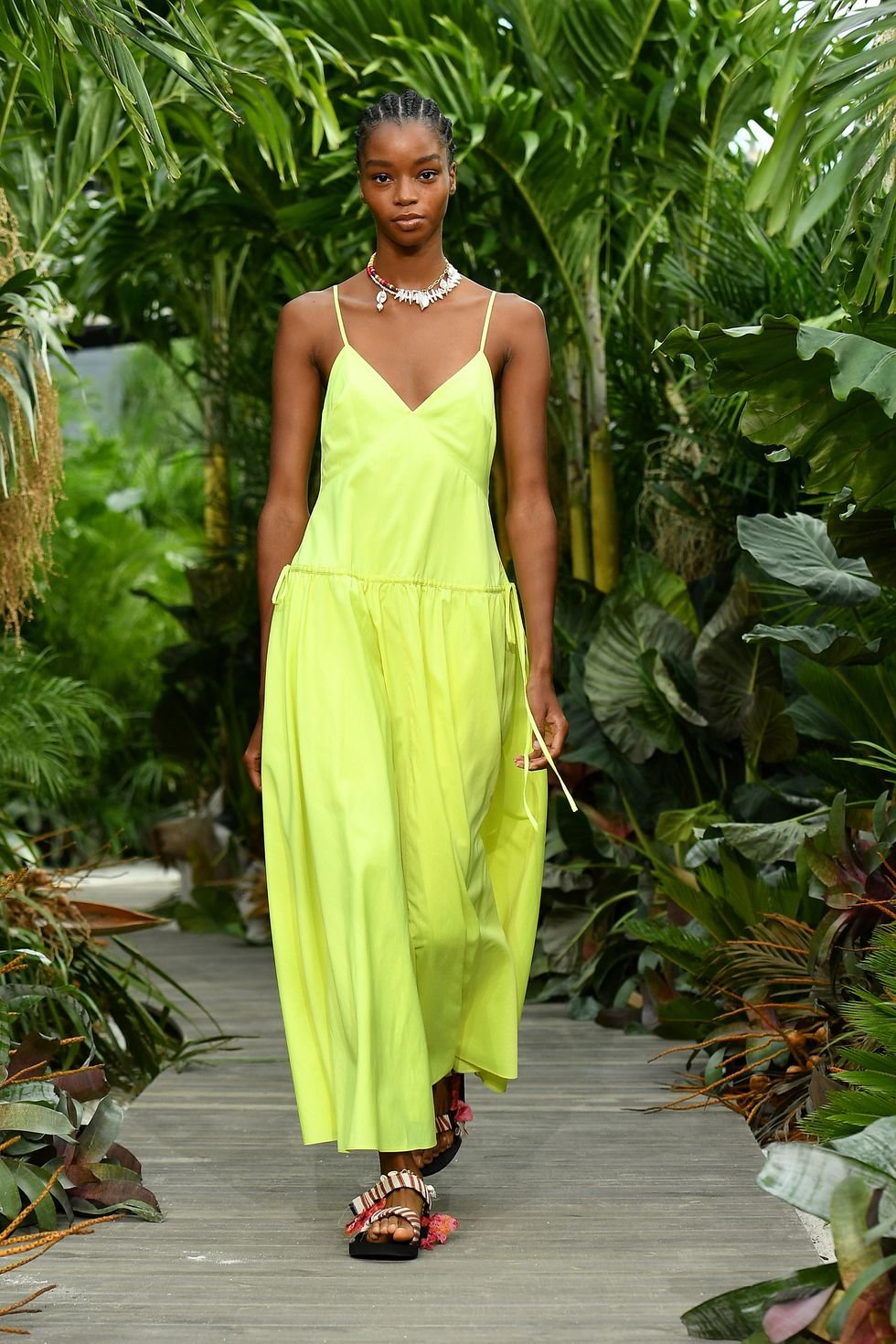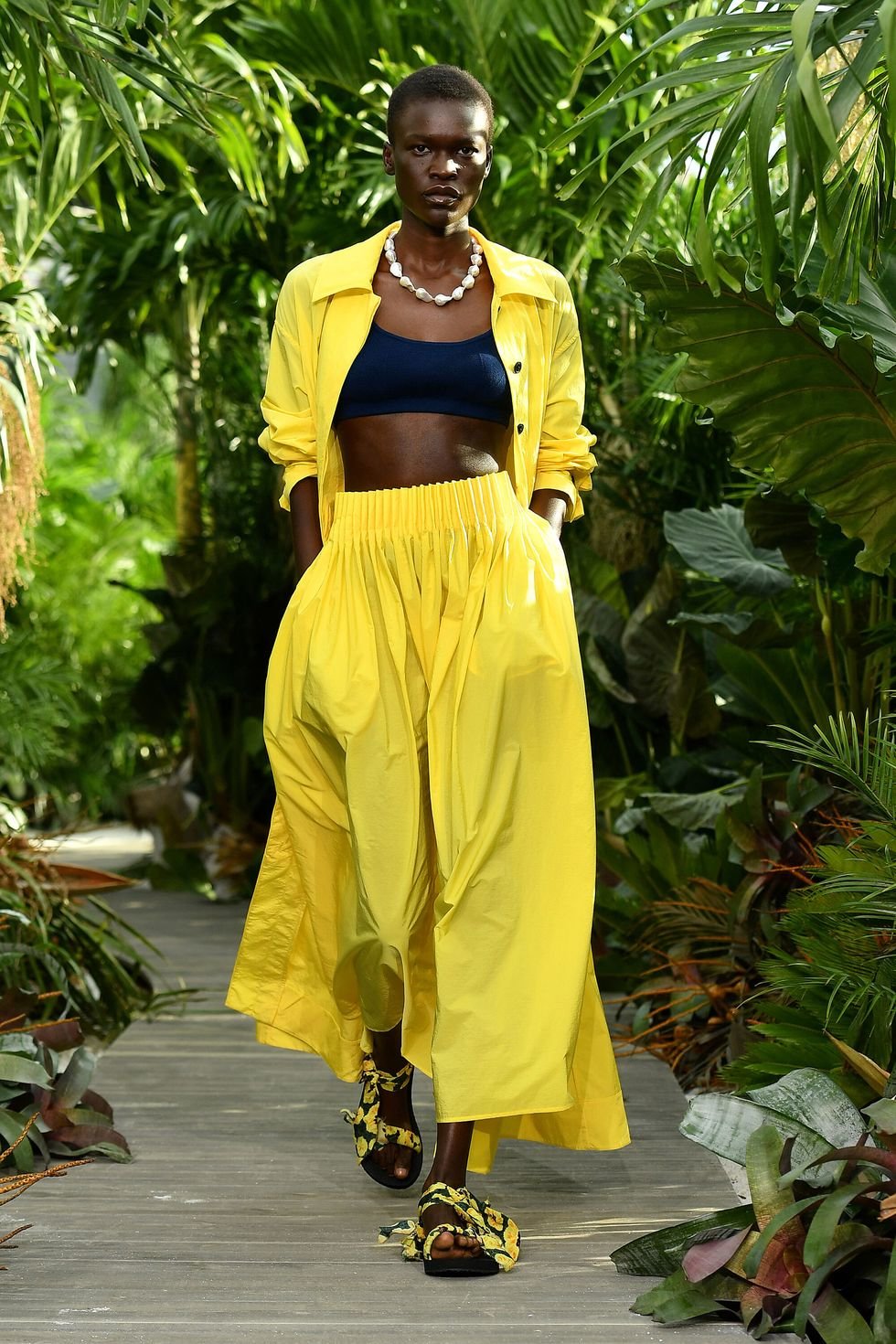 Dauphinette

Olivia Cheng describes her floral dress collection Dauphinette as "the happiest brand on earth." It might be one of the most environmentally friendly too, thanks to the young designer's focus on lowering her carbon footprint by making her puff-sleeve mini dresses and floor-sweeping frocks from deadstock twills and innovative bio-based fabrics like rose petal silk. From a hand-painted vintage leather jacket and a crop top formed from daisies preserved in tree-derived resin to earrings made from the wings of butterflies collected at the end of the creatures' natural life cycle, circularity is the message.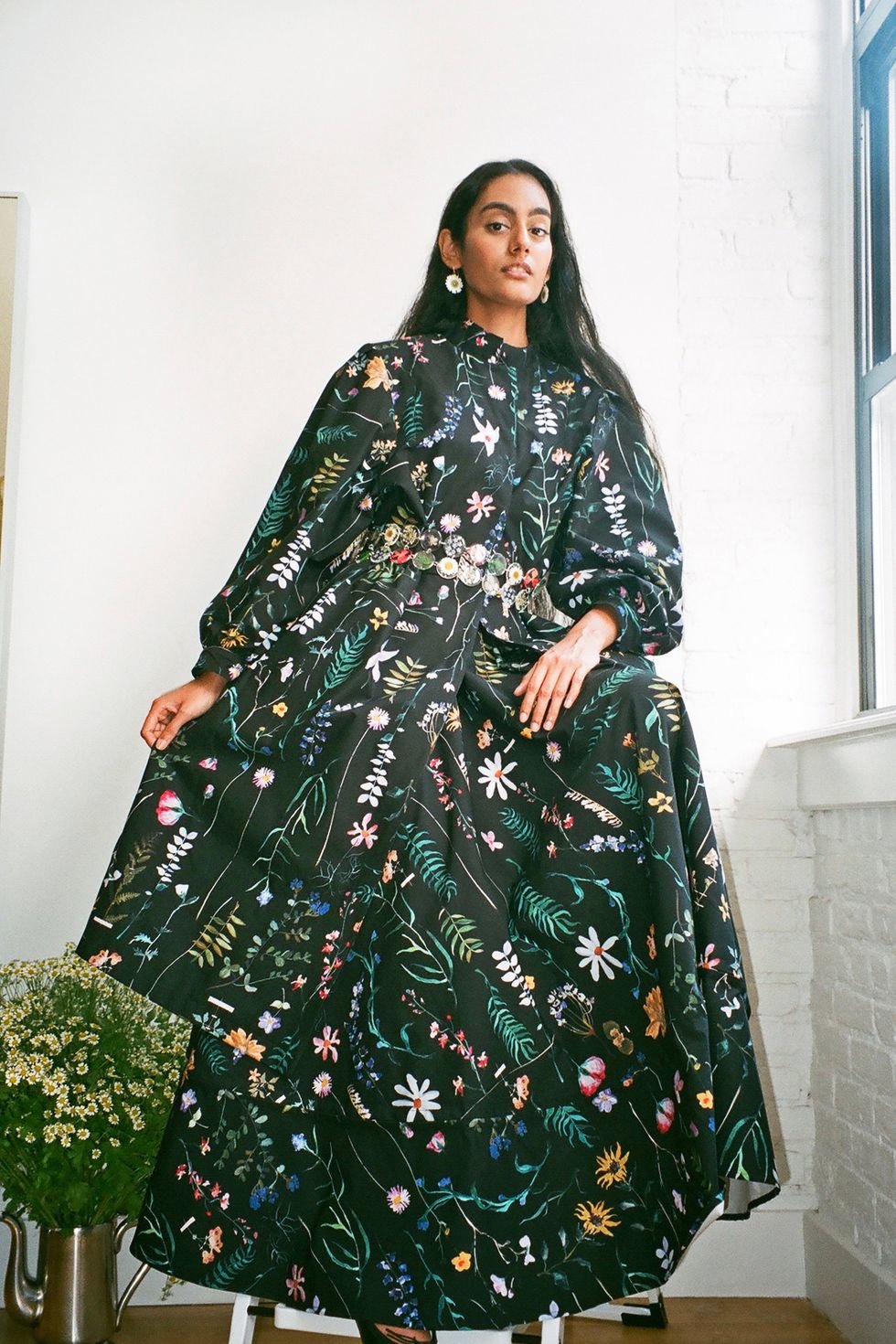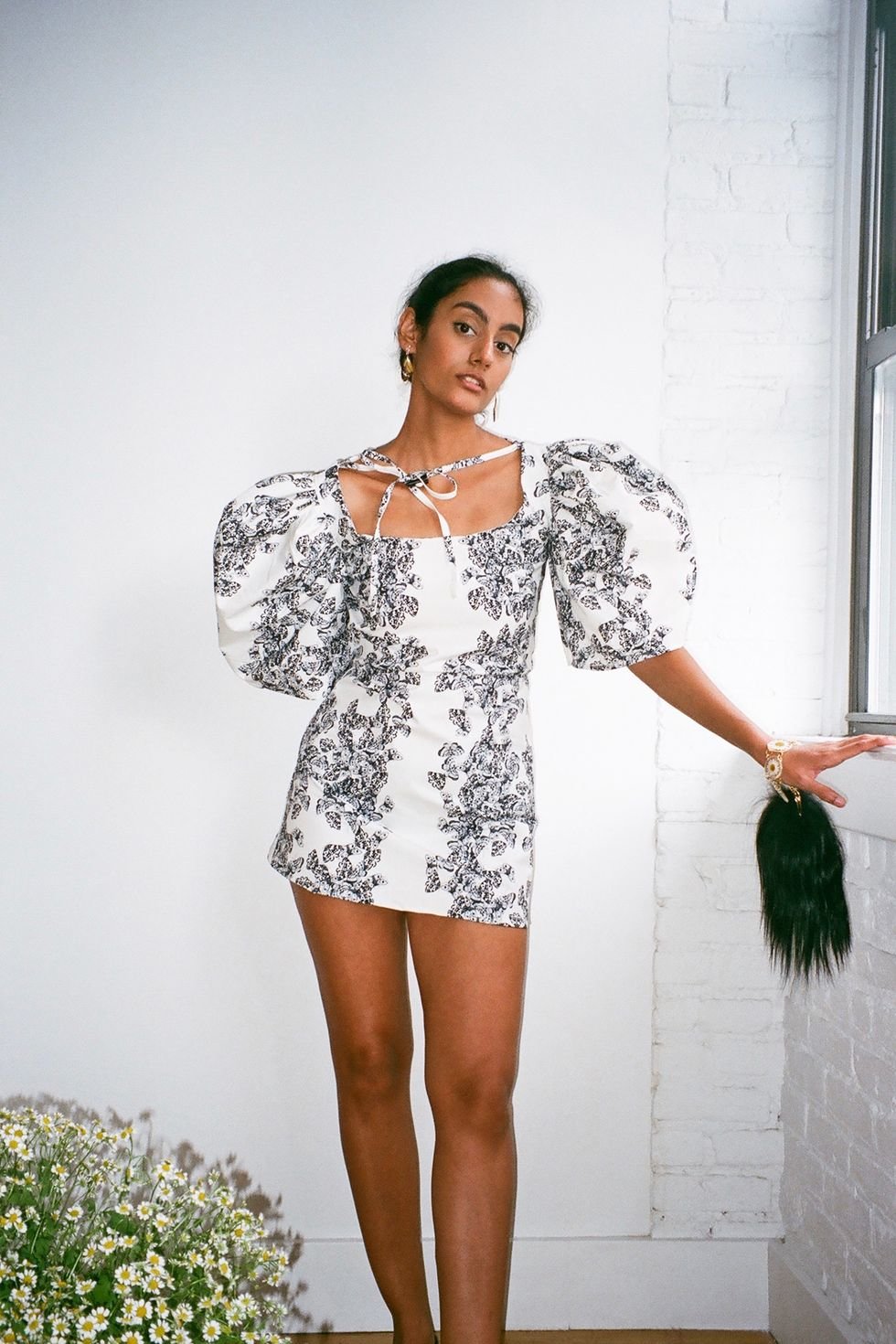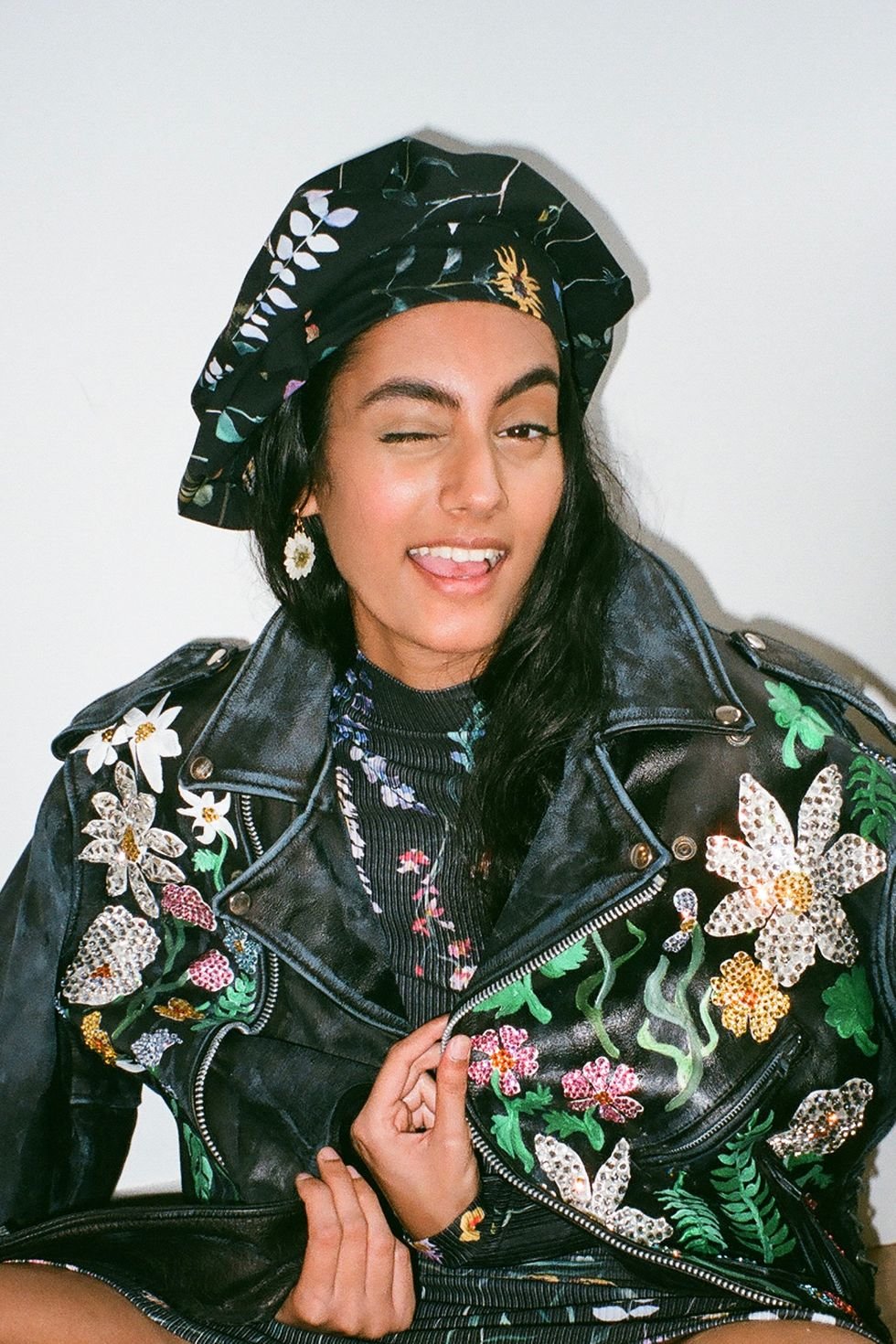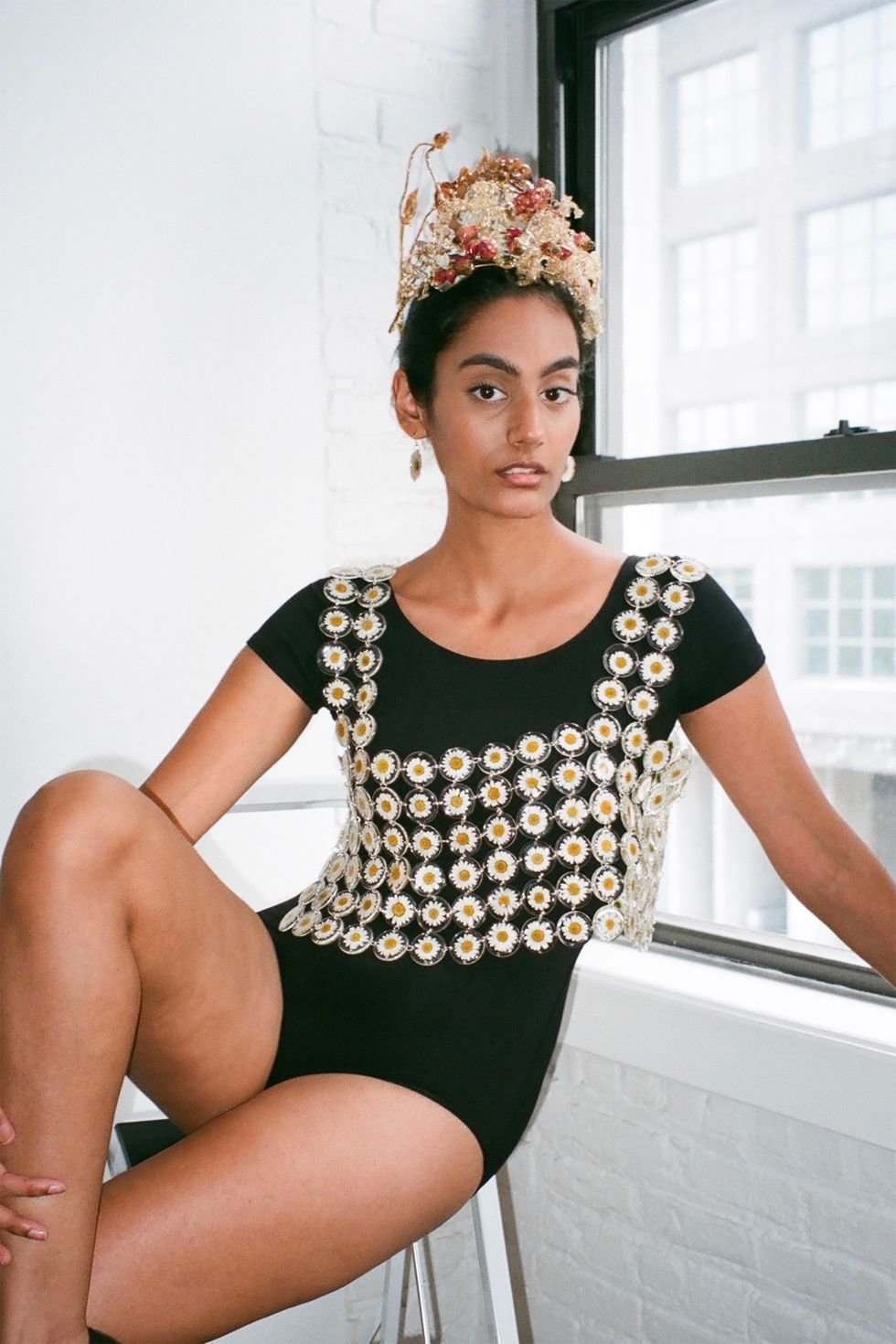 Adeam

While Hanako Maeda would typically be in New York come September, the designer has been quarantining in Tokyo with her family. Adeam's Spring 2021 show was, therefore, that much more global: filmed live in Japan, and released virtually to time with New York Fashion Week.

Maeda typically infuses some elements of her heritage into her garments. But this season it was all about summertime in Japan, illustrated through linen and cotton, the fabrics traditionally used to make yukata, the warm weather kimono worn to summer festivals and hot springs. Those fabrications appeared in a myriad of forms, from easy dresses to wide-leg trousers. They were joined by the brand's go-to Japanese crepe and cotton poplin, which were used to create convertible (and comfortable) daytime pieces. In a mid-pandemic world where designers are challenged to dictate what a now sweatpants-obsessed clientele will wear next spring, it seems Maeda has an answer: easy, breezy, effortless silhouettes—in a hopeful palette of soft blues, camel, whites, sunset orange. and rich fuchsia—that are just as comfortable, but feel infinitely more polished than loungewear.