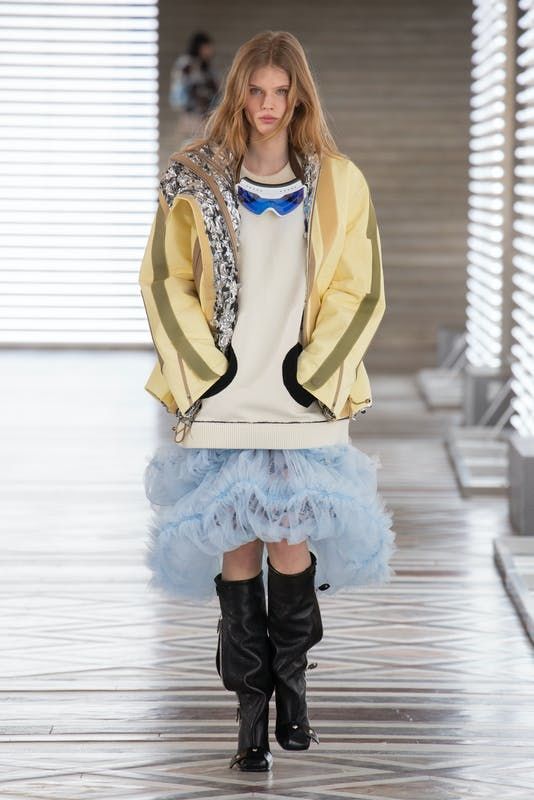 Louis Vuitton Fall/Winter 2021

A full year into the pandemic it's still unclear what we'll all be wearing next fall/winter. Will students be searching for a first day of school outfit instead of slipping on another pair of sweatpants? Will lunchtime meetings require more than a Zoom-appropriate set of loungewear? Will we still be wearing face masks? The designers who showed at Paris Fashion Week Fall/Winter 2021 don't hold the answers to these questions, but their collections definitely offered up some options.

Through mostly digital formats, both work from home functionality and full tilt Parisienne fantasy found their way onto runways. The limited number of shows that did take place IRL, were small, socially distanced, and at times outdoor affairs, including Gabriela Hearst's first presentation as the creative director of Chloé. The designer took advantage of her Paris locale and rounded up models for a runway on the cobblestones leading out of Brasserie Lipp. The boulevard of the famous French restaurant was once where Chloé's late founder Gaby Aghion hosted shows.




Nicolas Ghesquière of Louis Vuitton also leveraged his French surroundings, showing out of the Louvre's Denon wing. Models weaved through and walked alongside sculptures of Roman, Greek, and Etruscan descent. Famous illustrations of faces from antiquity hand-drawn by Italian design atelier Fornasetti appeared throughout the collection, providing an appropriated foil to the setting. In addition to incorporating Fornasetti into the collection, Ghesquière also acquired a pre-breakup Daft Punk track, "Around the World," for the show's soundtrack. The combined effect solidified the nostalgia already brought about by the show, because it marks a year since the last pre-pandemic fashion show, which also belonged to Ghesquière.

But the sense of nostalgia was not a sad one. In fact, the designer's goal for the Fall/Winter 2021 assembly was to inspire hope for the future. He achieved this sartorially through statement pieces intended for the coming-out-of-quarantine parties we've yet to schedule, but are sure to attend when the time is right. Graphic bomber jackets met bubbling bright blue tulle skirts. Bejeweled tunics characteristic of the fashion house underlaid sculpted capes. Slouchy leather wedged boots kissed the hems of lime green floral embroideries.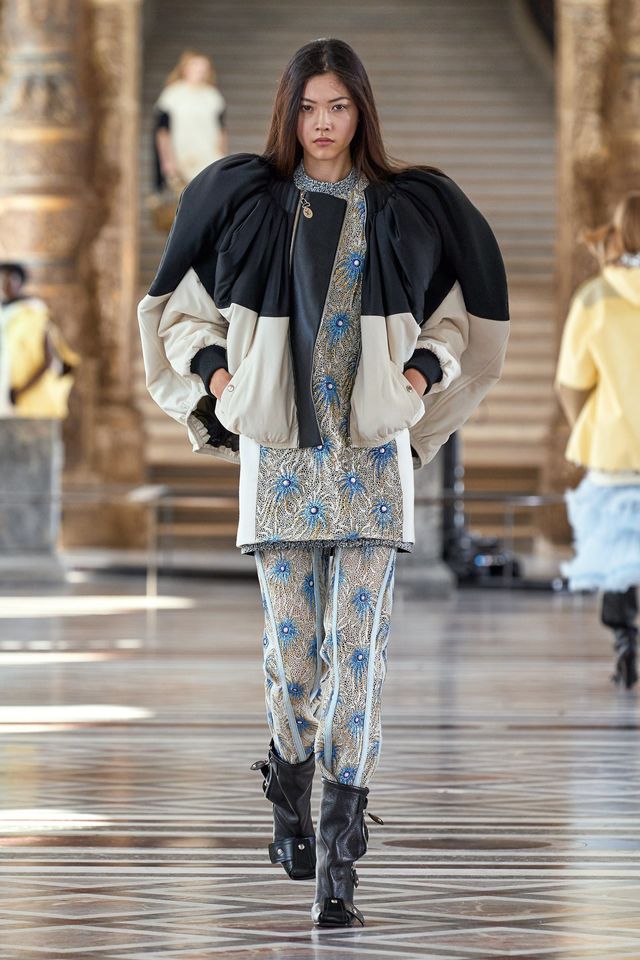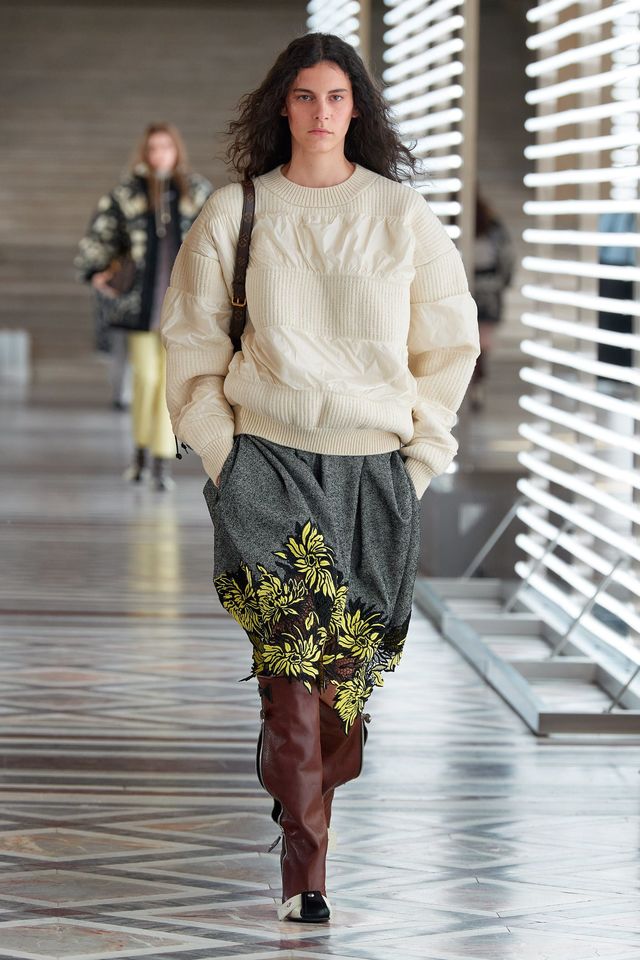 Filmed along the Palace of Versailles' Hall of Mirrors, Christian Dior created a dark, but alluring fashion fairytale orchestrated by Creative Director Maria Grazia Chiuri. Titled Disturbing Beauty, the digital presentation delves into the relationship we have with mirrors and self-image. Assisted by the Palace setting and waxed mirrors created by Italian artist Silvia Giambrone, Chiurri interpreted Madame de Villeneuve's Beauty and the Beast. The narrative was layered with other storytime favorites like Little Red Riding Hood, Cinderella, and Sleeping Beauty. The result evoked a sense of timeless beauty expressed through fashion as classic as the literary fantasies it was inspired by.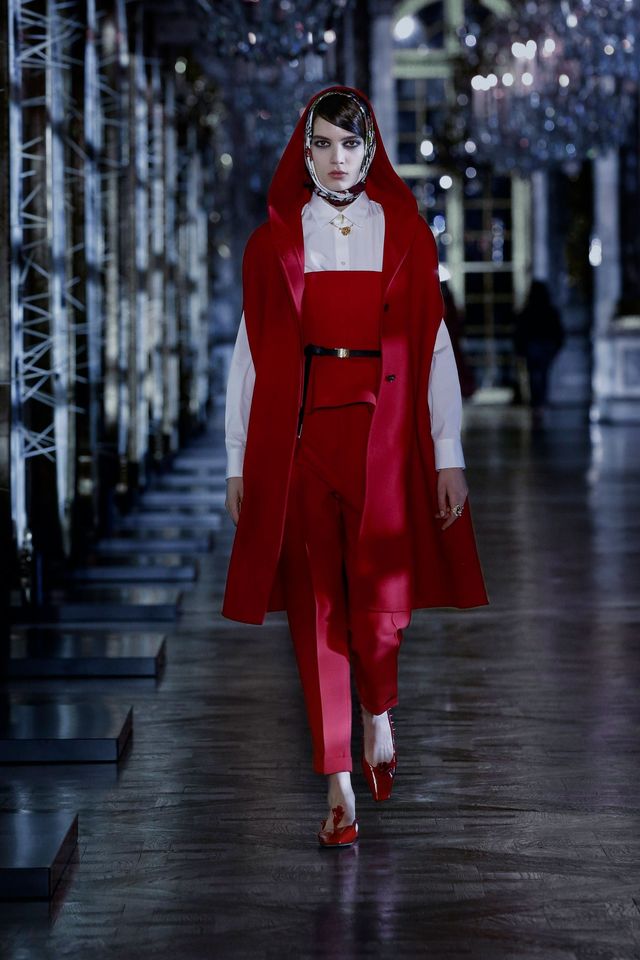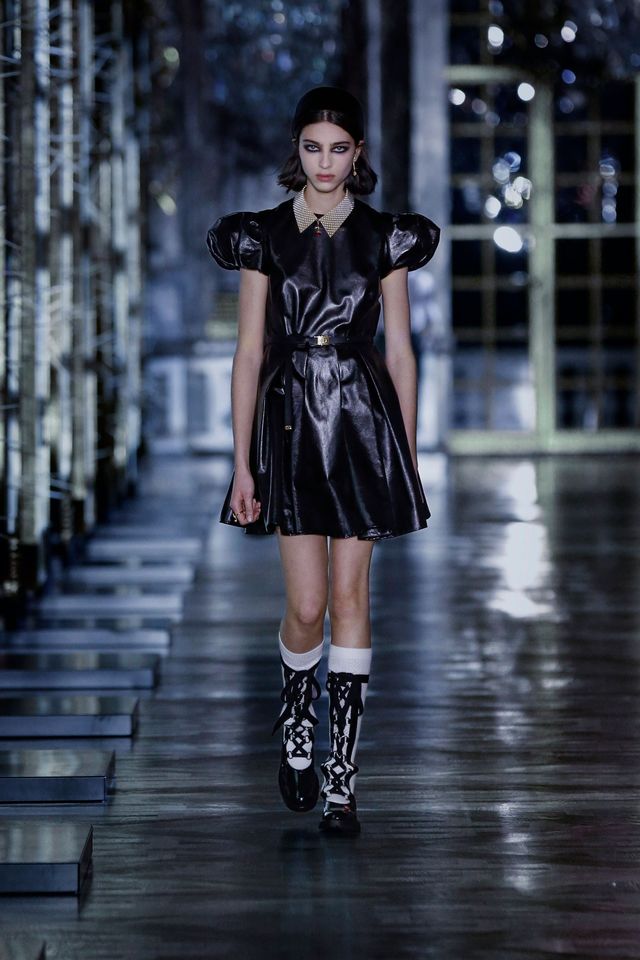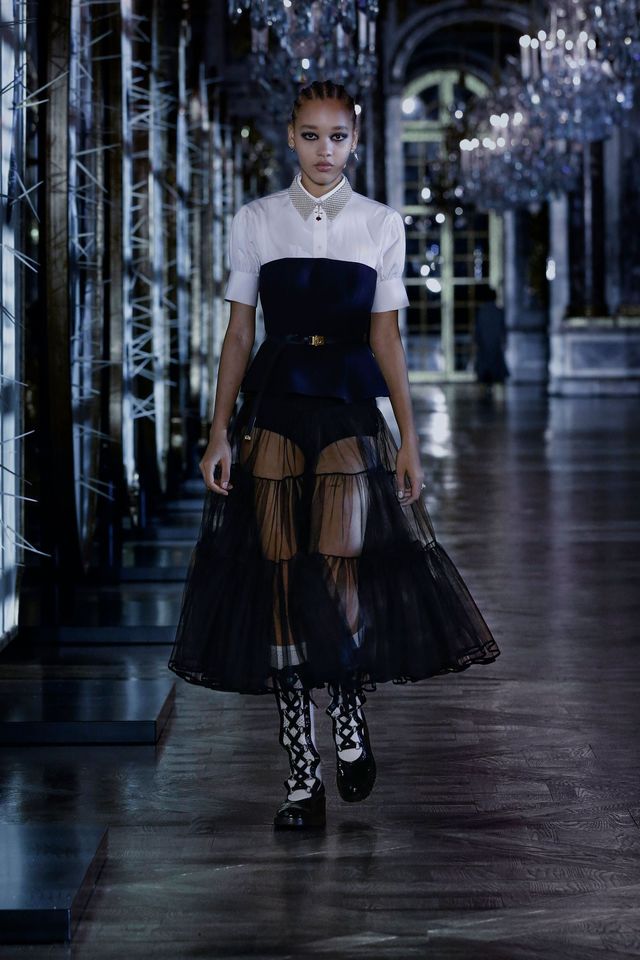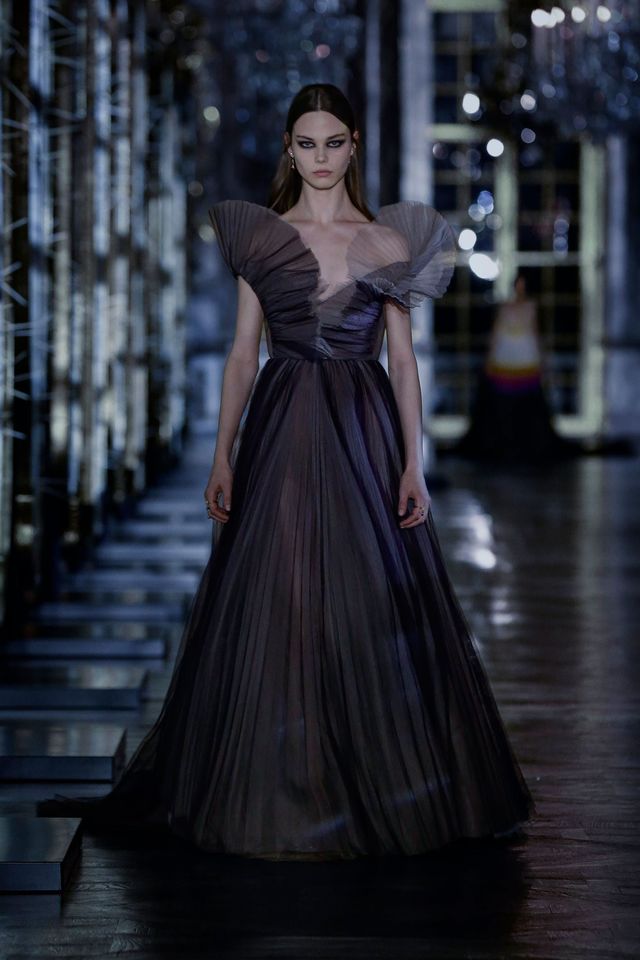 Typically Chanel would have met Louis Vuitton and Dior at a castle or similarly decadent set for its runway, but for the Fall/Winter 2021 the brand took a different route. Creative Director Virginie Viard opted for the cozy ambiance of legendary Left Bank nightclub Chez Castel. The venue has been a destination for French socialites and celebrities since Jean Castel first opened its door in the 1960s. The air of coolness gave way to a collection that blended Chanel's tweed archetypes with futuristic furry moon boots. Perhaps the fuzzy footwear was unexpected for the French brand, but it was echoed by Italian fashion house Miu Miu. Inspired by her love of the mountains and imbued with conceptual codes of indoor-versus outdoor dress, Muccia Prada also sent huge and hairy boots down a digital runway.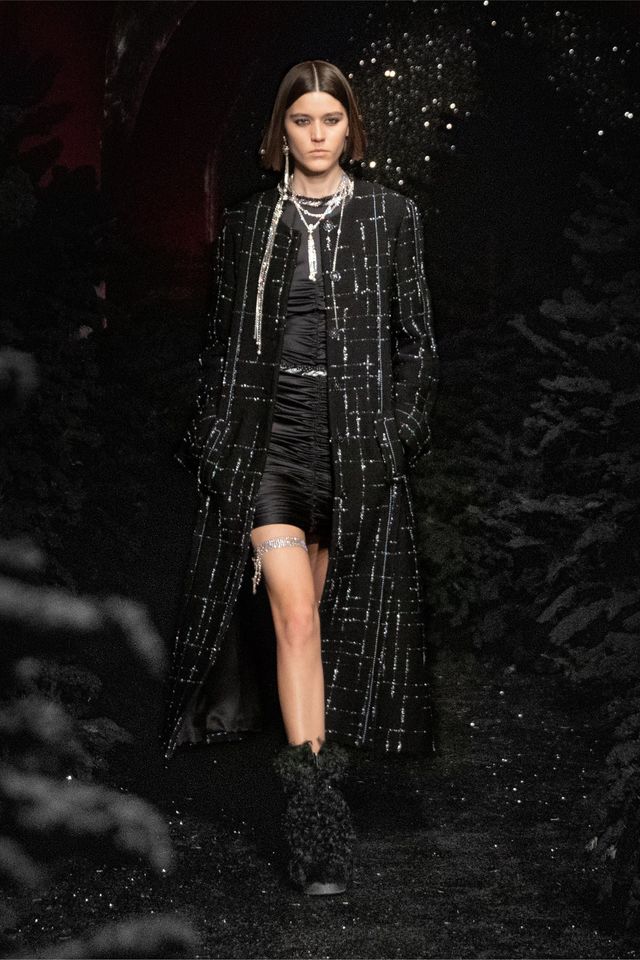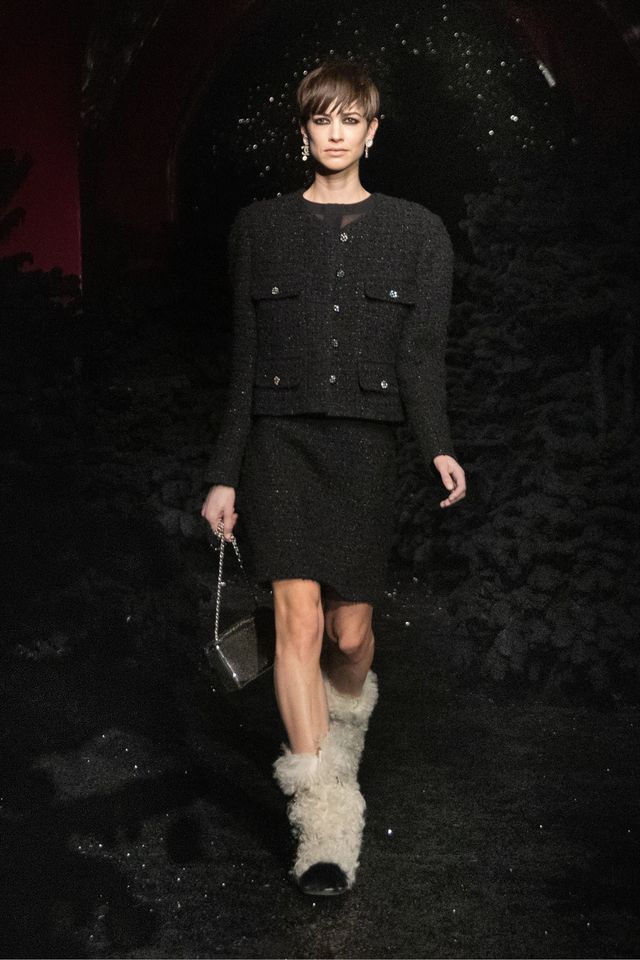 Chanel Fall/Winter 2021.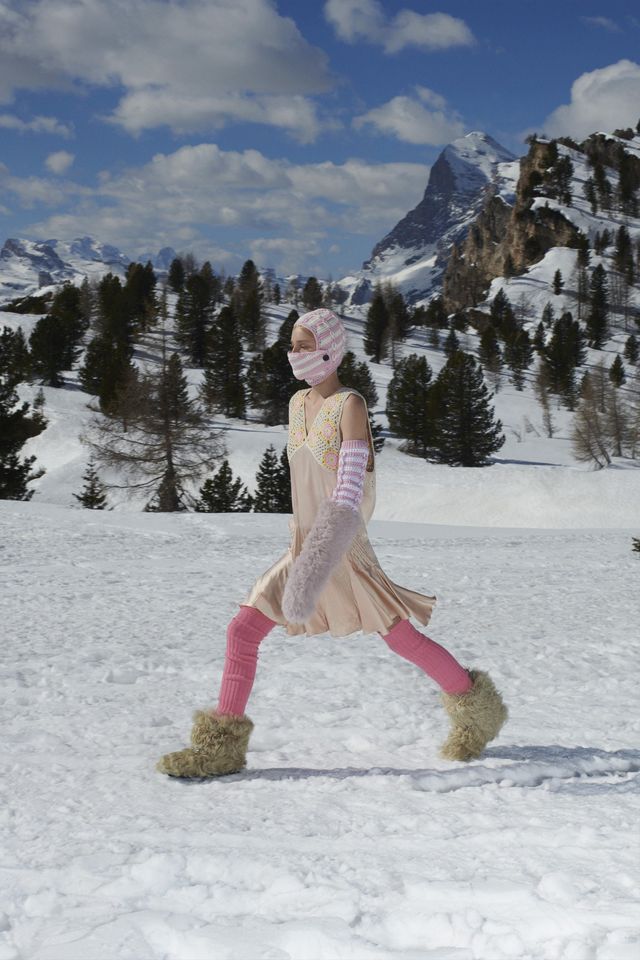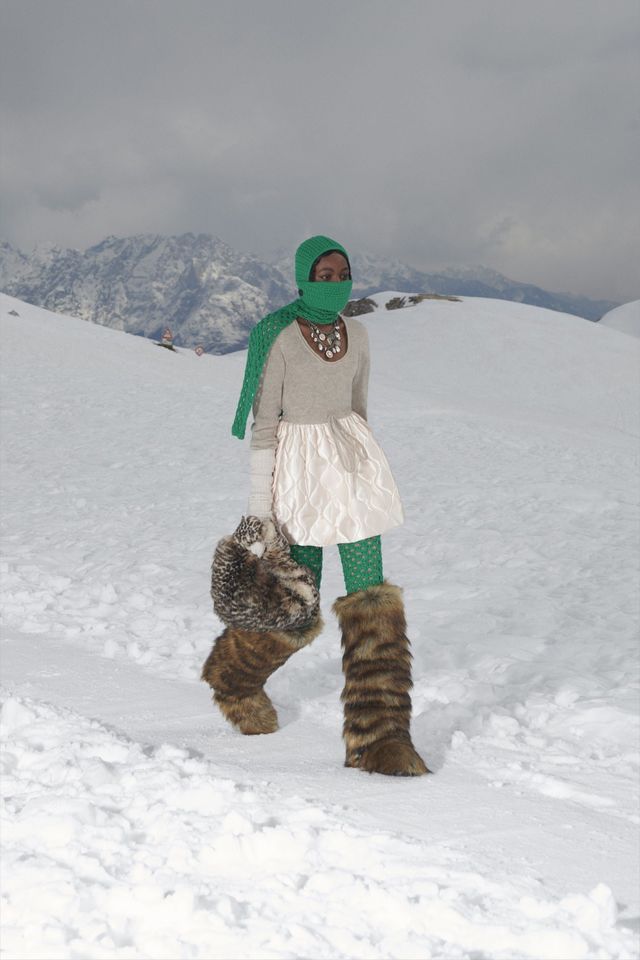 Miu Miu Fall/Winter 2021.

Beyond the boots, the two women lead labels explored their house's individual history of silhouette and structure. At Chanel heavy tweed coats sat on the straps of delicate evening ensembles evoking a sense of après ski spirit. Voluminous puffers, ski pants, and quilted salopettes paired unexpectedly with closely cropped leather jackets and midriff-baring camisoles. At Miu Miu, glittering pastel knitwear triumphed in tandem with the feminine shapes familiar to the fashion house. Cartoonish pink puffer quilted mittens made friends with cream circle skirts and an of array of playful knitted face coverings.

Despite their thematic similarities though, Prada's presentation differed greatly from Viard's on the basis of destination and domesticity. Miu Miu is known to be the more playful side of Prada's creative universe, but the colorful knits marked the introduction of a new kind of Miu Miu woman. This latest version of the label leaves behind stereotypes of the high fashion female, a departure set in the snowy hillside of Cortina d'Ampezzo. This idea of departure manifested through physical scenery was also present on the Balmain runway, which took place in a cavernous hangar at Charles de Gaulle Airport. Creative director Olvier Rousteing sent models walking in and around an Air France 777, put out of airline commission by the pandemic.




As reimagined flight suits of army green and brown leather buckle bound jackets transition to a futuristic selection of silver and hot pink, the backdrop becomes a space expedition. The virtual outerspace landscape set the stage for Rousteing's sartorial experimentation with singular neon suit lapels and bright orange leather platform boots. The tenured creative director, who has managed to last longer at the helm of a French fashion mainstay than his peers, continued to explore ways of blending the youth of his Millennial and Gen Z based "army" of fans with structural elements of fashion's past. Matthew Williams made a similar effort over at Givenchy, blending faux fur, leather, and animal masks for a music-inspired virtual show.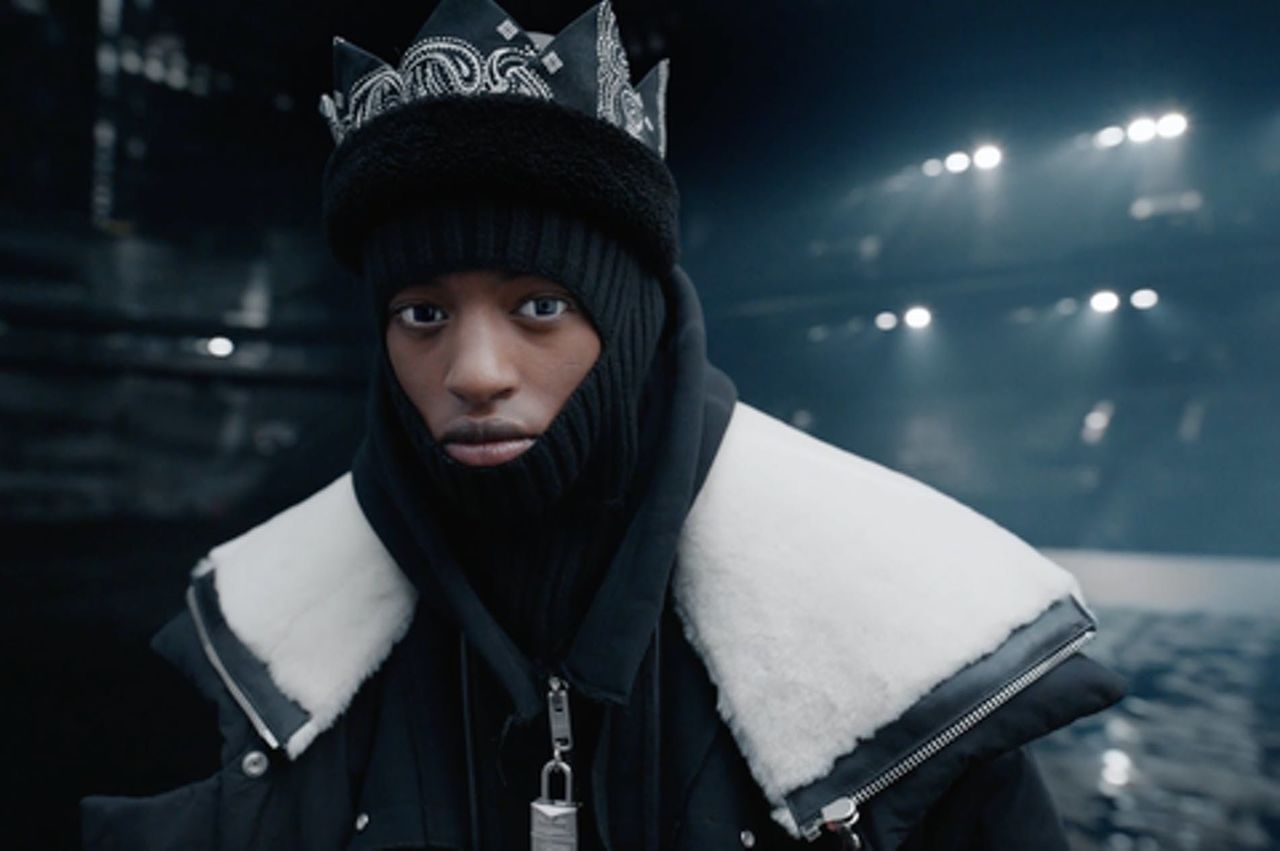 Givenchy Fall/Winter 2021

Stepping outside the box of digital versus traditional shows once again was Loewe. It has become an expectation at this point that Jonathan Anderson will innovate the unexpected in order to present his Loewe collections amid COVID constraints. "The Loewe Show has Been Canceled" is the headline of Loewe's A Show in the News runway rendition Anderson prepared in collaboration with the M/M Paris team. The pair realize the newsworthy theme of the Fall Winter 2021 assembly through photos of Freja Beha Erichsen taken by Fumiko Imano.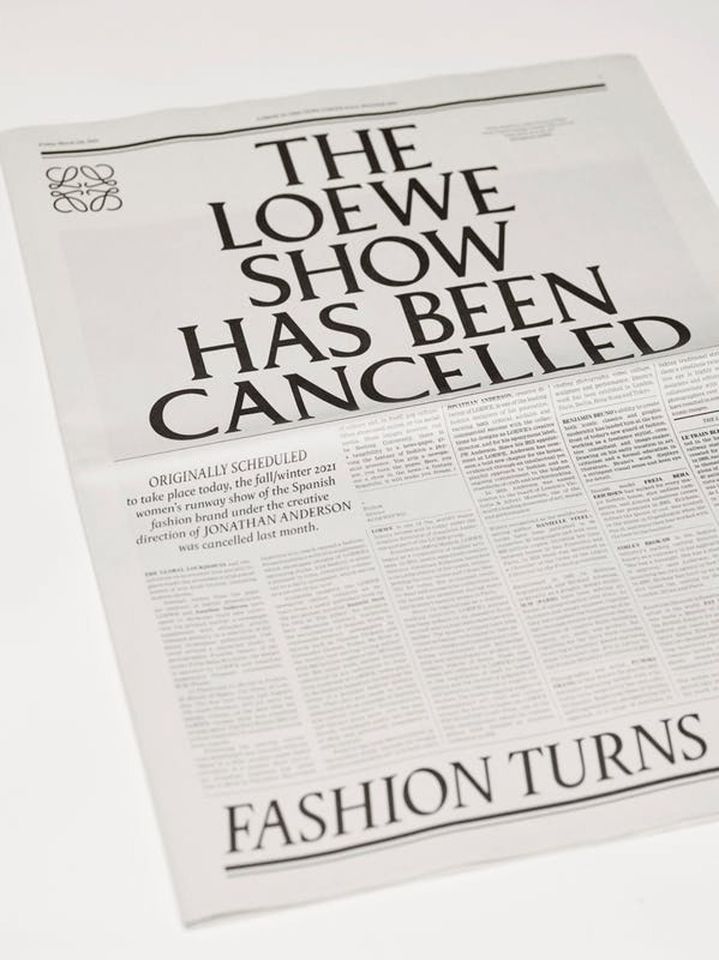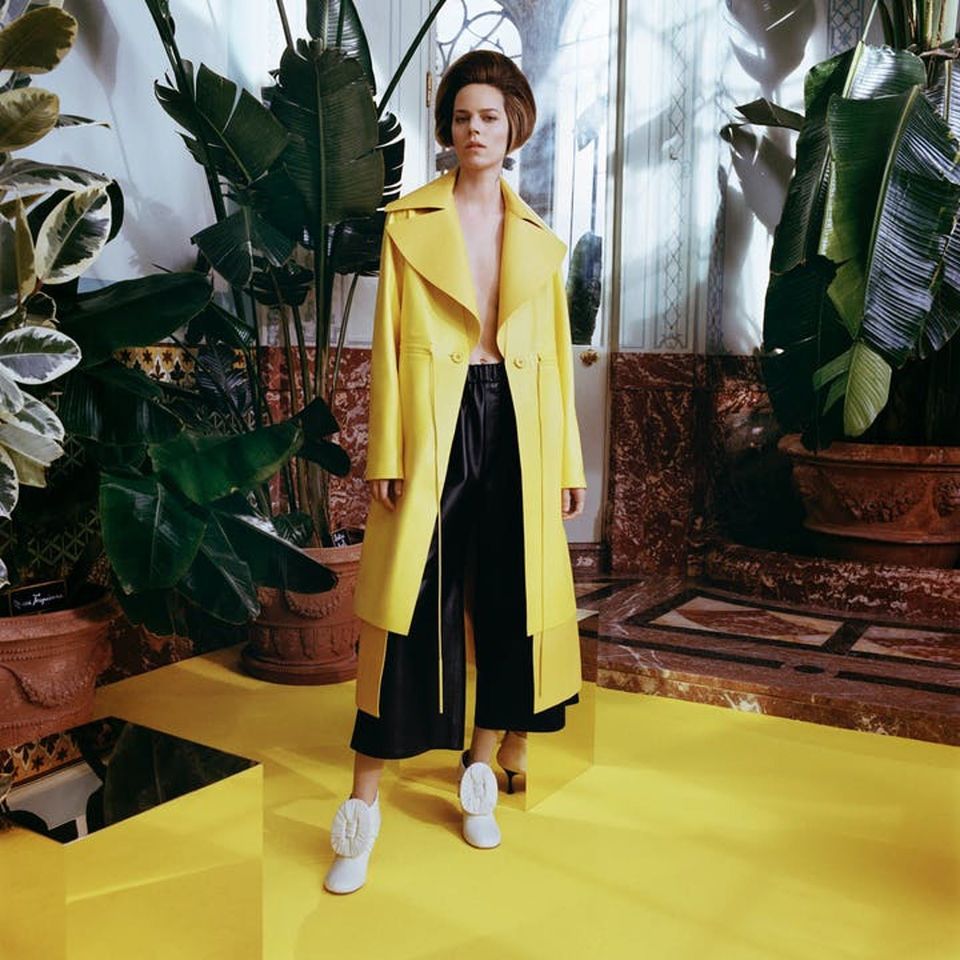 Loewe's Fall/Winter 2021

To top it off, real publications featured the show on the day it was supposed to premiere at fashion week including El Mundo in Spain, Le Figaro, Le Monde in France, The Times in London, The New York Times, and The Asahi Shimbun in Japan. In a year that hopefully has more fortuitous headlines ahead, the collection embraces the moment while keeping the fashion fantasy alive.