As Fashion Month shape-shifted and swelled beyond its bounds, I spent the past two months Zooming with designers, hearing how they're adapting to this moment in time and what their customers are asking for now. For some, the answer to both questions is loungewear, with even brands who previously wouldn't be caught dead around an elastic waist starting their own loungewear capsules or categories. Labels from Mara Hoffman to Alejandra Alonso Rojas to the spa brand Chillhouse have recently dipped a toe into the format, with The RealReal set to launch a line of upcycled loungewear later this month.

But for the most part, what I'm hearing about is party clothes. People are craving going-out tops, dresses, and acres of sequins, even if they can't wear them out for months. No wonder Blumarine's club-happy collection went mega-viral.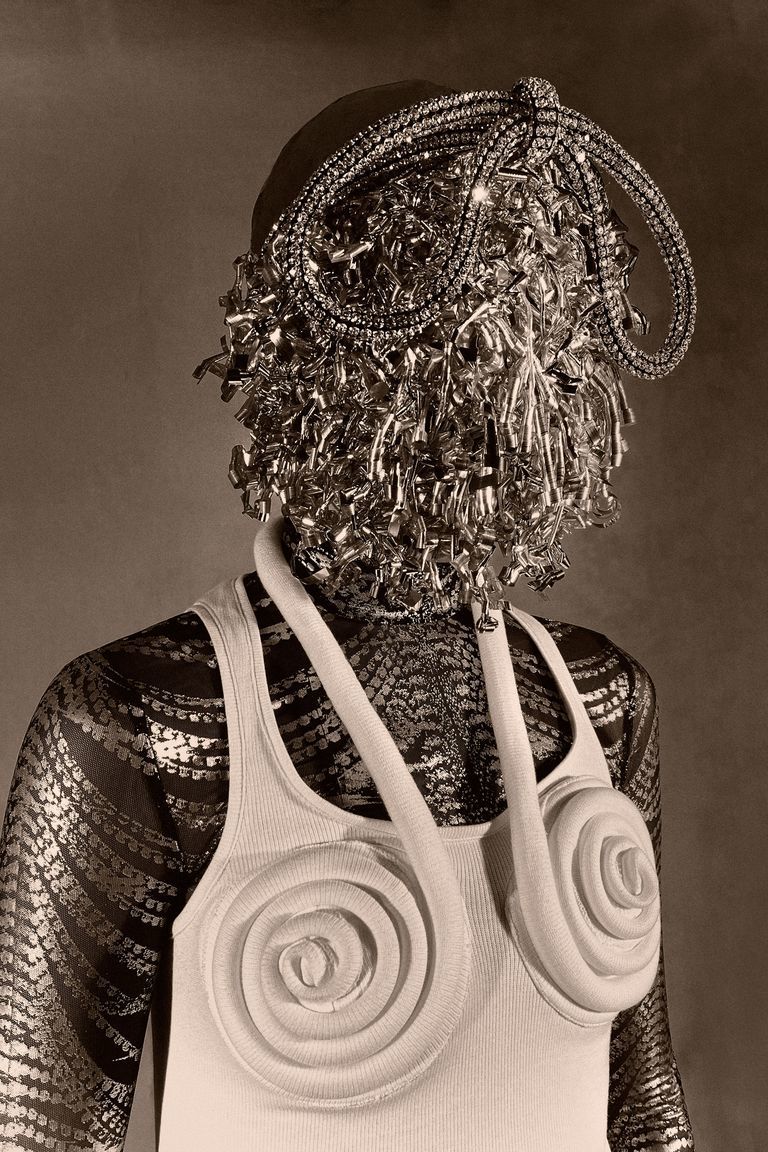 Area spring 2021

Whether or not the coming months will inaugurate a new Roaring Twenties is a little uncertain, and that uncertainty was expressed in the clothes we saw for fall 2021, whether it's the split-screen quality of many of the virtual looks on offer or the mixing of comfort and tailoring that dominated the season. But nowhere has it been clearer than in the styling, as masks and other face coverings, which have become a staple of many runway shows, are shown with party-ready looks. Admittedly, this may not be a real-world styling suggestion, but it speaks volumes about our unclear moment, and about the fact that protective gear is, at this point, so neutral that designers are using it as a canvas for their own creative flights of fancy.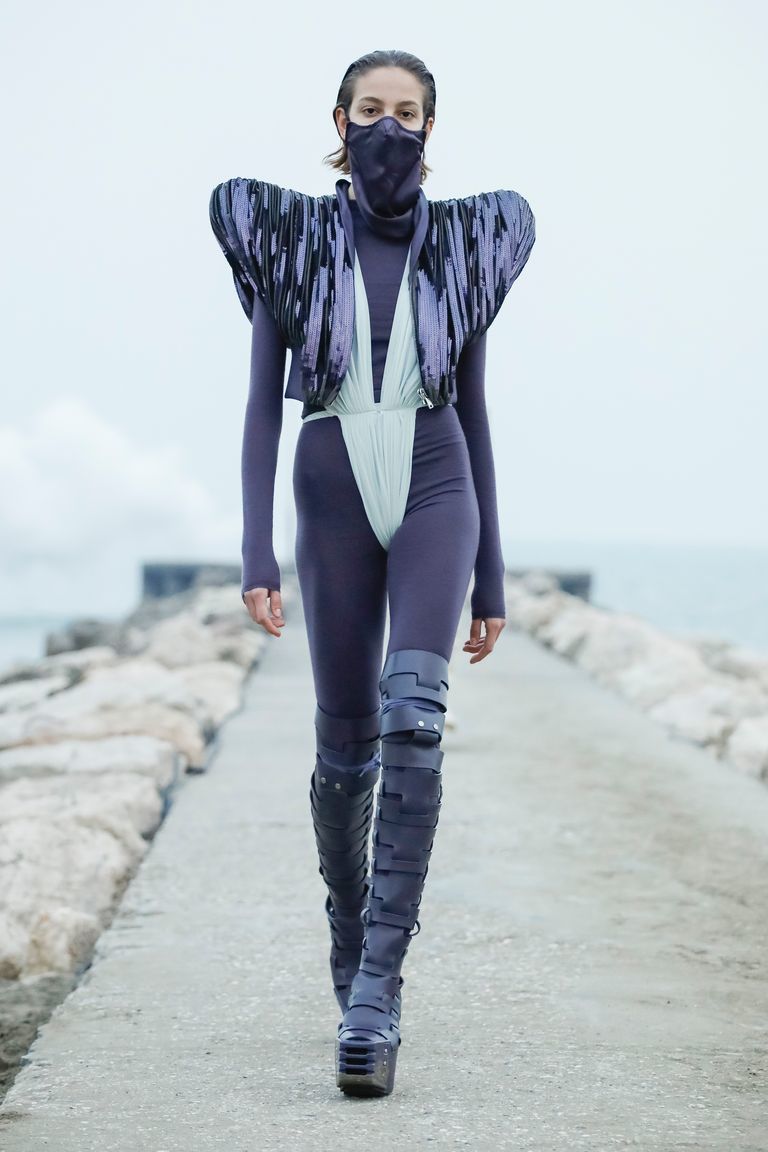 Rick Owens titled his fall collection Gethsemane, after the garden that Jesus prayed in the night before his crucifixion, which he described in his show notes as "a place of uneasy repose and disquiet before a final reckoning," adding, "We've all been living a tense period in history waiting for a resolution, be it catastrophic or rational, in a suspense that feels almost Biblical in its drama." Like so much of his work, his show confronted a moment in time head-on rather than veering into escapism. He leaned into apocalyptic party looks like sequined bodysuits with power shoulders, all worn with masks. ("I have shown masks with these pandemic shows," Owens wrote, "not because my masks are guaranteed protection, but because they are a vote for responsibility and consideration and an acknowledgement of our immediate collective experience.") Owens set his show in what he referred to as his own "garden," Venice's Lido beach, where Visconti shot Death in Venice. The Biblical references showed up in hooded robes and in slashed pieces that referenced Bible figures' rending of garments of their garments during times of trouble-a visual shorthand for suffering and trauma.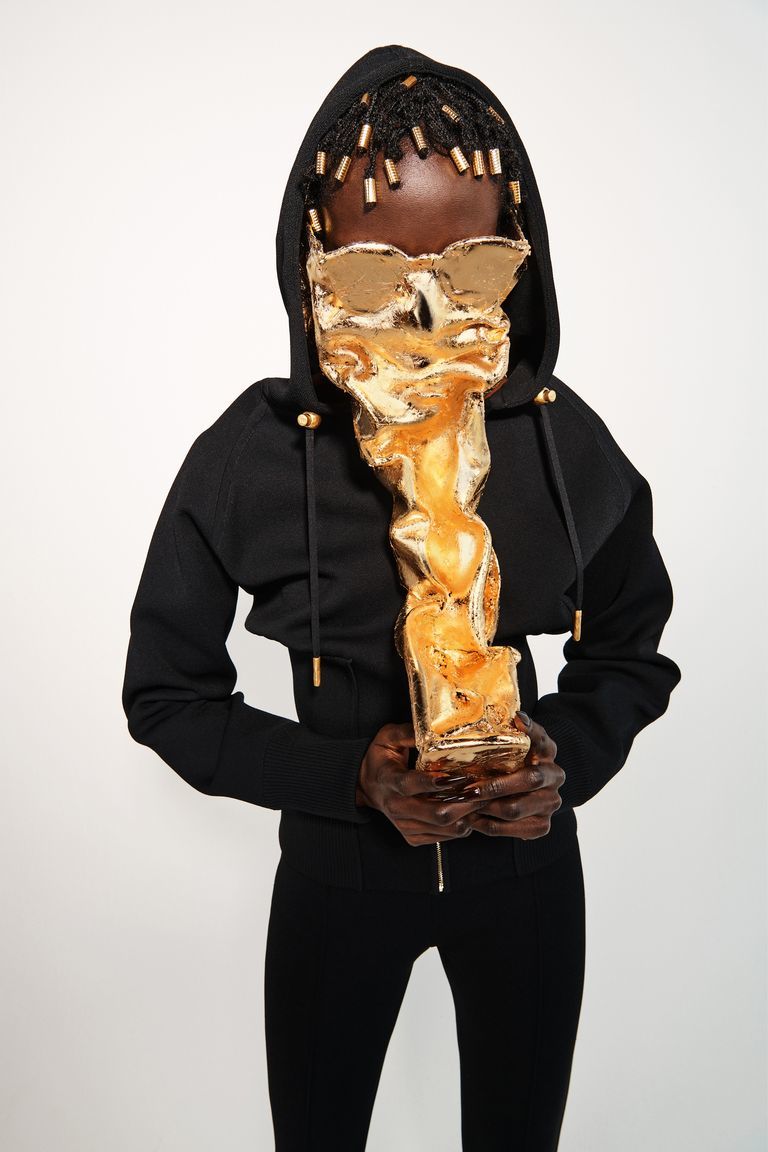 Schiaparelli fall 2021

For Schiaparelli's Daniel Roseberry, his Dadaist inspiration came through in jewelry pieces "that are as much armor as they are embellishment." They included an innovation that would have made Elsa Schiaparelli proud-a sunglass/mask/phone case hybrid cast in gold. And at Area, Beckett Fogg and Piotrek Panszczyk presented spring 2021 in see-now, buy-now fashion, turning their signature club-ready, maximalist point of view to fantastical protective gear like crystal-embellished full-face masks. They had one foot in a festive, four-on-the-floor gathering, and one firmly planted in our dystopian reality.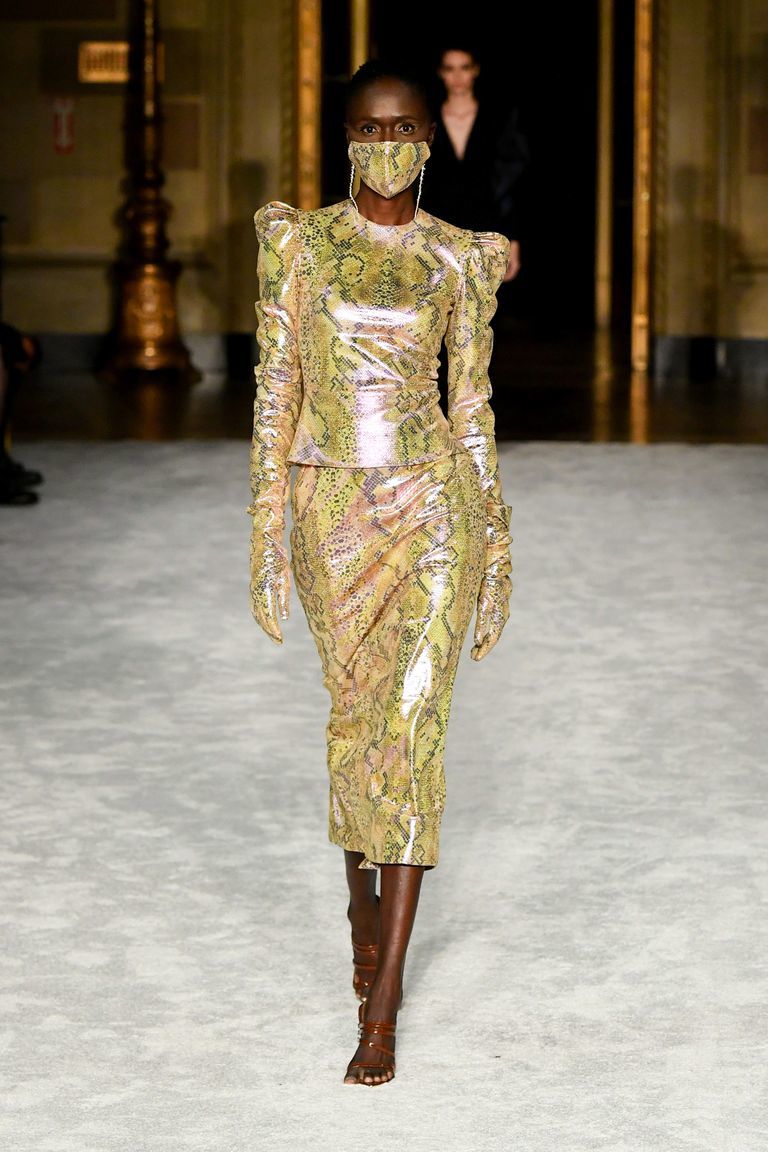 Christian Siriano fall 2021

Christian Siriano's show notes referenced a "psychedelic alternate reality," one that we'd all very much like to be living in. A strong-shouldered python-print lamé gown came with a coordinating mask, as did a black lace number that nodded to the idea of cautiously stepping back into the world. For the designer, who pivoted his atelier into a nimble mask-making operation at the start of the pandemic, the pairing no doubt came as second nature.