I worry that I've lost my muscle memory for live music. I'm at the point of withdrawal where I miss the sensory details with unnerving specificity: The strategic shifting of weight from one foot to the other. The craning left and right to avoid an obstructive gaggle of phones, or the tallest man in the room who's somehow always in front of you. The purr of a strong bass reverberating between my ribs. The euphoria of relinquishing my personal space to the pit. Instead, my calendar is pocked with remote performances subject to the whims of internet connectivity, designed to be watched languidly without a thought to putting on outside pants. Yet, for all its physical inertia, the past year has been a time of considerable mental exercise: reimagining the collective music experience for our cloistered present, dreaming about what its future might look like, rewiring our brains for a new world.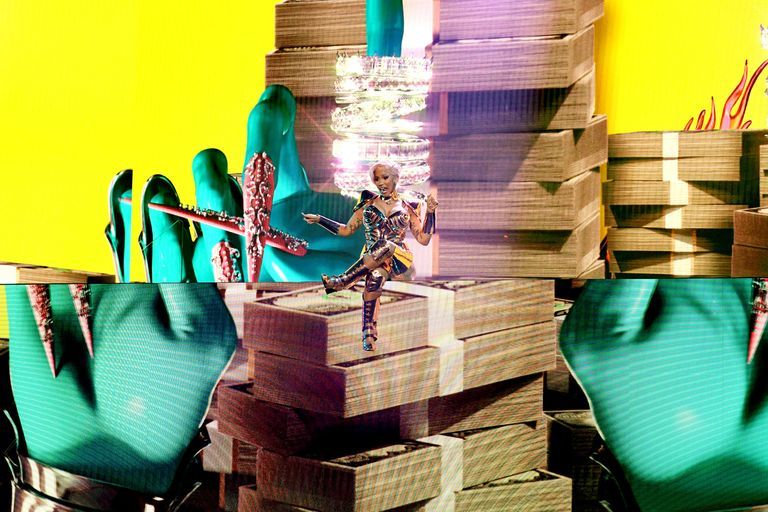 Cardi B in Rey Ortiz at the 2021 Grammys.

As we live anxiously through a chapter in upcoming history books, pop stars and their teams have granted us flashes of psychic reprieve through the fantasy of performance. Music and fashion, two realms that thrive on elaborately constructed visions, have joined forces. There was the mirror-festooned cowboy hat and tangerine chaps that winked to Nudie suits in Megan Thee Stallion's Apple Music Awards rodeo; Rina Sawayama's nod to Marie Antoinette in Moschino panniers; and the utopian alternate reality of the "Positions" music video, in which Ariana Grande plays POTUS in Lanvin, Mugler, Gucci, and a series of pillbox hats. The optimism of splashy, gloriously inessential moments of pop culture excess, of unsolicited élan by way of plush creative budgets, has been a tonic. The show is different, but it has gone on, at least remotely.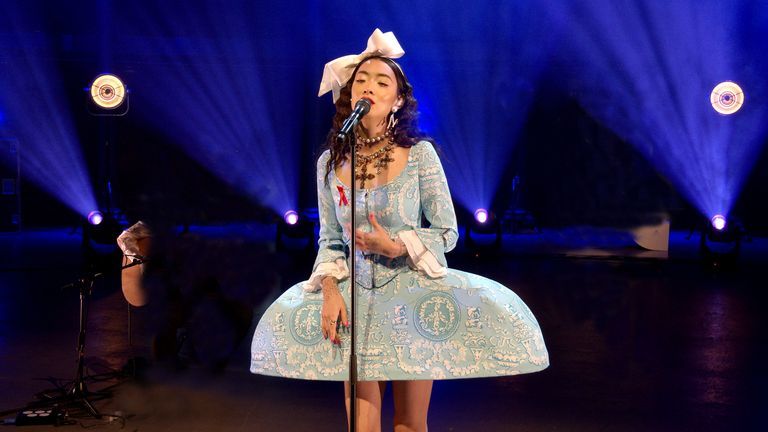 Rina Sawayama performing in Moschino.

With concerts confined to screens, stylists have risen to the challenge of bridging the emotional gap, telegraphing the vitality of live music through amplified, exuberant, extravagant fashion that serves as a kind of visual Caps Lock. A Philip Treacy for Valentino couture hat imbues Dua Lipa's Saturday Night Live performance with an ethereal lightness that only cascades of feathers can convey. Consider, too, the otherworldly burlesque of Cardi B's "WAP" look: a custom Mugler thong bodysuit, set off by a corset with mammary cutouts and gold areola shields.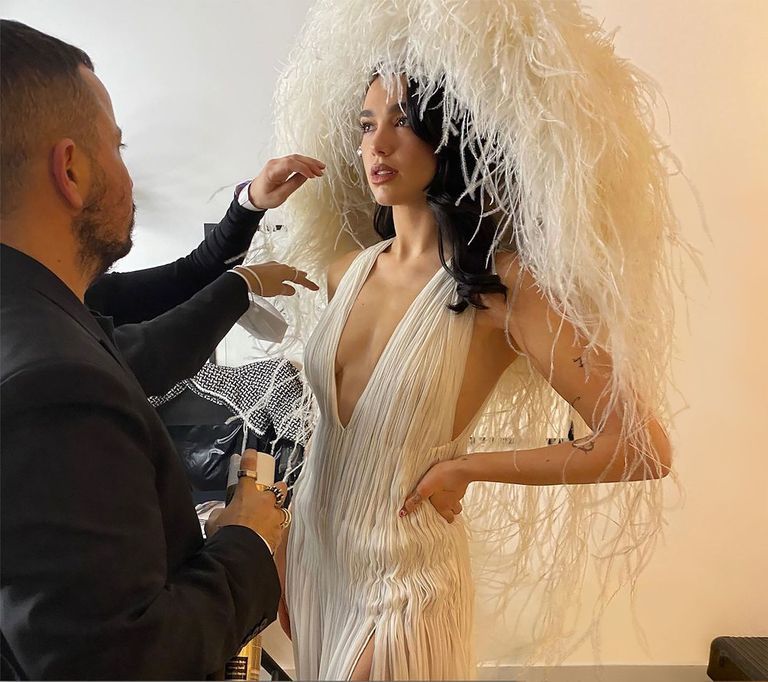 Dua Lipa, in Valentino Haute Couture, getting ready for SNL.

The dizzying wardrobe of Beyoncé's Black Is King-its billowing jewel-toned skirts, sculptural shoulders, and curtains of diamanté-serves as the maximalist material expression of the visual album's message: the insurmountable beauty and majesty of the African diaspora. "Creating a world where we get the opportunity to escape visually, especially in today's circumstances, is always a treat," says stylist Zerina Akers, who led the production's costume design and assembled talents from all around the globe, from Senegal's Tongoro studio to Greek designer Mary Katrantzou. "I often think of the many people dealing with very real and harsh realities," Akers says, "and hope that if they saw a glimpse of my work, it would bring them joy."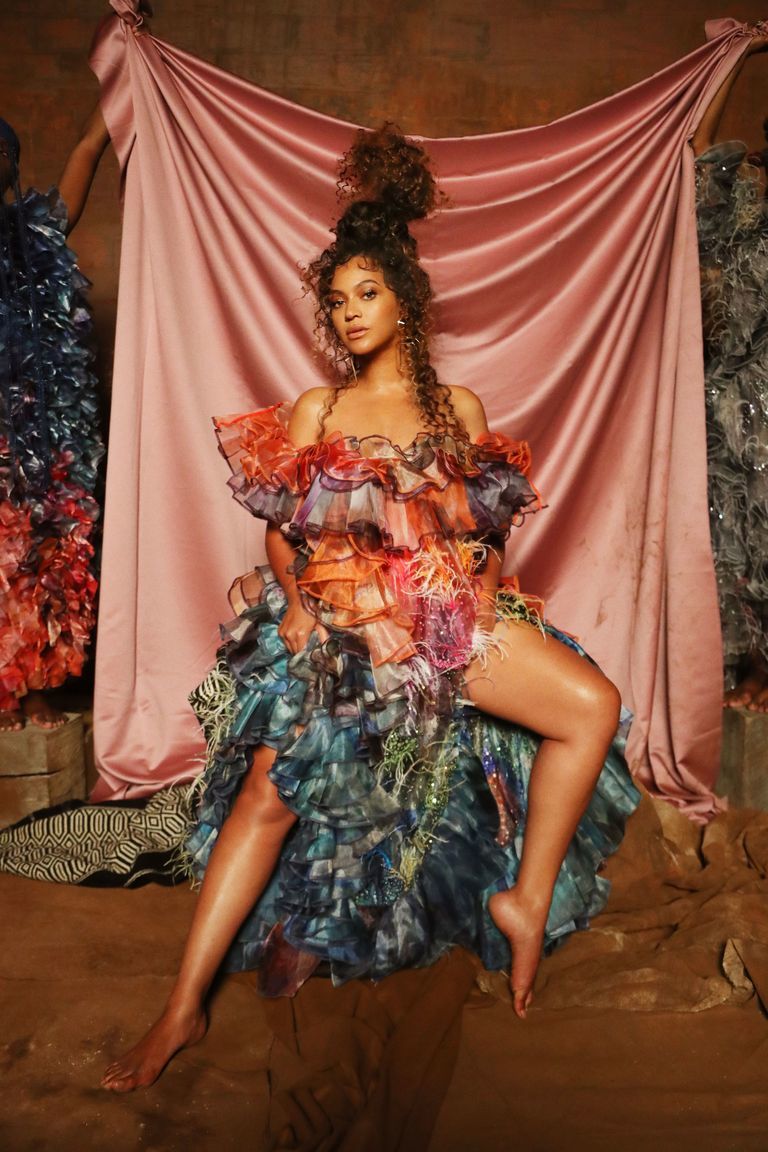 Beyoncé wears Mary Katrantzou in Black Is King.

When Lady Gaga and Nicola Formichetti began work on the visual identity for her Chromatica album, the idea was to construct a fictional world born of the therapeutic transformation she found through making music-feelings Formichetti echoes when reflecting on his own work. Like music, fashion is a form of escapism, he tells me, a way "to create a world of fantasy where anything is possible." His childhood interest in visual art began, he says, as an inward search for identity and a safe haven that turned outwardly generative, a coping mechanism that became an act of self-determination. For Chromatica, he teleported to a metaphorical planet where "Ancient Aliens meets evolved beings" and aggressive elements are subverted, painted in candied hues. Shortly after filming wrapped on the video for "Rain on Me," the World Health Organization declared COVID-19 a global pandemic, and many countries implemented lockdowns. Suddenly, the album's themes of healing from grief and trauma felt not only relevant, but prescient. The incorporation of masks into all nine of Gaga's outfits for the 2020 MTV Video Music Awards was effortless.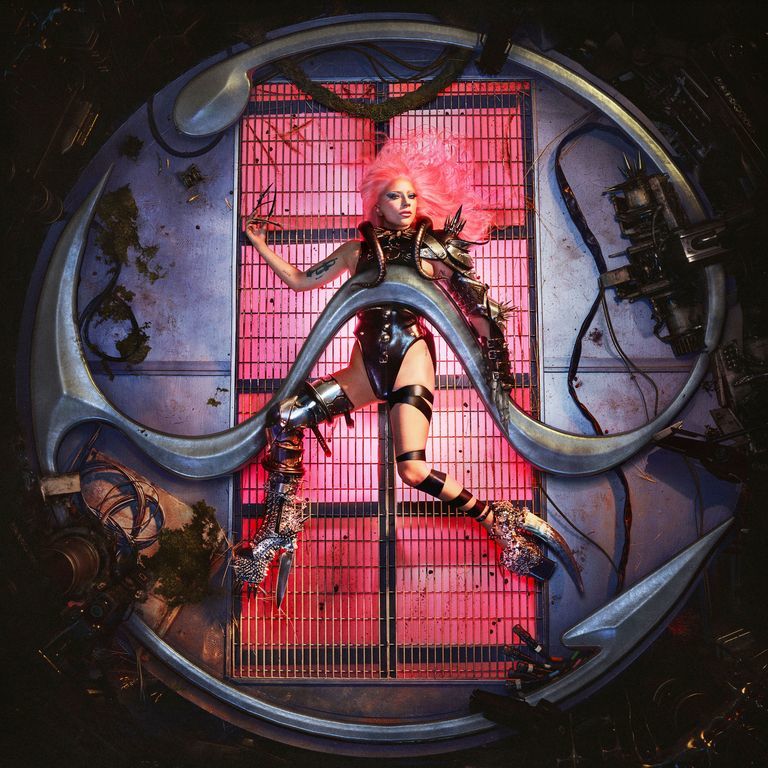 Lady gaga promotes Chromatica in pieces from Cecilio Castrillo Martinez, Gasoline Glamour, and Gary Fay.

The connection between these imagined and lived realities nods to the peculiar dynamism of fantasy, not just as a kind of mental Eject button, but as something more instructive. "That push and pull between dreaming and living feels more real now than ever," says Schiaparelli artistic director Daniel Roseberry, who created the elegant yet whimsical gown Gaga wore to sing the national anthem for President Biden's inauguration. "The sadness of this time we live in, but the power of the imagination and the world we can create for ourselves. Maybe it's our greatest power."