When Billy Porter wore a Christian Siriano gown to the Oscars in 2019, it more than an epic fashion moment: It was a bold display of queer pride. The headline-making moment certainly got people talking. "You don't have to understand or even agree with other people's authenticity or truths, but we must all respect each other," Porter told Vogue in 2019. "People are going to be really uncomfortable with my Black ass in a ball gown-but it's not anybody's business but mine."

Two years later, and it's clear that Porter was onto something. This year, we've seen all sorts of men's skirts from Thom Browne (who has long perfected the kilt skirt for him and her), to Louis Vuitton, Chopova Lowena, and more. Men's skirts are certainly not a new idea. Designers like Jean Paul Gaultier were showing men's skirts back in the '90s, and many traditional men's skirts have existed for centuries, such as the Scottish tartan kilt and the floor-length Indian mundu. However, the sheer abundance and availability of men's skirts in fashion now is definitely noteworthy. Frankly, it's about time.

Who exactly is the clientele? Sure, risk-taking celebrities such as Porter, Kanye West, Jared Leto, Marc Jacobs, and Harry Styles have all proudly stepped out in skirts. But I've noticed more fashion-forward men and nonbinary people ready to embrace skirts too. Even I, a man who's never worn a skirt, have found myself drawn to the idea of layering one atop my trousers this fall, like how Chopova Lowena has often styled it.

Quin Lewis, who is a Washington-based foreign-affairs official by day, is a regular skirt wearer and street style fixture at the menswear shows. "I feel really badass when I'm wearing a skirt," says Lewis. "There is the sense that I'm doing something that's going against the grain and skirting the rules on what would traditionally be thought of as acceptable attire for men." Fish Fiorucci, a nonbinary model, adds that they've always worn skirts and views them as a piece that shouldn't be gendered. "I've never understood why skirts were labeled for women: Skirts are genderless to me, and also ageless," says Fiorucci. "They allow me to live in different eras depending on the length, type of fabric, and fit."

It can be daunting to shop for a skirt for the first time. So for those who are intrigued, Vogue asked five skirt lovers who don't identify as women where they most feel safe and comfortable shopping for them. Whether it's luxury designer boutiques or smaller thrift shops, these street style stars shared their favorite spots to shop for skirts-where the fashion isn't necessarily gendered and the experience is guaranteed to be both welcoming and free. So what are you waiting for?



Quin Lewis

Foreign-affairs official and street style star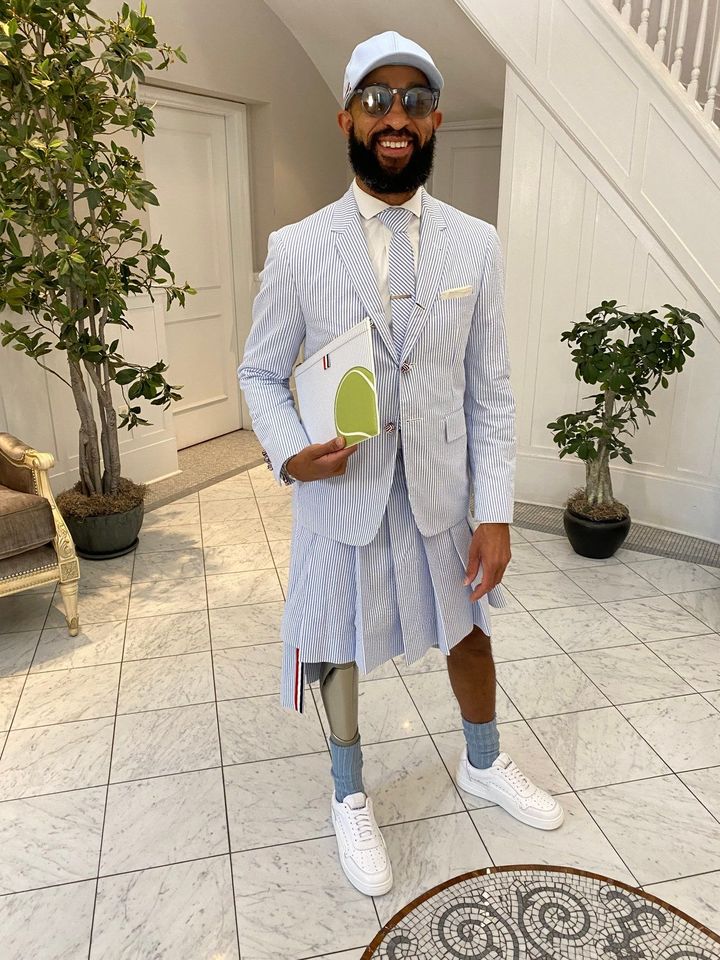 My all-time favorite place to shop for skirts is the Thom Browne store in New York. He's been doing skirts for a while, and you can find unique and interesting fabrics. The client advisors are super friendly and very knowledgeable about sizing, alterations, and their made-to-measure offerings. Thom Browne is my favorite for skirts because I can pair them with his other meticulously tailored menswear pieces to create a jaw-dropping lewk. I've also ordered skirts from Luisa Via Roma, MatchesFashion.com, and Ssense. I'm also very excited to see that Virgil Abloh is starting to offer some skirts for men at Louis Vuitton. I preordered one recently for fall, so I can't wait for that ensemble to come together.



Louis Rubi

Designer and founder of LR3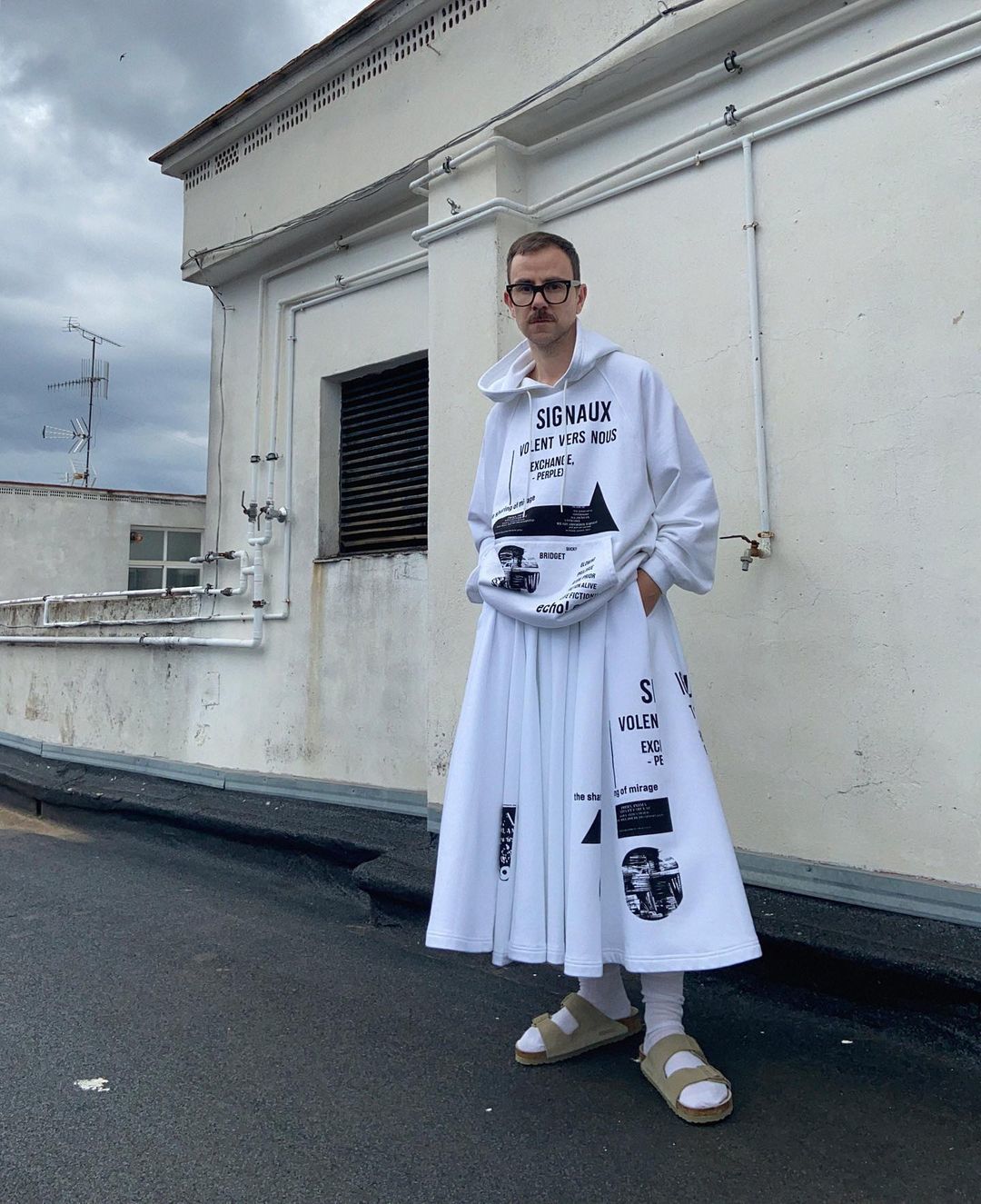 For me, skirts are far from being feminine-they can be, but I find them really sexy and also very masculine. I love seeing how they are steadily coming into the men's closet without fear of judgment. Any multibrand or department store that carries Japanese brands is a good place to find [skirts]. Also vintage stores are a great place to find them. I don't really care if they are actually for women: Any pleated skirt over a pair of trousers and a good oversized jumper is a real good deal for me. Yohji Yamamoto does the best skirts and also Comme des Garçons. Finding an Alexander McQueen kilt is always a plus. Dries Van Noten skirts over trousers and aprons are amazing."



Victor Vegas

Model and founder of Primer Rebelde De America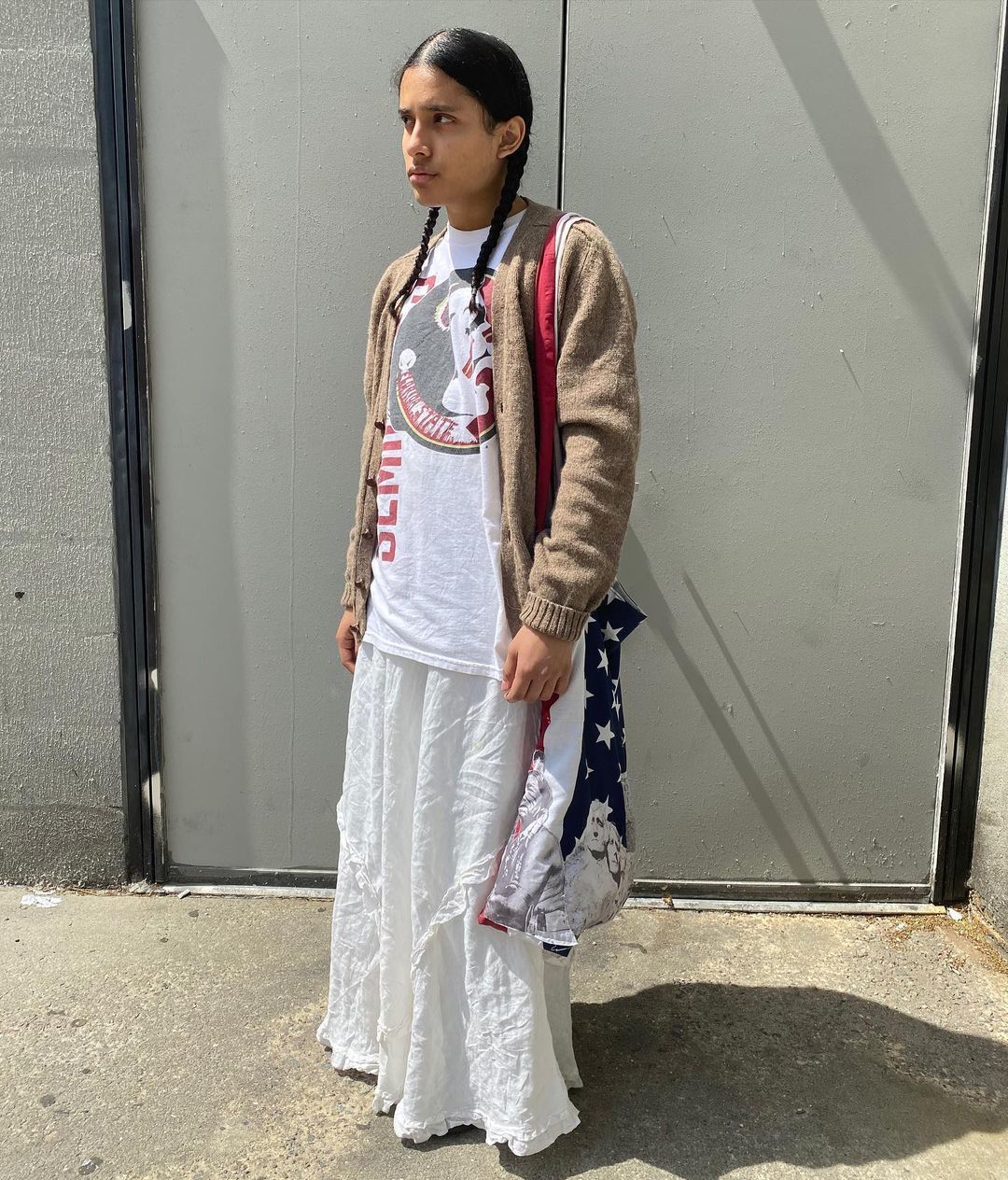 I wear a skirt because I want to. It's a big fuck you to all the people who think it's a big deal for a guy to wear one. It feels right for me because I make it what I want it to be. I see it like any other article of clothing. It has no gender or sexuality, it's a piece of fabric brought together to create a unique silhouette. I shop for my skirts at 10ft Single by Stella Dallas in Brooklyn. That place is pretty relaxed. Also, the L Train Vintage off Morgan Avenue [in Brooklyn] has some good skirts. I don't often shop for skirts online since I need to see and feel how the skirt falls in order to decide whether or not I like it. But on the rare occasion I do, it's always secondhand sites like eBay or Depop. I also really love the Vaquera skirts. I feel like they embody the kind of skirt I love to wear: unapologetically brash, with a pretty attitude.



Fredrik Robertsson

Street style star and couture enthusiast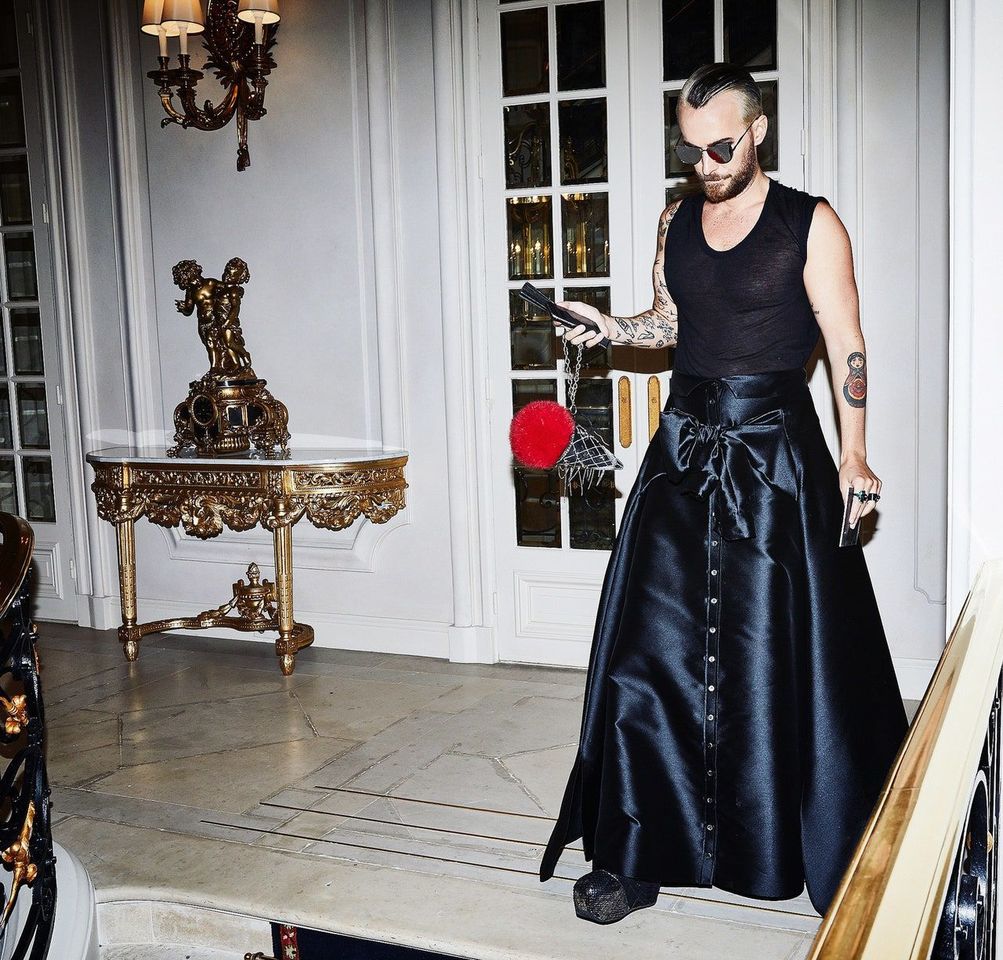 I think skirts are so comfortable-and I have been wearing them long before it became a trend for guys. As a man, wearing a skirt is very empowering. It signals I am comfortable in my skin and I don't care. It is very liberating. I feel safe shopping for skirts everywhere and shop in both the men's and women's sections. I like designers that are a bit genderfluid and rock and roll, like Alexander McQueen and Vivienne Westwood. I have an amazing Alexis Mabille haute couture skirt that I love. I also have womenswear from Rick Owens and Gucci. For me, a maxiskirt is very preferred. I like the drama of a train.



Fish Fiorucci

Model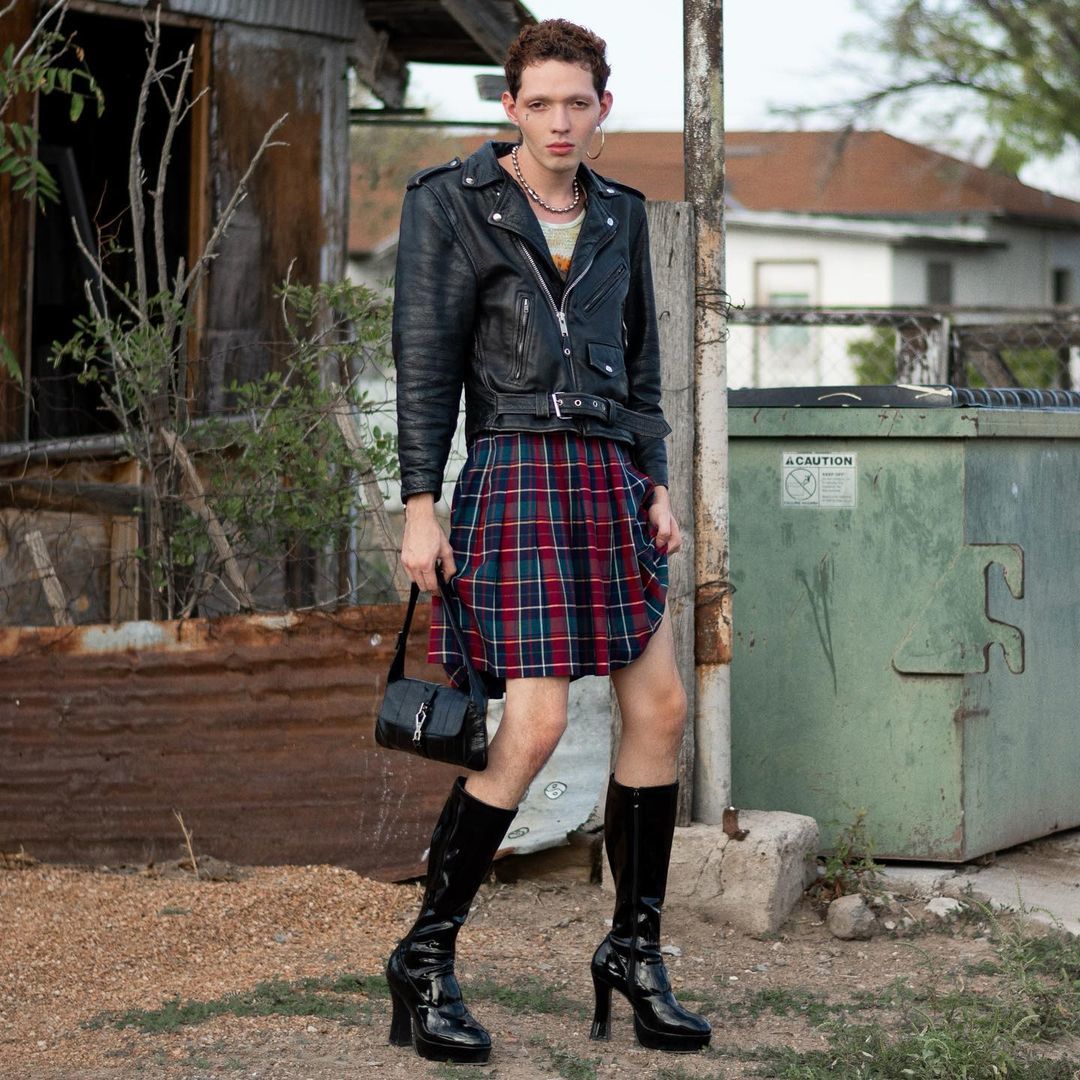 If I want to live my Britney schoolgirl fantasy, I'll whip out my pleated skirt, but my go-to is any mini denim skirt that covers just enough. Places I shop for skirts include Dover Street Market, the Vivienne Westwood store in Paris, and 50M London. I always make it a point to visit Vivienne Westwood in Paris to live the fantasy, along with indulging in such an iconic brand! 50M in London is where I go to buy one-of-a-kind pieces from upcoming designers. And to feel that full daydream in New York, along with feeling safe, I go to Dover Street Market. Online, I shop The RealReal: You already know my saved searches read "miniskirts." I've been gagging over Saint Sintra, Karla Laidlaw, and Gabe Gordon skirts recently. A dream of mine is to fill my closet with their collections.