A beauty brand being so closely tied to the art world might be confusing at first glance. Most labels simply commission artists for limited-edition packaging collaborations and end there. However, La Prairie is no stranger to the art world, and digs much deeper to create new connections via cultural institutions, established artists, and emerging talents. Since 1987, the cult-favorite Skin Caviar Collection has been bottled inside a cobalt blue vessel, inspired by the groundbreaking 20th-century contemporary artist Niki de Saint Phalle's use of the hue. La Prairie has also previously partnered with Moma PS 1, Art Basel, and West Bund Art & Design, but now the skincare label is turning its focus to Frieze Arts Fairs.

After a year of "new normal" protocols, social distancing, and isolation, the public can once again experience visual artist Carla Chan's inspiring work from May 5 to 9, 2021 at Frieze New York, taking place at The Shed in Manhattan. Entitled "Space Between The Light Glows," her time-based installation (commissioned by La Prairie) is a testimony to the majestic moment that is Golden Hour-where both time and space merge.

Here, L'OFFICIEL breaks down more about the artist, her creative process, and of course, the product collection that inspired it all.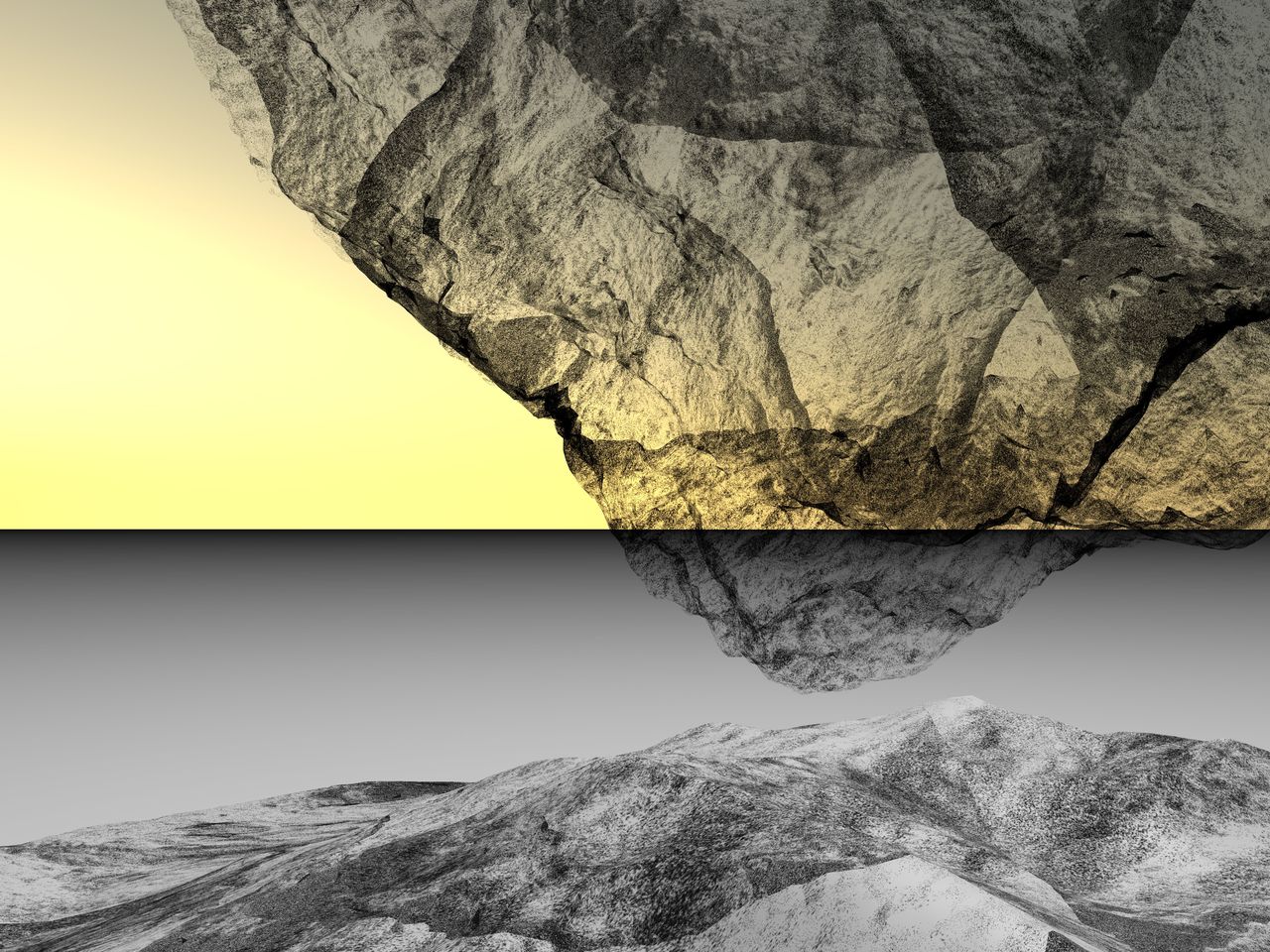 Carla Chan's "Space Between The Light Glows" creative process.


The Artist

Born in Hong Kong, Chan didn't grow up spending much time in nature. This meant the artist had to push herself to effectively capture the beautiful-but-fleeting moment of Golden Hour right as the sun exits the sky in the Swiss Alps.

"[Golden Hour] is absolutely the most amazing period of the day, because there's so much happening in such a short time," Chan tells L'OFFICIEL. "It's such a time for reflection. It's just a transit of a time and emotion or state of one person. I think that period of time and how everything links inspired me to do this work."

Creating an installation, the artist had to consider how her work would be seen and felt in our transformed world. "COVID-19 was actually a very reflective time for artists too," shares Chan. "Most pieces require a physical experience to allow the person feel the dimension, space, and physicality." By working with video, Chan feels that regardless of location, viewers of her work can have a "similar immersive experience," of her large scale 2.5 x 4.5-meter work, but of course, encourages them to safely see it in person if possible.

"For me, installation means something that you actually step in, and then you have the experience in a loop," explains Chan, who captured content via drone and still photography. "The lights will also kind of work in a loop, so in a sense, you don't really feel [when the work] is ending or beginning."


The Process

Creating a time-based video installation that mimics the beauty of Mother Nature is no short order. Chan spent an extended residency (another first for La Prairie), at the otherworldly Matterhorn: Monte Rosa Hut in Switzerland. Described as an "architectural jewel" created by ETH Zurich, Monte Rosa Hut is truly a place you have to see to believe.

Shaped like a rock crystal (due to its reflective aluminum exterior walls) the energy-efficient dwelling has become a symbol of environmentalism. Chan had the opportunity to experience the space first-hand. "I'm very lucky," she explains. "I had this luxury time of [being] surrounded by glaciers-it's absolutely stunning. Imagine you wake up and you're next to a glacier, you're next to pieces of history, of thousands of years of perseveration, of earth, of air. That is something absolutely [foreign] to me. [Since I grew up] Hong Kong it's almost unimaginable."
As an artist, Chan wants her message to remain open to the interpretation of viewers, yet her "easter egg," if you will, is clear: it's the border between disappearing and reappearing. "During the installation, [our global] landscape is disappearing in lights, but at the same time, it's also disappearing in real time. I want to propose the question, Is nature disappearing too?"

Ambiguity is a word that Chan uses a lot to describe her work and overall process, because it's not always straightforward, clear, or streamlined. For example, when her drone broke in the midst of this project, she had to improvise before sourcing replacement. "To me, nature is ambiguous because it's always of composing noises with randomness and never really the same,"the artist says. "[For example] water can sometimes look like clouds or a mountain can look like water…it's really about the force of nature that can compose a landscape, but never be reproduced by human force."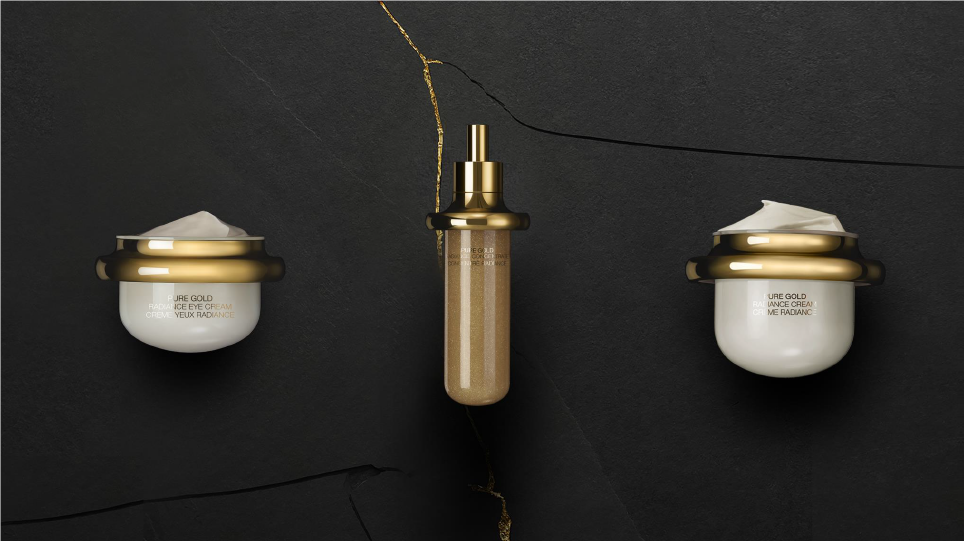 La Prairie Pure Gold Collection refills.


The Products

For La Prairie's latest launch, the Pure Gold Collection, the Swiss-based brand developed an exclusive Pure Gold Diffusion system created to make the complexion look radiant, while offering long-term skin reconstruction benefits. The succinct trio of products includes a concentrate, eye cream, and face cream, all which deliver luxurious texture and skin nourishment, similar to La Prairie's cult-favorite Radiance Collection. In essence, gold stands out from other ingredients because it's so rare and multifaceted. "Gold is endowed with unique properties not found in any other mineral," explains Prodromides. "Driven by scientific innovation and inspired by the fleeting moment of the Golden Hour in the crown of the Alps, La Prairie seeks to recreate its unique radiance and impart it to the skin, imbuing it with resplendence, as if lit from within."

Continuing the artistic theme, the luxe gold packaging references the minimal lines of Bauhaus, and offers customers the opportunity to refill their vessels, a first for the company. "Each creation's brushed metal casing and cap are designed to be kept indefinitely. Only the delicate glass vials containing the formulas, once empty, are meant to be replaced by new ones," adds Prodromides.

"The launch of the Pure Gold Collection will also coincide with the announcement of La Prairie having chosen to become an ongoing patron of the Glaciology Section at ETH Zurich in order to apply a timeless vision to its commitment to support glacier-related research being conducted at Continental Europe's number one ranked scientific university," he reveals.