Here's the thing: I'm very particular when it comes to mascara. Like, you can throw any random foundation or blush in my makeup bag and I'll use it no questions asked, but mascara? Nah, that shit needs to go through a straight-up vetting process before I'll consider using it. So when Roen Beauty's new Cake Mascara-a clean, volumizing mascara that claims to "plump" your lashes-landed on my (WFH) desk a couple months ago, I ripped open the packaging and immediately put it to my test (aka the very scientific rating system I like to call, "Does It Make My Lashes Look Good?").

I'm skeptical when it comes to clean mascaras, tbh-I feel like they never really make a huge impact. But after a couple quick swipes of Roen's, my lashes were left with the prettiest, jet-black finish that made my tired, slept-for-five-hours eyes look wide awake. And unlike my favorite drugstore mascara that sits on top of my lashes, the Roen formula seemed to work with my lashes, lifting them up with a soft and pretty curl.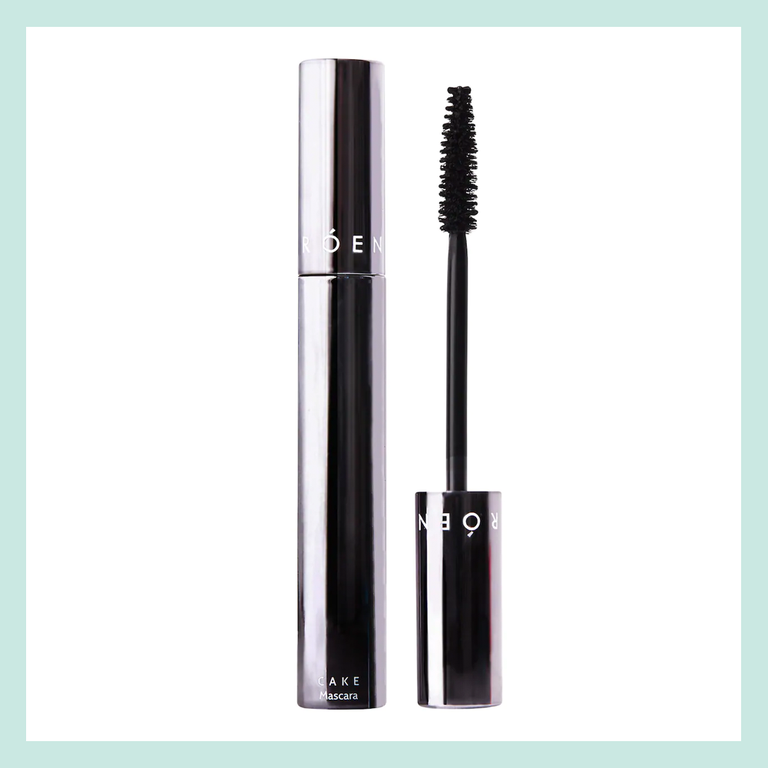 Roen Beauty Cake Mascara

I then took my test to the extreme by wearing the mascara through back-to-back Zoom meetings-which, spoiler, left me with more "wait, your makeup looks so good" compliments than anticipated. Needless to say, the Cake Mascara has slowly-but surely-earned a permanent spot in my picky-AF lineup (and I now very rarely hop on a Zoom call without it).

Keep reading for the full-on review, but consider yourself warned: You miiiight not make it through without clicking "add to cart."


The formula deets


Two things really stand out for me about the Cake Mascara: (1) the lightweight formula, and (2) the thick, fluffy wand. Remember when I said I'm maaaad particular when it comes to mascara? Yeah, that's because I find the majority of mascaras way too wet and slippery for my lashes. I have a decent amount of natural length and volume (TY, genetics), so when I load up my lashes with a heavy mascara, they tend to get weighed down and clumpy pretty easily. And that's where the lightweight formula comes into play.

This one feels almost a little dry straight from the tube (which, NGL, I like in a mascara), but it doesn't leave my lashes feeling weirdly stiff or rough or dry, thanks to the clean dose of sunflower wax and olive oil in the formula. So even though it's on the drier side, it's not like I need to double-dip the wand to get enough pigment-I just wiggle the wand from the root of my lashes all the way to the tip, and they're fully, evenly covered.

Though I like to go for a lighter look most days, I also love having the option to layer it on for a darker, more dramatic vibe (remember going out? Me either), and this one thankfully builds really well without flaking off. Basically, that whole "no clumping" thing makes it v easy to touch up throughout the day should you need-or want-to.
The results

NGL, the Cake Mascara has kinda become my secret weapon on days when I need a little extra something. Even if I can't find the energy to throw on foundation and lipstick-which, honestly, is most days right now-a couple coats of mascara is all I need to look and feel alive. And that coverage totally lasts BTW-I usually apply it in the AM and it looks nice and fresh throughout the day (so long as I don't accidentally rub my eyes, which, plot twist, will actually leave you with a decent amount of fallout. Be warned!).

As far as removal goes, I've found my usual duo of an oil cleanser and a creamy face wash really does take it all off. All I do is gently rub the oil over my lashes to break down the formula, rinse, and follow with my second cleanser to pick up any leftover pigment. These guys are worth picking up if your
cleansing routine could use an upgrade:


The final word

Considering I haven't added a new mascara to my rotation in, uh, literal years, I think it's safe to say that Roen Beauty's Cake Mascara is absolutely worth trying. There's really only one downside IMO: It's $28, which after using a $7 drugstore mascara for the last decade, is definitely on the pricey side. But considering it provides volume, definition, and excellent clean pigment, the higher price tag hasn't personally turned me off. I mean, good thing mascara lasts a few months, right?