Looking for merchandise to your shop? Why not cut the expense adding channels with our Thailand Trade Mart Tour. You'll be able to find everything you need from whether it's the hip-chic earrings, casual t-tops, sexy lingerie, denim skirts, sporty shoes, and even that little black dress. Don't let Thailand's tropical climate fool you, if it's heavy winter coats or the small bikini here's the place to look.


Bobae Market

Back to the Origins
For thirty years Bobae Market on Krung Kasem Road has served as the center for wholesale garments. It is the oldest and largest wholesale fashion district. This is where it starts if you're an aspiring designer looking for experience. If you're looking to buy goods to sell back home, this is your lottery ticket. With so many goods on offer in a wide range of inexpensive products such as t-shirts, dress shirts, and Muslim attire for men and women, Bobae will cater to your needs. With over 700 shops under one roof, pick and choose at Babae Tower.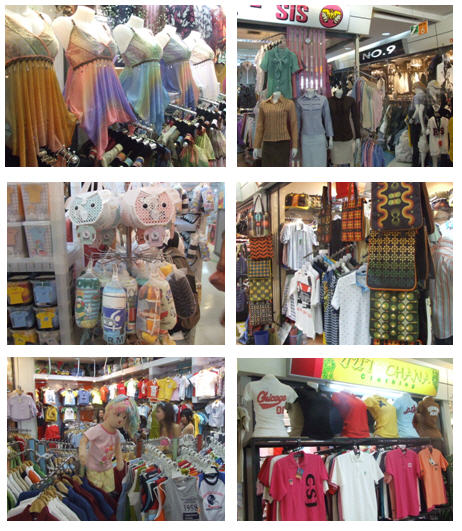 Pratunam (Pratunam Complex, Platinum Mall, Baiyok and Indra Square)

Fashion with in Reach (Tangible Fashion)

Not to be forgotten, Pratunam sure is for those who have a thirst for variety. If you're not sure where to start shopping, try Platinum Mall. The latest addition to the area, Platinum offers the latest fashion updates in an air-conditioned environment. If you're looking for children's clothing, men and women fashion clothing and accessories, try Indra Square. Other Malls in the area which always have good offers are Baiyok and Pratunam Complex. With stall packed alleys to air-conditioned Malls, Pratunam caters to those looking for great fashion styles at wholesale prices. Shops here will let you mix your orders if you want to buy more than three.

Walk in Registration: At Thailand Trade Mart Tour Counter,
(27-28th August 2008) Street Fashion Runway Pavilion, BITEC (Bangna)
Organizer: Department of Export Promotion, Ministry of Commerce
International Business Consulting Center
Contact person: Miss Gornthong Taetiangtam - Trade Advisor, Trade Mart Division
+66 81 930 4046, +66 86 700 2307
E-mail: gornthongt@depthai.go.th
Fax. +66 (2) 5120328


FREE Transportation, Guide & Lunch
PROGRAM OF THAILAND TRADE MART TOUR
VISIT TRADE MART FASHION AVENUE


BOBAE, PRATUNAM, PLATINUM, BAIYOK AND INDRA SQUARE
ON FRIDAY 29th AUGUST 2008
| | |
| --- | --- |
| Timetable | Program |
| 09.00 a.m. | Buses depart from the Shuttle Bus Counter, BITEC (Bangna) |
| 09.30-11.30 a.m. | Visit Bobae Market |
| 11.30 a.m. | Buses depart from Bobae Market |
| 12.00 p.m.-01.30 p.m. | Have lunch |
| 01.30-04.30 p.m. | Visit Indra Square, Baiyok, Pratunam and Platinum Mall |
| 04.30 p.m. | Buses depart from Platinum Mall |
| 05.30 p.m. | Arrive at BITEC (Bangna) |
Remark:
Department of Export Promotion reserves the right to change the program without prior notice.
For more information please call 1169.