You don't need us to tell you that 2020 has been quite a year, and though the fashion industry-like nearly every industry-has faced major hardship over the past twelve months, there were still plenty of jaw-dropping shows, must-have items, and significant cover moments to highlight.

Here, the 12 biggest fashion moments of 2020.


1. Jean Paul Gaultier's Last Couture Show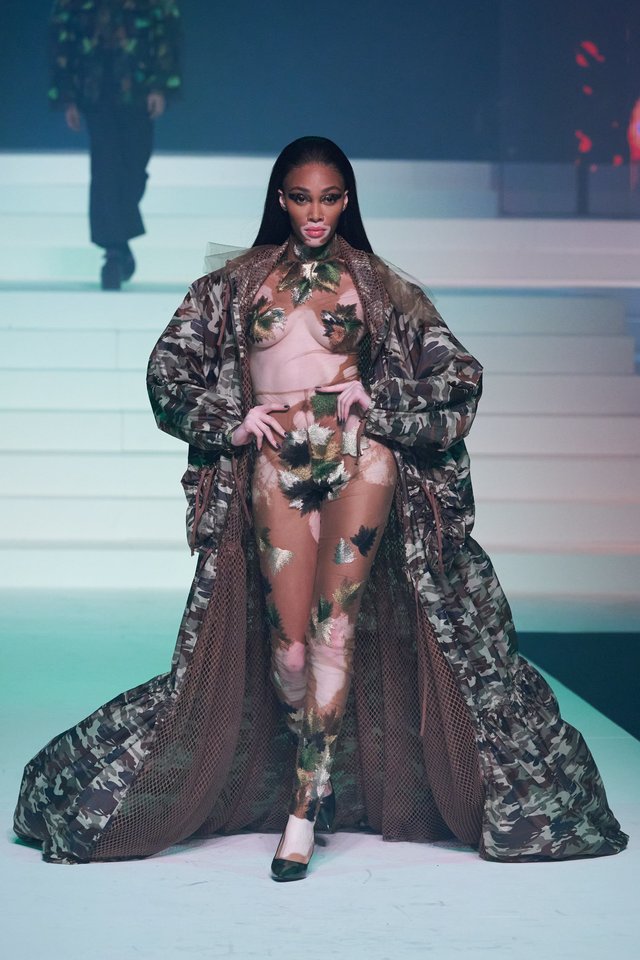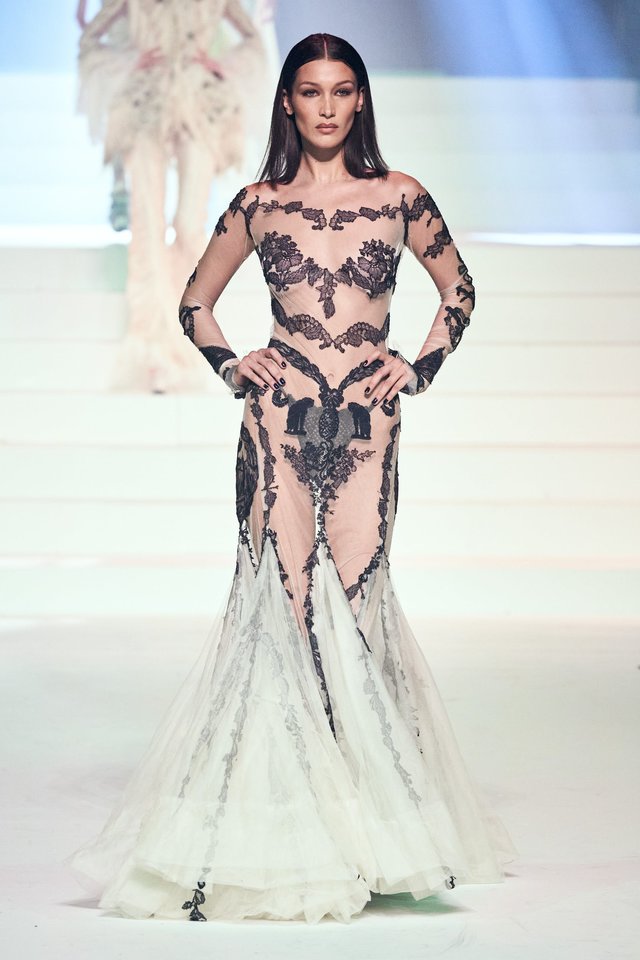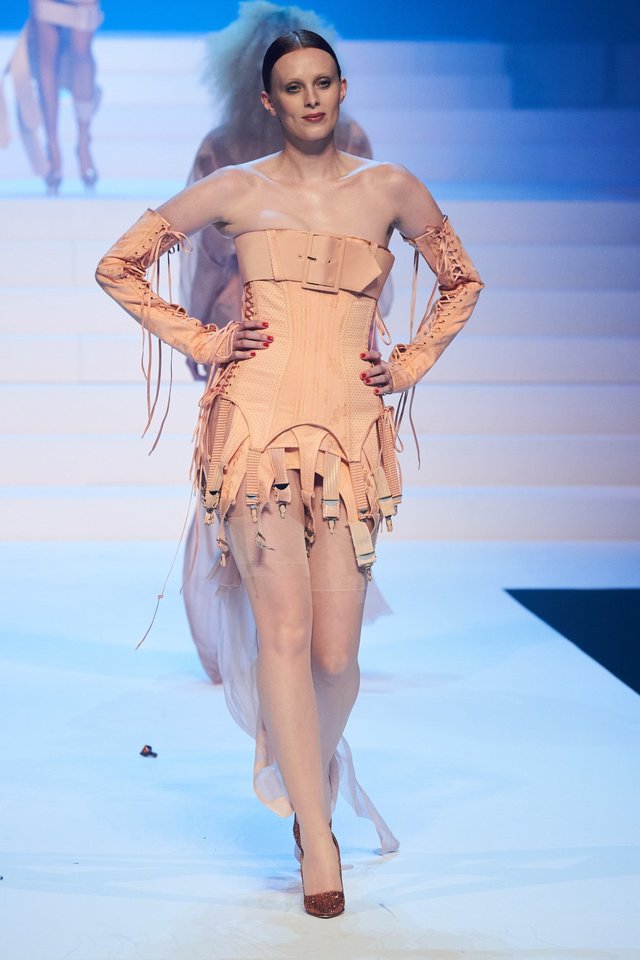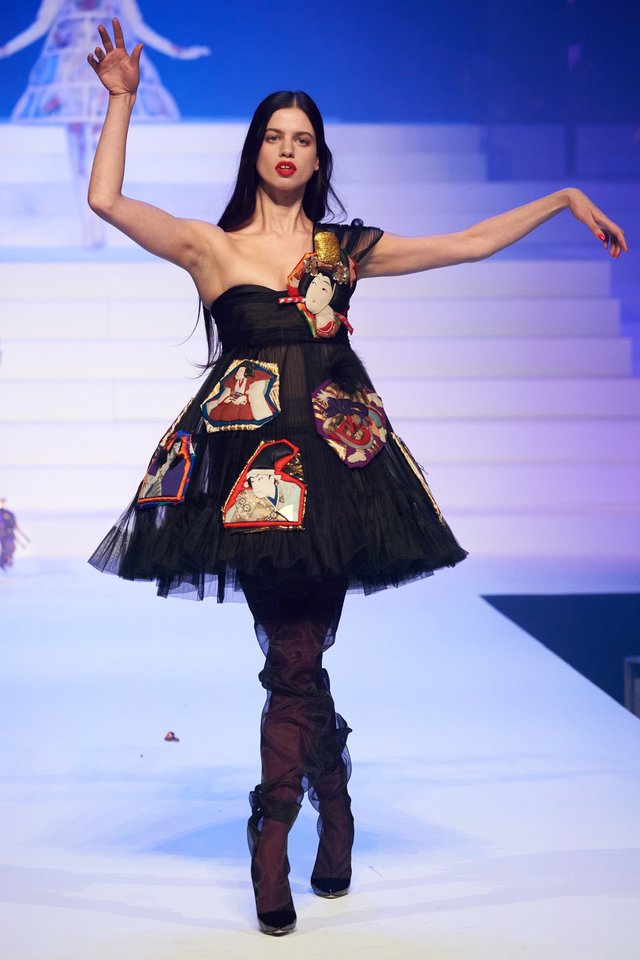 Jean Paul Gaultier Spring 2020 Couture. Clockwise from top left: Winnie Harlow, Bella Hadid, Lily McMenamy, Karen Elson.

The legendary designer Jean Paul Gaultier took his final bow at his Spring 2020 couture show. An homage to Gaultier's 50-year career in fashion, the show featured more than 200 looks; a show-stopping spectacle fit for the barrier-breaking designer.

Featuring an A-list cast of models, muses, and performers such as Gigi and Bella Hadid, Karen Elson, Coco Rocha, Farida Khelfa, Dita Von Teese, and Winnie Harlow, the show at the Théâtre du Châtelet opened with a mock funeral inspired by the 1966 fashion film Who are you, Polly Magoo?

Mourners carried in a coffin-adorned with conical shapes resembling Gaultier's famous cone bra-as Boy George sang a rendition of Amy Winehouse's "Back to Black." The coffin was opened by none other than Karlie Kloss, who revealed model Issa Lish wearing the show's first look.


2. Barneys Closes Its Doors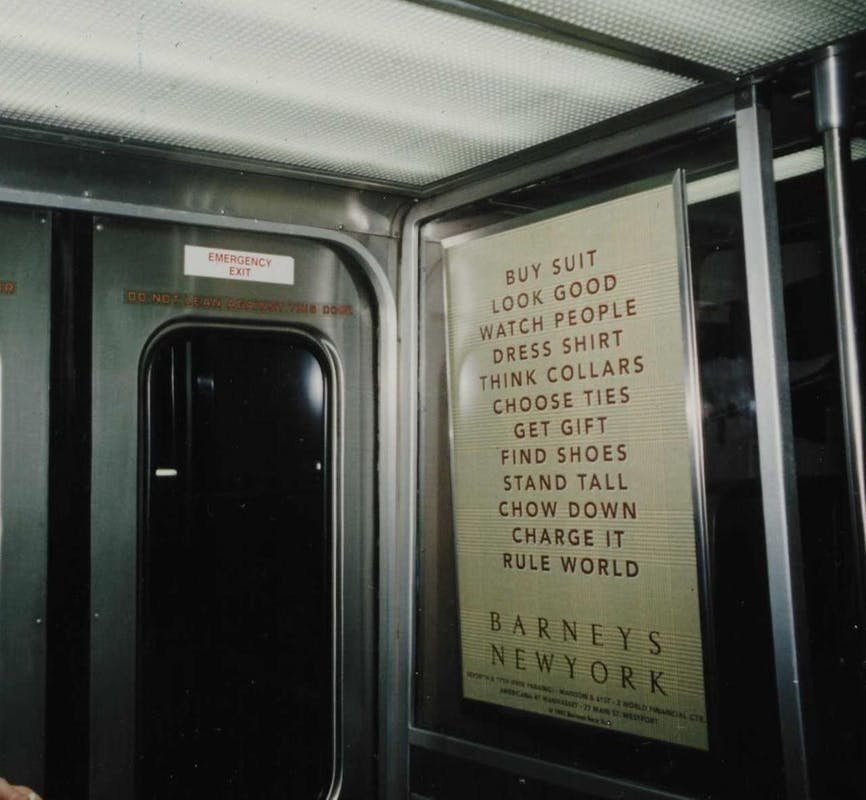 The storied retailer Barneys New York officially closed its doors in February after filing for Chapter 11 and subsequently being purchased by Authentic Brands Group in 2019.

Founded in 1923 as a men's discount store, Barneys later rose to luxurious prominence and became a shopping destination for the well-heeled to stock up on everything from classic Chanel tweed jackets to the latest offerings from designers on the cutting-edge.

Though the retailer's liquidation sale painted a bleak picture (think garish red-and-yellow signs and picked-over bins full of heavily-discounted designer wares) the beloved brand won't disappear completely. Barneys is slated to make a comeback as a boutique on the fifth floor of Saks Fifth Avenue's New York City flagship store sometime next year.


3. Designers Create High Fashion PPE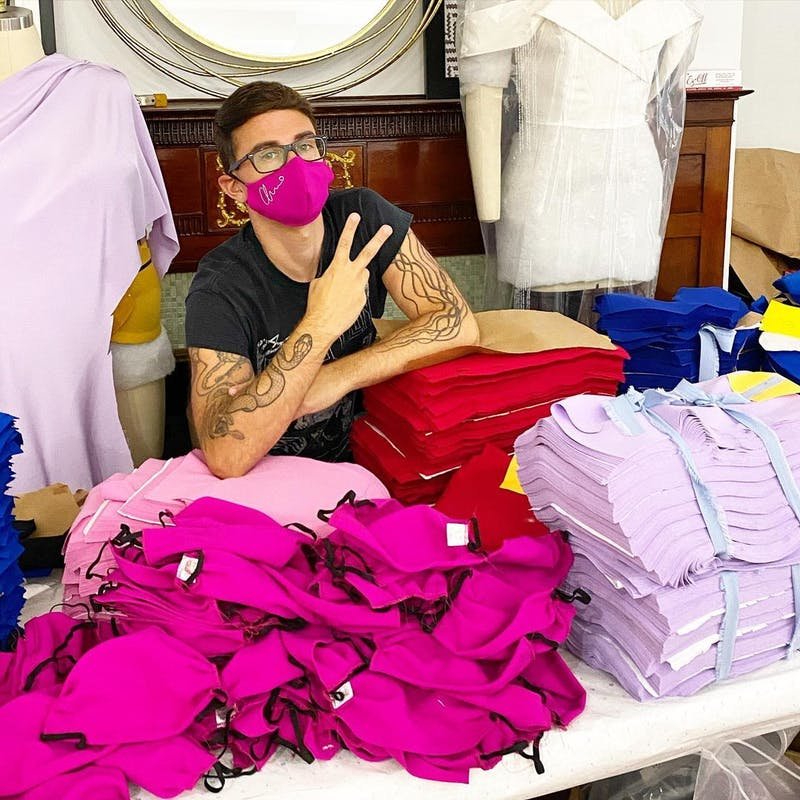 As the COVID-19 pandemic swept the world, fashion designers banded together to do their part to help front-line workers by utilizing their supply chains to manufacture masks and other PPE in the face of a shortage.

Designer Christian Siriano's studio was designated an essential workspace by the New York government early in the pandemic, and the designer's team of seamstresses created 500-600 masks per day. Giorgio Armani gave over €1.25 million ($1.4 million) to Italian hospitals, while Kerby Jean-Raymond of Pyer Moss utilized the brand's office as a donation center and established a fund for struggling women and minority-owned businesses.


4. Cottagecore Takes Over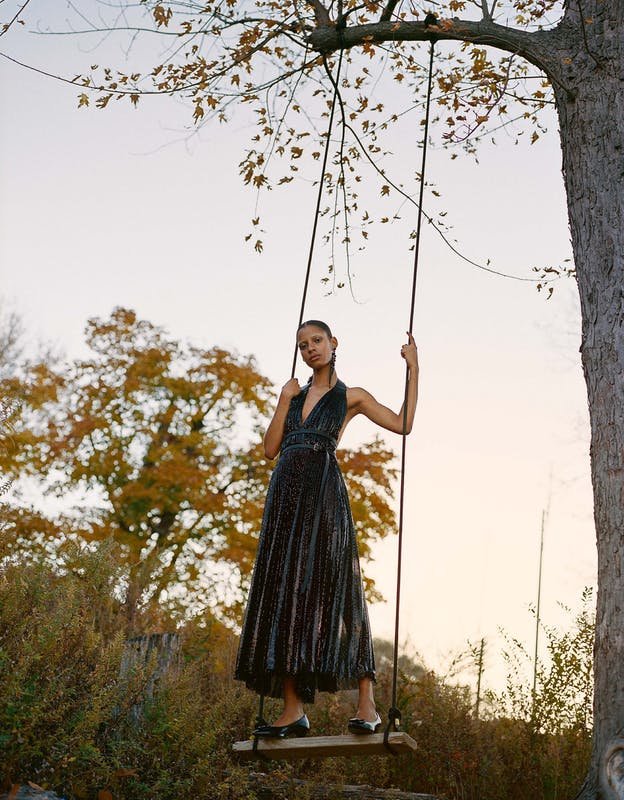 More time spent at home led many of us to find ourselves baking sourdough, taking up gardening, and returning to crafty hobbies like embroidery. It's no wonder that "Cottagecore," the aesthetic movement that harkens back to a simpler way of life, took over our feeds this year. Think prairie dresses, wicker baskets of freshly-picked fruit, and picnics on green grass.

Perhaps the internet fatigue most of us felt in 2020 created the perfect environment for such a trend to take off. Cottagecore accounts on TikTok and Instagram promote an idyllic rural lifestyle, the antithesis of the always-on hustle culture most of us are accustomed to. Only time will tell whether or not the aesthetic remains popular as life returns to its normal pace.


5. Matthew Williams Takes the Helm at Givenchy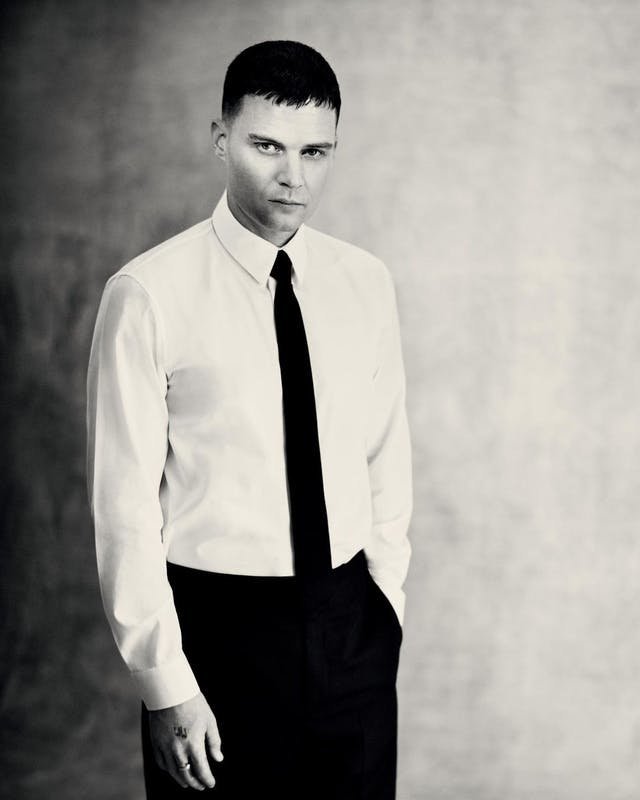 Matthew Williams has long been affiliated with musicians and streetwear, and in 2020 the 35-year-old designer took on his biggest project yet.

Williams' big break came when he became Lady Gaga's creative director after meeting the singer on a night out in Los Angeles, and the designer later went on to work with the likes of Kanye West, Heron Preston, and Virgil Abloh. In 2015, Williams launched his own brand, 1017 Alyx 9SM, a luxury streetwear-meets high fashion label that quickly became a favorite of celebrities and fashion enthusiasts alike.

In 2020, the designer took on a new venture as creative director of the French luxury house Givenchy. His debut collection for Spring/Summer 2021 included much-talked-about open-back dresses with an exposed g-string, three-toed socks, and plenty of hardware. The collection was promoted on social media by Naomi Campbell, Kaia Gerber, and Kim Kardashian.


6. The Black in Fashion Council Forms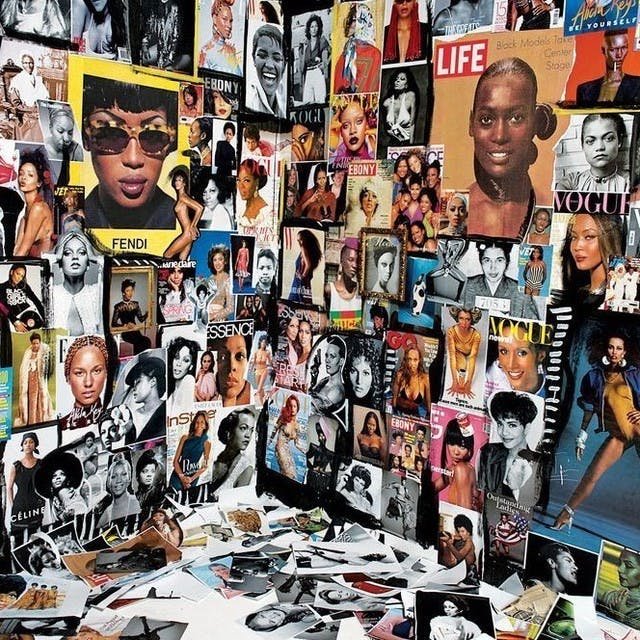 Founded by Teen Vogue Editor In Chief Lindsay Peoples Wagner and consultant Sandrine Charles, the Black in Fashion Council was formed to secure the advancement of Black individuals across the infamously-exclusive fashion and beauty industries. The Council came into being during a fashion industry reckoning of sorts, as brands and media companies were being called out on their persistent gatekeeping and racism despite seemingly inclusive messaging online.

The organization is partnering with the Human Rights Campaign to establish an equality index score and has signed up nearly 100 companies to pledge to raise the percentage of Black employees in both junior-and senior-level positions, among them Tory Burch, Ralph Lauren, Saks Fifth Avenue, and IMG.


7. The Strawberry Dress Goes Viral


Chances are if you've been online at all this year-which we're betting you have-you've seen Lirika Matoshi's strawberry dress. Famously seen on Tess Holliday on the Grammys red carpet in January, the pink tulle tea dress has inspired tweets, memes, and DIYs, and remains Matoshi's best-selling item despite most buyers now having nowhere to wear it.

Still, a quick scroll through TikTok reveals thousands of users unboxing, twirling in, and salivating over the strawberry dress. While many of us spent the majority of 2020 in lockdown, the dress's frothy tulle, sparkly berries, and puffed sleeves offer a bit of optimism for the year to come.


8. Rihanna Puts on a Show with Savage X Fenty Vol. 2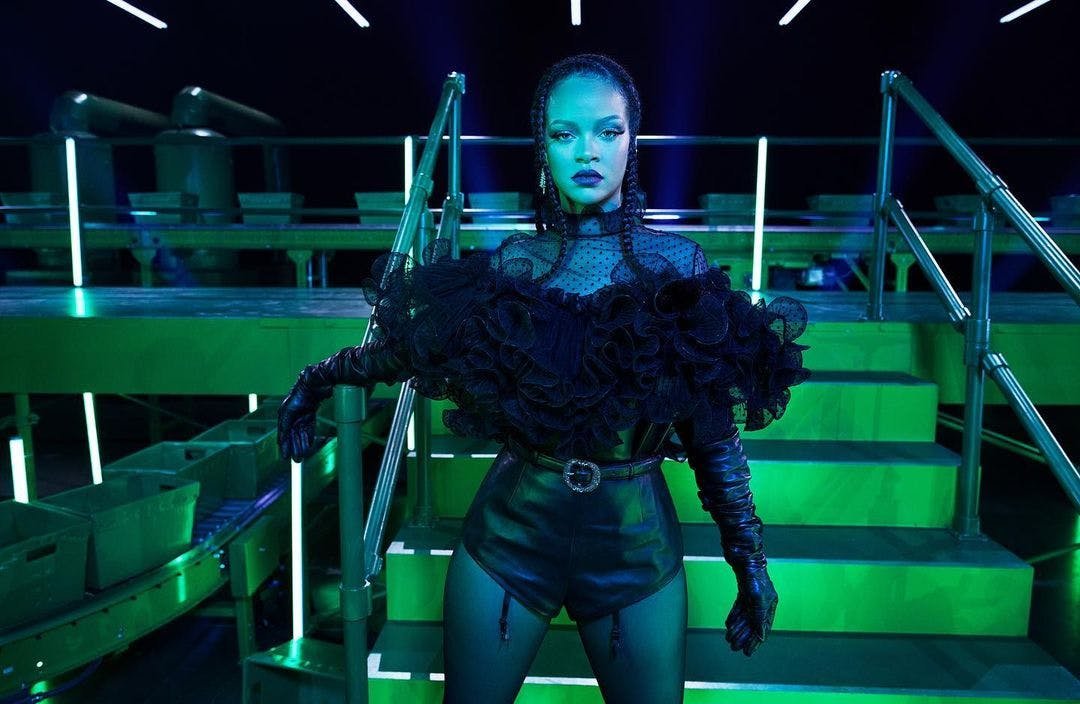 Rihanna's highly-anticipated second installment of Savage X Fenty did not disappoint. The show, which premiered on Amazon Prime, featured performances by Rosalía, Bad Bunny, Roddy Ricch, and Big Sean with cameos by Paris Hilton, Lizzo, Cara Delevingne, Normani, Laura Harrier, Indya Moore, Willow Smith, Erika Jayne, and Rico Nasty.

A celebration of all shapes, sizes, and genders set in a kaleidoscope of vignettes, the Savage X Fenty show was the entertaining and empowering escape that many of us needed in 2020. "People need a little bit of hope, they need a little bit of happiness, and if we can bring a smile to their face and a little bit of fun while they're stuck at home, it's a desire and an honor to be a part of that," Rihanna told The Associated Press.


9. Harry Styles Becomes an Icon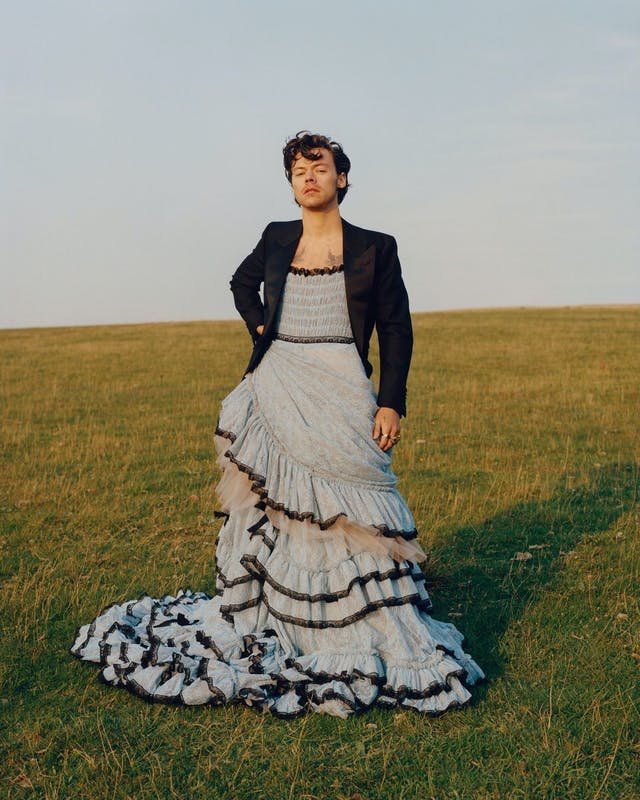 Harry Styles was the name on everyone's lips in 2020. After the L'OFFICIEL star wore a knitted JW Anderson patchwork cardigan from the designer's Spring/Summer 2020 menswear collection, TikTok users were inspired to create their own versions of the designer knit. The trend went viral, and Anderson responded by releasing the exact pattern he used to create the garment along with a video tutorial. Styles' sweater has since joined the vast fashion collection at the V&A in London alongside some of the most important garments in history.

Styles also had a viral moment as the first solo male cover star of Vogue, where he wore a ruffled blue gown paired with a tuxedo jacket, both by Gucci. Of course, the cover look stirred up controversy, even reaching right-wing commentators Candace Owens and Ben Shapiro, who were swiftly slammed by celebrities and politicians like Alexandria Ocasio-Cortez, Jameela Jamil, and Kathy Griffin.


10. "Emily in Paris" Gives Us Something to Talk About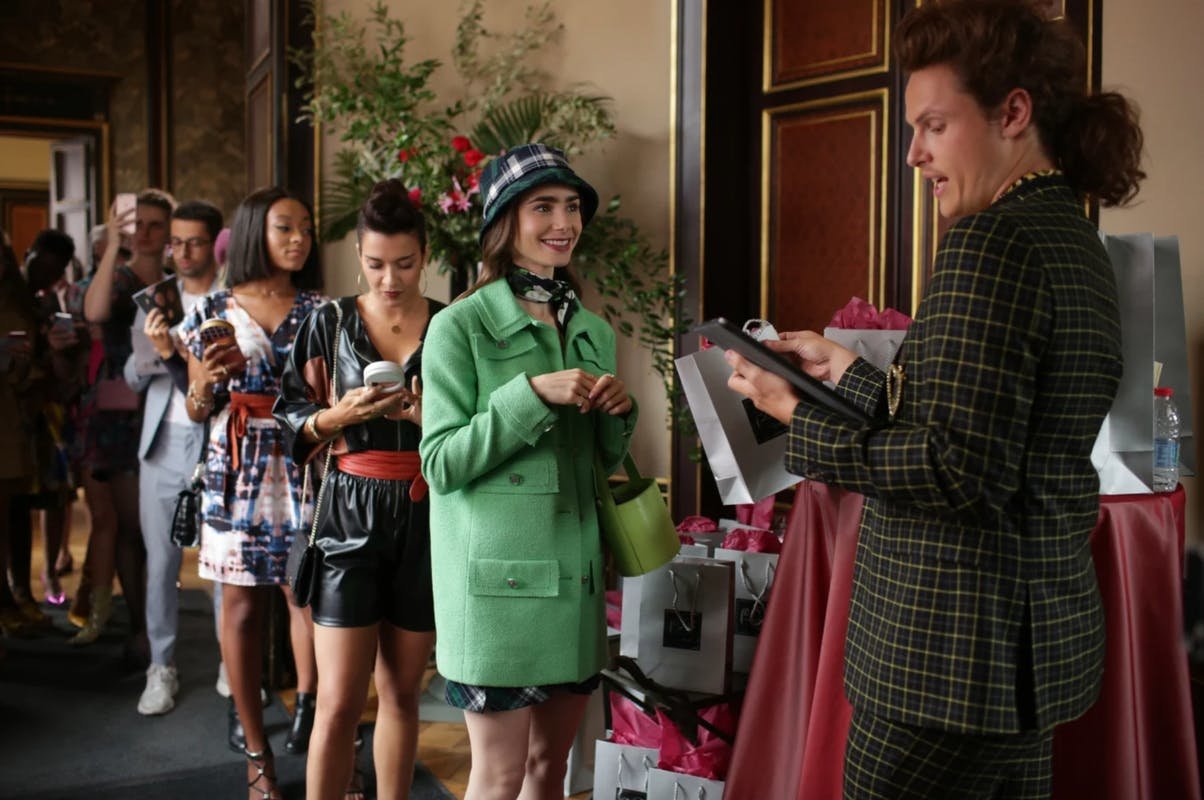 Whether you love it or love to hate it, the effect the Netflix hit Emily in Paris had on fashion can't be denied. Costumed by Sex and the City's Patricia Field, Emily's Midwestern-meets-Parisian looks had us all struggling to look away.

Regardless, Emily's unapologetic elevated-basic style captured the hearts of the masses, and L'OFFICIEL star Lily Collins hopes viewers can relate to her character's self-assuredness. "It's the experience of going into a new environment, not knowing anyone, and having to bring whatever it is you prepared to the table," Collins tells L'OFFICIEL. "I think many people can relate to that idea of not wanting to change who you are in order to fit in."


11. AOC Covers Vanity Fair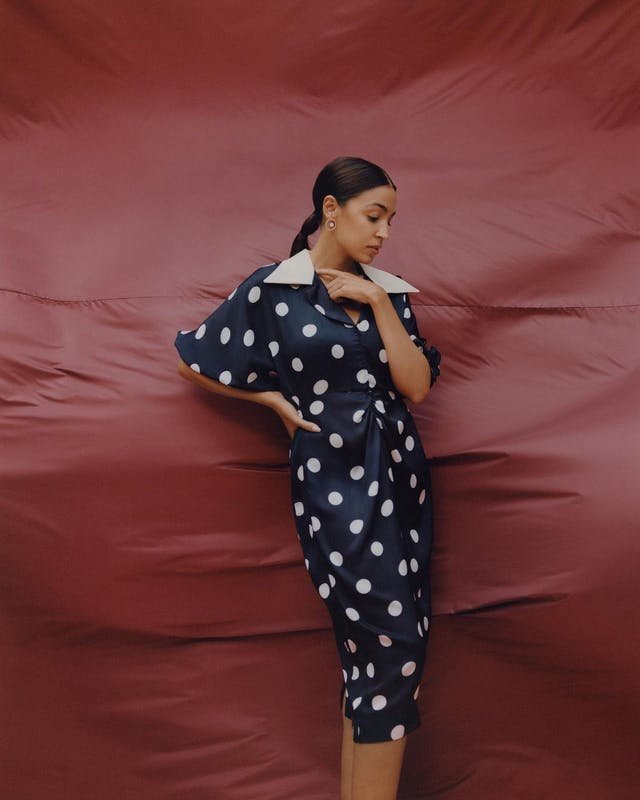 Speaking of viral cover moments, Rep. Alexandria Ocasio-Cortez stunned in a crisp white suit on the cover of Vanity Fair's December 2020 issue. In a particularly politically-charged climate, politicians-as-cover stars was something of a trend in 2020, with vice-president-elect Kamala Harris covering Elle's November 2020 issue and Rep. Ilhan Omar (and her daughter Isra Hirsi) being featured on the cover of Teen Vogue.

Of course, because AOC can't so much as step outside without some sort of controversy, conservatives were quick to point out the cost of the designer clothes Ocasio-Cortez wore in the shoot. The Representative waved away the criticism, tweeting that the clothes she wears on photo shoots are not hers. "Republicans are Very Mad (again) about my appearance. This time they're mad that I look good in borrowed clothes (again)," she wrote.


12. Telfar Shoppers Become the New It-Bag


The it-bag of 2020 is undoubtedly the Telfar shopping bag, aka the "Bushwick Birkin." The vegan leather bag, which is consistently sold out, has been seen on the arm of everyone from celebs like Dua Lipa and Solange to Brooklyn's cool kids. Designer Telfar Clemens wanted to create a status bag that was still inclusive, and even addressed the scarcity by introducing a Bag Security Program in August, a one-day unlimited pre-order.

The designer's upcoming collaboration with UGG brings a Y2K twist to the leather shopper, and will be available Spring 2021.