As New Year's Eve fast approaches, we tilt our heads, take a deep sigh, and thank the heavens that 2020 is almost over. No one needs a recap of all the bad news the past 10 months had to offer. But as we collect our breath and really look back, we realize that there were myriad silver linings. Yes, there were instances of resilience, artistry, and (if you can believe it) great joy. There can't be light if there is no darkness, after all. And in case you need a refresher, we've rounded up 20 of the best fashion moments of 2020. Here's hoping 2021 is clear skies ahead.


Gucci Rewires the Fashion Calendar

For the past decade the fashion merry-go-round has been spinning faster and faster, with fall collections shown in February/March, spring collections in September/October, plus two bonus seasons, pre-fall and resort, added to the calendar in June and December, respectively. (And for labels that do menswear, too, two more beyond that, with fall shown in January and spring in June.) There was a lot of hand-wringing about the frantic pace of output expected from designers, who, after all, are human beings. But nothing really changed until May, when Gucci creative director Alessandro Michele announced that the Italian brand would permanently limit its output to two coed collections a year.

Michele cited creative exhaustion, or a desire to "reconnect with the deepest reasons that inspired my entry into the fashion realm," as the reason for the decision. In November, he delivered on his promise, debuting Ouverture of Something That Never Ended, a virtuoso Gus Van Sant–directed seven-part miniseries that showcased his collection of '70s-style suits, bohemian dresses, and sportswear-inspired separates that will be in stores during the second half of 2021. It was also the headliner of fashion film festival titled, appropriately, GucciFest.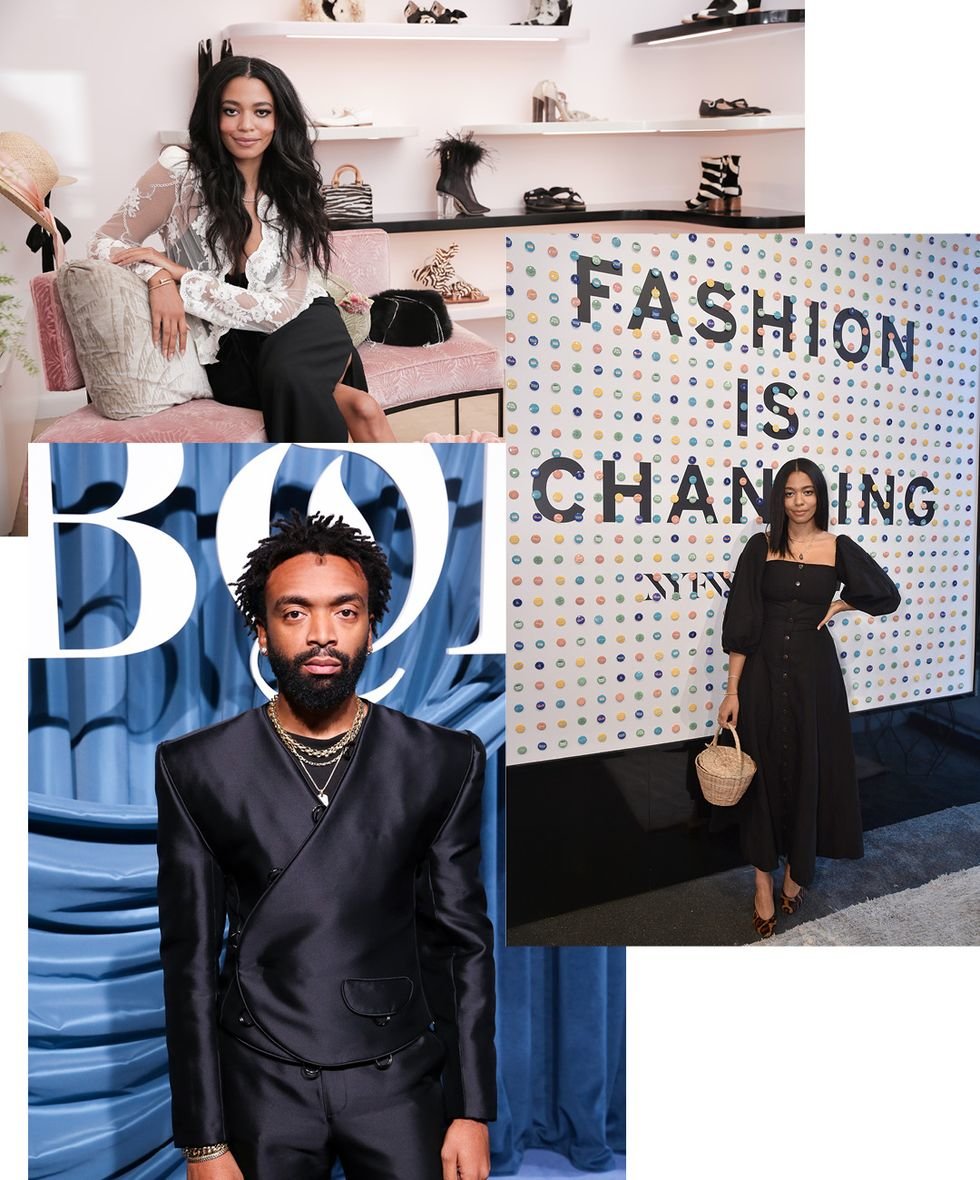 Fashion's 2020 MVPs: Kerby Jean-Raymond and Aurora James

In a year marked by the global health crisis and racial equity protests, Pyer Moss designer Kerby Jean-Raymond and Brother Vellies designer Aurora James proved the power of community action.

Jean-Raymond formed Your Friends in New York, a network that raised funds to source PPE for frontline workers at health facilities across the United States and provided emergency grants to minority and female-owned small businesses. With the backing of Kering, the initiative developed into a creative platform that aims to empower the next generation of BIPOC innovators. During New York Fashion Week in September, Jean-Raymond won American Menswear Designer of the Year at the 2020 CFDA Awards and Designer of the Year by Harlem's Fashion Row. And to round out his reign over 2020, Reebok named him vice president of creative direction, where he is tasked with bringing a fresh, more inclusive perspective to the activewear giant.

Meanwhile, James became a driver of systemic change in the retail industry this year through her 15 Percent Pledge. According to the United States Census Bureau, nearly 15 percent of Americans identify as Black, so in June, James challenged retailers to devote 15 percent of their shelf space to Black-owned brands. Heading her call to action were major companies-including Sephora, Bloomingdale's, and West Elm-that promised to allot representative portions of their stock to Black-owned businesses.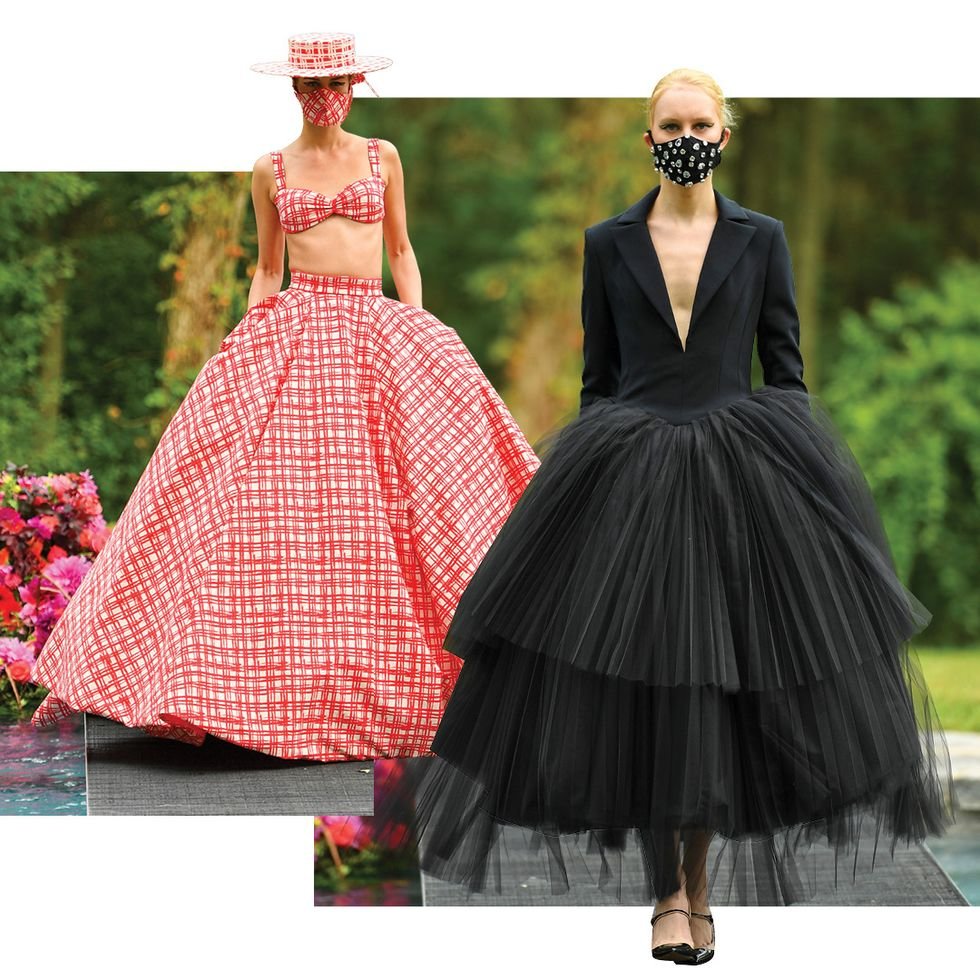 Fashion Supports COVID-19 Relief

Fashion labels, both big and small, committed to helping stop the spread of COVID-19 and provided monetary assistance to those most impacted by the global health crisis. Prada financed three new ICU units at hospitals in Milan, while Ralph Lauren pledged $10 million to the WHO's COVID-19 Solidarity Response Fund, the Emergency Assistance Foundation, and the company's own Pink Pony Fund. And Tory Burch partnered with 1199SEIU United Healthcare Workers East to provide $5 million worth of PPE. Luxury conglomerates, including Capri Holdings, Kering, and LVMH, donated sizable funds to health organizations and NGOs, while independent labels such as Prabal Gurung and Christian Siriano converted their facilities into face mask-making outlets.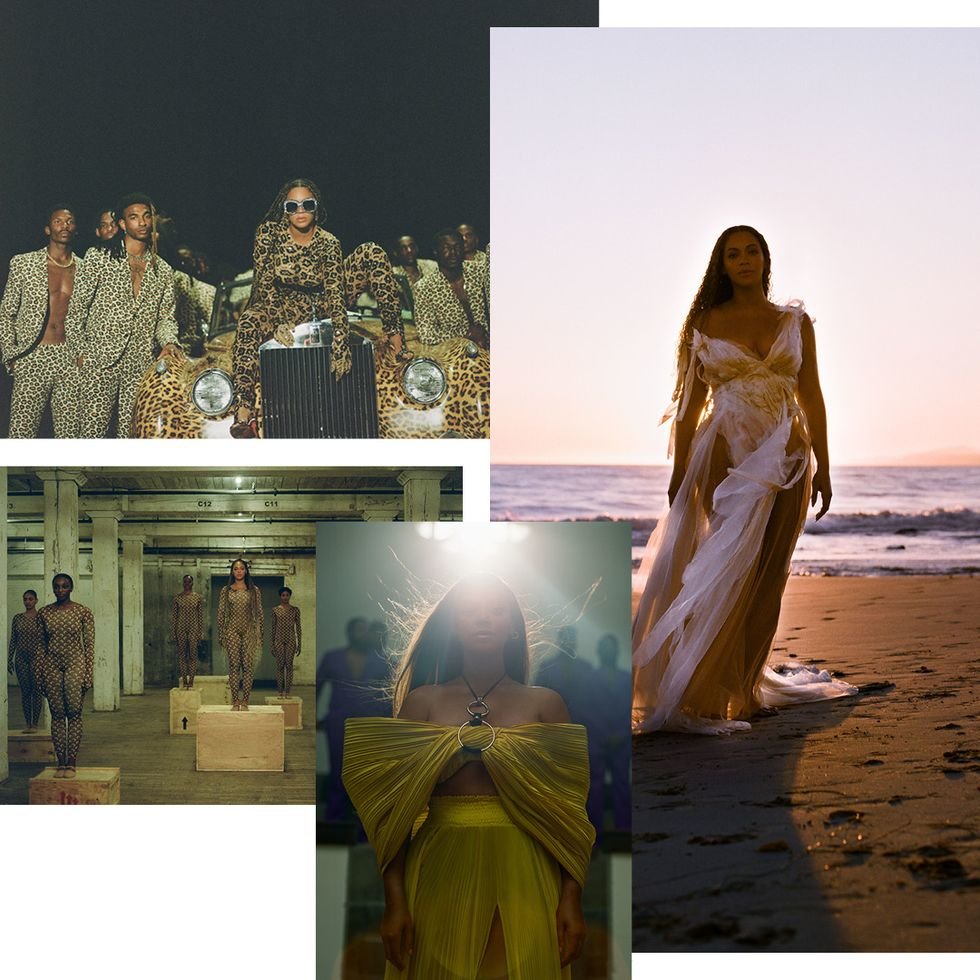 Beyoncé Creates Visual Poetry

Beyoncé is an icon in every sense of the word. And with her magnificent visual album, Black Is King, Queen Bey used her tremendous influence to showcase the best that the fashion industry has to offer and spotlight designers from Africa and the African diaspora. The costumes, masterminded by stylist Zerina Akers, included bespoke looks by Balmain's Olivier Rousteing, Burberry's Riccardo Tisci, and Alexander McQueen's Sarah Burton; and a slew of pieces created by burgeoning global talents, including Côte d'Ivoire–based Loza Maléombho and Israel-born Alon Livné. Each of these designers helped bring Beyoncé's incredible, poetic vision to the screen.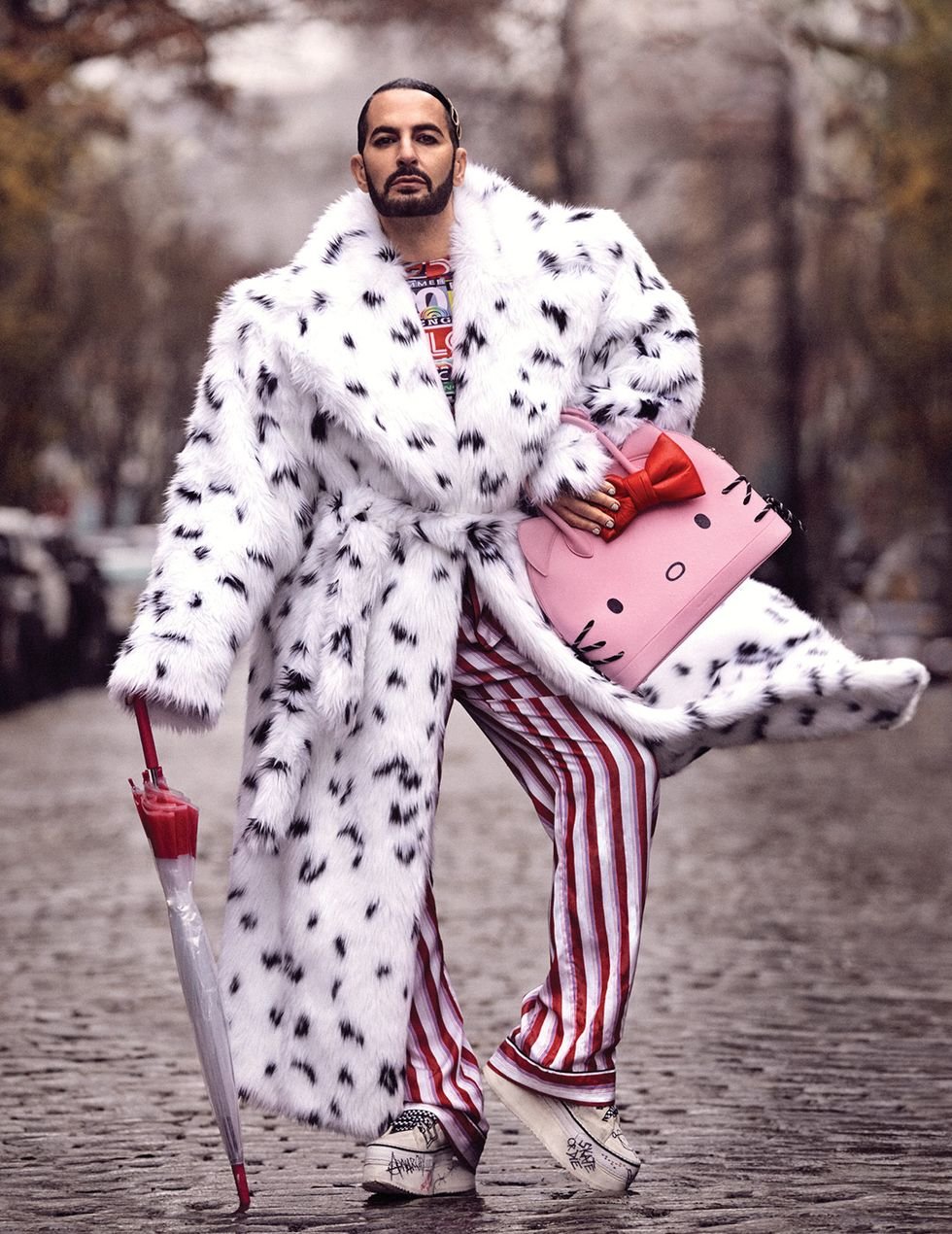 Marc Jacobs Becomes a Model

"Gendered clothing is over," said Marc Jacobs in our April issue, where he modeled some of spring 2020's most eye-catching looks, including a Balenciaga Dalmatian-print coat and Hello Kitty bag. "When people say a 'woman's bag,' I'm like, 'It's just a bag!' A bag is not gendered." Jacobs also modeled in Givenchy's spring 2020 campaign and Christian Cowan's spring 2021 look book. And though some of us struggled to get dressed this year as we had to spend most of our time at home, Jacobs kept posting all his good fits on his Instagram account, offering all the inspiration we needed.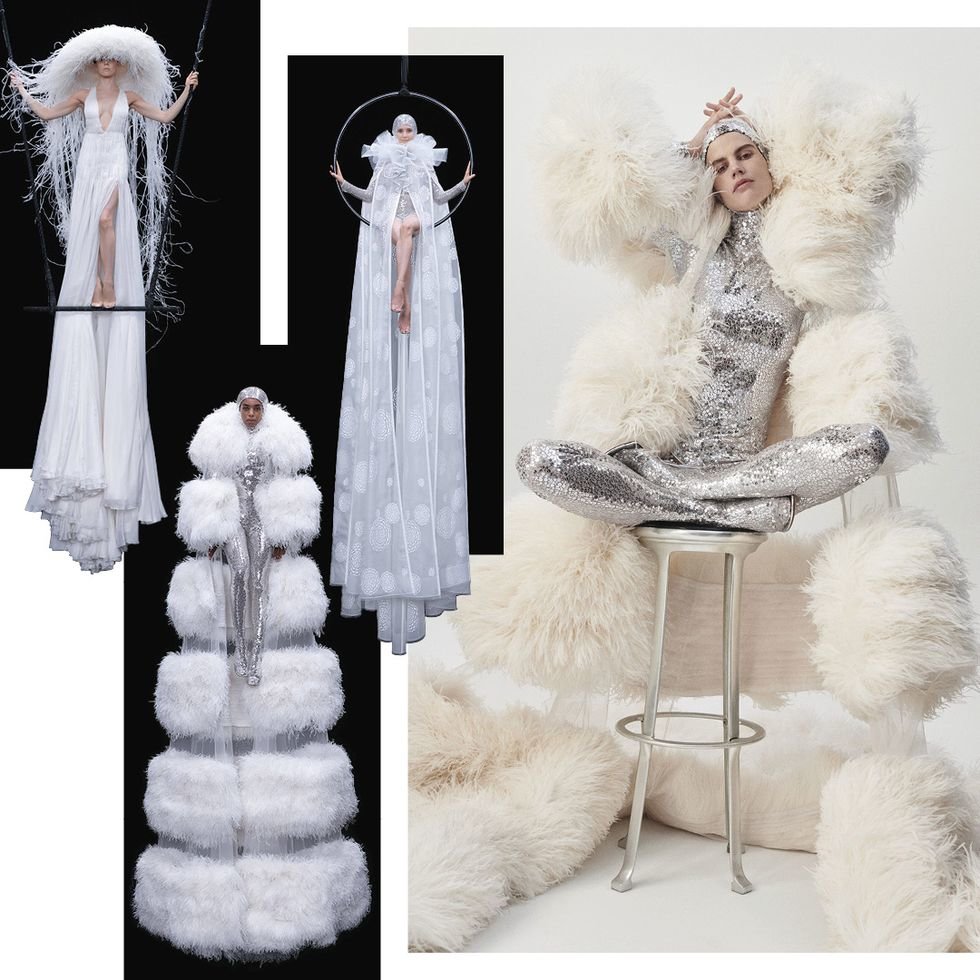 Valentino Takes Couture to New Heights

The couture collections ushered audiences into a fantasy realm, displaying larger-than-life runway extravaganzas. And even though the fall 2020 Couture Fashion Week could not be held in person this year, Valentino's Pierpaolo Piccioli found an innovative way to take his show to-literal-new heights. In collaboration with Nick Knight, he presented his new collection via a fashion film titled Of Grace and Light, which was streamed live from Rome's famed Cinecittà Studios. Models wearing super-long gowns fit for Amazons stood on hidden plinths or swung from trapezes. From a cape made of panels of effervescent feathers over a sequined bodysuit to a crêpe de chine gown with voluminous shoulders, Piccioli proved that he is not only a great designer, but also a master showman.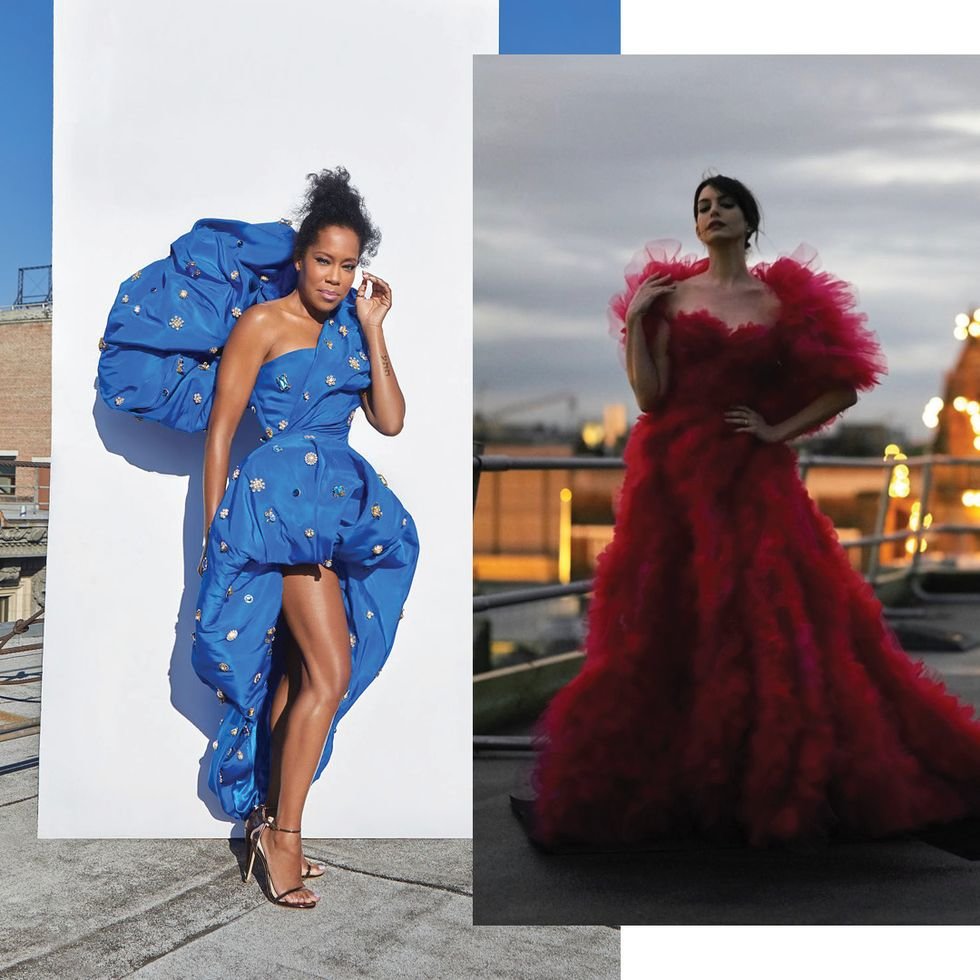 The Red Carpet Goes Virtual

Red-carpet dressing in the time of COVID often looked a lot like stars on Zoom in their pajamas, but there were a few who dared to, well, get dressed. In September, Regina King took "home" the Emmy for Outstanding Lead Actress in a Limited Series for her role in Watchmen in two standout looks by Schiaparelli-a double-breasted wool suit worn over a Breonna Taylor T-shirt and an electric-blue asymmetrical embroidered silk falle gown-which were later auctioned at Christie's to support the Obama Foundation's Girls Opportunity Alliance. And in October, Anne Hathaway didn't need a red carpet to wow: She made the premiere for her new HBO Max film, The Witches, a fully virtual affair by posing in a dreamy ruffled gown on the dusk-lit rooftop of London department store Harrods, posting the images to Instagram.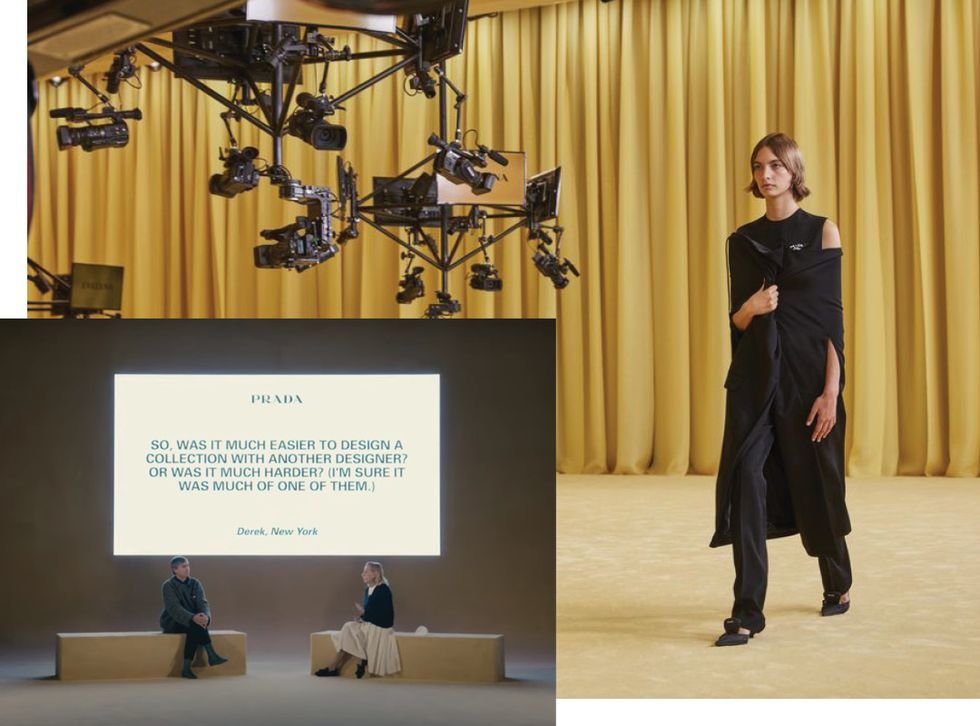 Arguably the Biggest Fashion News Reveal of the Year Happens on YouTube

If when you first heard that Raf Simons was going to Prada felt like it happened in another world, it's probably because it was another world last February. Nevertheless, we collectively watched this monumental fashion collaboration debut on a YouTube livestream-how very 2020 of us. The first collection by co-creative directors Miuccia Prada and Raf Simons centered on the idea of uniform and a dialogue, what the brand calls, "a creative conversation in progress."

In the spirt of dialogue, the two powerhouses sat down to answer crowd-sourced questions about everything from their personal uniforms to working together and utilizing the collective unconscious in their designs. "You have to be connected to people-from what you read, from what you learn, from what you discuss," Prada said. "The more you are connected in reality with the world, the more your job is interesting." As cool as this convo was to witness, let's hope that reality becomes more tactile for fall 2021.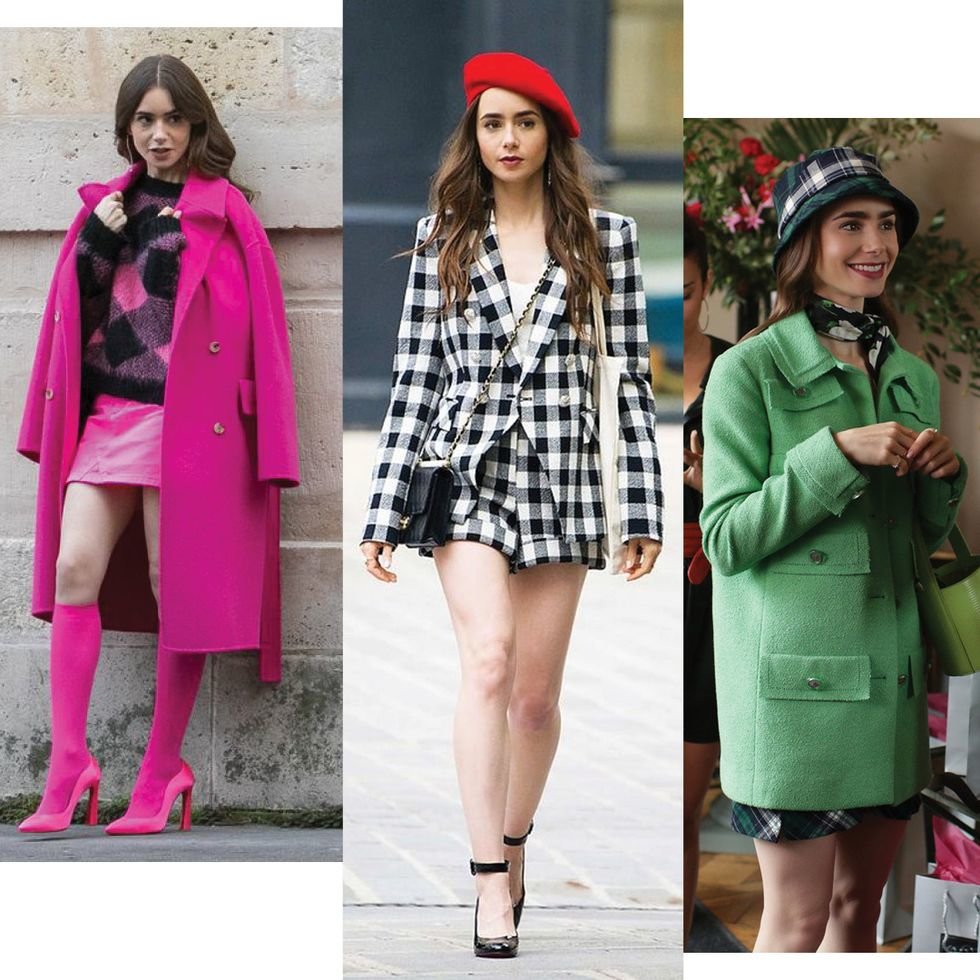 Let's Talk About Emily in Paris

Leave a bunch of discerning fashion people at home for months on end with very little to critique, then drop a binge-worthy Netflix show starring a clueless American in Paris with a penchant for mixing luxury labels and a lot of accessories, and watch the sparks fly. BAZAAR.com queried if Emily in Paris is fashion's most polarizing figure. And we'd venture that the simple answer, for 2020 at least, was a resounding yes. But Emily came along at just the right time.

Another show from Sex and the City creator Darren Star, Emily in Paris follows a Chicago marketing exec to the City of Light, outfitted in a dizzying array of Off-White, Alice and Olivia, Dior, Chanel, rare Paris-print Christian Louboutin Gorgona boots, and Dope Tavio. Her lack of understanding of the native language seems to match her neglect of subtlety when mixing print and color-read: utterly hopeless. But when you're stuck at home wanting to vent on social media about something other than what's reported on CNN, what's the harm in watching a show where the protagonist isn't a fashion victim?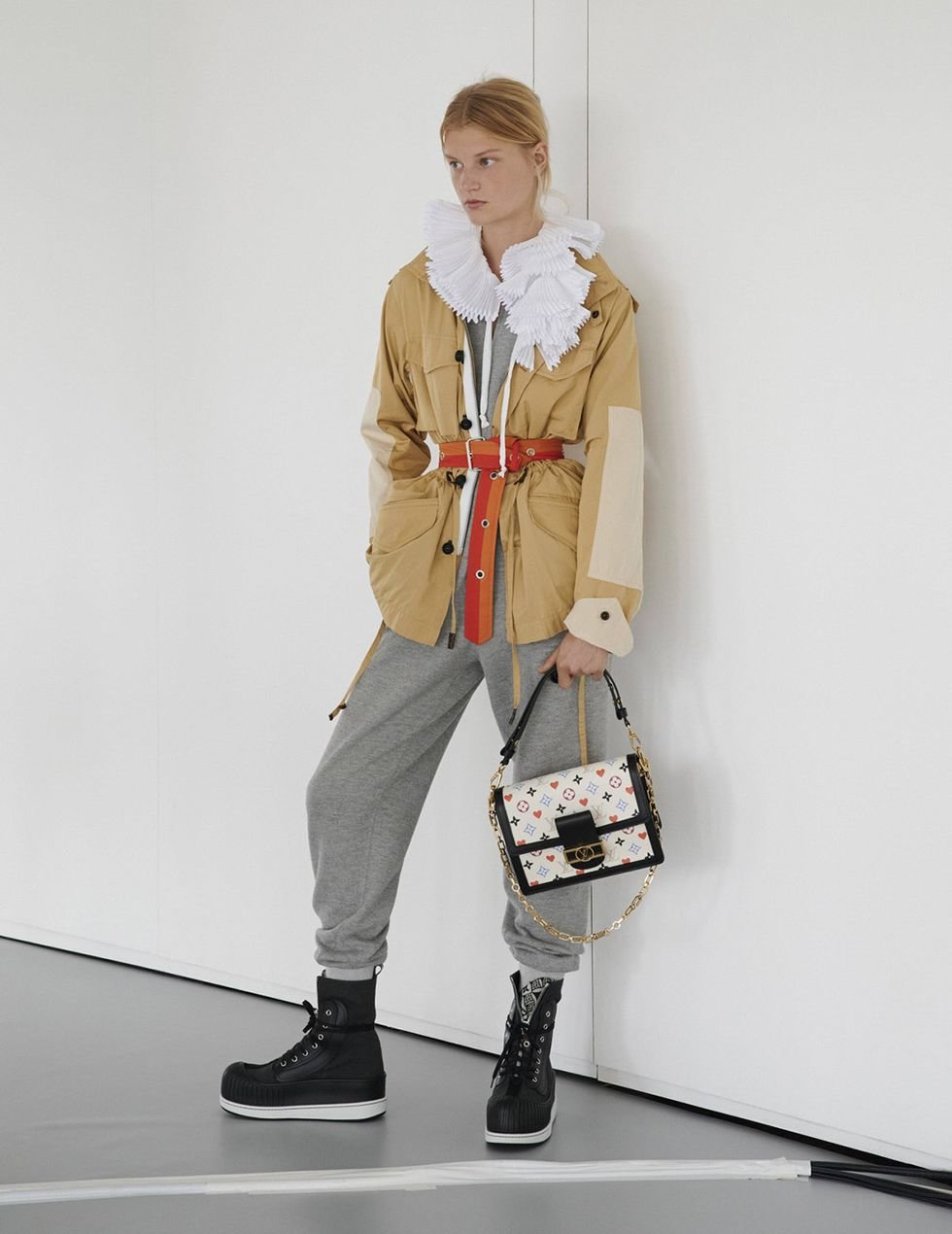 It's a Sweatpants World, and We Just Live in It

When The New York Times boldly pronounced "Sweatpants Forever" in reference to COVID-era shopping habits, it was correct, of course; people have been really into sweatpants. But the deeper truth is that sweatpants were already a thing way before we stopped leaving our houses (BAZAAR.com actually called the trend in February). Further, there were brands that clearly had crystal balls glimpsing the cozy revolution-from purveyors of classic sweat suits, including Universal Standard, Les Tien, Iise, Aarmy, and Pangaia-and brands that luxed up the idea in cashmere and knitwear like Olivia von Halle, Frankie Shop, NakedCashmere, and Madeleine Thompson. Luxury labels like Louis Vuitton also put sweats in their seasonal look books.

In short, brands hawking coordinating sets built for full Tiger King viewings going into 2020 enjoyed a retail moment with an 80 percent increase in sales as of August, even as the rest of ready-to-wear was in a steady decline. So, maybe it is sweatpants forever, but even if it's not, these brands clearly have a pulse on emerging trends.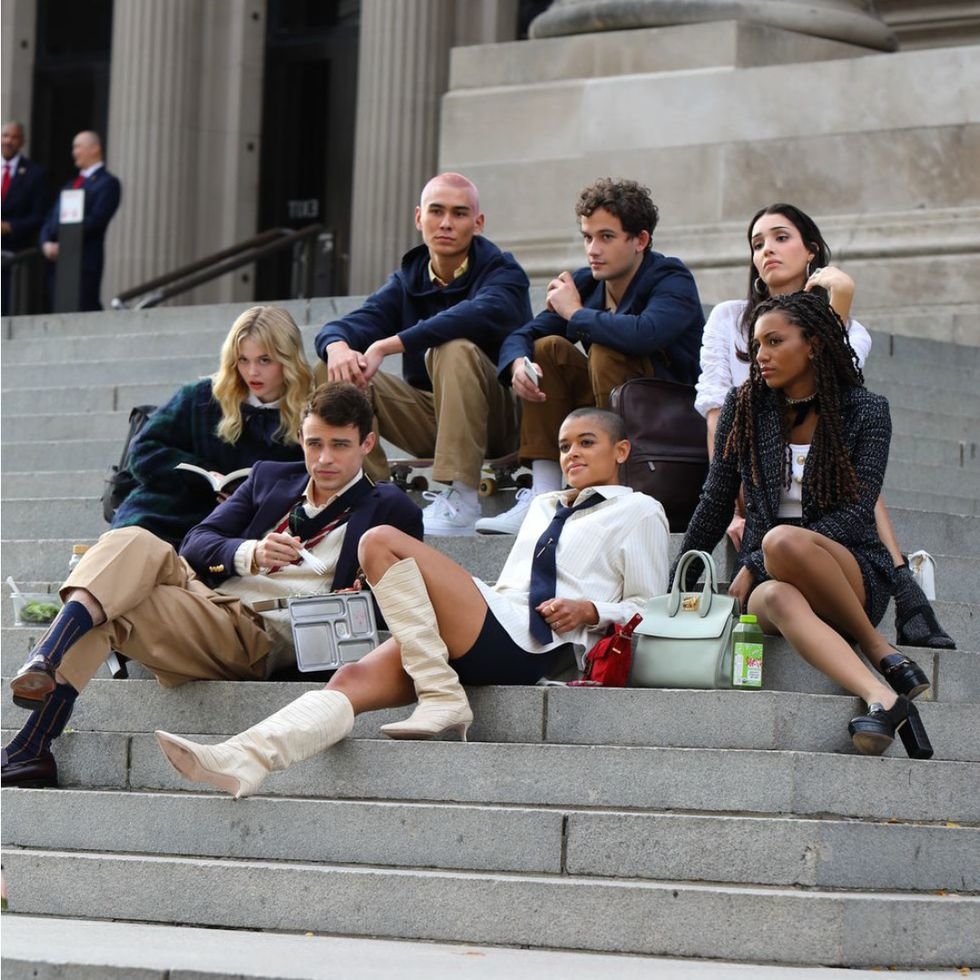 Hey, Upper East Siders, There's a New Gossip Girl Coming

While this news will inevitably be a 2021 sensation, word of a reboot of the hit 2000s show launching on HBO Max in the New Year with 10 hour-long episodes, showing a new generation of rich and famous prep-school teens, is making waves right now-and was met with a resounding, "Yes, please." In the age of Instagram stars, bloggers, and influencers, it's the perfect time to revive the sensory pleasures of watching New York City's young, wealthy elite implode among themselves.

As the tagline reads, "Eight years after the original website went dark, a new generation of New York private school teens are introduced to the social surveillance of Gossip Girl. The prestige series will address just how much social media-and the landscape of New York itself-has changed in the intervening years." Those who care about such things (read: everyone we know) will soon be well acquainted with the cast, including Emily Alyn Lind, Evan Mock, Eli Brown, Zión Moreno, Jordan Alexander, Tavi Gevinson, Savannah Smith, Thomas Doherty, and Whitney Peak.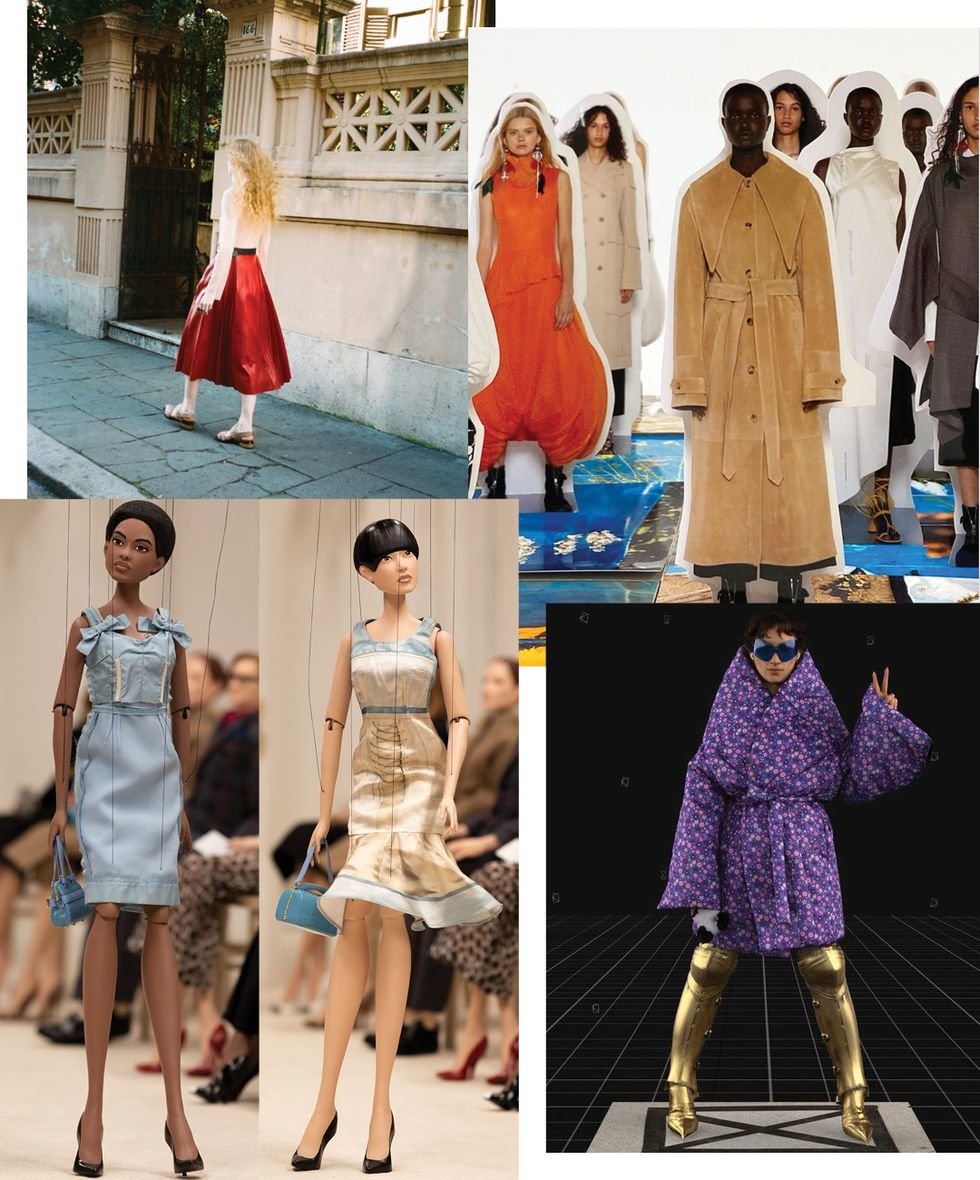 What's a Runway, Anyway?

Though there have been in-person, socially distant, or sparsely attended shows everywhere from Paris to Connecticut, fashion has had to exercise some serious creative energy in introducing new collections. For those IRL presentations, there was extra attention to making at-home viewers feel included: Balmain's virtual American front row filmed themselves on webcams and were "seated" on individual screens at the show. In the realm of runway-not-included releases, Loewe sent a show in a box, complete with wallpaper, glue, and scissors for a little DIY. Moschino created puppets, and Dior sent Couture dolls to clients, both partly inspired by Théâtre de la Mode.




Entire films were made by Nick Knight for Maison Margiela in the form of a documentary and Gus Van Sant, who shot an seven-part miniseries for Gucci. We watched Virtual Reality headsets for Viktor & Rolf, and got acquainted with a virtual Bella Hadid at Mugler. Empowered by a national obsession with Minecraft, Balenciaga designed a video game to release its collection, and by chance, so did Collina Strada. Among other smaller brands, Anifa Mvuemba leveraged Instagram for a "Live" show with invisible models. The list goes on, but the message is clear: When faced with extenuating circumstances, fashion believes the show must go on and will always put on a good one.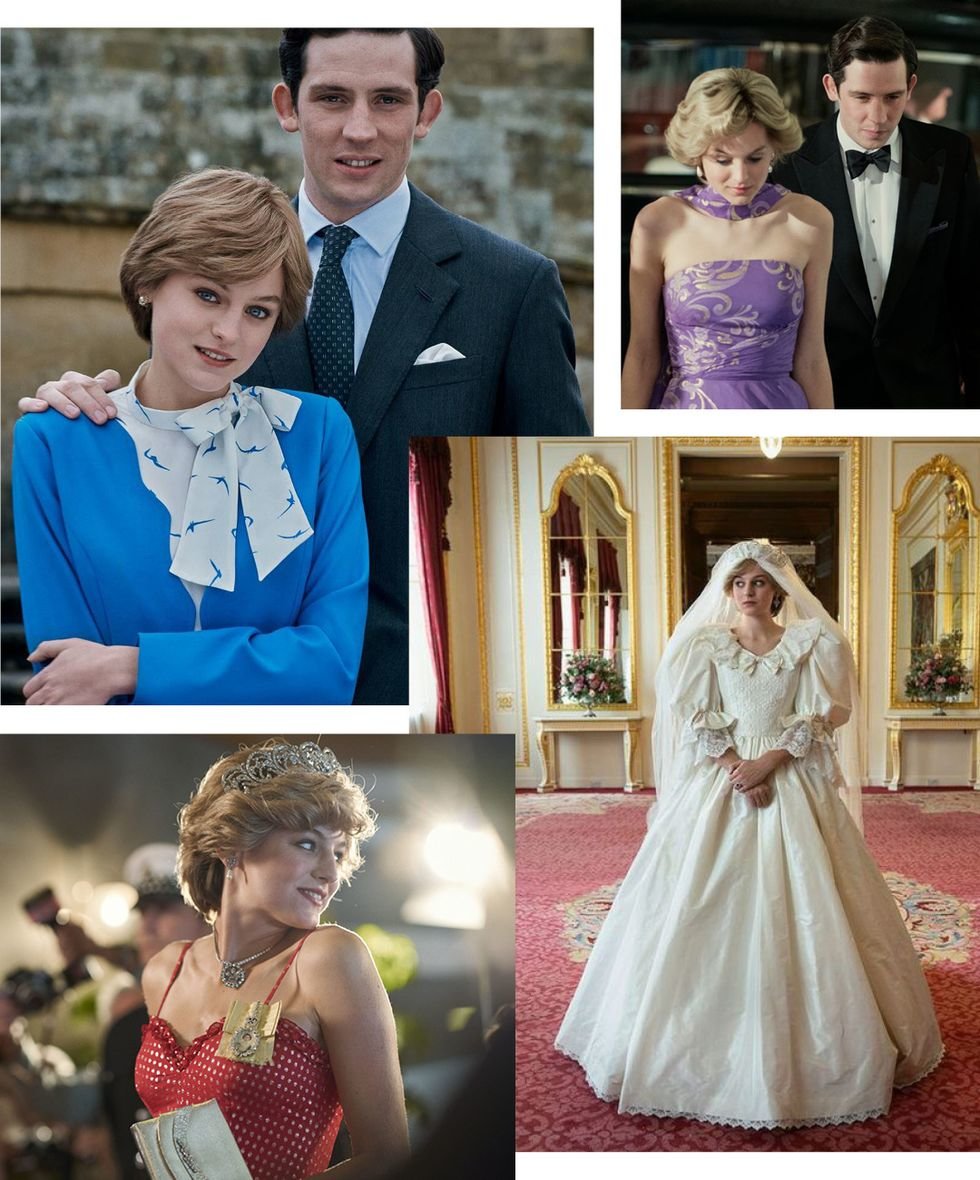 We Have a Love Affair with Diana's Style, Again

The Crown isn't exactly new, but the entrance of the Princess of Wales in Season 4 brought about a Diana Spencer style frenzy and newfound admiration for the Netflix show. The casting of actress Emma Corrin, her spot-on Diana mannerisms, and that iconic posh London shag seemingly brought the beloved royal back to life. Rowing Blazers issued a Princess Diana–inspired collection, complete with remakes of two intarsia sweaters she favored. The TikTok set discovered a style icon (the Princess Diana hashtag has more than 305 million views at print time). And more than one style influencer posted a shot in a tweed blazer, a baseball cap, and cowboy boots, or a varsity sweatshirt-and-biker shorts combo in homage to the late princess. The only fever we want to continue to see in 2021 is Princess Diana fever.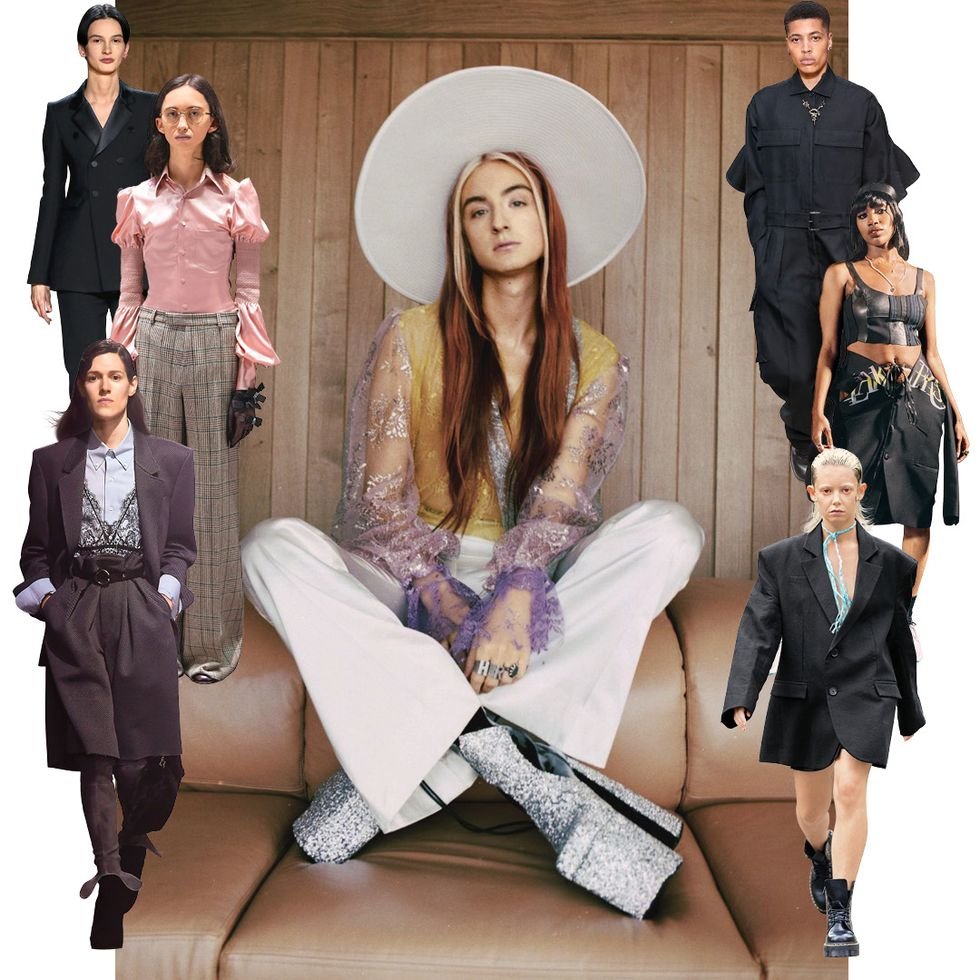 Gender-Fluid Fashion Finally Goes Mainstream

Twenty-four-year-old Central Saint Martins grad Harris Reed-Harry Styles's go-to for lamé pussy bow blouses and caged hoop skirts-was undeniably a breakout design star of 2020, along with Art School's Eden Loweth and No Sesso's Pierre Davis. Their beliefs that gendered clothing is irrelevant takes further ideas about gender that are just starting to show up on the runways. Models identifying as nonbinary, trans men, and cis men walked alongside cis women at Valentino's fall 2020 womenswear show. Agender model Juno Mitchell walked that show, too, as well as for Eckhaus Latta, Marni, Coperni, Alexander McQueen, and Marc Jacobs, where they strode side by side with Miley Cyrus-who has described herself as gender neutral.

In September, Jacobs introduced Heaven, a range billed as being for "girls who are boys and boys who are girls, [and] those who are neither." Around the same time, Alessandro Michele launched Gucci MX, a new way to shop on Gucci.com, where womenswear and menswear pieces are merchandised together. And for spring 2021, Nicolas Ghesquière made a powerful statement about fashion's genderless future, with a Louis Vuitton collection filled with expandable gusset blazers and wide-leg trousers worn by models of all genders.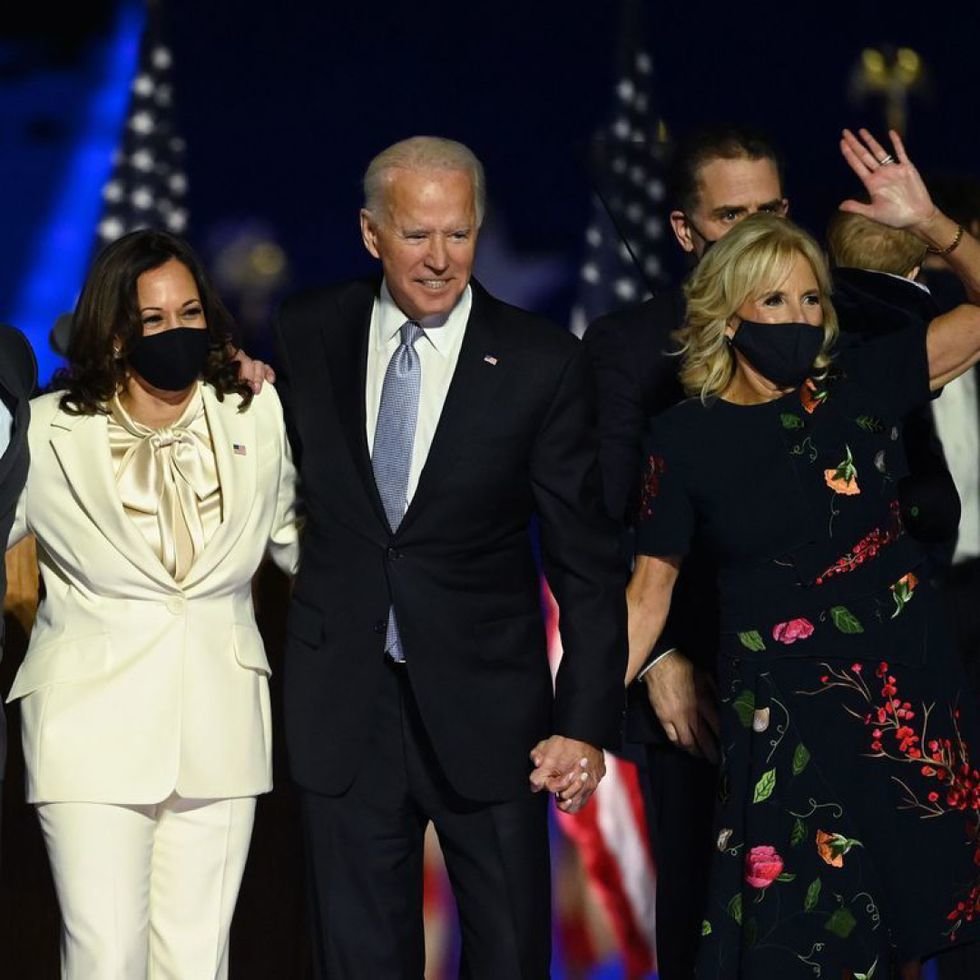 American Fashion Gets New Cheerleaders

At a moment when the American fashion industry has been hit hard by the ongoing COVID-19 health crisis, it has found two major cheerleaders in our first-ever female vice president-elect and future First Lady, two women who recognize the quiet power of fashion to speak volumes about our beliefs. In their first speeches as president-elect and vice president-elect at the Biden–Harris victory celebration, Joe Biden and Kamala Harris sought to heal the divisions that have defined the last four years in U.S. politics. And it is notable that the Carolina Herrera suffragette white suit Harris wore to deliver that message, as well as the Oscar de la Renta asymmetrical floral dress worn by future First Lady Jill Biden, are both from immigrant-founded American fashion labels that have long dressed First Ladies on both sides of the political aisle from Jackie Kennedy to Melania Trump.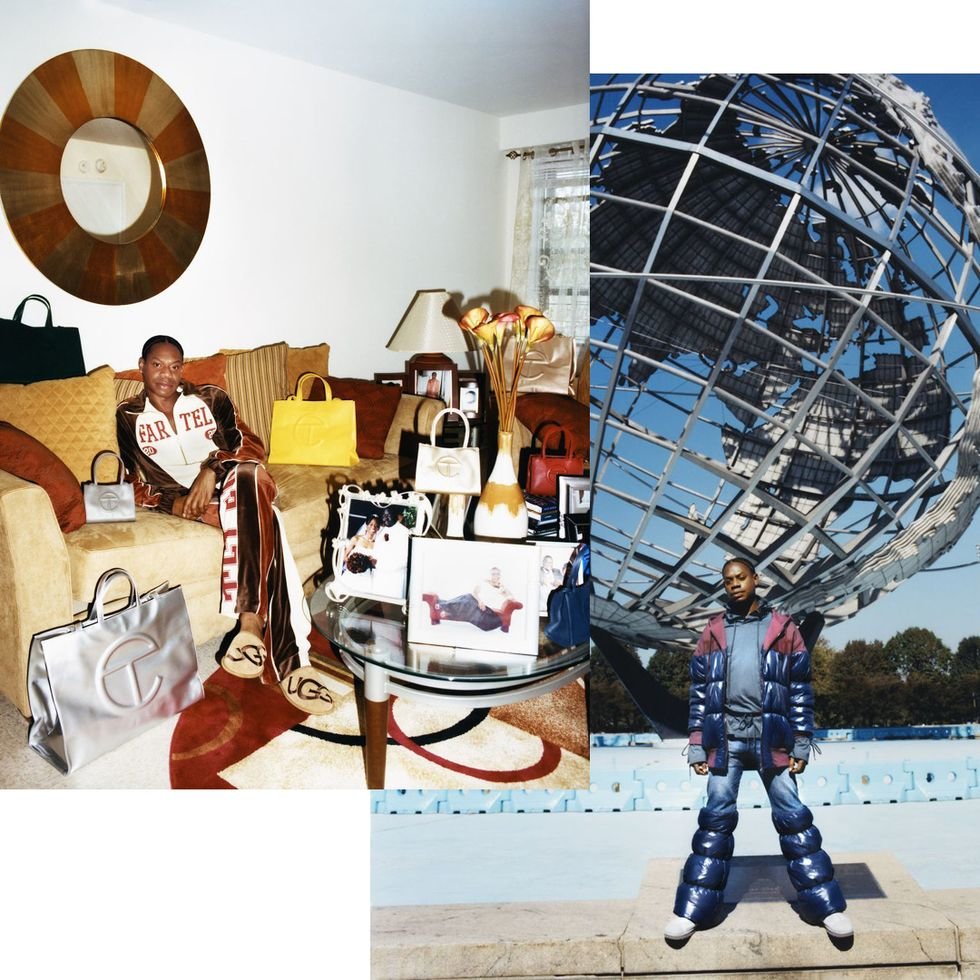 Telfar Lets Everyone Buy an It Bag

Christmas might come twice this year if you placed an order through the Telfar Bag Security Program. The innovative retail concept allowed fans of the New York label to preorder the always sold-out Shopping Bag-a.k.a. the Bushwick Birkin, or simply the Telfar bag, as the accessibly priced vegan leather tote is known-for guaranteed delivery between December 15 and January 15. The Shopping Bag, which costs between $150 and $257, comes in three sizes and 17 colors. Every one of those 51 combinations was on the menu during a 24-hour window in August, with no purchase limits. Contrary to conventional luxury marketing, the Bag Security Program is not designed to exclude. It's in keeping with the "not for you-for everyone" ethos of the brand's founder, Telfar Clemens, who won the 2020 CFDA Award for American Accessories Designer of the Year.

"It doesn't have this kind of fashion attitude that's like, 'Oh, my God, you have that bag,'" Clemens says of the Shopping Bag's appeal and price point. "It's like, 'No, the old lady does too, and so does that baby, and so do I."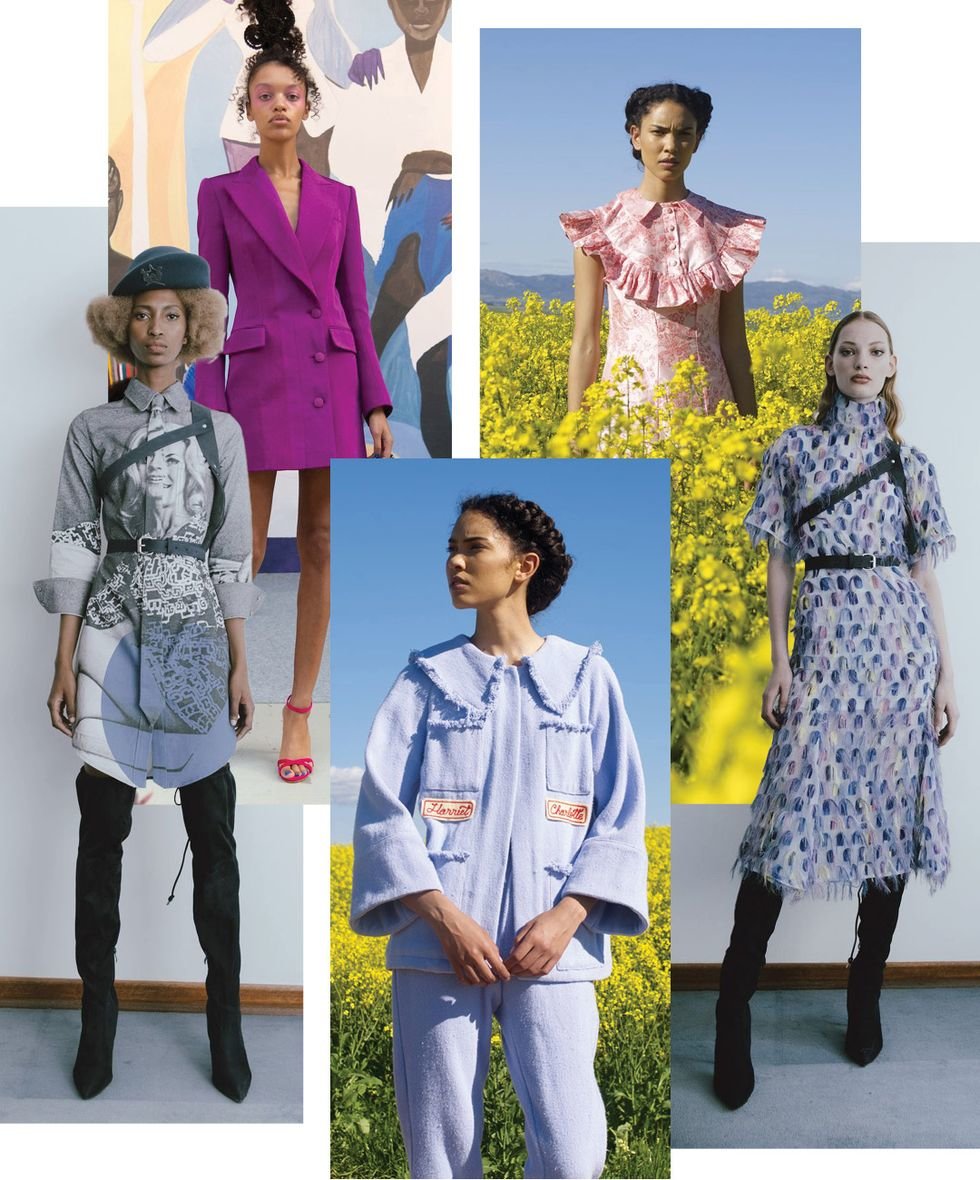 Designers from African Countries Take Paris and Milan

It's safe to say that Austrian-Nigerian designer Kenneth Ize made a splash at his fall 2020 Paris Fashion Week runway debut in February when the one and only Naomi Campbell closed in his signature exuberant checks. Ize, a 2019 LVMH Prize finalist, is committed to celebrating and supporting the heritage of handweaving in Nigeria, and the new orders that flowed in allowed him to open a factory that supports 30 artisans.

Ize wasn't the only Africa-based talent to show during the European collections this year. 2019 LVMH Prize winner Thebe Magugu, who works in Johannesburg, brought his ongoing exploration of the traditions, culture, and racial dynamics of South Africa to the Paris Fashion Week calendar for the first time for fall 2020. Magugu's fellow countrywoman, Cape Town–based designer Sindiso Khumalo, who was one of the eight designers to split the 2020 LVMH Prize, was invited to show virtually during Milan Fashion Week for spring 2021.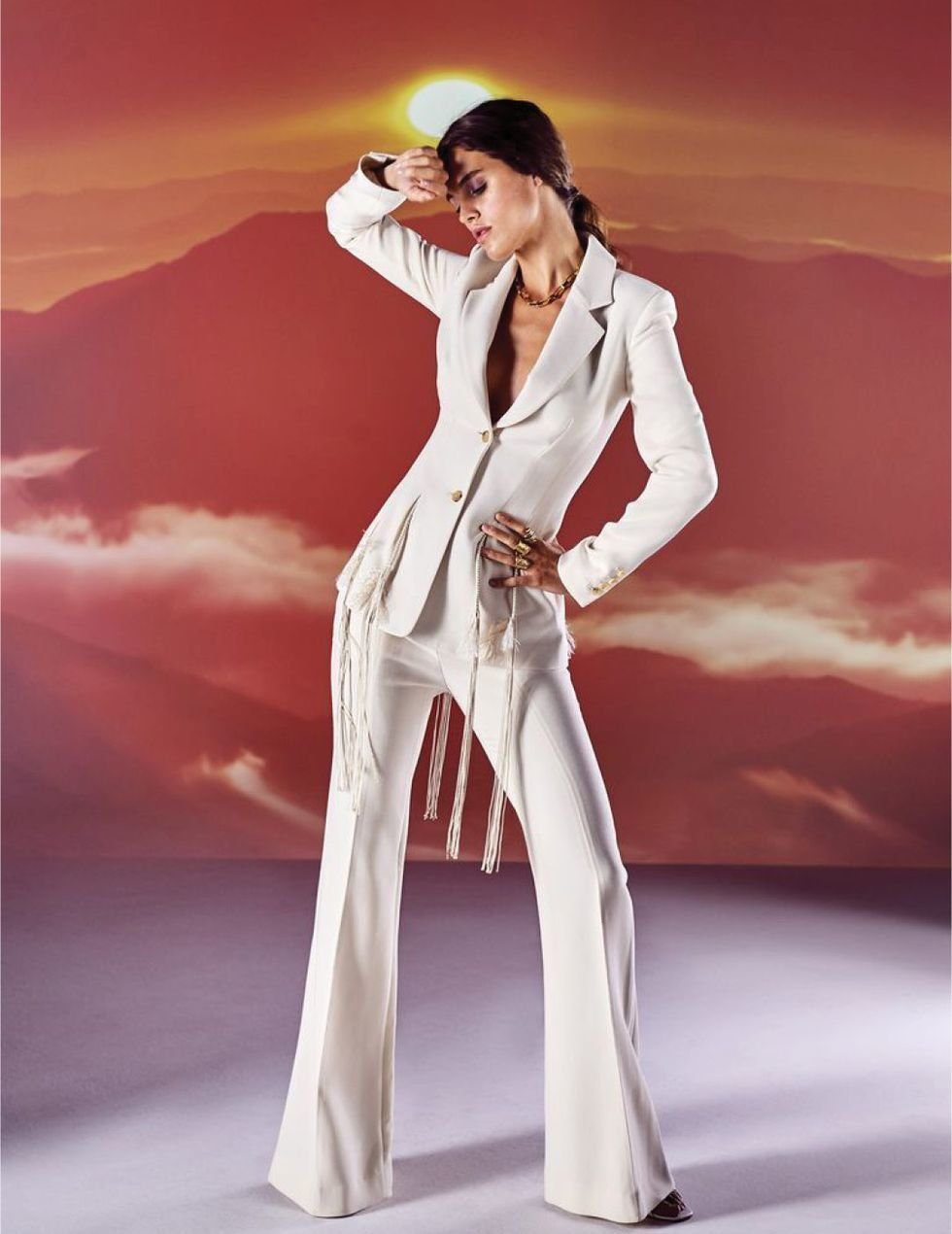 A New Look at Sustainability

The climate crisis has loomed large lately, with wildfires and superstorms becoming more frequent, while the months of lockdown and social distancing are showing the impact of changed behaviors on the environment. According to an August consumer survey by Coresight Research, shoppers have become more focused on sustainability during the coronavirus pandemic, with 29 percent of respondents saying that it's become more of a priority in their purchasing decisions. The problem is that the meaning of sustainable has eroded as brands rush to cash in on consumer demand, using it to market items that contain a small percentage of organic or recycled materials.

"We need to move away from this sort of wishy-washy sustainability-which can mean anything to anybody-to measurable, concrete, specific actions," says Maxine Bédat, founder and director of the New Standard Institute (NSI), a New York-based fashion policy think tank. NSI's Roadmap for the Rebuild, released in the fall, offers data-based macro plans for companies to meet quantifiable environmental targets.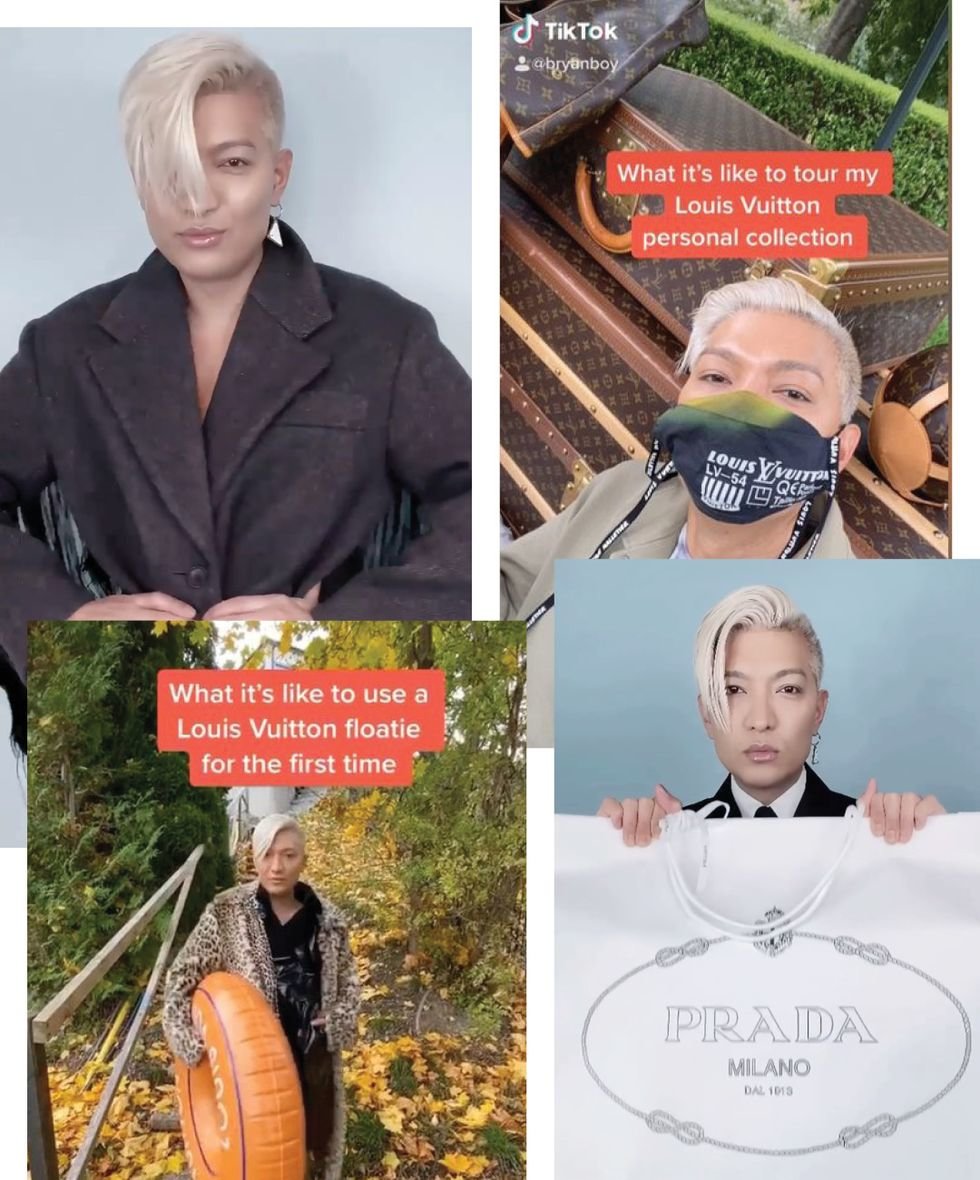 The Original Blogger Is Now a TikTok Star

Eleven years ago, Bryanboy made waves when Dolce & Gabbana seated him in the front row at a fashion show, becoming one of the first bloggers to receive the coveted allocation once reserved for top editors. To the general consternation of traditional media, he helped usher in a new era of so-called "influencers," social media personalities paid to post pictures of themselves wearing clothes brands send them, first on their personal blogs and later on Instagram. As the next gen of influencers migrated to TikTok, so, too, did Bryanboy this year, quickly racking up more than a million followers for his hilarious "Today Was the Worst" parody videos, in which he plays a clueless and entitled influencer whose personal brand is "elevating everyday experiences" with luxury products. He also posts a number of PSAs as himself, enjoining his many followers to wear masks and take COVID safety seriously.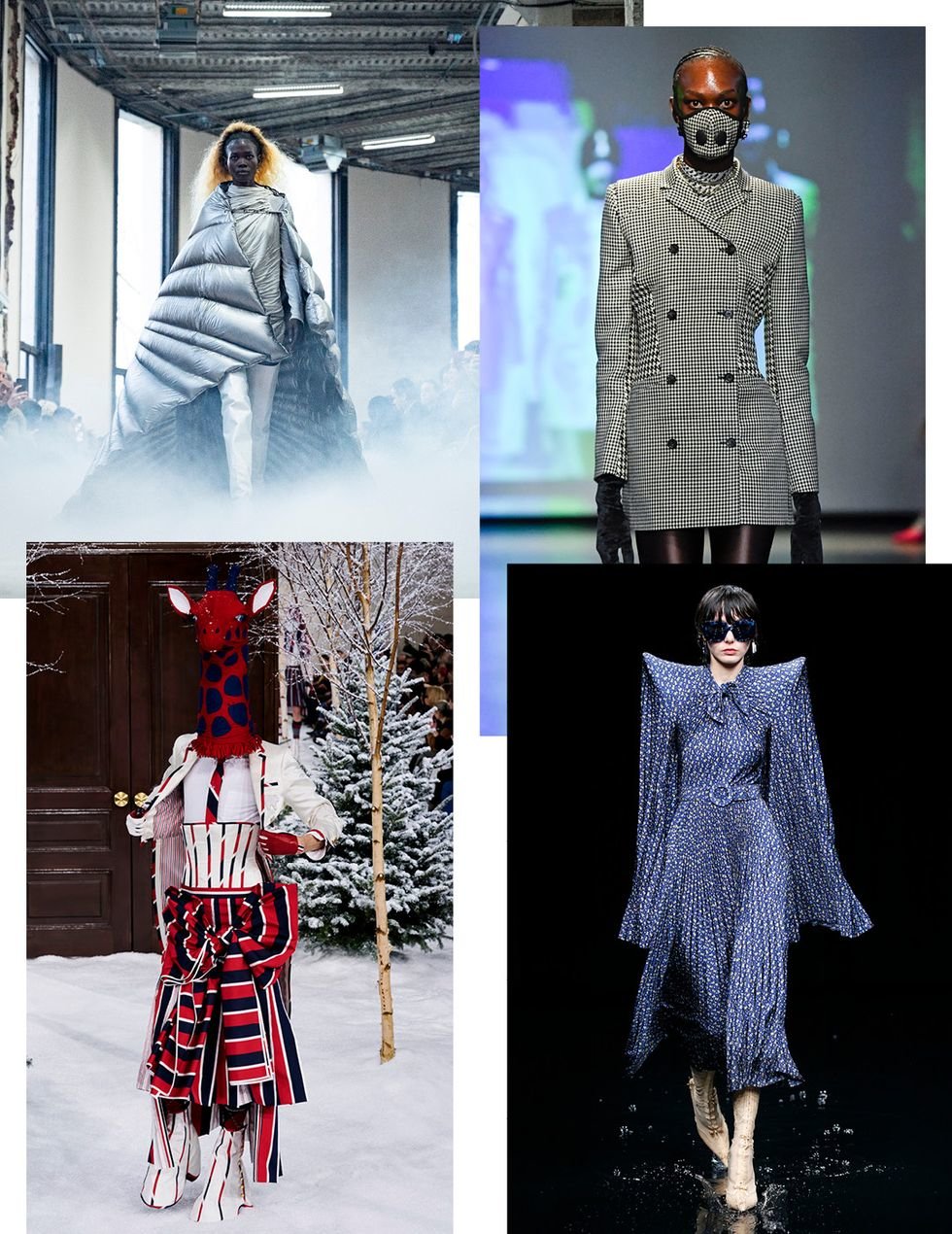 February and March's Runways as Crystal Balls?

Fashion designers are the closest things we have to oracles. Collections are designed months in advance to anticipate how we'll be feeling and what we'll want to wear in the coming seasons. Case in point: There were some definite apocalyptic vibes to the Paris Fashion Week fall 2020 shows, which ended in the first days of March, shortly before stay-at-home orders took effect across much of Europe and the United States.

At Thom Browne, a dancing giraffe led a parade of models walking two by two through a Noah's ark set, while at Balenciaga they stomped through a flooded and fiery hellscape. There is always something postapocalyptic about Rick Owens, and this time around, his floor-sweeping sleeping-bag capes matched the general mood. Marine Serre showed face masks in her signature half-moon print. She said that they were intended as a commentary on air pollution, but given the way a new respiratory biohazard would soon sweep the world, they felt prescient in more ways than one. Here's to a more optimistic vibe coming in strong from more recent presentations.