October 31st is very nearly upon us, which means that it's time to get our acts together. Leave your Halloween costume idea to the very last minute (again!) and you'll be forced to don that half-arsed "scary cat" ensemble, and that's the last thing 2020 needs right now.

Luckily for you, we've done some extensive costume research and have picked some seriously impressive celebrity looks to emulate (we see you, Heidi Klum: queen of Halloween)..

Once you're outfit is sorted, have a peruse of our favourite Halloween makeup looks, couples costumes, Halloween nail art ideas, pretty Halloween makeup ideas and makeup artists to follow for all the Halloween beauty inspo you need.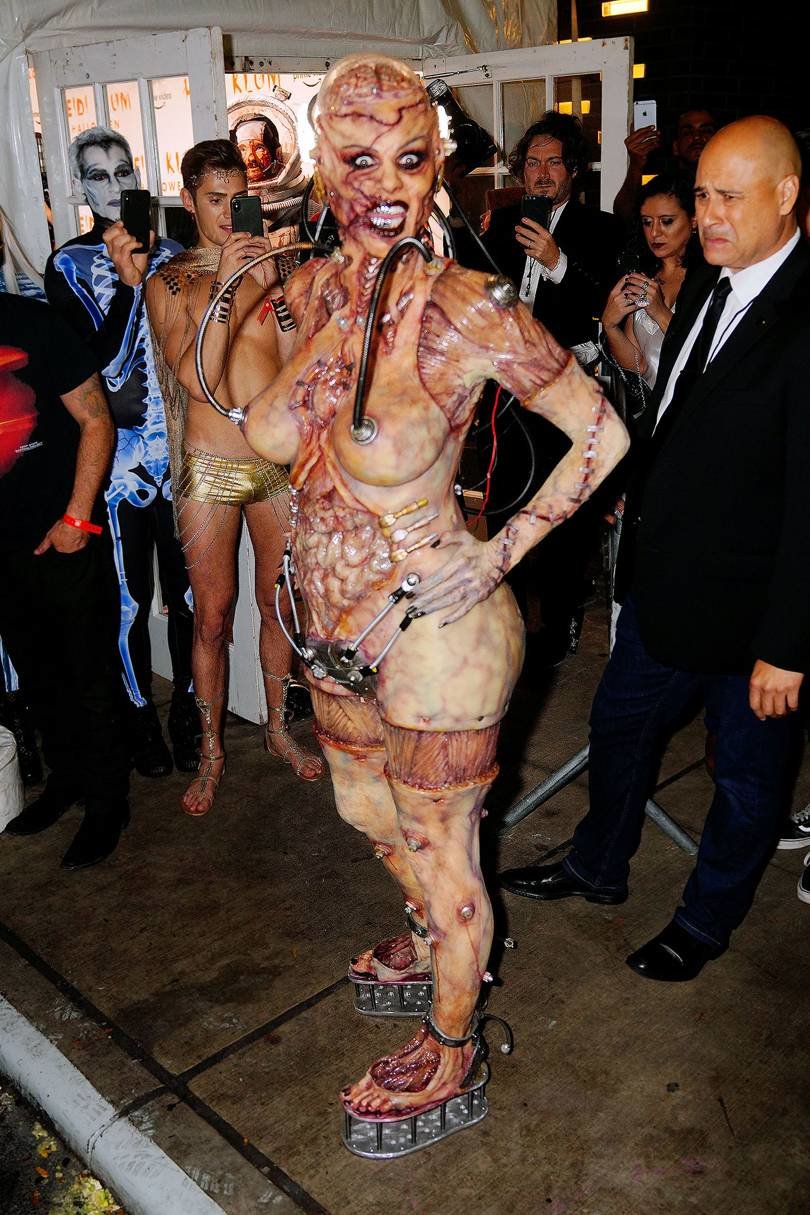 Heidi Klum as an alien experiment
The queen of Halloween truly outdid herself at her 2019 party, wearing full body prosthetics that took almost 13 hours to put together.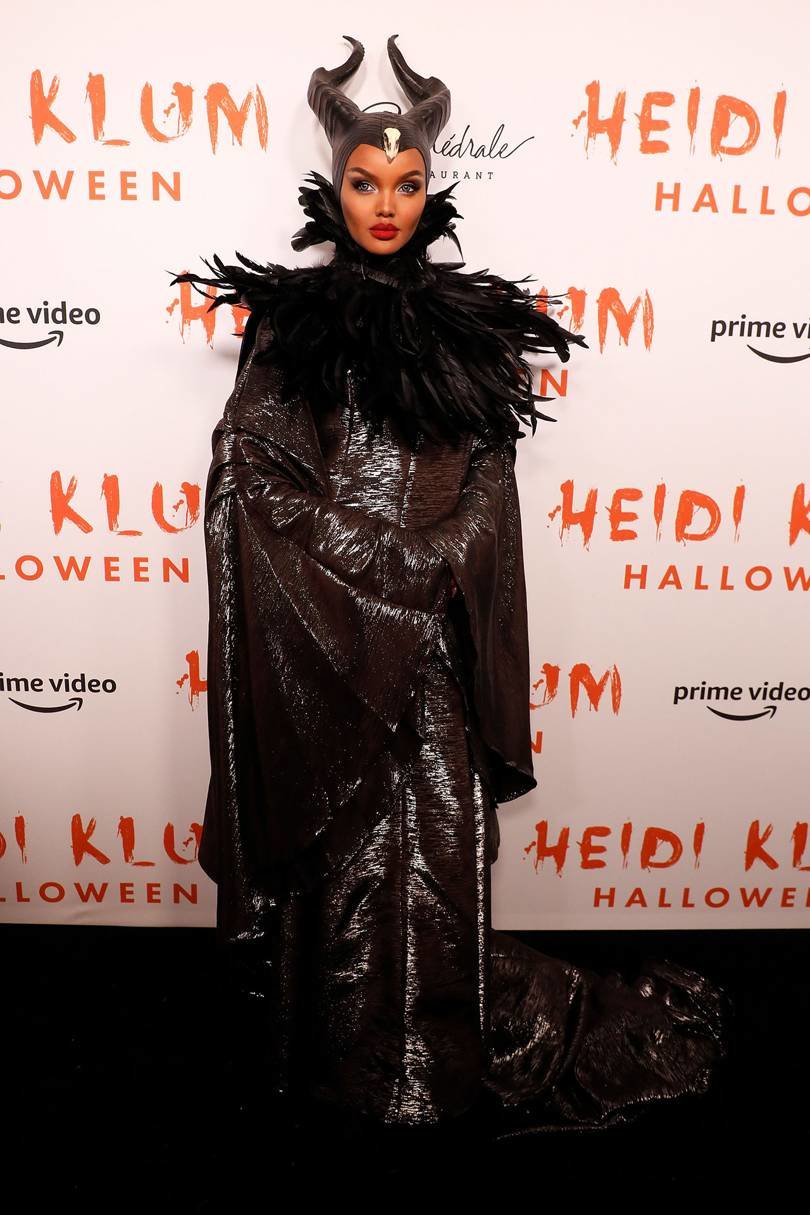 Halima Aden as Maleficent
Okay, we know Maleficent is a scary character, but somehow the beautiful Halima still looks utterly breathtaking.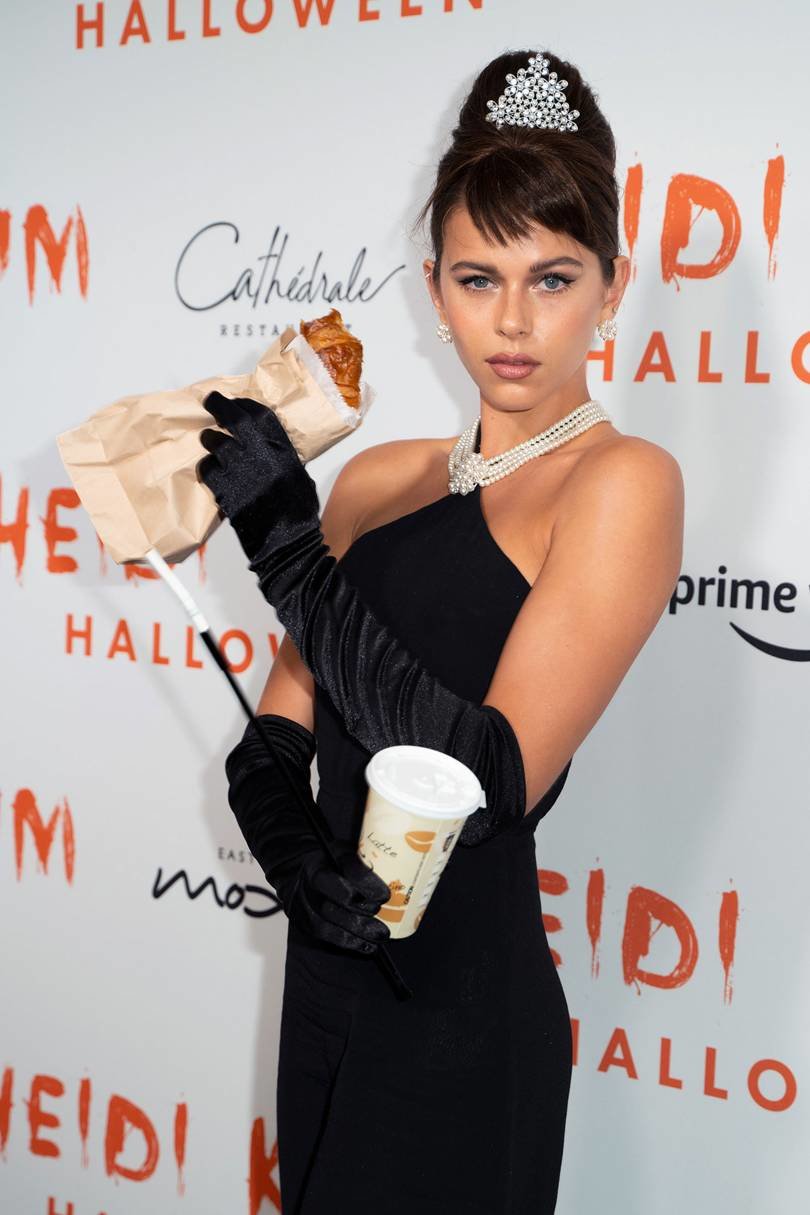 Georgia Fowler as Audrey Hepburn
Georgia proving that there's no need for Breakfast at Tiffany's when you can get takeout...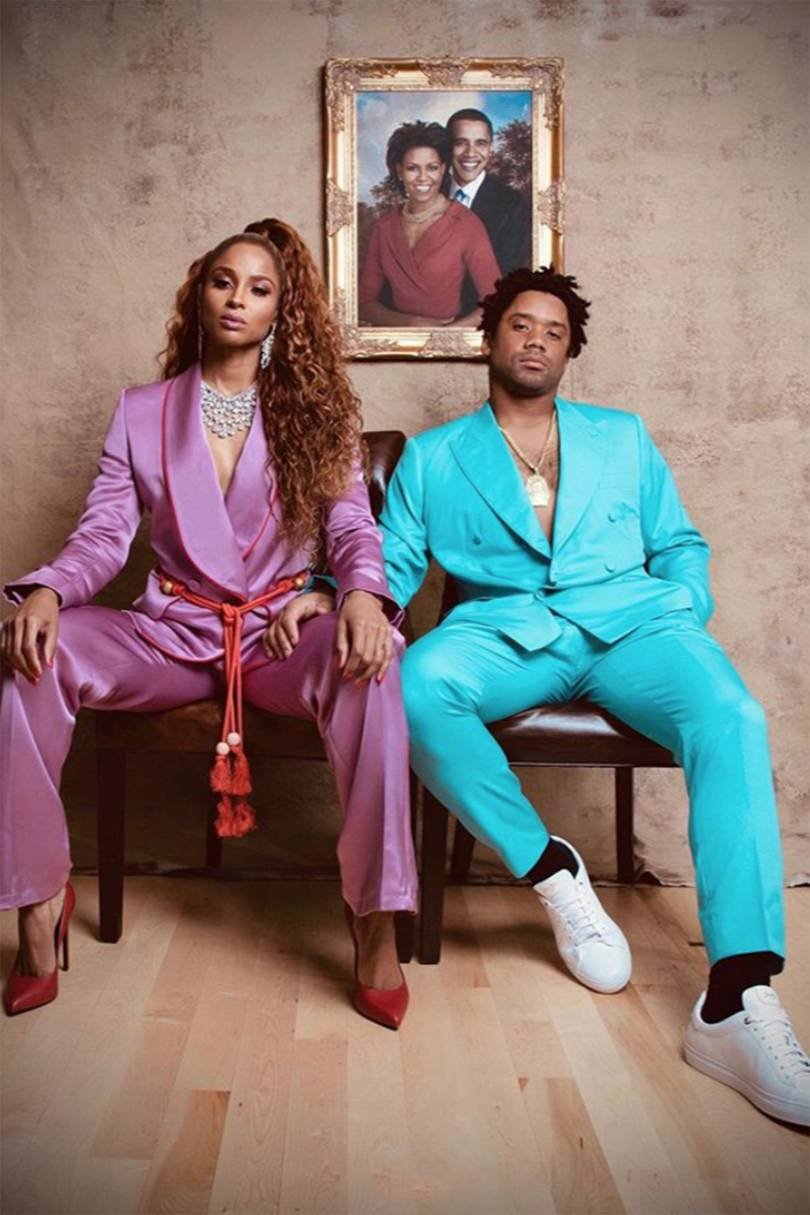 Ciara as Beyonce
Ciara and her husband Russell Wilson dressed up in the iconic power suits of Beyoncé and Jay-Z.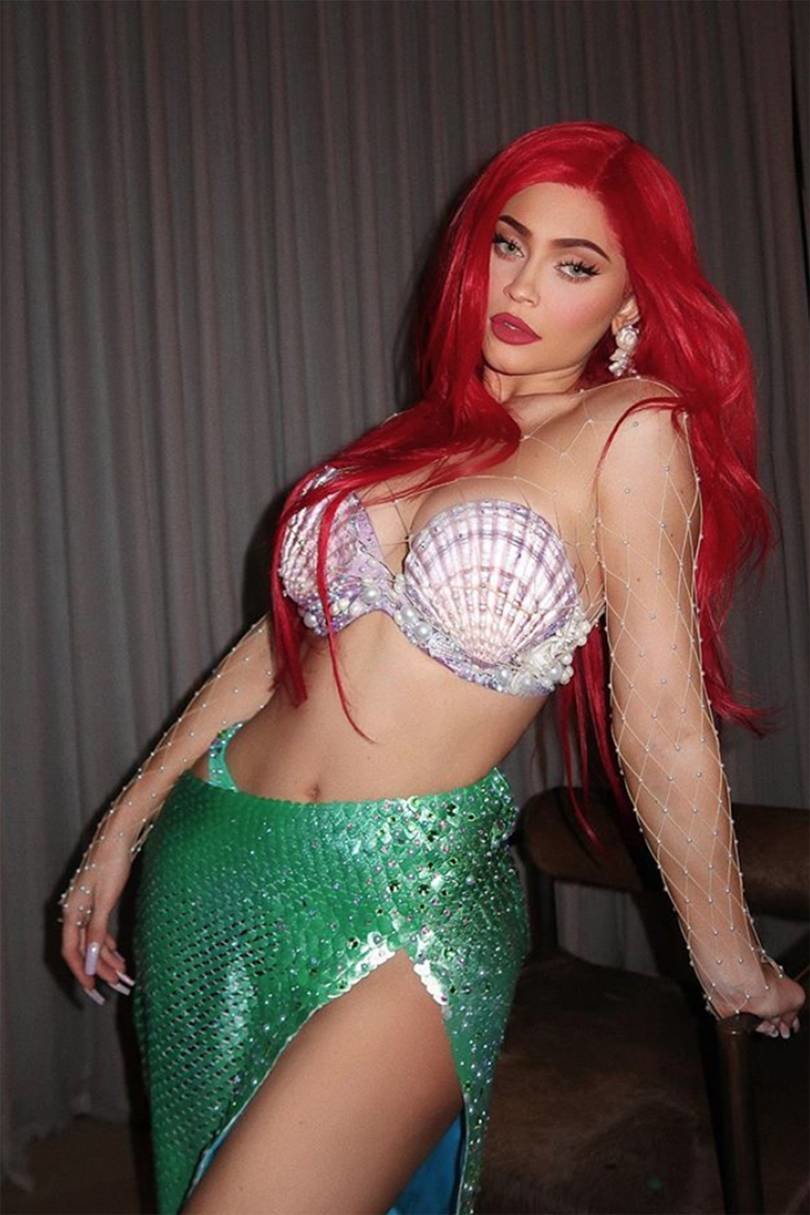 Kylie Jenner as Ariel
Makeup mogul and billionaire Kylie Jenner donned a glorious flame-red wig for a beautiful interpretation of Disney's Ariel from The Little Mermaid.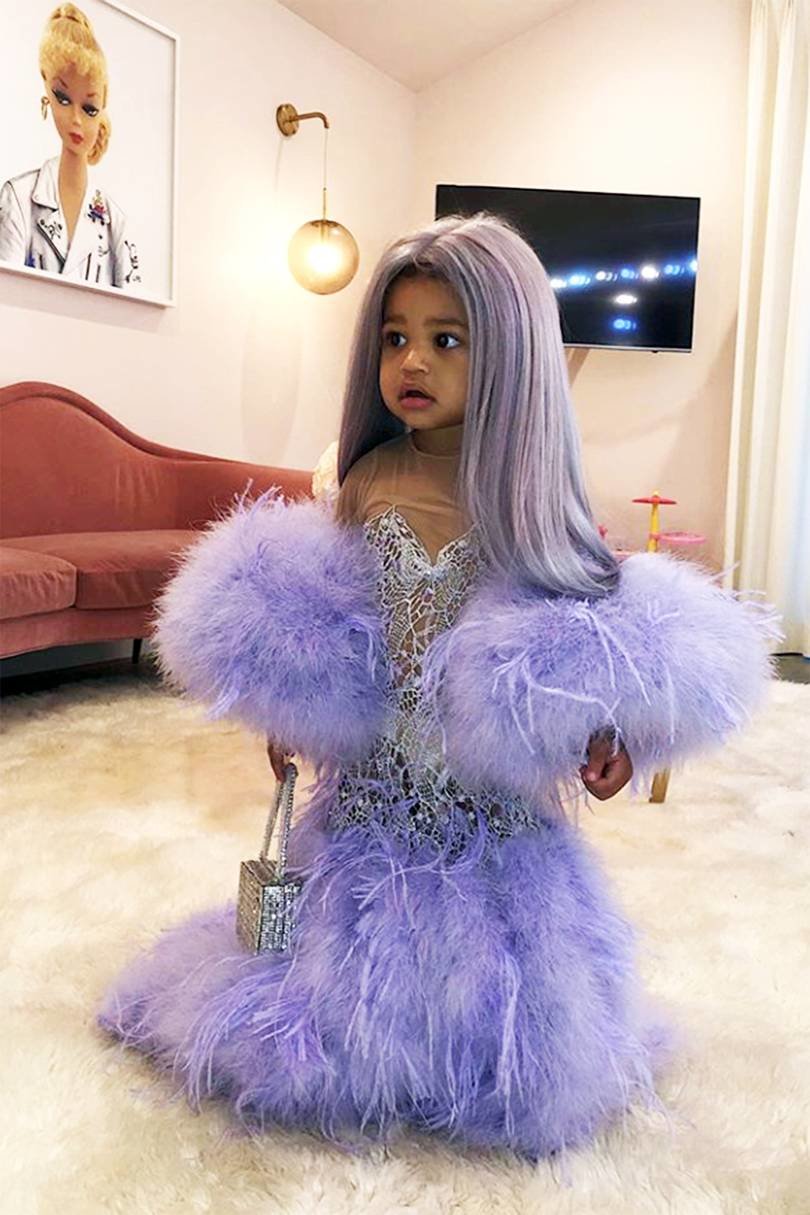 Stormi as Kylie at the Met Gala
Kylie Jenner dressed her daughter Stormi after none other but... herself! Stormi stunned in a purple ensemble similar to Kylie's Met Gala look.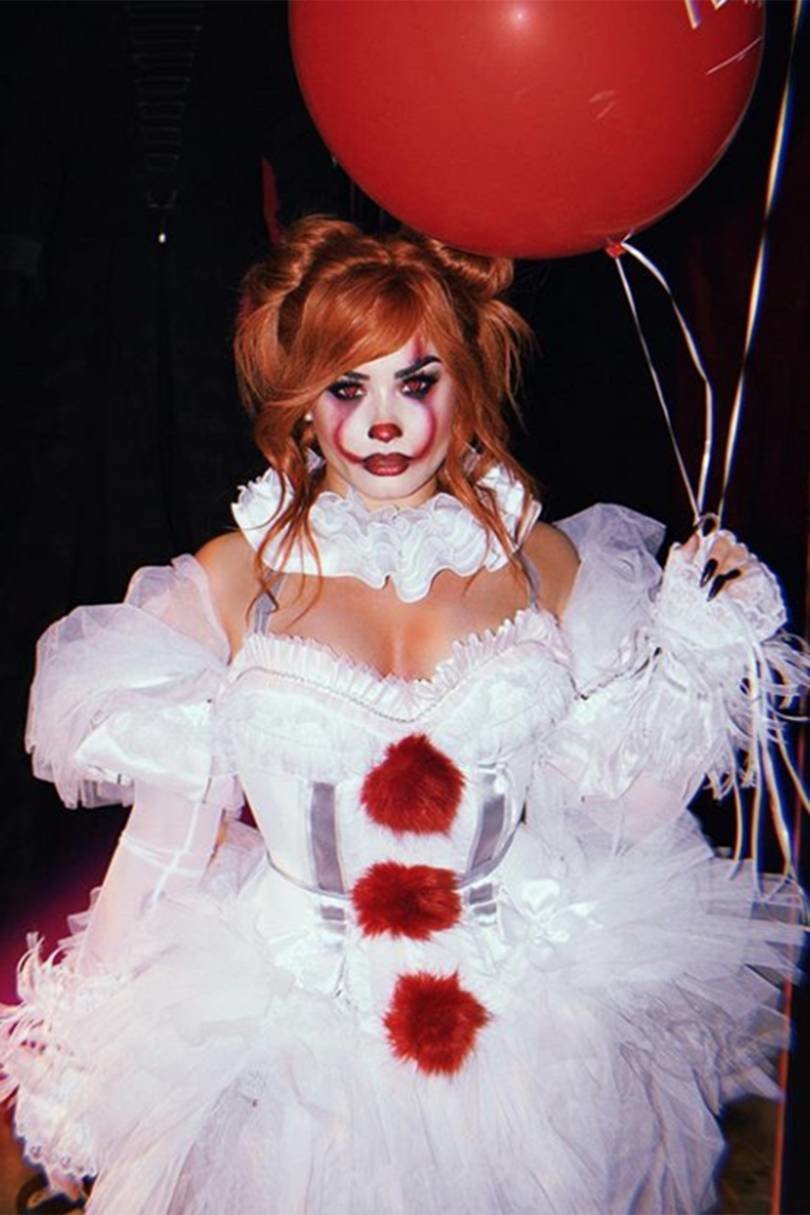 Demi Lovato as Pennywise the clown
Demi Lovato transformed into a beautifully creepy interpretation of Pennywise the clown from the IT franchise.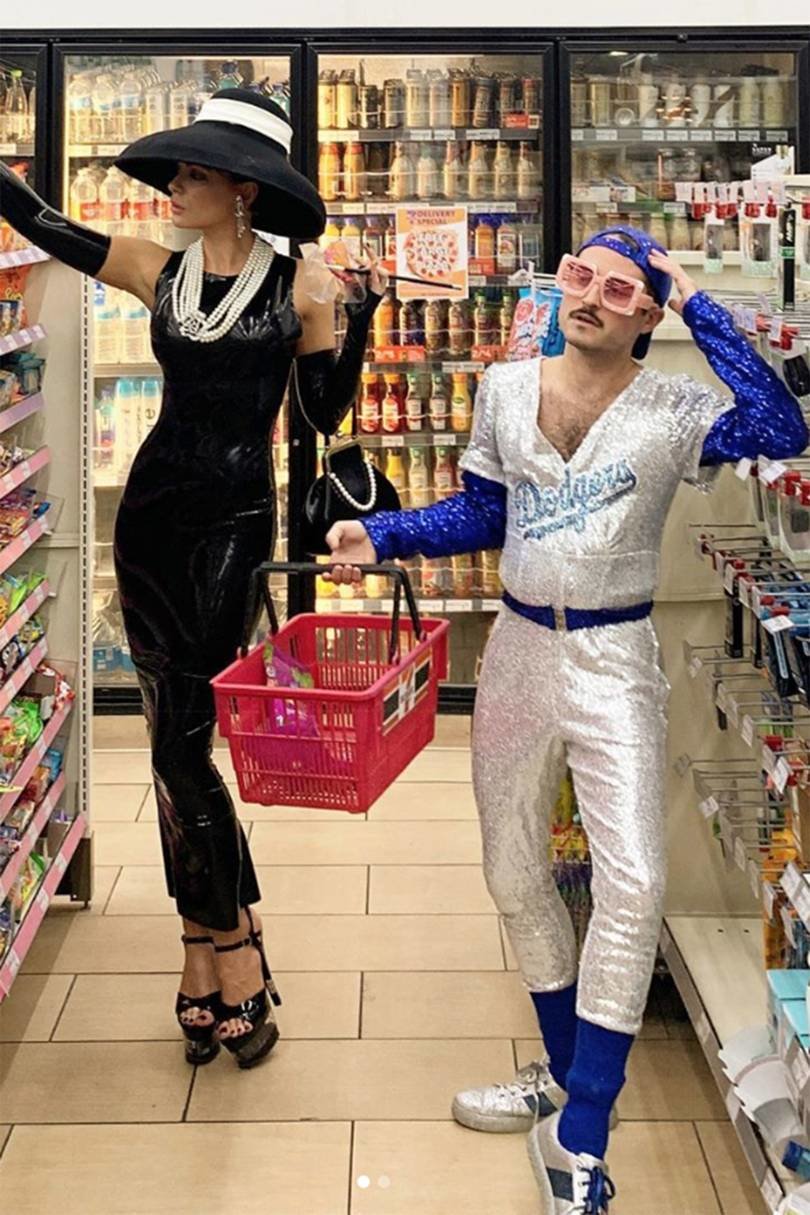 Kate Beckinsale as Holly Golightly
Kate Beckinsale dressed as Holly Golightly from Breakfast at Tiffany's, accompanied by Jonathan Voluck emulating Elton John ... in a dramatic backdrop no wilder than a 7 Eleven.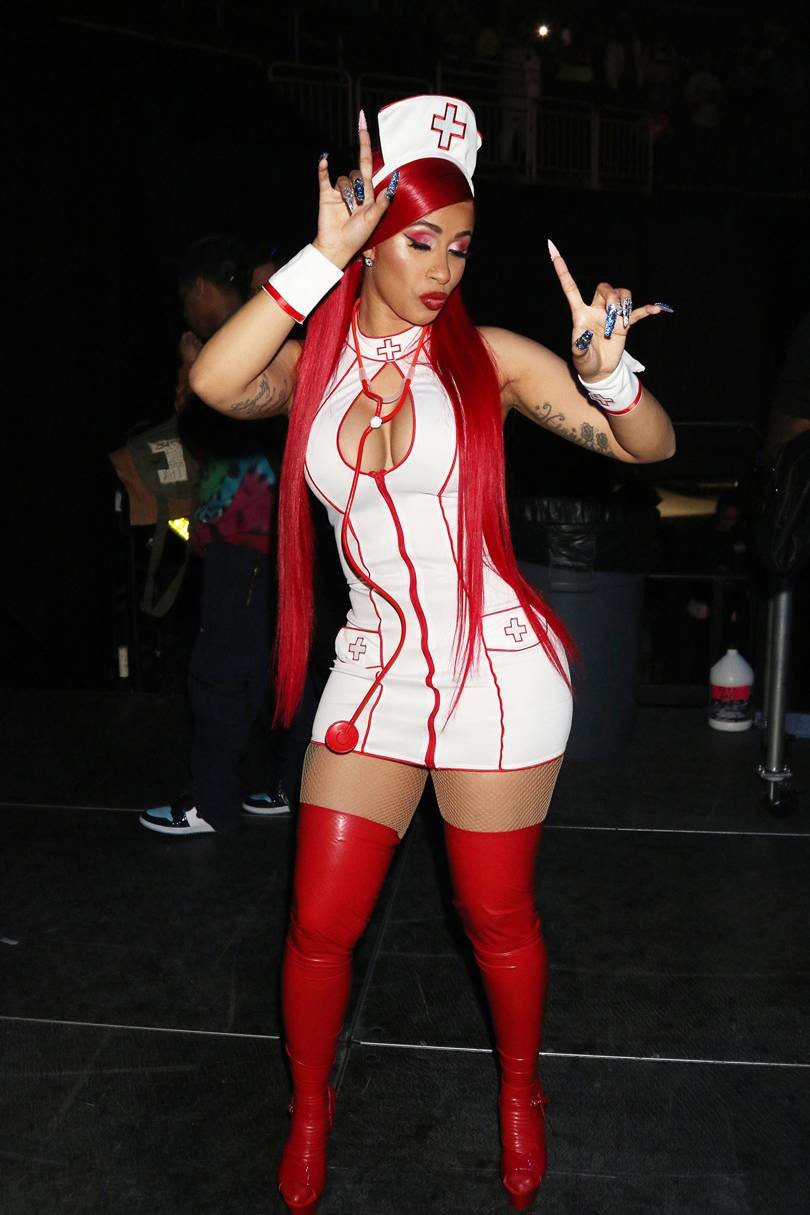 Cardi B as a Nurse
Everyone's favourite drama queen Cardi B rocked a super long red wig in her nurse costume.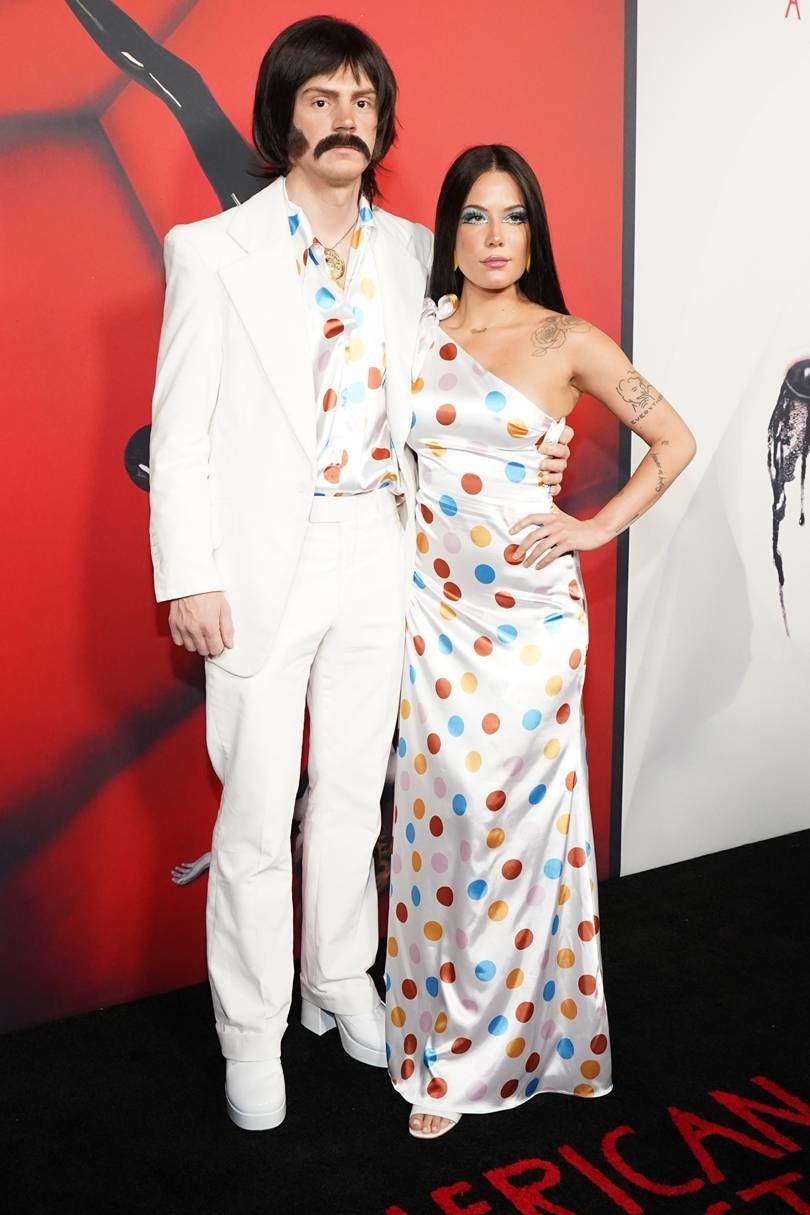 Halsey and Evan Peters as Sonny and Cher
Debuting as an official couple, Halsey and her partner Evan Peters made a brilliant Sonny and Cher.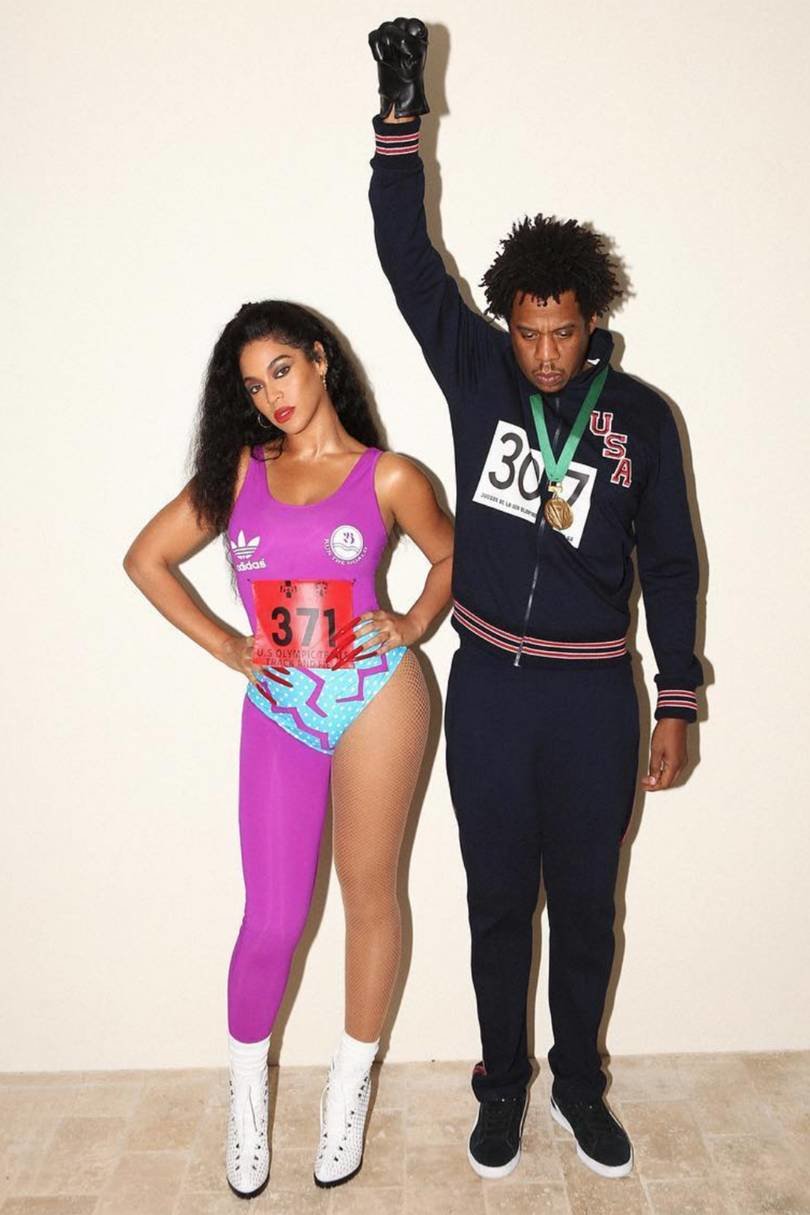 Beyoncé and Jay-Z as Olympians
Beyonce and Jay-Z paid tribute to iconic black Olympians, Florence Griffith Joyner and Tommie Smith, for Halloween.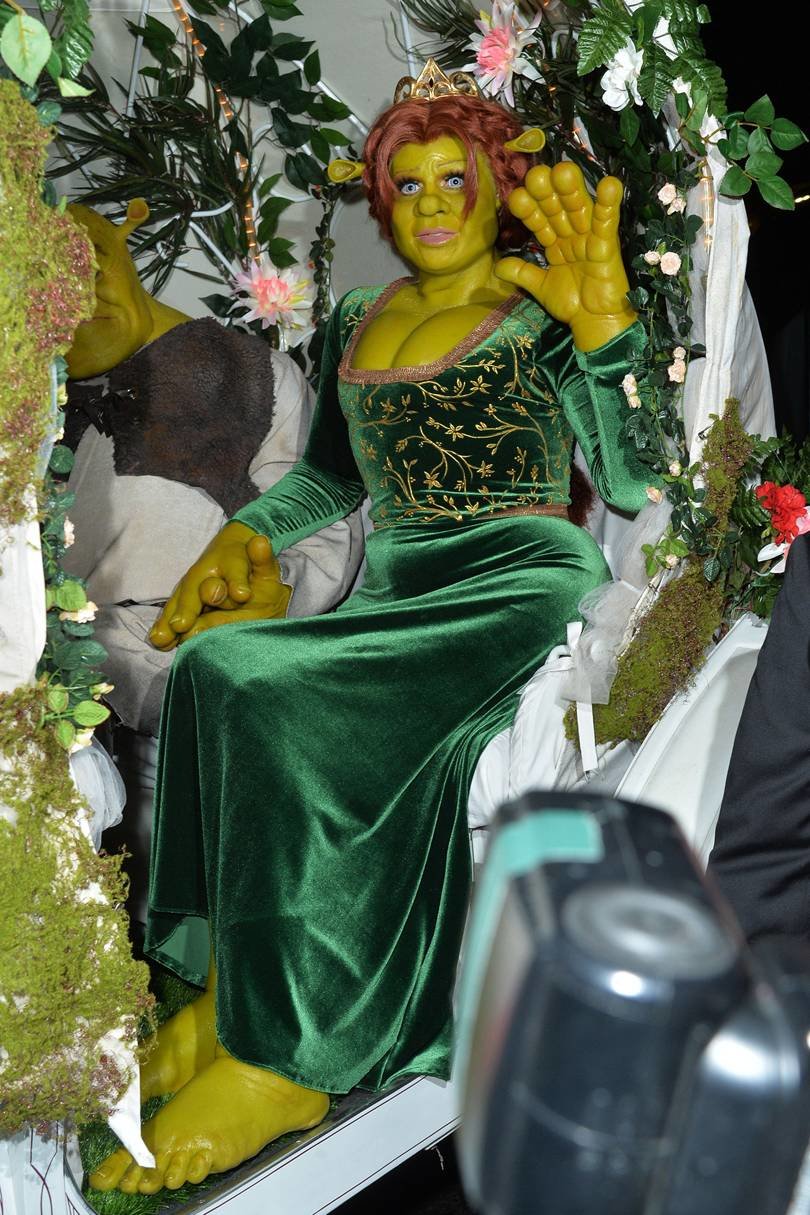 Heidi Klum as Princess Fiona
Heidi Klum - aka the Queen of Halloween - pulled out all the stops as Princess Fiona from Shrek. Iconic.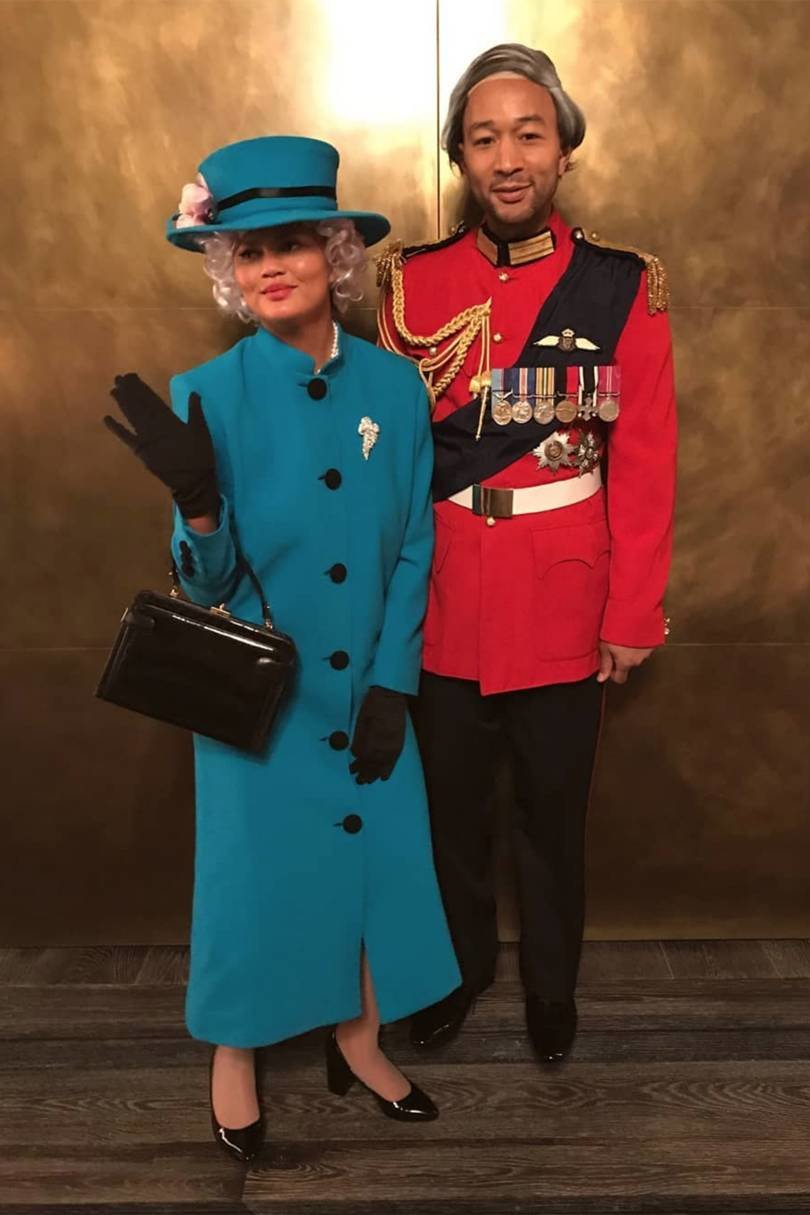 Chrissy Teigen as Queen Elizabeth II
Chrissy Teigen and John Legend looked royally good as Queen Elizabeth II and Prince Philip.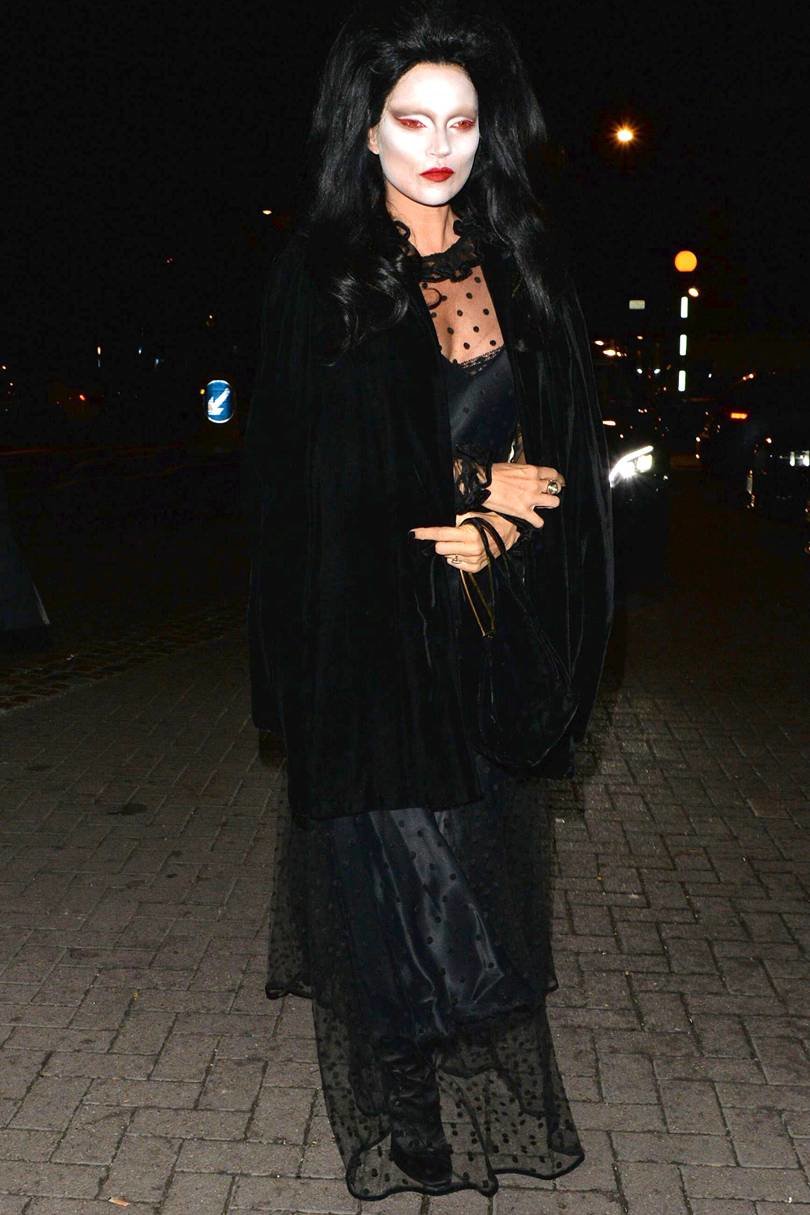 Kate Moss as a vampire
Kate Moss looked super chic as a vampire as she joined the A-list at a mega Halloween party.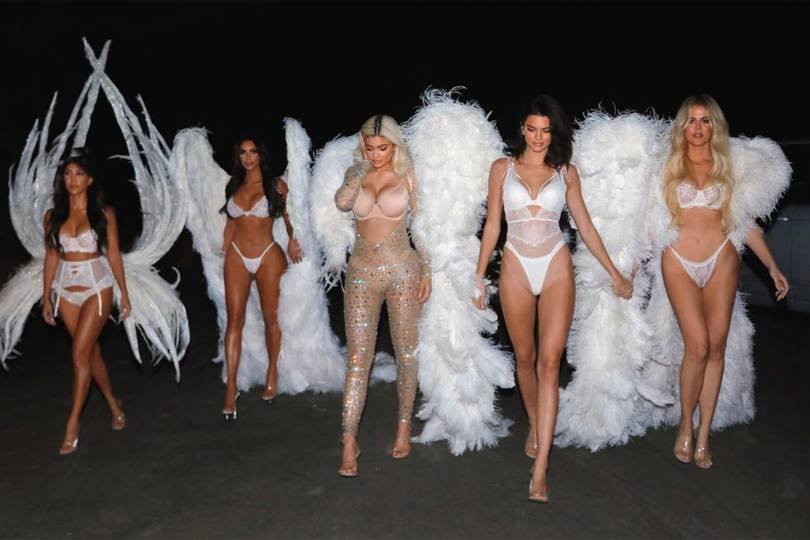 The Kardashians as Victoria's Secret Angels
Ahead of the Victoria's Secret show, which Kendall Jenner is walking in, the Kardashians went as Angels and were certainly catwalk-ready.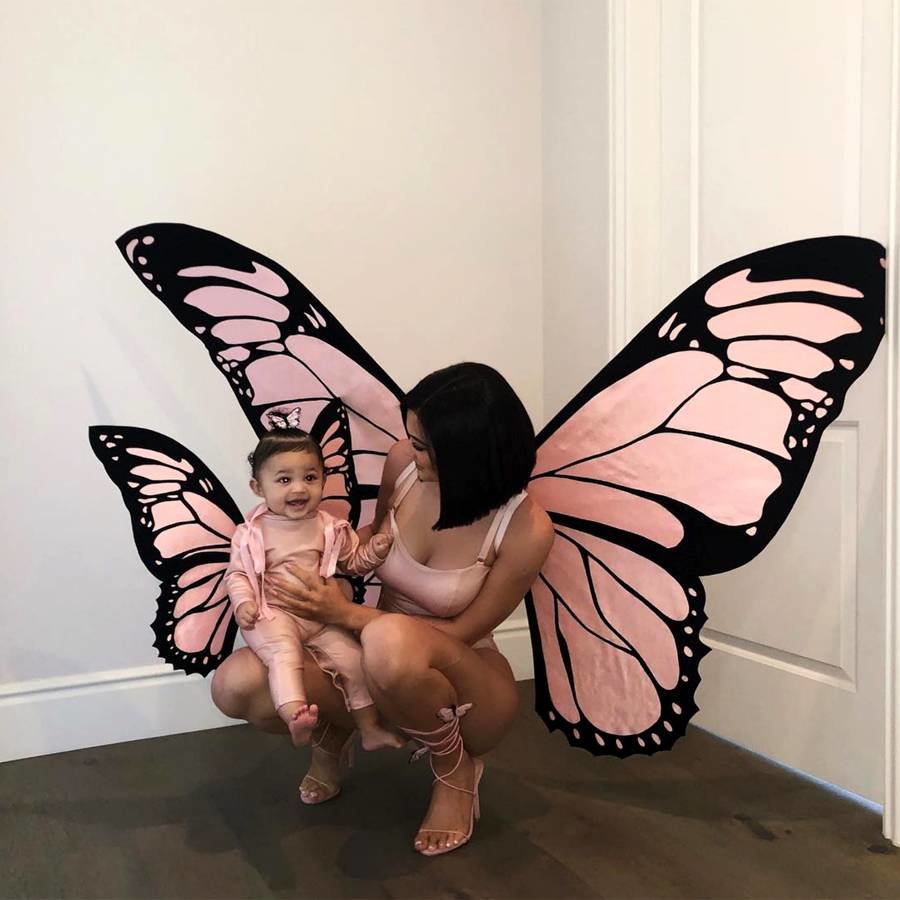 Kylie Jenner and Stormi as Butterflies
Kylie Jenner and Stormi looked absolutely adorable dressed as butterflies for Halloween; too cute.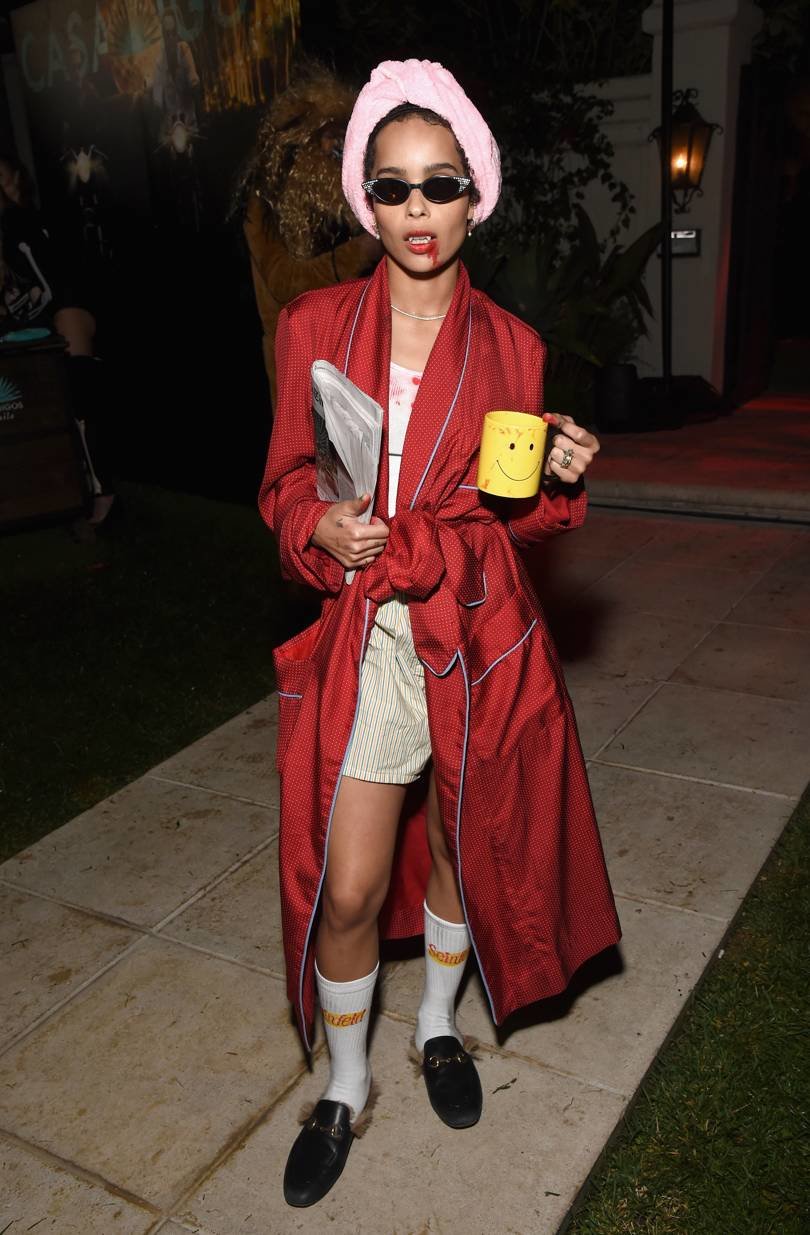 Zoe Kravitz as a vampire
Zoe Kravitz looked super cool, as usual, dressed as a vampire at the Casamigos Halloween Party.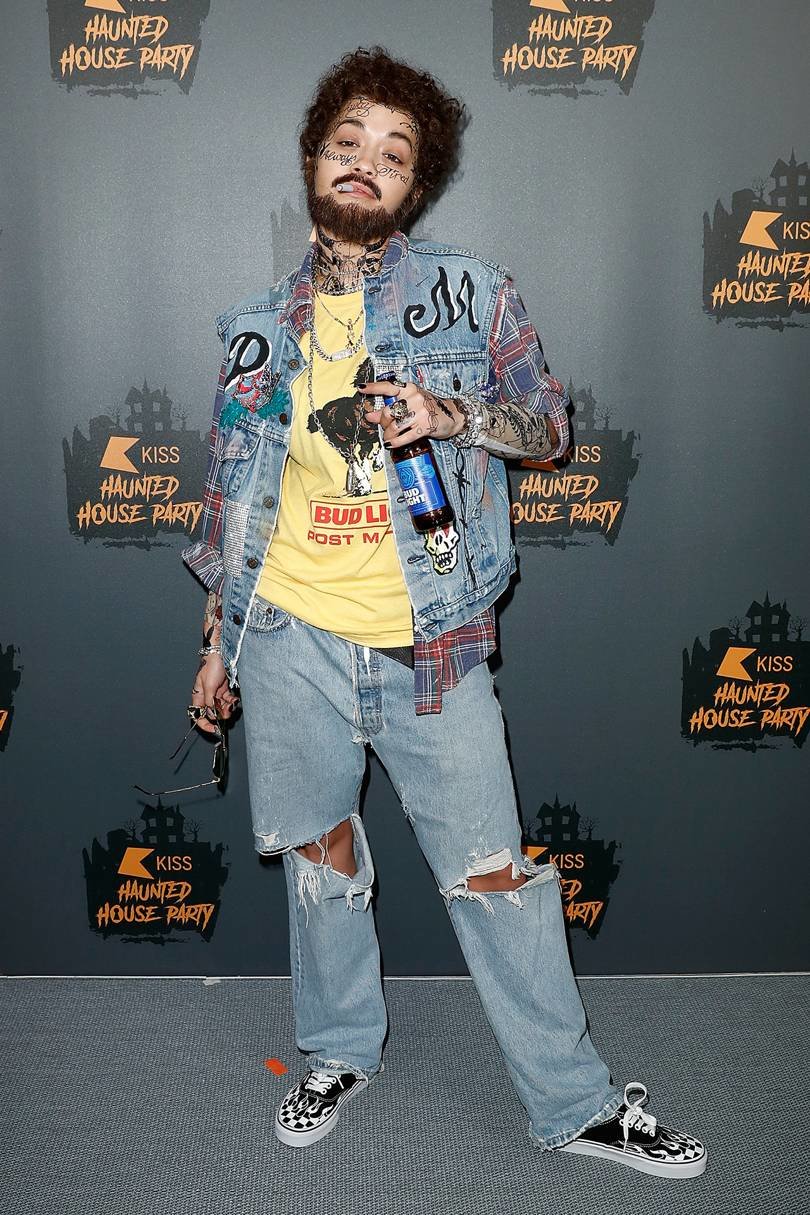 Rita Ora as Post Malone
Rita Ora was unrecognisable as Post Malone for her Halloween party.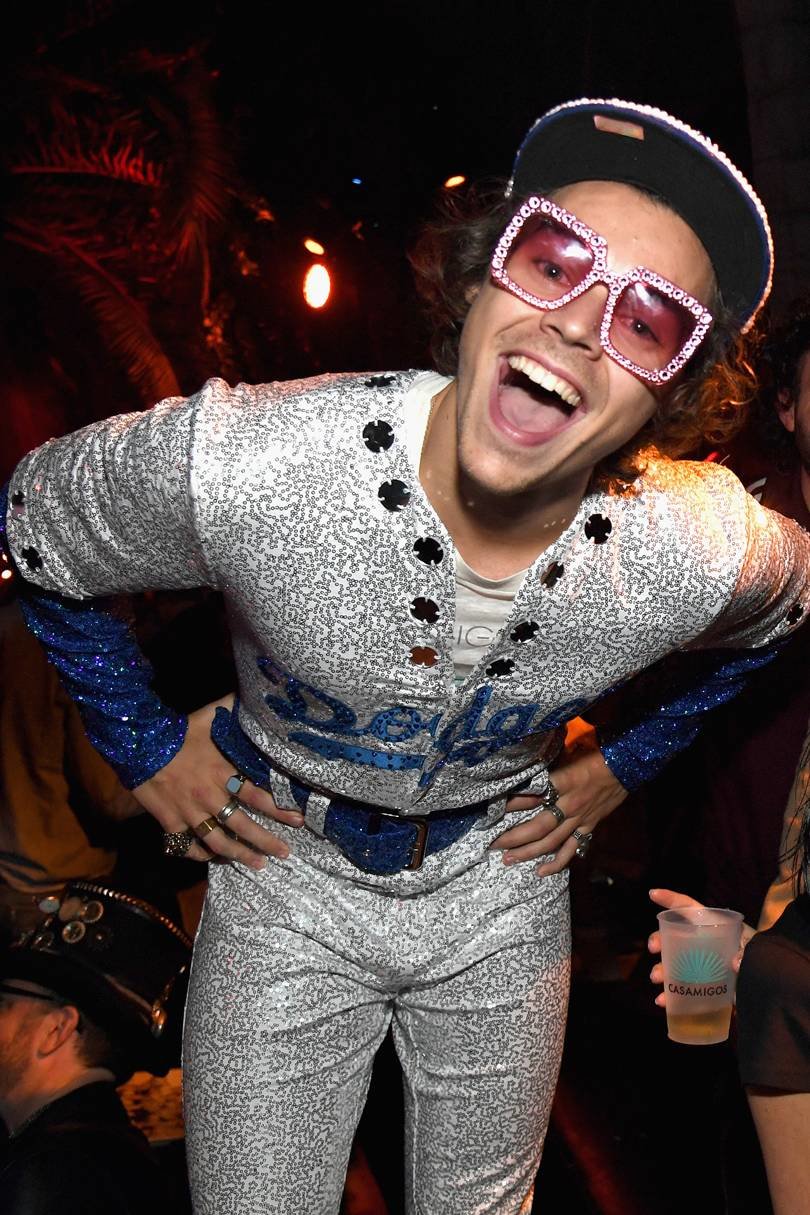 Harry Styles as Elton John
Harry Styles dressed as Elton John and we're living for his lewk.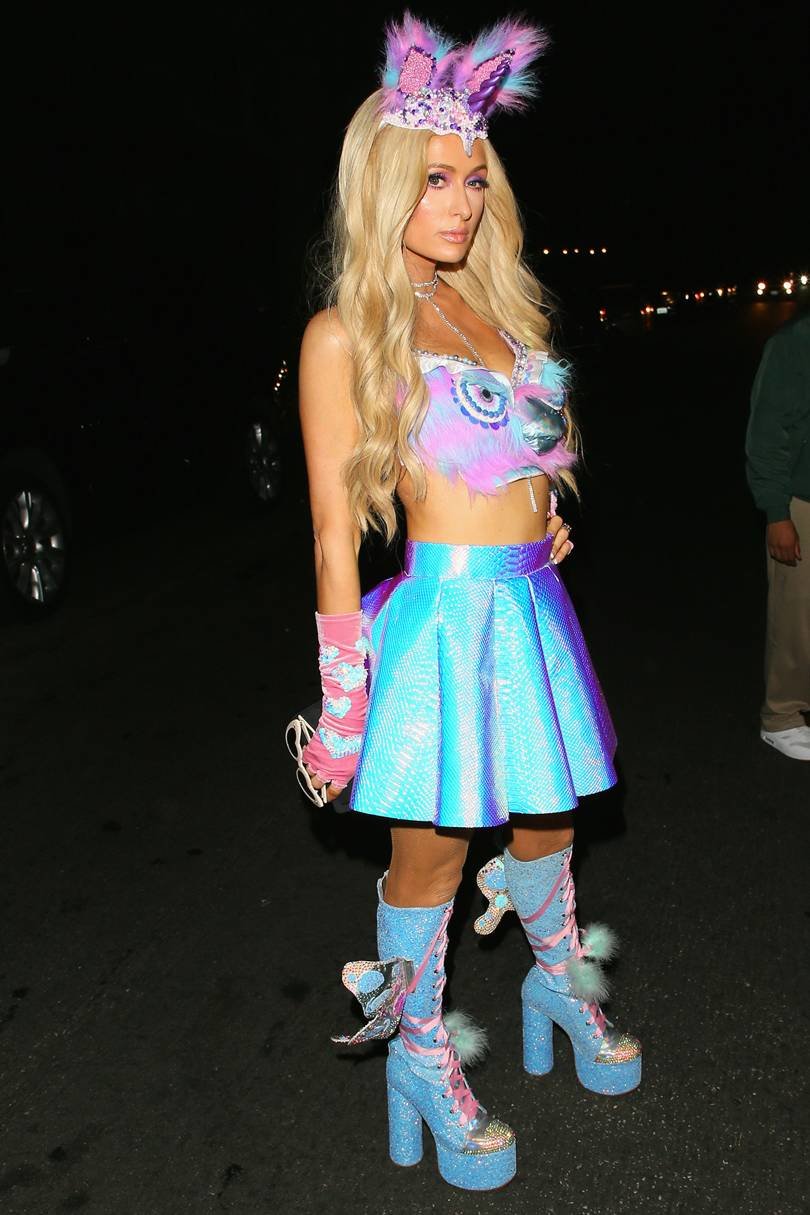 Paris Hilton as a Furbee
Trust Paris Hilton to pull out all the stops by dressing as a Furbee for Halloween.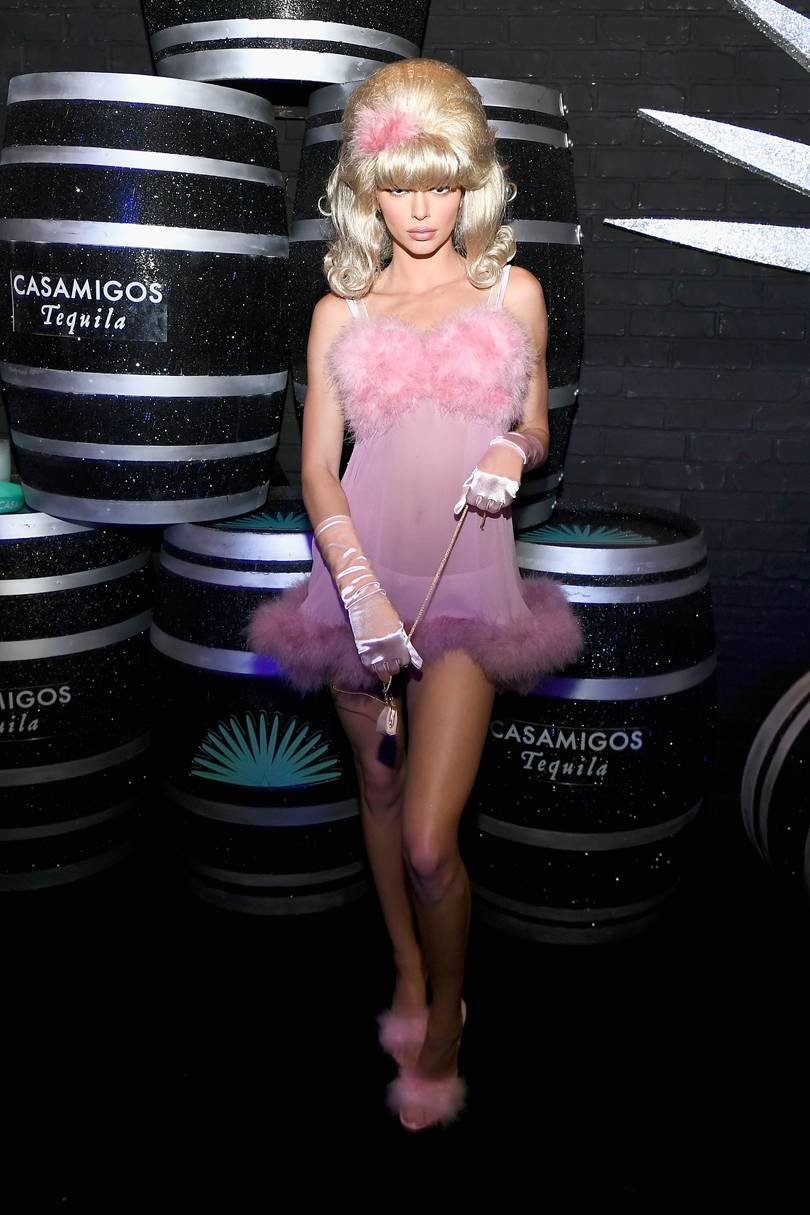 Kendall Jenner as a fembot
Kendall Jenner looked sensational dressed as a fembot from Austin Powers.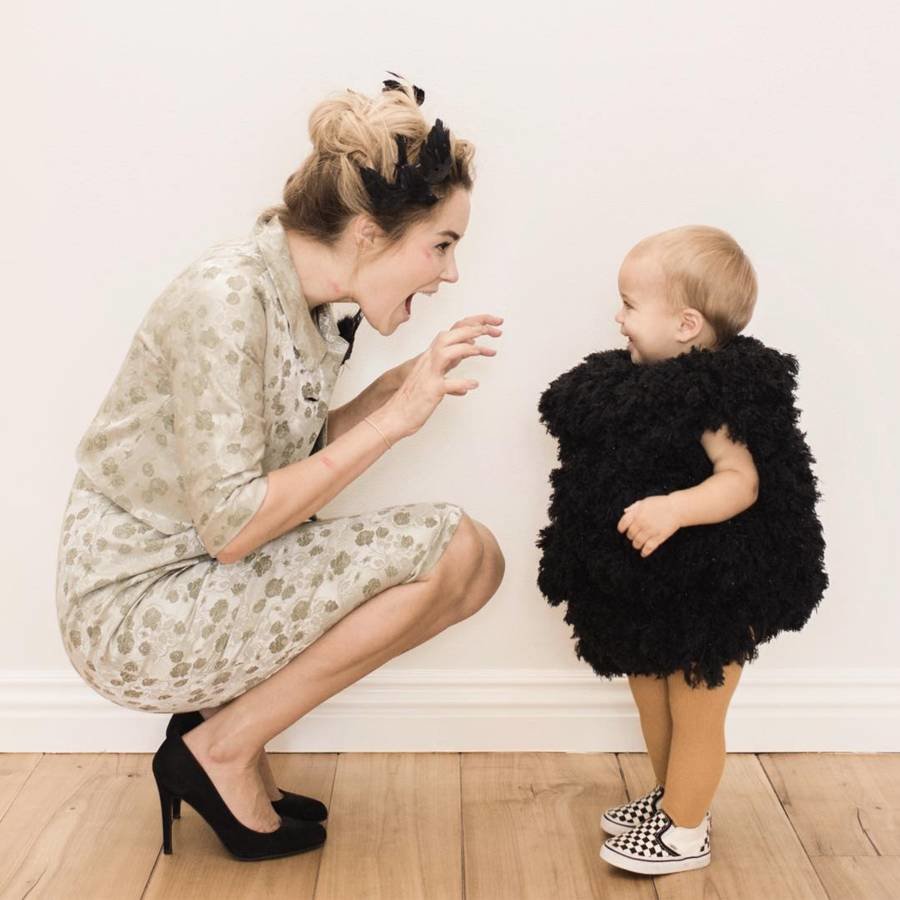 Lauren Conrad as The Birds with her son
In our humble opinion, Lauren Conrad is one of the chicest stars in Hollywood so, naturally, her Halloween costume followed suit. Lauren chose horror film icon Alfred Hitchcock as her inspo and dressed as Melanie Daniels from The Birds, alongside her son, Liam.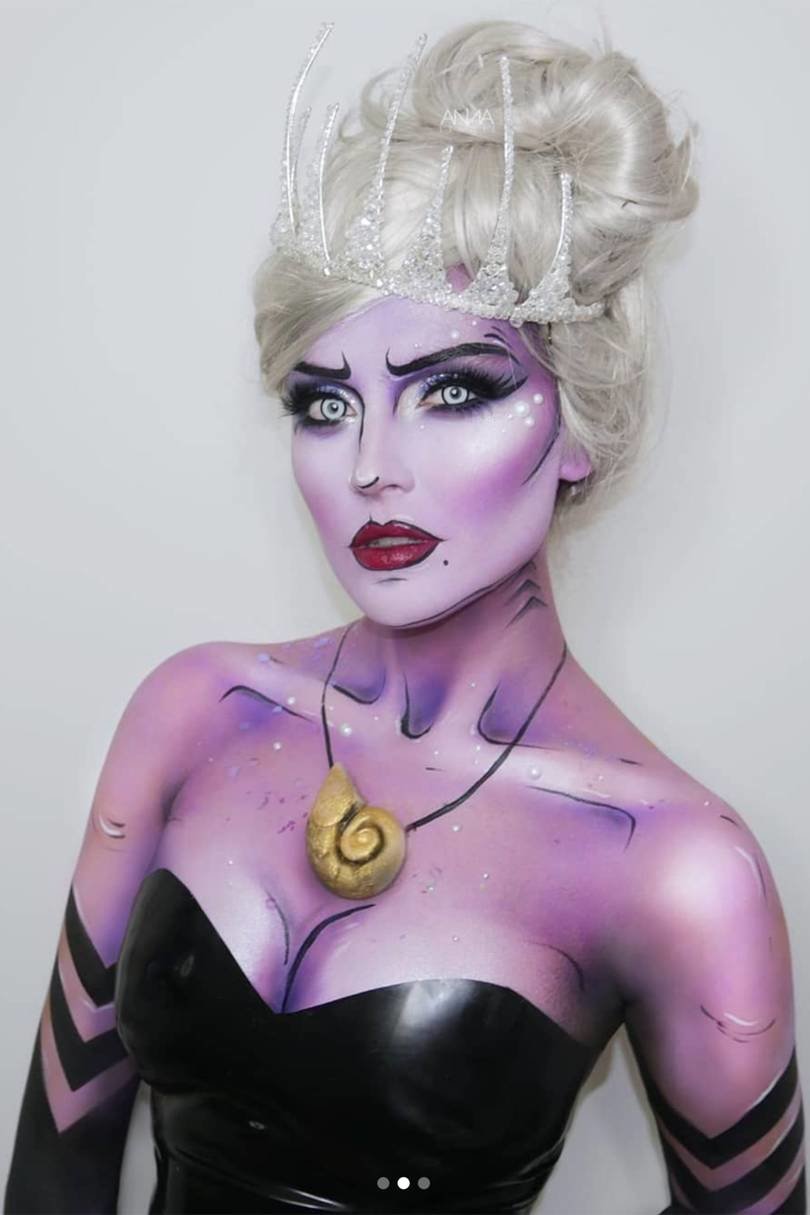 Perrie Edwards as Ursula
OK, we're calling it: Perrie Edwards' Ursula look is *the* lewk of Halloween 2018 already. Just look at that purple contour!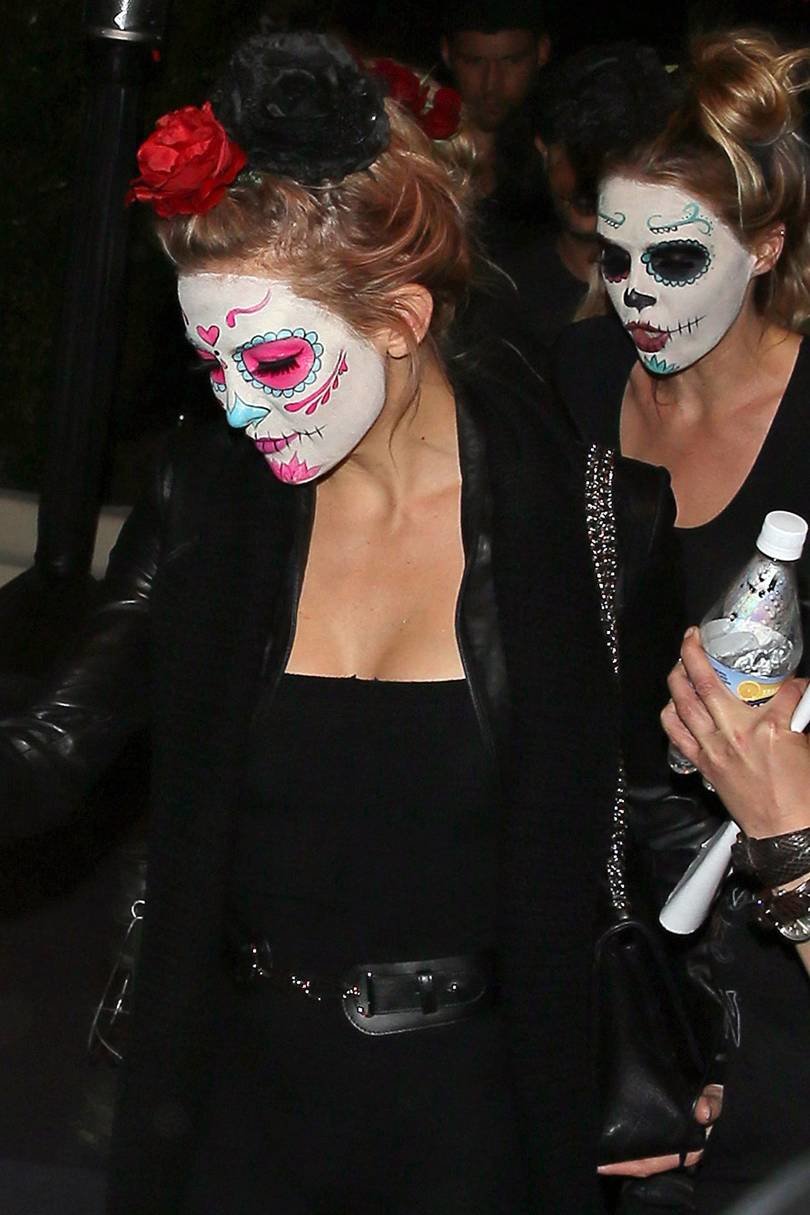 Kate Hudson with Mexican Sugar Skull
Kate Hudson donned the classic Mexican Sugar Skull makeup for Halloween 2014.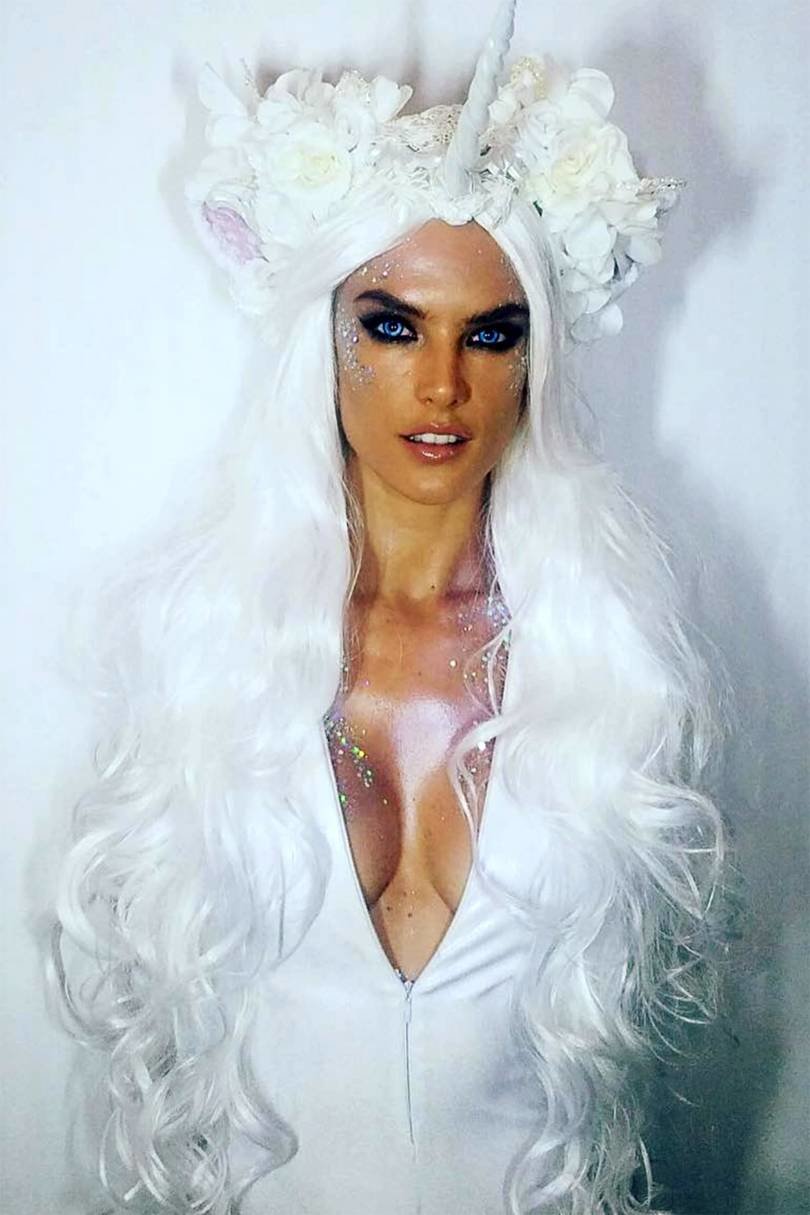 Alessandria Ambrosio as a Unicorn
Alessandra Ambrosio dressed up as everyone's favourite mythical creature. So pretty.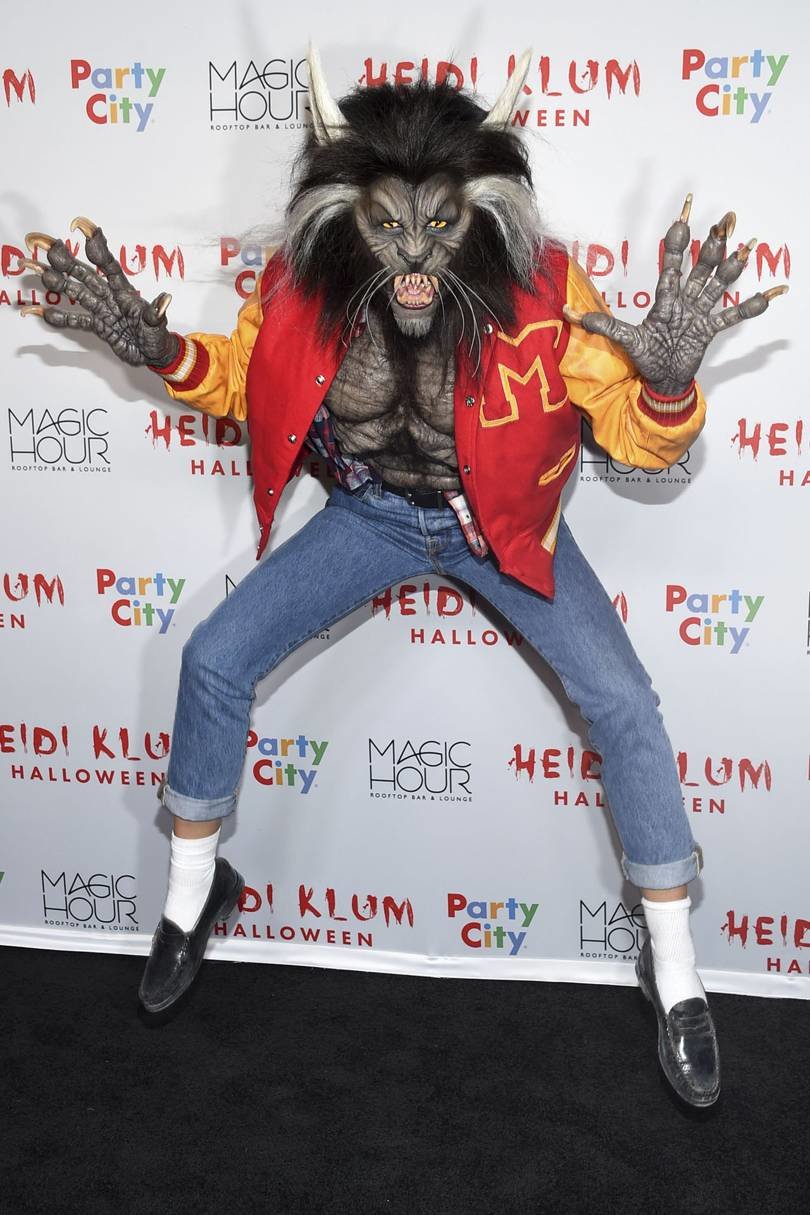 Heidi Klum as Michael Jackson Thriller
Believe it or not, this is Heidi Klum, the undisputed queen of Halloween.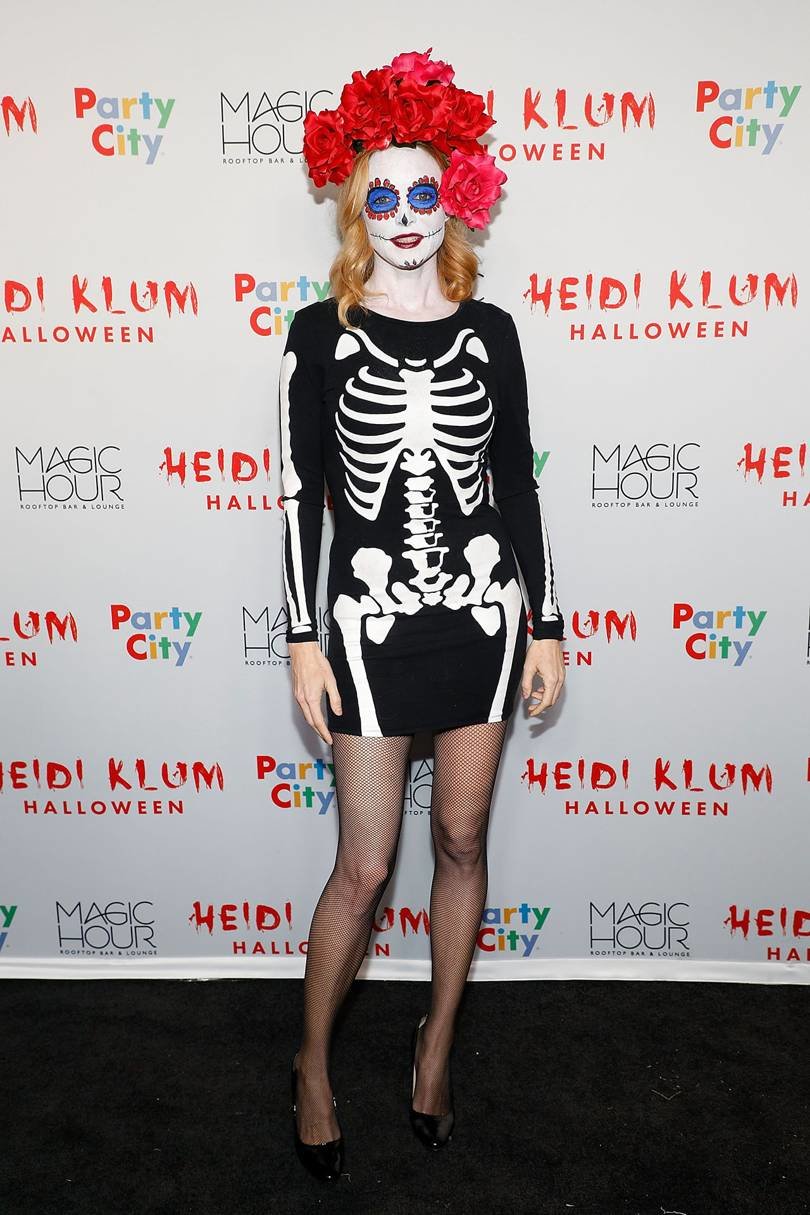 Heather Graham as Day of the Dead
Actress Heather Graham went dressed in Day Of The Dead gear.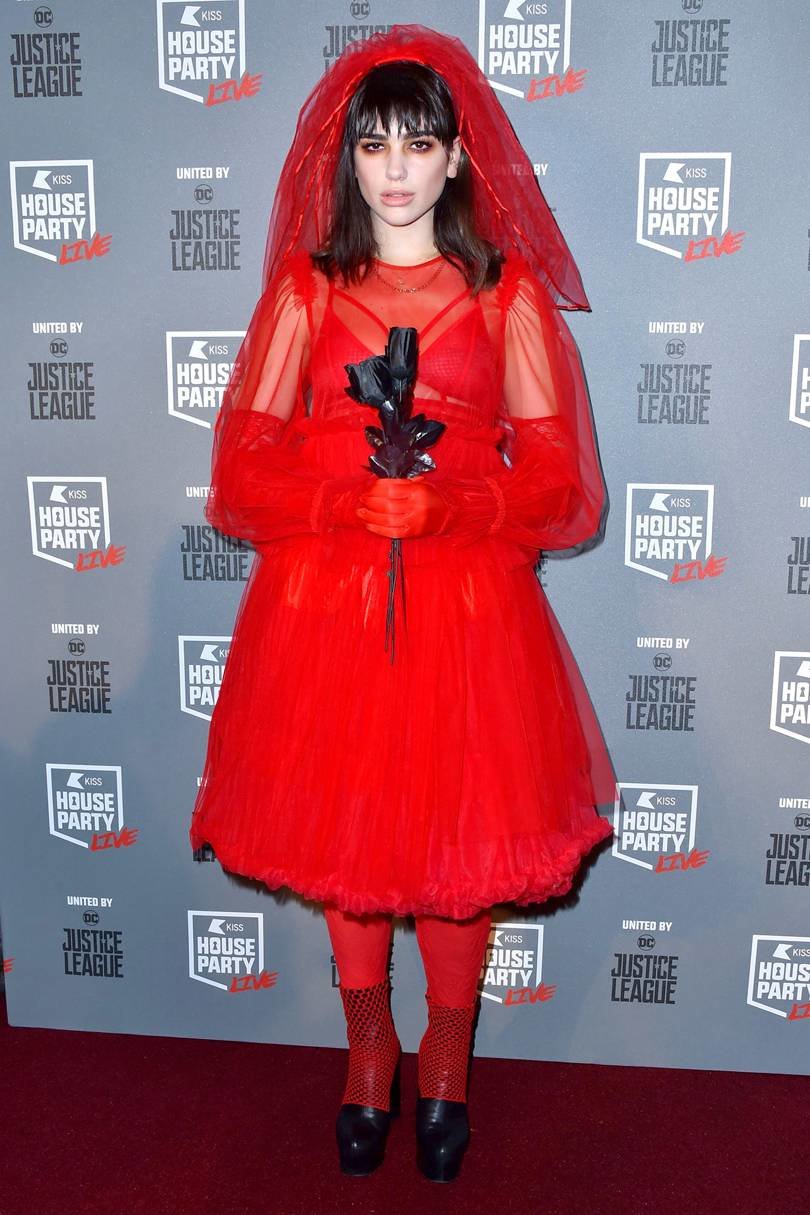 Dua Lipa as Lydia Deetz
Dua Lipa looked ACE as Lydia Deetz from Beetlejuice.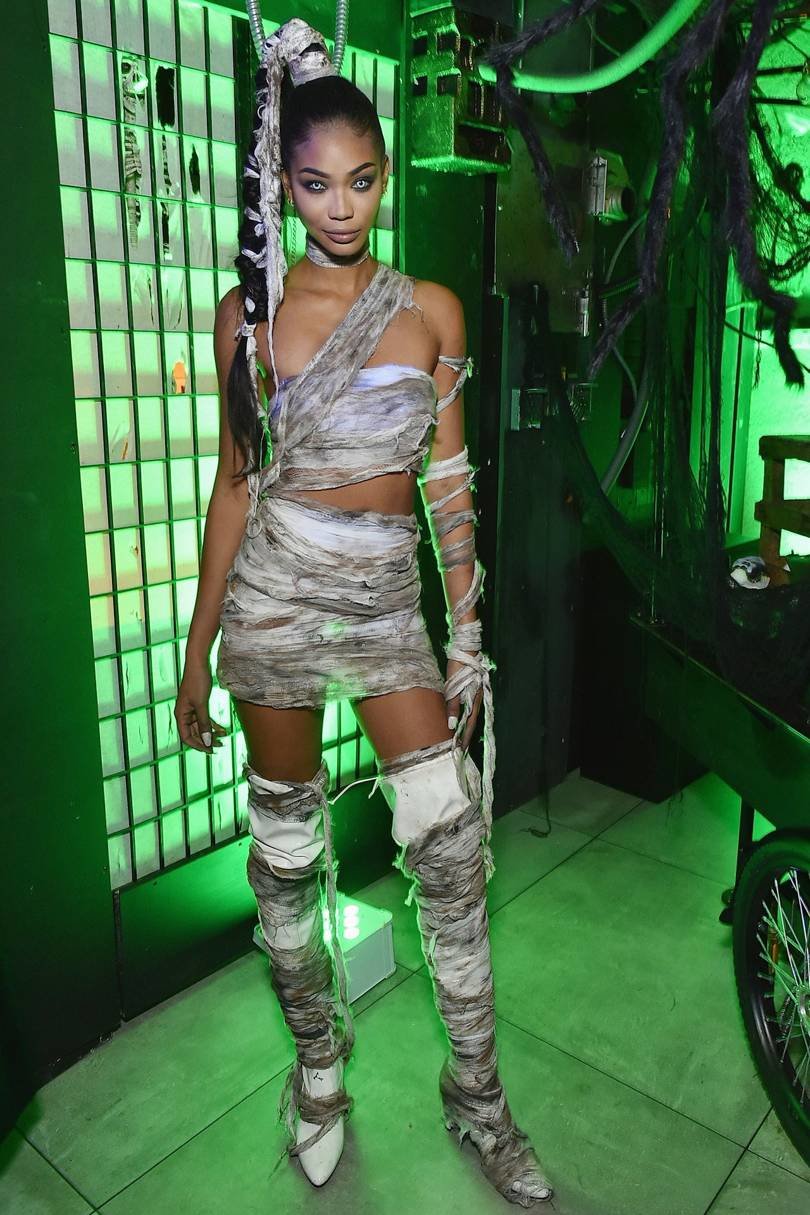 Chanel Iman as a mummy
Wow, Chanel Iman.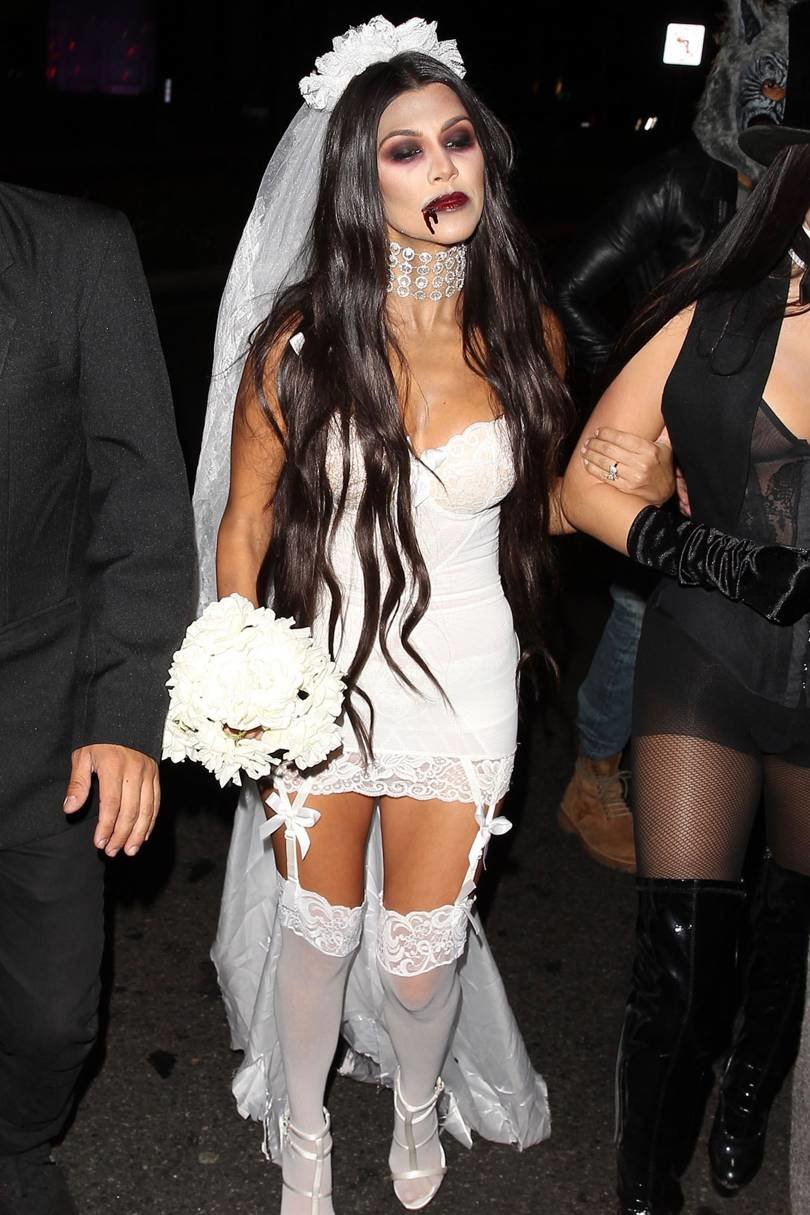 Kourtney Kardashian as a Zombie Bride
Kourtney Kardashian channelled her inner zombie bride for Halloween 2016.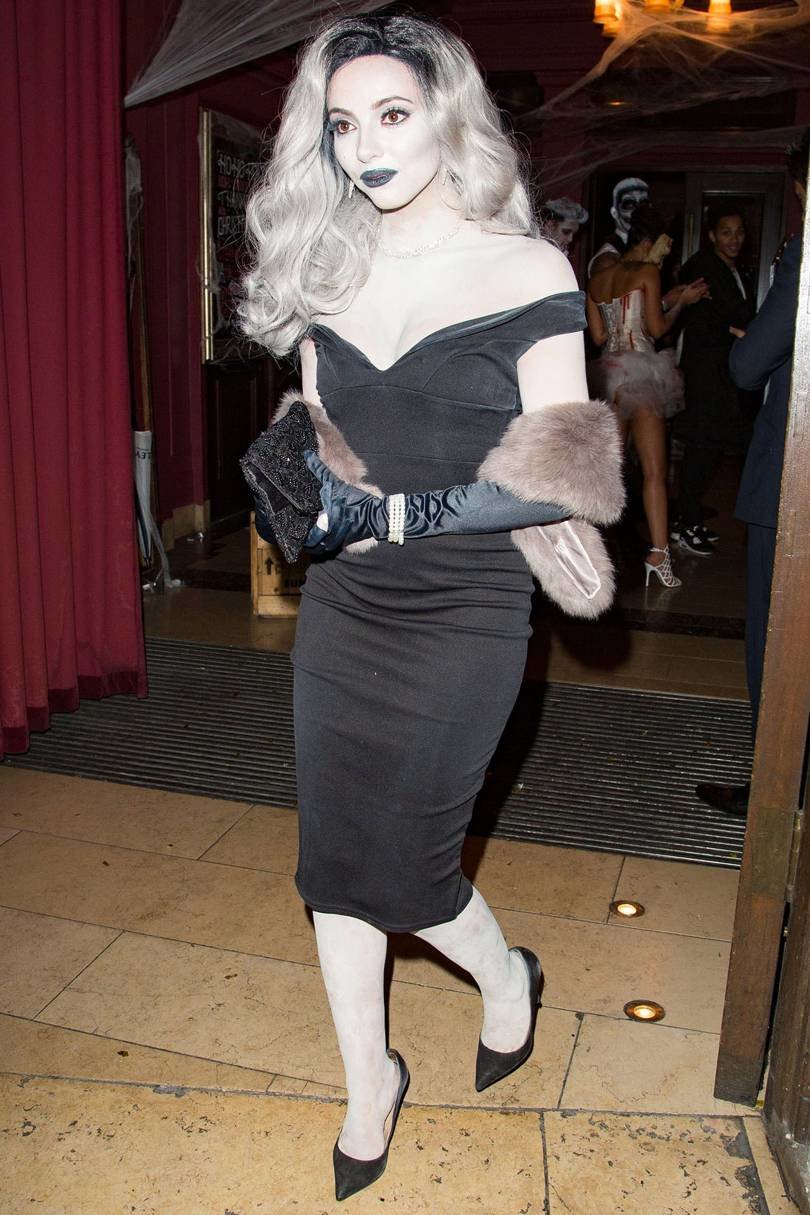 Jade Thirwall
Jade Thirlwall looks a bit of all white at Halloween...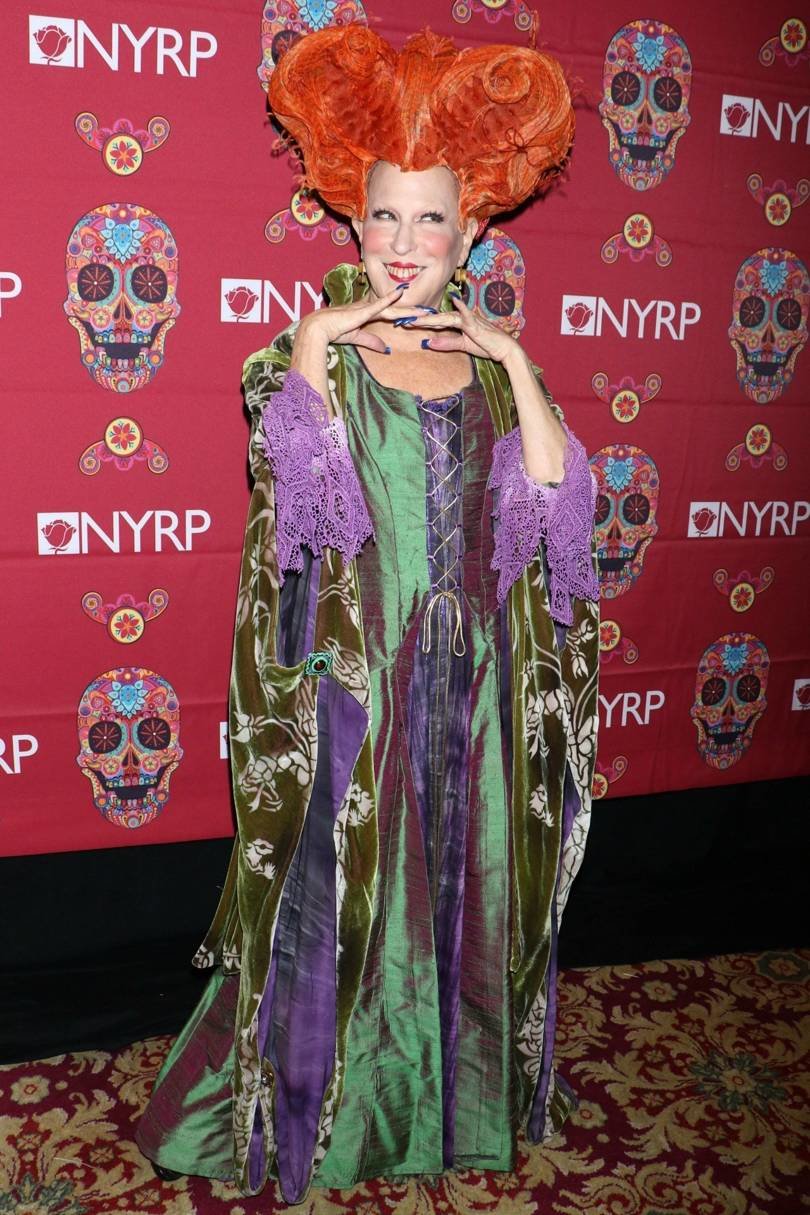 Bette Midler as Hocus Pocus
YASSSS, Bette Midler! We love that for her 2016 Halloween party she dressed up as her character from her 1993 hit movie, Hocus Pocus.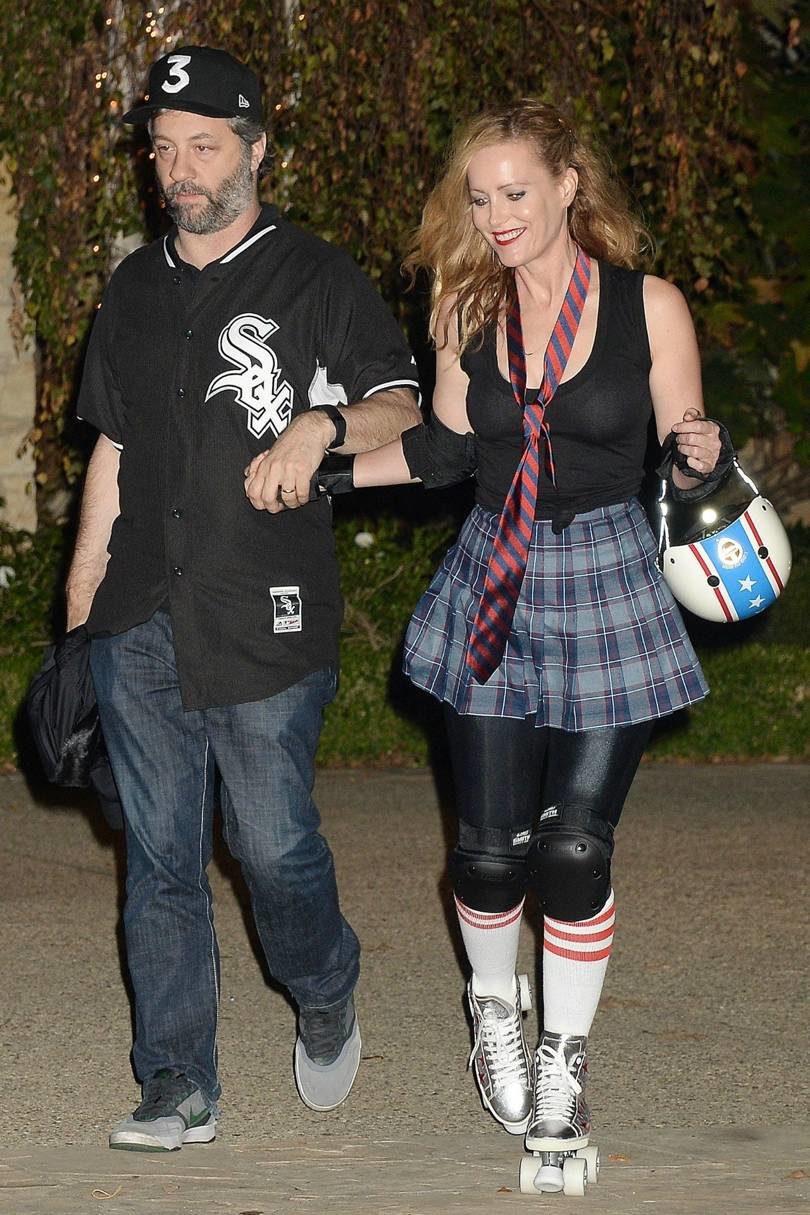 Leslie Mann
Leslie Mann and husband Judd Apatow arrived at Kate Hudson's Halloween party ready to party.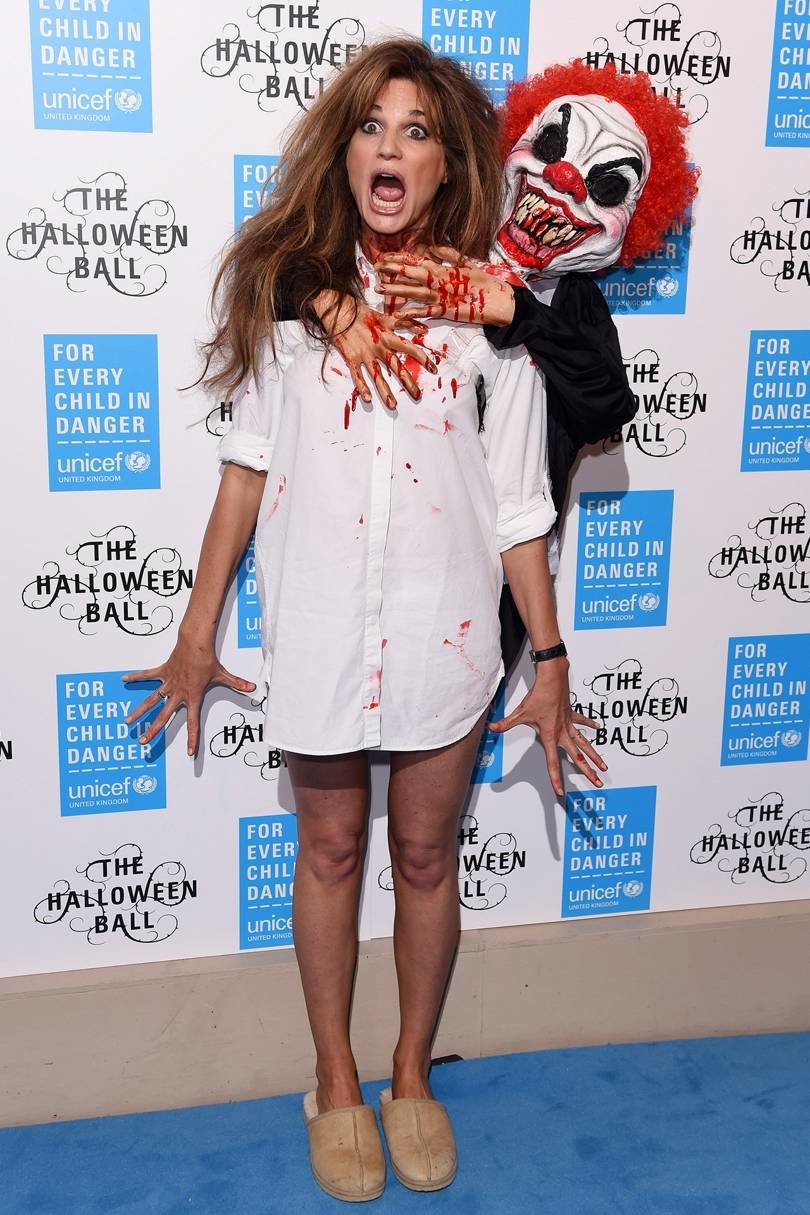 Jemima Khan
Jemima Khan always pulls a great Halloween costume out of the bag. For the Unicef Halloween Ball, she feigned being attacked by a killer clown. They are the worst.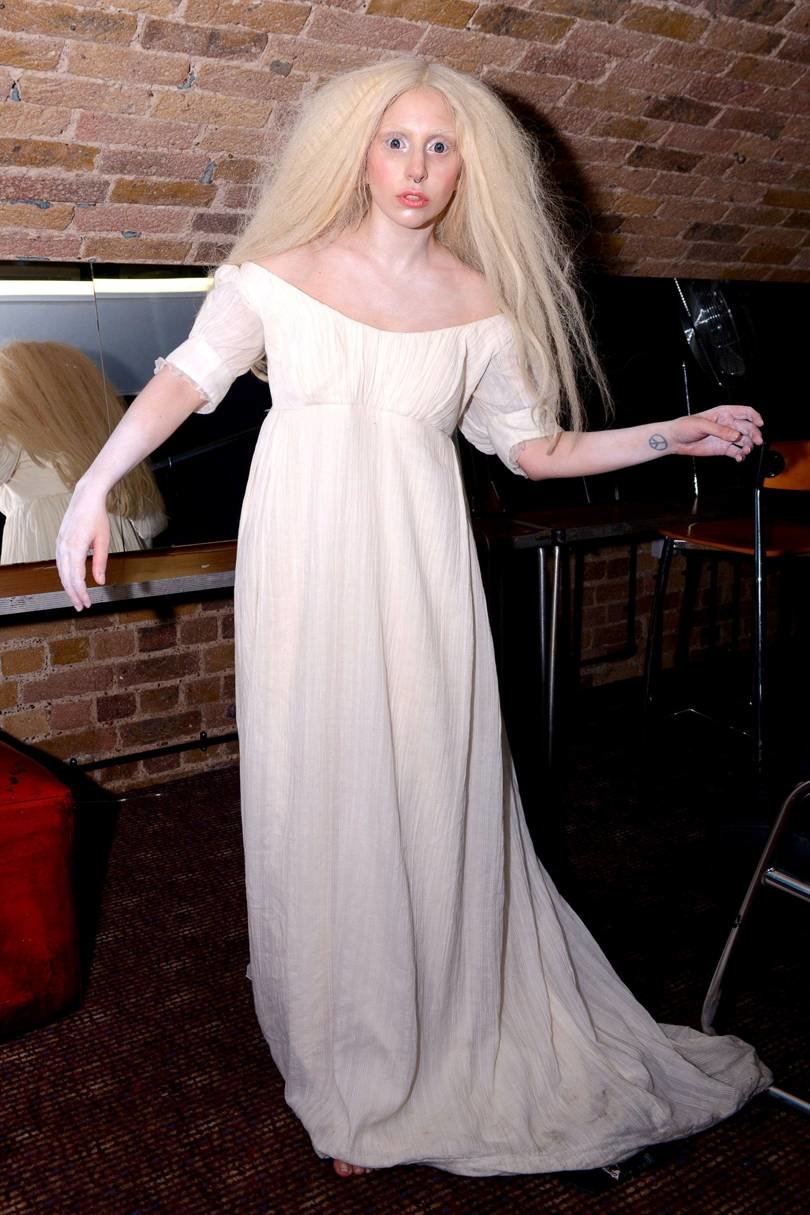 Lady Gaga
Yuh. Soooooo… Turns out this was just one of Lady Gaga's stage outfits but we actually think this would make a pretty great outfit for Halloween, too.