Some great news to kick off your Friday, Beyoncé has dropped her musical film and visual album, Black is King. Available to watch on Disney+, Black is King is the multi hyphenate's third visual album, following Beyoncé in 2013 and Lemonade in 2016. It's also a visual companion to the 2019 album, The Lion King: The Gift which was curated by Beyoncé for the 2019 remake of the beloved Disney movie.

The visual album, which features a star-studded cast (Lupita Nyong'o, Kelly Rowland, and Naomi Campbell, amongst many others), also displays an array of incredible fashion looks thanks to Beyoncé's longtime stylist and costumer designer, Zerina Akers. There's a fair share of animal prints, including a cow-print number designed by Burberry's own Riccardo Tisci, as well as a ballgown look, a Marine Serre one-piece, and a colorful, ruffled, Mary Katrantzou dress. Below, we've compiled what we think are some of Beyoncé's best looks from the visual album.

Exuding a primal perspective and animal prints galore, this was the first photo that many saw when Beyoncé first announced Black is King. Beyoncé wears a Valentino catsuit and heels by Christian Louboutin, and of course, no look would be complete without sunglasses by A-Morir.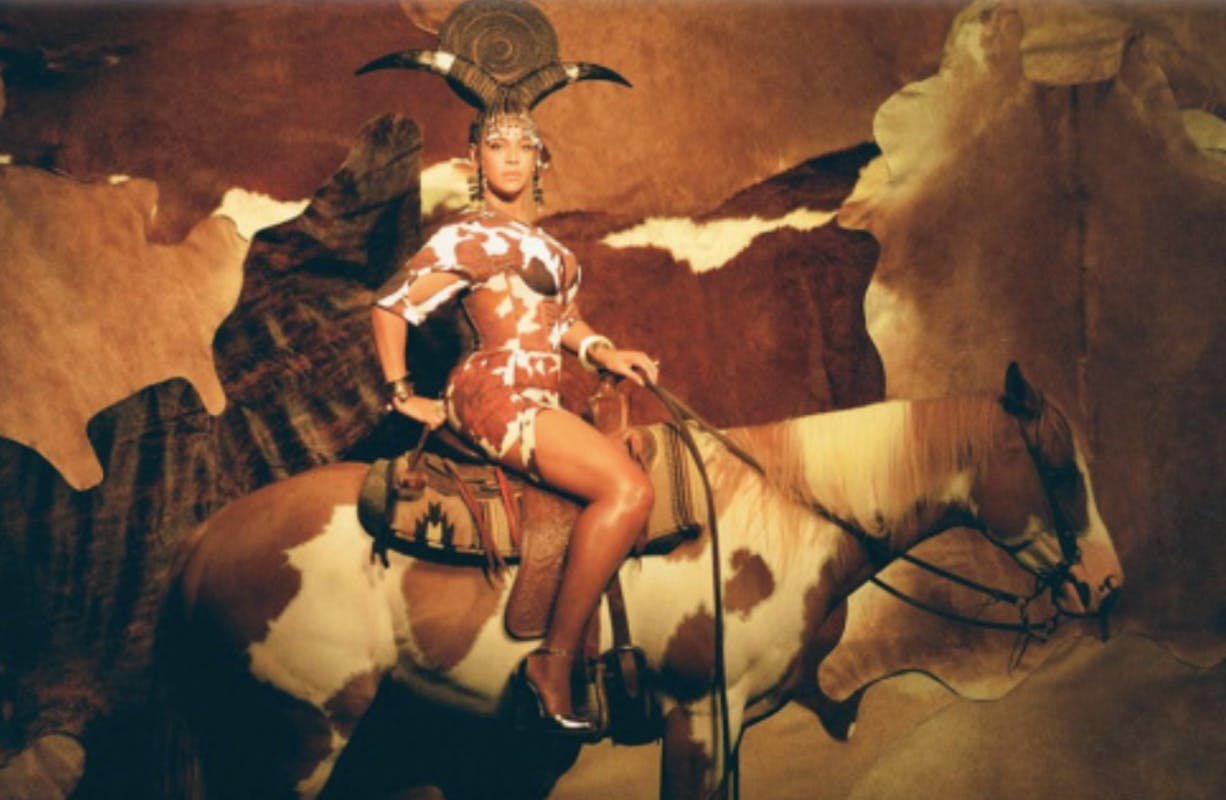 Riccardo Tisci, chief creative officer of Burberry, devoted this custom made cow-print attire to the visual album. Tisci designed the multi-piece ensemble, pairing a wool trench coat with cape detailing, a matching wool mini skirt with a mesh corset and over-the-knee boots.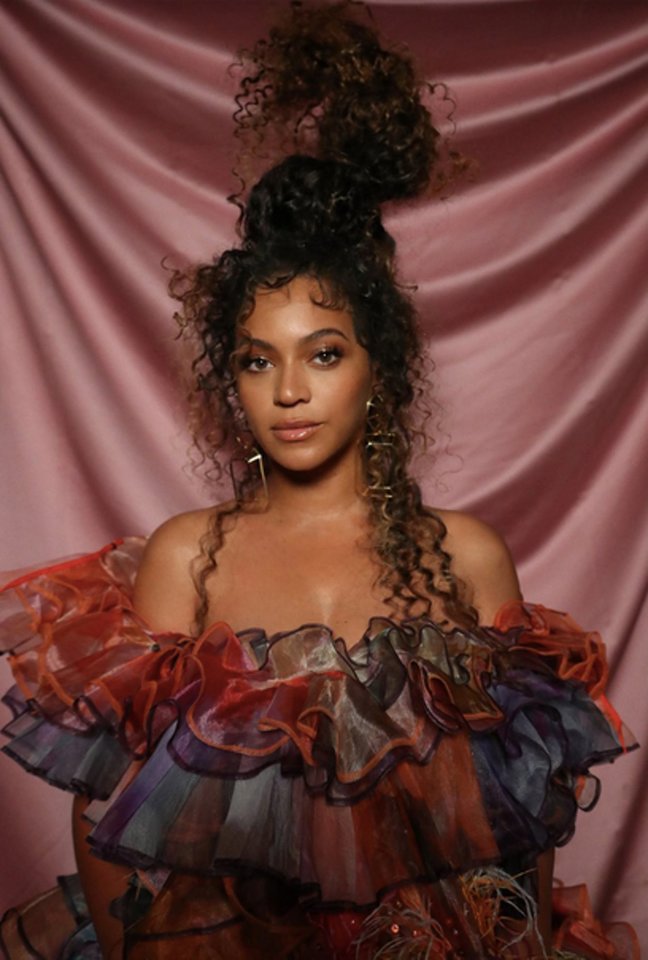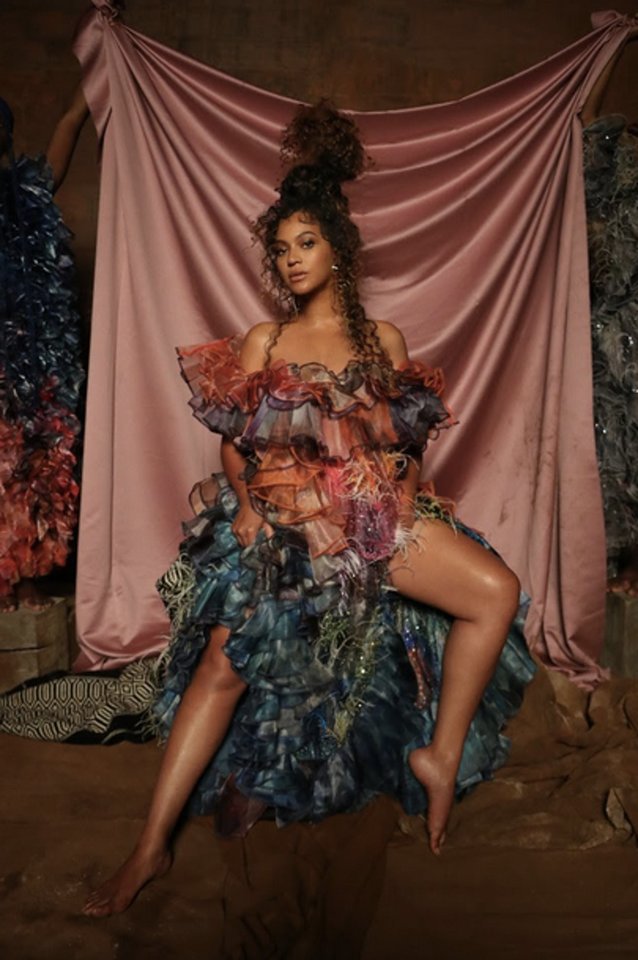 Pulled from Mary Katrantzou's Autumn Winter 2019 collection, Beyoncé gives ruffles a whole new meaning in this multicolored gown. Katrantzou gave dimension to the look, intertwining the dual textures of taffeta and feathers while channeling an ombre from purple tones to blue hues.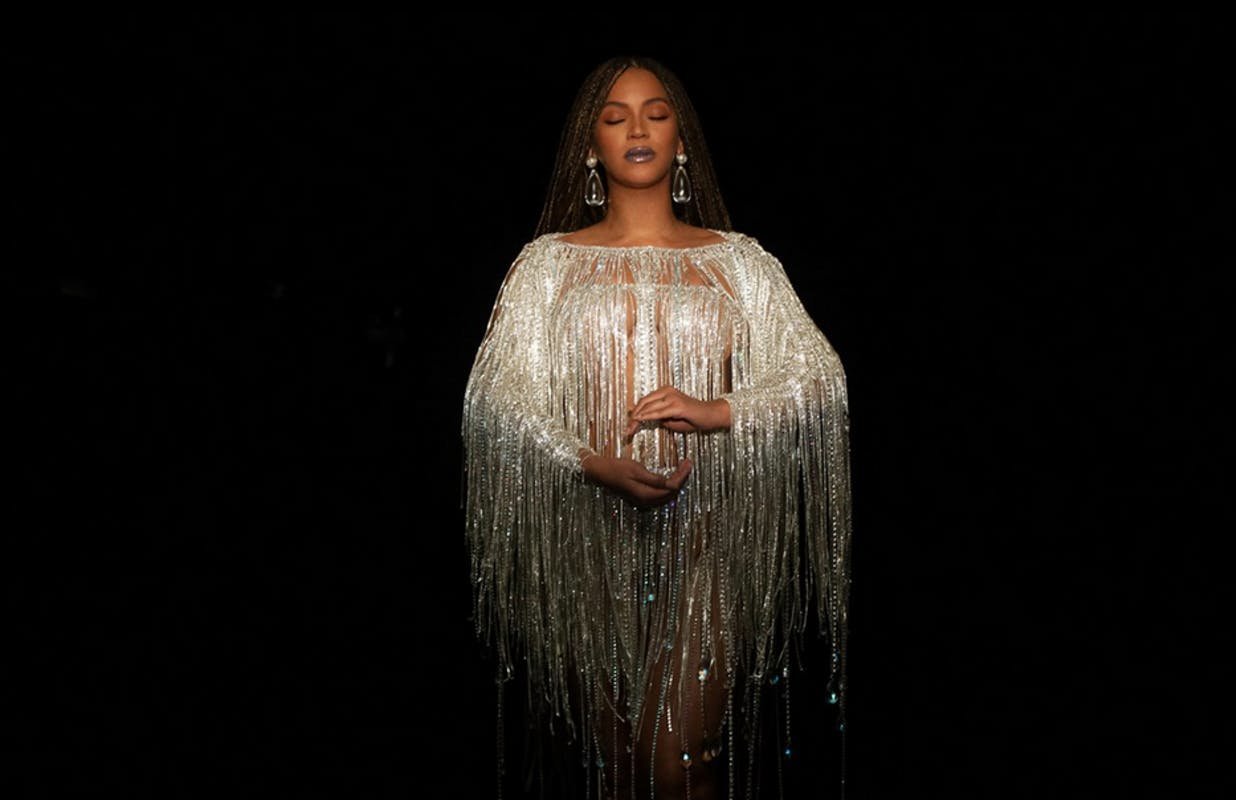 Lace by Tanaya, a brand by designer Tanaya Henry, crafted this custom one-piece for Beyoncé over a year ago. The highly anticipated, diamond-encrusted, fringe look is showcased in an ethereal scene of the visual album, adding depth through shimmer and sparkle.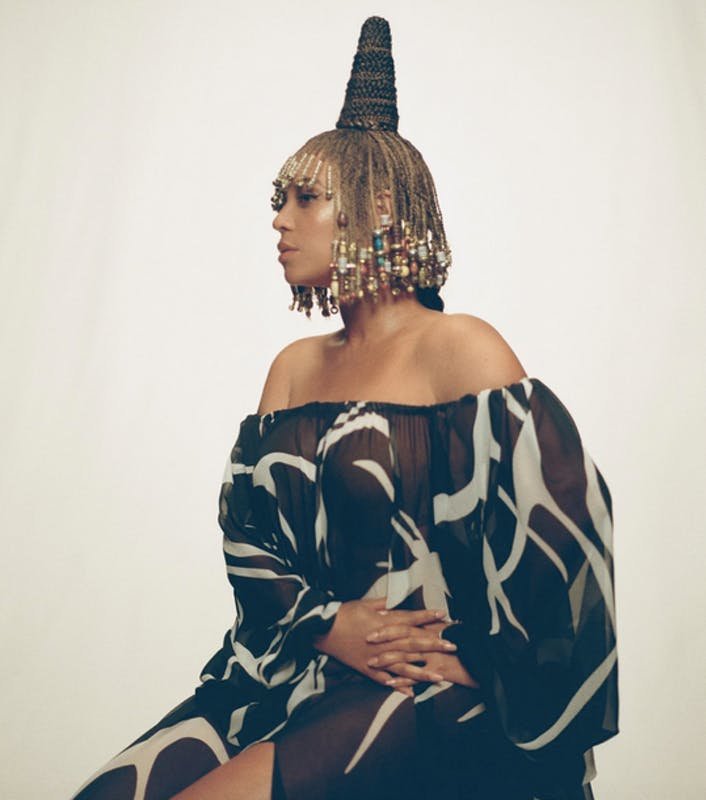 Sporting a statement updo, Beyoncé paired her beaded locks with a black and white Tongoro Studio off-the-shoulder dress. If anyone can pull off this look, it's Queen Bey.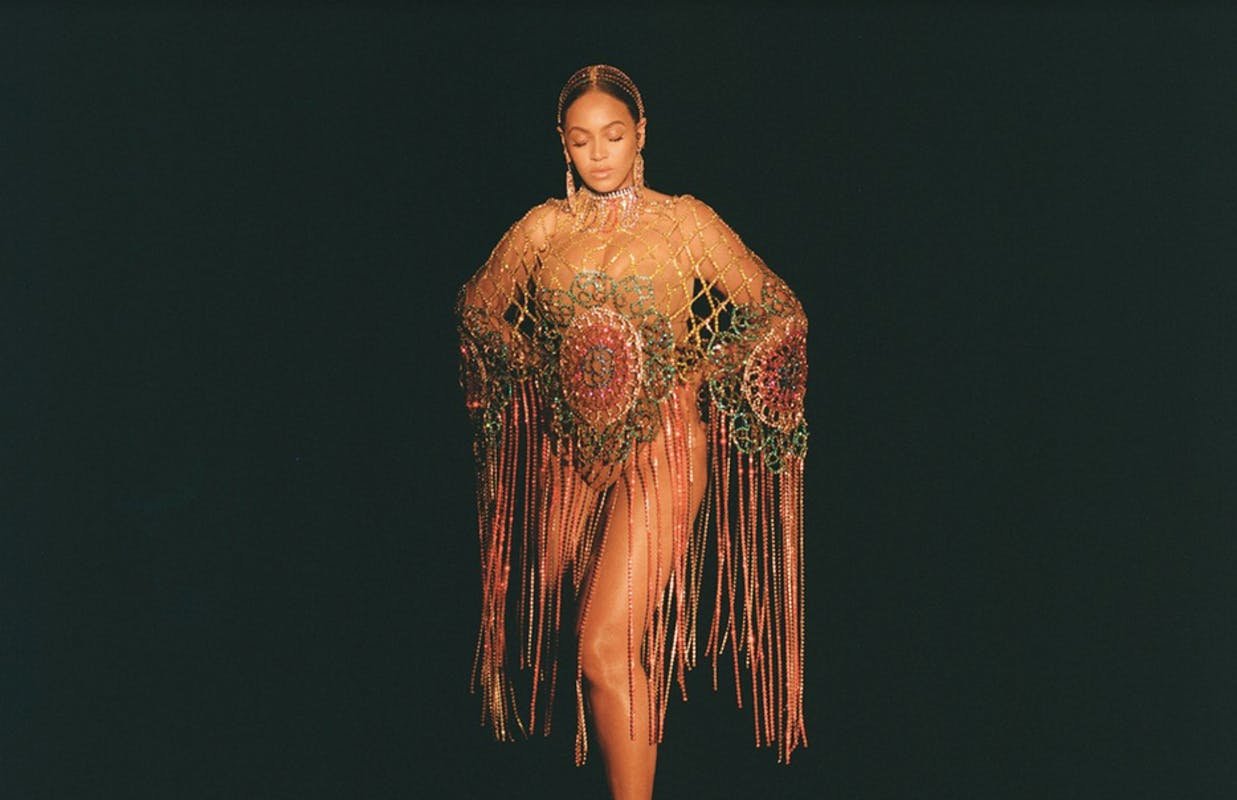 Area, a coveted New York label known for their rhinestone accents, took part in the fashion of the visual album with this crystal unitard. The custom-made ensemble showcases a head piece accentuated with a mosaic fringe.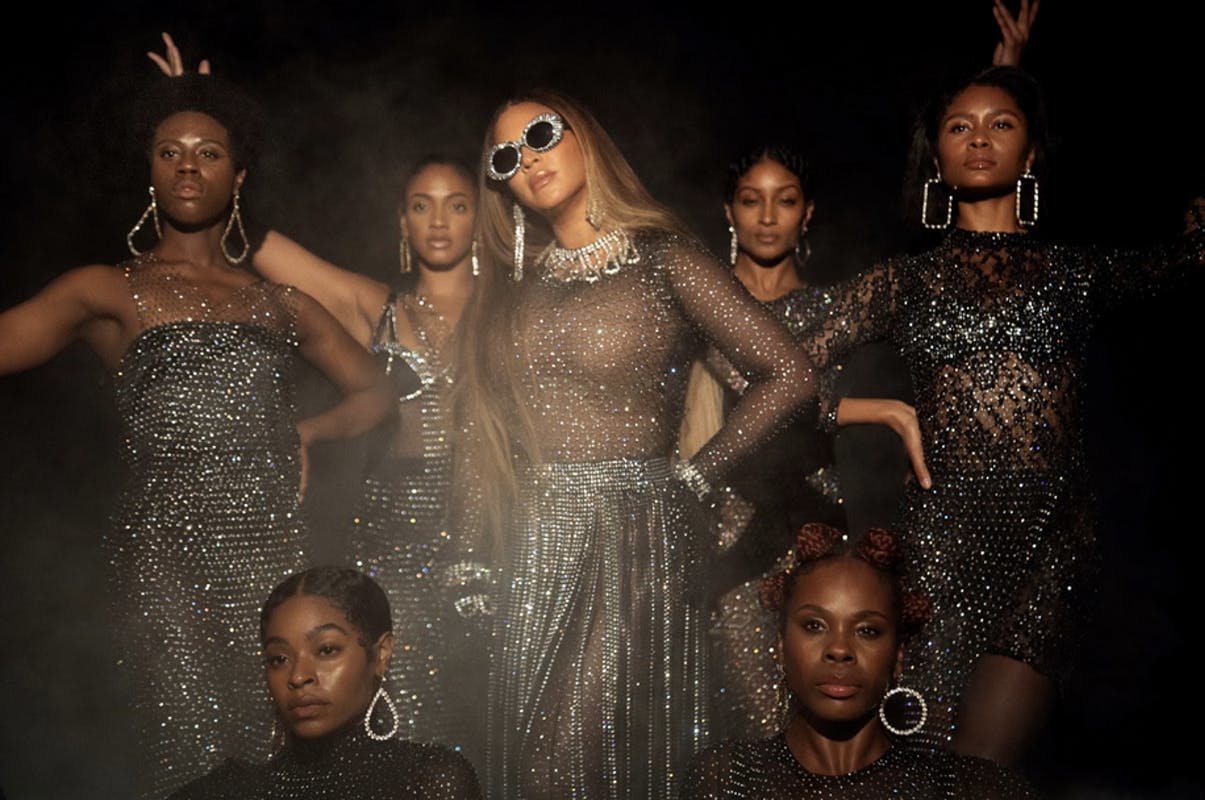 Sparkle seems to be a common trend for Beyoncé as she debuted yet another glitter look. This looks portrays a darker theme as she accessorizes the black ensemble with matching rhinestone sunglasses and a statement necklace.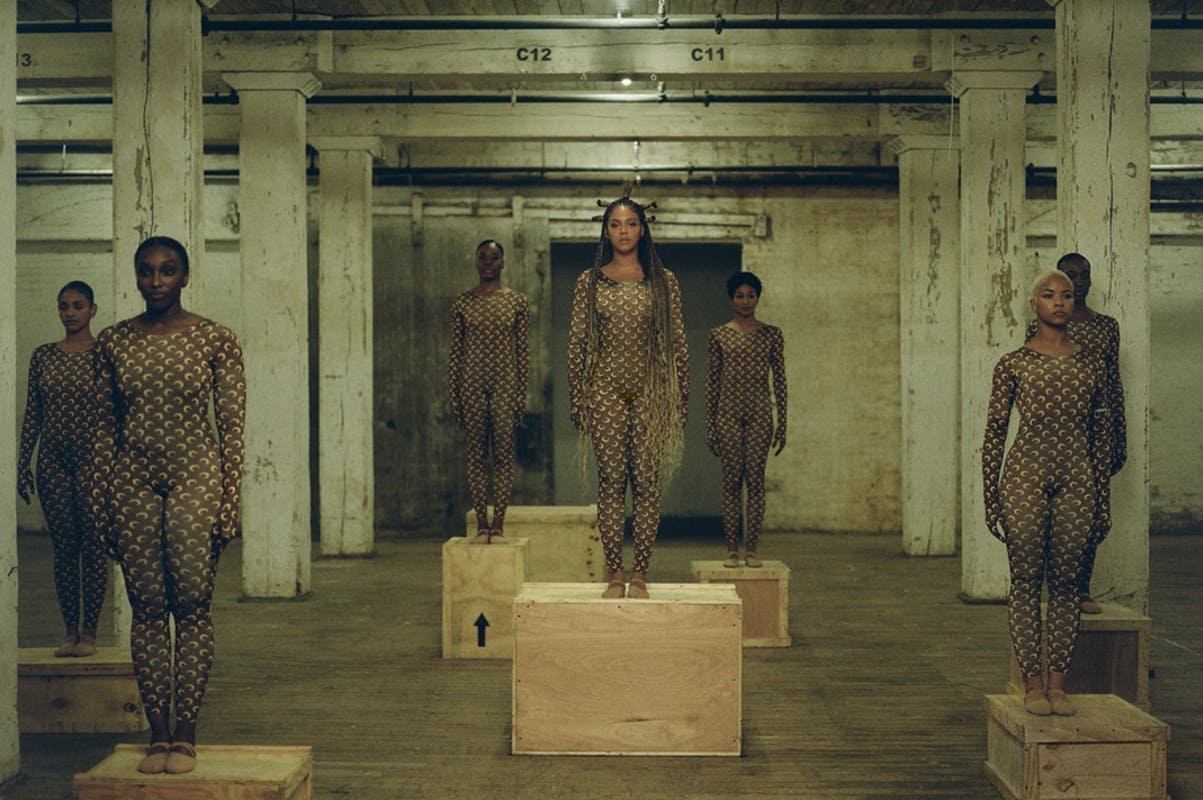 Beyoncé celebrated the female silhouette as she and fellow models debuted the Marine Serre crescent moon printed bodysuit in the "Already" video. Already a huge supported of the French fashion house, it's only fitting Beyoncé featured Marine Serre in the visual album.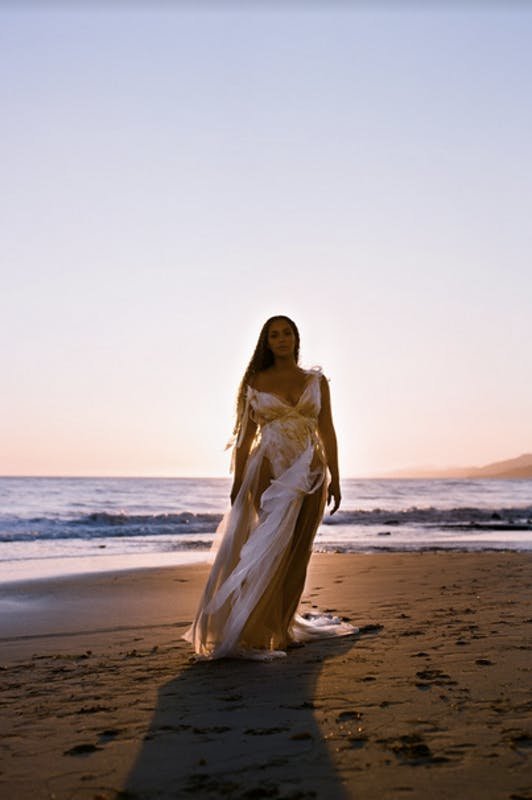 This beach scene was everything we needed and more, the high slit and textured fabric of this custom made Wendy Nichol gown accentuate the queen's curves as she so casually strolls down the beach in this cream colored dream.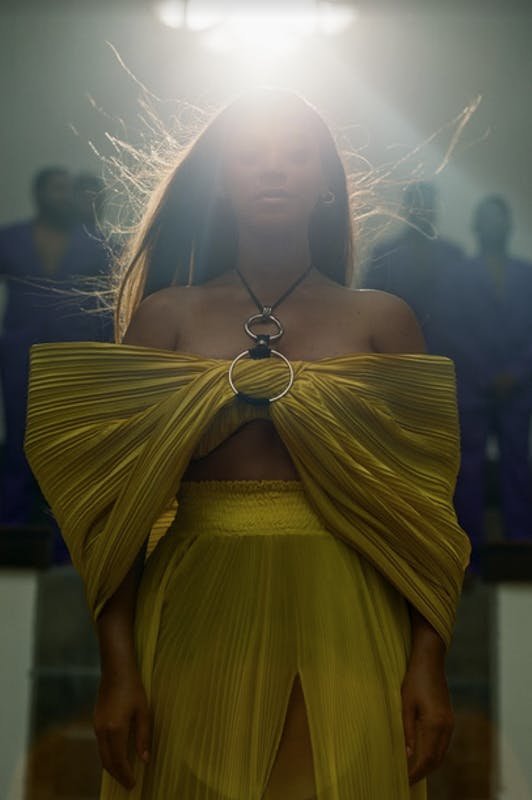 For "Spirit" Beyoncé's debuts mustard madness. The yellow tones and ruffles of the Balmain two-piece are connected by circular silver hardware, elongating the off-the-shoulder top.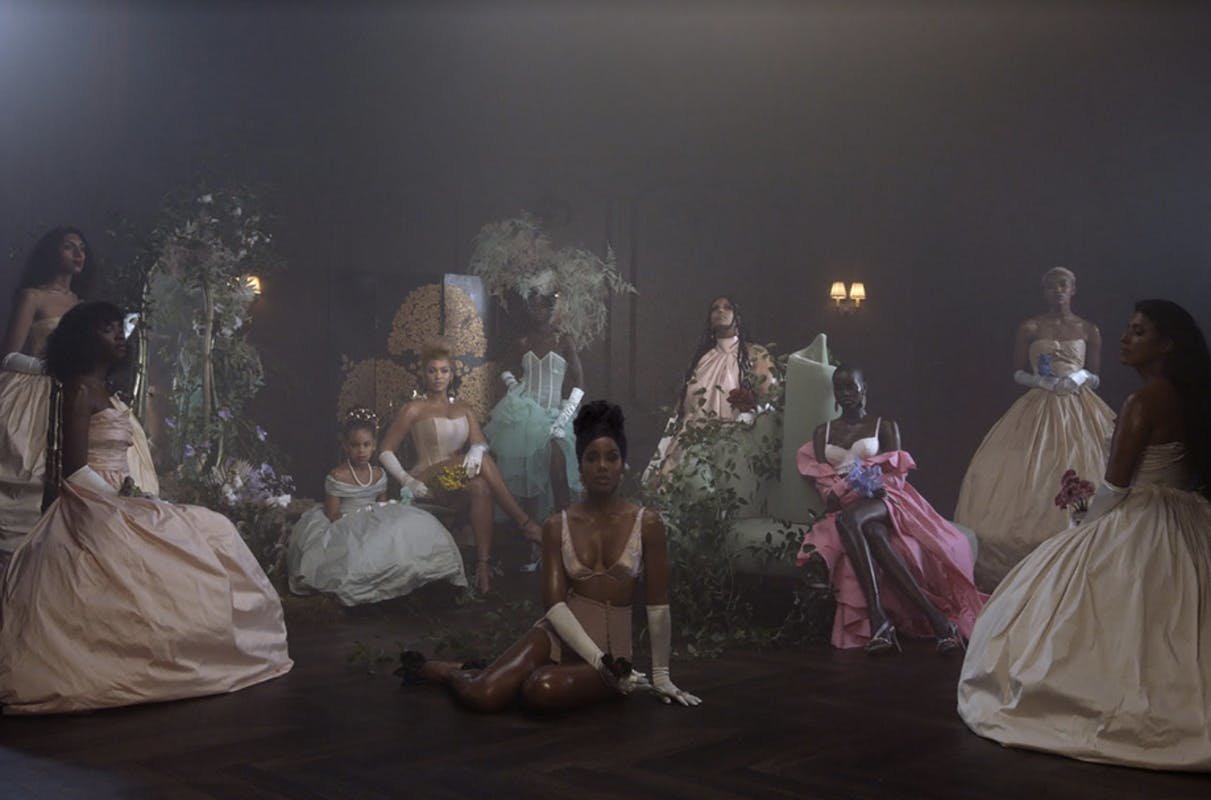 An opulent floral scene debuted ex Destiny's Child member, Kelly Rowland, in a two-piece satin number. Other familiar faces such as Adut Akech, model and activist, and Ivy Carter, Beyoncé's daughter, can be seen throughout the film as well. Akech adds a brighter tone of pink into the scene in a strappy gown with cape detailing, as Carter sits next to Beyoncé showcasing an off-the-shoulder ballgown paired with a pearl necklace.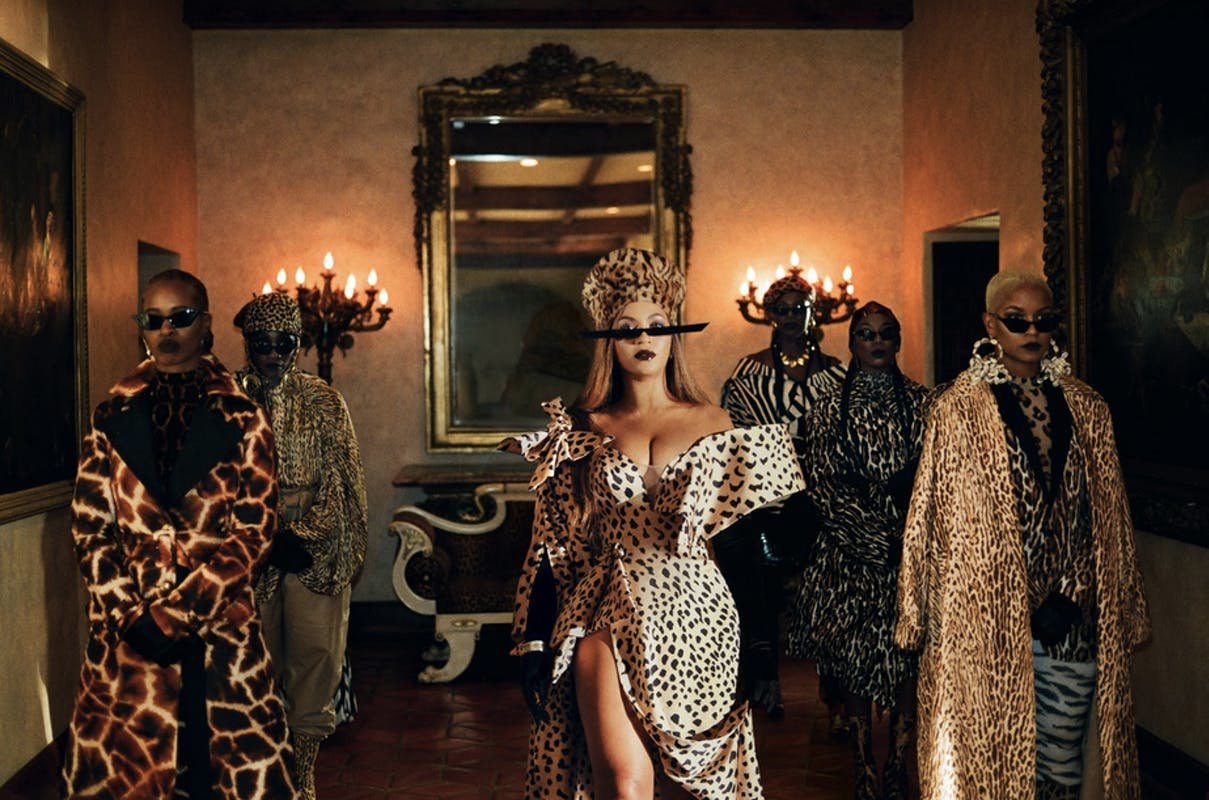 Yet another animal print outfit, Beyoncé stuns in this white cheetah-print gown. Accessaries played a huge part in the album, and in this case, Queen Bey pairs her gown with long black gloves and those simultaneously tiny-yet-not sunglasses.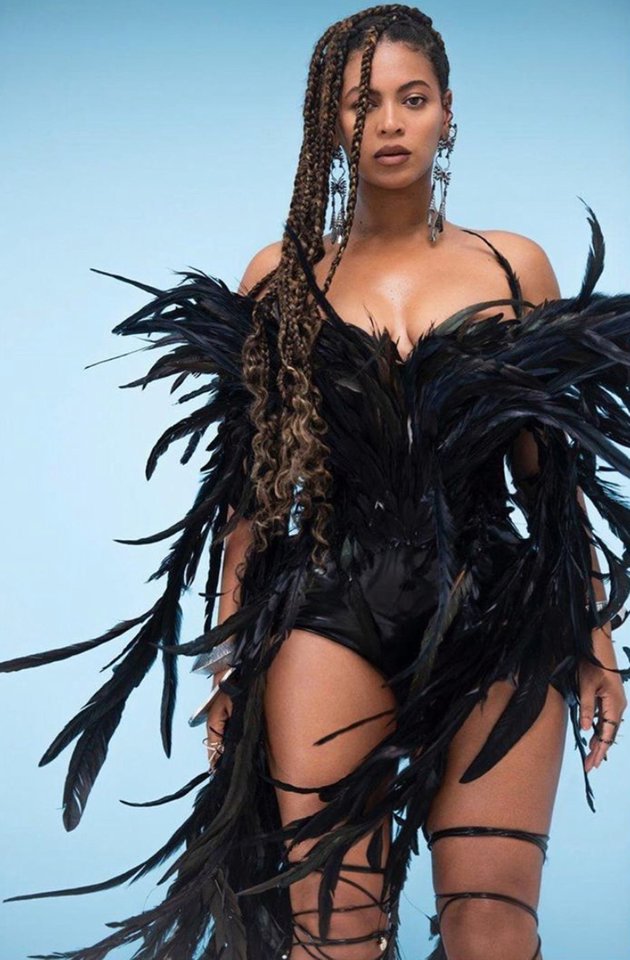 Created by the Beirut-based Ashi Studio, this custom black-feathered bustier was handmade and took 70 hours to make. Worth it? Definitely.