The villas are booked and the margs-on-the-beach fantasies have begun, which means the last-minute holiday purchasing is about to commence. And while we should all be looking to rent more of our holiday wardrobes or even shop second-hand, swimwear is an item that most of us would rather wear new.

But new no longer needs to mean bikinis made from planet-polluting polyester and nylon the swimwear industry has traditionally used. Given eight million tonnes of plastic enters our oceans each year, several brands have launched with a mission to ensure your cossie is not contributing to the problem.

Among the most popular is a durable recycled nylon fabric called Econyl, that's crafted from a cocktail of plastic pollutants such as abandoned fishing nets and textiles. It looks and behaves like virgin nylon while providing a means of repurposing plastic waste and cleaning up our waterways.

London labels Ayla Swim and Paper London make Econyl pieces that satisfy cravings of those that like their cossies candy-coloured, while minimalists should look to Medina, which imbues its recycled nylon with SPF, or Parisian label Vanessa Sposi, whose block-coloured Econyl bikinis have signature linings filled with natural antioxidants, vitamin E and aloe vera to soothe sun-drenched skin. Anyone in the market for poolside peacocking should check out Oceanus, an OTT eveningwear-inspired swim line made from recycled nylon embellished with Swarovski crystals.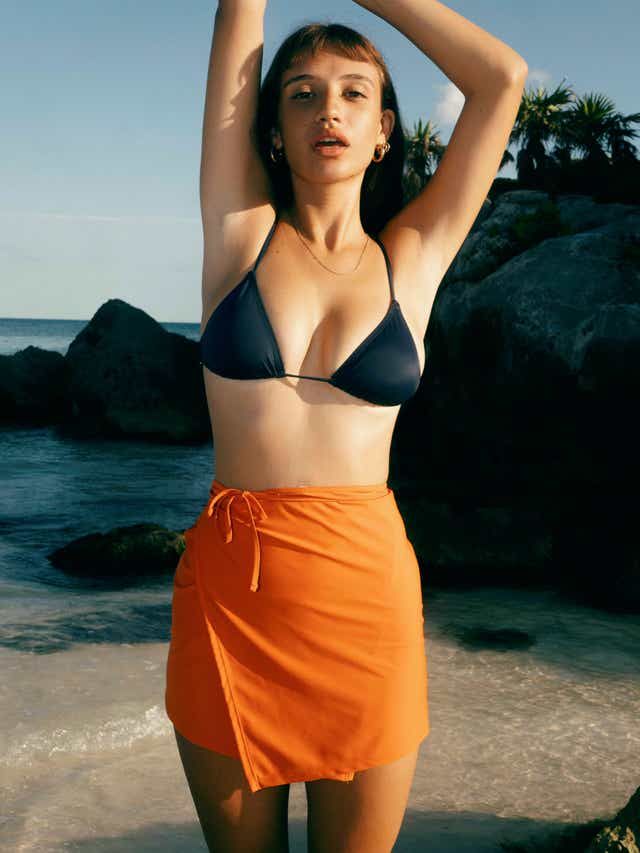 Masarà

For bigger busts, try Aussie label Form & Fold, which makes Nineties-inspired minimal pieces from recycled nylon; and for bigger bodies Tona the Label does retro-inflected swimwear (think op art checkerboard prints and James Bond girl high-waisted white bikinis) in UK sizes 8-20 and cup sizes 32DD to 38G. "I don't believe brands have any excuse not to behave in a sustainable and ethical manner anymore," says Josefina Alazraki, who worked at Matches and Net-a-Porter before launching luxury swim label Casa Raki in 2018. "There is too much information and too many amazing materials available now for brands to have an excuse."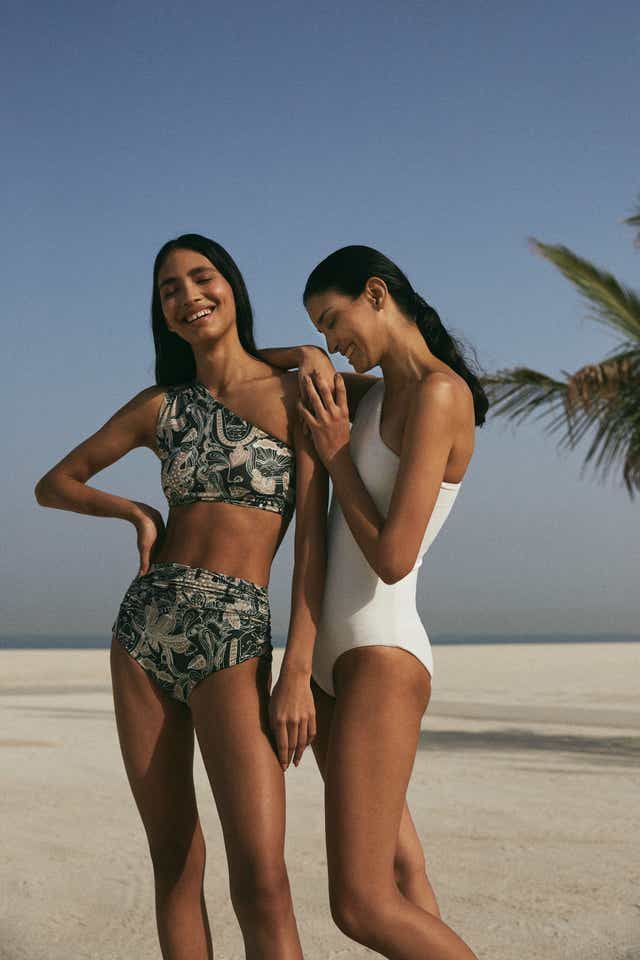 While Econyl is infinitely better than its virgin nylon forebears, it is not biodegradable and can release microplastics into water when washed. Technically its recyclable but given swimsuits are rarely upcycled, even Econyl products tend to end up sitting in landfill. Some brands are therefore looking to all natural fabrics for even ocean-friendlier solutions.

Casa Raki makes some of its cossies from Econyl and others from an entirely natural fabric derived from castor beans called Evo. Lightweight, breathable and renewable, it's a fabric also favoured by surf-centric label Slo Active for its sporty monochrome swimwear. The brand also uses a plant-based neoprene alternative called Yulex, sourced from the hevea tree. "Choosing Yulex was a no-brainer because it is derived from a renewable source, rather than a product of mining," says chief executive Janaya Wilkins, whose brand also has a recycling scheme so you can send back your bikini when you're done with it.

The real trick of course is to buy a bikini that you really love and look after it by hand-washing and avoiding drying it in the sunlight, which can cause fading. The best beachwear should long outlive your tan lines.

These are the brands to know:


Medina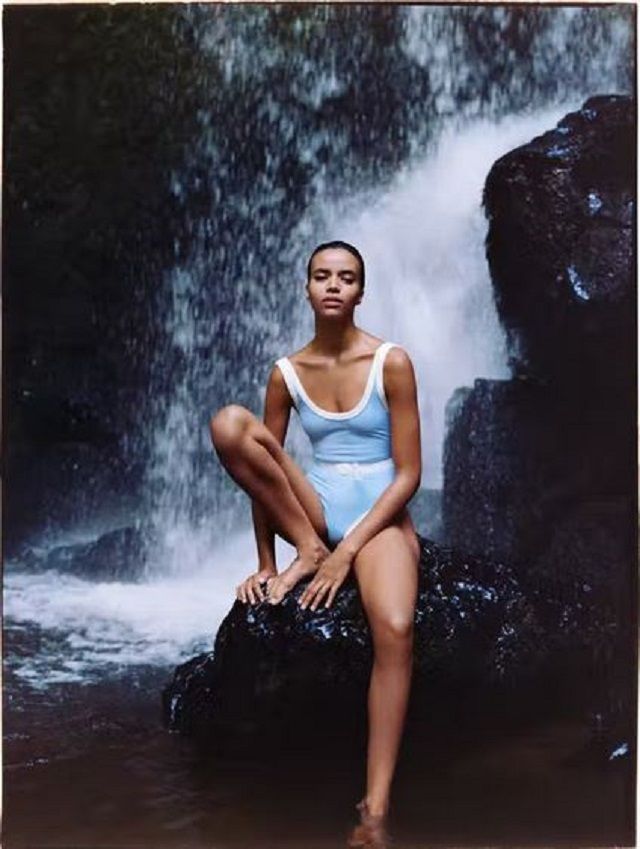 Founded in 2019 by former Celine pattern-maker Lou Medina, luxury swimwear label Medina makes elegant belted swimsuits and contouring bikinis from econyl, with a percentage of all sales is donated to ocean conservation. It also produces its own Terry fabric made from organic cotton and Seacell, a silky fabric made from seaweed and eycalyptus fibre. Even the signature metal buckles on the swimsuits are produced in a 100 per cent solar-powered factory.


Vanessa Sposi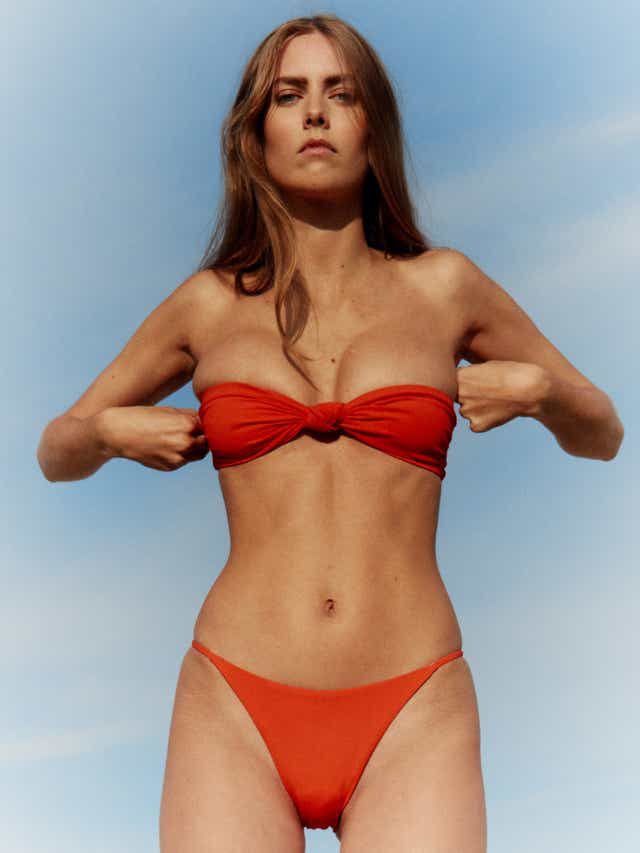 Established in 2020, Vanessa Sposi is a minimal eco swimwear brand designed in Paris, woven in Italy, and made in Portugal. Each piece is made with Econyl regenerated nylon and the linings are impregnated with natural Antioxidants, Aloe Vera and Vitamin E, to soothe and nourish sun-drenched skin – a signature of all Vanessa Sposi collections.


Second Summer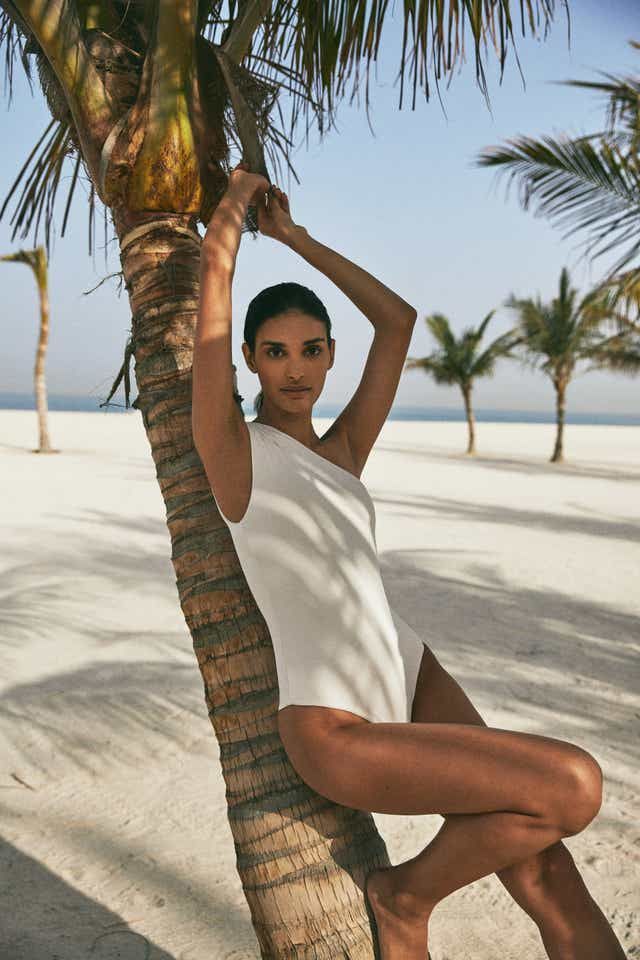 Founded in 2020, Second Summer makes elegant swimwear from a biodegradable nylon yarn OEKO Tex. Designed in the UK and crafted in Brazil with a PETA Vegan-approved factory, the brand offers understated, versatile mix and match pieces with a timeless feel.


Monte & Lou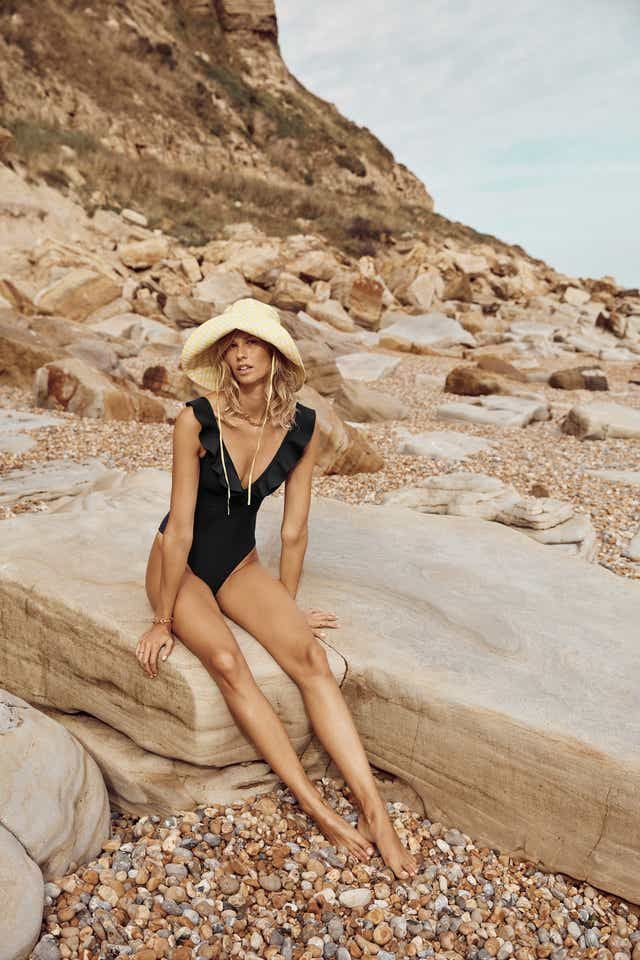 Founded by two friends each with 30+ years experience in the swimwear industry, Aussie brand Monte & Lou, which launched in Australia in 2018 and hit UK shores last year, makes cute cossies from Econyl. All the pieces come with a quick dry technology (you'll be touch-dry in 15 minutes) and the brand has just launched a range of fully biodegradable swimwear made from a custom blend of Amni Soul Eco® (the only biodegradable polyamide yarn in the world) and ROICA® bio stretch (an eco-friendly alternative to non-biodegradable spandex).


Away That Day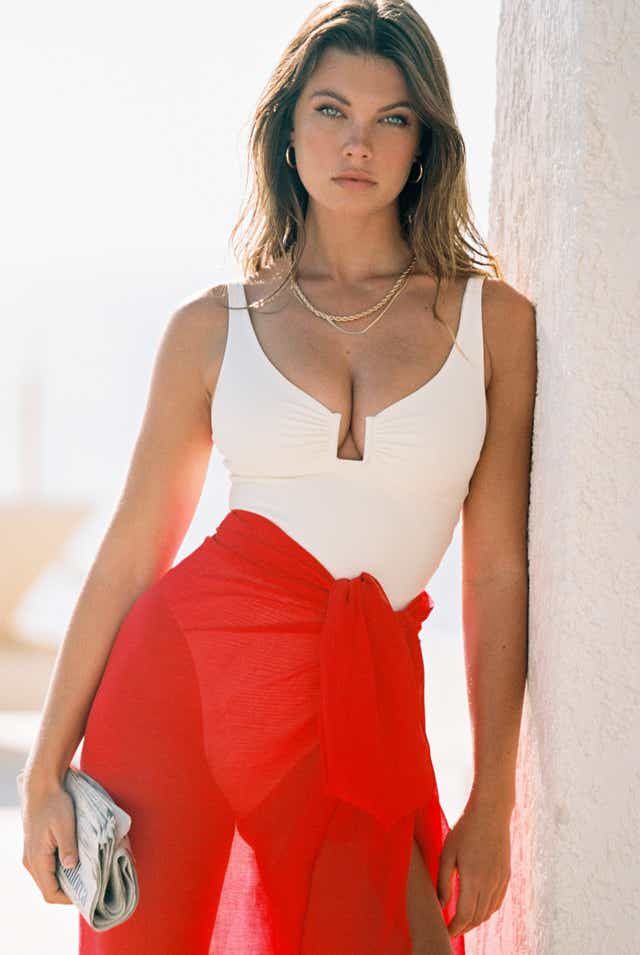 Launched in 2018, Away that Day set out on a mission to prove sustainability can be sexy, and their high-leg, plunging neckline swimsuits and bikinis certainly achieve the mission. Crafted from Econyl in an eco factory in the UK, this is well-crafted swimwear that delivers sculpting and sass in equal measure.


Ayla Swim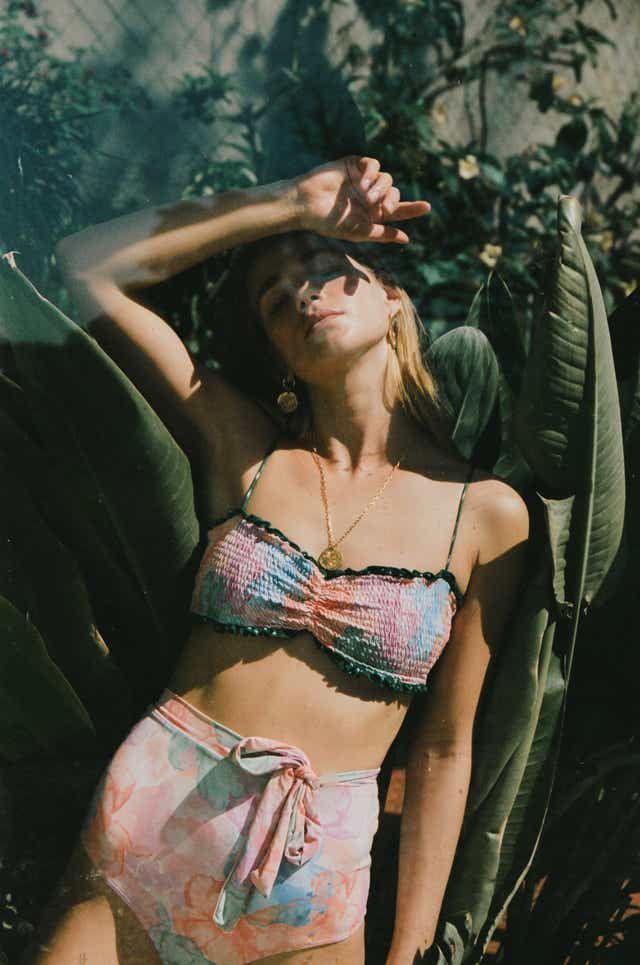 Ayla is a London-based swim and resort wear brand founded by Kirsty Ames and Heidi Sommerau in 2018. The smocking and frill heavy swimwear, which majors in ditsy prints and joyous colours, is made from Repreve Nylon, created from 100 per cent recycled materials.


Form & Fold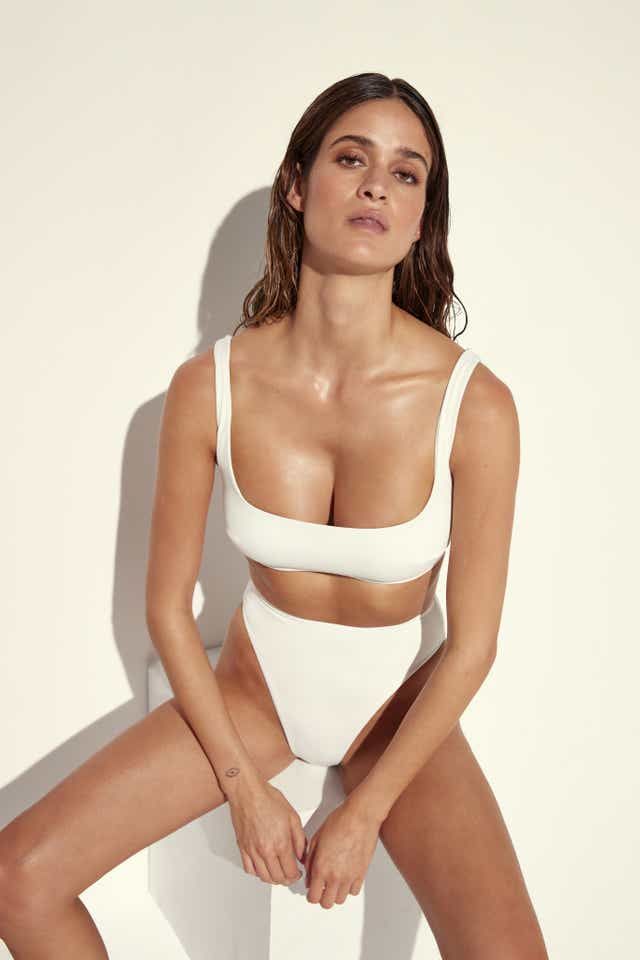 Melbourne-born swimwear label Form & Fold specialise in D+ swimwear that is flattering and functional, prioritising fit and using lingerie techniques to ensure pieces support whilst remaining design led. Everything's made from recycled nylon and bikini tops go from 30-38 band and up to a G cup.


Tona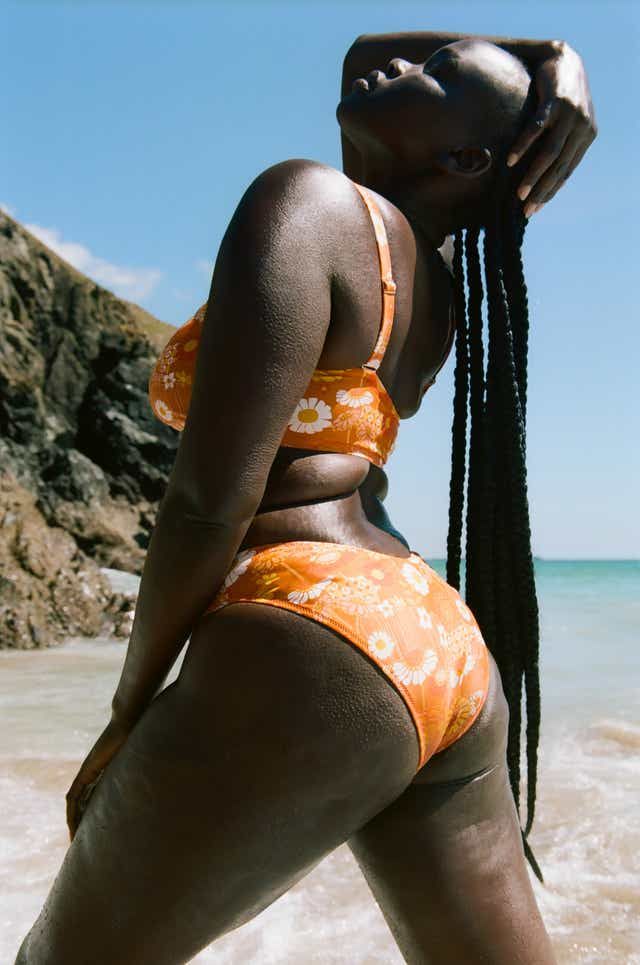 Launched in 2021, Tona is a sustainable size inclusive swimwear brand founded by style editor Tona Stell. Championing all bodies, Tona makes cool summery designs to suit every shape, while ensuring that all products and practices are both ethically and sustainably responsible. All of the towelling pieces are made from a specially developed organic cotton and all printed fabrics are Econyl, and it all comes in UK sizes 8-20 and cup sizes 32DD to 38G.


Casa Raki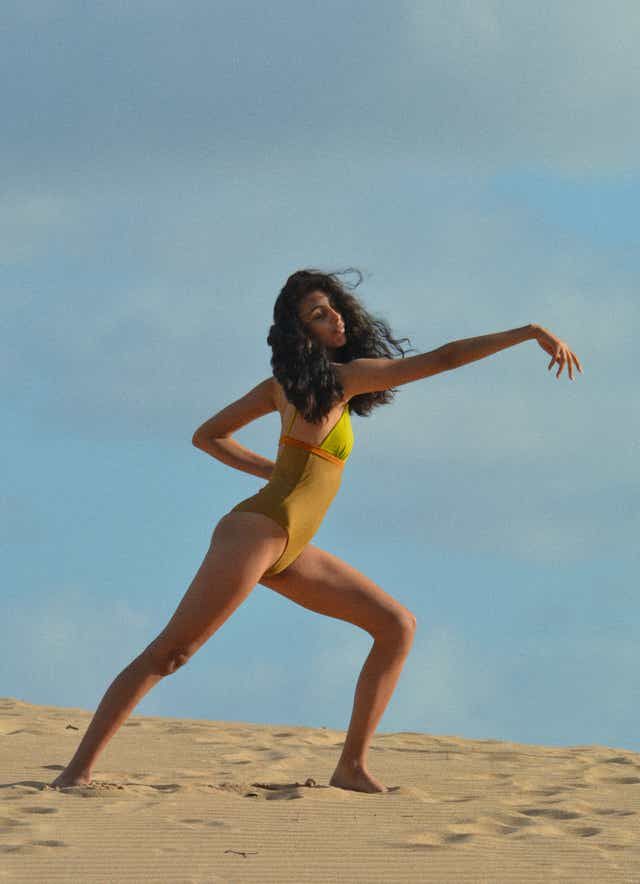 Raised in South America, Casa Raki founder Josefina Alazraki worked at Net a Porter and Matches before founding her sustainable resortwear label Casa Raki in 2018. The chic, understated swimwear pieces are designed in London and made from either Econyl or Evo (a fabric made from castor beans) in Portugal.


Paper London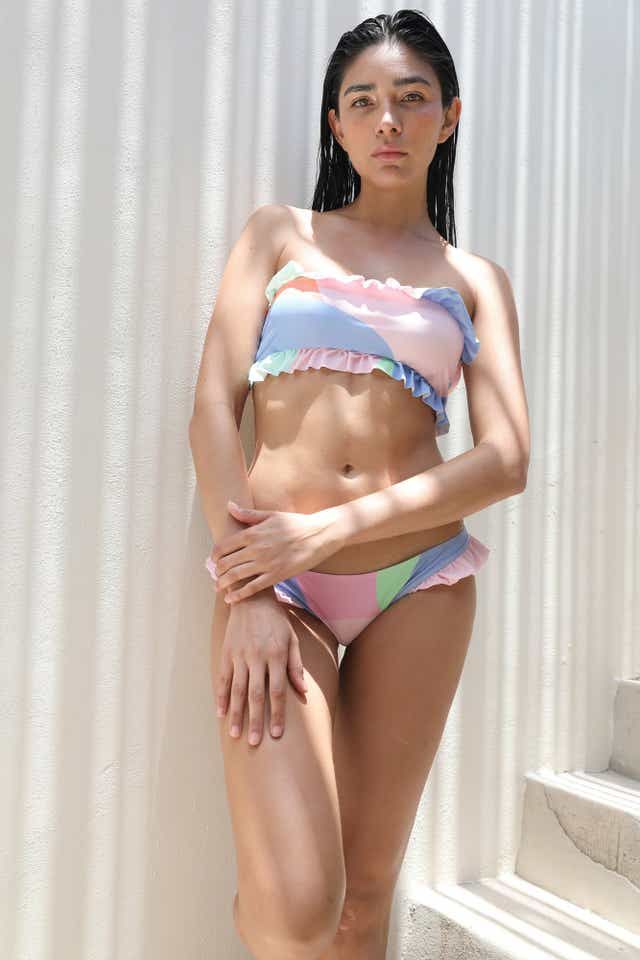 If you're into pastel hues, frills and geometric prints, Paper London could be worth a gander. The brand launched swimwear made from Econyl and a recycled polyester called Repreve in 2018 and has, it estimates, since then recycled the equivalent of 112,500 plastic bottles. The brand also plants a Mangrove trees for every piece of swimwear sold.


Oceanus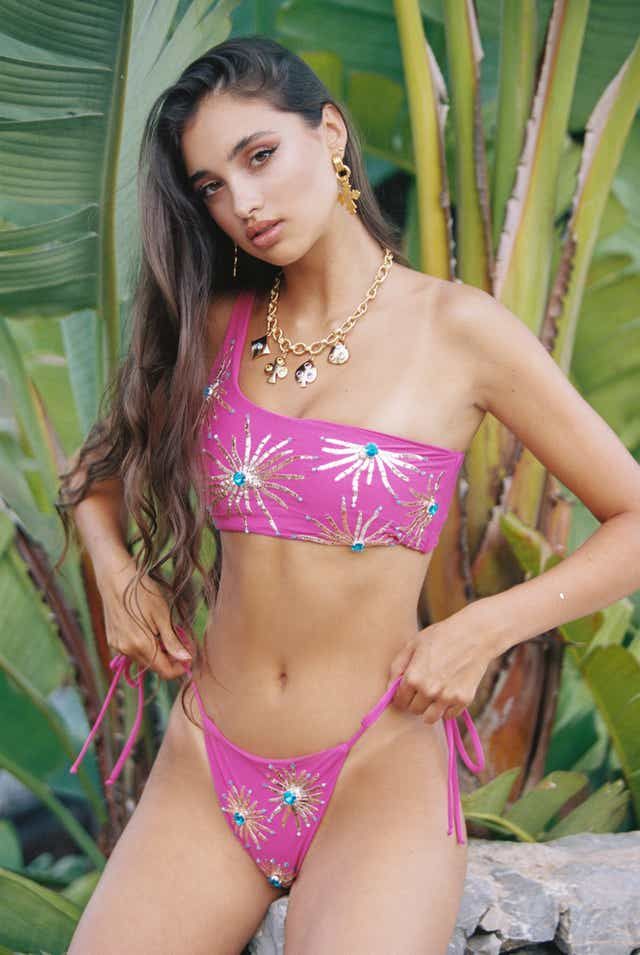 Who said sustainable had to mean minimal? Eveningwear-inspired London label launched in 2018 and disrupted the swimwear scene with outlandishly OTT bikinis and swimsuits that look equally appropriate for a Studio 54 dancefloor as a chilled beach bar. The pieces are all made from Econyl and embellished with biodegradable beads, and the brand makes facemasks and smaller accessories from left over cossie cut-offs.


Slo Active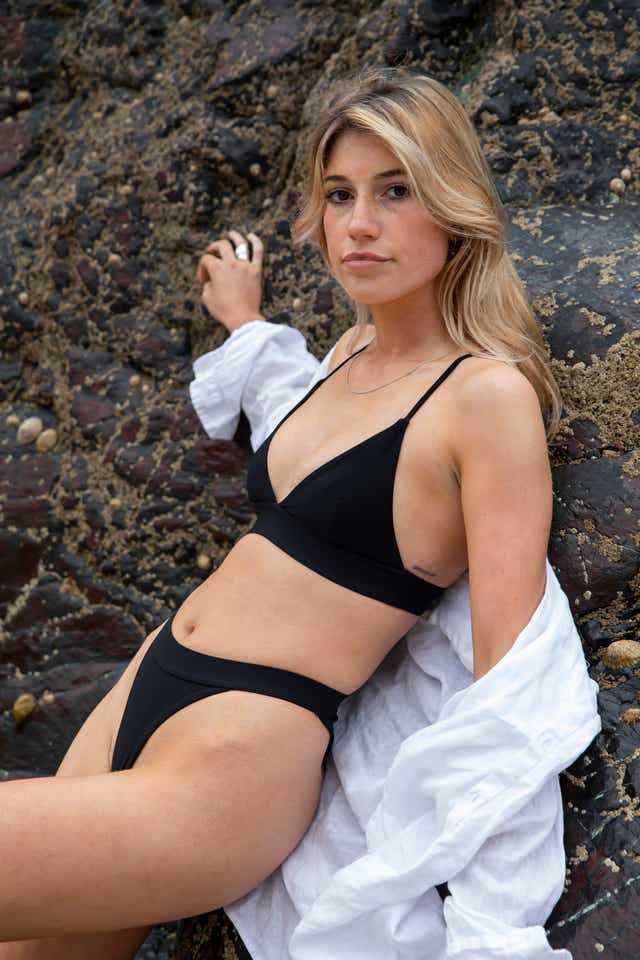 Surf-centric 'oceanwear' label Slo Active makes sporty monochrome swimwear from an entirely natural fabric derived from castor beans called Evo. The brand also makes surf suits and rash vests from a plant-based neoprene alternative called Yulex, sourced from the hevea tree. Its inclusive sizing (small- 5XL) and simple, easy-to-wear silhouettes make it a brand for everyone.


Masarà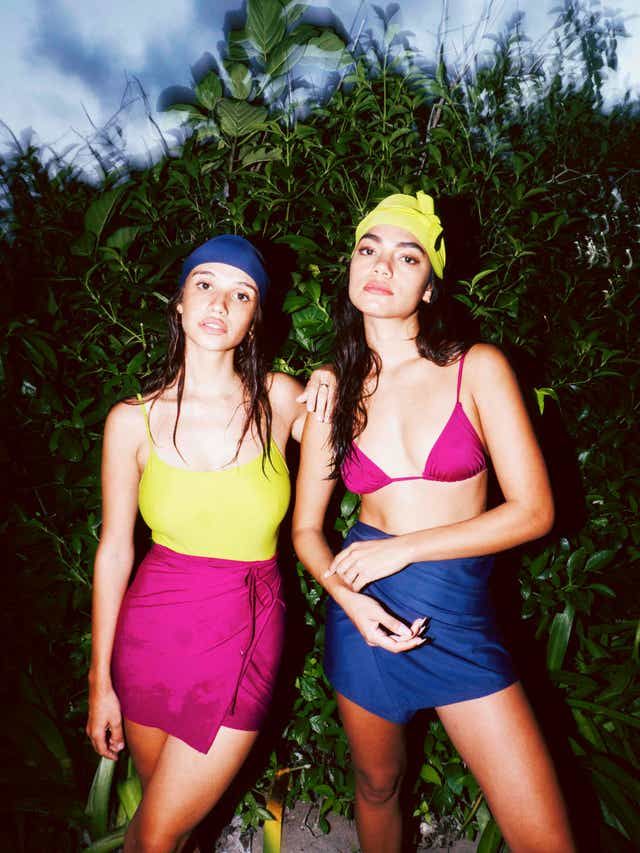 Milanese label Masarà, named after the Milanese slang for 'soaking wet,' makes simple silhouette swimsuits, bikinis and sarongs from Econly in bold jewel tones. Designed in Milan and made nearby in Lombardy, each piece comes with a tag made from a paper that's crafted from algae found in the Venice lagoon.