All things 1990s have become retro. It's a daunting thought, especially for those of us who bopped to "Freedom! '90" on our CD players, rented a VHS of Clueless from Blockbuster, mourned the cancelation of My So-Called Life, cut a rug to the "Macarena," regularly used public payphones, and understood that Florida was categorically a blue state. Alas, with more than two decades since the Y2K scare, it was inevitable that these cultural touchstones, which permeated throughout our formative years, have now been put out to pasture. But in regard to '90s fashion trends, as is often the case, everything old is new again.

"I think that's part of what young people today see in the '90s. It's that it was a really fun time to engage with a lot of different styles and even mix a lot of different styles into one," Colleen Hill, the curator of costume and accessories at the Museum at the Fashion Institute of Technology, told BAZAAR.com. "Every decade has trends, but I argue that in the '90s, there were lots of them that were cycling in and out really quickly. There was always something new, always something a bit controversial, but also something for everyone."

This idea of fashion pluralism is the basis of Reinvention & Restlessness: Fashion in the Nineties, a new a tome penned by Hill that explores select trends from the decade preceding the turn of the century. Set for a March 16 release (an exhibition of the same name will debut sometime this fall), the book dives into eight styles: minimalism, revival of luxury, retro revivals, grunge, deconstruction and the avant-garde, environmentalism, and the global wardrobe.

Hill admits that this isn't a be-all, end-all view of '90s fashion; hip-hop influences, rave culture, the complete Antwerp Six, and sports-inspired attire are noticeably absent. Rather, Fashion in the Nineties focuses on the trends that dominated the high-fashion runways and pages of glossies specifically at the time. From directional designers Tom Ford and John Galliano to megawatt photographers Peter Lindbergh and Corinne Day to editors Bill Cunningham and Harper's BAZAAR's own Liz Tilberis, Hill gives a great overview of the industry's purveyors and the mixed bag of styles they exalted throughout the decade.

"We have lurched from the modern to retro, from glitz to glamour, from puritan to pretty, from military to minimal, only to max out the finale with an opulent flourish of beading and rash irony: designer logos a-go-go on everything from chewing gum to inner tubes," wrote Marion Hume in "Fashion Flashback," a story in the December 1999 issue of Harper's BAZAAR, which Hill cites in the book.

The '90s was indeed the era of elegance, of supermodels, and of larger-than-life runway presentations. But it was also the period that birthed grungeขwhich a reputed critic famously called "ghastly" after a Marc Jacobs for Perry Ellis show—and embraced cultural appropriation flagrantly. There is no avoiding that fashion in the '90s clearly had a higher-than-thou attitude, barring disenfranchised communities from inclusion. As a result, many of the collections that were promoted then wouldn't pass muster today. And the ones that were reviled, particularly grunge, are now revered. It is with ample time and "21st-century eyes" that Hill is able to address these issues while also giving insight as to why the industry at the time thought otherwise.

From the celebrated to the controversial, Fashion in the Nineties offers a fabulous survey of the styles that are currently rocked by the likes of Kaia Gerber, Bella Hadid, and Ryan Destiny. These starlets and their fans may be too young to remember (or have lived through) the '90s, but if anyone needs a 101, getting your hands on this book is a great place to start. In the meantime, Hill gives us a synopsis of her extensive research on the high-fashion trends during a time when we were asked to "be kind, rewind."


Minimalism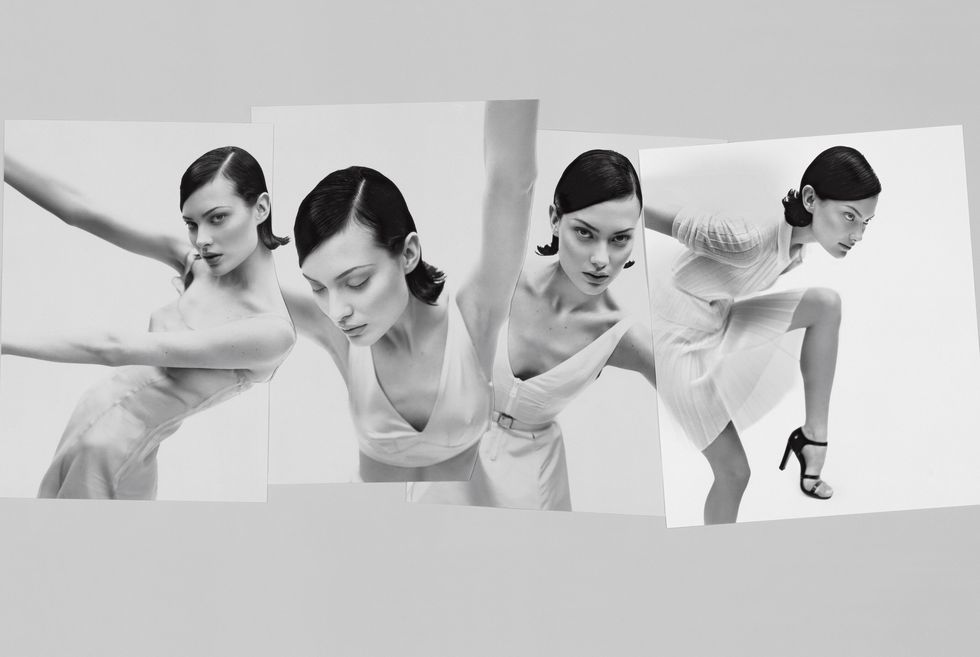 What I wanted to underscore with '90s fashion, really starting in the beginning of the decade, was that a lot of what you see is a pretty direct reaction to the opulence of the 1980s. If you were wearing high fashion, you could tell in the late '80s that something was expensive. It was a very in-your-face sense of luxury. Minimalism is also luxury, but it's just much more subtle and actually required someone who really understood fashion to get it. You can begin to see, for example, Calvin Klein working more minimalist looks into his collections already by the late 1980s, so it's not like this is a strictly '90s trend.

There were also economic issues at the beginning of the decade. The U.S. was in an economic slump. I believe that the U.K. was in a recession as well. Looking toward the more minimalist, subdued style just seemed to make more sense. So even if you had the money for luxury fashion, it was becoming kind of tacky to flaunt it. I think these two things together is the reason for minimalism.

With minimalism, what I found so interesting was that it goes in and out over the course of the decade. You start to see it in the very early '90s coming to the forefront, and then you see it fade away, and then it comes back. By 1997, it's the revival of minimalism. I think it was a style that traversed a lot of different brands and designers, and was something that worked its way into the mainstream, as well as high fashion, which is why we always think about '90s minimalism when we think of the '90s.


Luxury Revival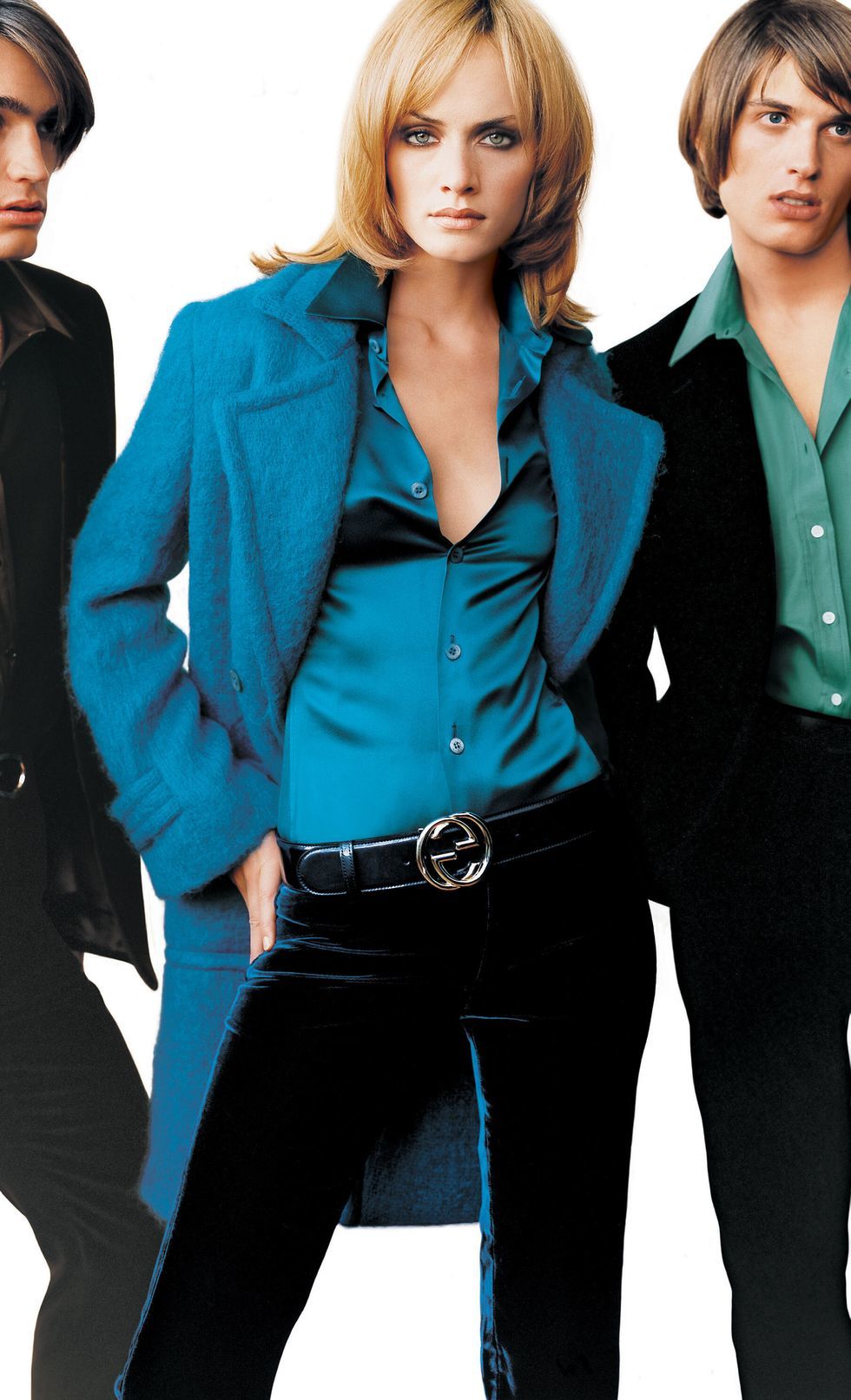 You begin to see overt luxury and labels wane a little bit in the early half of the decade. As you get into about 1995, beginning with Tom Ford for Gucci, he really starts to make a splash, reviving a sleepy brand. This period is what I call the revolving door of designers taking over at these established luxury houses: Dior, Givenchy, or Chloé. Luxury reasserts itself, but it's not in the way that you saw in the 1980s. Christian Lacroix, for example, was still very influential in the 1990s, but I would argue his really opulent looks of the '80s really helped define that decade.

When we're moving into the revival of luxury, it's a little bit different. It's not that '80s opulence. John Galliano was at Givenchy and Dior, and when he moved to Dior, Alexander McQueen moved to Givenchy. They're two designers who were really edgy. They were hired to revive luxury, to get people interested in Dior and Givenchy, but their collections were not like what you would expect from those luxury houses prior to that time. It's this really rebellious, over-the-top, very singular look at design that, of course, gets people interested in the labels again. There were lots of historical references. Most of us are never going to be able to buy a Dior couture piece, but if we're interested in what Galliano was doing, we might buy a bag. It definitely helps to revive the popularity of these labels overall.


Grunge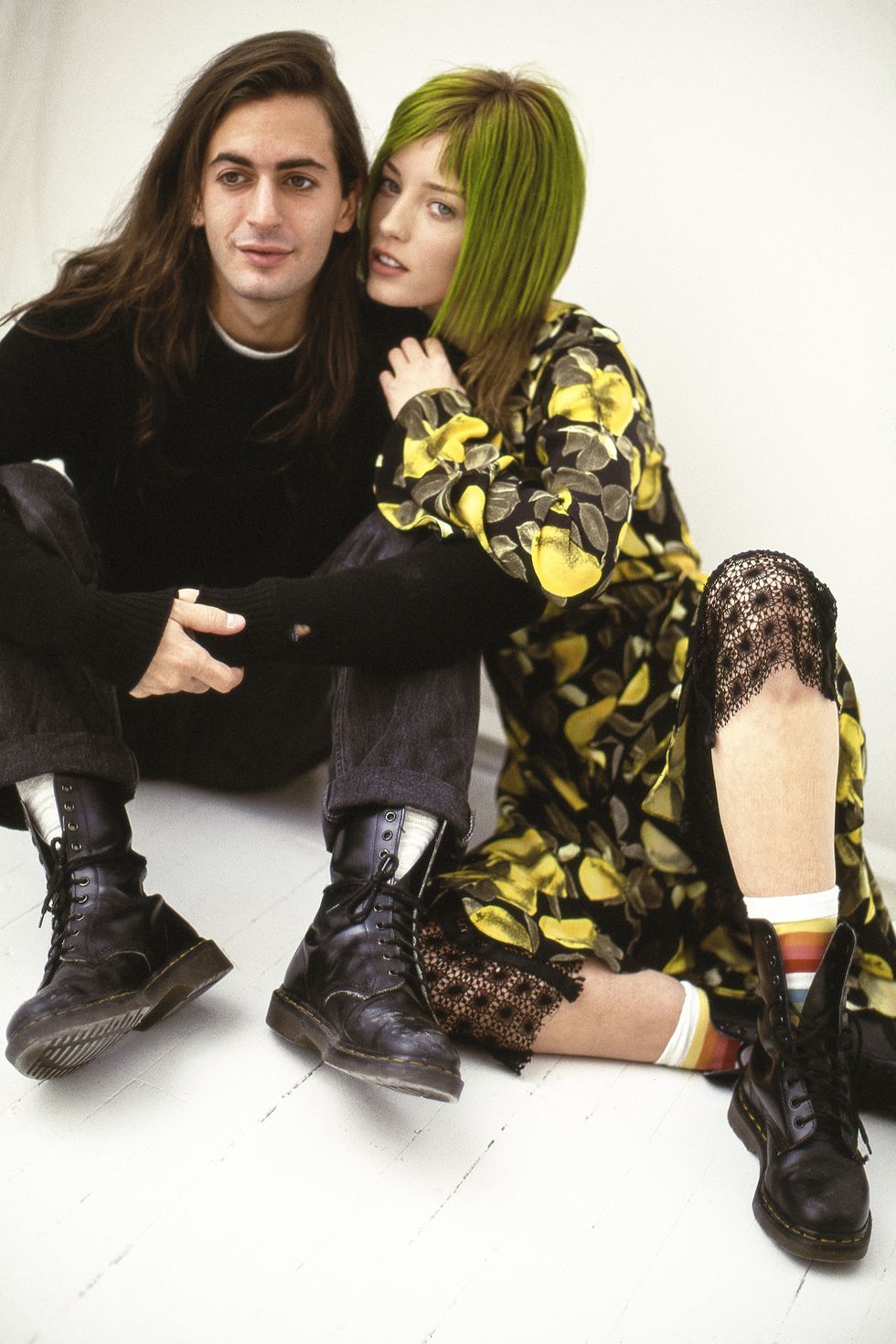 Grunge was something that so quickly trickled into the mainstream and stayed there. It really was a blip in high fashion. It was a season. It was just spring 1993. You see a little bit of an element of it before then and a little bit after. It was this hippie-inspired look. Anna Sui's touring '93 grunge collection, in its own way, has this sort of hippie influence.

To be honest, I thought, Do I really need to address grunge in any meaningful way, since I'm talking about high fashion, and that's not necessarily the greatest thing of import to this decade? And then the more I looked at it, the more I saw how it helped to push high fashion into the mainstream. People could look at these grunge-inspired collections, and even if they weren't familiar with this look, which was primarily in the Pacific Northwest in the early '90s, they could achieve it. They could go to the thrift store and buy a baggy sweater, flannel shirt, and a vintage floral dress.

Then you started to see fall looks that are grunge inspired, which trickled out from high fashion and existed for years afterward. So it was actually really important in a number of ways, even though in high fashion, it was very short, and fashion editors tended to dislike it.


So Retro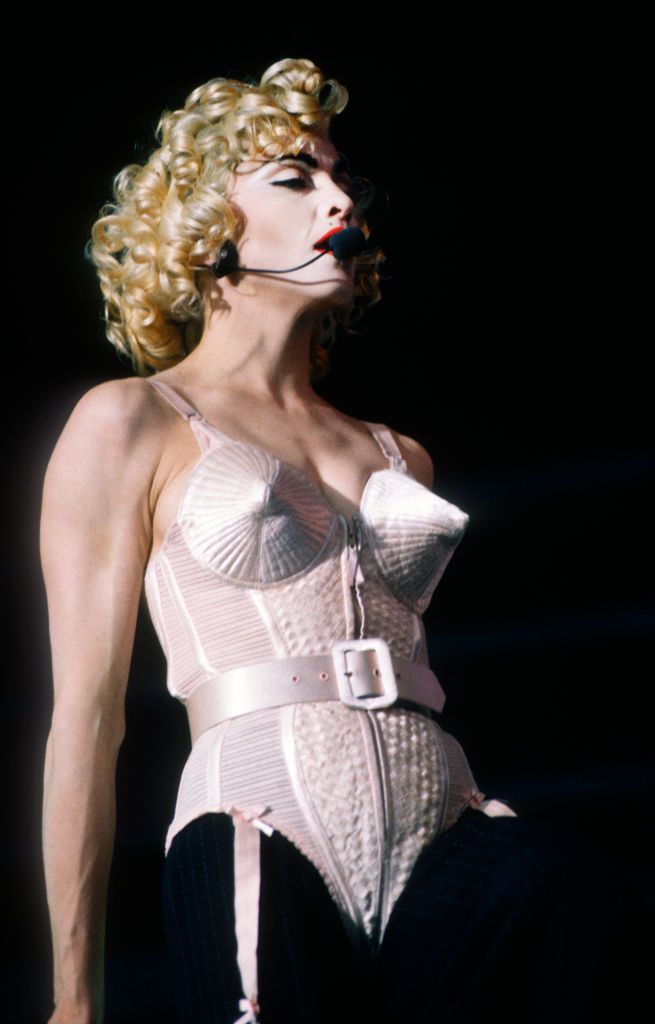 In one season, Lacroix was doing 19th-century or Belle Époque revivals, and then the next season, there's this sort of 1960s look to his work. Vivienne Westwood showed 18th-century corsets. Jean Paul Gaultier also showed corsets and then flapper dresses. It was a very quick change between retro or vintage-inspired looks that I think indicates a sort of restlessness. It's like, "We're getting to the end of the century, so we're just going to cycle through all of these ideas that we've seen in the past."

Basically, every designer was doing retro revivals, with some designers more focused on it than others. Anna Sui is someone who's always consistently looked to the 1960s to 1970s throughout her career, but what I was trying to point out with retro revivals were the designers that continued to change styles with every collection. I would say, overall, there's quite a lot of fluidity between ideas in this project, but that these retro revivals were happening really quickly.


Deconstruction and the Avant-Garde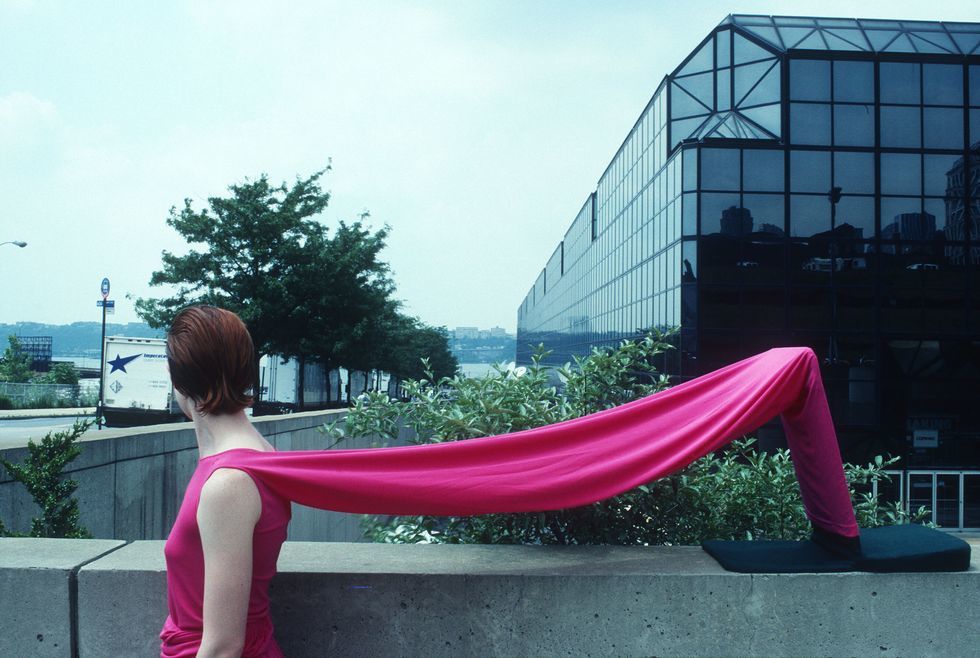 Deconstruction is a term that we started to see applied to fashion only during the 1990s. The style itself really stems from the Japanese avant-garde designers during the 1980s. It's something that Martin Margiela starts to adopt into his work by the late '80s. He and Rei Kawakubo really respected each other's work. They actually did a runway show together at some point.

In fact, it was an early Margiela show that Bill Cunningham was writing about. He referred to the collection as deconstructivist, which was a term that was really only used to describe architecture prior to that time, and it really caught on to describe fashion. It's not that deconstructionism is a new style, but it's a new term in the 1990s.

During the 1980s, these styles were really avant-garde, really edgy, and a big topic of discussion, but very slowly working their way into the fashion mainstream several years later. You have somebody like Rei Kawakubo, who was well-known, but she becomes better-known as we get into the '90s. Her work begins to influence a number of other designers, Margiela being a shining example, but also someone like Maria Cornejo. Her work is polished, beautiful, and avant-garde, but you wouldn't necessarily look at it and say she's absolutely been inspired by Kawakubo. But she was, and she's talked about it. It's also the same with Ann Demeulemeester.


Technology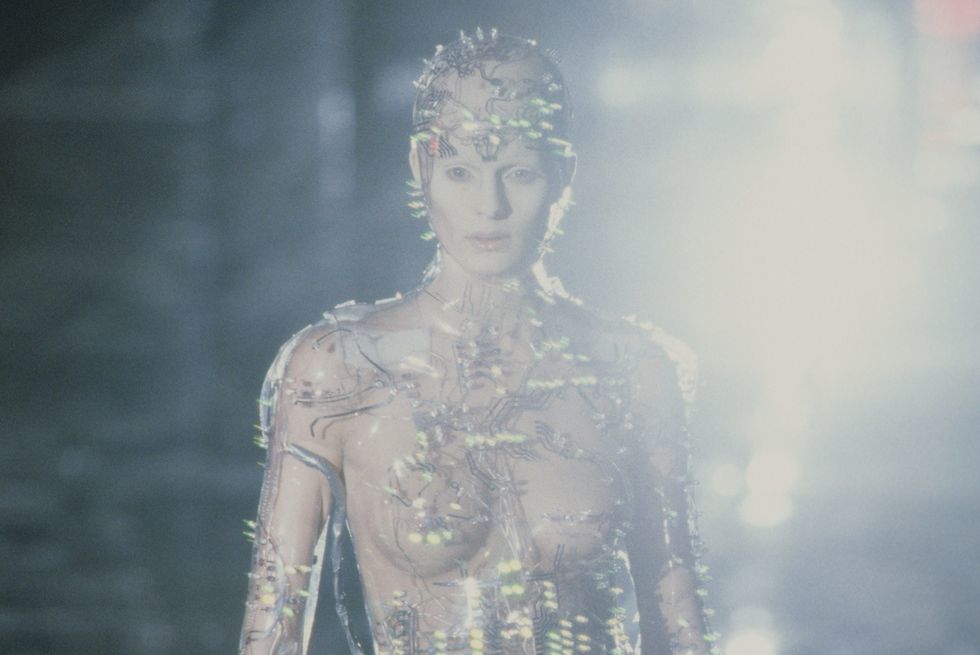 We're getting to the end of the 20th century, and technology works its way in. In some instances, it's only visually referenced; this idea of what the Internet might look like and put onto a garment, for example. Then there's the really fantastic McQueen for Givenchy collection, the one where all the clothing was either printed or somehow had this circuit-board motif. He also had these LED garments that lit up. It was this kind of literal overlap between fashionable garments and technology.

What I also found interesting was how the Internet was only just beginning to play a role in fashion and consumerism. I don't really remember a time before fashion was all over the Internet. It was so fascinating to read Bill Cunningham, who wrote a great article about attending the fashion shows and seeing photographers beginning to use digital cameras for the first time. This meant that the photographs taken on the runways could be either printed immediately after the shows or sent around really quickly to fashion editors around the world. To think of that now, I mean, it's kind of funny, because it wasn't that long ago, but it made a huge impact on how quickly fashion was disseminated.

Then, of course, we have things like online shopping and the statistics of what was considered big sales. Kenneth Cole, for example, had a million dollars in online trade in 1999, which was considered enormous for the time. Now, who knows? We're seeing 200 times that. I think it's $102 billion nowadays.


Environmentalism and Reuse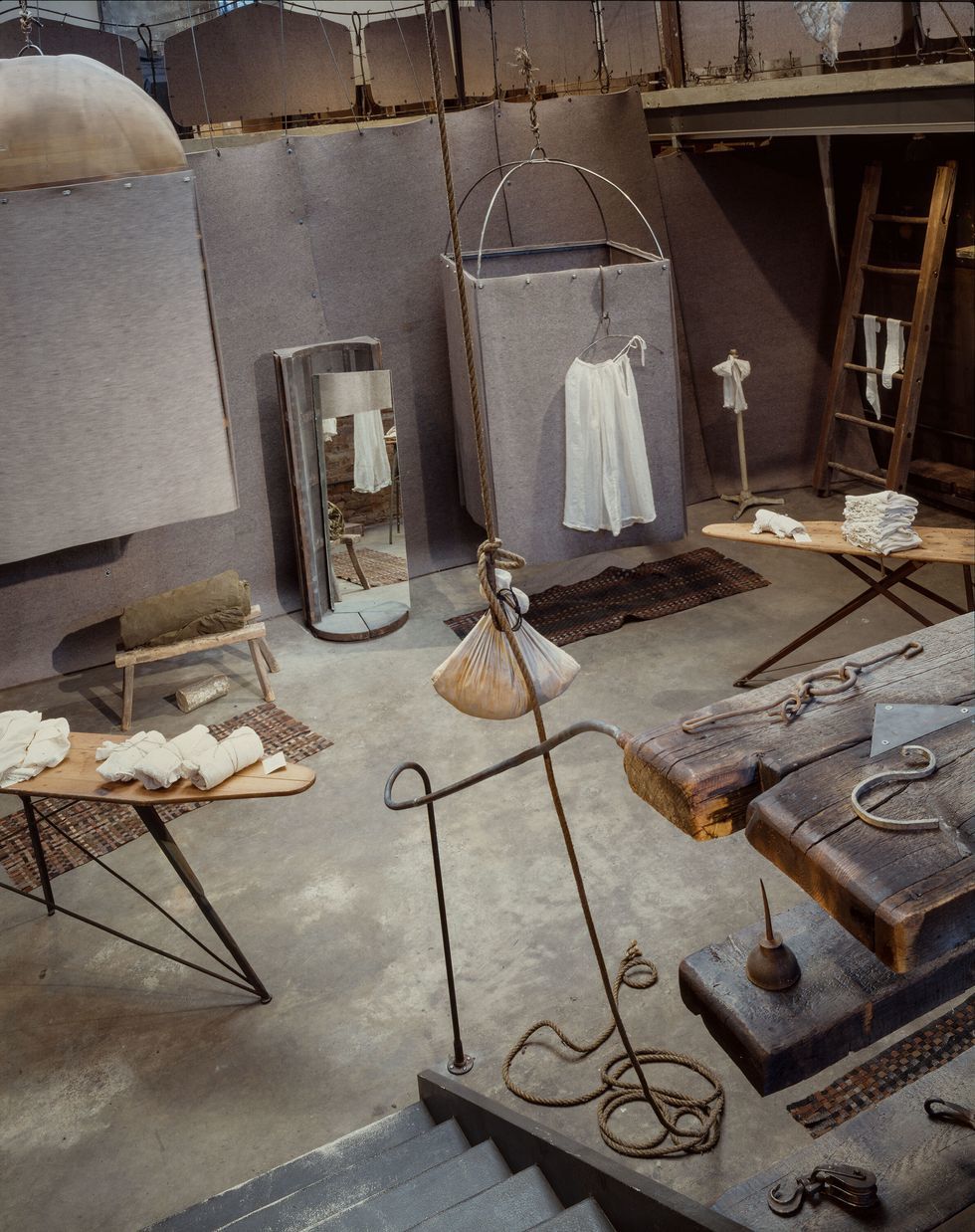 I did a show on sustainable fashion 10 or 12 years ago now, and it was still a very burgeoning thing, but you start to see it in the 1990s. There was more of a focus on environmentalism. Esprit had an eco-friendly line, and so did Moschino. Franco Moschino himself was really into environmentalism, and he actually did an entire collection that was sustainably focused in '94. It was just shortly before he passed. It was already becoming a thing.

There was also Margiela, who wasn't overtly addressing environmentalism, but he didn't speak about his work, so who knows? Lamine Kouyaté from Xuly.Bët is another absolute favorite designer of mine from this decade. He was repurposing clothing in the most amazing ways, and we were lucky enough to get a few of his ensembles from that time period that we would probably never get our hands on now. I always admired the work of those two in particular, so that idea of environmentalism in the '90s has always been on my mind.


Global Wardrobe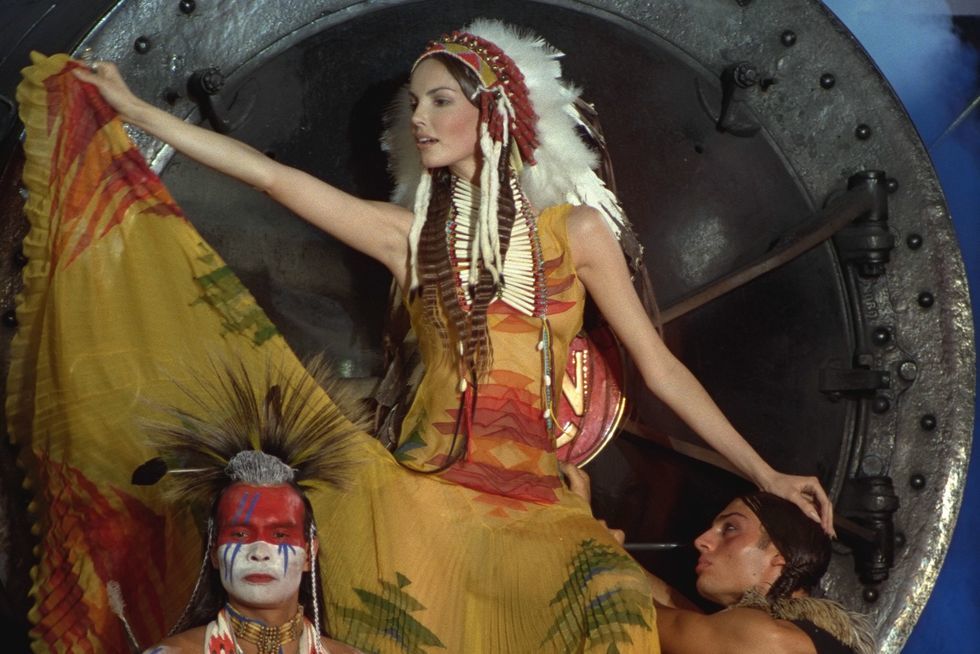 It was appropriation. I am not afraid to say that, because it's true. Galliano put forth a war bonnet in a Dior collection in the '90s, and that would never fly today. But we were already starting to see conversations during the 1990s about, for example, how it would be better that a Chinese designer do a China-inspired collection, rather than a Western designer or European designer looking to Chinese culture. My challenge was to address that this was a big part of '90s fashion and that this idea of the global wardrobe was something that was celebrated.

It's fine to look at it through our 21st-century eyes, but we also have to do that with some understanding and acknowledgement that absolutely no way would you do this Dior collection now. We've moved forward, and that's fantastic.

In general, this idea of globalism was more about possibilities for travel, this idea that the world was getting smaller. If you read interviews with Jean Paul Gaultier, he talks about how his work, which is considered cultural appropriation today, was his way of celebrating other cultures, saying how he went to these places. He thought they were beautiful, and that's the reason he wanted to work them into his collections. But now, of course, we're more aware of the implicationsขthe overlooking of people who are making these styles and not including them, acknowledging them, paying them. It was problematic, and we're much more aware of that now.