Though the wild tales of nights out at Studio 54 seem increasingly far-fetched nowadays, New York City has always been the epicenter of gay nightlife. Attracting performers, creatives, and like-minded individuals, LGBTQ+ nightlife spaces have historically allowed the community a space to freely express themselves and their interests without mainstream judgement. With the endless nights and outrageous wardrobes also came some of New York and mainstream culture's biggest names: Amanda Lepore, RuPaul, Andy Warhol, and countless others.

While the general society may not know the importance of LGBTQ+ nightlife spaces, these sprawling halls and tiny bars played a pivotal role-especially in the 1960s and '70s-in shaping the activism and values that guided the Gay Liberation Movement. Despite New York City's nightlife scene being hard-hit during the COVID-19 pandemic, these haunts will forever remain an integral part of the LGBTQ+ community. Here, L'OFFICIEL explores the tales, spaces, and figures that shaped and continue to influence New York City's gay nightlife.


Ballroom Culture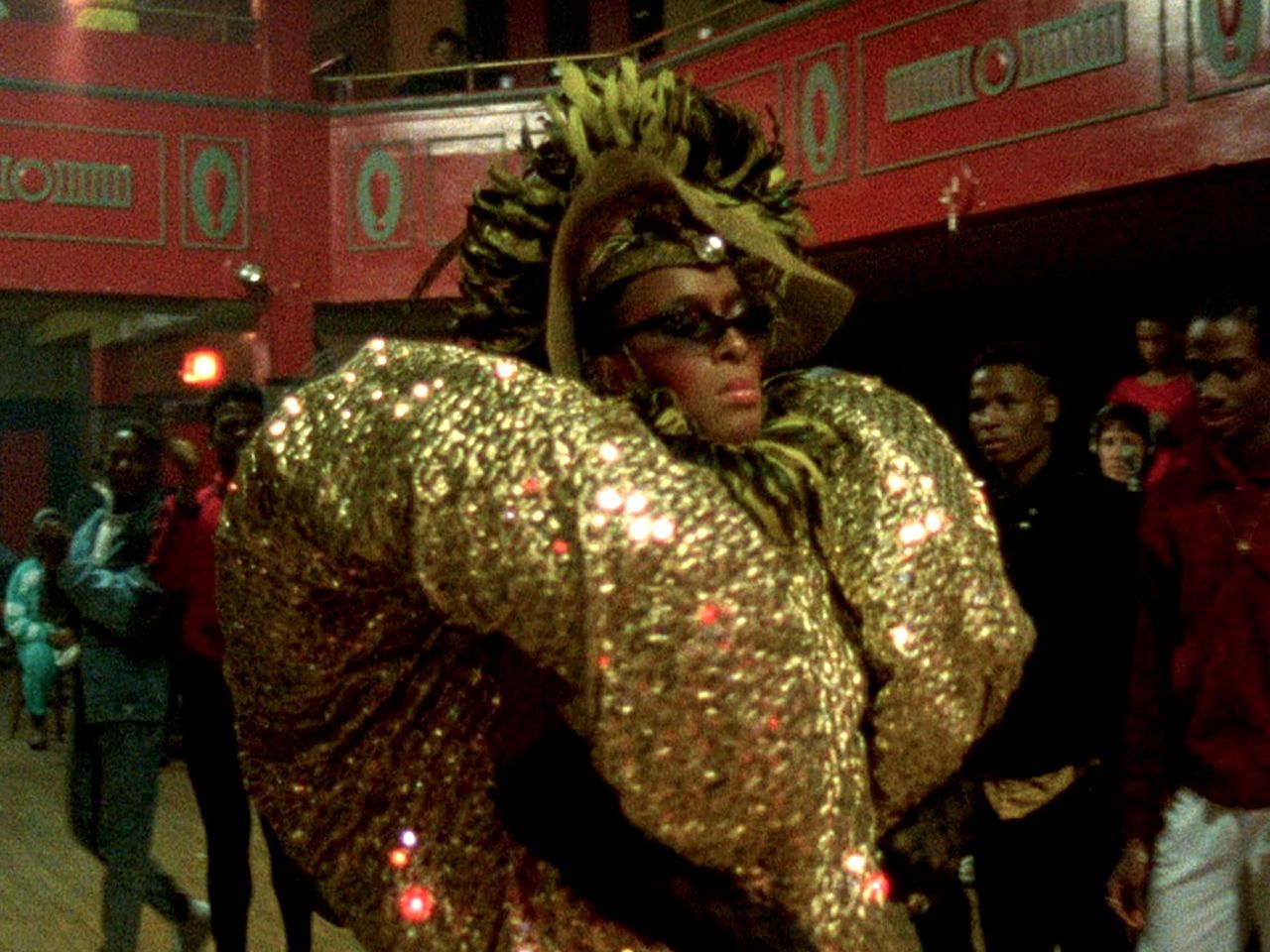 A still from Jennie Livingston's 'Paris is Burning.'

Harlem's Hamilton Lodge was a block-long event space on 155th street and 8th avenue that sparked the city's burgeoning drag ballroom scene. The Hamilton Lodge became an important space especially for Black, transgender, and gender non-conforming people. Powering through discrimination and harassment, Harlem became the city's original queer mecca. As the Harlem Renaissance was reshaping New York City's cultural and artistic landscape in the 1920s, the ballroom scene continued to flourish amongst Black performers and creatives. Filled with costumes, voguing, and competitions, these drag balls created a sense of self-expression, freedom, and community for LGBTQ+ New Yorkers who had been shunned from mainstream society. Despite being harassed by police and local communities, Harlem emerged as a major force with patrons fighting for visibility and acknowledgement.

Paris is Burning, the famed 1990 documentary by Jennie Livingston, offers an exuberant glimpse into New York City's ballroom scene throughout its boroughs during the 1980s. Following larger than life characters like Pepper LaBeija, Angie Xtravaganza, and Dorian Corey, the documentary explores the realities of the ballroom scene, identity, and the AIDS crisis. While the film offers insight into the challenges facing the community, it also explains verbiage such as "shade," "house," "mother," and "realness" to the audience. Pose, the hit TV-series by Ryan Murphy, offers further insight into the ballroom scene of the '80s as well as the challenges faced by patrons and community members. Ballroom culture in New York continues to this day with several balls being held throughout the city.


Leather Bars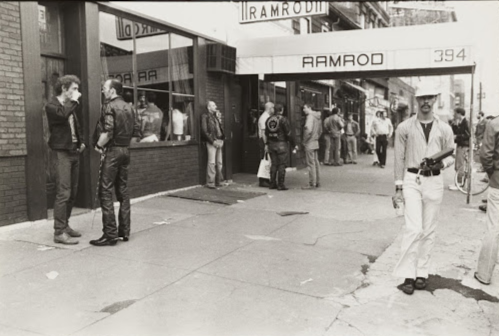 Patrons outside of RamRod, a leather club in Greenwich Village.

Emerging in the 1950s, leather bars and clubs allowed gay men to dabble in the world of fetishism and sexual freedom. Patrons of spots like The Eagle and Mineshaft would wear certain garments or symbols that would denote a specific sexual preference. Not for the faint of heart, bondage, harnesses, and BDSM-gear were mainstays at these spaces. Sporting a smokey and dark atmosphere, leather bars of the '70s and '80s were undoubtedly popular but were mostly diminished due to the impending AIDS crisis.

Often located in industrial parts of the city, these spots were routinely raided by police and widely criticized by the public for their overtly sexual nature. Tom of Finland, the homoerotic artist, took the majority of his inspiration from the city's various leather bars and clubs. Though many of the famed spots that were frequented in the '70s and '80s have since been abandoned, NYC is still home to a few leather clubs.


The Stonewall Inn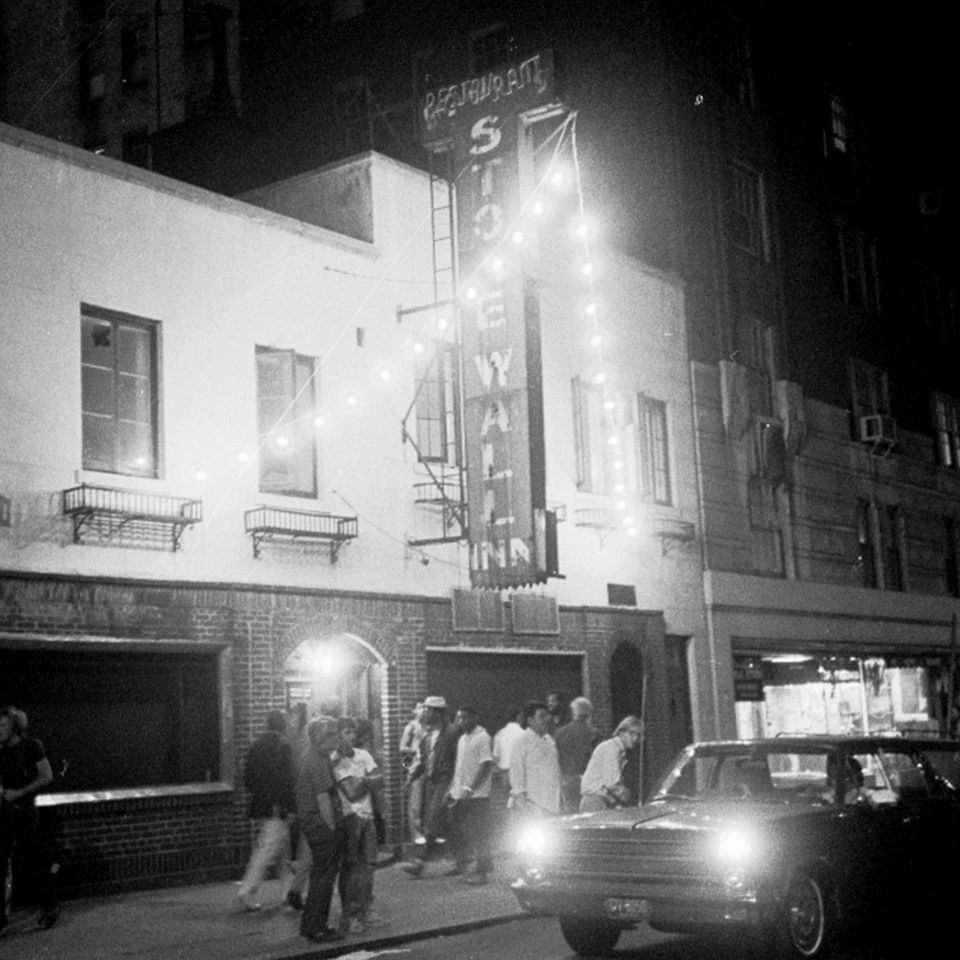 Outside of The Stonewall Inn, 1969.

Another pivotal point in New York City's gay scene, the Stonewall Inn largely sparked the Gay Liberation Movement. Located in Manhattan's Greenwich Village, the Inn became a favorite amongst community members due to its intimate setting and hit-filled jukebox. The Inn drew a diverse and young clientele and was one of the only spaces with a dancefloor where patrons could dance together.

In 1969, the Stonewall Riots forever changed the face of gay nightlife and the community in general. Led by Marsha P. Johnson and Sylvia Rivera-both transgender women of color-the riots responded to unfettered police violence and raids. The riots eventually led to the city's annual Pride Parade on June 28 that commemorates the event. Still in operation today with drag performances and flashy decor, the Stonewall Inn remains an undying symbol of perserverance within the LGBTQ+ community.


Studio 54 and The Limelight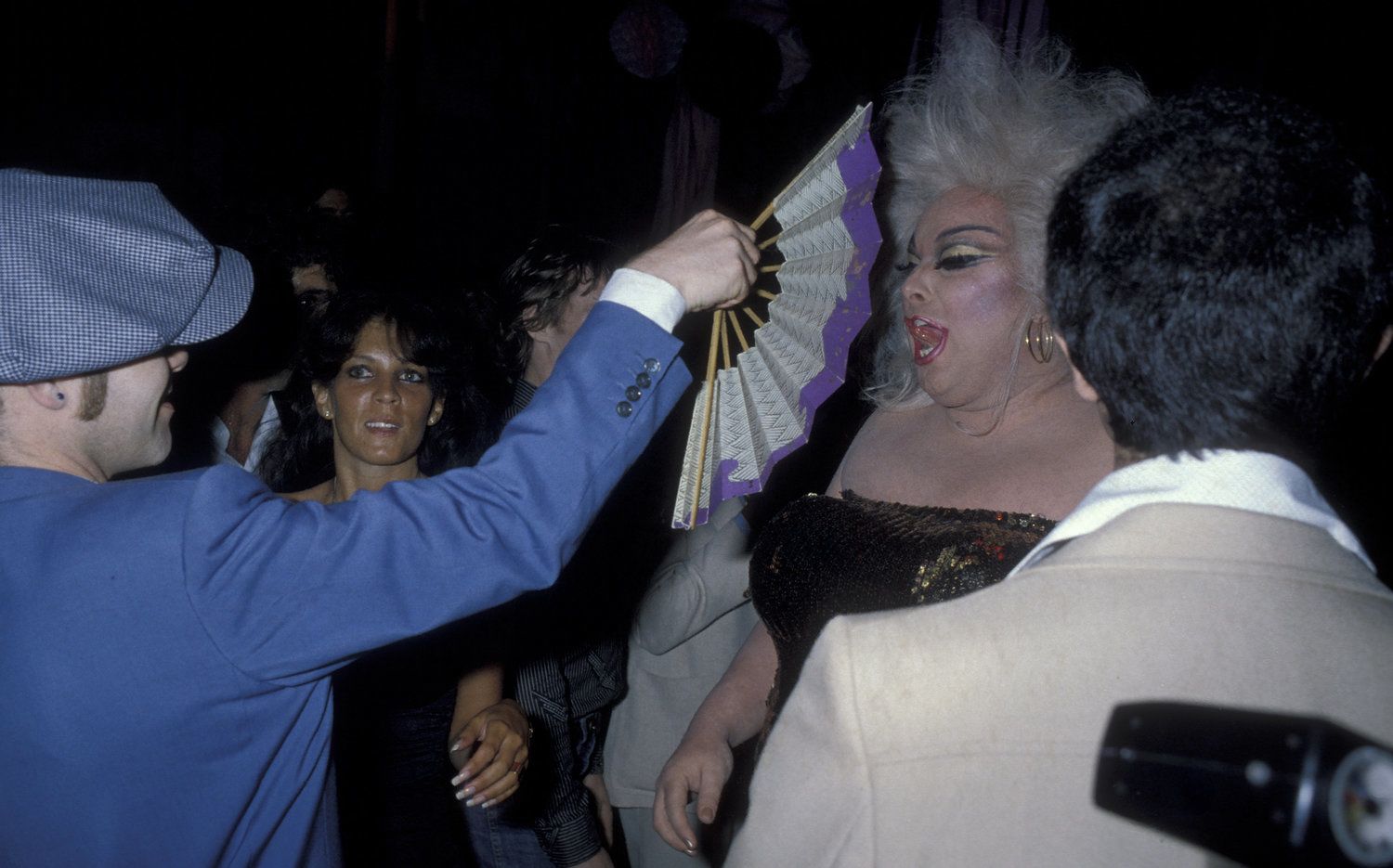 Elton John and drag queen Divine at Studio 54.

Though not advertised as specifically gay clubs, both Studio 54 and The Limelight exemplify the outrageous and freeing gay nightlife scene of the 1980s and '90s. The Limelight, situated in a church-like building on 6th Avenue was renowned for its industrial music while Studio 54 (on 54th street) was known for wild disco tracks and elaborate themes. Hosting some of pop culture's biggest names like Bianca Jagger and Liza Minelli, these spots also spurred "club kids" into the forefront of NYC gay nightlife.

Defined by over-the-top personalities and personalized wardrobes, club kids undoubtedly dressed to be seen all while toying with expression and identity. Emerging out of the club's scenes were LGBTQ+ stars and modern mainstays like James St. James, Susanne Bartsch, and Amanda Lepore.


Today's Scene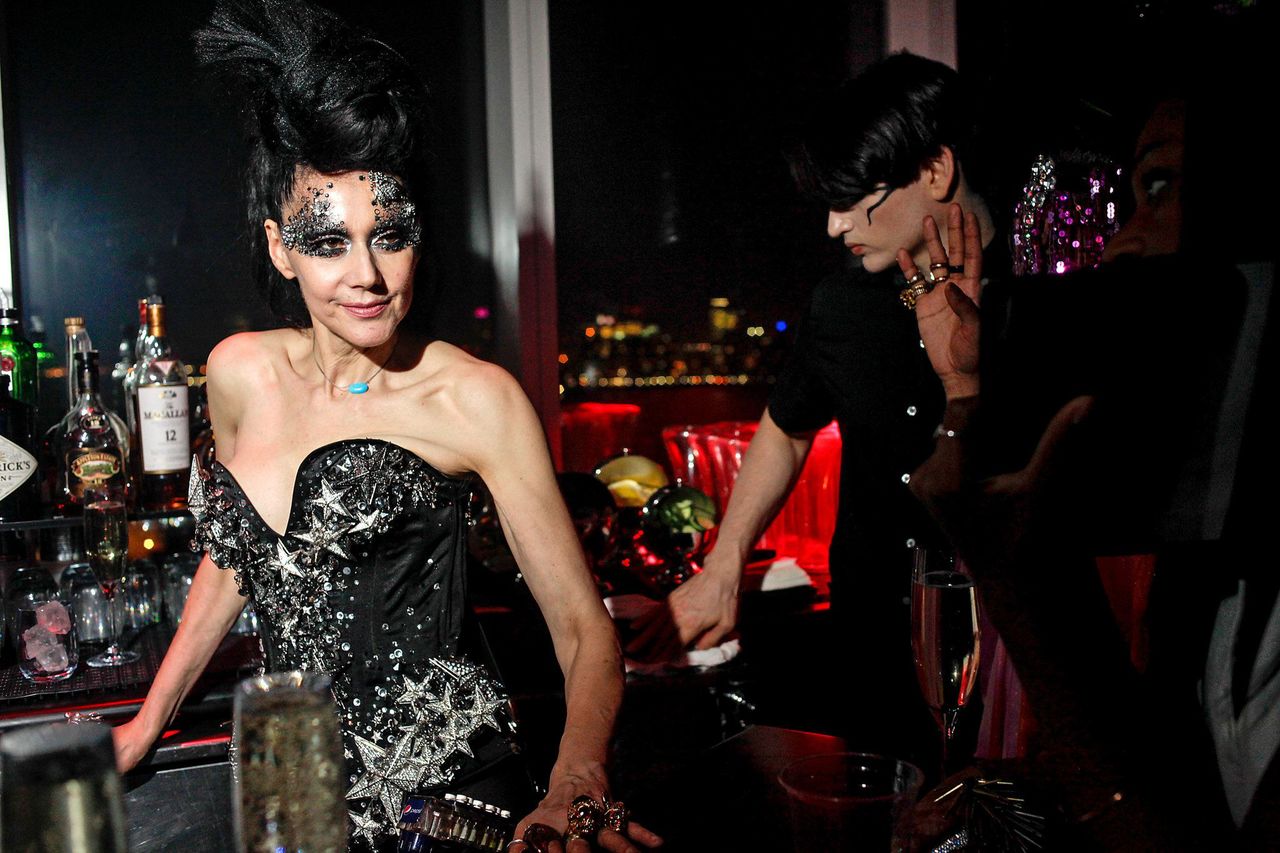 Susanne Bartsch at her iconic "On Top" weekly party at The Standard, High Line.

With restrictions for larger gatherings being lifted throughout New York City, the gay nightlife scene is returning just in time for June's Pride Month. Sprawling the city's five bouroughs, today's gay nighlife spots are a mix of casual hangouts, performance based-spaces, and techno bangers. Hell's Kitchen-home to many of Manhattan's gay bars and clubs-continues to be a favorite for the community and swanky spots like Metropolitan and The Rosemont flourish in Brooklyn.

Amanda Lepore and Susanne Bartsch are both still major players within the gay nightlife sphere, the latter of which hosts several weekly parties and performances at venues throughout the city. Bartsch's On Top weekly parties in the city's Meatpacking District have been a mainstay in New York nightlife. Drawing a diverse crowd of creatives, drag queens, and celebrities, On Top continues the legacy that was started decades ago-there was even a documentary, Susanne Bartsch: On Top, filmed about the party and its eclectic host. The renowned party is returning on June 26 for a Pride event, its first in over a year.