When the Tate Modern opened its 2012 Yayoi Kusama retrospective, the curators probably knew it would be big. It was, after all, the first major European survey of a ground-breaking conceptual artist. What they couldn't have predicted was the global frenzy that one of the works-"Infinity Room," a barber shop of mirrors infinitely lit with fairy lights-would ignite. Nearly a decade later, Katy Wan, the curator behind Kusama's two new iterations of "Infinity Room" opening at the British museum this summer, admits that the revival exhibitions' purpose is twofold: to provide access to visitors chomping at the bit to experience the artist's now widely-snapped installations for themselves as well as provide a moment of pause to "reassess Kusama in light of her rise to global acclaim, helped in recent years by the rise of social media."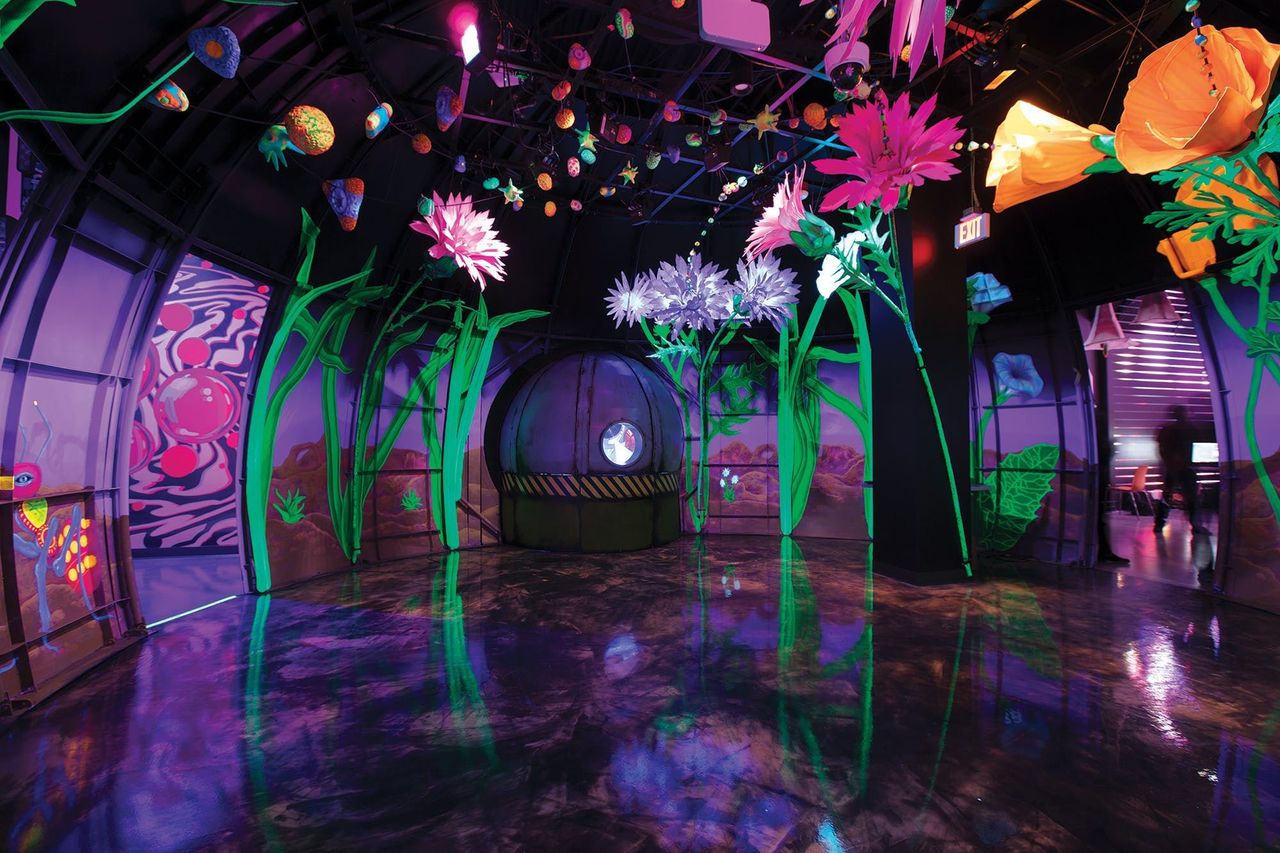 It was, however, the ubiquity of social media that brought the Museum of Modern Art's 2013 iteration of artists Hannes Koch and Florian Ortkrass's "Rain Room" to the attention of masses. Who could miss supermodel Karlie Kloss strategically backlit in a white skirt? Her caption of choice documenting her visit: "no umbrella needed #RainRoom." Of course, the only place one might have wanted one was in the queue that wound around the block for weeks. Surely Karlie didn't have to wait like the rest of us.

As the 2010s ticked by, the popularity of these all-body art experiences took off, nurtured along by hashtags and influencers but also by a bemused art world happy to see a new kind of engagement taking place in its halls. Museums took down their no-pictures signs, which had once protected visitors and paintings alike against the evils of flash photography. The hassle of individual photo documentation-stop, pose, click-became the rhythm of the art space and encouraged new curatorial infatuations. QR codes were installed as wall labels. People took pictures of them, too.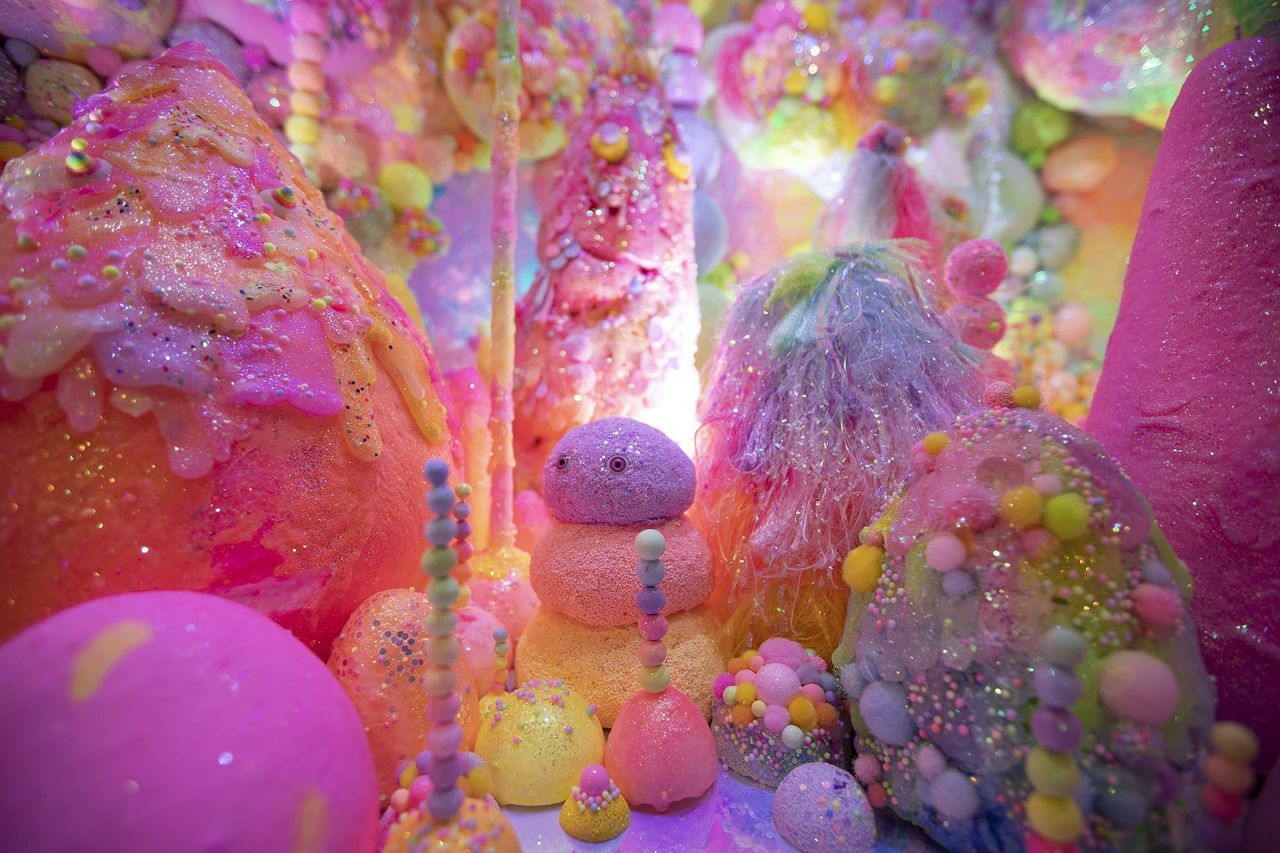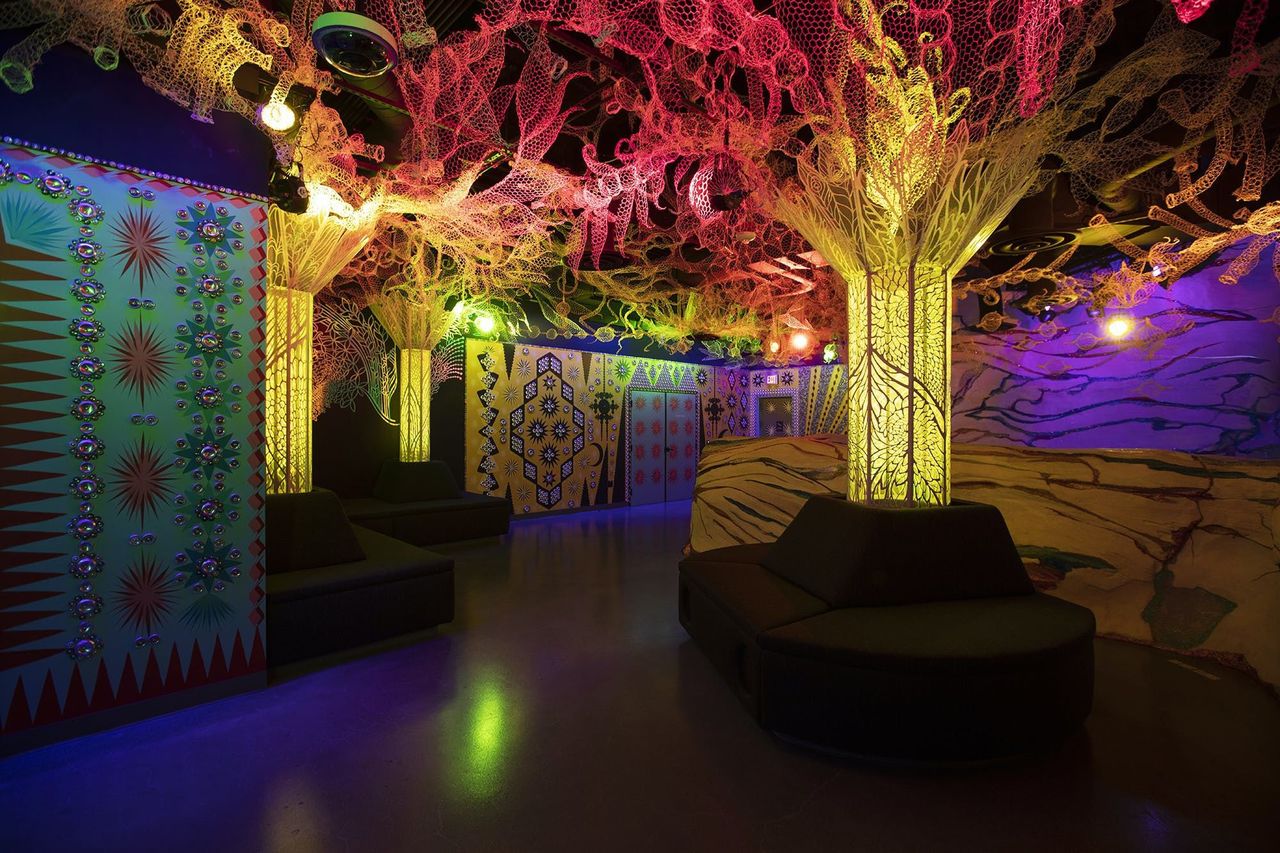 It was only when someone bothered to ask if all this was still indeed art with a capital "A" that the music stopped and the yardstick of context and pedigree emerged to parse out the intruders. Existing art institutions and galleries like David Zwirner, Jeffrey Deitch, MoMA, and the Tate could transform their halls into playgrounds, life-size AI puppet theaters, or giant hamster cages and call it art. Yet the sprinkle-flecked Museum of Ice Cream established in 2016 by Maryellis Bunn and Manish Vora was decidedly not, even though the dessert-inspired funhouse necessitated the labor and ideas of artists to be realized. If only its owners had focused on securing a gallery partner rather than corporate sponsors like Dove and Tinder, maybe it would've been better received by association. Luckily for Bunn and Vora, their fanbase doesn't seem to care. Its block-wrapping popularity wasn't squelched by an exposé of its abusive labor practices, nor by a global pandemic. This April, the Singapore Tourism Board announced that the country will be hosting the first international iteration of the MoIC after its expansion from its New York headquarters to a Miami pop-up. If anything, as a case study MoIC proves just how flimsy the word "museum" can be on its own.

The MoIC is a press-favored frontrunner in an expanded landscape of new experience-focused institutions that are charging ticket fees for the privilege of walking around inside Hollywood-studio-sized sets. The New York Times and other outlets have dubbed these startups as outposts of the"experience economy"-a new term that already carries with it the miasmatic whiff of canned frivolity, or worse, straight entertainment. Yet these spaces often try to eschew this kind of classification by any means necessary, including titular callouts to the high arts such as L'Atelier des Lumières in Paris and Artechouse in New York.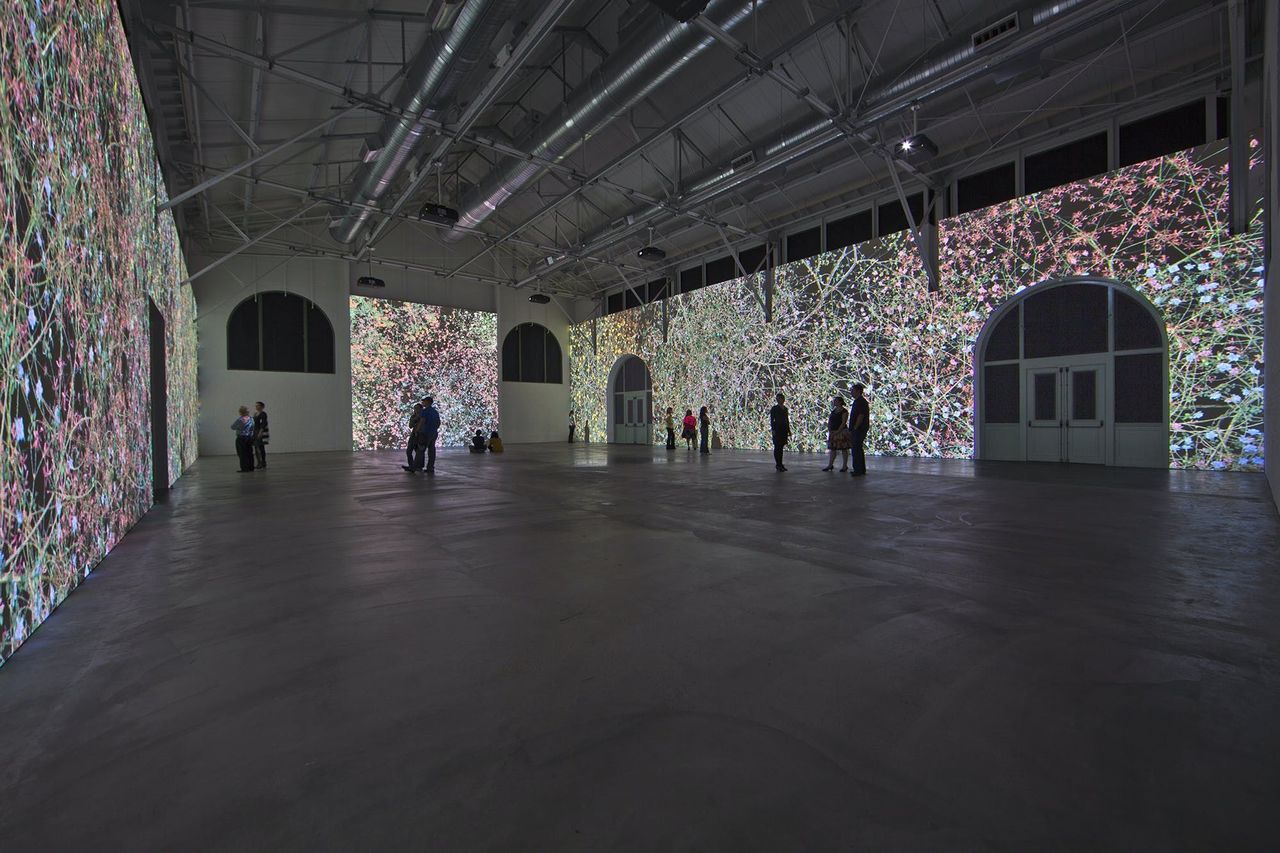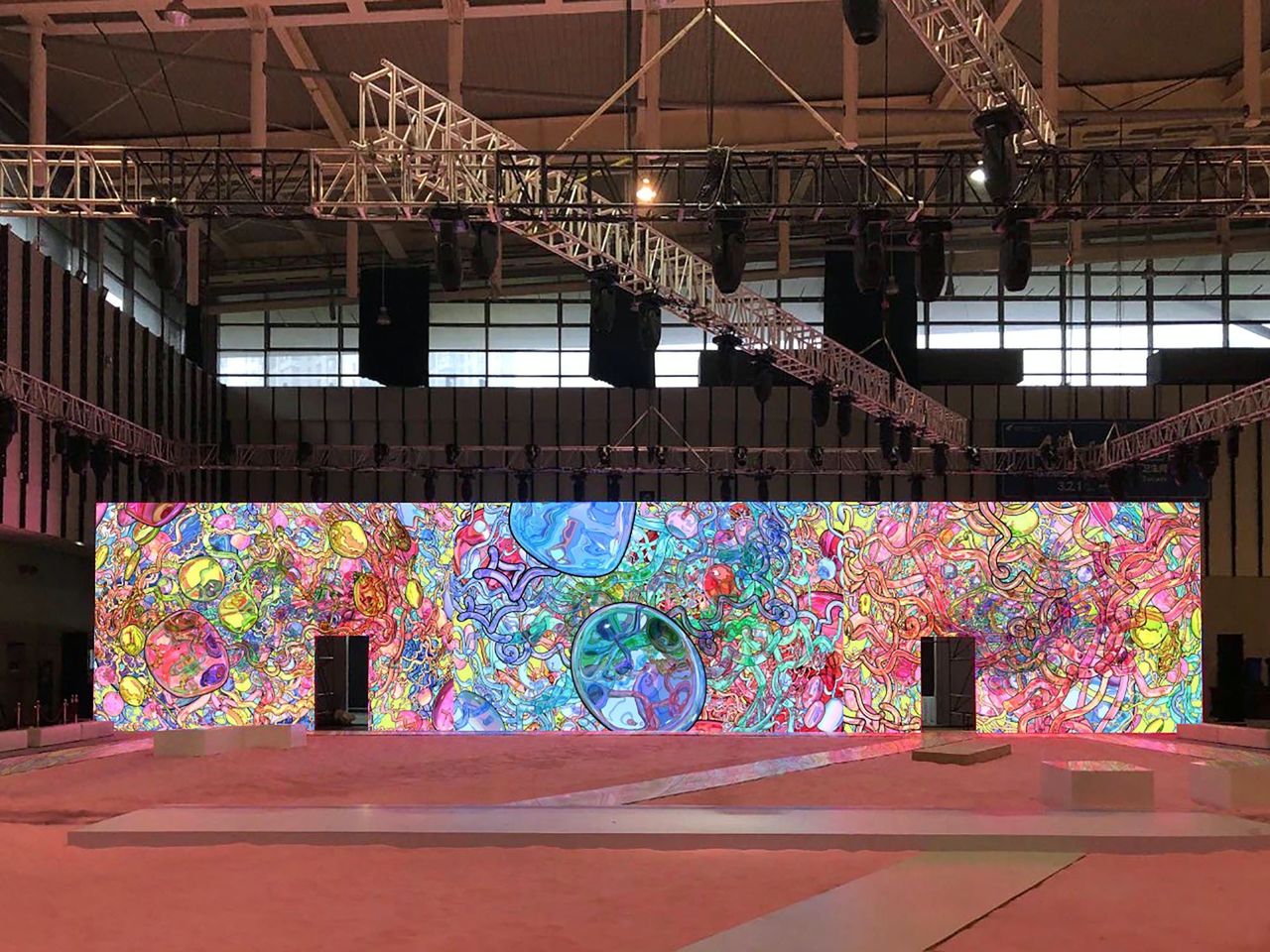 Meow Wolf is the exception-at least by name. Started by a group of artists in Santa Fe, New Mexico, the collective has grown over the past decade from a guerrilla-style psychedelic art and music pop-up producer into a multi-million dollar real-estate-holding conglomerate. Its goal from the beginning was to open up new audiences for working artists jaded by the conservatism and competitiveness that seemed baked into the existing creative taxonomies. Its most recent project is "Omega Mart," a haunted grocery store environment in which visitors are invited to meditate on the pitfalls of consumerism. "If there's anything that the art world has continually done over the centuries, it's been to reject something initially as not good enough to be art," states Caity Kennedy, a founding member of Meow Wolf and its Senior Creative Director. "So when we receive criticism for creating work that is too entertaining or popular or, worse, enjoyable, it's disappointing to me because it is a judgment that shows a lack of curiosity."

Indeed, it's easy to make a list of "haunted houses" that have been certified by the art establishment as "real art"-the Park Avenue Armory turned its drill hall into walkable Snow White hell in 2013 for Paul McCarthy's "WS"; three years later, Pedro Reyesproduced a political haunted house for Creative Time; and, in a project funded by Art Production in 2019, Lucy Sparrowcreated an interactive grocery store of felted products. That same year, Meow Wolf announced it was going to open an art hotel in Phoenix, while Hauser and Wirth debuted its own, the Fife Arms, in Scotland, and Maja Hoffmann announced the completion of several hotels convenient to her private art compound Luma Arles. "Anything sensory that doesn't have another function is a form of entertainment even if it's challenging or niche," Kennedy continues. "For any art world to assert an exception reveals more about the high entry point of their intended audience rather than what is art."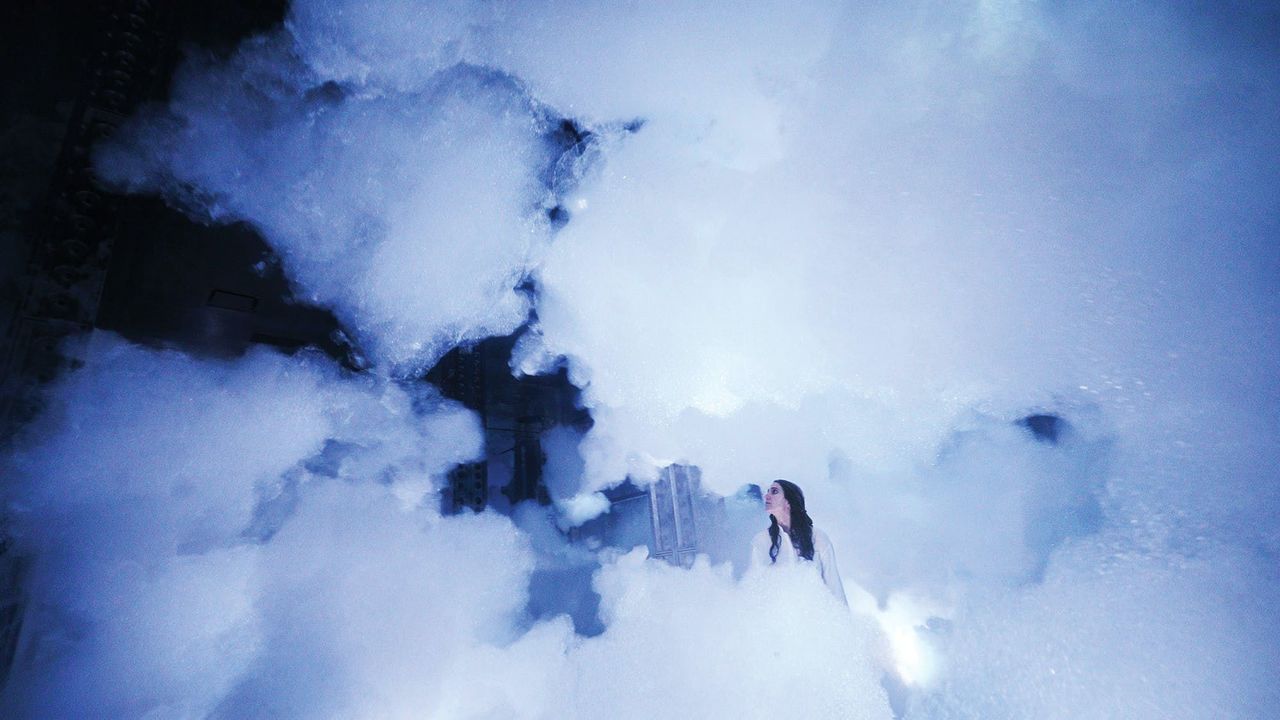 Superblue, a new hybrid institution backed by art world stalwarts Pace Gallery and tech disruptor Emerson Collective, threatens to confuse things even further. Its first iteration is on view in Miami next door to the Rubell Museum's legendary private collection, and includes installations by internationally-known artist hitters like James Turrell and teamLab, attracting both art world pilgrims and thrill-seekers alike. The project does not use language like "attractions'' to describe its programming as Meow Wolf does, though, and instead plans on forging its own architectural vocabulary. To this end, Co-Founder and CEO Mollie Dent-Brocklehurst sees the launch of Superblue as the first experiment in an ongoing dialogue driven almost exclusively by artists that were previously hindered by the limits of exhibition turnover and funding. She explains that the ability to create year-long residencies and generate ticket sales allows the new institution to back dream-sized immersive artworks that normal galleries and museums cannot. "Ultimately we are here to serve artists and help them stage their most ambitious projects without limitations," explains Dent-Brocklehurst. Like Meow Wolf's Kennedy, Dent-Brocklehurst is dubious that "experiential art" is a new genre, preferring instead to see Superblue as an evolution of the work started by Land Artists, architecturally minded practitioners like Colette and Gordon Matta-Clark, and institutions like Mass MoCA, The Kitchen, and the Armory, which have always lent their halls to large scale ambitions.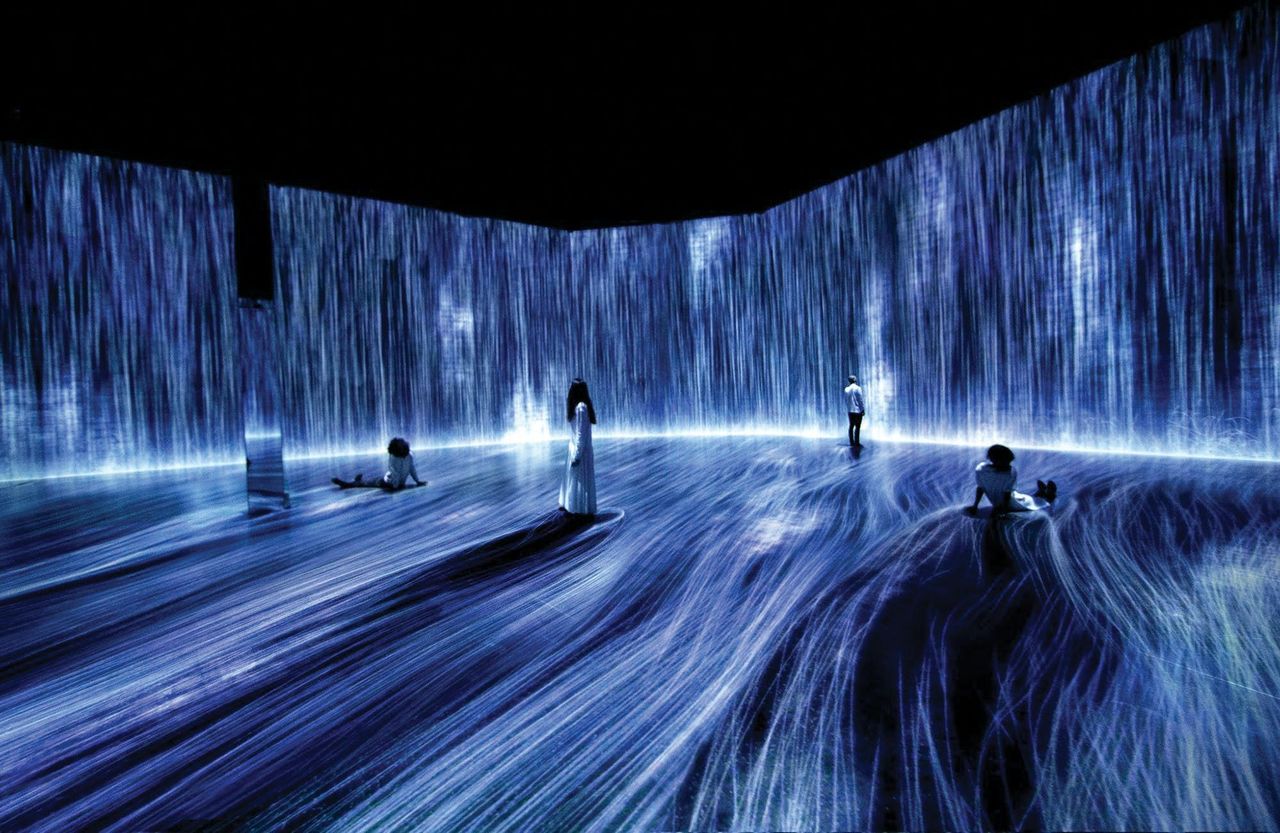 It's true. Digging into the history of art spaces, it's impossible to mark when they became experiential. The Louvre, for example, first let people roam its halls when artists were still in residence working on canvases that draped from floor to ceiling. MoMA's founding director Alfred H. Barr Jr. famously hosted "Joe Milone's Shoe Shine Stand" in the building's lobby in 1942, offering museum-goers a chance to get their own shoes polished in the bejeweled throne of Sicilian immigrant Joe Milone. (Eventually Barr was thrown out by the boardfor being too avant-garde.) Even if the relationship was not recognized in real time, it's impossible to deny that interactivity has always been foundational to art spaces and their success. Perhaps this means social media's current dominance in conversations is only a phase-a growing pain that will soon collapse into our understanding of these institutions. If the past is any indication, artists will have to lead the way.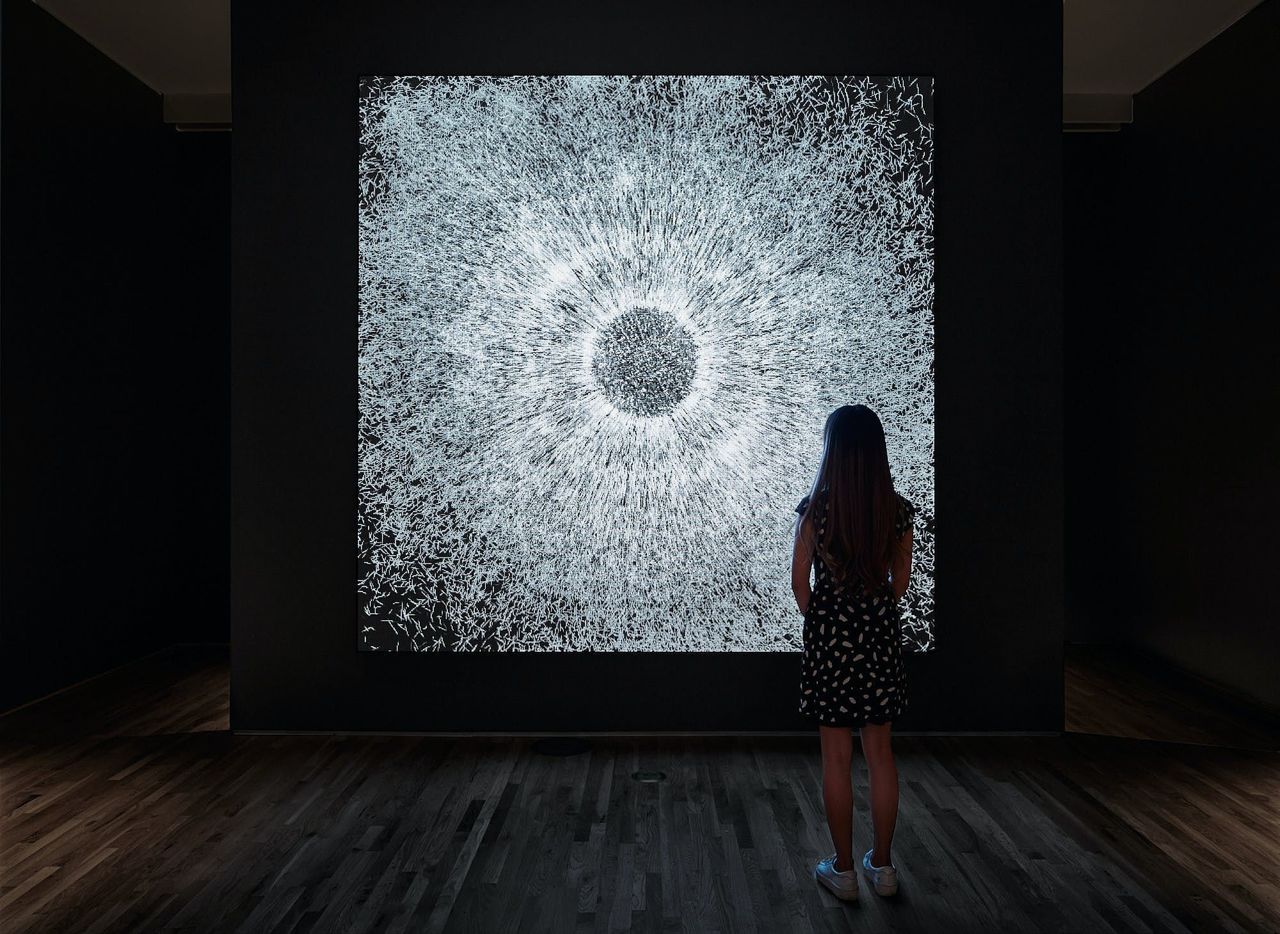 When Leo Villareal, a Pace Gallery-represented artist with Superblue projects already in the works and a career focused on public interventions, is asked how to negotiate social media dominance in these spaces and the sense of gimmickry they create, he pauses. "I don't mind people documenting. I'd like for people to have an experience where they feel comfortable to [do] as they please," he says. "But part of me thinks that perhaps if the conditions were right, my work could be a space where you might want to put away your phone and just be. Then you could do whatever you want without feeling the pressure that you need to perform an interaction-whether that's for the sake of the work or for social media likes. What makes me optimistic about Superblue is that they are actively engaging in these discussions. Accessibility is an afterthought but [an] essential ingredient every step of the way from the philosophy to design and funding."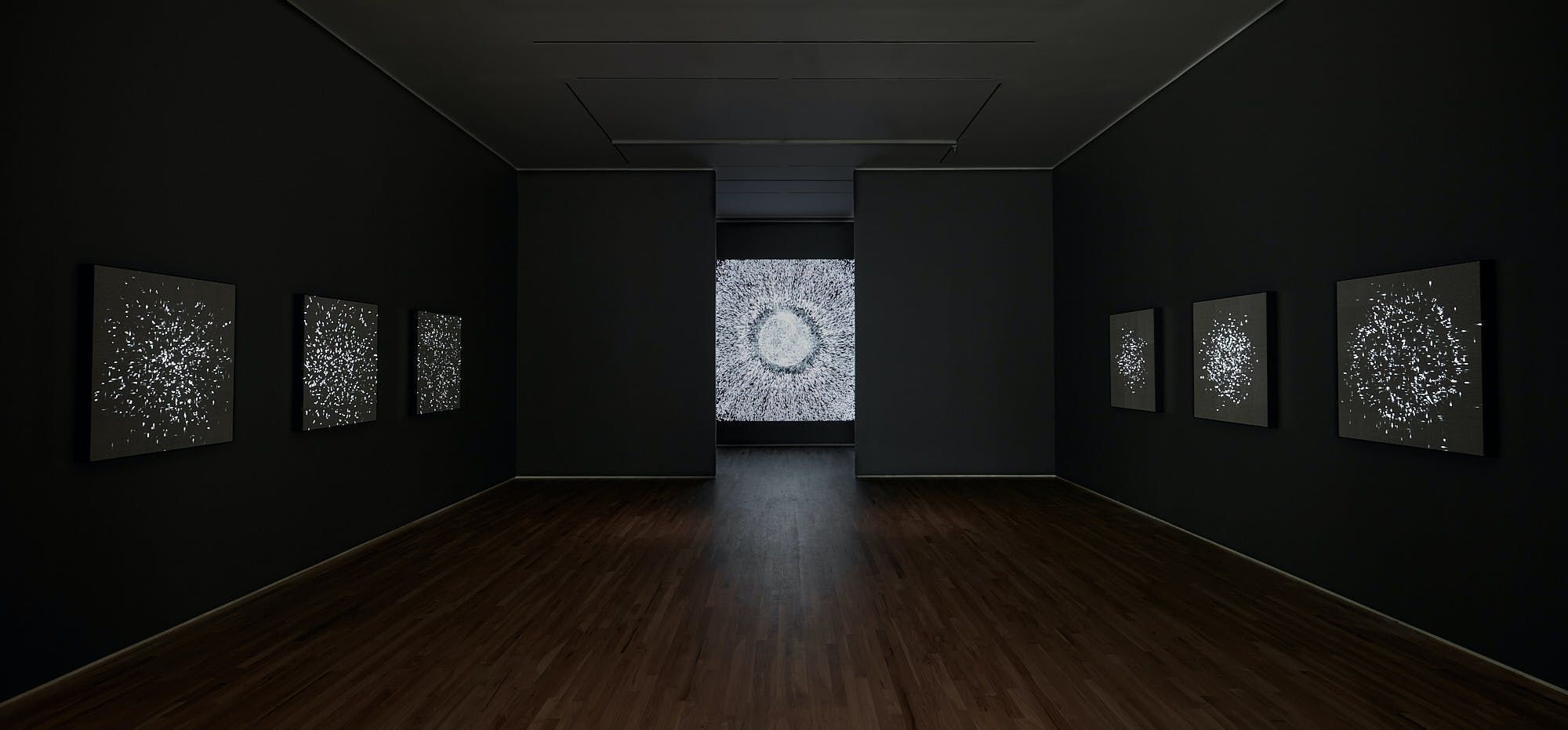 Villareal's emphasis on a kind of generosity as essential to this kind of work is echoed in a conversation with artist Jennifer Steinkamp, a veteran of this field who began projection mapping before the term existed, bringing to life her multi-channel environments which vaporize the boundaries between image and architecture. Steinkamp says that gratitude is perhaps an essential ingredient in all installation art, because from the beginning the artist has a sense of duty as a host." When you're dealing with audiences, you must acknowledge you've taken steps to manipulate their spaces and take their money," she says. "There is a certain amount of generosity that needs to be reciprocated." Steinkamp isn't yet sure what she thinks about Superblue's Miami location, but does know that the billboards around LA advertising an immersive Van Goghexperience drive her mad. She agrees that these are inherently different kinds of venues, though Steinkamp is loath to put a name to exactly why living artists should always be involved in the creation and maintenance of art spaces. "It's all a matter of intention in the end," she says. "You really would need to ask the artist and then you might find the answer." If Steinkampis a crystal ball of technologies to come, fortunes are looking up for Superblue and Meow Wolf, so long as they keep their eyes on the art.