Even the waiter is bemused. "Will Ms Lange be coming back?" he asks, eyeing the cutlery resting on a not-quite-demolished plate of beetroot salad. No, actually. She left the restaurant so fast that I'm worried for her health – or at least her manners. I had my fork in my mouth when she checked her watch and said in her soft, drawly voice: "Well, it's 10 to 7. I've got to meet my daughter. Sorry to eat and run." Then, shyly, "I hope there wasn't anything else," as she gathered her things. I was still chewing my mouthful of frisee salad when she kissed me fragrantly goodbye. I sat back down, gaping slightly. Then I realised. The past 80 minutes has been leading up to this point.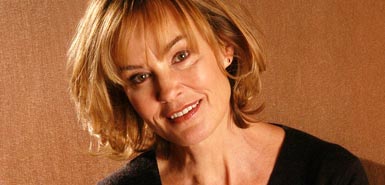 She pushes through the heavy glass door, and is greeted like an old friend by the staff at Knickerbocker Bar & Grill in Greenwich Village, New York. I'm waiting at a corner table described by the waitress as "Jessica's usual". The restaurant is dim and chilly, almost empty, but outside the August air is thick and the streets are crammed with noisy students from nearby NYU. As she crosses the restaurant in expensive-looking heels, a black sweater and blue jeans, her smile cools to the professional greeting she clearly saves for journalists. We shake hands as she slides into the booth opposite me.
"Hello. Nice to meet you," she says, smiling the white smile. She seems wary – the brown, ringless hands giving her away. They're never still, self-consciously brushing back her fine shoulder-length hair, first this hand, then that, then both. She fiddles constantly: gesticulating as she speaks, straightening the cutlery, opening and refolding the napkin, then back to combing her hair. When she touches the too-smooth forehead the hands betray her 59 years. In contrast, her lovely face, bare of make-up, is almost lineless.
I had suggested that we meet at the Museum of Modern Art, which has an outstanding photography collection, but that was politely resisted by her office – it seems you don't suggest to Ms Lange. She moved the date of our interview three times, and the time twice. She also chose the restaurant, a few blocks from her home. I discover she's done publicity interviews for films here before, probably at the same table. There's a sense she's going through familiar motions.
We're here today because she's releasing a book: 50 Photographs by Jessica Lange. Photography has been a lifelong interest of hers, less celebrated than her acting but perhaps closer to her heart, something in between a hobby and a compulsion. "I wouldn't call it a hobby; it's more than that, but it's not something I look to do professionally, which is nice because it takes the pressure off," she says. "I remember going through boxes of photographs, even as a child, and being intrigued by them – that ability to capture a fleeting instant on film as a record of time and space."
Lange has always collected photography, particularly Josef Koudelka and Henri Cartier-Bresson, and takes her camera on all her travels, but she has never exhibited her work. She's excited about the book – her first – and beams as she talks about it. "I always took photographs without any intention of showing or publishing them. There was no endgame for me – I just love taking photographs. You have this kind of relationship, this communion with the camera. It's all about what you see. It's not a performance."
Is it a relief to find herself the other side of the lens? "It's the perfect counterpoint to working in film or theatre because it's so solitary. I love it. I love the anonymity, where you're just… watching, not being watched, you know?" She looks at me and narrows her feline eyes, trying to gauge my understanding, and continues: "Which, of course, is all I'm used to – it's the essence of acting."
Does it bother her being looked at? "Well, I'm quite shy by nature," she says. I point out that acting is an odd career choice for someone who is shy of the public gaze. "I know. But the great thing about acting is that it's not you. It's a disguise, a masquerade. You're pretending to be someone else. It's what made it easy for me." She lowers her eyes again, twirls the straw in her iced tea, and I wonder if Jessica Lange is wearing her disguise this afternoon.
Lange was born in 1949, the third of four children, and grew up in Cloquet, Minnesota. She has spoken frequently about her late, larger-than-life father, who encouraged her to be independent and whose approval she desperately sought as a child. "With my father, nothing I did was ever good enough," she has said. "With my mother, everything I did was enchanted. What I got somewhere in between was a real strong sense of myself. The ability to remove myself when things got tough was my survival technique."
In 1967, aged 18, Lange won a scholarship to study photography at the University of Minnesota. While there she felt oddly dissatisfied – "Yearning, and I didn't know what I yearned for." So she left in the middle of term with her boyfriend and tutor, the Spanish photographer Paco Grande. Without telling her parents, Lange travelled with Grande to Europe and arrived in Paris in May 1968 during the student riots. "I thought, 'This is so exciting. It's where I want to be'." She lived a bohemian fairy tale, hanging out with an elite band of photographers and artists, and trained as a mime artist. She and Grande married in 1970, but Lange has said she "never took marriage seriously".
As the relationship became increasingly troubled, Lange felt herself "drawn towards acting, that flight into the imagination where you can turn the fantasy into reality". She returned to the US and waited tables in New York while she launched herself as an actress and model.
Does she regret giving up on photography as a career? "It wasn't something I was serious about then, and I wish I had been," she says. "In Paris I was in the company of some of the greatest photographers of the time – Robert Frank, Danny Lyon. It wasn't that I was put off or intimidated – I just didn't have the passion for it that they did. I wish I had; it would've been great to have been paying attention."

Lange got her first part as Dwan in the 1976 remake of King Kong. The film flopped and Lange was singled out for criticism – just another Hollywood blonde. "The press was just voracious," she says. She didn't appear in a lead role again until 1981, when, to wide acclaim, she played the adulterous waitress Cora in The Postman Always Rings Twice alongside Jack Nicholson, and her career snowballed. The same year, she and Grande divorced. By now she was with the Russian actor and ballet star Mikhail Baryshnikov, and they had a daughter.
Until then – in the "early years", as Lange calls them – she was haunted by melancholy. "It was a deep depression, a profound loneliness I was filled with." This tendency to depression is a demon she has wrestled with in life but been inspired by in her career. Some of her most successful parts have been dark, tragic women on the brink of emotional collapse: the disturbed, imprisoned actress Frances Farmer; the morphine addict Mary Tyrone in Long Day's Journey into Night; Carly, the gorgeous, volatile army wife in Blue Sky, for which she won her second Oscar in 1995 – her first was in 1983 for best supporting actress opposite Dustin Hoffman in Tootsie. She has carefully selected her roles for their intensity. "I'm not interested in playing characters where there's no meat on the bone – it's too much work to flesh it out," she says. "To me, a part is easier the huger it is."
Lange understands the turmoil at the core of these roles, having experienced it herself: she has made no secret of her concerns for her own mental health at certain points in her life. Has she exorcised her demons now? "Well, there's always that concern. How far are you away from madness at any particular moment?" She laughs inexplicably. "Some of the characters I've played – Blanche [in the remake of A Streetcar Named Desire], Mary, Frances – were quite mad. That was great, because I was able to go through that madness too, in a way you try to keep at bay in your own life if possible. But once I had kids, they filled my life so totally, you shift from being the centre of your universe to being on the outskirts, and I think that's good."
Lange met, and fell instantly in love with, Sam Shepard on the set of Frances in 1982. Soon afterwards she moved out of the New York house she shared with Baryshnikov, and has been with Shepard ever since, though they've never married. They have two adult children. As a couple, Lange and Shepard are deliberately un-Hollywood: they've never lived in LA and only moved to New York three years ago.
At heart, Lange is very much a country girl. "I really miss it – opening the door and walking out into the grass, living outside as much as you live inside. New York is a very inside way of living. I don't like that much." This sentiment shines through in her photographs: faces peer from dark interiors out into the light, train tracks stretch into distant horizons, a young couple laze in the grass. None of her photographs are posed. "I have a hard time pointing my camera in a way that would invade someone's territory. Most of my photographs are shot as if I'm not there. I never come up into somebody's face; that would be way too impolite. I just don't have it in me to do it."
All of Lange's work is shot without flash in natural light, even at night, which gives it a grainy quality and sometimes a haunting blackness. In one image, a girl's face is totally obscured by shadow as she is led away by a woman, and in contrast her white dress is radiant. It's beautiful and slightly sinister. Has Lange let her own, self-confessed dark places influence her photography? She frowns. "I'm certainly drawn to the mysterious in photography. I love things that are not explained and not obvious. I like it when you look at a photograph and there are hidden things about it."
After she gave it up for acting, Lange didn't begin photography in earnest again until 15 years ago, when Shepard returned from location in Europe and presented her with a Leica. Her book has an introduction by her friend Patti Smith, the "godmother of punk" and herself a photographer (as well as a former girlfriend of Shepard's). In it, Smith describes the collection as "Stills from the film of the eye of Jessica Lange".
Lange is self-taught in photography. She doesn't feel other photographers have influenced her work, though she says her acting career has informed it. "I love a dramatic setting, where the light has a certain emotion to it and you get a theatrical feel to the shot. I'm sure that has to do with cinematography – observing how shots are set up."
The waitress arrives with her order of beet salad, and a mountain of french fries, which she picks through with her fingers and dips in ketchup. "Feel free to help yourself to some fries," she tells me. She says she doesn't diet to maintain her slim frame: she walks, gardens and swims. "I've never been a workout queen. I can't think of anything more boring." Jack Nicholson once described her as a cross between a fawn and a Buick. At intervals, her sense of fun twinkles through; her smile is easy and she laughs a lot, but she's never off her guard or far from pushing her point.
Lange has always been politically minded. She has spoken out against the Iraq war, and campaigned for Barack Obama in the primary season of the presidential elections. As we talk, the Democratic convention is taking place, and she's looking forward to watching Bill Clinton's speech that night with her family: "We have a perverse interest in what he'll say – will he mind his Ps and Qs or not?"
In the lead-up to Iraq, she came under attack from supporters of the war, which she still finds hard to believe. "The country was so blinded by 9/11, and what followed was this jingoistic fervour that was really alarming. The Bush administration fed the nation a diet of fear, so if you spoke out against the war you were a traitor. People like me were actually accused of endangering the troops. It was mindless.Hopefully, Obama will be elected and there'll be some kind of intelligence at play; intelligence, conscience and goodwill. As a nation, over the last eight years we have plummeted to an all-time low. It's hard to come to grips with."
Lange's softer side is most evident when she talks about motherhood, a role that took precedence over any of those she has taken on stage or film and led her to turn down some potentially career-defining parts: the lead in Gorillas in the Mist, for example, for which Sigourney Weaver was nominated for an Oscar.

"It was this need I had, this overwhelming need to be with my kids. It wasn't something I even had to think about. They came first. I had my share of ambition but it wasn't enough to propel me at the expense of everything else. Family was more important. I look back now and think, 'Why didn't that part come along now my kids are grown?' Because I'd have loved to have done it."
Lange is an ambassador for Unicef and Save the Children. In 1992 she fostered a three-year-old girl from an orphanage in northern Romania, the Institute for the Unsalvageables. "It was horrific. All the children were medicated, because it was easier for the staff – no one to talk to them, to love them," she says. She took the girl back to the US in the hope of adopting her. But the child was badly damaged by neglect, blind in one eye and unable to learn to speak. Eventually, Lange had to hand her to an experienced foster family in California. It can't have been easy giving a child up after having accepted her into the family. "Mmm hmm," agrees Lange, nodding. "But I think it was for the best. She didn't have any language, and would get extremely upset by even the slightest change. With us always going on location and travelling, I don't think it was fair. But she stayed with us for a couple of years, got really healthy and learned to walk, and now she's happy with her wonderful foster family."
So what next for Lange? There's a film next year, Grey Gardens, with Drew Barrymore, based on a documentary made in the 1970s about Jackie Kennedy's aunt and cousin, both called Edith Beale. It's an odd but compelling tale: the reclusive pair withdrew from New York society to their sprawling house on Long Island, where, increasingly eccentric and co-dependent, they lived in squalor surrounded by feral cats. It would seem right up Lange's street, but for a resolution she made two years ago: "No more mother roles." She puts her head back and laughs. "Well, Edith Beale was a mother role you couldn't say no to. I think I was talking about the ingénue roles, the girlfriends, the mothers, the wives who were part of the formula but weren't full within themselves – they were a waste of time.
"I'm coming to the end of my acting. It's a decision I've made. So I'm only going to do it for a couple more years. And it's rare you get a character like Edith Beale. Twenty years ago all the characters felt like that, but now it's become very sparse. I don't want to keep doing it for the sake of doing it. And I've done it a long time, you know?" She looks at me again, searching for a sign that I get it. I do. It's a plan and she's sticking to it.
She carries on: "There are a lot of other things I'd like to try. I don't know what they are yet, but I don't just want to be an actor all my life. I want to try something that really shakes your life up completely, something unknown, that you have to throw yourself into the way you did in the beginning… I don't know."
Even now, visibly more relaxed than when she arrived, Lange seems weary of talking about herself. As if by way of explanation, she says: "For me it's always been the acting process that's most interesting – the discovery of it, the creation of this character. But in the nature of what you do, when it's finished and put out there, there's this whole response to it, the part that comes back at you." She shakes her head. "I'm not even talking about the critics. I love acting – I have from the time I started. But I've always hated that feeling of being judged. What little ambition I did have has ebbed to such a degree that it's going to be hard to sustain any interest in acting."
More photography, perhaps? "I hope so, but I don't know what form it will take. It's not like I want to approach it in a commercial way. I can't imagine going on assignments…"
I notice an intricate tattoo on her inner left wrist. I ask her what it means. "It's a Celtic knot," she says, examining it. "It's supposed to represent the continuity of life. I got it 12 years ago." Does she have more? "I have one other, on my hip, that I got when I was in my twenties."
Then she turns her wrist over, looks at her watch and says: "Well, it's 10 to 7." And, just like that, Jessica Lange has had enough.