After Lady Gaga donned her red and black Schiaparelli Haute Couture dress with the golden dove to sing the national anthem at Joe Biden's presidential inauguration ceremony, designer Daniel Roseberry released the Maison's Spring/Summer 2021 Haute Couture collection. "But who says couture should be like this?" wonders the American creative director: "In my third collection for Schiaparelli, I wanted to challenge the idea of what couture should be, with clothes that respect the tradition of this Maison and the art behind it, without clichés associated with the genre. I want to create an alternative couture house."

For this Haute Couture collection at Paris Fashion Week, Schiaparelli showcases unexpected garments are presented such as blouson leather trousers and cream-colored denim jeans re-imagined in faded and double-faced duchess silk, studded with hanging golden locks. "We started by discarding the usual couture silhouettes. I wanted to take pieces that 'shouldn't' be shown in this context-the pants, a bomber jacket-to invite people to see them in a new guise," says Roseberry. There remains the passion for draping with alternative fabrics such as silk velvet tied to neoprene and the column dress draped in a sinuous elastic silk jersey.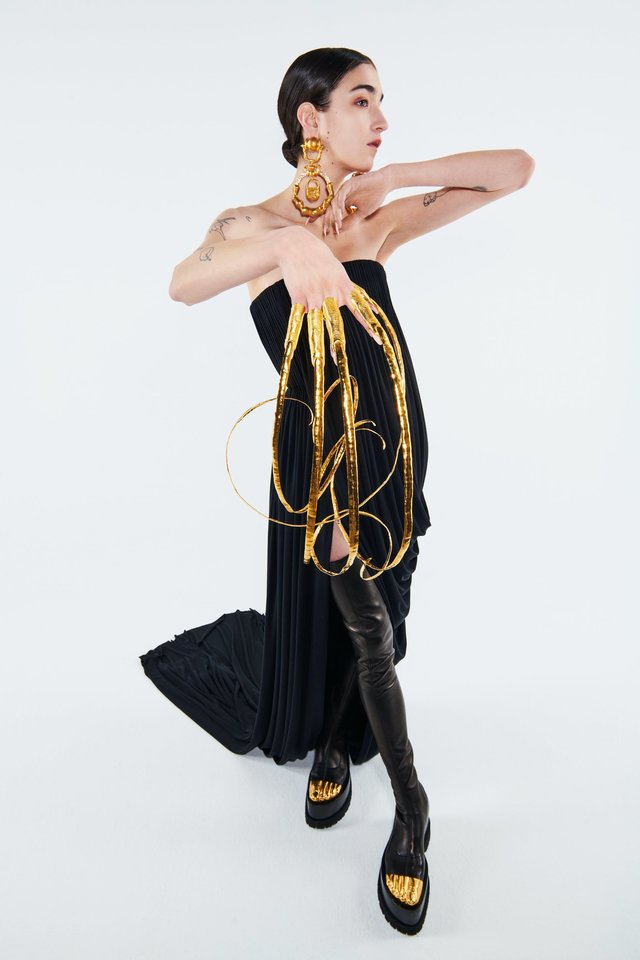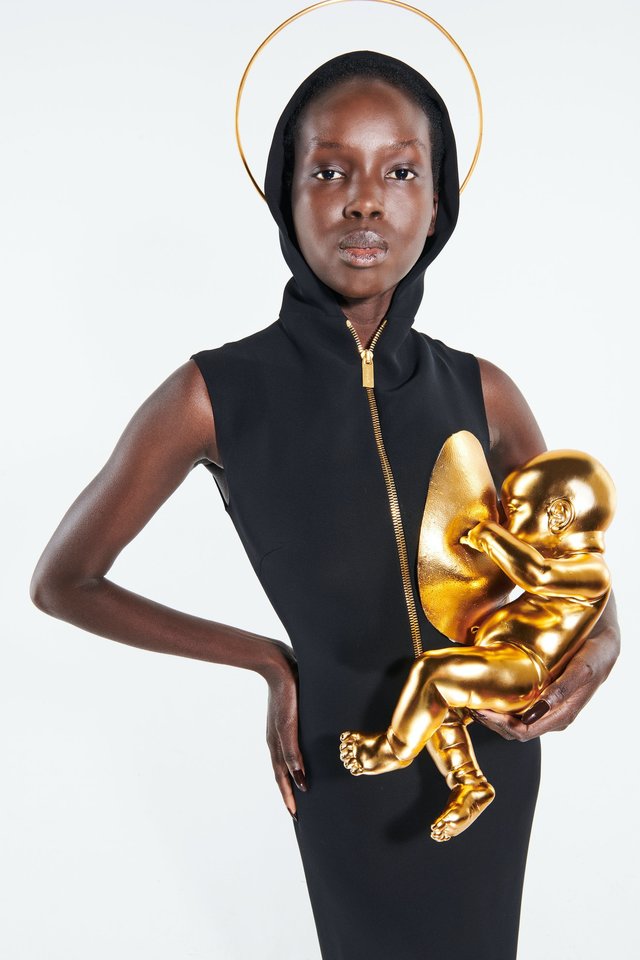 Starting from the idea of Elsa Schiaparelli who created dresses that distorted the body, with elements torn from the surrealist culture and movement, the garments of the Spring/Summer 2021 Haute Couture collection suggest the perception of the human body in space. Schiaparelli's ambition was to experiment, not to respect the canonical rules of costume and to upset the preconceptions of shape, colors, iconography, and materials. Irreverence and trompe-l'œil dialogue with the same language, shaping golden ornamental elements: ear-shaped earrings, a nose with a septum piercing on the bags, bustiers that bring masculine ergonomics back to the women's body, and even the scene of a breastfeeding becomes a real sculpture.