At a time when many of his peers preferred an austere minimalism, Gianni Versace stayed true to himself. The brilliant designer's flashy signature looks set him apart from anyone else in the fashion world. With bondage-inspired gowns, brilliant prints, and metallic mini-skirts, Gianni and his namesake label pushed the boundaries of fashion. An innovator of design, when a technique or fabric that he wanted did not exist, he made it. He also changed the fashion landscape–he helped launch the supermodel and, by dressing famous musicians, became one of the first designers to really blend the music and fashion worlds. Gianni was tragically murdered outside his home in Miami in 1997 at only 50 years old, but his genius lives on through his legendary designs and through his sister Donatella's work at the fashion house he founded. Today, the Versace label continues to reference motifs and symbols that Gianni established, building on his legacy. In honor of the late designer's birthday today, L'OFFICIEL examines the meaning behind these house codes.


Medusa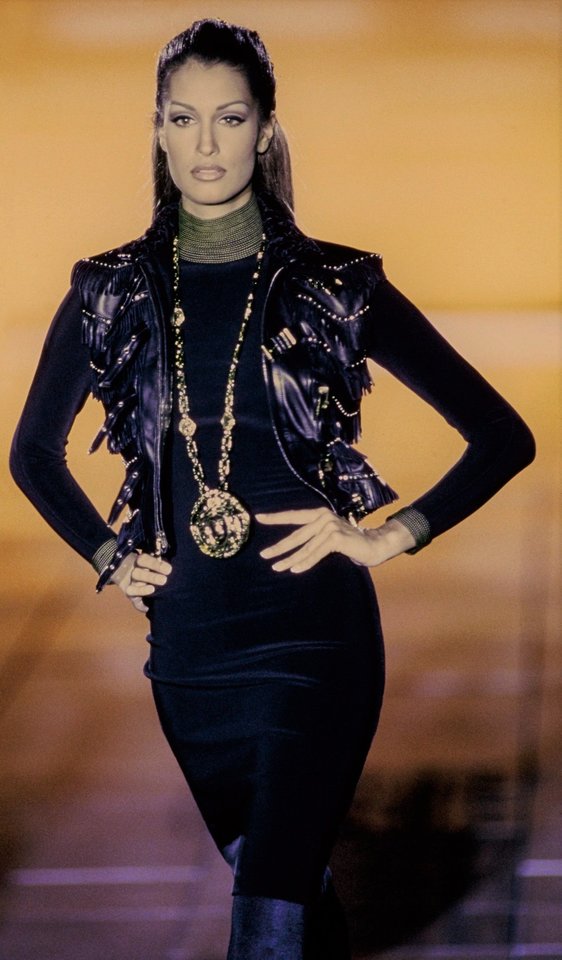 Yasmeen Ghauri wears a Medusa medallion necklace on the Versace Fall/Winter 1992 runway.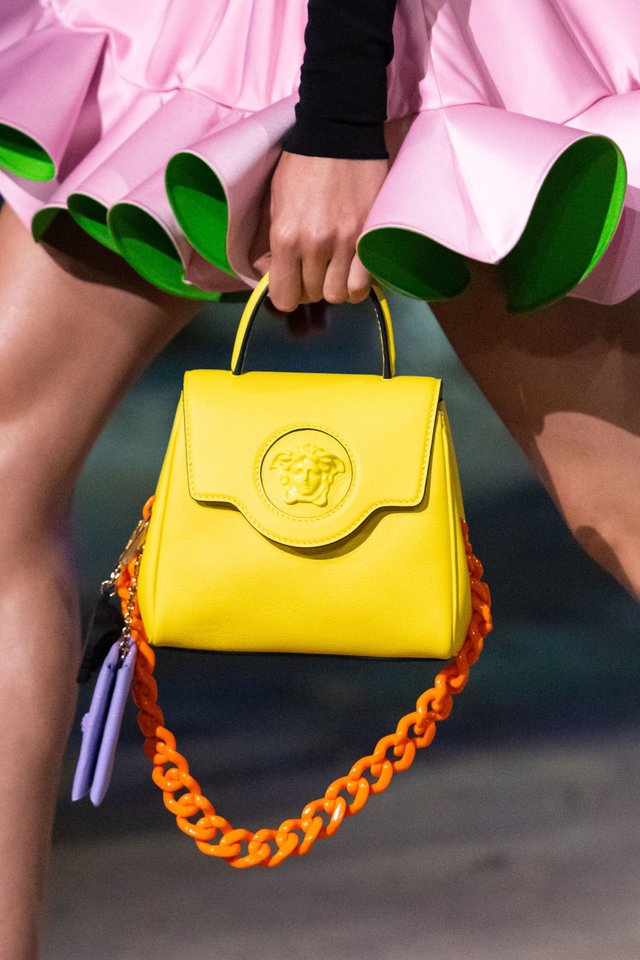 The Medusa appears on candy-colored accessories for Versace Spring/Summer 2021.

The house of Versace's logo is the head of Medusa, one of three Gorgons in Greek mythology. Gianni, an art-history buff, was inspired by the Italian ruins he grew up near, and by the Greco-Roman stories that dominated much of Italian art. According to legend, Medusa was a beautiful woman who became a monster. Her flowing golden hair turned to snakes, and anyone who dared look at her face was immediately turned to stone. Though a ghastly monster may seem an odd choice for a fashion house, Versace selected Medusa to represent his brand. Before she was a monster, anyone who looked at her had no choice but to fall in love with her. After she was a monster, even those who were horrified by her could never look away. Gianni's understanding and elevation of the Medusa myth reflects his ability to reckon fashion with greater cultural themes.


Baroque Prints


Gianni himself wears a gold baroque printed Versace bomber jacket.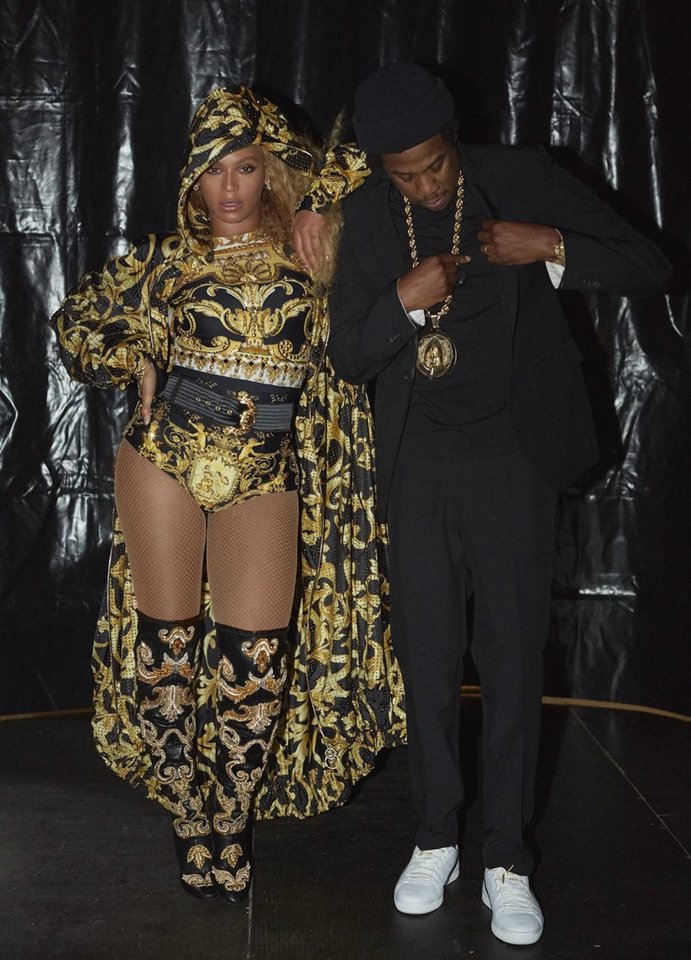 Beyoncé's On the Run II tour featured custom Versace Barocco looks.

Gianni's love of art history was particularly fascinated with the colorful, intricate works of the Baroque period, an outgrowth of the counter-Reformation period in which the Catholic church relied on expressive art to communicate. Drawing on the elaborate iconography and color palettes of the era, Versace created series after series of period-inspired Barocco prints, first introducing the motif for Spring/Summer 1992. Celebrities like Lil' Kim and the Notorious B.I.G. loved these brilliant pieces, frequently wearing and referencing them until Versace's bright designs became a part of the cultural lexicon. The designer often used silk or other reflective fabrics for these prints in order to give his designs a fluid, but metallic feeling seen in pigmented Baroque paintings. The effect is perfect for performers like Beyonce, who outfitted her whole dance crew in Versace's Barocco print in 2018. In recent collections, the fashion house has even offered a Caravaggio, a famous Baroque painter, print.


Oroton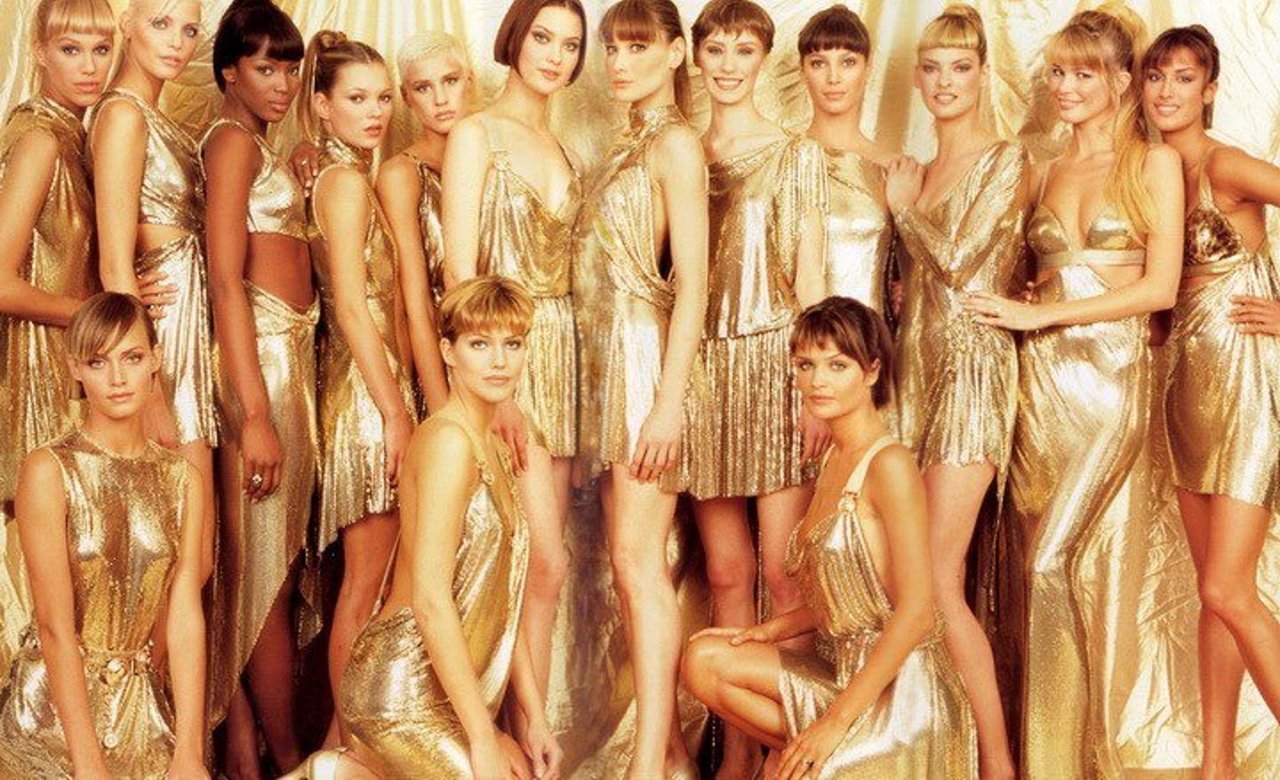 Models wear gold Versace Oroton dresses.

Gianni himself first invented the now-popular mesh-like metallic fabric Oroton. The chainmail textile resembles a reflective fluid metal. Versace first developed the lightweight fabric in 1982 and premiered it at a fashion show at the Paris Opera. The textile was meant to resemble traditional old-world draping, a hallmark of Versace's garments; the designer was known for forgoing conventional sewing patterns, and instead constructing all his garments by draping cloth directly onto a model. Recently, stars like Dua Lipa and Kylie Jenner have rocked custom Oroton dresses.


Bondage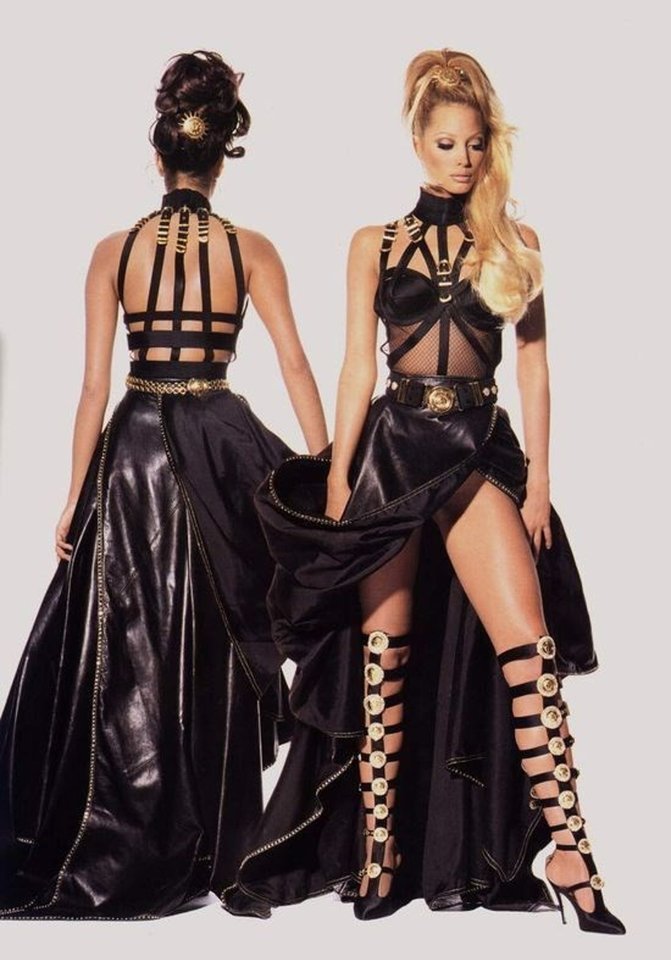 Cindy Crawford models Versace's Fall/Winter 1992 Miss S and M collection.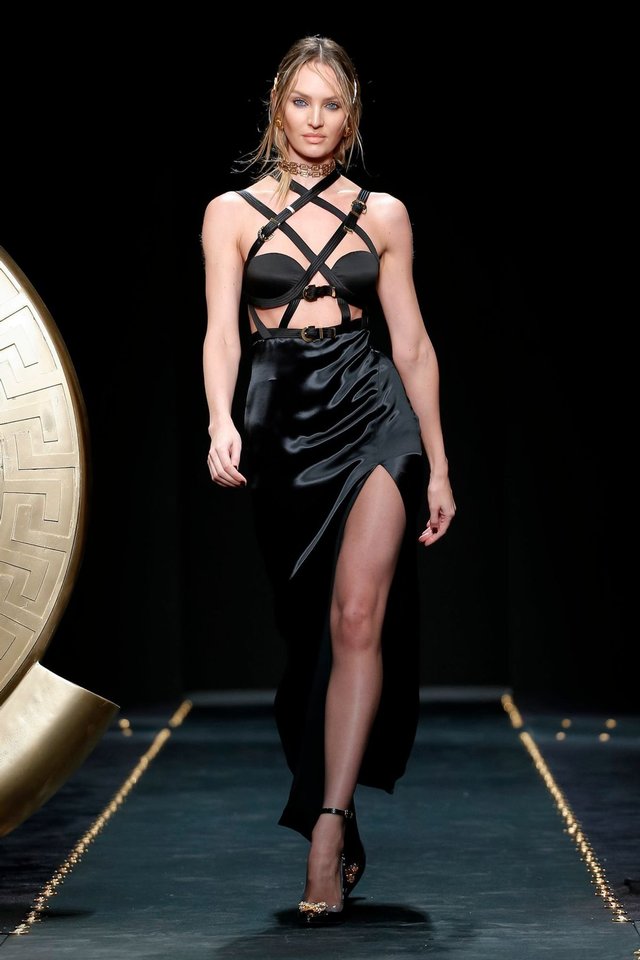 Candice Swanepoel walks the Versace Fall/Winter 2019 runway.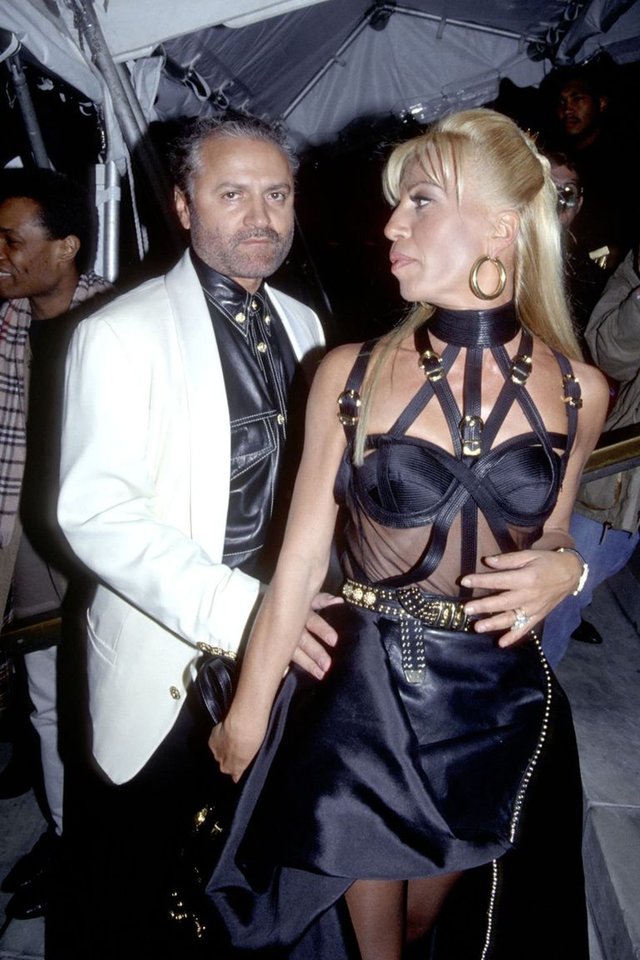 Donatella wears a Versace bondage dress in 1993.

The Italian fashion house's designs often celebrate female sexual expression. For Fall/Winter 1992, Gianni created the Miss S and M collection, now often referred to as his bondage collection. Strappy, sexy black leather looks with metal detailing alluded to a celebration of kinky sexual preferences. The collection was polarizing. Critics felt the collection reduced women to sex objects, while others found it empowering. Donatella payed homage to the original bondage collection for Versace Fall/Winter 2019, bringing back the straps and buckles.


Gold Metal Detailing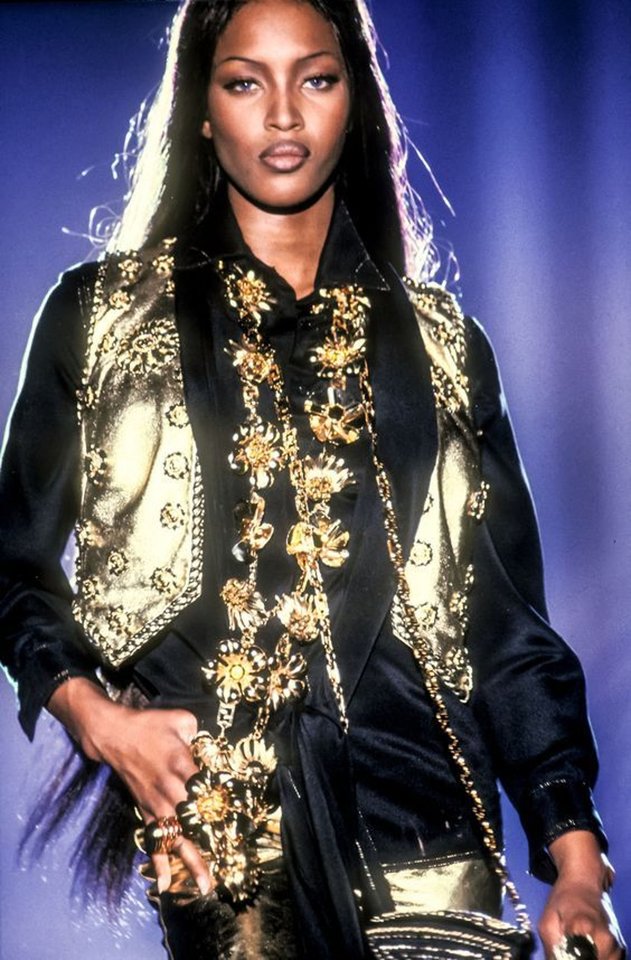 Naomi Campbell walks the Atelier Versace Fall/Winter 1992 show.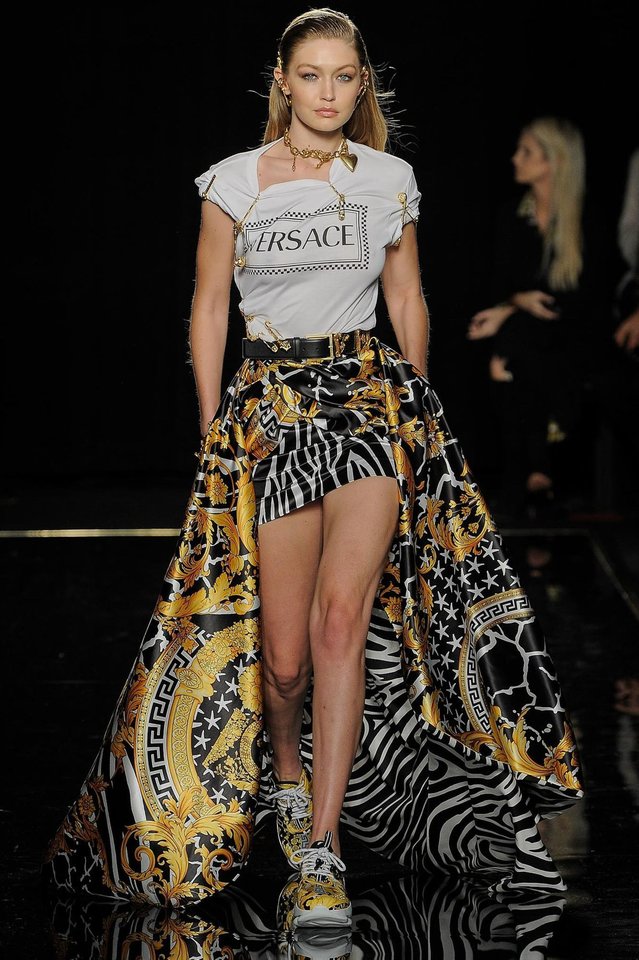 Gigi Hadid wears gold jewelry for Versace Pre-Fall 2019.

Many of Versace's collections featured heavy metal detailing. Gianni loved to push the boundaries of clothing and long before the Valentino Rockstud or the current rivets trend he was experimenting with extensive hardware. Though he did use silver, Gianni often worked in Baroque-inspired gold tones. From using chains-as-straps to designing couture pins or accenting dresses with huge metal embellishments, the designer essentially incorporated jewelry into his garments.


Pop Art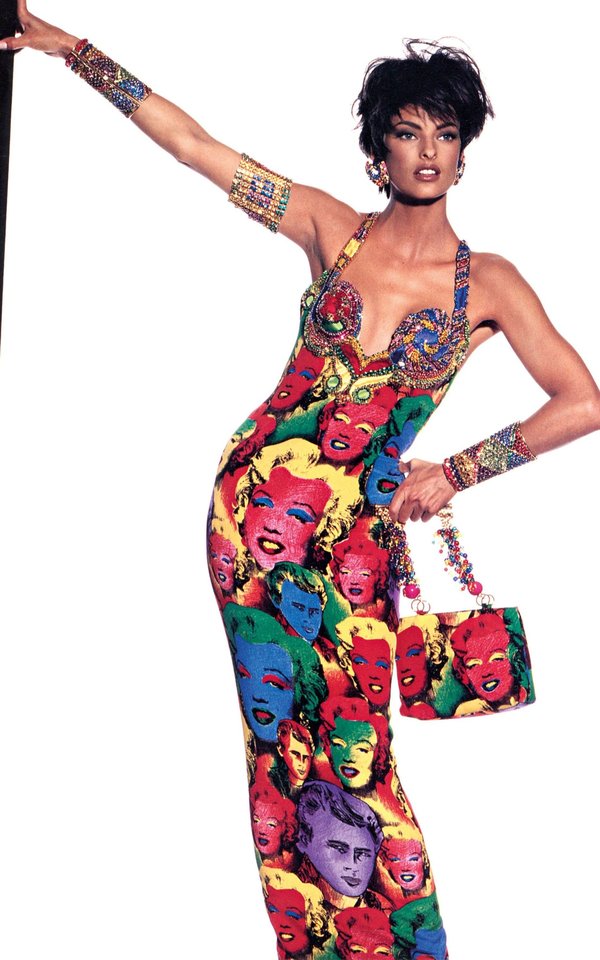 Linda Evangelista models a pop art-printed Versace dress.

Gianni was inspired by pop culture, as well as by high art. The designer created an entire pop art-inspired collection for Spring/Summer 19991, incorporating Andy Warhol's screen prints of Marilyn Monroe and James Dean into his clothing. Gianni often used the pop art technique of repeating an iconography throughout a work. He loved contemporary art, and in 2009 Sotheby's actually sold the designer's personal collection of 20th-century pieces for over $13 million.


Safety Pins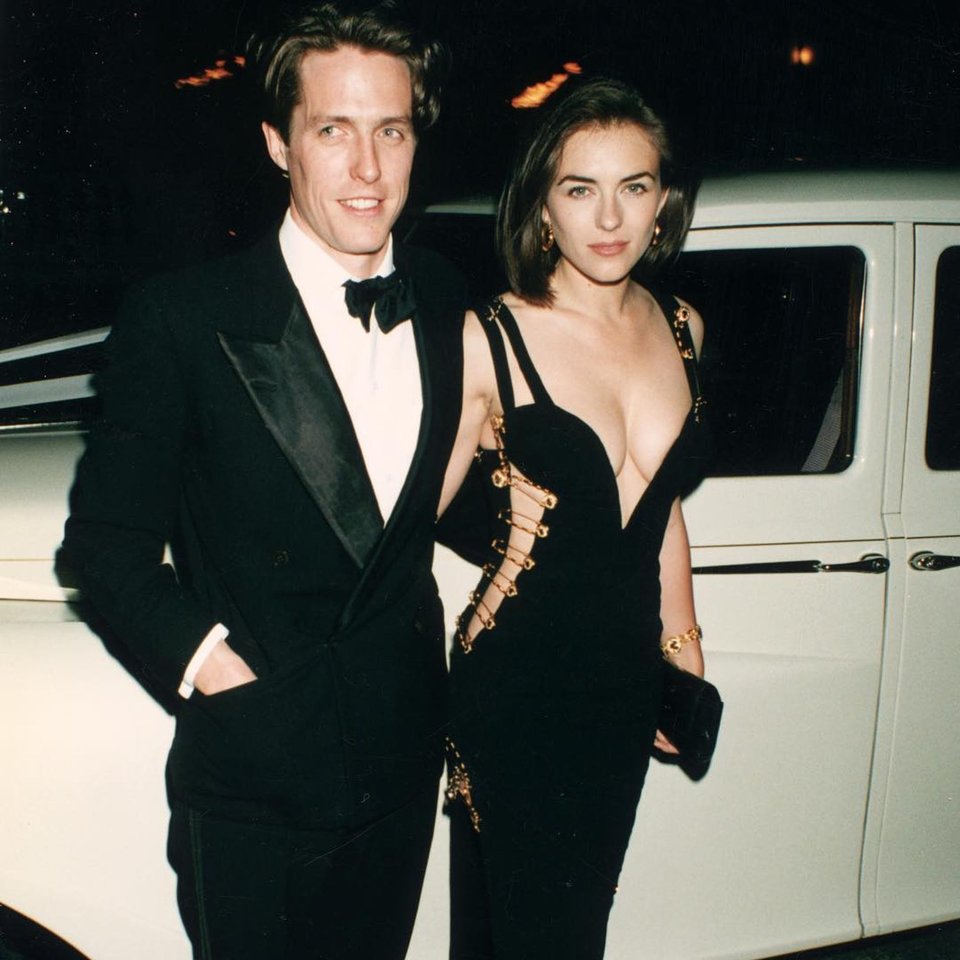 Elizabeth Hurley wears the famed Versace safety pin dress in 1994.

Elizabeth Hurley forever became a style icon when she went to the premiere of Four Weddings and a Funeral in a Versace safety pin dress. Now, the look is so famous it has its own Wikipedia page. The Spring/Summer 1994 creation was split at sides and thigh, but held together with large safety pin embellishments. Hurley actually wore the dress because she could not at the time afford to buy her own. She was Hugh Grant's date to the event, and the actor had asked Versace to lend her a dress for the evening but the gown was the only item left in the fashion house's press office. It fit, and paired with gold hoops and a chunky bracelet, it quickly became one of the most iconic looks of the '90s. Though some critics called the gown lewd, Hurley defended Gianni's work, saying that "unlike many other designers, Versace designs clothes to celebrate the female form rather than eliminate it." Her son Damian even created his own tribute blazer in 2019, and the safety pin motif has frequently appeared in Versace collections since Gianni's passing.


Heavy Embellishment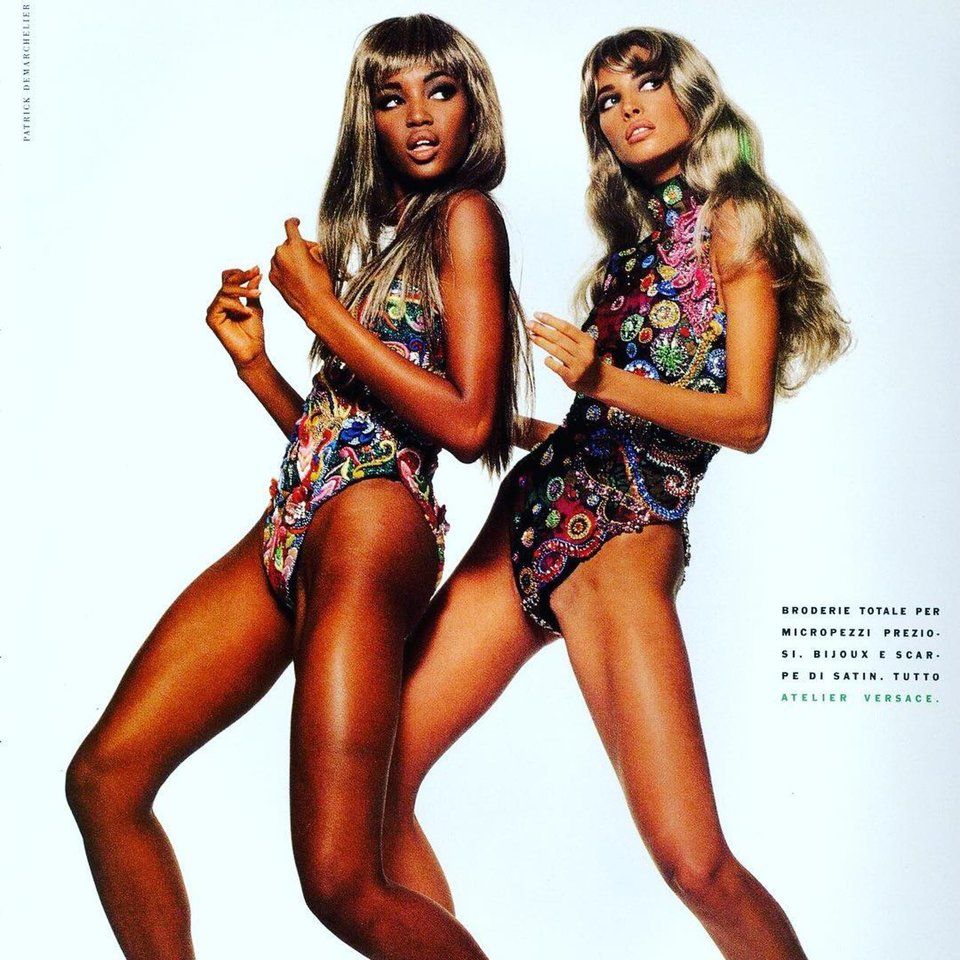 Naomi Campbell and Christy Turlington wear jeweled Versace bodysuits in a campaign.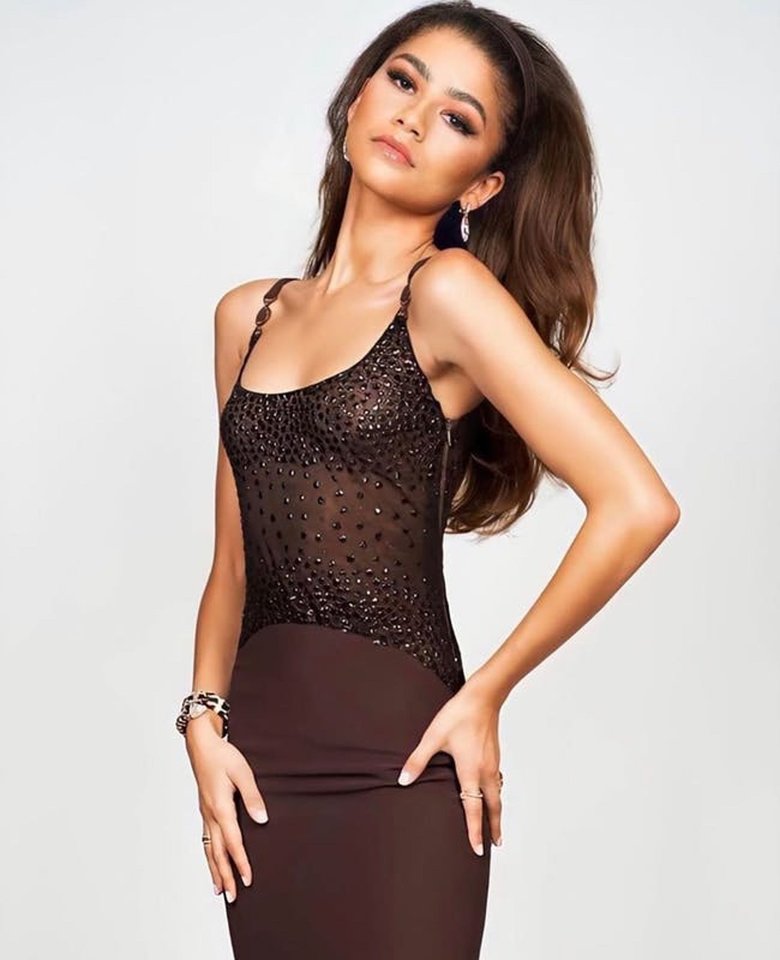 Zendaya wears a beaded archival Versace dress.

The brilliant designer loved using reflective materials to draw the eye. Gianni often employed heavy embellishments to create recognizable symbols and to simply create beautiful patterns. From blinged out dresses to more simple sparkling adornments, Gianni knew how to manipulate light to get attention. Plus, his original embellished designs are still beloved by stars today. Recently, Zendaya wore a vintage 1996 beaded silk Versace dress to the Green Carpet Awards.


Tropical Prints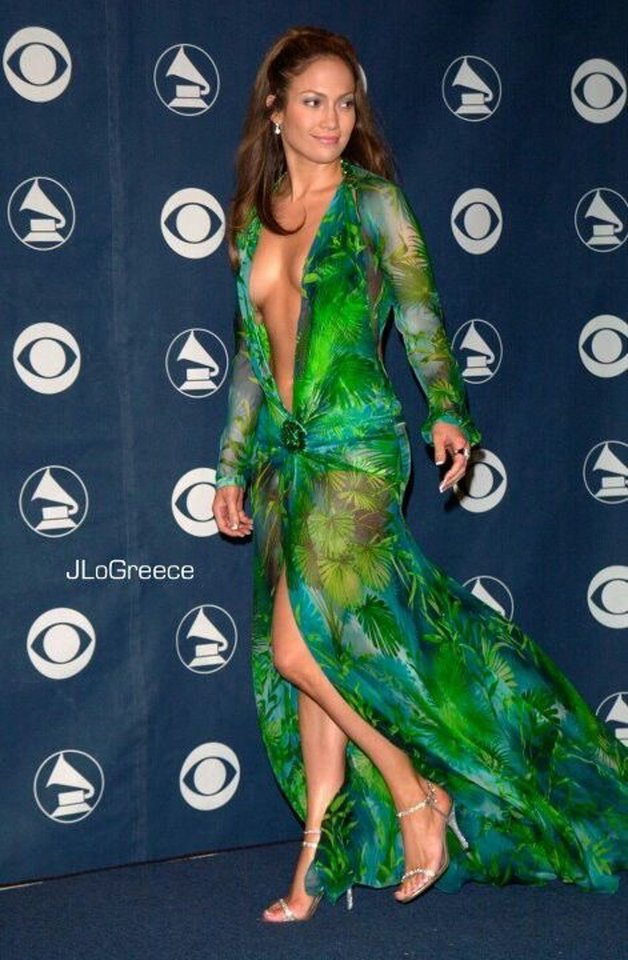 Jennifer Lopez in Versace at the 2000 Grammy Awards. J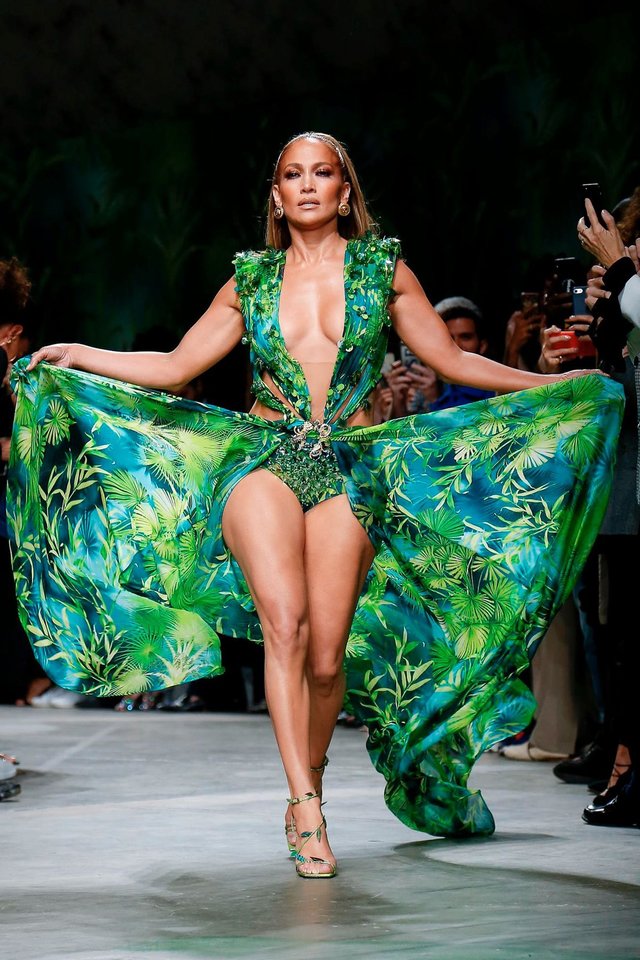 J.Lo wears a Spring/Summer 2020 version of her original Versace jungle print dress.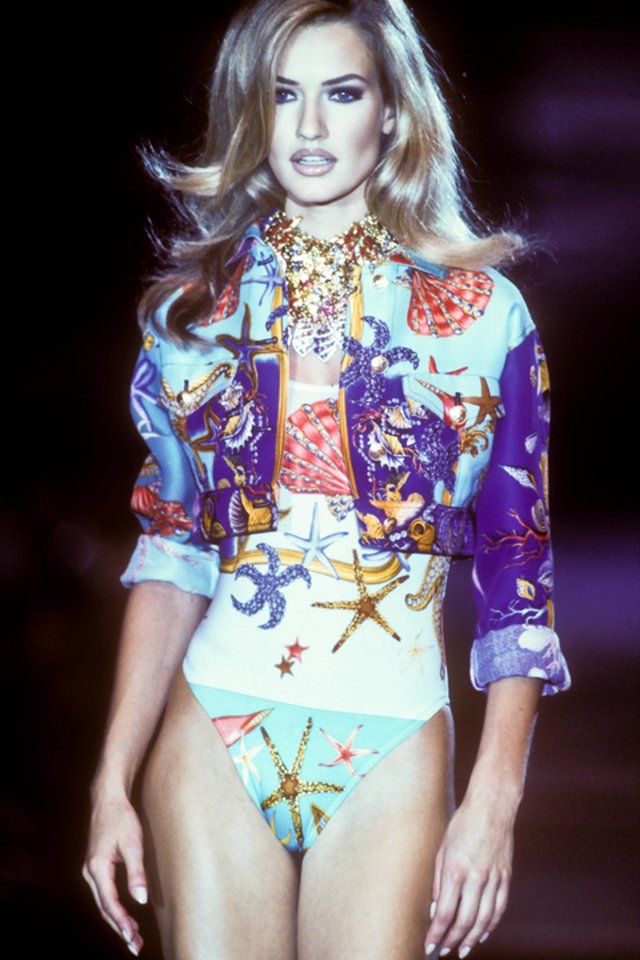 Karen Mulder wears a seashell print cropped jacket and swimsuit for Versace Spring/Summer 1992.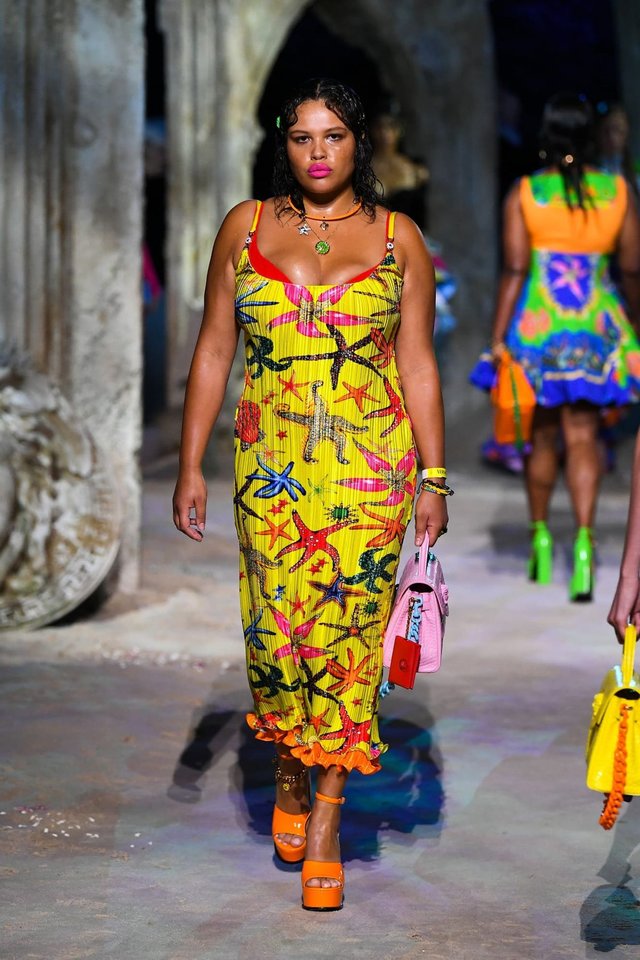 Alva Claire wears a seashell dress for Versace's Under-the-Sea-themed Spring/Summer 2021 collection.

Though Jennifer Lopez wore that famous jungle dress after Gianni passed, his influence is all over the infamous gown. Not only does the garment push boundaries to celebrate the female form, but it's bright, leafy print screams signature Versace. Gianni himself loved Miami, and helped bring national attention to the local South Beach fashion scene. Given his love for the city, it's not a surprise that he gravitated towards tropical flora and fauna prints. In the '90s, the designer debuted a number of seashell and starfish-printed designs, also carrying the underwater motifs to gold accessories. Donatella revived this inspiration with an Atlantis-themed Spring/Summer 2021 show.