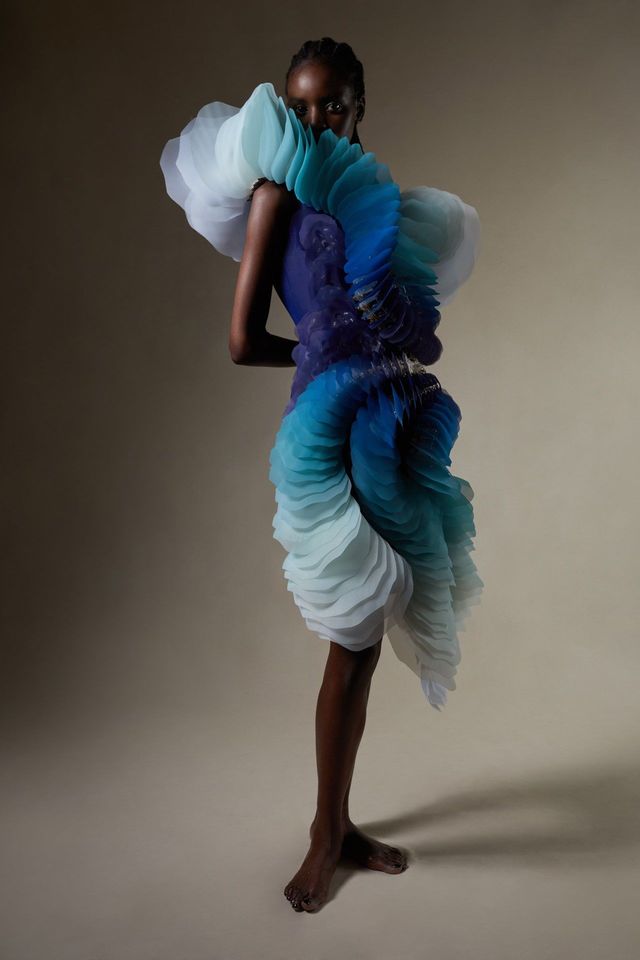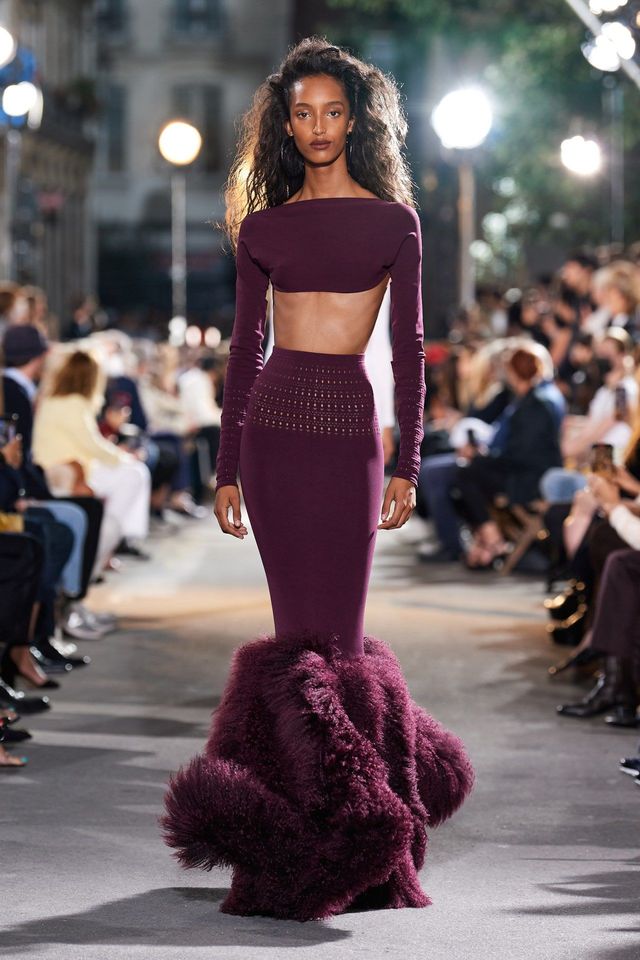 Couture shouldn't be such a slippery subject. You can look it up in a dictionary, for one. And, in 1945 the governing body of French fashion, now known as the Fédération de la Haute Couture et de la Mode, registered a legal designation of "Haute Couture." Still, the métier remains the Greta Garbo of the fashion system: glamorous, mysterious, and elusive.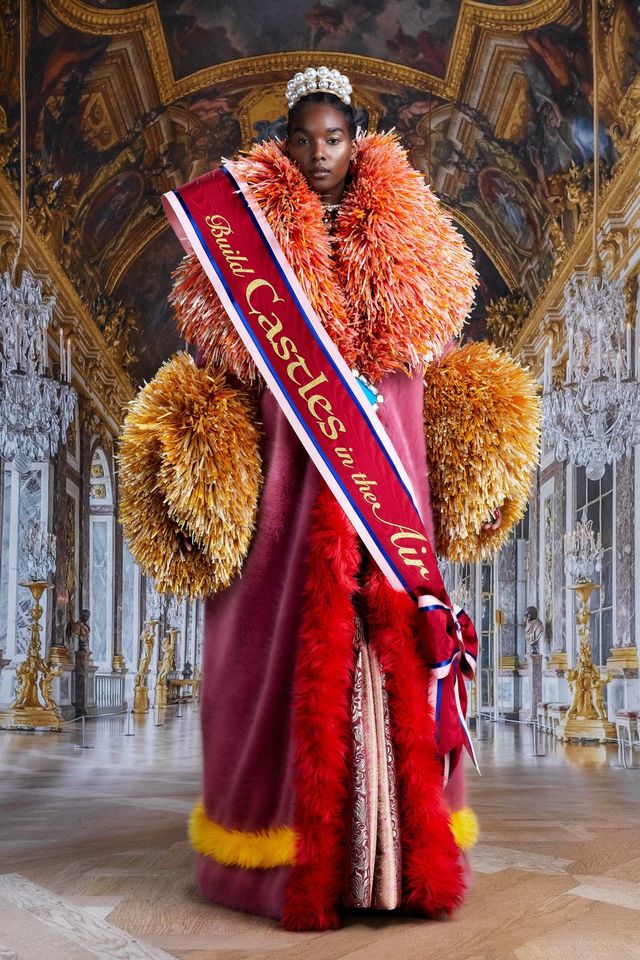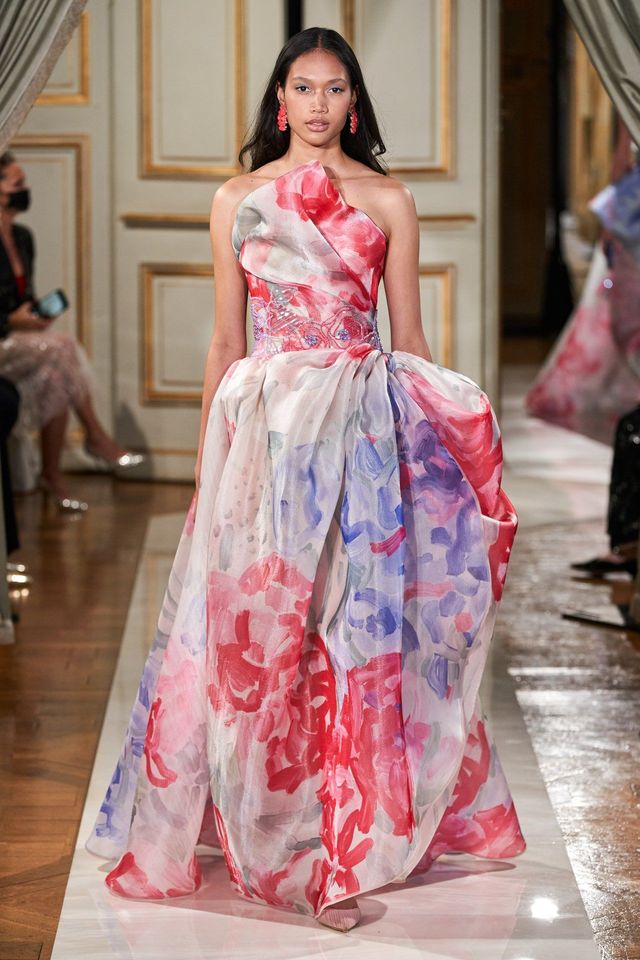 There are times, such as now, when couture feels vital, the highest expression of new ideas. But there have been periods, such as after the infusion of energy provided by Christian Lacroix in the late 1980s, when couture seemed to be operating in an "I want to be left alone" mode. When that happens, hands are wrung until, with perfect timing, the "star" gathers her skirts, raises her chin, and makes a grand entrance once again-always in a new guise. She's taken on a new role this season.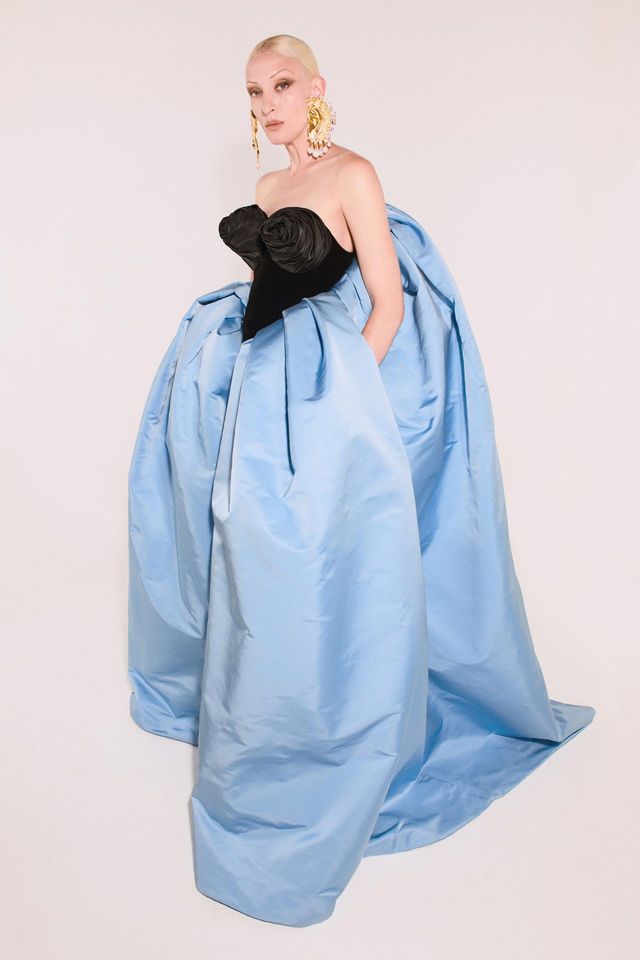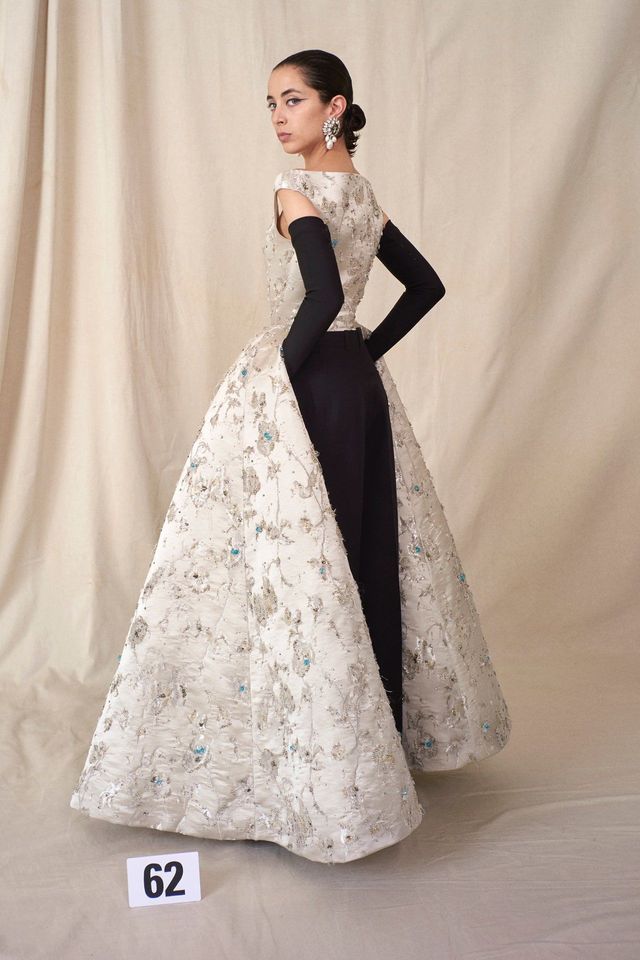 When we talk about couture, we are really talking about shape-shifting. It's not only that silhouettes change, but we periodically reconfigure the meaning we assign to couture as well. And often this is related to changes in the ways we look at women's bodies and roles in society. At around the same time that Coco Chanel introduced the streamlined, cylindrical, and somewhat androgynous silhouette, American women had gained suffrage and the Model T was being mass-produced. Society, and women, were on the move. The postwar yearning for a "return to normalcy" saw a retrograde take on gender (see Revolutionary Road), supported by the heavily architected New Look by Christian Dior. You get the idea.

We didn't get a single new silhouette for fall 2021, but we did get a reshaping of couture on material and conceptual levels-along with four debuts.

There was young Andrea Brocca, the Sri Lankan–Italian designer, who explored the golden mean, and the experienced Pieter Mulier, who stepped out at Azzedine Alaïa with a collection that included retakes of specific archival pieces (like perforated leather corset belts) but also captured some of the spirit of the late designer's body-con dressing. This, at a time that "sexy" dressing is being reimagined apart from the male gaze.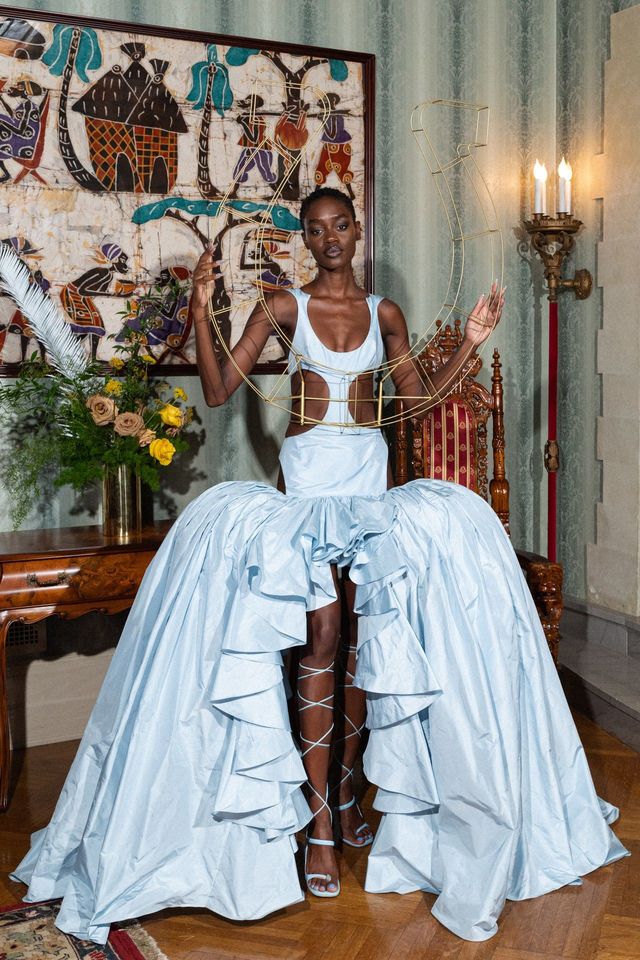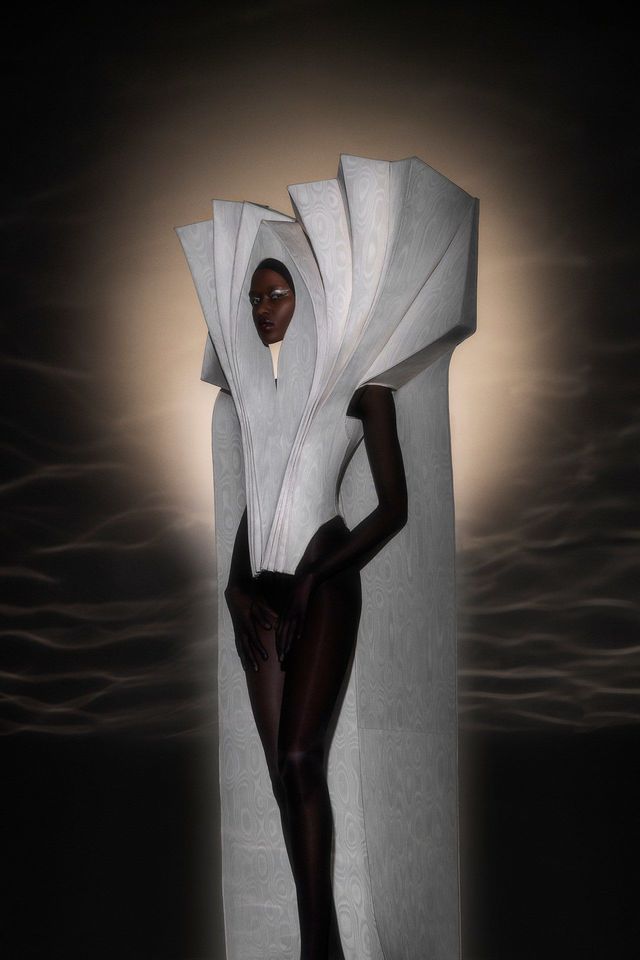 Kerby Jean-Raymond, the first Black designer to be invited by the Fédération to show on the couture schedule, elected to create his own format, rather than follow tradition. For starters, he presented his message-driven collection in America (where the word couture is often casually applied). His choice of location, the estate of C.J. Walker, the country's first female millionaire, was part and parcel of his narrative around Black excellence.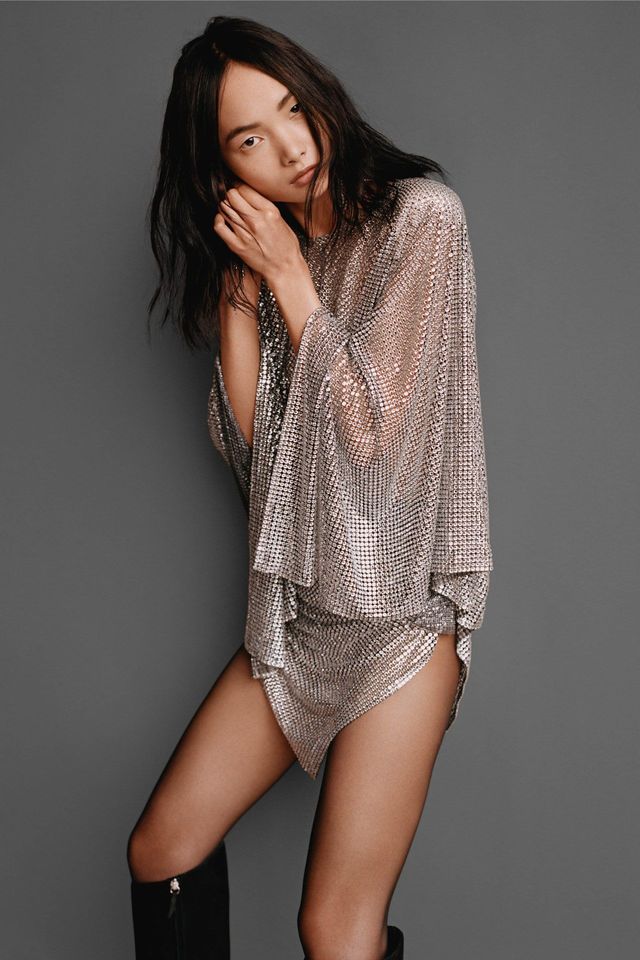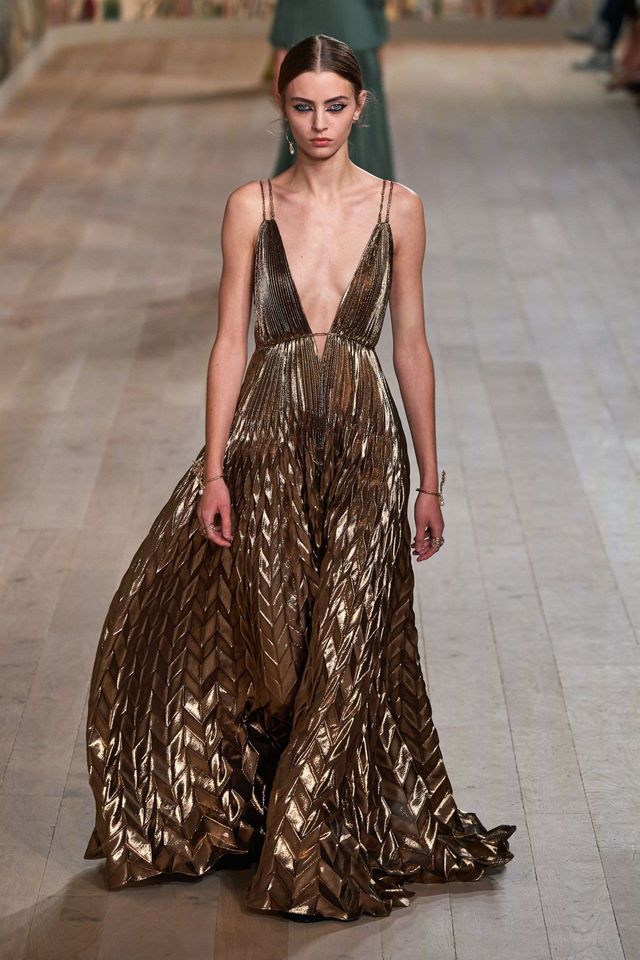 In Paris, Demna Gvasalia referenced an old-time couture custom, by having models hold, or stand by, cards showing the number of their exit in the look book. Back in the day, it wasn't unusual for a big house to have a collection numbering a hundred or more looks. Getting admittance to a Balenciaga show was a feat in itself, involving various levels of "approval." Such was the level of haute-ness that in 1968, as prêt-à-porter was starting to develop, Cristòbal Balenciaga walked his client Bunny Mellon across the street to Givenchy, and hung up his scissors and white coat.

When Gvaslaia joined the house in 2016, he elevated his ready-to-wear with couture touches. His off-the-shoulder puffers and hip-jutting jackets were posture changing and tenure defining. Now, it would be easy to say that the designer's take on couture, which included day pieces, some even made of denim, was trickle-up. But it's more nuanced than that. Trickle-through is more like it, as Gvaslaia seemed to be in dialogue with the legacy of Balenciaga and his own body of work. The most significant change here was that his couture is imagined for varied bodies and genders. (It should be mentioned that the house founder was adept at "improving" his clients' silhouettes through cut. They might have had perfect pedigrees, but they did not all have models' physiques.)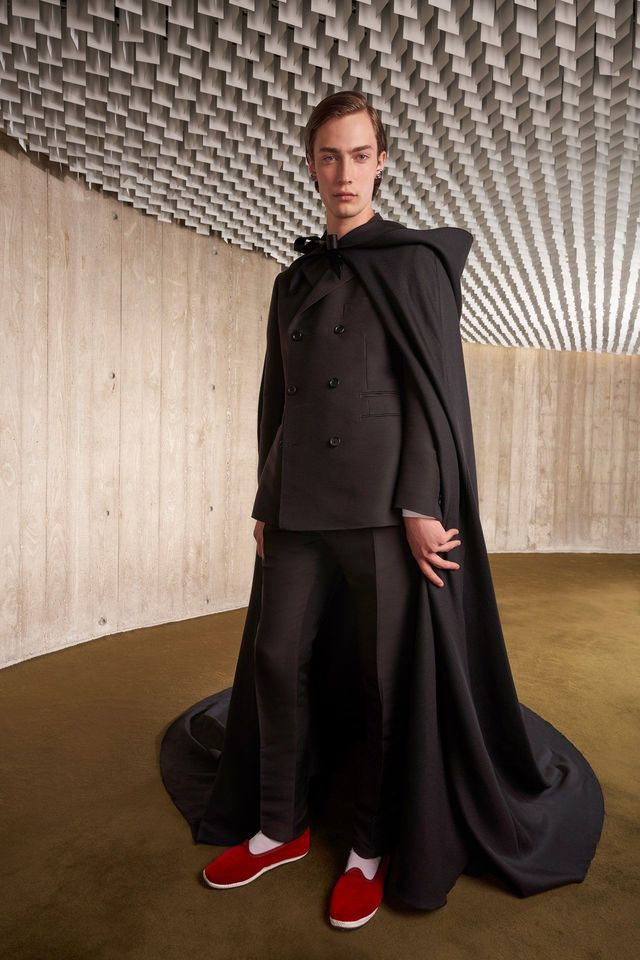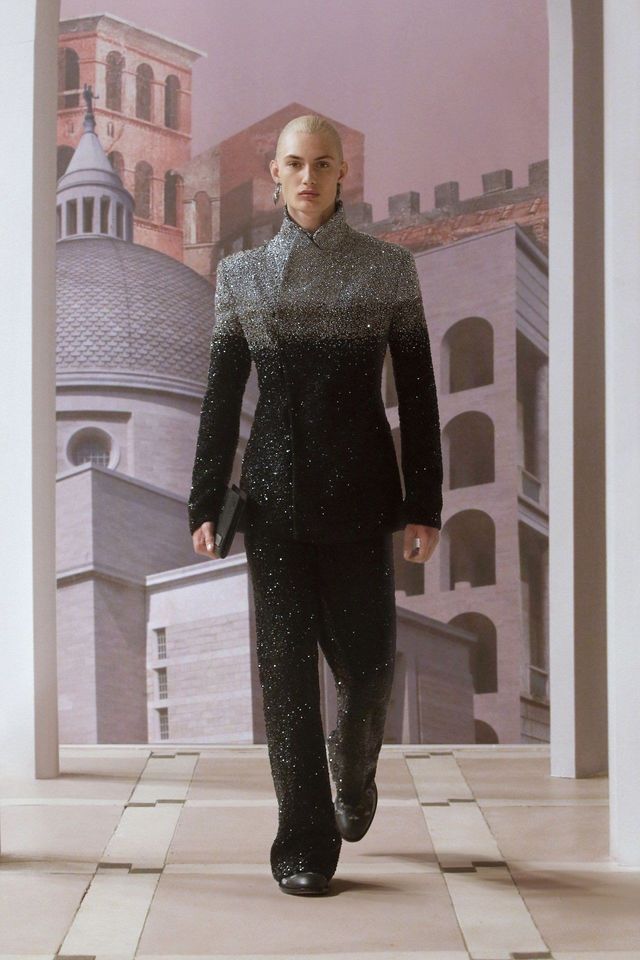 Gvasalia has brought a modern view on gender to a métier in which it was never really a topic. With few exceptions, like Jean Paul Gaultier, couture was designed and aimed at women (if sometimes sold to men); Savile Row provided a masculine alternative. Now Gvasalia-and others-are proposing couture fashion for men and for gender-nonconforming individuals.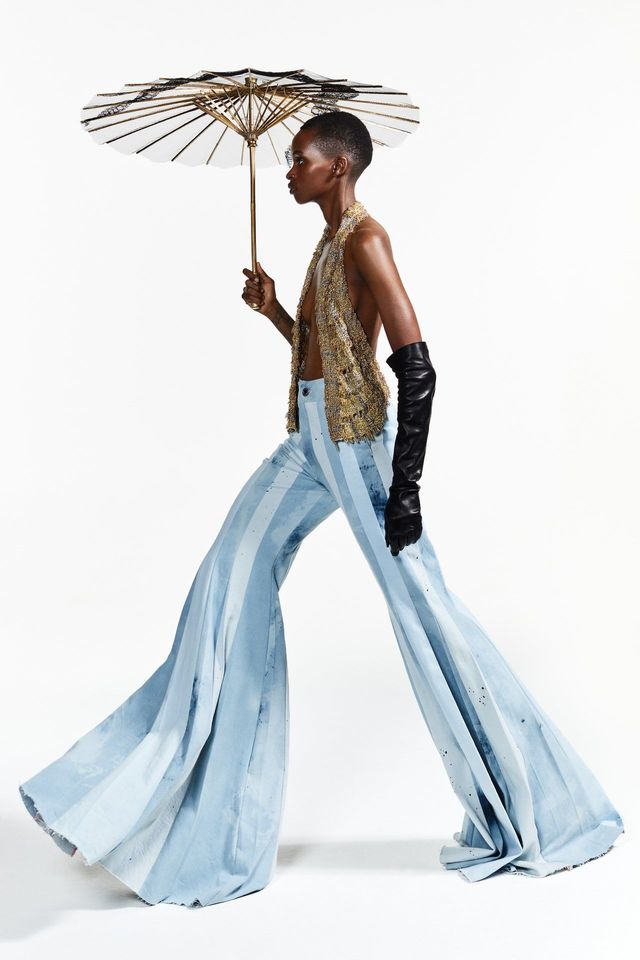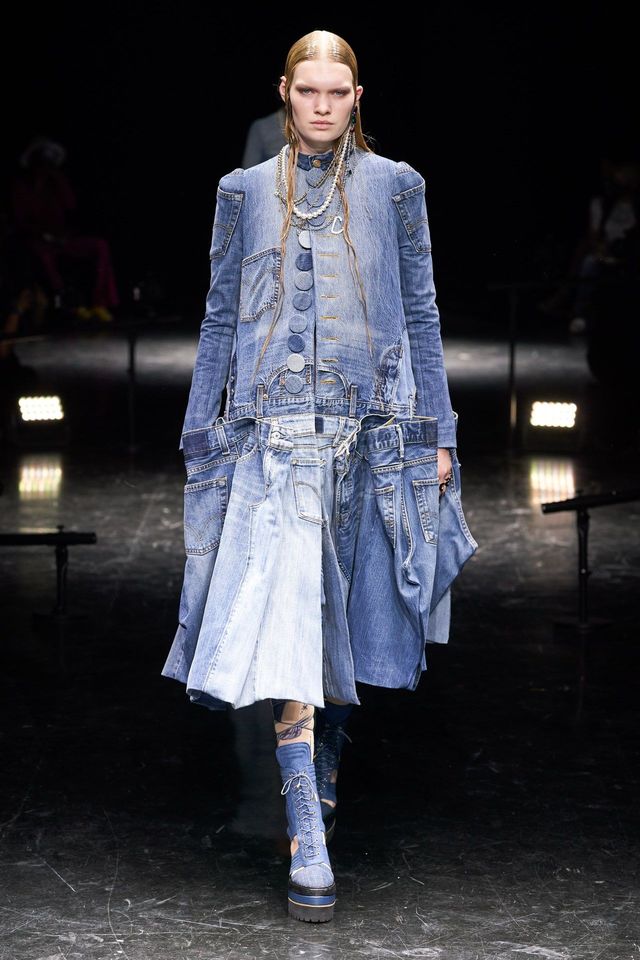 The elaborate formal looks at Balenciaga evoke the romance and aura of Irving Penn's photographs of postwar couture. Yet, in the tradition of Gaultier, there are wardobe staples, too, like a black suit and a trench coat, which is arguably the piece that defines this season. Rainwear, a staple in many closets, made appearances at Balenciaga, Christian Dior, Gaultier, and Maison Rabih Kayrouz. This seems significant because the pandemic shifted our notions of time and place. For some, their home became their castle, and the delights of the everyday replaced the outward, social focus of the past.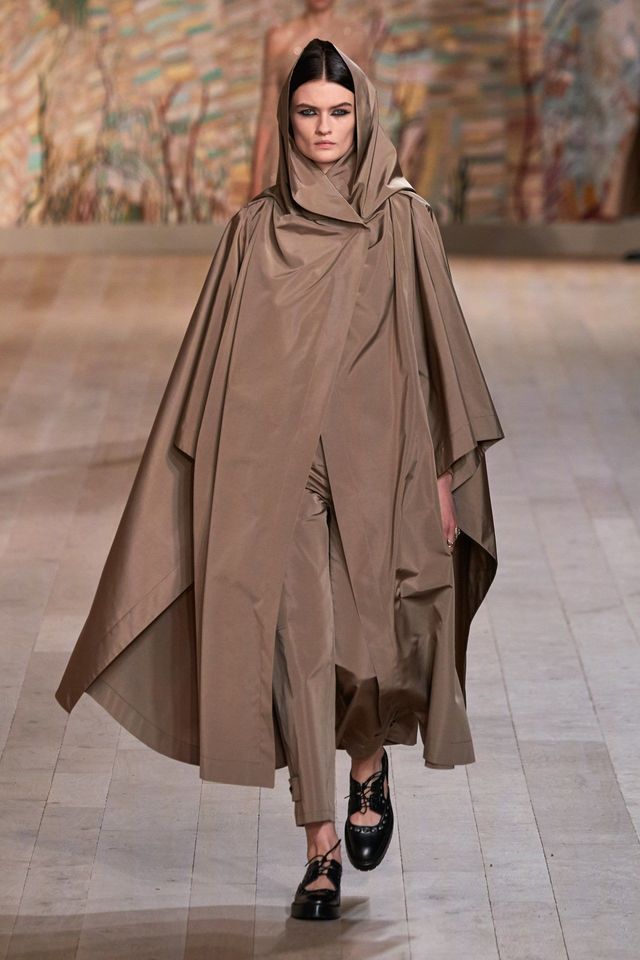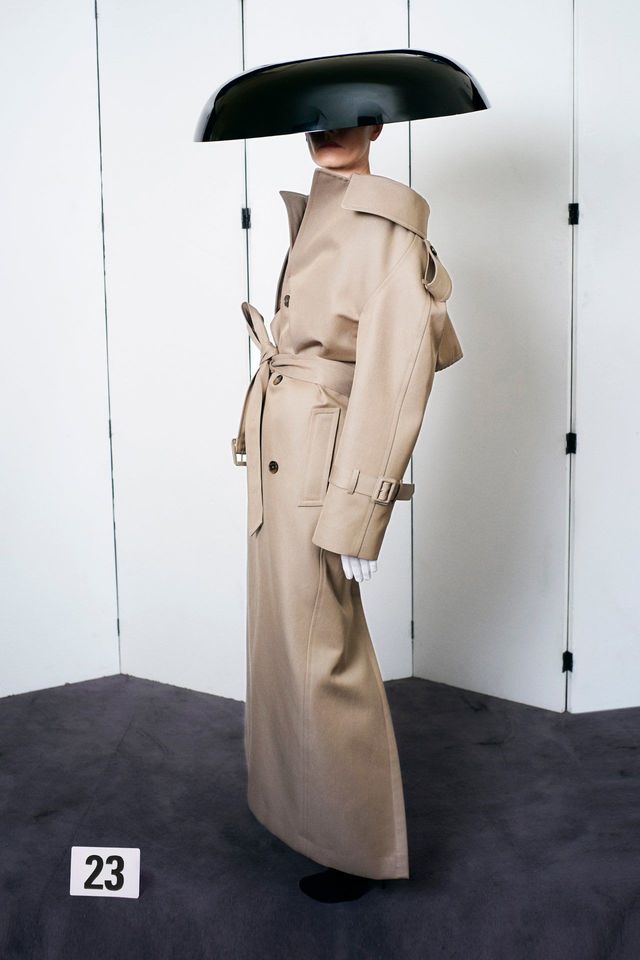 The celebrification of fashion in the late 1990s and aughts affected couture as well; the front rows that had usually been dedicated to clients shifted to accommodate celebrities, and a métier that caters to the very few became a marketing tool, focused on showmanship, fantasy, and the wow factor, all of which make for good imagery. But couture was never just about red carpet dresses.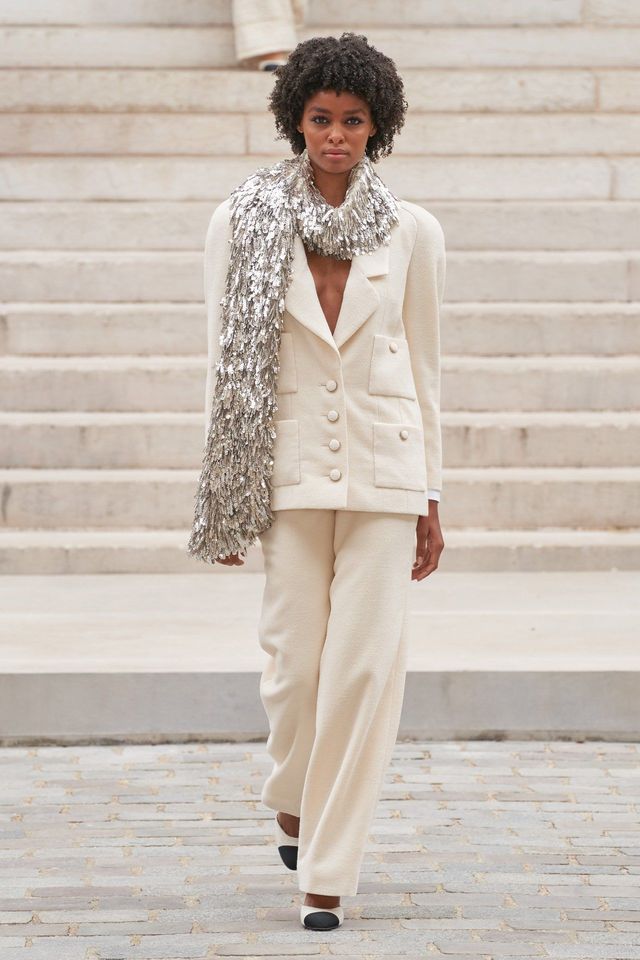 In the 1950s, a Balenciaga day suit was the de facto uniform of fashion editors. And in 1960, one of the most shocking looks in Yves Saint Laurent's collection for Christian Dior was a leather "Chicago" jacket with a vaguely beatnik vibe. Kayrouz, for one, is wary of couture being siloed. If designers don't "keep on doing pieces that people will wear," he says, "the ateliers will only work for some pieces and [for] some fortunate clients that will only wear those pieces in very specific places." In other words, to remain relevant, couture needs to relate both to contemporary modes of living and to fantasy, as it has traditionally done.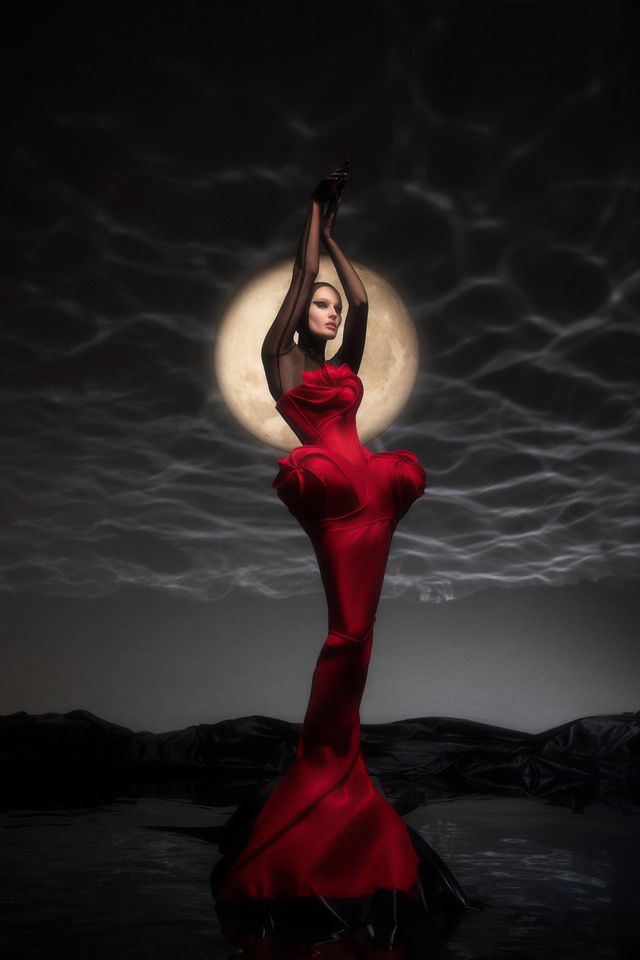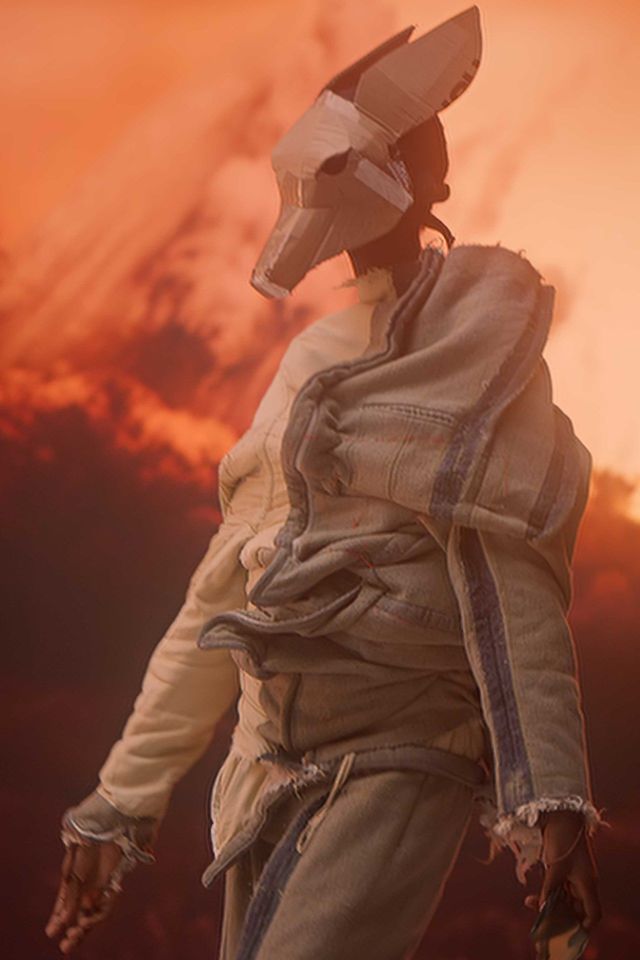 Nostalgia is ingrained in couture. The ateliers preserve know-how the way that the Brothers Grimm did folklore. And this fall season was one of the backwards-forward glance, with Gvaslaia looking at the heritage of Balenciaga, Pieter Mulier at that of Azzedine Alaïa, and Sacai's Chitose Abe at Gaultier. This kind of back-and-forth was also happening through upcycling. While this practice is not totally new to couture-Christian Lacroix repurposed a matador jacket into a skirt in 2002-led by Ronald van der Kemp and Maison Margiela's John Galliano, it now has reached enough of a critical mass for my colleague Nicole Phelps to herald the arrival of truly circular couture. Couture is once again on an upward spiral.