After closing his own showroom shortly after 9/11, he began to focus more on photography. As he writes in his blog,
sartorialist.com
, "I didn't want to become a 'fashion photographer' but I knew somehow that my loves of fashion and photography would eventually merge. I just never guessed that it would be in the form of a blog."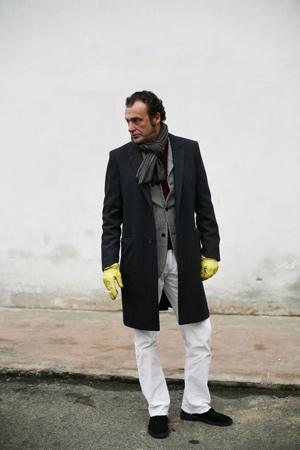 He started his blog in 2005 and in that short period of time since then, it has attracted a loyal and absolutely fabulous fan base.
For the uninitiated, the concept is very simple. Schuman roams city streets, mainly in New York, but also in fashion capitals such as Milan and Paris, and photographs elegant, stylish people that catch his highly trained eye. He then posts the images and adds a few insightful comments about what he likes about their look.
For example, on January 29 next to a shot of a young woman wearing an eye-catching outfit he writes: "Graphic, Pastels, Utilitarian, Floral -- it takes a talent to make such disparate elements look so harmonious together."
The photographs are nicely composed and he has a good rapport with his subjects, but three elements really make the blog stand out.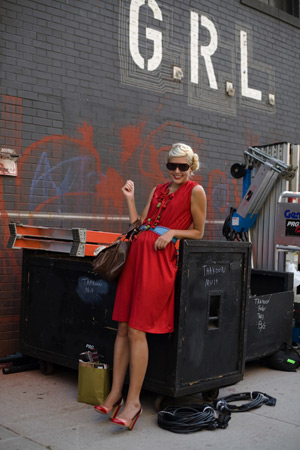 1.
Schuman really knows his fashion and takes it as seriously as his subjects.
2.
He has a very strong sense of his own brand and will never post images for the sake of it.
3.
The visitors who post comments are equally enthusiastic about fashion, so the blog has strong sense of community. It also does not have a bitchy tone (unlike 95 percent of the blogs out there), so it has the fashion industry on its side.
As a result of the blog, Schuman now has a monthly page in
GQ magazine
done in the same format as the blog. He has also shot fashion editorial for British
Elle
, French
Vogue
and various other publications. He is also now represented by Jed Root, has two books deals in the pipeline, a commercial shoot planned with Gant (whom he describes as "the Swedish J Crew") and is also currently being exhibited in New York at the
Danzinger Projects
gallery in Chelsea.
PDNonline caught up with The Sartorialist at the gallery (for the record he is impeccably dressed) where he talked about his alter ego and its amazing success.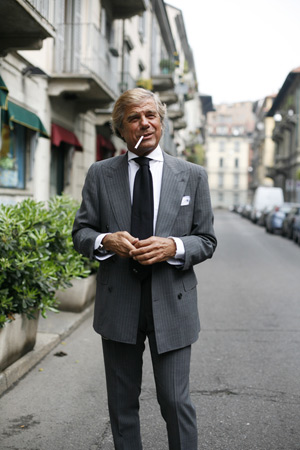 How did the blog start?
I was doing photography for a while as a hobby. I would either take photos of my kids or take photos on the streets of New York. I found myself gravitating towards guys who had a certain style. It could be a kid in the Fulton Fish market with no shirt and baggie jeans, or an old guy in Chinatown wearing a 40-year-old suit with a cap. I thought that if I mixed this kind of street style with what I knew about fashion then it could make for an interesting blog.
Why a blog?
I thought about a Web site, but it was firstly going to cost too much and I would probably need someone else to do some of the background work. Here I have complete control, it is quick and informal and I knew that it would win on the quality of the work. From the way that I look at the Internet all you need to do is engage someone for a few minutes every day. There are a lot of big publishers and media companies trying to catch up with the trend of blogs, but frankly they haven't come up with a unique point of view.
Do you market it?
There are actually quite a lot of men's fashion chat rooms, but it's odd that none of these chat rooms have any visual element. So I posted a couple of photos with a link on a few of these chat rooms and it just grew from there. At first it was all about men's fashion, but then I thought my background is in women's fashion, so when I was out and saw a great women's look I thought I can't not shoot it. Yesterday the site had over 70,000 visitors.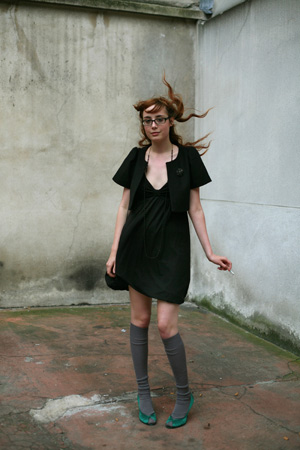 How quickly did it take off?
The blog started in September 2005, the following June I was contacted by style.com who asked me if I wanted to go to Milan for the fashion shows and do a guest blog. While I was in Milan, the guys at
GQ
saw me, they were curious and gave me a page in the magazine. I had to build the brand and be The Sartorialist, now people know who I am. I was walking in Paris wearing white jeans and a pocket square in my overcoat. A guy rode past me on his motorcycle and I caught up with him at the next block. He said that when he drove past me, he checked me in his rearview mirror and knew straight away that I was The Sartorialist.
Does the blog make money?
I was contacted by
conde.net
, who said that they wanted to handle my advertising sales. It is a partnership and they don't have any control over the content. I get a percentage of the ads that they sell, so for example Gucci has an ad on the blog for the entire month of February. Advertisers want to be associated with something that everyone seems to have a great emotional response to. It is not about showing a Gucci coat or Ralph [Lauren], it is all about style of all different sizes, ages and income levels. I might be one of the first photographers who makes more money from advertising on their blog than from having to shoot advertising for someone else.
True, but a lot of your subjects look like they might be from the industry.
I've had that from people before: "Oh he's just another fashion insider." Yes I do go to the fashion shows, but these shows are the Super bowl of style and if that's what you are into it, then that's where you are going to go. Of course I shoot fashionable people, but that is the point of the blog. It's like saying that you are only going to listen to a radio station where people can't sing and aren't into it Also, while some of them might be from the industry, I rarely shoot models and never celebrities and also I shoot people of all sizes and ages. I really proud when people respond to my more mature subjects and write: "that's what I want to look like when I'm older."
Tell me a little about the shooting process.
It's pretty quick. If I'm in New York, I will pick a certain area to roam, downtown, or Williamsburg or Harlem, and then head out with a Canon 5D and a 50mm lens. If I spot someone whose outfit I like I will maybe walk a half block behind him or her, and then try and stop him or her in a place that will make a good picture. You can tell from person to person who is in to it and will give you time and who just wants you to take the shot. As I've become more known it's become a lot easier. I generally don't pose them too much or move them away from the place that I stopped them.
What about the editing?
I don't shoot a lot and I'm picky about what I put up. In a very good day I'll get five shots, but most of the time maybe two or three. The biggest challenge is trying to look at the photos that I've got and then thinking how do I spread it out so I can have people constantly returning from the site. I look at where I've been and try and mix it up with different neighborhoods and getting different looks. It's not all about bespoke. Right now I've got a lot of high end fashion from the shows in Milan and Paris, so I can really put in some street style in there.
So what's next for the Sartorialist?
Well, on the back of the blog I'm now getting a lot of fashion editorial work. I'm like an ex-athlete at a sporting event. I have a better natural sense of the game than a lot of people out there, and that's the reason I've got a lot of good jobs. People at the magazines say that he's got the eye of the editor, so we can talk to him about fashion without talking about photography at all. They know that I get their point of view and that I can do it for men's and women's and I don't think that happens very often at all.
One city I really want to get to soon is Tokyo. There are some very fashionable people there and all these sub cultures.