In the early days of the pandemic, there were Zoom clothes: video meeting–appropriate pieces that fooled no one (we were all in sweatpants-or no pants-from the waist down). For prefall, a new variation has emerged: zoom-in clothes, garments peppered or patterned with logos so covert, so camouflaged, one must get close up to spot the labels. In Chanel's Métiers d'Art collection, tiny twin C's play hide-and-seek in the discs of knit flowers, while Givenchy's four-G logo transforms into a lacelike pattern. And on turtlenecks at Nina Ricci, the founding designer's name is stitched along the neckline in a nearly invisible font.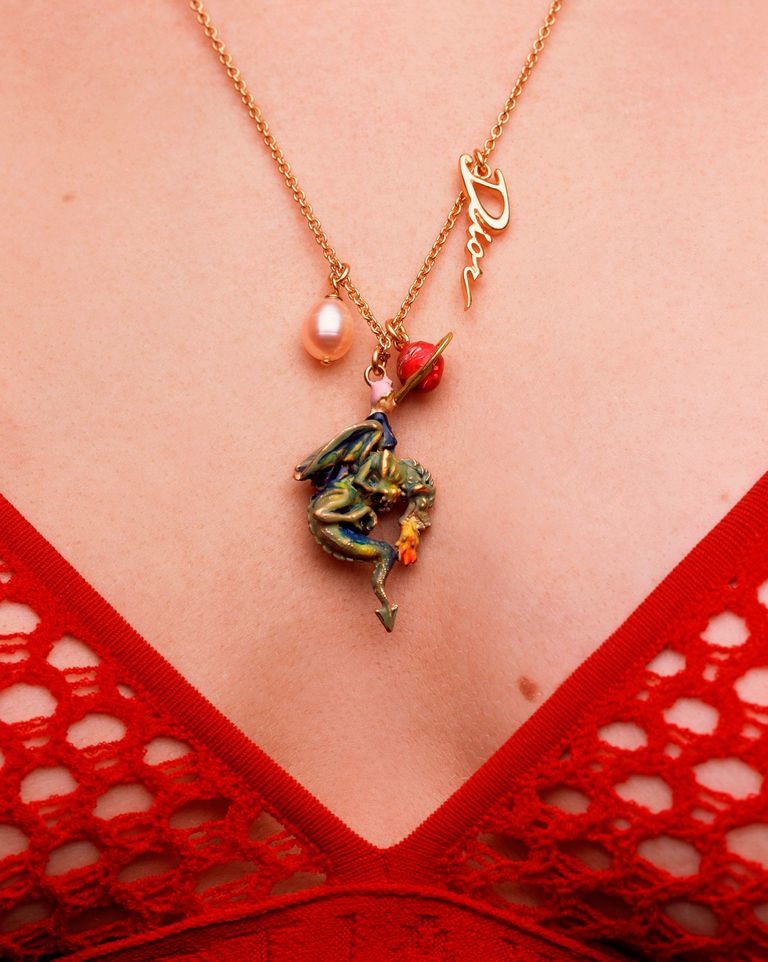 "I was thinking of the right attitude for facing the very difficult day in, day out of what we are experiencing now," explains Dior's creative director, Maria Grazia Chiuri, of her prefall collection for the house, which is full of whispering logos. She worked on the collection while thinking about how "we need to come up with strategies-both clothes-wise, and in terms of identities-to face the everyday." At least clothes-wise, that meant incorporating logos in a subtle and personal way that felt aimed at the wearer herself rather than an audience. The brand name is almost imperceptibly there, in red lace, on the hem of a dress; if you squint, there it is again on the buckle of a decorative belt. The initials "CD" sit quietly on flat-faced buttons, while tiny cursive "Dior" charms hang from necklaces and earlobes.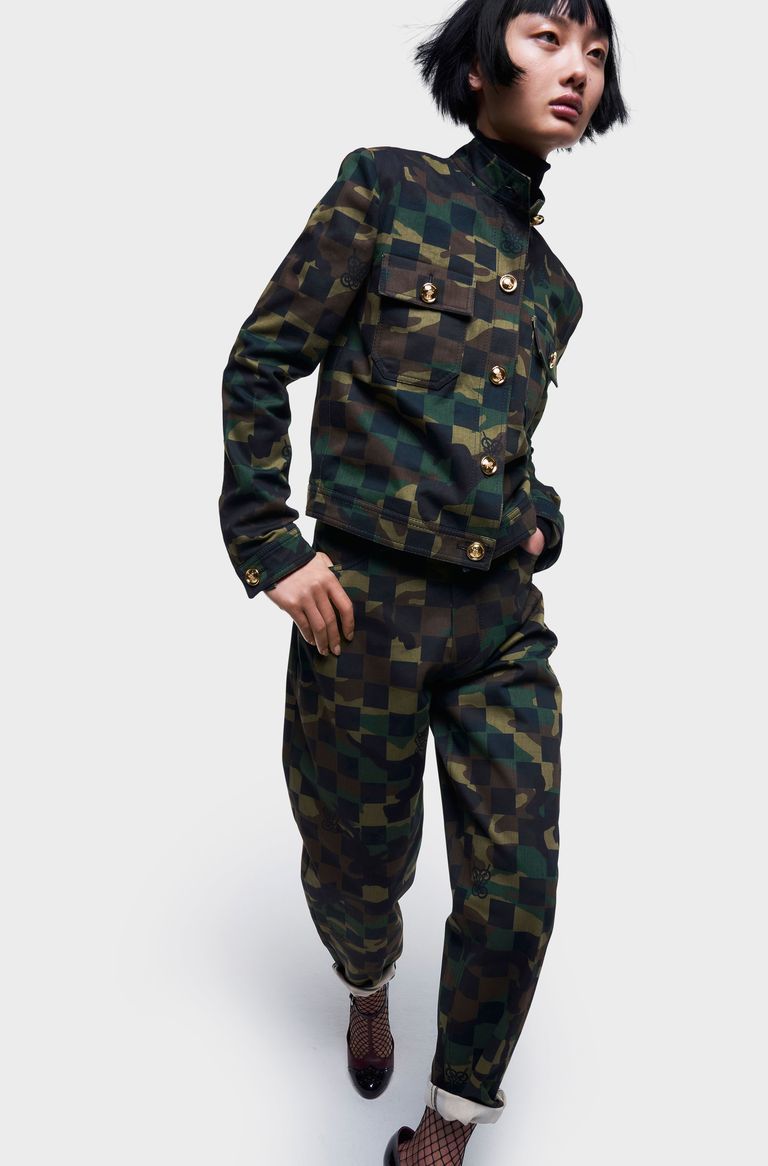 Fashion historian Shelby Ivey Christie says that the stealthier logos we're starting to see (or barely see, in this case) are a refinement of logomania's long-tailed journey. She points to Dapper Dan's '80s designs incorporating luxury logos and their significance in hip-hop and Black culture. "He was taking very logo-heavy textiles from luxury houses and repurposing that into a design…more fitted to the culture that he served," Christie says. "Back then, that's the way you showed that you were fly.... Those brands weren't designing in that way at the time." Until, thanks to Dapper Dan's influence, they were. Soon, wall-to-wall branding would be all over the runway.

By this point, logos and their degree of showiness have replaced the defunct hemline index—so it makes sense that amid a global pandemic, designers and their customers are dialing it back. The words we choose to wear, in an era of luxury "Vote" merch, are more likely to speak political volumes, not designer epithets. Chelsea Power, senior buyer at MatchesFashion, says that quieter logos allow the consumer to invest in classic pieces without worrying how the time stamp of a trend might fare tomorrow. For instance, there's the discreet V in Valentino's recent ready-to-wear collections: "It is very subtle, but still identifiable as the brand." The MatchesFashion customer is focusing on "key investment styles to build her forever wardrobe," she explains. Next door on the internet, at Moda Operandi (MO), it seems that similar investments are being made. Prada's spring 2021 kitten-heel slingbacks, which bear triangle-shaped rosettes in clever place of the brand's usual geometric plaque, sold out on the brand's MO trunk show. At press time, Moda Operandi was nearly sold out of two Valentino resort 2021 pieces that featured the subtle V.

Despite these quiet logos' aversion to the spotlight, they do not shrink away from it entirely. They could if they wanted to: After all, the best way to spot Phoebe Philo–era Céline is by silhouette, not logo. The same could be said for The Row. Chanel is Chanel whether it shows or tells, and even the logo-est of designers has a few best-sellers that speak fluent zeitgeist, sans subtitles. So why not pick a logo lane: Either the maximalist's wearable-billboard approach, or the minimalist mindset, in which the luxury label is no more visible than the garment's dry-cleaning instructions? What does one get out of logos that sit somewhere in the middle?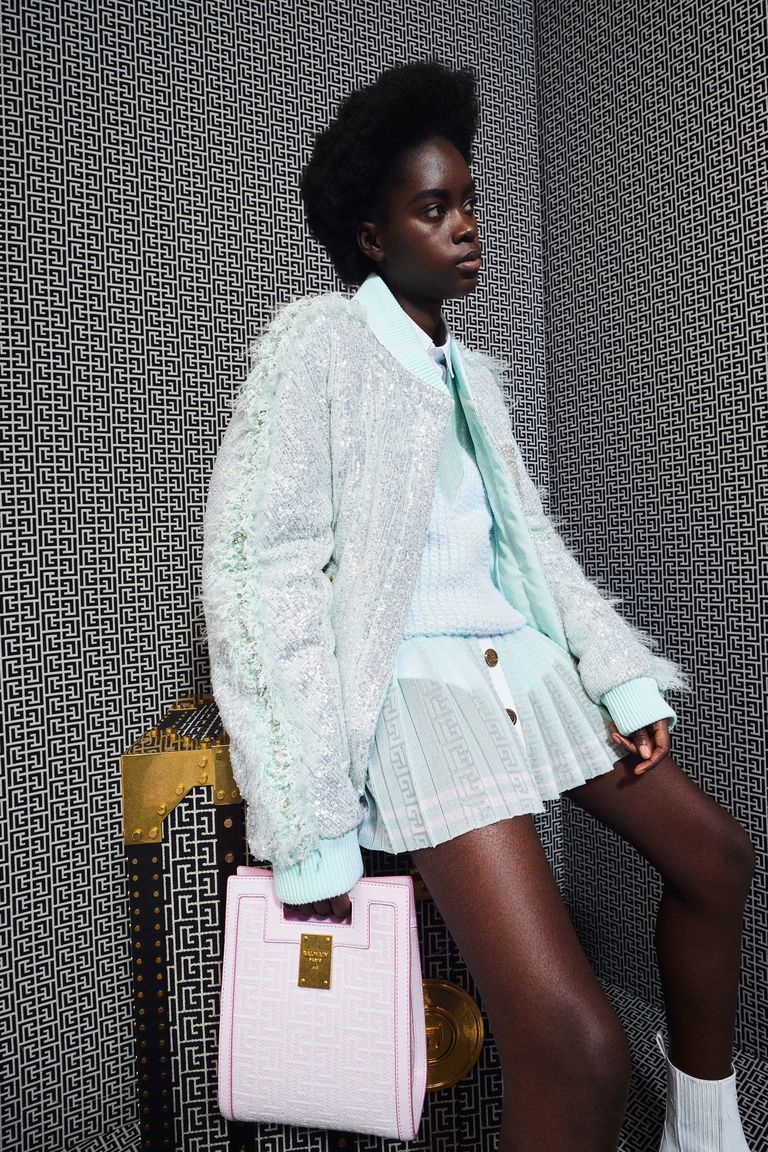 Olivier Rousteing, creative director of Balmain, whose high-profile designs are recognizable without the need for a name tag, says that he loves the lower-key logo of his prefall collection because "it's beyond a trend." In tribute to the house's eponymous founder, and inspired by the labyrinthine gardens of the French Renaissance, Rousteing turned Pierre Balmain's archival monogram into a maze. The pattern is more prominent in certain iterations throughout his collection, but one needs to really lean in to spot the interlocking initials on pastel pleated tennis skirts, blouson sleeves, and tea gloves. "I wanted something timeless," he says. To Rousteing, the days of ephemeral trends are fading. True luxury is that which can be passed down from generation to generation.

Members of the upper echelons of Renaissance society would have agreed with this sentiment (I assume; they could not be reached for comment). Luckily, Christie's Old Masters specialist Jonquil O'Reilly was available. O'Reilly, who specializes in period fashion and textiles in Old Masters paintings, reminds me that logos once weren't about who you wore, but who you were. And if you were important enough to have your portrait painted, it was likely that there were symbols—some overt, some less so-peppered throughout: logos that told of royal allegiance and social status; monograms that showcased familial unions and wealth. The point, she says, was to make sure everybody knew who you were and to whom you were connected. "It's all about dynasty," O'Reilly says. "Everything is always about dynasty."




Fast-forward to 2021, and we non-royals who are sick of our Zoom clothes can't quite relate to the concept. But we can grasp the intrinsically human need to belong, and to want proof of our belonging to extend beyond our own mortality. Giambattista Valli, who sneaked his own calligraphed monogram into his prefall collection amid green camouflage overlaid with black checkerboards, likens designer logos to college sweatshirts or band merch. "It's the belonging that's important," he says.

Could it be that we are drawn toward stealth logos not because they do or don't stand out, but because they connect us-to the past, to the future, and to this very moment? Maybe it's as simple as this: After a globally solitary year, we long for tactile proof that we're part of something made to last.