It's been a year full of face masks and tie-dye sweatpants, but in an effort to remember the more glamorous moments, Google's "Year in Search" list recaps some of the top searched celebrity outfits in 2020. While there were significantly less red carpets events this year (RIP Met Gala 2020), this list does feature a few major award show moments from the pre-corona times. Other ensembles were more popular because of their meme-related status (see: #8). Continue on to find out what made these celebrity looks the most-searched outfits of the year.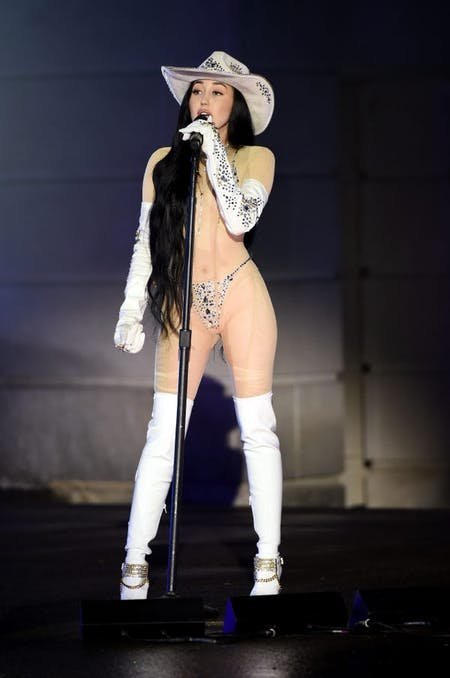 Noah Cyrus

Following in her sister's footstep, the youngest Cyrus sibling, Noah, performed her song "This Is Us" with Jimmie Allen at the 2020 CMT Awards in October in a sheer bodysuit with a bejeweled thong bikini design Saga NYC. She paired the ensemble with white Jeffrey Campbell thigh-high boots and a set of long embellished gloves and a cowgirl hat from Phallic Cvnt.

After facing criticism online about her wardrobe choice, Cyrus clapped back by tweeting, "My body my choice, bitch."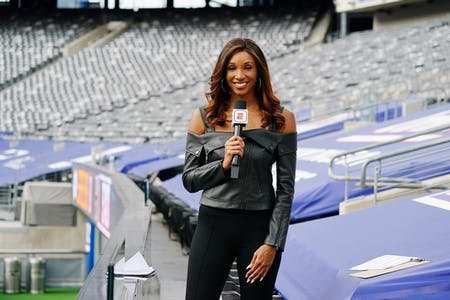 Maria Taylor

ESPN reporter Maria Taylor made headlines in September after calling out radio host Dan McNeil's provocative comment about her on-air attire. In a now-deleted tweet, McNeil suggested that Taylor's outfit on Monday Night Football while covering the New York Giants' game was better suited for the Adult Video News Awards.

Taylor tweeted back at McNeil and his station, "Well Danny Dearest if you would like to continue making sexist comments about me…please bring your misogyny with you to the NBA Countdown doubleheader I'll be hosting tomorrow night. Hey ladies remember you can wear whatever you feel confident in!"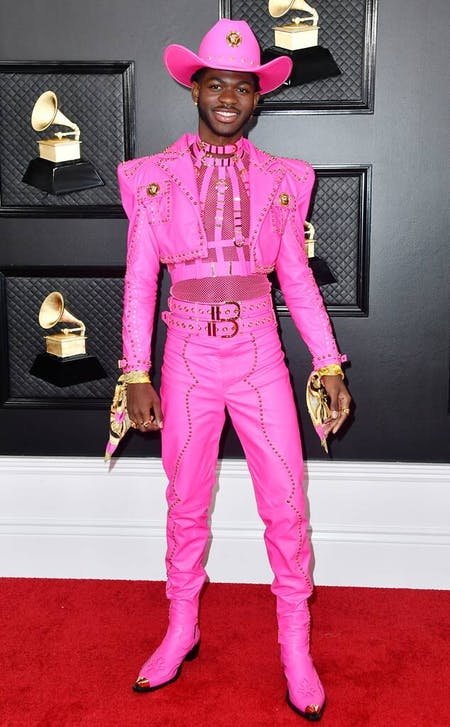 Lil Nas X

Lil Nas X arrived to the 2020 Grammy Awards as the ceremony's most-nominated male artist in a head-to-toe hot pink Versace look, complete with a cage-like harness, a pair of embellished pants with a matching jacket, boots, and a bright cowboy hat.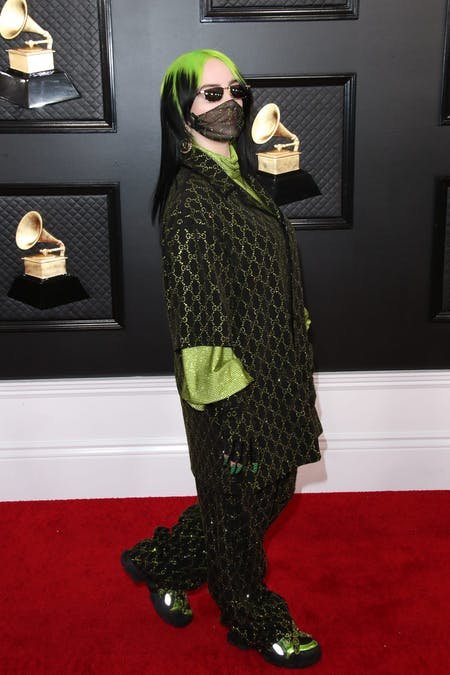 Billie Eilish

Known for her oversized wardrobe, "bad guy" singer Billie Eliish took home her five Grammys in a black and green monogrammed Gucci suit with matching gloves and tiny rectangular sunglasses.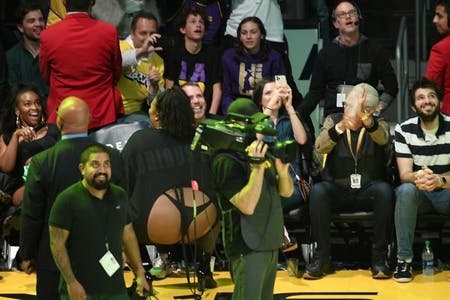 Lizzo

Last December, Lizzo wowed spectators when she flashed her black thong to the audience at the Lakers vs. Timberwolves basketball game. The singer also showed off her twerking skills before sitting back to enjoy the rest of the event.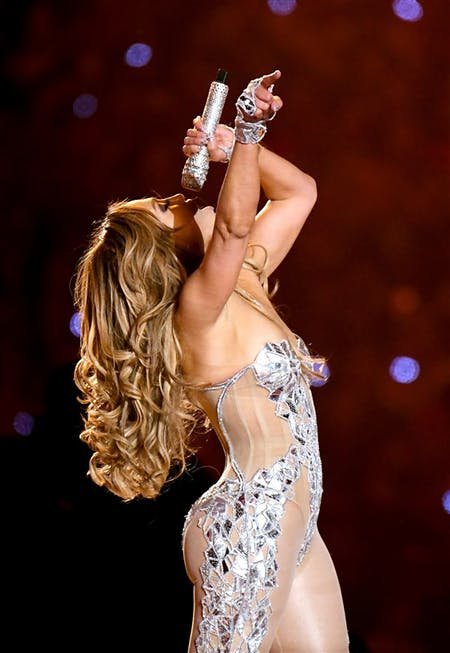 Jennifer Lopez

In February, Jennifer Lopez stole the stage at the Superbowl LIV Halftime show with her stellar performaces and lightning-speed wardrobe changes. However, her custom Versace bodysuit was a favorite among viewers this year.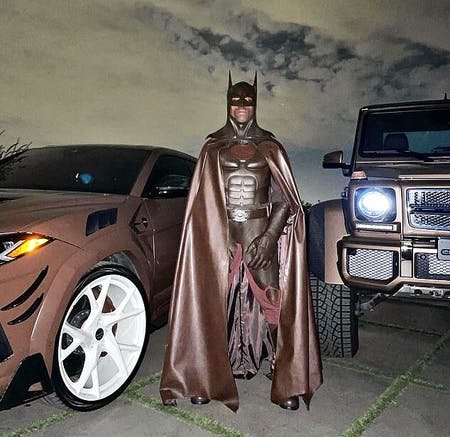 Travis Scott

Unlike some of the others on this list, Travis Scott's Halloween costume was not particularly popular with fans. His Batman get-up was criticized and compared to a "cockroach" or a "flea." Following the backlash, the rapper shut down his Instagram page.


Melania Trump

Melania Trump's Republican National Convention dress was quickly noted by those on internet users as the perfect shade to use as a green screen. Memes relating to the green Valentino gown put this look near the top of this year's Google searches.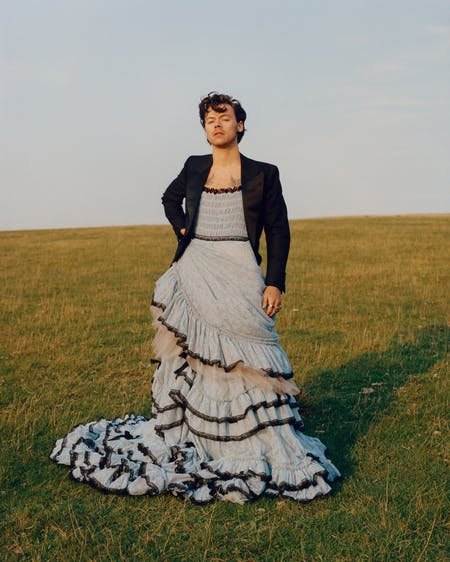 Harry Styles

It was the look that launched a thousands tweets-Harry Styles' dress for Vogue's December issue was the subject of both joy and criticism on social media recently. Conservative commentator Candace Owens called the spread an "outright attack," tweeting, "Bring back manly men!" Fans were quick to come to Styles' defense, lambasting Owens for her narrow-mindedness.

In the issue, Styles discusses his gender-fluid style, saying, "When you take away 'There's clothes for men and there's clothes for women,' once you remove any barriers, obviously you open up the arena in which you can play."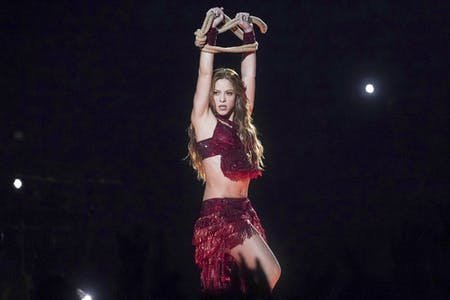 Shakira

Like J-Lo's Versace number, Shakira's red two-piece outfit from the Superbowl LIV Halftime show proved to be a huge hit with the viewers at home. Her look was custom made by Peter Dundas, including a pair of Swarovski-encrusted boots.