"I didn't know you could win Sundance," says Topaz Jones with a laugh. He's talking about his film Don't Go Tellin' Your Momma, an exploration into his personal history and the shared stories of his community. The release marks a significant new chapter in the New Jersey artist's life, and also earned the 27-year-old rapper the Short Film Jury Award for Non-Fiction at the prestigious festival. There's a sense of earnest transparency when Jones speaks about the art he's created. Though he admits the project will likely be a gateway to a new audience, the approach to his craft was always genuine, and the art reflects that dedication. Awards are a pleasant surprise, but Jones will continue to tell his story with or without them.

Jones lived in Montclair, New Jersey until the age of 18 when he hopped across the Hudson River to attend New York University's recorded music program. Music was always a part of his plan. His father, a seasoned funk musician, instilled in Jones the love of groove from an early age, and he became captivated by the expressive power of music. "Language started to appeal to me when it became a workaround for things I didn't want to deal with," says Jones, detailing his early passion for words. "When I started to submit poems or songs in place of an essay or a paper, it was almost like bartering. I found that I had this resource that I was able to pull from that had value because not everybody was able to do it, or was tapping into it. That intrigued me."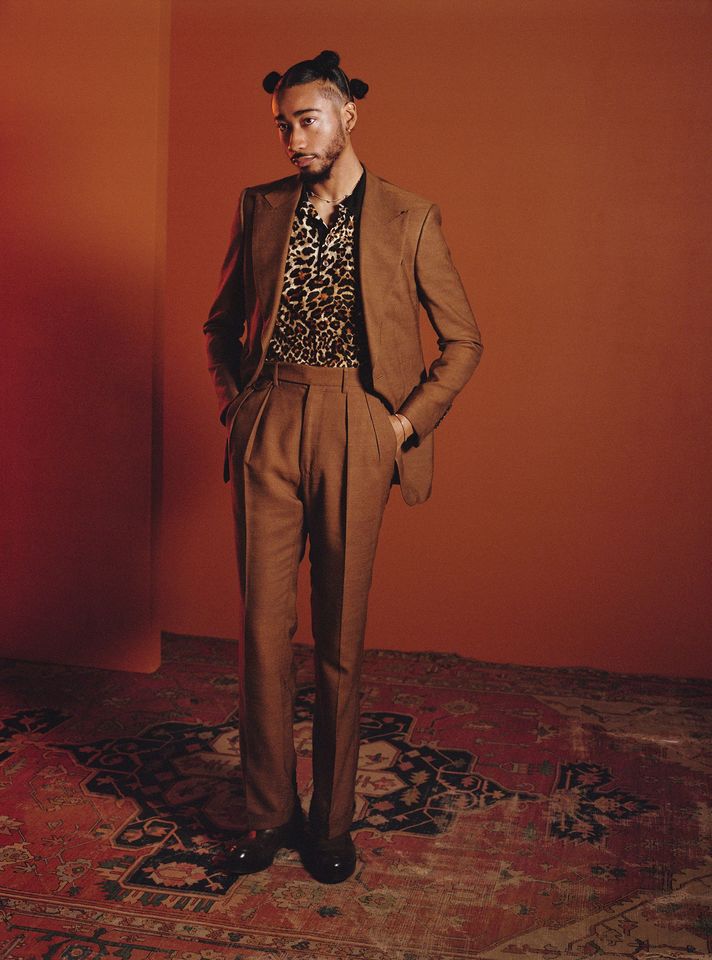 Jacket, shirt, and pants TOM FORD Necklace BERNARD JAMES Bracelet JOHN HARDY Ring DAVID YURMAN

He hasn't released an album since 2016's Arcade, and until "Herringbone"-the lead single from the forthcoming Don't Go Tellin' Your Momma-we hadn't heard new music from the rapper since his hugely successful track "Toothache," part of a series of EPs released in 2018. But Jones' relative silence doesn't mean he hasn't been busy. The success of his early work enabled the artist to aim higher and embark on the projects he's dreamed of. Instead of rushing into a sophomore album, Jones stepped back to consider what he had to offer, and how he wanted to share that with the world.

And so the project Jones set out to complete was grand in scale, bold, and ambitious. Don't Go Tellin' Your Momma places a 13- song album together with a short film of the same name and releases via New Funk Academy/Black Canopy this April. The logistical and creative pressure of producing an album can be difficult enough, but Jones knew his story demanded a supporting medium. "The reason it felt necessary was because of the music I created," Jones explains. "The album I made dictated that I support it with more than the standard two or three music videos. It was asking for a more holistic approach because I feel like it tells more of a story. Whether it's completely narrative or not-even if it's abstract in the way it's told-what it's communicating is something that's hinting at a bigger world that I wanted to give people full context for.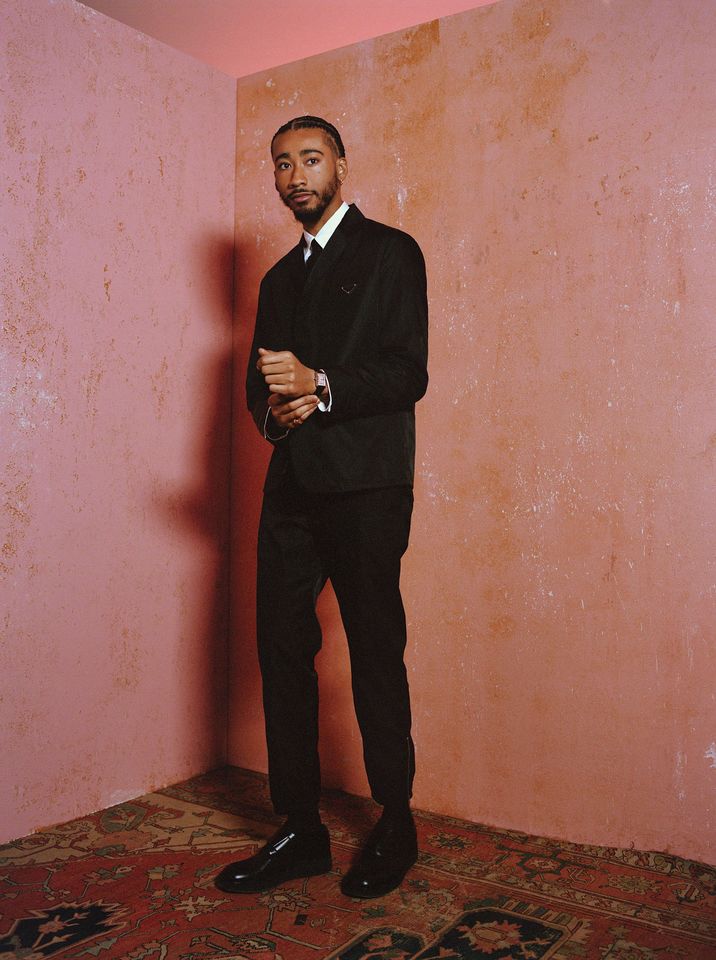 Jacket, shirt, pants, and shoes PRADA Watch CARTIER

Broken into 26 distinct scenes corresponding to letters of the alphabet, the artist's film is an exploration of his personal history. Some are interpreted as clear terms that can be easily understood in the broader narrative, such as "A for Amphetamines" and "C for Code-Switching." Others, like "B for Blue" and "S for Sourbelts," are idiosyncratic, and point more towards the emotion-based storytelling to which Jones gravitates. The film is experimental in nature, combining brief, acted vignettes with micro-lectures on broad-ranging subjects. The Roots' Black Thought talks about intellectual property. The rapper Ivy Sole speaks about her love of language and Black dialects. "I think that we're taught to present things with a very neat bow around them," Jones explains. "We want things to be easily placed in their box. We made a concerted effort to try and keep things from going in a predictable path. Life isn't predictable like that. Emotions and memories and all these things are extremely intertwined at any given moment."

There is an inherent sense that the tale Jones is telling through Don't Go Tellin' Your Momma is a personal one. He dug up old family photos and videos to include in the film, spoke with Rodney Jackson, a former teacher and mentor, and shines as the star in many of the vignettes. But the film feels broader than just a personal history. It's really a story of generations, and how knowledge, wisdom, and the soul is passed from old to young. The visual language for "H is for Herringbone," for example, pays homage to the power held by the flat, gold chains passed down through generations.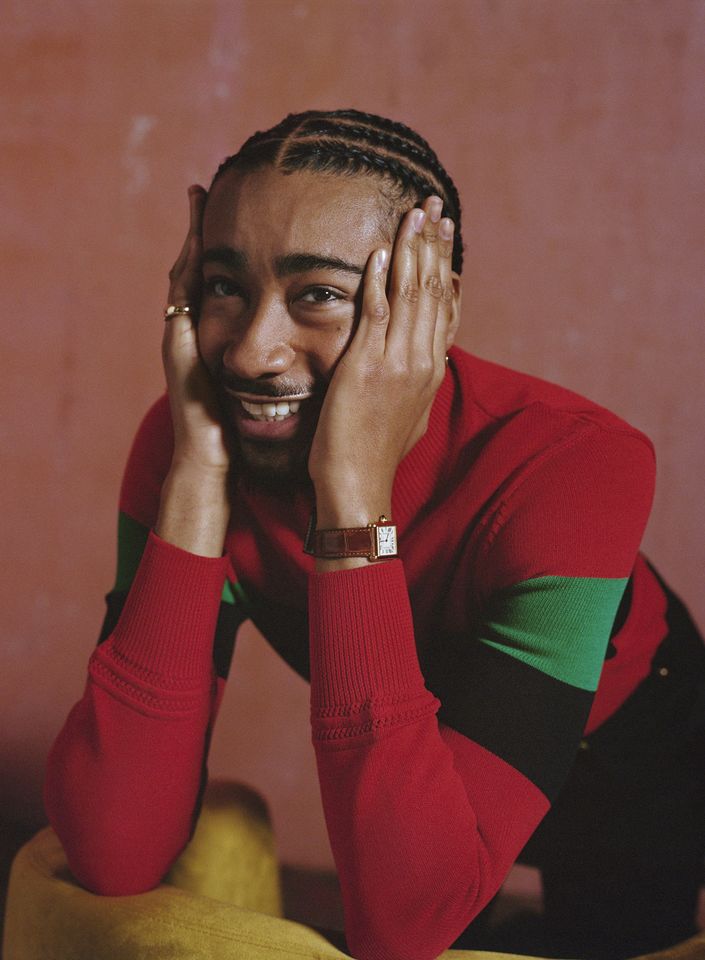 Sweater and pants WALES BONNER Watch CARTIER Ring DAVID YURMAN

Most importantly, the film and album represent a genuine exploration. Jones didn't enter the project knowing what he wanted to say: he discovered his message along the way. "In making this album, I interrogated a lot of my past and I worked through a lot of memories," he says, speaking to the most powerful moments of the film and album-in which the artist learned something about himself or the world in real time. "With time, things get all this extra sauce on them," he continues. "Sometimes I don't even know how reliable I am as a narrator, and that speaks to the nature of life, memories, and of all of our personal histories."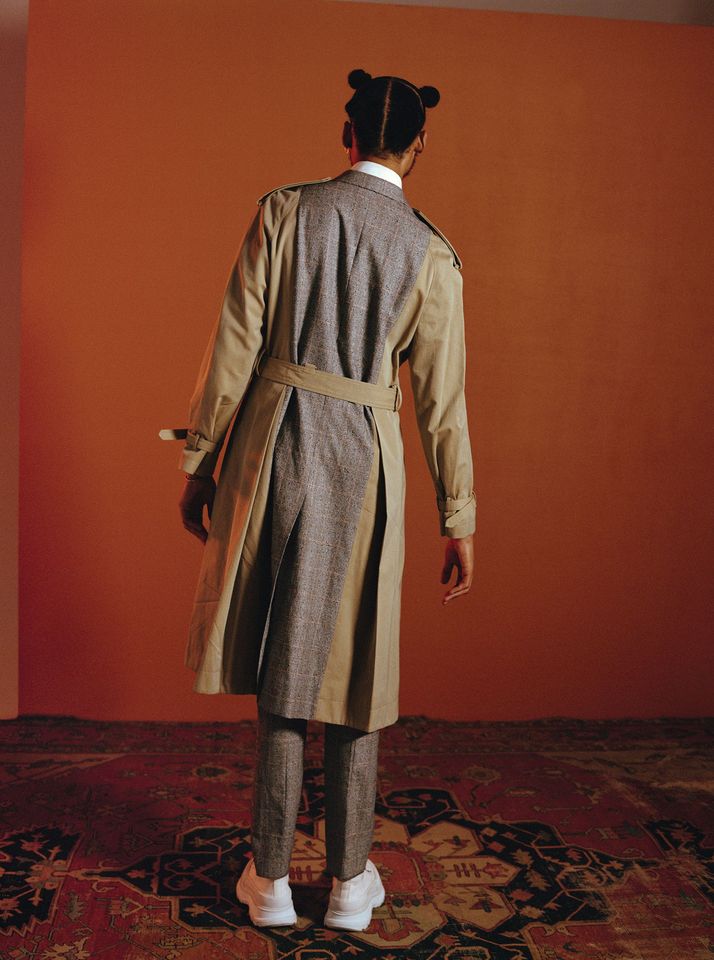 Coat, shirt, pants, and shoes ALEXANDER McQUEEN.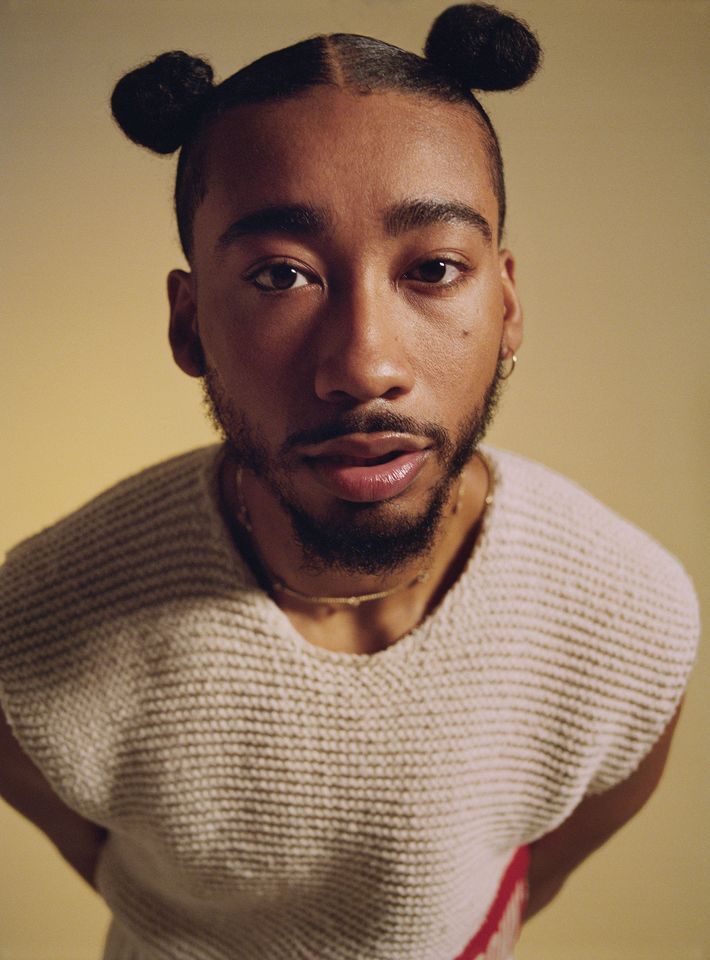 Sweater JIL SANDER Necklace BERNARD JAMES

On a base level, Don't Go Tellin' Your Momma is made for anyone who finds these moments useful. Jones urges listeners to garner what they can from the project. "But it's clearly meant more for Black people than for anyone else," Jones iterates. "That's not me coming out and saying, This is my Black album, but it just so happens that this is a Black story." Through the process of creating the film and album, Jones found a sense of community and grounding, knowing he wasn't alone in his journey. "I talked to a lot of my friends, my mentors. I read old works from past generations and people in my own family. [I] discovered that the Black experience that I was having, that I thought was so weird and idiosyncratic, was really, to a degree, the exact same experience that all other Black people in my life were also having."

Through the film and the funk-drenched, soulful music, Jones cultivated a new sense of confidence. "There's so much of me in the album that I was maybe not ready to communicate in all the music I've released prior," he admits. "I finally found the story that is mine to tell, and I finally found the confidence to tell that story. Those aren't easy things to come by."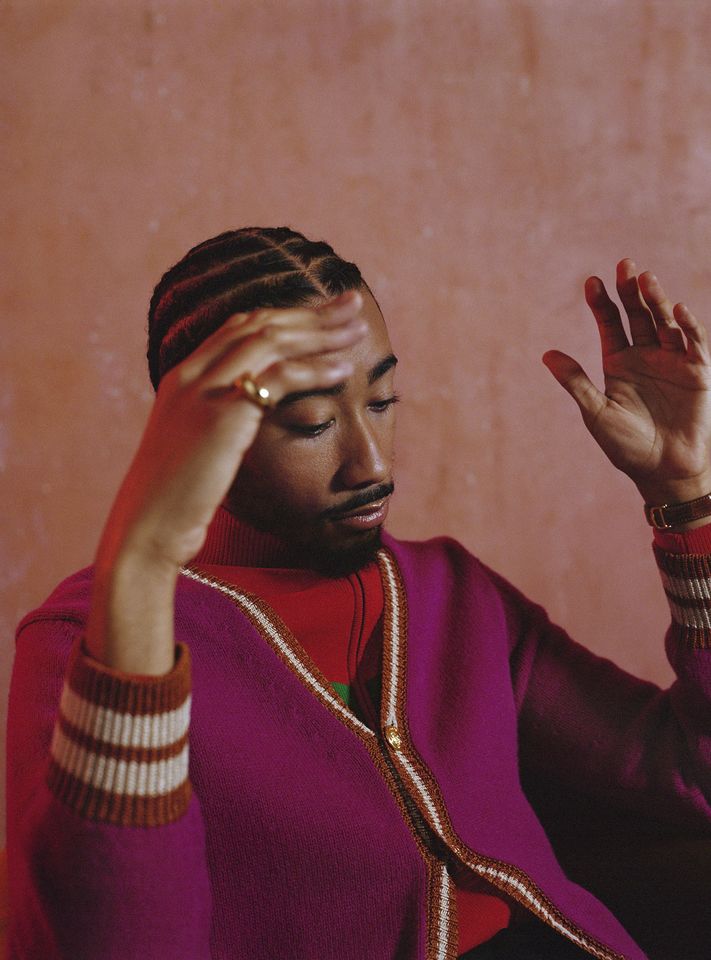 Cardigan and sweater WALES BONNER Watch CARTIER Ring DAVID YURMAN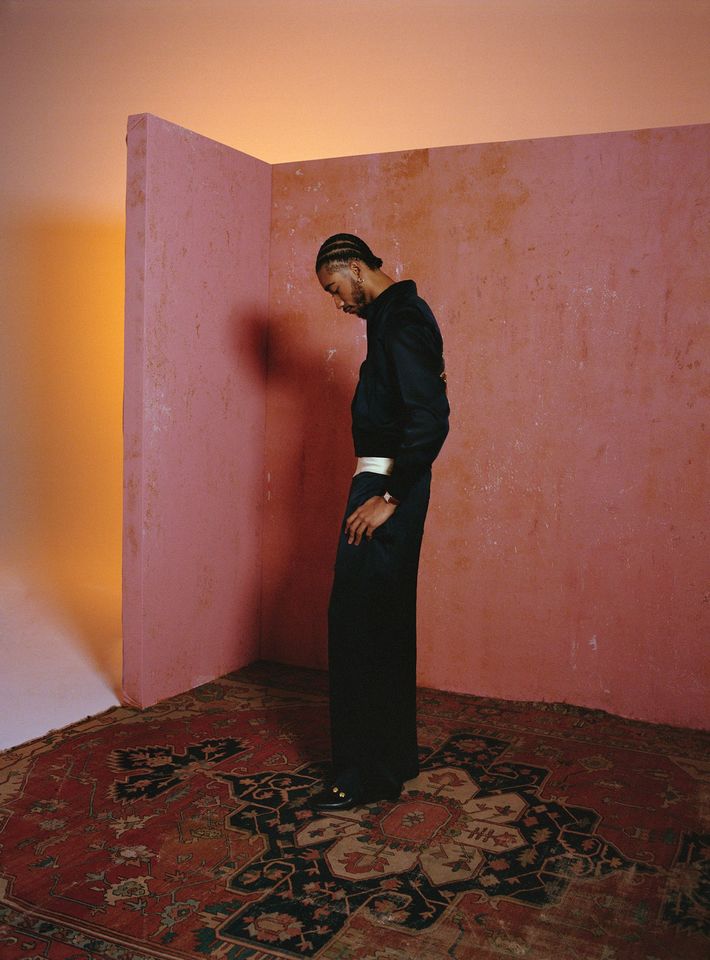 Jacket, shirt, and pants LANVIN Shoes WALES BONNER Watch CARTIER.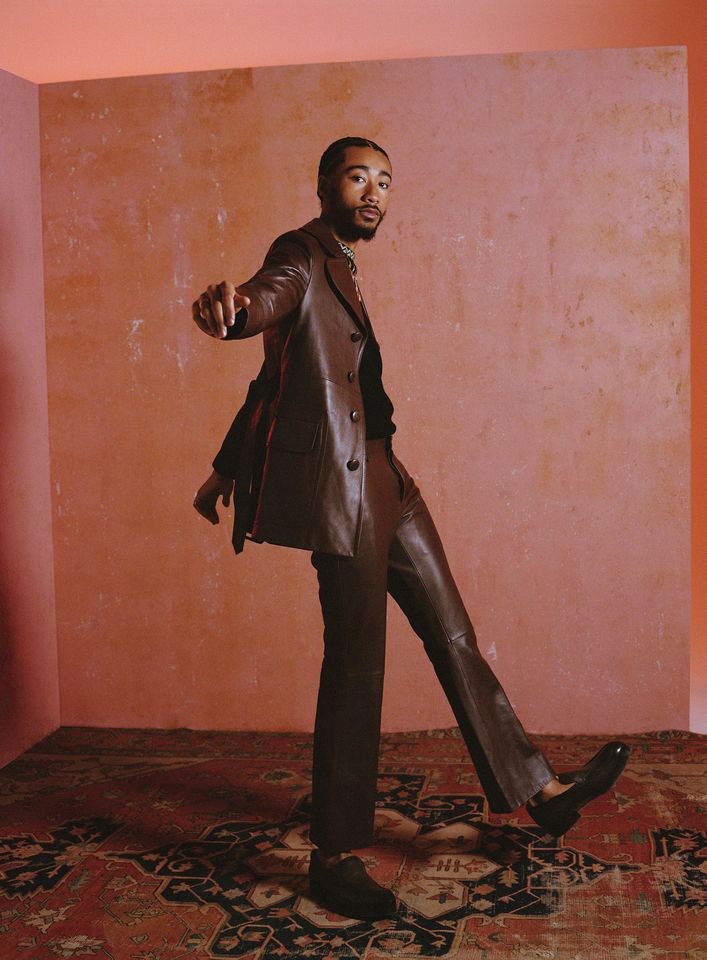 Jacket, pants, and sweater LANVIN Shoes ERMENEGILDO ZEGNA Ring CARTIER

I asked Jones what he learned about himself while making Don't Go Tellin' Your Momma. "[It has] left me with awareness that I am enough as a person," he states frankly. He also believes in taking risks in order to inspire growth. Previously, he was worried to make the leap. Now he's more confident: "I have a little more courage for the next jump; I know it will probably be from a higher mountain. But I've seen the net appear now."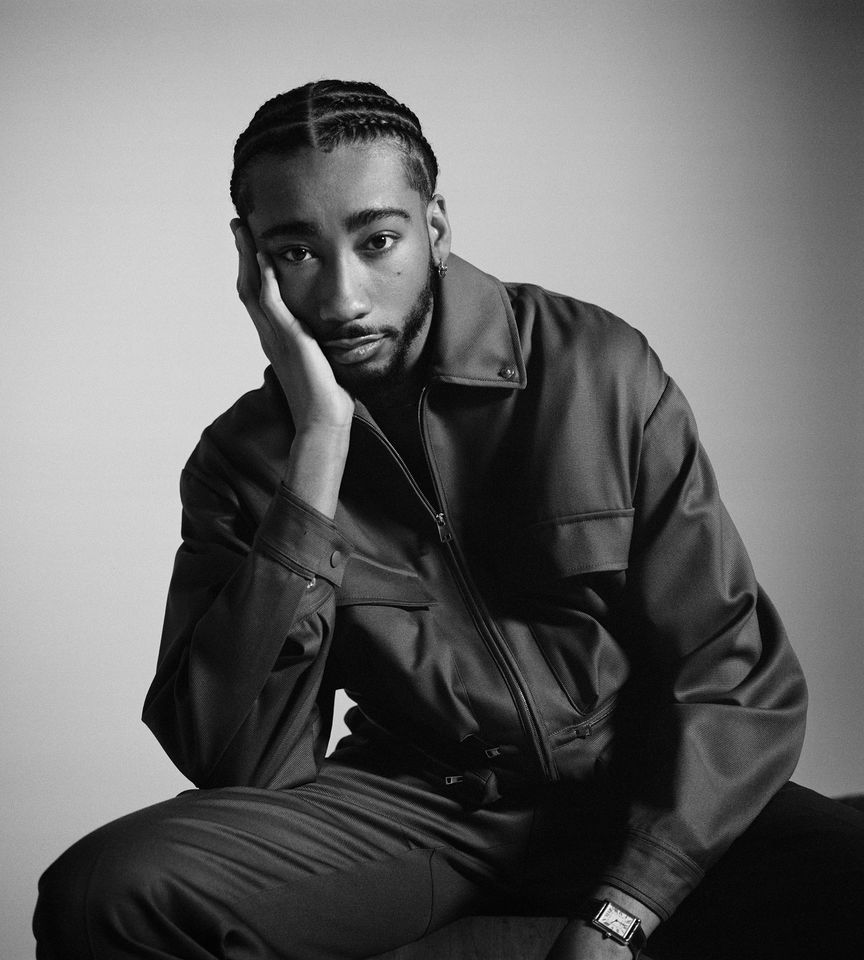 Jacket and pants ERMENEGILDO ZEGNA Watch CARTIER