But Campbell receives me warmly, encouraging me to peel back my several layers of clear plastic, latex, and barrier-resistant fabric: "You don't have to wear all that for me," she says. A world away from the "Pandemic fly on the runway, in my hazmat" Campbell (immortalized in Beyoncé's "Black Parade"), the woman greeting me is one soft layer all over-smooth skin, black satin camisole and pants, sleek central part in her hair. She is accessorized with an evil-eye pendant necklace, a constantly vibrating phone, and a packet of cigarettes that she places in front of her on the wide kitchen table where we choose to sit.

"I stopped smoking during quarantine, but a friend of mine killed himself, and it really affected me," she tells me quickly, as if the information could be made less painful by being delivered faster (she didn't want to say who the friend was). "I called my guy in Israel-he's great for sugar and cigarettes and addiction stuff-and we're going to do a session. He told me to just get through this week first."

The week has been filled with extremes of grief and love. The day before we meet, Campbell buried Ruby, the grandmother who raised her and died this summer at the age of 77. The funeral took place in Streatham, the same multicultural South London neighborhood in which Campbell grew up. Today, friends and family have congregated at this house, bonded by their communal loss. More than once while we are speaking, Campbell discreetly leaves the table to find a tissue to dab her eye. It's also happily chaotic, as friends and relatives come and go while their teenage children grab plates of spaghetti and eat them on stools.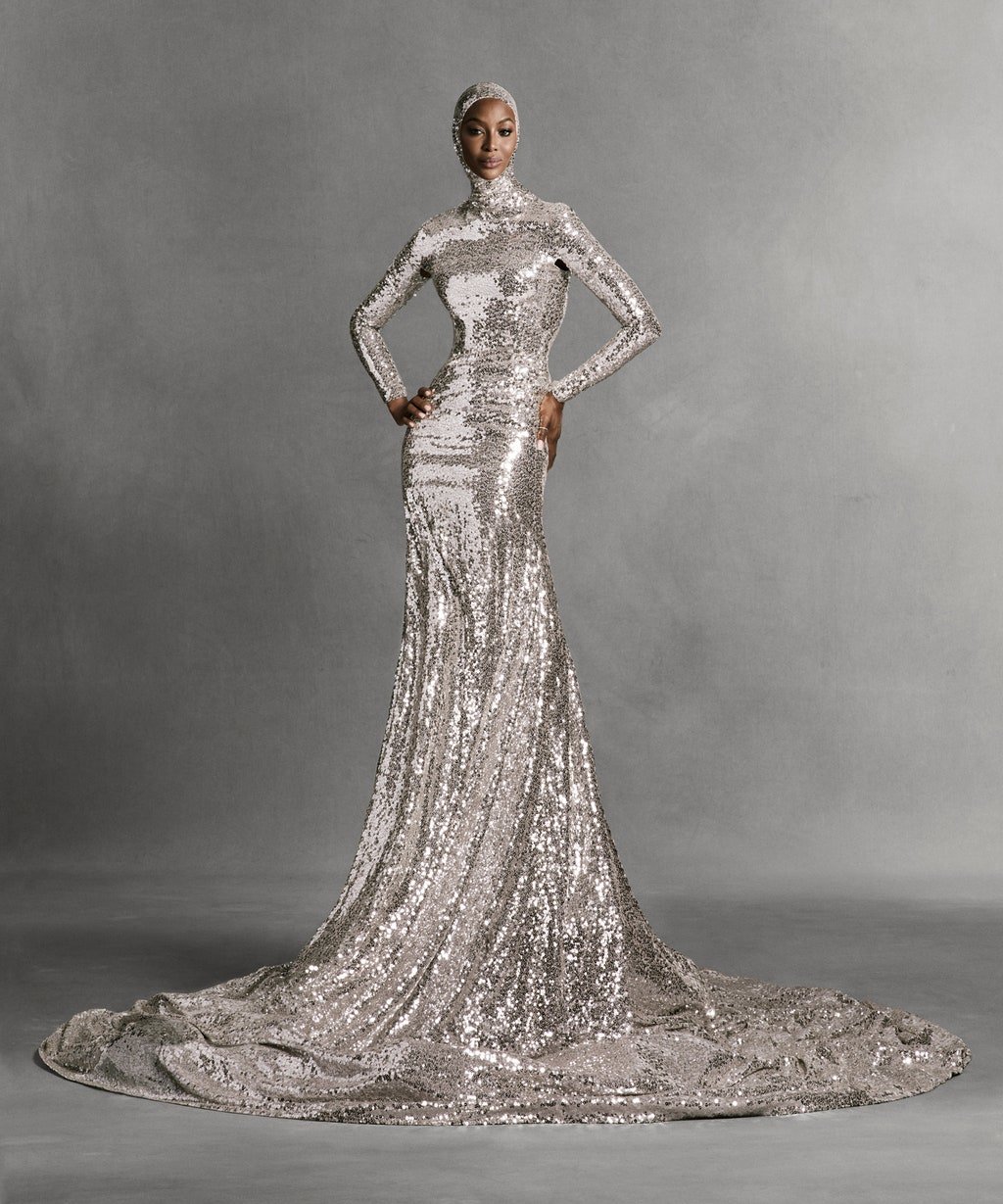 "Grandma was six feet tall, from a farming community in Jamaica," Campbell tells me. "I don't know those families where they put a man at the head. Grandma was the head of our family."

Campbell had arrived here from New York just in time to see her grandmother's last moments, driven largely by a hunch. "I just knew I needed to get to her," she says. "I was panicked to fly over, but I'm so grateful that I decided to come."

Campbell's mother, Valerie Morris-Campbell, joins us at the table as we talk about her mother. Like Campbell, she has failed to surrender to the usual norms of aging, her hair neatly framing a barely made-up face, her poise unmistakably that of a dancer. A dance career did, in fact, take her around the world when Campbell was young, and during those years Ruby stepped in to care for her. The closeness between the two only intensified in recent months.

"A lot of the things Grandma taught me as a child came into play in lockdown," Campbell says of the months she spent alone in New York. "I was quite happy to be on my own. I know how to cook. I know how to clean. It's actually good to get to really know every nook and cranny of your home. I mean, I have to be really honest," she says to her mother. "Nobody does it like you." Morris-Campbell nods in approval.

To see Campbell with her mother and aunts-Aunt Yvonne, who accompanied the young model on her first trip to Paris, age 16, is here, as is Aunt June, escort for Campbell's first trip to Milan-is to place her in what feels like the proper context. Campbell was raised communally, surrounded by a clear narrative about the power of women and by examples of unapologetic-and dramatically beautiful-Blackness.

"Now you understand the strength of my family," Campbell says, gesturing around the table at her many mothers. "You understand where I come from."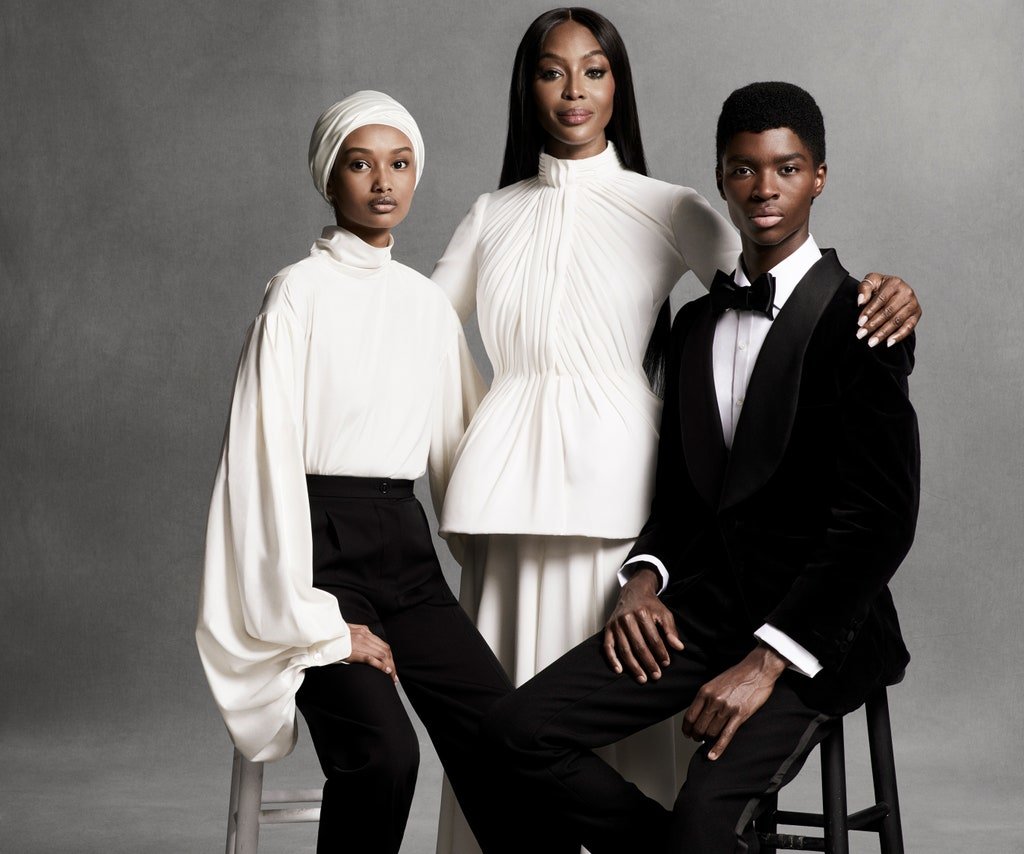 CAMPBELL'S community of Black women helps explain the attitude she has taken toward a younger generation of models, and the mentor­ing role that has made her a kind of surrogate mother to many in her industry.

Her mentees include Adut Akech, who affectionately calls Campbell her "mama": "Naomi is my family and always will be!" says Akech. "She is my idol to this day."

"Modeling can be a scary world, and getting support from anyone, let alone the trailblazers, means everything," says Ugbad Abdi. "Ms. Naomi has taken so many models under her wing. I wouldn't be here if it wasn't for her being who she is unapologetically. She is the blueprint."

Kaia Gerber, Cindy Crawford's daughter, is literally the child of Campbell's generation of supermodels. "Naomi has always championed authentic relationships with designers, editors, photographers, et cetera, and has always encouraged me to do the same," Gerber says of the role Campbell has played in her own burgeoning career.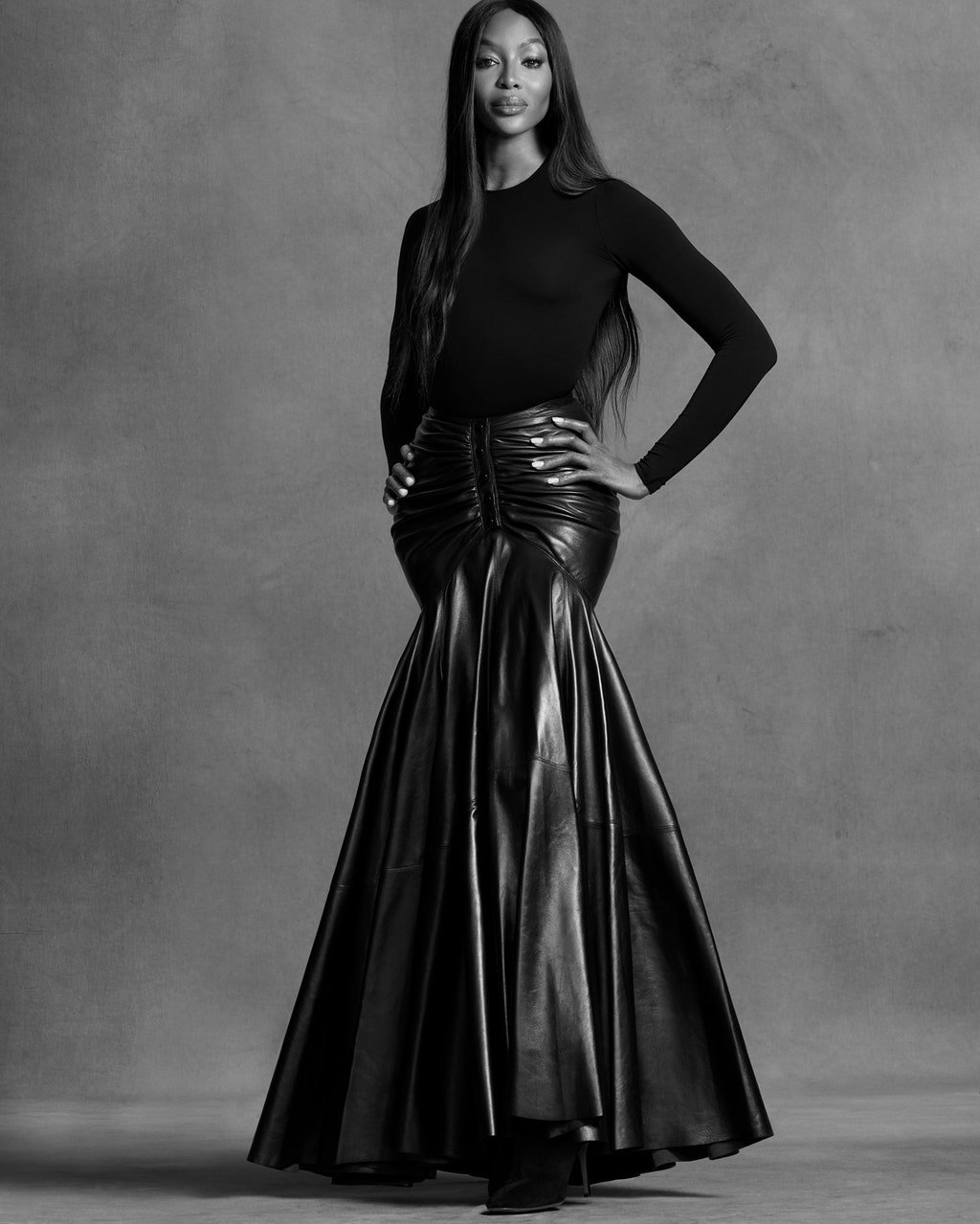 The designer Kenneth Ize, who first met Campbell in 2018 at Arise Fashion Week in Nigeria, tells me that her support of his eponymous brand drove his success. "I feel like Naomi is one of those people who will just light the candle and let it burn. What she's done, I couldn't pay for it!" Ize says. "She knows the value of what she is bringing to the table, and that if she supports this brand it's going to hit the next level. Naomi is an activist-she tries to make sure that everyone is okay."

That sense of responsibility-that desire to be part of the change in fashion, and to demand greater Black representation in particular, can be traced to the start of Campbell's career. What she's said hasn't altered over the years. The mode of delivery, however, has been gaining in directness.

"I never used to say the word racism; I just used to say, it's territorialism," Campbell says of her decades of interventions, of advocating for Black models. "I never wanted people to say that I used that as an excuse, that I was throwing that word out. Now I'm happy that everyone's all on the same page, that everyone feels comfortable to come out about their experiences without feeling some stigma. But for me, nothing's changed. I'm going to speak the same way."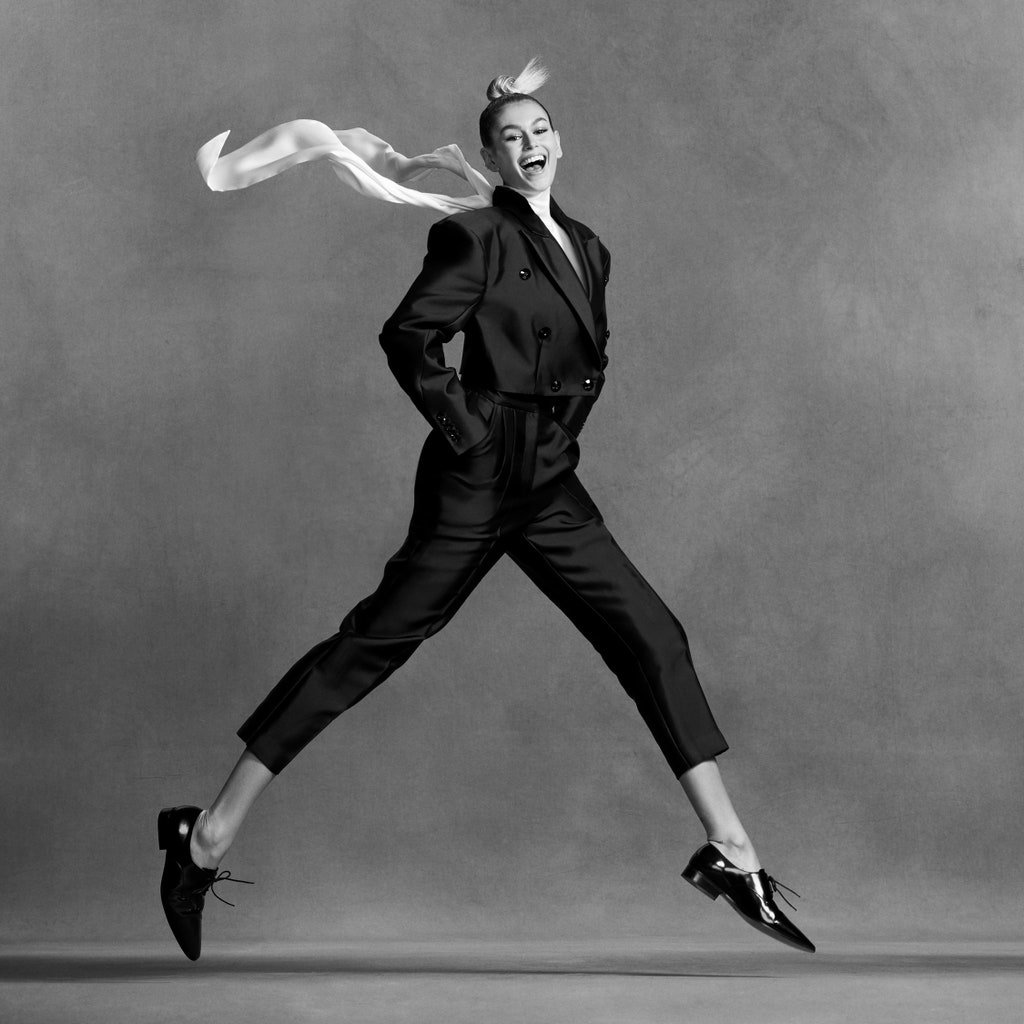 It's an approach that has clearly influenced younger models to speak out. "Stand your ground," responds Akech when I ask her to name the biggest lesson Campbell has taught her. "And always stay true to yourself."

"Naomi uses her public platform-as we all should-to speak against injustice and inequality," says Anok Yai.

"Naomi navigates this world well," says Gerber. "She sets an incredible example for others to follow."

There is a sense that Campbell is unapologetic about her outspokenness by force-in part, at least, due to the ceaselessly hostile press coverage she has received in her home nation. There were facts: two convictions for assault-for throwing a mobile phone at her housekeeper in 2006, and for assaulting two police officers after being ejected from a flight in 2008. There were stints in rehab for addiction. As a law professor, I taught students about her ultimately successful battles with the press: When Campbell sued a tabloid in 2004 for photographing her attending Narcotics Anonymous, she set a new constitutional precedent over the right to privacy. She contends that another tabloid newspaper had been illegally hacking her cell phone for a decade. On Campbell's Instagram account, she identifies herself as a model, actress, cultural innovator, activist, and "privacy law pioneer."

Campbell has regularly admitted her personal failings ("I'm a work in progress" is a phrase I've seen repeated in almost every interview she's given, including this one) and has achieved a lovable irreverence around them. Recall her couture-clad stint in community service from 2007, or the time she unforgettably donned a T-shirt declaring, NAOMI HIT ME…AND I LOVED IT!!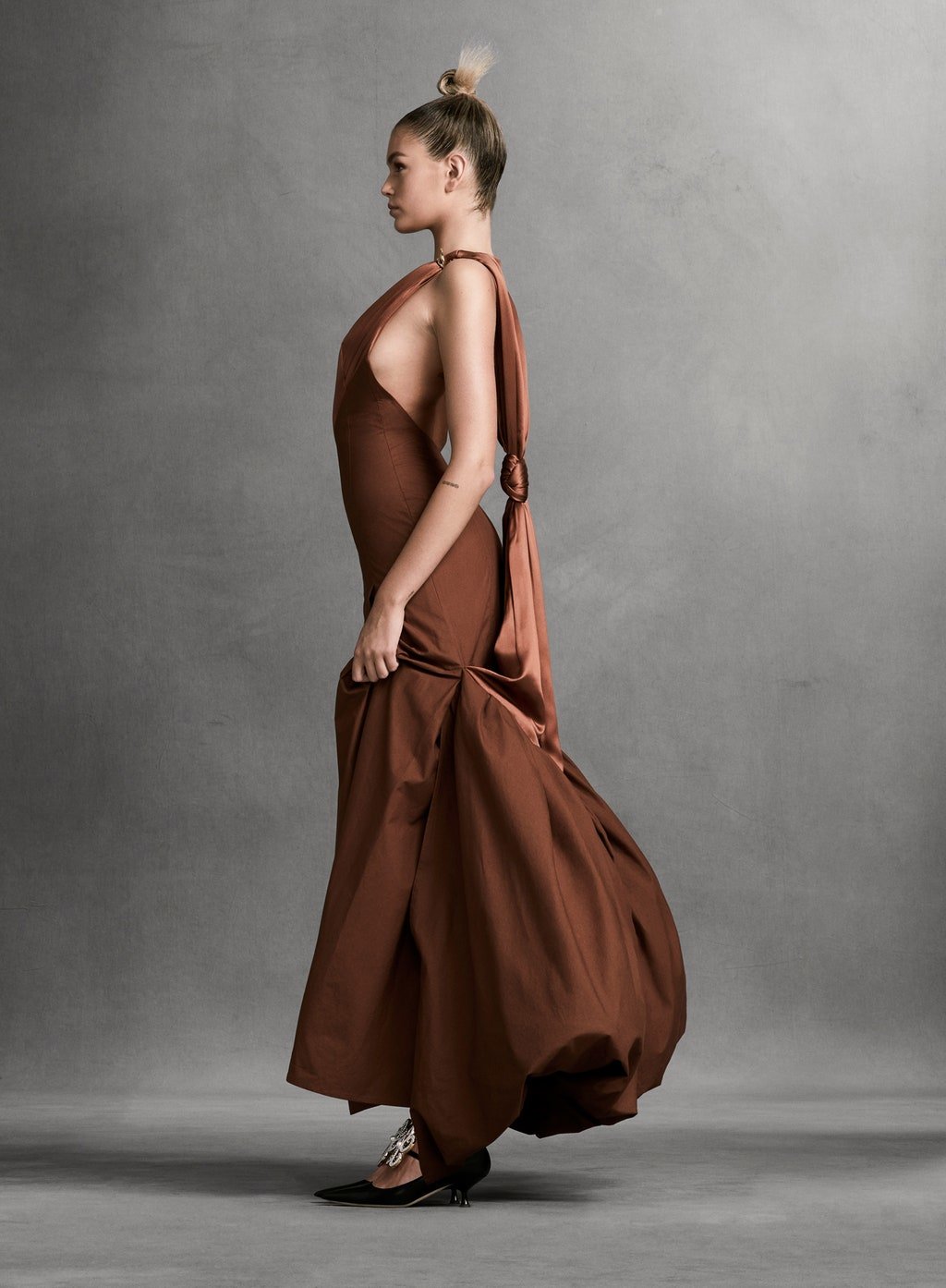 But behind the humor lies a genuine fatigue at the notion of the "angry Black woman." So often has this phrase been explicitly or implicitly attached to narratives about Campbell that it's painful to even ask her about it. I ask anyway. "I am quite over it," she says. "Is it now that we have permission to speak? Well, I have always spoken."

Campbell has spoken, but today she does so with a greater intentionality. She seems aware, perhaps more than ever before, that she is a Black woman with unparalleled influence. "There were a few things that I would do when I was younger that I was told were bad for my race," Campbell says. "Now the things I do are not just for me anymore. I think more of my culture and my race, as opposed to thinking about just me."

At the same time, Campbell has long had a command of her own voice. Watch a video of her, age 25, shooting with Herb Ritts in Jamaica for Vogue, addressing a reputation for being "difficult": "Most women we admire-Madonna, Janet Jackson, Sharon Stone, Barbra Streisand, Oprah…when a woman stands her ground and wants to fight for something...a woman gets called a bitch for that. And when a guy does it, he's just a hardworking guy," says a luminescent young Campbell, clad in a plaid Anna Sui bikini and matching hat.

"I don't care if I get called a bitch or not. I'm trying to fight for my integrity, to do things right," Campbell continues. It was 1996.

Before meeting Campbell, I revisited a news clip from almost two decades later, on Channel 4 News, one of the U.K.'s most watched current-affairs programs. In an interview, Jonathan Rugman, known for his expertise in international crises and disasters, seems to imply that Campbell is personally responsible for not having made the fashion industry more diverse. When she rejects the premise, he questions why she is so "angry," and later even went so far as to describe her having "anger on a different level."




"I remember that very well," Campbell tells me. "I understood exactly what angle [he] was going to come at, and that it would be combative. And I see the things newspapers go for. I see they'd rather write some trash thing that you've done, rather than the good that you've done. When I was younger it used to upset me, but it doesn't now-I'm not looking for those validations anymore. But I am still a little skeptical about doing interviews in England."

Campbell says she feels misunderstood by the British media. In the U.S., she is close to the pioneering Black model Bethann Hardison, who has been, in Campbell's words, "a mother figure in my life." In Britain, I suggest, Campbell is the first Black woman to gain anything like her level of prominence, and perhaps the British press hasn't yet learned how not to be racist toward Black models.

"They haven't learned how to be not-racist, period!" Campbell retorts.

Campbell's experience with the media on both sides of the Atlantic has shaped her perception of what she calls the "racism problems" that have erupted into global consciousness. Britain suffers more from denial, she says. "I'd rather have racism be right in front of my face and know what I'm dealing with, than to have it suppressed. No disrespect to the country I was born in, but we need to dig it up and bring it up and deal with it. No more chucking it down the sides."

Surely this is a bolder message than the one she has offered before?

"Nothing has changed," Campbell insists. "Only that I know that I will have the support of my culture now when I speak."

That culture is increasingly a pan-African one. Campbell is a proud Jamaican in line with her heritage, but she's an equally enthusiastic supporter of African people and cultures. I first met her in 2018, at a London dinner celebrating the achievements of British Ghanaians, and Campbell-who still doesn't know the origin of her African ancestors ("I did it with 23andMe, and I lost the code," she tells me)-introduced herself by a Ghanaian name she had adopted.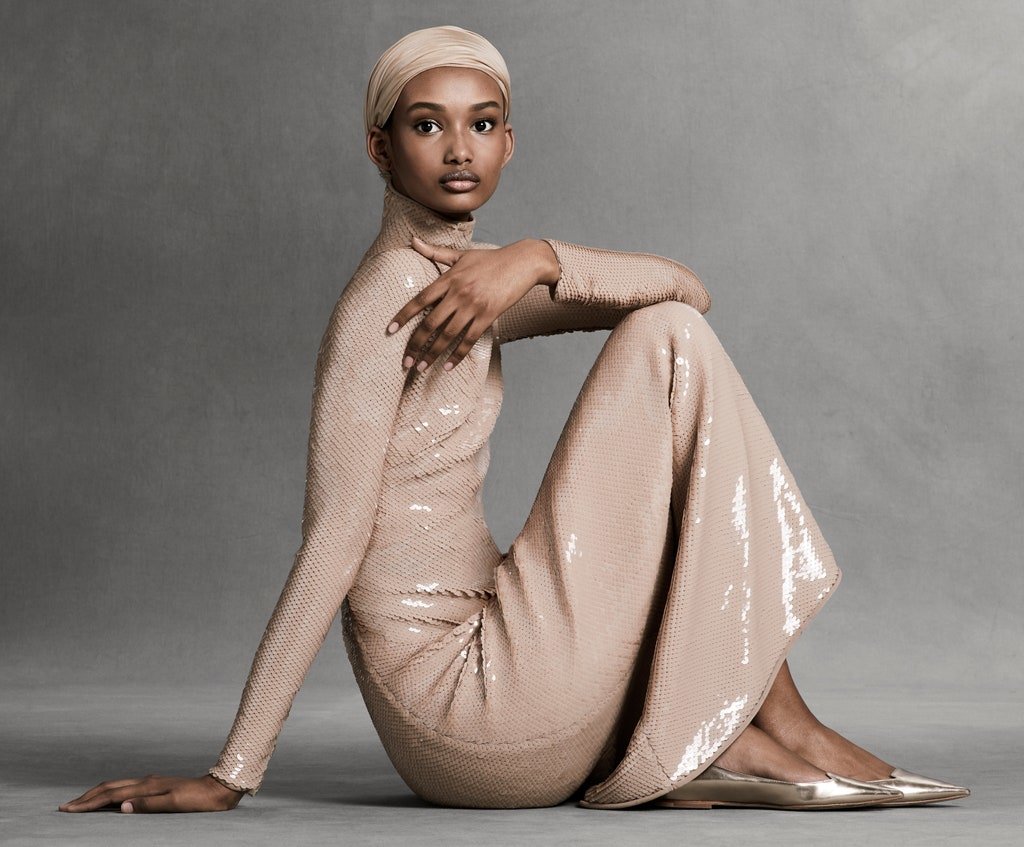 "I think it suited me," she tells me when I remind her of that occasion. "I feel Jamaican, but I also feel African. I just felt very content, very comfortable, very at peace on the African continent."

I have some insight into Naomi's African world. I have been to her places: South Africa, where she became an honorary granddaughter of Nelson Mandela; the spot in Malindi, on Kenya's Indian Ocean coast, where she has been widely photographed; and the West African nations Ghana and Nigeria, whose Afrobeat giants Wizkid and Burna Boy she likes to celebrate on her social-media platforms.

Campbell has increasingly aligned herself with the future of African fashion. She's known in the industry for lending support to African designers like Tiffany Amber, Thebe Magugu, and Ize, and backing events on the continent from Lagos to Cape Town. She is also the founder of Fashion for Relief-a charity set up in 2005 to harness the fundraising power of fashion events for humanitarian causes. (It has supported survivors of Ebola in West Africa, the 2010 earthquake in Haiti, and COVID-19 in the U.K.)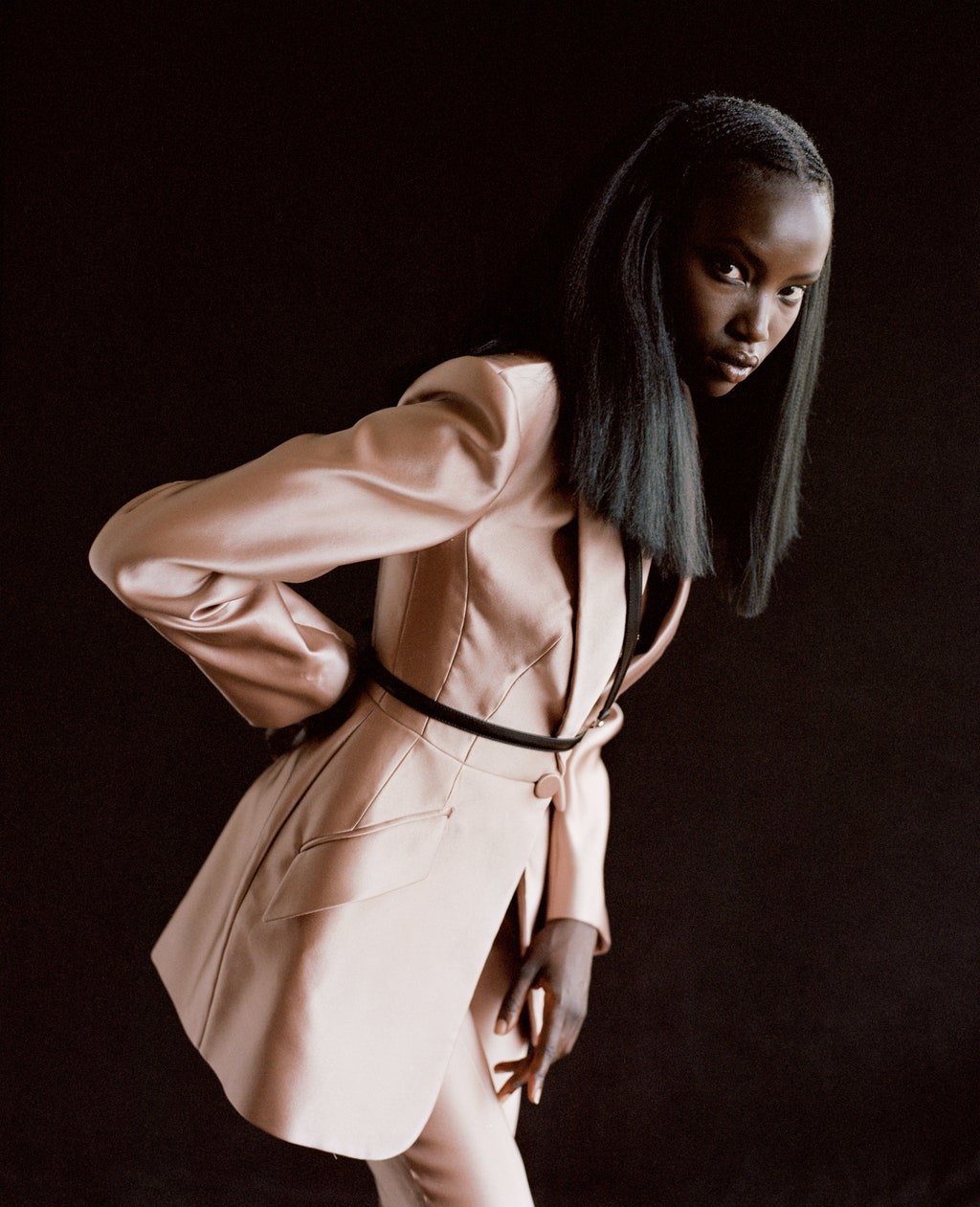 For all of her outspokenness, Campbell has chosen to use her celebrity and influence for causes she supports rather than the business of politics. "President Mandela told me to always be nonpolitical," she says. "One of the reasons why he stepped down from his presidency was because…in the political atmosphere you can't really do what you want."

But Campbell is not tiptoeing around her views, either. When we meet she is immersed in several stories about the erasure of Black history. She and her mother show me a video by MSNBC host Lawrence O'Donnell about Onesimus, an enslaved man from West Africa belatedly credited with introducing vaccination technology to America. "There is no charitable foundation named for that slave," O'Donnell exclaims as Campbell, her mother, and I watch. "The lifesaving gift he gave us did not even earn him his freedom." Later Campbell shows me a book she is reading about Ann Lowe, a midcentury African American designer who has been largely forgotten despite having made Jackie Kennedy's wedding dress.

When I ask Campbell what she thinks could change these patterns of injustice and erasure, the bluntness of her answer surprises me. "I think as a generation, as a whole, can we get reparations for our culture, for what we've been through?" she asks, referencing the movement for nations that profited from transatlantic slavery to compensate descendants of the enslaved.

"I absolutely believe we are going to get the positive outcome we deserve. But we have to do our work in making sure we get it. I think reparations are important for the people to really see that this is something that's been taken seriously."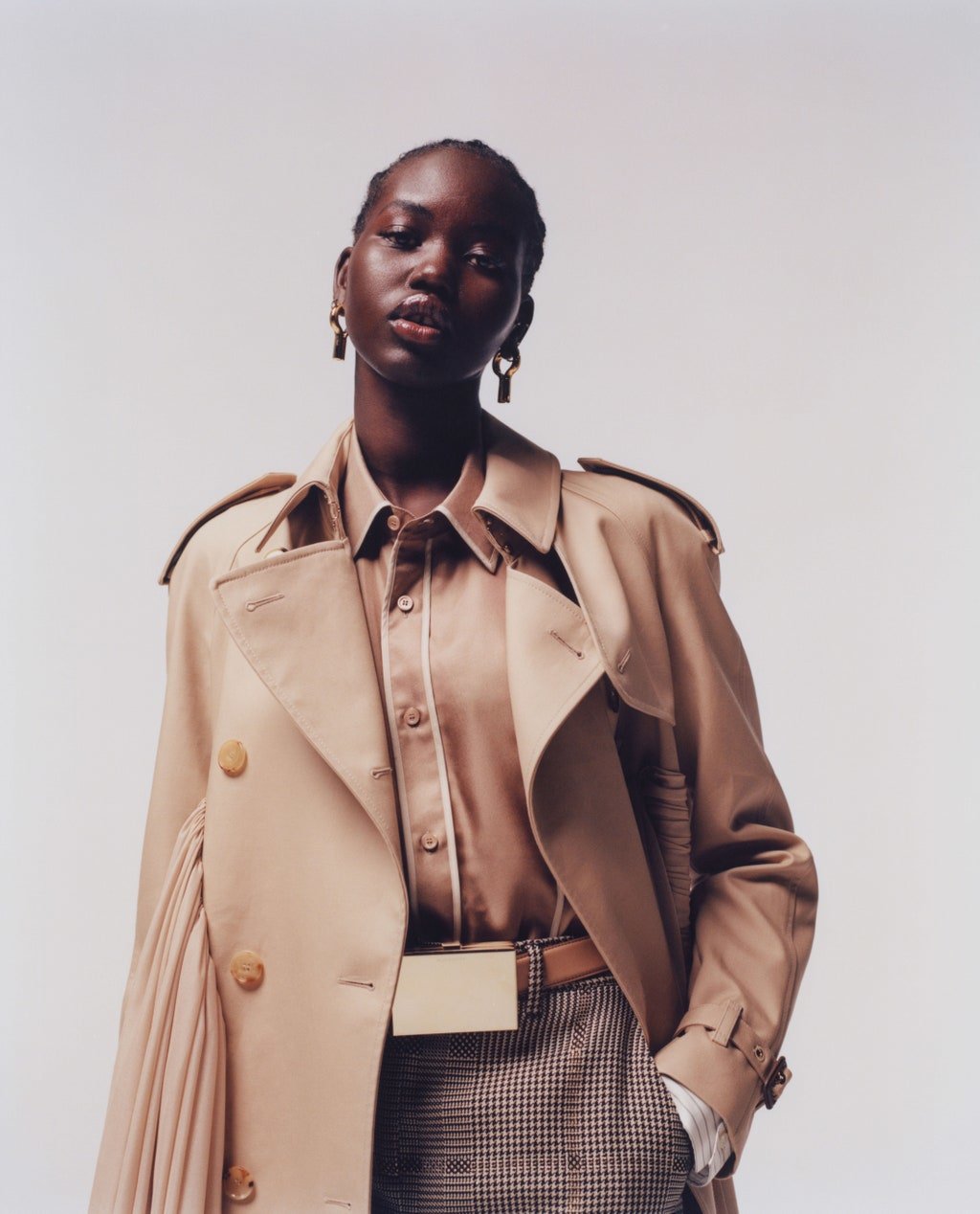 WHEN I WAS GROWING UP, a young Black girl in 1980s South London, just a couple of miles from Campbell's own childhood home, her omnipresence was a palpable part of daily life. The hairdresser who came to our house claimed fame for knowing-no matter how remotely-Campbell's mother. I remember sitting on a low Ashanti stool by my parents' shelves of records, listening to Sade-another Black British female icon-while we had our hair blow-dried and braided, reading magazines inevitably filled with images of Campbell.

My mother would often come home from work with some new revelation around Campbell's own beauty practices, insisting we adopt them immediately. I remember slathering my skin with baby oil, on the suggestion that this highly affordable drugstore product might somehow transform me into a goddess of similar proportions.

To us, and many other Black British people in my world, none of the media's attempts to depict Campbell as a monstrous diva were persuasive. We loved her anyway, because she was ours, and no one could dispute that she was the best in the world at what she did.

It's hard to be objective about someone whose achievements have so permeated my psyche—from my childhood memories to my very notion of Black beauty and excellence. Even so, I was unprepared for the gracious reception I received during our interview. As we were speaking at her kitchen table, in true British fashion, Campbell served me endless cups of tea. She insisted on decanting oat milk into a jug, to avoid the travesty of pouring directly from the carton. Her attentiveness was such that, once she realized the extent of my appetite for leaf-based caffeine, Campbell switched the dainty teacup I'd initially been given for a large mug.

It dawned on me then that Campbell is actually remarkably old-fashioned, imbued by the women who raised her with the values of the colonial Caribbean. Morris-Campbell tells me she had specific ideas about the social training her daughter should receive. "I used to take Naomi to places that would educate her and give her that confidence," Morris-Campbell says. "Places that don't exist anymore, like tearooms, for high tea. Naomi had to learn to ski-she used to go to Megève."

At London's Barbara Speake Stage School, which Campbell attended from five to 12, she received elocution lessons alongside a curriculum that included dance, music, and drama. If the idea was to prepare her for a life of glamour and fame-Morris-Campbell hoped her daughter would become an actor rather than a model-it worked. "When I got invited to my first dinner as a model," Campbell says, "I realized I knew exactly how to deal with things." The school, Campbell adds, prepared her for a world in which you encourage your peers to thrive rather than compete against them. Two school friends, Justine and Nicole, who have now joined us around the table, concur.

"It wasn't the best education, but you can't compare it to anywhere else when it comes to the friendships you made," Justine says. "We never got jealous of each other going to auditions."

"There was this premise of being happy for each other," Campbell adds. "And that also is how I felt with my counterparts in modeling. I would never get jealous of Linda, Christy, Cindy, or any of my fellow Black models. There was not a sense of competing against each other-we were just having fun."

A few weeks after our meeting in London, Campbell calls me as she makes a late-night dash from Monaco to catch a flight in the South of France. It feels a little like the scene of a high-speed thriller to me as she races toward the airport, the gate to her flight closing-but appears to be business as usual for her. If she is a little breathless, it is because of the news she's sharing-a forthcoming docuseries, The Supermodels, for Apple TV+. Directed by Oscar-winner Barbara Kopple, it will see Campbell reunited with Linda Evangelista, Christy Turlington, and Cindy Crawford as they revisit their 1990s reign over fashion and culture. Campbell's enthusiasm about the project is unmistakable as she explains how many offers they have turned down over the years, waiting for the right opportunity to tell the story the way they wanted.

"It was really worth holding out. If we are going to do something, we are going to be involved in it throughout the whole process, from beginning to end. Linda, Christy, and Cindy, these are my sisters. The four of us tell it. I wasn't going to do it any other way."

Campbell places a high value on writing her own narrative and says her memoir-something she has also been thinking about for a long time-will be forthcoming eventually. "I had this old-school way of looking at it as having to put pen to paper," she says, sighing. "But I had a lovely lunch last year with Clarence Avant," the legendary music executive and producer whose story was told in the 2019 Netflix documentary The Black Godfather. "I asked him, 'Clarence, How do you do it? How do you start writing?' And he told me, 'Just start from anywhere. Don't start from the beginning.' So it is going to happen!"

More acting appearances, Campbell says, depend on who is asking-she tends to say yes to Lee Daniels, an old friend and collaborator, who produced and directed The Butler and Precious and cast Campbell in his TV series Empire. As in all things, Campbell is open to a world of possibility.

"I mean, if it feels like something that is right, and if I fit it as a 50-year-old woman," she says, "then sign me up!"