As a teenager in the south central suburbs of Houston, Texas, Jacques Bermon Webster II, now known as Travis Scott, would collect used stereo speakers from his neighbors. Alone in the peace of his room, he would experiment with the discarded tech, conjuring a Frankensteinian surround sound system years before the advent of portable-and accessible-high quality devices. Reverberating through retired shoeboxes, Scott's late-night mixing sessions would not only inform the young artist's work as a musician-from the Myspace-era duo The Graduates to his widely successful solo career and collaborative endeavors thereafter under Huncho Jack, Cactus Jack Records, and JackBoys—but also his Insta-gloried congregation of cars. With all the big, buzzy automotive names present, the 28-year-old's personal collection today (Scott admits the exact number remains a mystery) would put the streets of Monte Carlo to shame, but given the chance to build one of his own from scratch, the rapper says he would begin first with the car's sound system. All this is to say, Scott is more than just a rapper, of course. A mix of high fashion, fast food, and a whole serving of Kardashian, the former kid next door represents more than just the American Dream-he's driving it.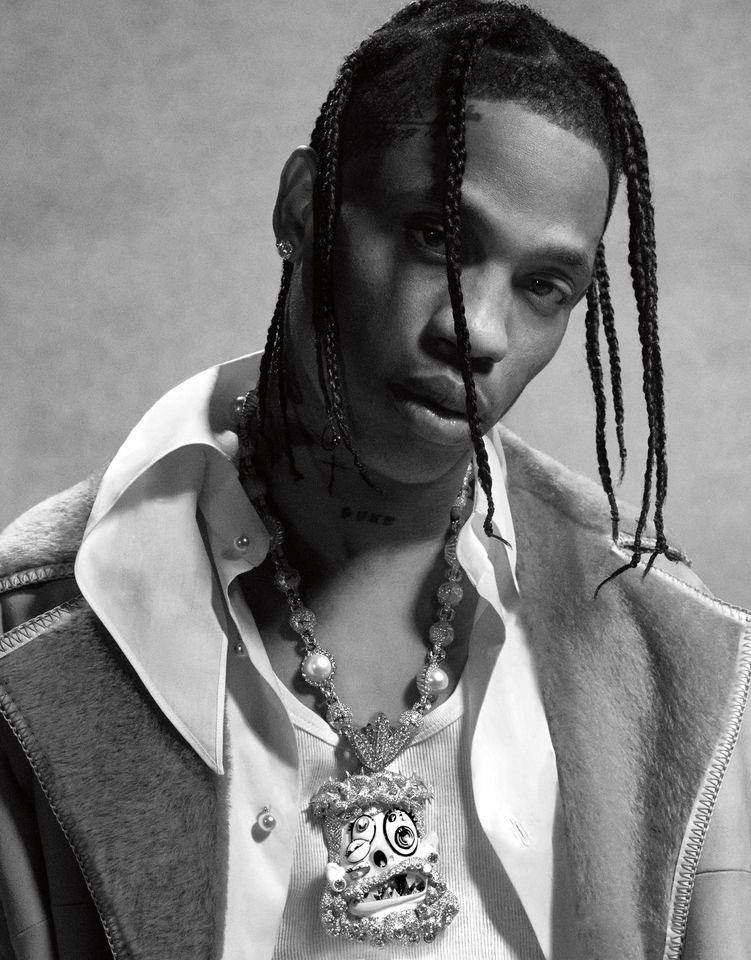 JOSHUA GLASS: Did your family have a particular car that shaped your childhood?

TRAVIS SCOTT: We didn't have the best car situation when I was growing up. When I was about five or six my dad bought a Toyota 4Runner. He came to my granny's house and was like, "Yo, I just got this!" I remember thinking it was just the dopest-to me it really felt like a Benz. Maybe a year or so later my mom got a Jeep Cherokee, but it became our only car and it was pretty bad. It got to the point where the passenger door didn't even open, so we all had to get in through the driver's side and crawl through. My mom's leg doesn't bend, so she had to climb over the passenger seat to avoid the stick shift. It was crazy! But I think I've always looked at cars-sports cars, rally race cars, soapbox cars-with the ambition of someday getting really nice ones.


JG: Do you think the desire was formed by not having a particularly "nice" car growing up?

TS: Nah. Us not having a nice car was just the situation, you know. It just was what it was. The lack of the car didn't make or break me. I think the goal was inspiring in general, but I've always had an interest in them. I'm into design and colors and the vibes that a car can give you. They are like an extension of yourself. But just because you have the most expensive car in the world, it doesn't mean that you have swag or that you're not a douchebag.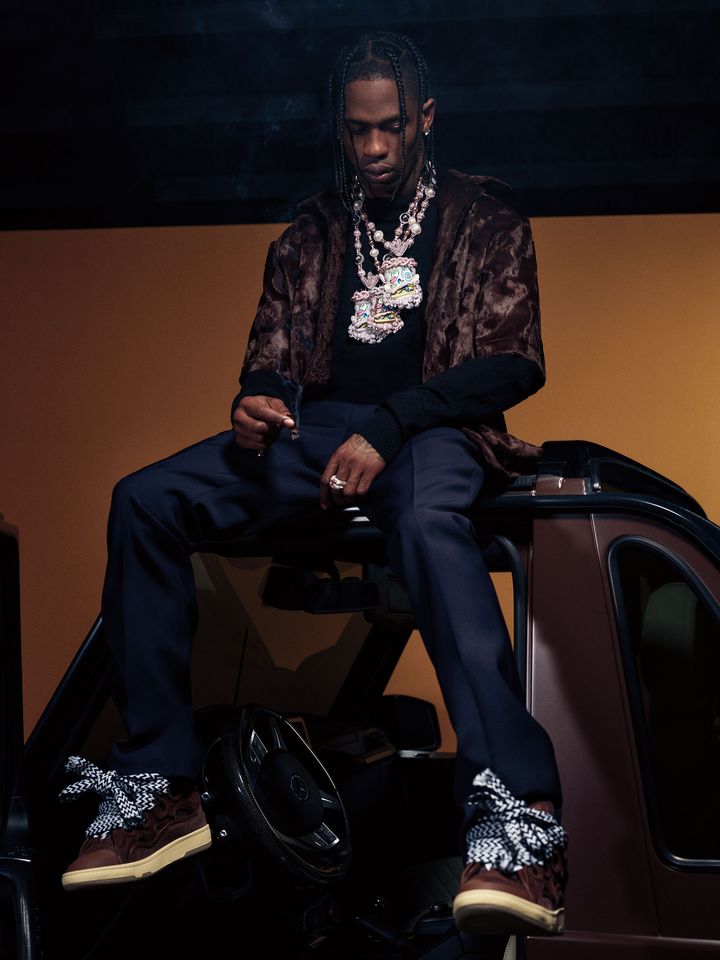 JG: Do you remember what the first car that you purchased on your own was?

TS: Not exactly, but it was probably a G-Wagon [Mercedes-Benz G-Class]. It was a quick thing because I was in LA and just needed to get a car to go from point A to point B. I've always been into customizing my cars, though, and living like I was in Grand Theft Auto.Getting a nice car was never enough for me.

JG: And how many cars have you added to your collection since that first G-Wagon?

TS: Oh, I've got some...I mean, shit, how many? I don't know, but it's a lot.

JG: How do you decide what to add?

TS: Different cars excite me for different reasons, right? Like, I always wanted a LaFerrari and I always wanted the convertible version of it. When I finally got it-the Aperta-I was so happy. And then I found myself my G-Wagon Cabriolet, which we used for this shoot. I thought Aw man, it's so cool a convertible truck. Beach vibes! I also have the Range Rover SVAutobiography, which is an everyday type of ride. I love all of my cars, but [my three-year-old daughter] Stormi and her mom [Kylie Jenner] have one of the illest collection, too. It inspires me every day.

JG: Are you the one searching for these cars online or do you have a team of people scouring the world to hunt them down?

TS: No, there's no team. It's just me. But I try to not contact them directly because then they'll try to charge an arm and a fucking leg.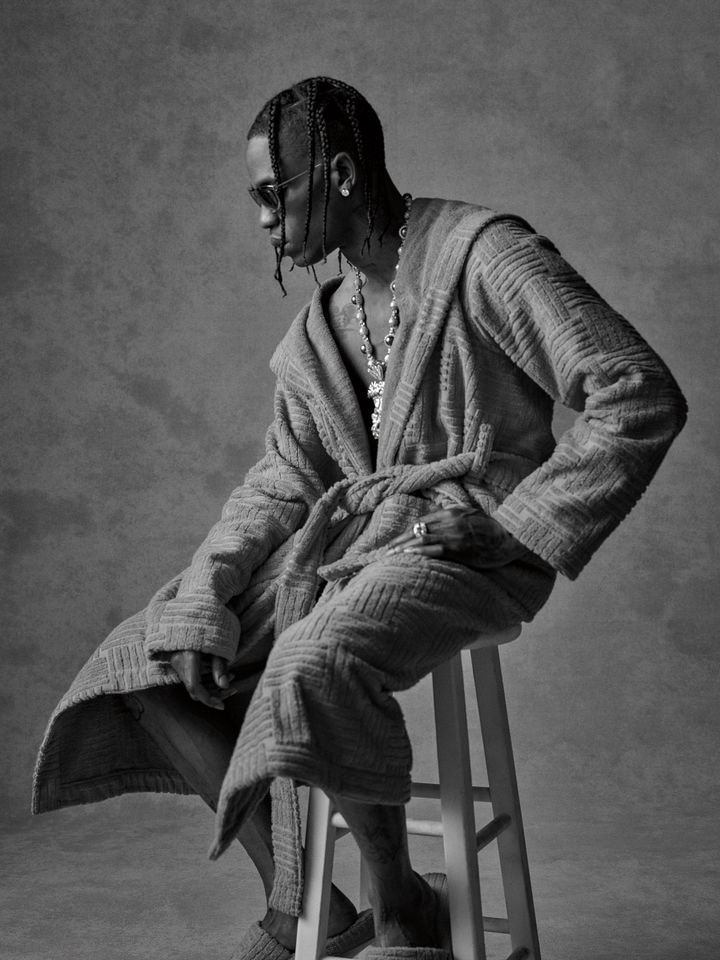 JG: Are you at the point that your cars have become almost like accessories?

TS: I guess you could say cars are like a pair of sneakers in the way that they relate to you and your current sense of style. The cool thing is that certain cars give off certain auras, but you can create those auras for the car, too.
JG: Do you have a ritual to break in new cars when you get them?

TS: I just drive that shit until I get sleepy. I just go.

JG: Given the recent energy crisis in your hometown of Houston and climate change overall, what do you think of electric vehicles?

TS: I'm totally into energy and helping our planet. I would maybe get an electric car if they ever made a cool one? I don't know. I got to drive Tesla's [unreleased] Cybertruck in the JackBoys music video for "Gang Gang." It was actually crazy. I don't know if I was tripping, but the dashboard looked like it was made out of marble. Elon [Musk] is my man, though, I fuck with him.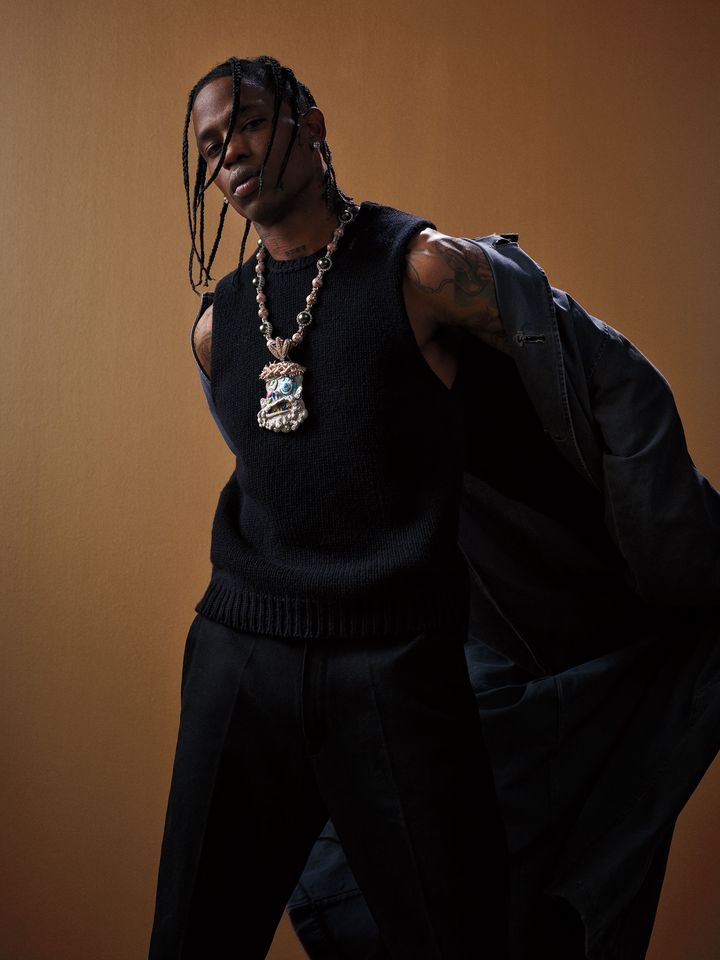 Coat, sweater, and pants RAF SIMONS Necklace and earrings TRAVIS' OWN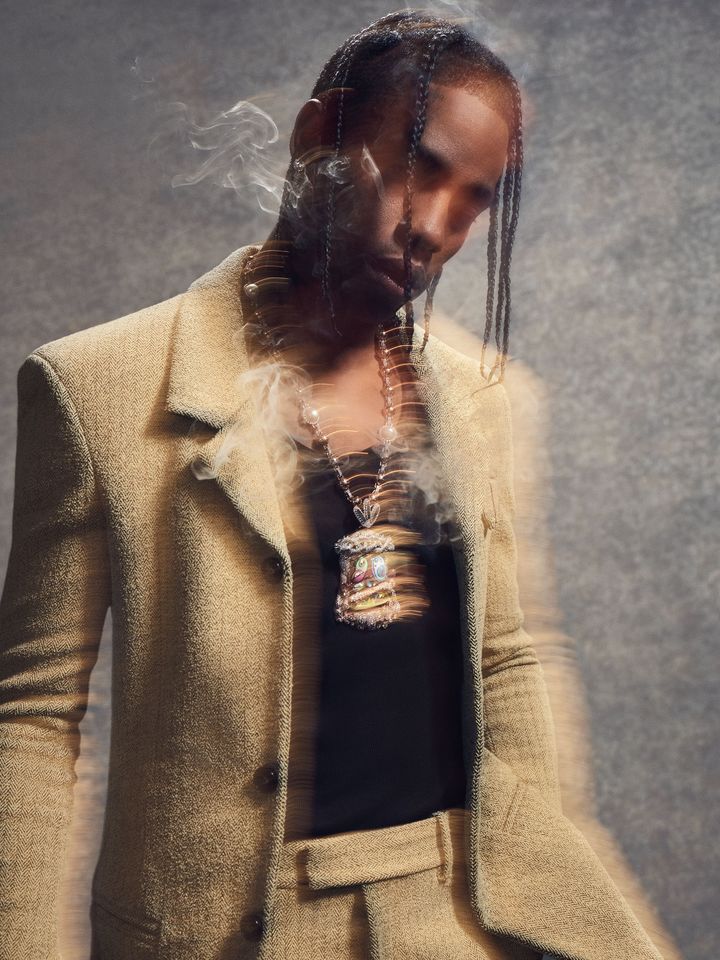 Jacket and pants BOTTEGA VENETA Top CALVIN KLEIN Necklace and earrings TRAVIS' OWN

JG: Do you have any specific rules about riding in our cars like no liquids or dirty shoes?

TS: No, I don't give a damn. That's why people are so surprised to see me get in and drive my cars. A lot of people just buy these G's and just sit on 'em. That's one thing I am not a fan of. Don't you want to hear the engine going? If you buy it just to buy it and then you sell it to someone else for more money, why did you own the vehicle in the first place?
JG: You never appreciated it.

TS: You actually didn't appreciate it at all, you're just re-appropriating it to someone else who actually gives a fuck for more money-someone like me!

JG: Do you ever catch fans taking photos with your vehicles?

TS: Aw yeah, nine times out of 10, I end up taking the pictures for them. It's kinda funny! Sometimes, they don't even know it's me. Especially if it's a black Bugatti-that could be anybody's car in LA.

JG: Is there a holy grail of cars or a missing piece to your collection?

TS: You know what's so crazy? At this point, I can say that I would be getting super, super detailed to the vehicle, because I think I have a mix of all the sports cars I've ever wanted. There is this Lambo thats looks like fucking Batman, but I'm not going to lie to you…it's like $14 million.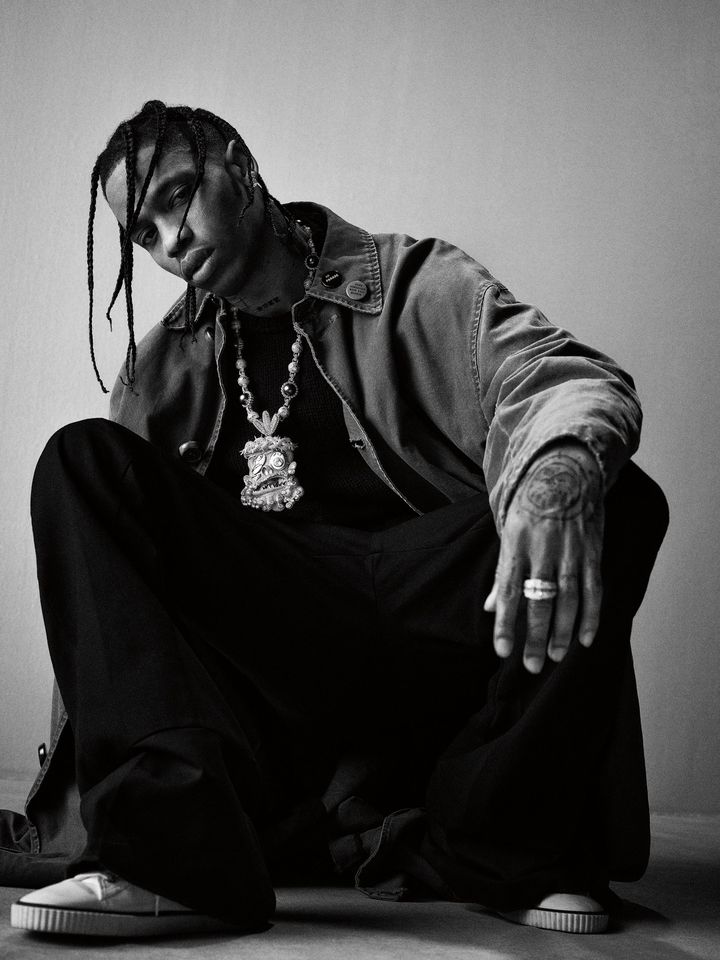 Coat, sweater, and pants RAF SIMONS Shows CELINE Necklace, earrings, and ring TRAVIS' OWN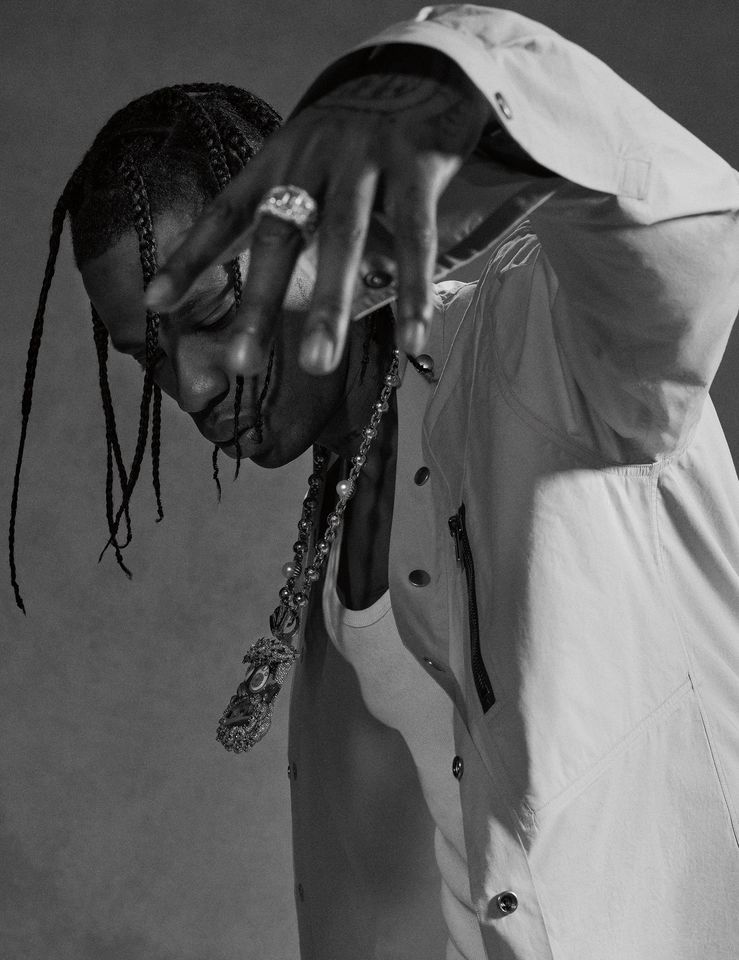 Shirt RICK OWENS Top CALVIN KLEIN Necklace and ring TRAVIS' OWN

JG: It must feel like a good place to be in terms of ambition and success if you're chasing a $14 million Lamborghini?

TS: Yeah, but if you're at that point in life, why don't you change the world? Fourteen million dollars can be used inso many better ways. That's the interesting thing about what Elon is doing, right? Perfecting design and innovation and selling it for 20 or 30 thousand-the price of what other people would call a "regular" car. So that's where my mind has kinda been lately. I try to make everything I do more accessible. There are so many things that are so intangible to creative people. It's just out of their reach! You know, I was that kid with the Jeep that you couldn't even get into normally, and I had the dream of just wanting something nice. Then I made some money, spent some money, and am finally getting into a position that I am in now where I want to push the needle to help regular civilians.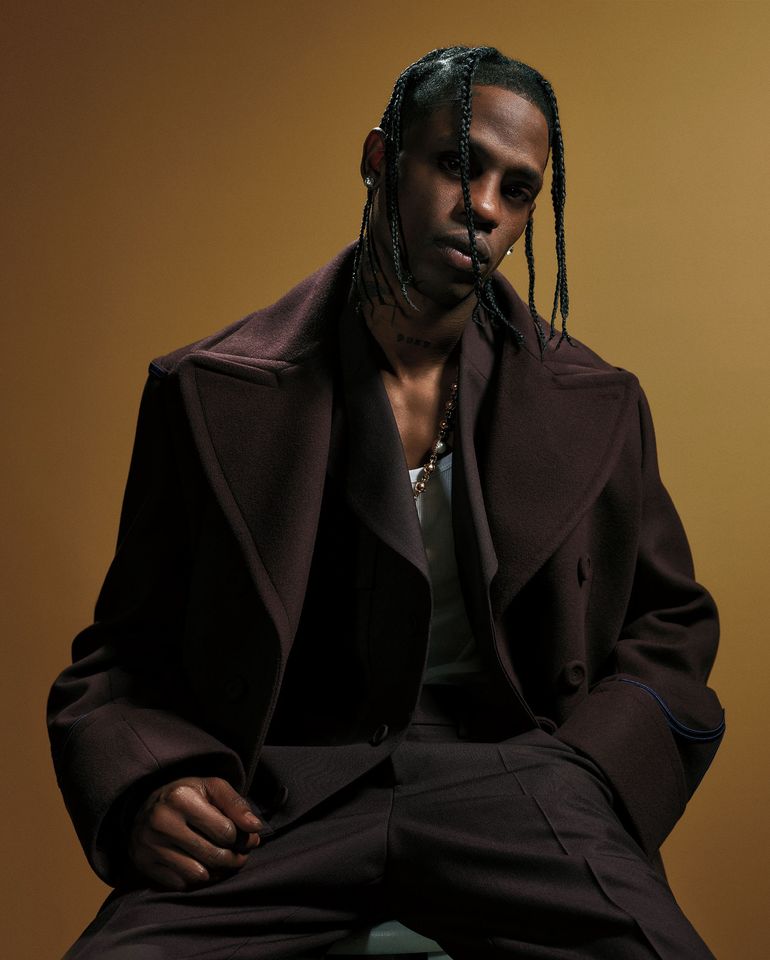 Coat, jacket, and pants DIOR Top Calvin KLEIN Necklace and earrings TRAVIS' OWN