The task is not impossible; however, and can even be made fun of when you know what you're doing. The key is not to stress about matching the wedding and others around you, but rather focus on complementing the overall style of the occasion with your dress. So, whether you're headed to a traditional wedding or something a little more modern, here are some inspired outfit ideas to keep you on the right track.


Summer Wedding Dresses
Vintage Summer Wedding Dresses for Guests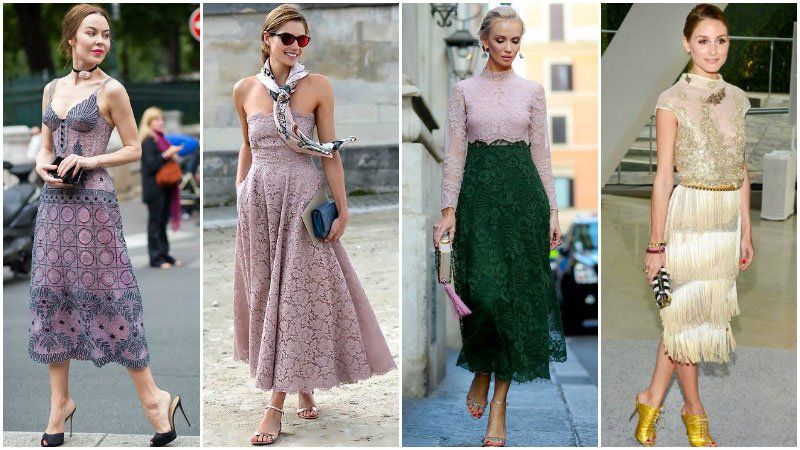 Vintage weddings are all about celebrating classical style and fashion. If you're invited to a vintage wedding, get inspired by traditional silhouettes and styles from the past. Inject old-world charm into your outfit by choosing feminine and beautiful dresses that speak of decades past. When looking at fabrics, you can't go past lace for a vintage wedding. The delicate material has a lovely vintage feel that is perfect for this occasion. Opt for classic 1940s styles featuring a midi-length, where the hem finishes between the knee and the ankle. Not only does this length have a chic, vintage feel, but it's totally back in style, so you should have no problem shopping for it.

Finish your look with a touch of vintage Hollywood glamour. Wide-barrel curls and a feline flick of black liner on eyes will make this look a knock-out. Just remember to keep accessories simple and classic. Kitten heels and a hard-shell clutch will do the job. If you want to go the extra mile, add a pair of gloves to complete your look.


Country Summer Wedding Dresses for Guests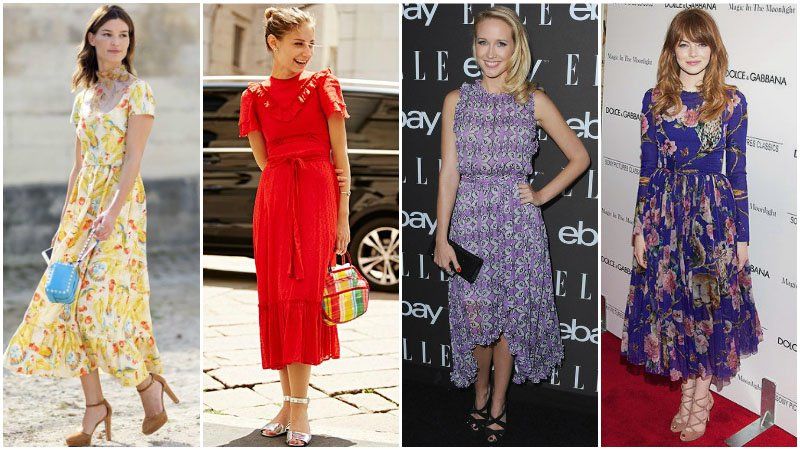 A country wedding is more about simple, understated style rather than glitz or glamour. Nature plays a pivotal role in its theme and should also help inform your choice of dress as a guest. Choose an outfit that is comfortable and practical for the outdoors, yet still beautiful. A simple yet gorgeous dress with an A-line hem will work perfectly for this occasion. Choose from colors such as lilac, soft yellow, pink and red for your dress. Not only will such colors suit the wondrous backdrop of a country wedding, but they'll also make you look like a gorgeous wildflower. Similarly, floral prints are also a winning look for country weddings.

If you're attending a country wedding, chances are you may have to walk on some dirt or grass. Opt for pretty wedges or a block heel sandals over stilettos to ensure that you're not falling over during the celebration. Also, if you choose to wear a maxi, make sure that your dress is short enough to avoid dragging on the ground. There's nothing like a few dirt stains to really ruin a dress!


Beach Summer Wedding Dresses for Guests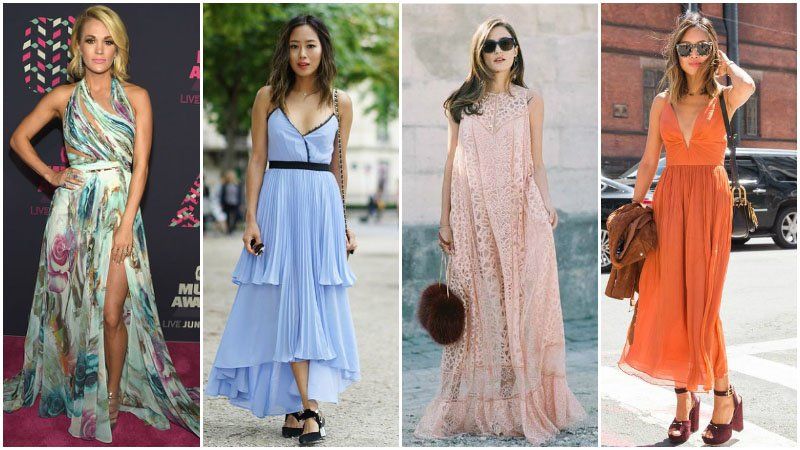 Beach weddings tend to be the most casual of all weddings. We're not saying you can throw on a pair of jeans (because you absolutely can't!), but there's no need to go super formal. Choose a gorgeous maxi dress to suit the occasion. Something light and flowy that's made of a beautiful material will be ideal. The maxi's length is fitting in well with the beach feel, it will also be comfortable to walk in and have less chance of blowing up.

A beach wedding definitely does not call for heels so stick to a gorgeous pair of sandals for a look that is chic and sensible. You can even try an embellished pair if you want to dress them up a little! When it comes to hair, keep it simple with loose waves or tied up in a simple pony. Makeup, on the other hand, should be polished and clean. Just because beach weddings are a bit more casual doesn't mean that you don't need to do your makeup. Try a bronzed complexion with simple eye makeup and a colored matte lipstick for a look that is sophisticated but not overdone.


Classic/Traditional Summer Wedding Dresses for Guests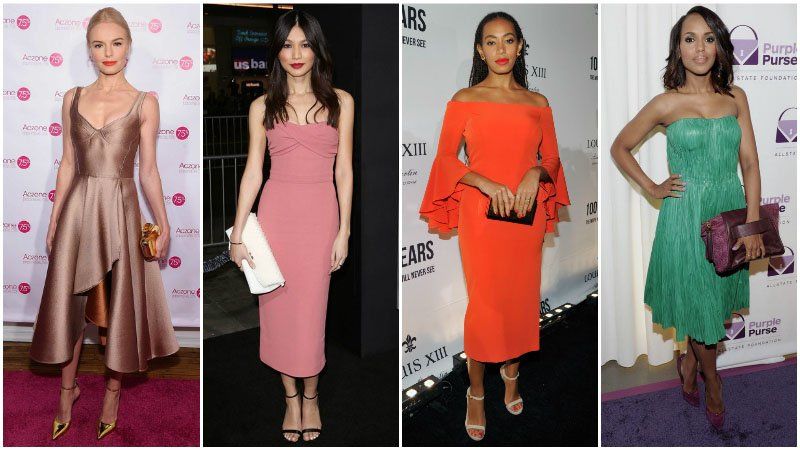 When it comes to a classic or traditional type of summer wedding, it's time to go formal. You know the bride will be looking flawless in her big, white dress, so you must look your best as well. Your safest bet is to choose a chic dress that finishes anywhere from the knee to the ankle. As traditional venues call for a higher dress code, pick a style that is a little more structured and polished than you would for other types of summer weddings. For color, choose between a block hue and a simple print. While it is ok to wear black, it's good to lighten things up with color. After all, this is a celebration! If you feel yourself still leaning toward the dark hue, opt for navy instead. It will have the same elegant effect as black without the heaviness.

Unlike outdoor weddings, a classic wedding will feature an indoor location with a solid floor and is definitely the occasion for some appropriate stilettos. Don't go too blingy on the footwear, this is a wedding, not a nightclub, stick to your classic pumps or sandal heels in neutrals such as black or nude. Finish your look with your most stylish updo. Doing so will add an extra dose of glamour to your look for the special occasion.


What to Wear to a Summer Wedding

1. Follow the dress code: Following a wedding's dress code is essential to dressing appropriately for the occasion. Found on the invitation, the dress code will decree what style and length of dress you should wear. For example, cocktail attire calls for a party dress that finishes above the knee while black-tie occasions are suited to floor-length gowns.

2. Adhere to the theme: One surefire way to look out of place at a wedding is to ignore the theme of the day. A lot of time and effort goes into planning a wedding, so make sure you respect the event by adhering to its style. Whether it's a cute country wedding or a breezy beach affair, dress with the day in mind, and you'll always look great.

3. Make it appropriate: Remember always to dress appropriately for both the occasion and the season. As summer weddings go hand-in-hand with hot weather, guests can often get away with dressing a little more casually than they would at other times of the year. Choose light, flowing, fabrics and styles in lengths appropriate to the dress code.

4. Remember to have fun with it: You're dressing for a celebration, not a job interview, so have a little fun with your outfit choice. Now's the time to wear those colors or prints that you've been dying to wear. Weddings are about happiness and love, so make sure you feel happy in what you're wearing and love how you look.

5. Finish it off with polish: Once you've found the perfect outfit be sure to finish it off with polish. Having your hair and makeup done to perfection will complete your overall look and make you feel great. Don't forget about your accessories either! Plan your shoes and bag ahead of time to avoid stress on the day.


FAQs
What should a guest wear to a summer wedding?

Before deciding what you should wear to any wedding, it is best to note the dress code and the location. If it is a very formal event that will be held indoors, your outfit would be very different from if it were a beach celebration. Once you have determined this, you should pick from light colors, such as pastels or wonderful floral prints, but steer clear of white, champagne, and any off-white shades. Lightweight, breathable fabrics are great for summer, and you can also pick flowy dresses to keep you comfortable. Open shoes are a cooler option to classic pumps or booties, which may be favored in the winter months.


What do you wear to a casual summer wedding?

A casual summer wedding calls for a relaxed yet feminine outfit. Maxi dresses are suitable for almost every occasion, and they are cool and fun. Choose one that is light and flowy, and pair it with a lovely pair of sandals. Your footwear should be comfortable and chic. You also want to consider that high heels will not work if the wedding is held at the beach or outdoors as they will get stuck in the ground. Keep your hair simple, with dreamy waves or a loose updo, and natural makeup with nude lipstick is a wonderful choice.


What should you not wear to a summer wedding?

Although there are many fantastic outfits to choose from for a summer wedding, some things are better avoided. Clothing that is too short, too sheer, and anything that shows off too much skin should not be worn. You also do not want to wear anything that will leave you feeling uncomfortable or underdressed. For this reason, it is always essential to adhere to the dress code and consider the theme and location of the wedding. Summer is the season for bright, light colors, but do not wear white, off-white, all-black, gold, and anything too sparkly or shiny.


What do you wear to an afternoon summer wedding?

If you are attending a wedding during the afternoon in summer, it will likely be pretty warm, even more so if the celebration will be outside. You want to ensure that you are kept cool and comfortable, so pick lightweight fabrics, flowy designs, and light colors. Daytime weddings are usually less formal than evening ones, so, unless otherwise stated, you want to wear something that is semi-formal and looks polished. Wear nice, open shoes, and keep your makeup simple but elegant.