Granted, everyone has the opportunity to become someone new on Halloween, but when you've got an unlimited budget, easy access to hair and makeup artists, and the whole world watching, the stakes are higher.




Hollywood's Halloween enthusiasts are always trying to one-up themselves and each other. They can take the social media route like Beyoncé, who updates Instagram each year with shots of herself, Jay-Z, and Blue Ivy dressed to the nines in coordinated costumes. Or they can turn the transformation into a live event, like Heidi Klum who live-streamed her transformation into a zombie cyborg last year from Amazon's midtown Manhattan bookstore. Persuasive stars can even pull their more reserved friends into the fun—only at Cindy Crawford and Rande Gerber's annual all-hallows bash can you see Amal Clooney decked out in disco glam and rainbow sequins.

A look back through the best and boldest costumes of years past shows exactly who puts time and energy into getting Halloween right. It takes a special outfit to impress in a town where extreme costuming and makeup are all part of a day's work, but the holiday's 10 celebrities superfans manage to raise the bar year after year.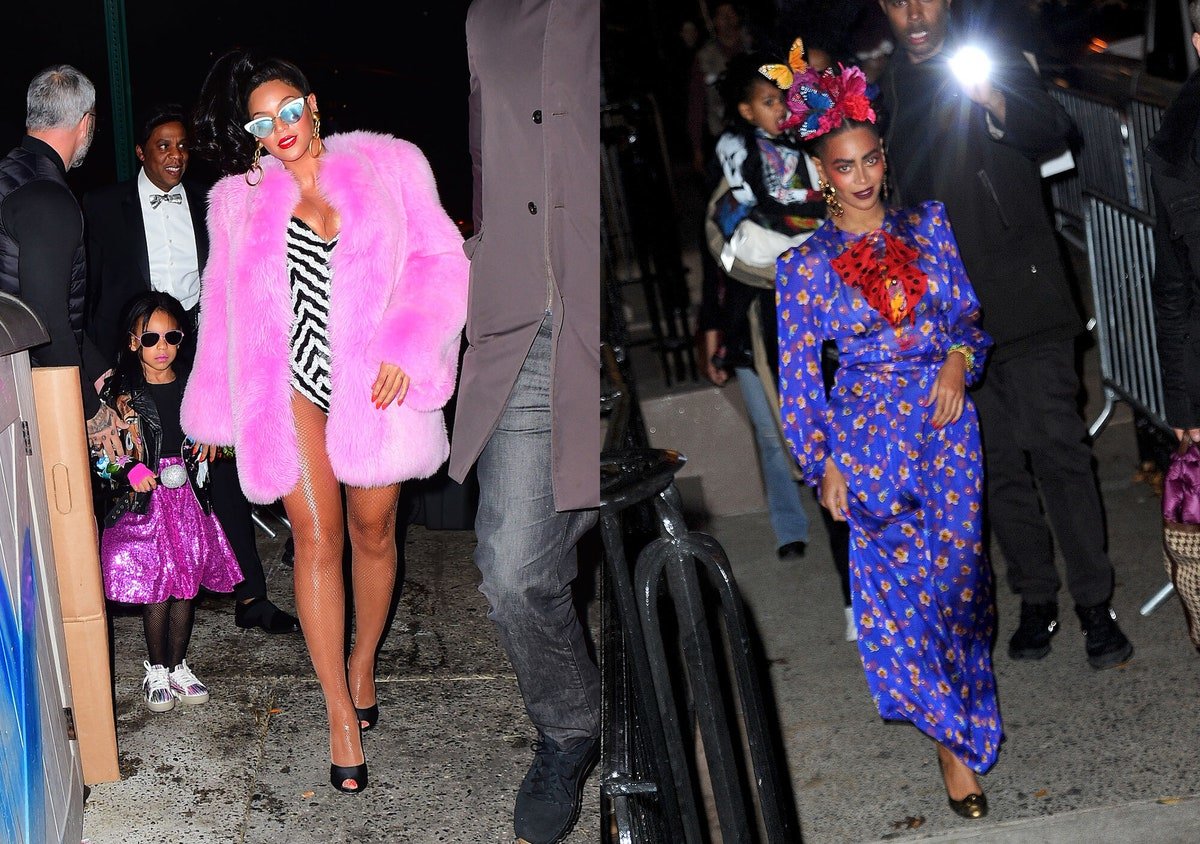 Beyonce

Halloween is a family affair for the Knowles-Carter clan, and their group costumes are nothing short of inventive. Using the day to pay homage to her inspirations, Beyoncé has dressed as everyone from 90s R&B chanteuse Toni Braxton to track and field Olympian Florence Griffith Joyner, aka Flo-Jo. Still, her best holiday moments are the ones that involve her husband and daughter-their epic tribute to Coming to America back in 2015 remains a high point.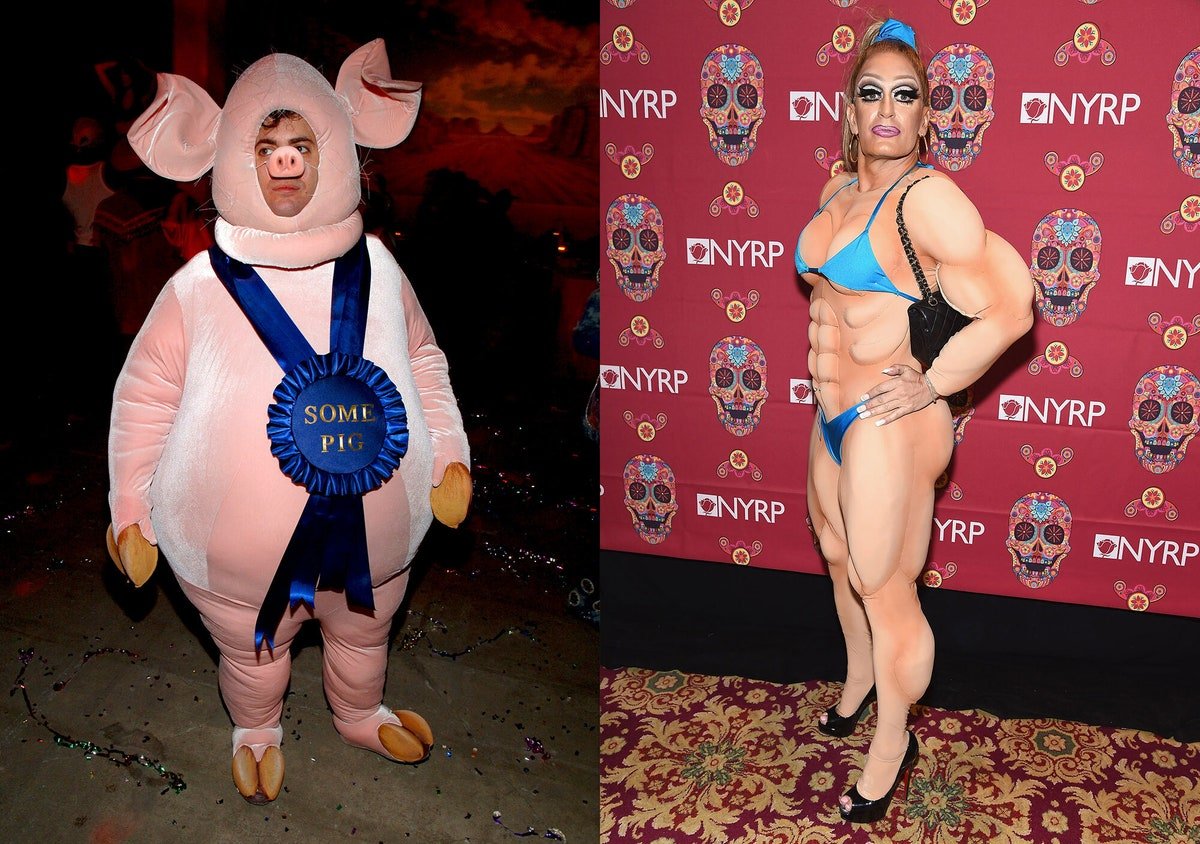 Marc Jacobs

These days we can enjoy Marc Jacobs's daily transformations on Instagram, but back in the day, he was the host of the hottest costume party around. To be contrarian, he threw it every Christmas. Jacobs's annual fête brought out his famous friends like Naomi Campbell and Sofia Coppola. while showing off the designer's creative costumes (Jacobs always dressed up as an animal). Attending as a pink pig, bald eagle, and giant camel toe, he never failed to surprise his guests.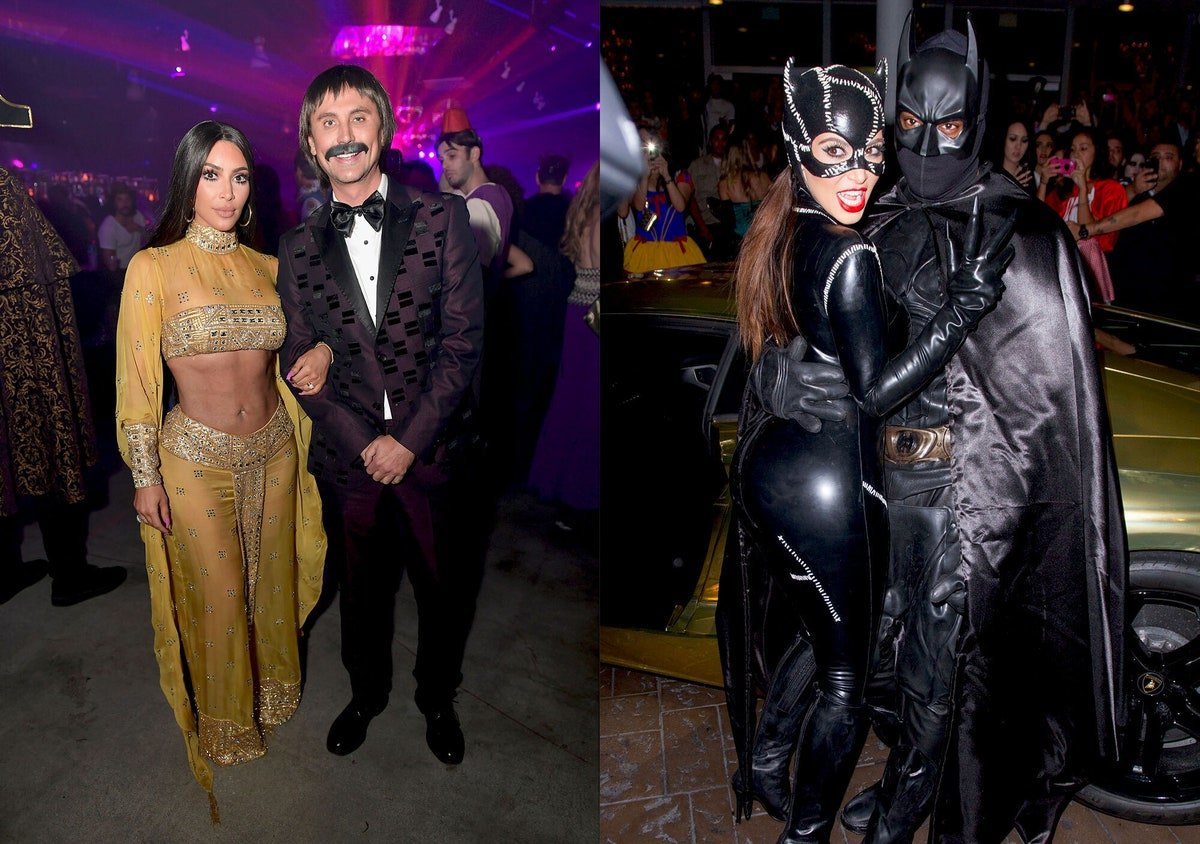 Kim Kardashian West

Given the size of her extended family, Kim Kardashian West always has someone to play dress-up with, and during the holidays, the whole gang gets creative. Her costumes have ranged from Victoria's Secret angel with sisters Kylie, Kourtney, and Khloé to Wilma Flintstone with a little help from Kanye and North, Kardashian West has her routine down pat. She even used Halloween 2016 as an excuse to pay homage to Vogue by dressing as Anna Wintour, complete with bobbed hair and sunglasses. Her makeup artist, Joyce Bonelli, donned a red wig to pose as Grace Coddington, while North and Bonnelli's son Zeplin snuck into the photo as toddler versions of André Leon Talley and Karl Lagerfeld.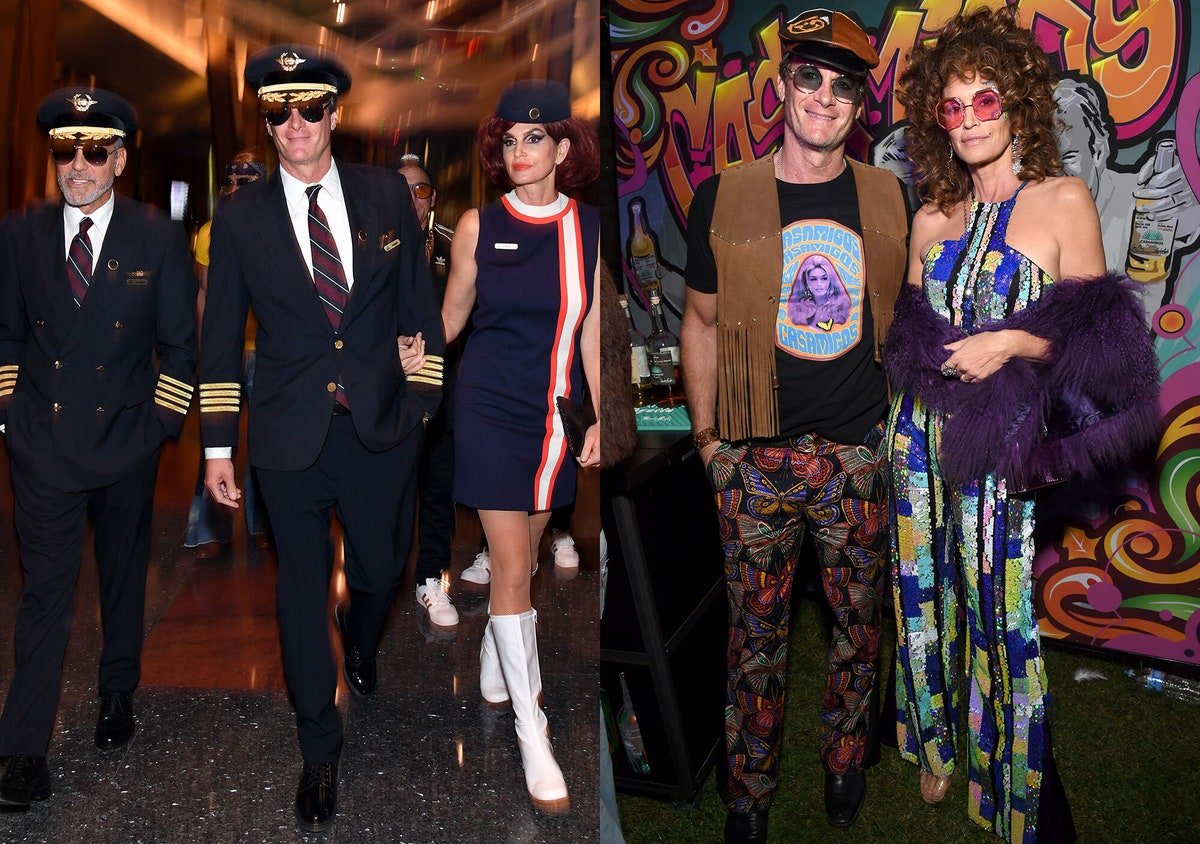 Cindy Crawford and Rande Gerber

If you ever wondered what Cindy Crawford would look like as punk rocker or tattooed goth, look through the pictures from the numerous Halloween bashes she and husband, Rande Gerber, have thrown. Once a year, the couple ditches their classic, understated style for daring looks from bygone eras. With the music blasting and the Casamigos tequila flowing, Crawford and Gerber entertain close friends and (on occasion) their famous kids, Presley and Kaia join in on the fun.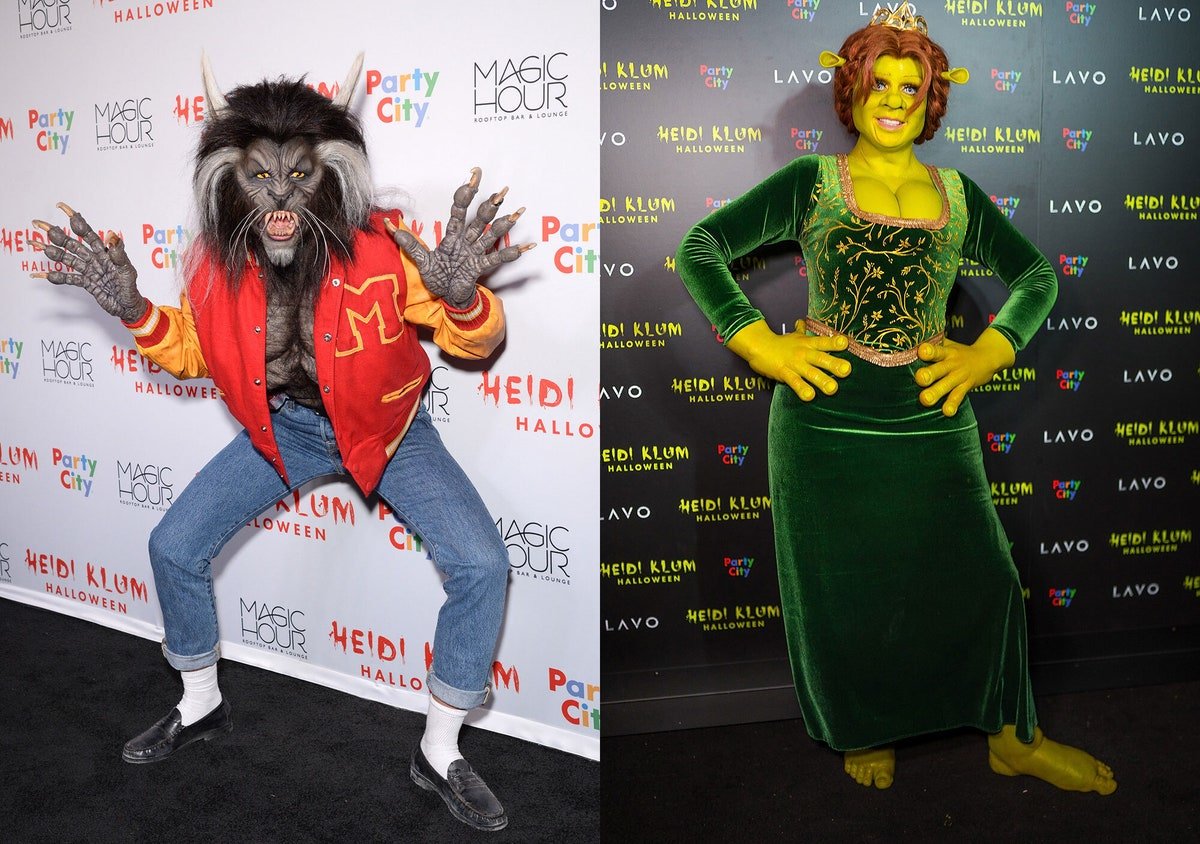 Heidi Klum

The undisputed queen of Halloween transformations is Heidi Klum. As a model and host, Klum is known for being glamorous and bubbly, but she's ready to show her dark side when Halloween rolls around. Whether that means becoming the werewolf from Michael Jackson's Thriller video as she did in 2017 or turning herself inside out as a flayed body in 2011, Klum and her team of makeup artists know how to utilize prosthetics and horror techniques to create a chilling moment.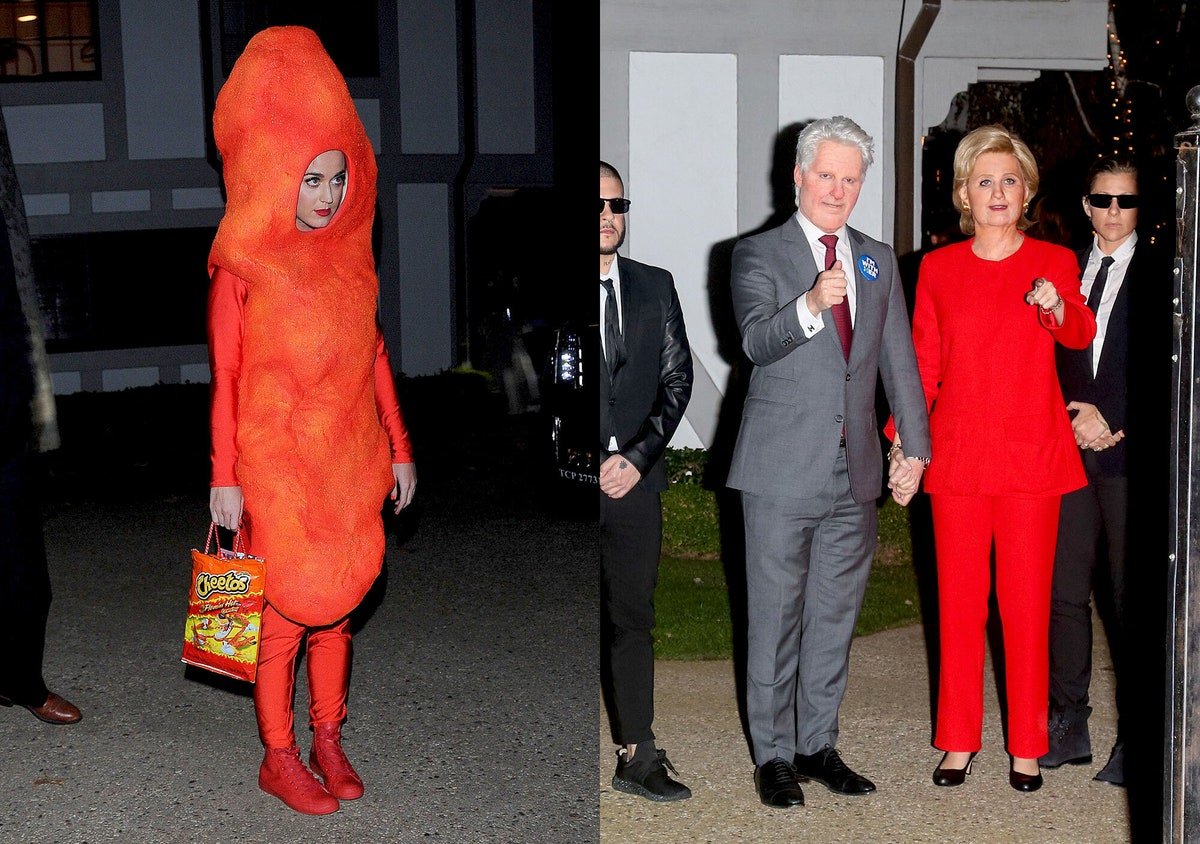 Katy Perry

Every day is an excuse for Katy Perry to put on a costume. The pop star's love of kooky mascot getups that reference food is well known, and she's shown up at events dressed as a giant flaming hot Cheeto, a slice of pepperoni pizza, and even hit the Met Gala after-parties in 2019 while wearing a Jeremy Scott-designed hamburger dress. On Halloween, Perry takes things even further, and enlists makeup artists to make her almost unrecognizable. Her 2016 Hillary Clinton costume was so convincing it even managed to fool her dog, Nugget.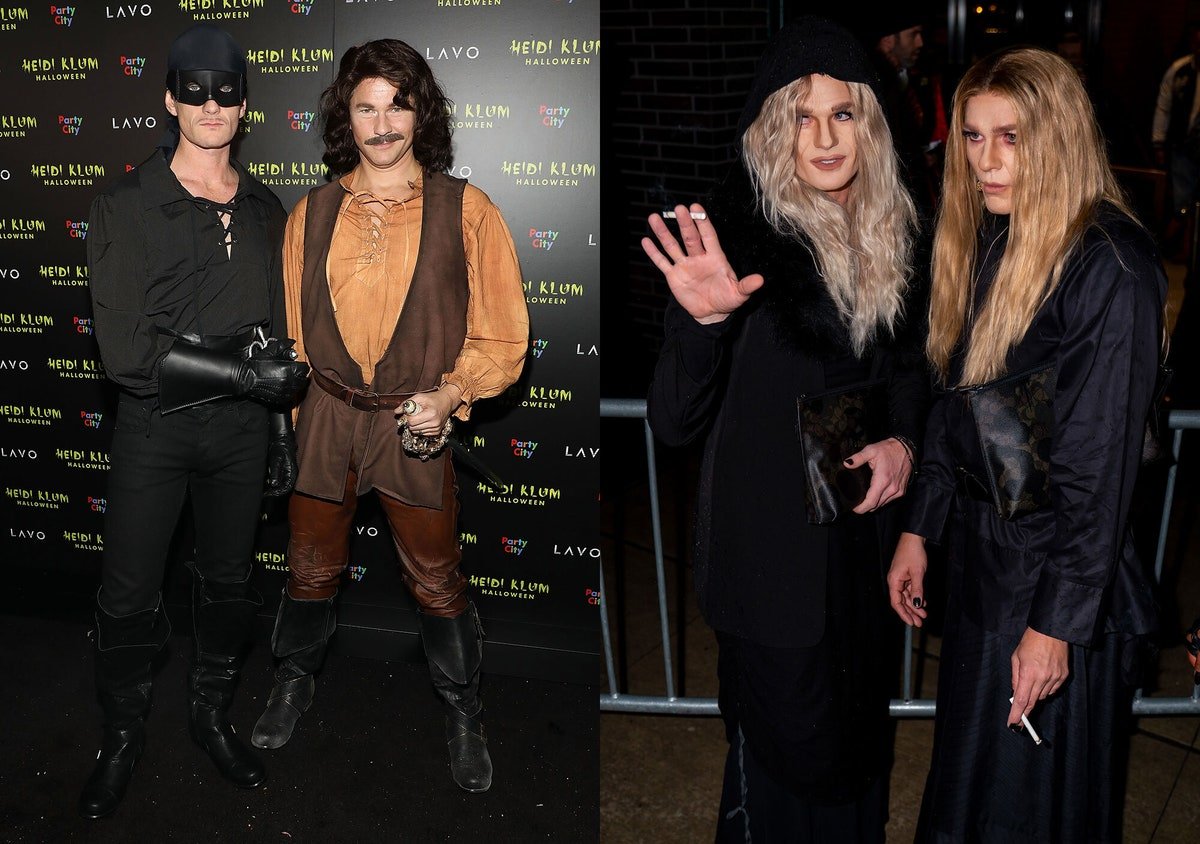 Neil Patrick Harris

The award for most comedic costume goes to Neil Patrick Harris and David Burtka. The couple enjoys going all out and bringing their kids into the fun with outfits that recreate famous movies—they've tackled The Wizard of Oz, Pirates of the Caribbean, and Star Wars, to name a few-or expertly mimic iconic stars. Last year they focused on art by recreating the signature looks of Andy Warhol, Salvador Dalí, Frida Kahlo, and Vincent Van Gogh. Still, their best impression involves fashion designers Mary Kate and Ashley Olsen. Harris and Burka dressed as The Row's creative duo at Klum's 2019 party, and their outfits were eerily accurate.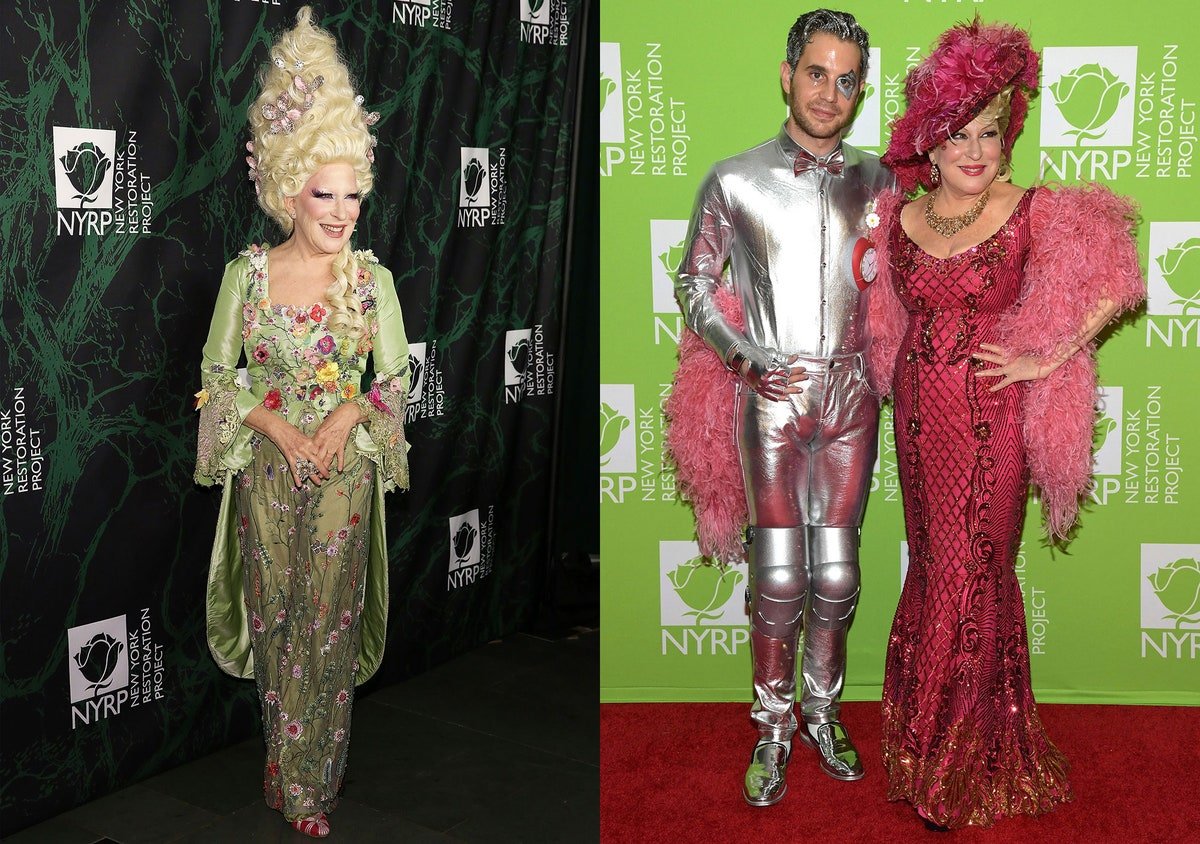 Bette Midler

Every October, Bette Midler throws her Hulaween bash to benefit the New York Restoration Project, her non-profit which funds gardens and parks across Manhattan. The Divine Miss M's love of the holiday goes back decades, and this year, she decided to do something special. COVID-19 canceled her over-the-top bash, so she got together with Hocus Pocus co-stars Kathy Najimy and Sarah Jessica Parker for a special charity livestream. You don't need to be on the guest list to enjoy the witchy event, and all proceeds go to benefit a cause dear to Midler's heart.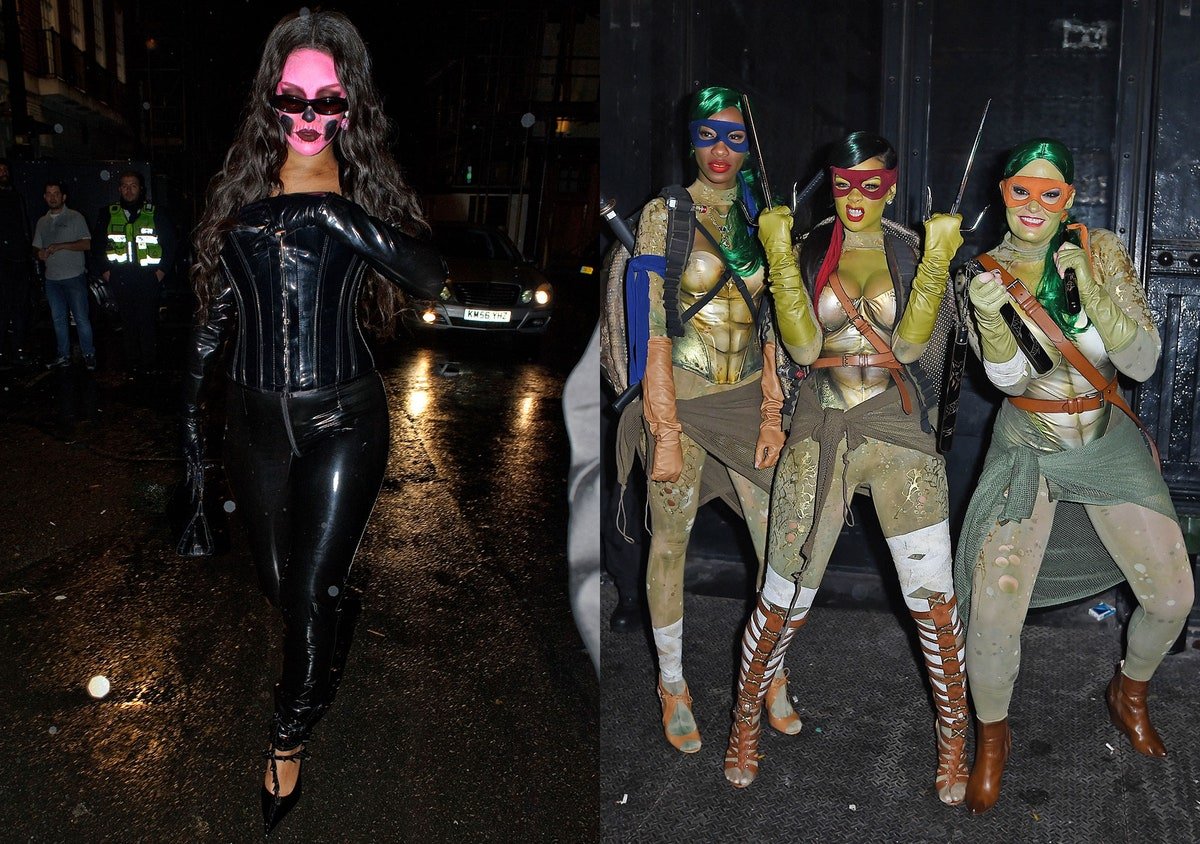 Rihanna

Due to her numerous red carpet moments, Rihanna has become a popular costume choice online. Her fans recreate iconic pieces like the Maison Margiela Artisanal papal gear she wore to the 2018 Met Gala or her transparent gown from the 2014 CFDA Awards. Rihanna herself, however, finds her holiday inspiration thanks to television. In the past, she's paid homage to classic cartoons Teenaged Mutant Ninja Turtles and The Flintstones.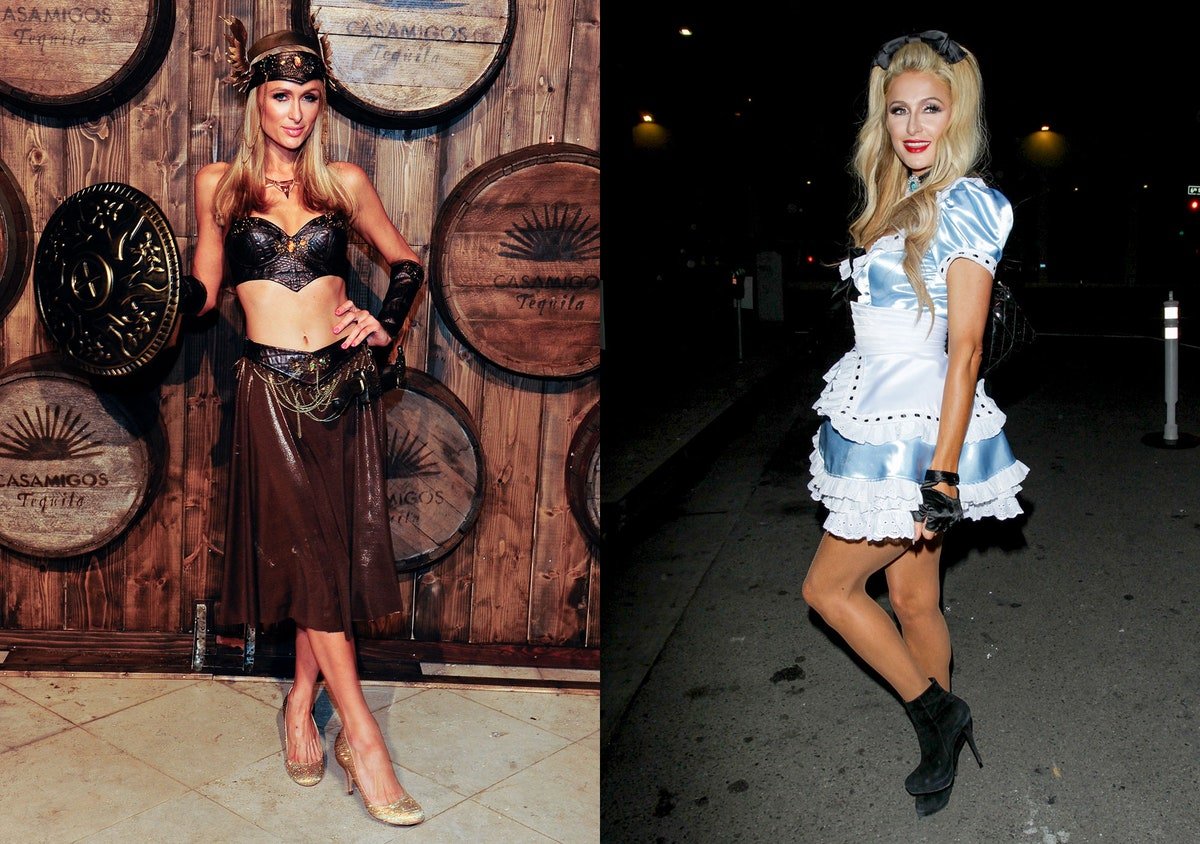 Paris Hilton

As the master of the sexy Halloween costume, Paris Hilton has been a showgirl, a gladiator, Alice in Wonderland, a Playboy bunny, and a mouse, duh. No matter what Hilton chooses to be, she makes sure that the costume highlights her assets and makes her the most photographed person in the room.