I was dreaming of a Dior Saddle Bag stamped with unmissable Ds, and found a slew of Fendi Zucca printed baguettes. Louis Vuitton had a vast collection of monograms-LVs on a classic, brown cowhide canvas, rainbow logos on white leather, and even a cheeky denim incarnation. Never will I tire of a bag that connotes: "Yes, I'm a very visible fan!" But, I left my search empty-handed and monogramless.

Instead, my quest for Louis Vuitton led me to the age-old muted classic: the Epi style. Epi leather is a Vuitton-specific creation that's textured with wavy micro-ridges. The only monogram visible here is a solo "LV" that is subtly branded into the grain. The House used the glossy grain in its luggage during the 1920s. It was later revived in 1985, and eventually released in several different colorways. Fast forward years later, that once luggage material has now been translated into wallets, shoulder bags, and backpacks. It is incredibly sleek, enough so to make me forget my love of logomania. Running your finger along the leather is deeply satisfying with its velvety toughness, both butter-soft and impenetrable. Vogue Fashion Director Virginia Smith's own love for the style relates back to its durability. "I have to admit that I'm very tough on my bags and don't treat them with the respect they deserve," she writes. "However, in the case of my LV Epi, I don't need to be. Despite years of my neglect, my silver 'boite' still looks perfect." Executive Fashion Director of Vogue.com, Rickie De Sole agrees. "It's waterproof, what's not to love?" she says. "Makes me come back to it time and time again."

There is a killer, easy elegance about the bag. Whenever I think of an Epi bag, I always think back to an epic Louis Vuitton campaign from 1999, featuring a sun-kissed Fernanda Tavares clutching an Epi bag as if she is Madonna with child. Everything about the campaign has a clean, sharp angle-from the bend in arms to pin-straight hair-to reflect the bag itself: a medium-sized top handle shaped like a geometric teardrop. This campaign feels so glamorously low-key in contrast with the high-octane effect of the Louis Vuitton x Murakami campaigns that featured a flash-blasted blonde crawling among a row of the rainbow bags.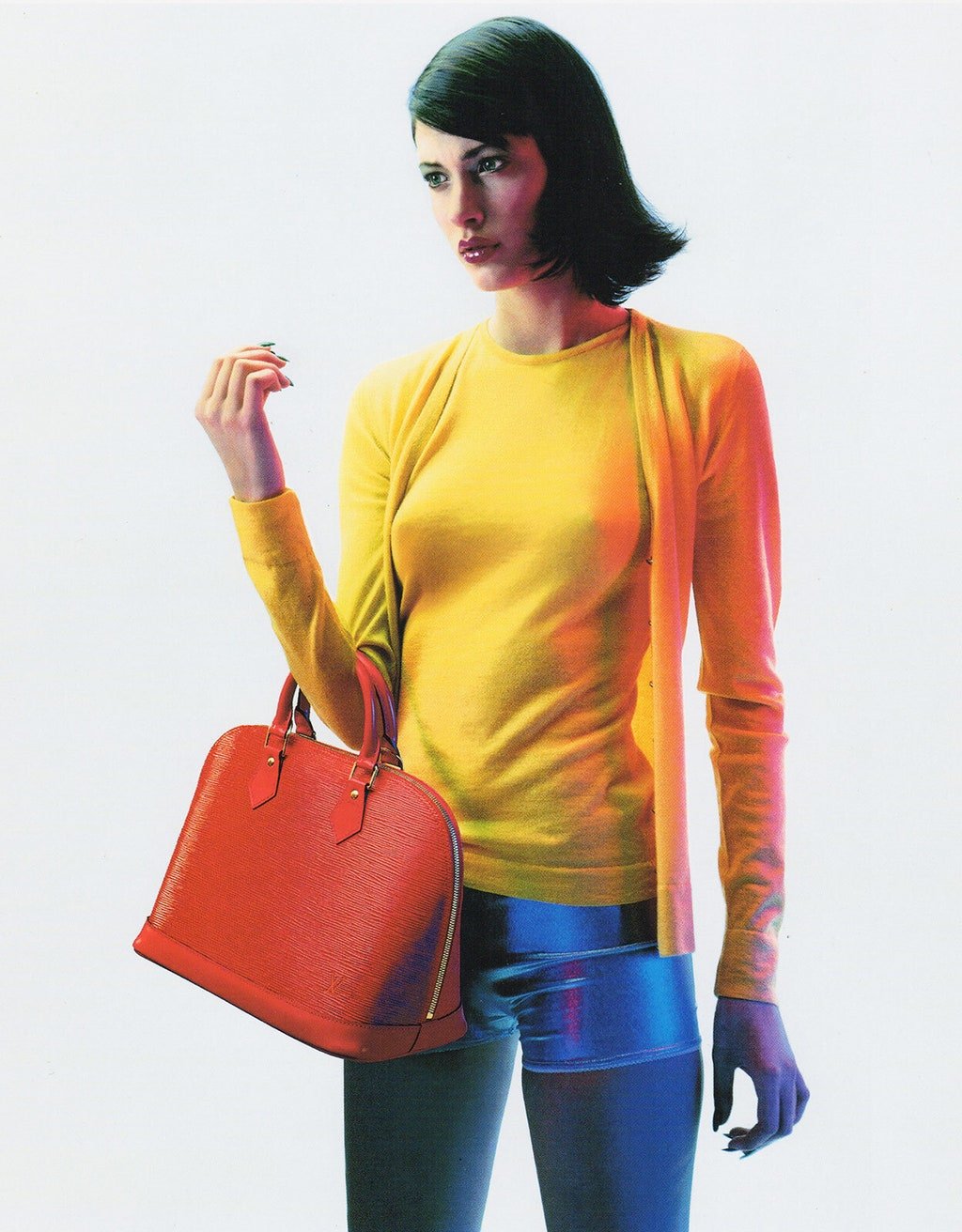 While it's a classic, it doesn't have that head-turning appeal we've come to expect from it-bags. I was asking our young visuals researcher editor Lily Kupets to find images of celebrities carrying it, and her response sent a shiver up my spine. "It's more of a stylish mature lady bag!" she wrote. "But I'll look." The results in the celebrity style vein were lacking. No one was carrying it aside from Kirsten Dunst from the mid-2010s. But that's ok! The carryall is not made to be flashy or red-hot: it's made to last. Kupets added that she had always coveted an Epi bag since she worked at a resale store in her teens. "We used to get them in all the time," she says. "I couldn't afford it at the time but I always thought they were so underrated, and would wear now."

I'm ready to see more of the Epi bag; though it's a classic, it feels of the moment. It feels grown-up, and in turn, a killer investment. Also, its comeback can be tied to the Maison itself, which has been pushing Epi bags over the past few years in remixed designs. Upon taking the helm, Creative Director Nicolas Ghesquière included the leather grain in his Petite Malle, and later the Twist for Cruise 2015, which will later be re-released this year with actress Laura Harrier as the campaign star.

In a way, I would not be surprised if the ethos of an Epi bag-in-the-know luxury-will resonate even more now. Retailers are seeing people buy more investment pieces (provided they have the funds to do so) like watches, jewelry, and bags that stand the test of time. Even Kendall Jenner has embraced a pared-back, well-made look as of late, most notably in a head-to-toe look from The Row.

The safer bet is buying a bag that will look stellar five or 10 years from now, instead of riding a trend wave. Young people seem to agree. My colleague, Fashion Writer Christian Allaire, is one of the millennials who has long been in the market for an Epi piece, specifically a pochette that fits tightly under the arm. He says it best. "Where the monogram leather screams for attention, the Epi whispers," he writes. "It's super timeless and investing in one will never go out of style, whereas the monogram ebbs and flows." This past week, a fellow fashion-loving writer from another magazine sent me the image of a few bags she was thinking about buying. "You should get this one!" she wrote to me, sending a photo of a black Saint Jacques incarnation—an Epi bag that is shaped like a boat. Little did she know I was already eyeing it.