Whether it's used for clothes, linens, or coats and gear, your closet can quickly become a storage nightmare without proper organization. With these closet ideas, you can clear out clutter, streamline storage, and turn your closet into a convenient catch-all. Use these solutions all over the house to solve your biggest closet storage dilemmas.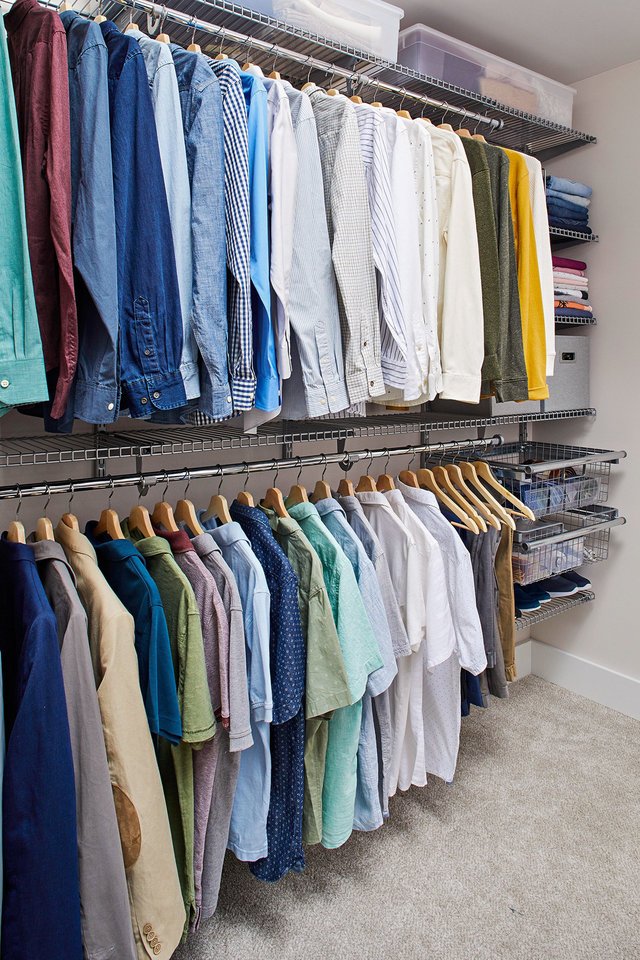 Wrinkle-Free Clothes

Problem: Clothes get lost or badly wrinkled in your jam-packed closet.

Solution: Double up on hanging rods to give clothes more room to breathe. Use wooden hangers instead of plastic or metal to keep weightier shirts, jackets, and pants wrinkle-free.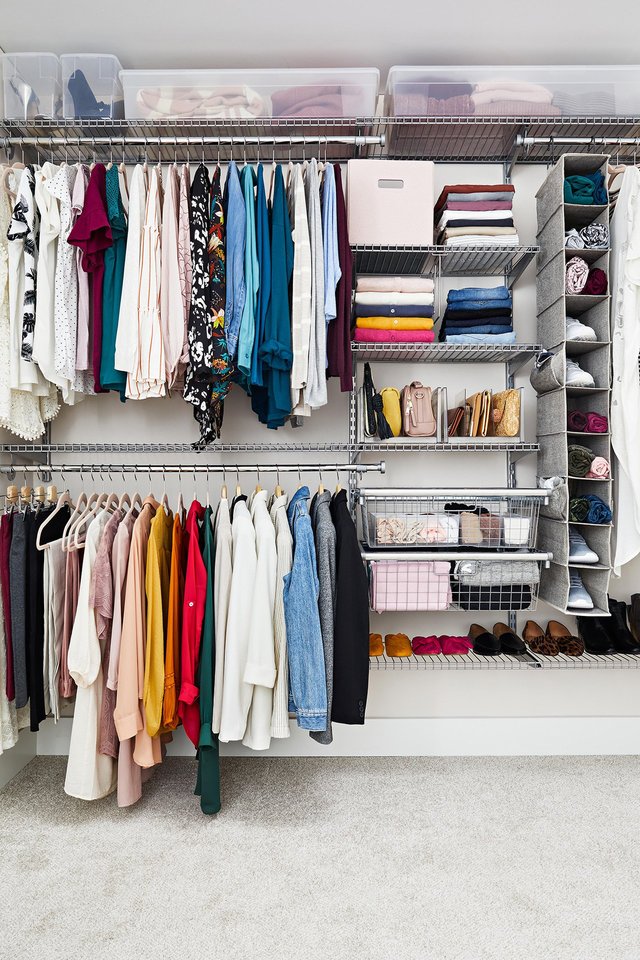 Closet Organizing System

Problem: Your builder-basic closet doesn't meet your storage needs.

Solution: Install a custom closet system that combines open shelving and hanging rods in various heights. To ensure the components will fit, measure your space and sketch a plan before purchasing a system. Boost organization even further by adding other organizers, such as drawers, dividers, and bins, that best fit your wardrobe.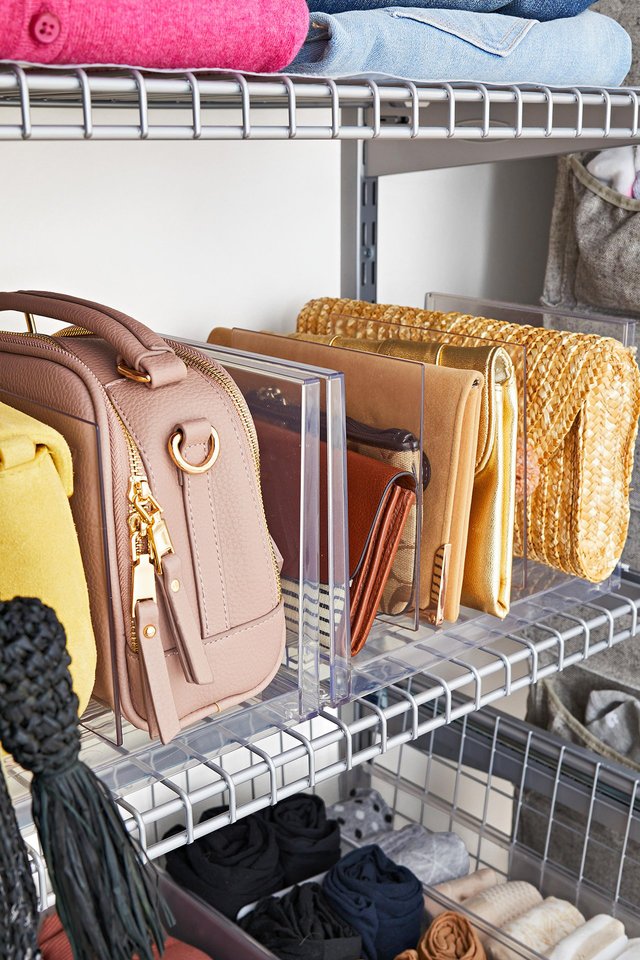 Handbag Holder

Problem: You don't know where to safely store purses and clutches.

Solution: Use an adjustable file sorter to store your handbag collection upright, which prevents bags from being damaged and keeps these everyday accessories easily accessible. You can adjust the two center dividers to create custom-size slots for your favorite purses, clutches, and wallets.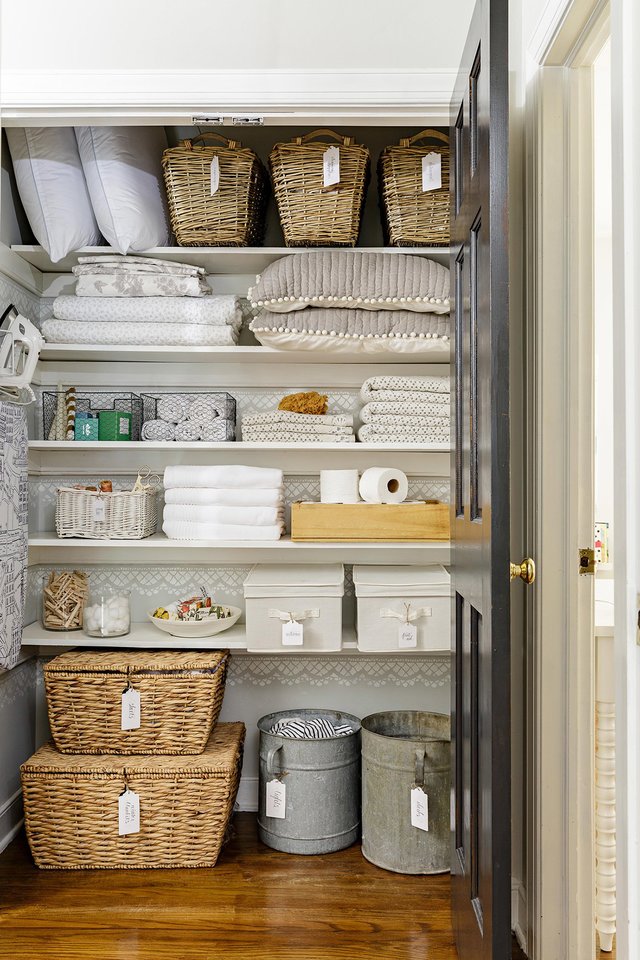 Seasonal Storage

Problem: You have no place to put seldom-used or seasonal items.

Solution: The top shelves of the closet aren't the best place to store everyday items, but this area is great for stashing extra pillows, linens, blankets, and other items you don't use year-round. Stash smaller objects in easy-to-grab handled baskets so you don't cause an avalanche when reaching for the upper shelves.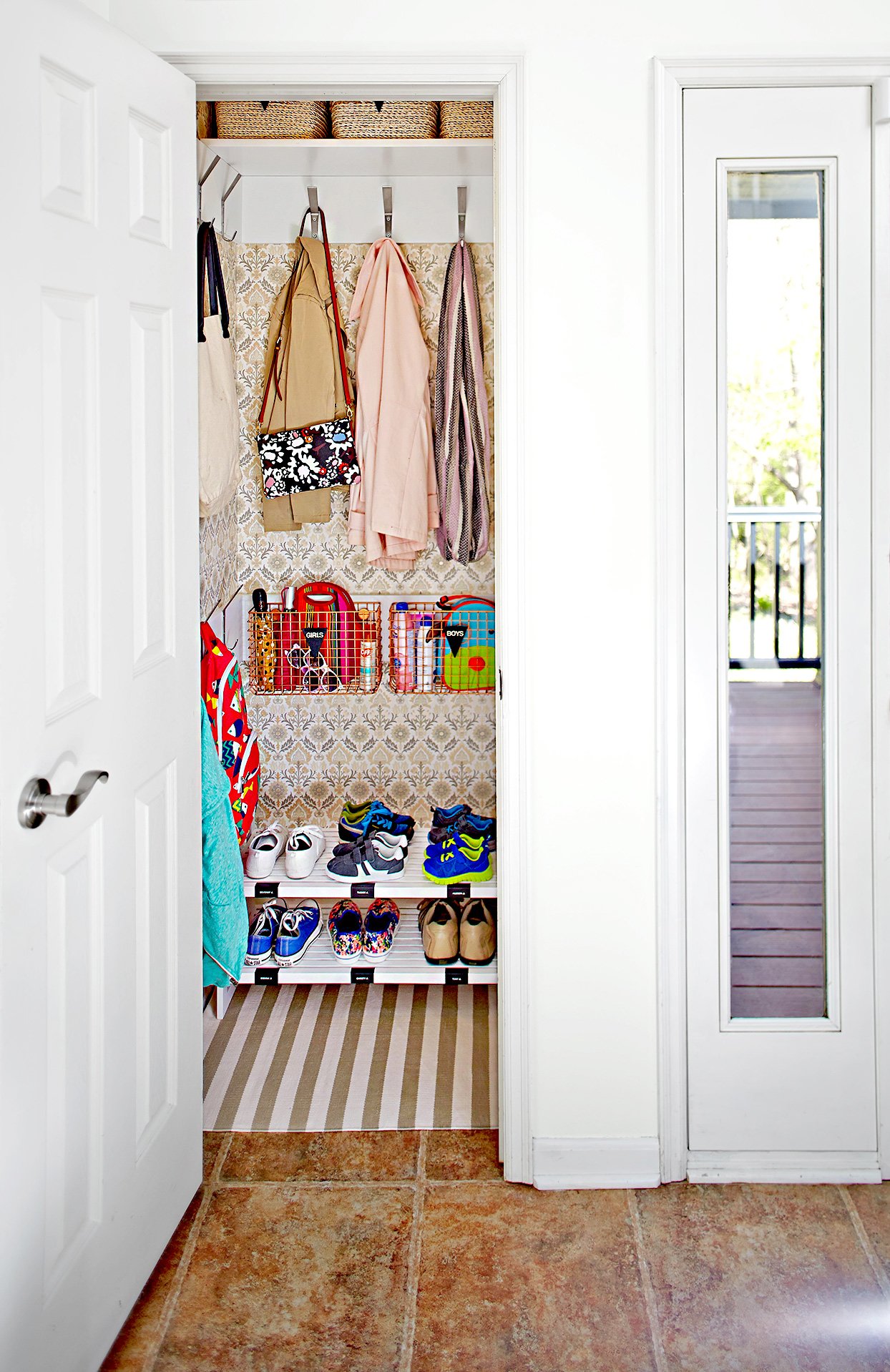 Family Catch-all Closet

Problem: The entryway closet is crammed so full of stuff no one can find what they need.

Solution: Combine a variety of storage types to suit all the items you need to store near the door. Hooks are great for coats and bags, and wall-mounted wire baskets are ideal for corraling smaller items like sunglasses, umbrellas, and lunch bags. Store seasonal items (such as hats and gloves) in baskets on an upper shelf when you don't need them.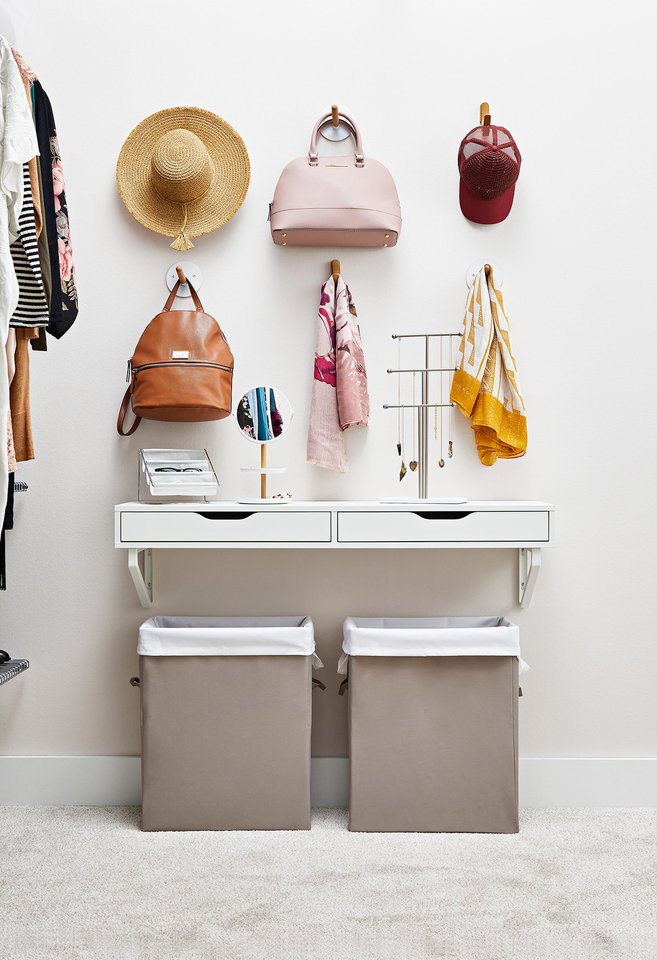 Multi-Purpose Closet

Problem: You use your walk-in closet for more than just holding clothes.

Solution: Create a mini dressing table that you can use to store jewelry, small accessories, and other miscellaneous items. Choose a wall shelf with drawers and hang it at tabletop height using heavy-duty brackets. The floating design leaves free space below that can be used to house hampers or additional shallow shelving. Mount hooks above to hang hats, purses, and scarves.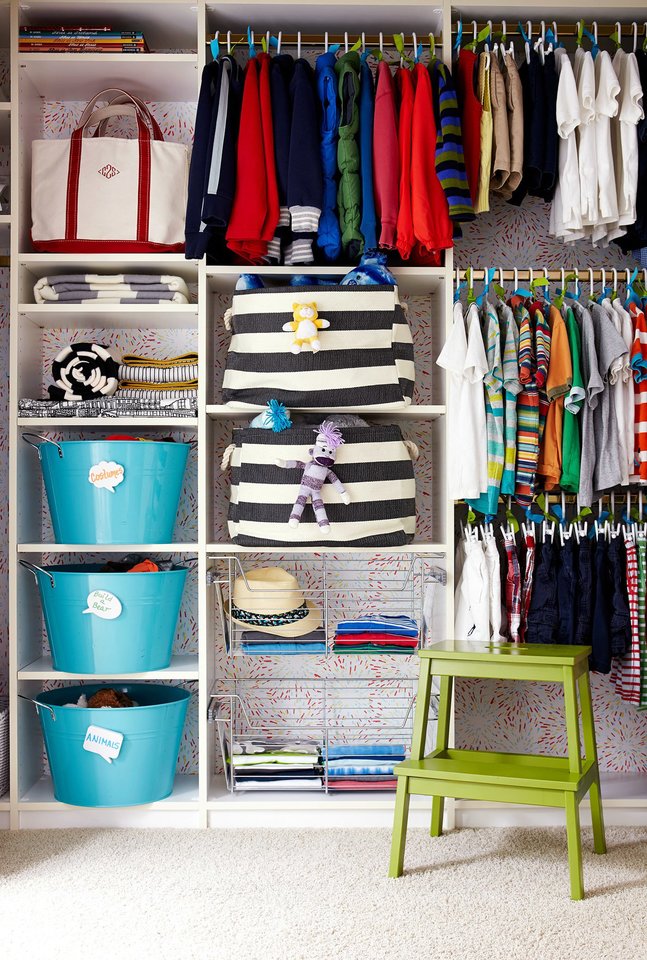 Shared Kids' Closet

Problem: Toys, shoes, books, clothes, and more end up in a jumble on the floor of a shared kids' closet.

Solution: The secret is creating accessible storage solutions that involve the kids in the cleaning up process. Stash favorite toys and stuffed animals in baskets or buckets at a child-friendly height. Keep a step ladder nearby that they can use to reach higher-up areas. To keep clothing straight, tie different colored ribbons on hangers to indicate which items belong to which person.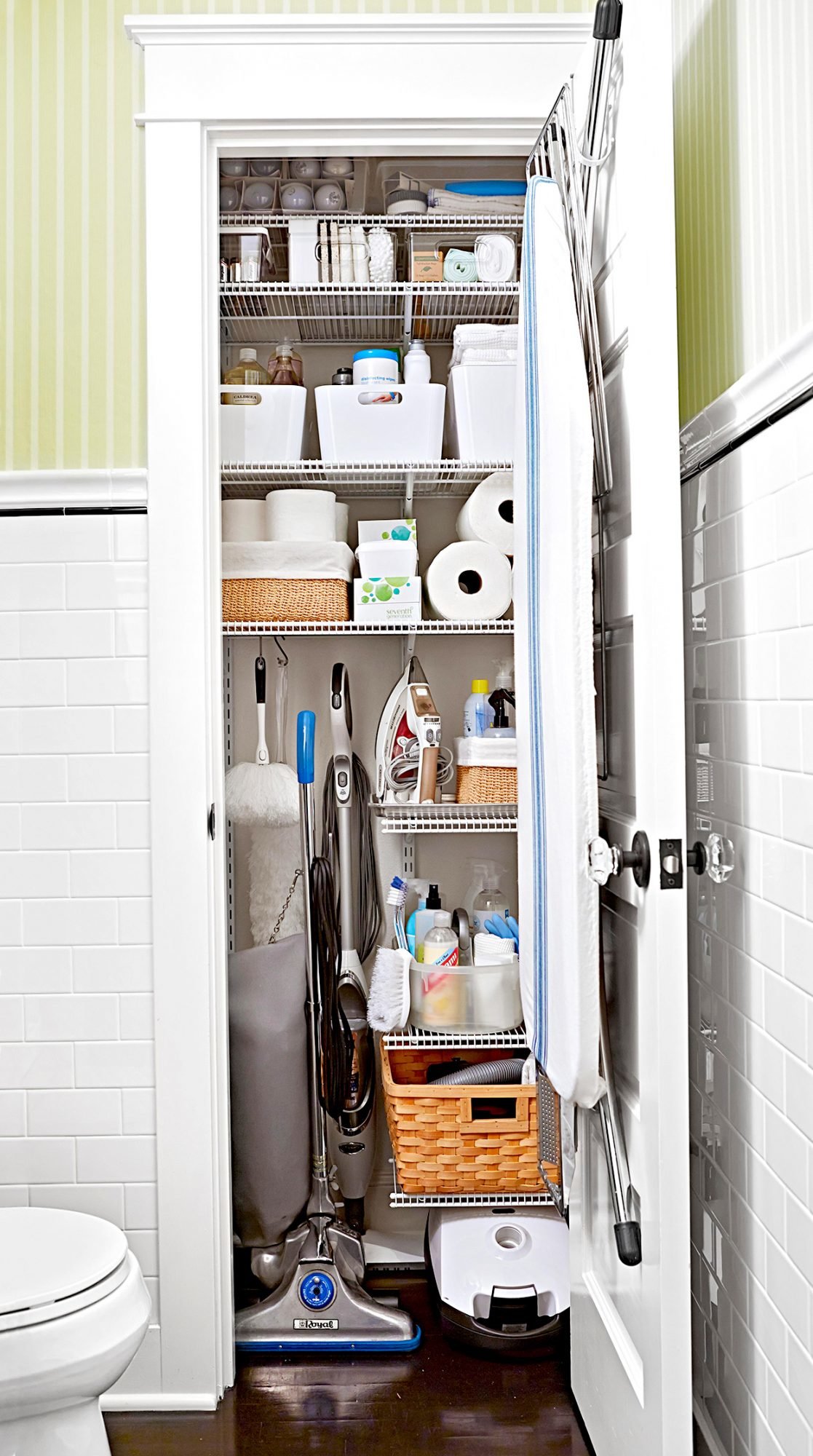 Bathroom Storage Closet

Problem: The bathroom closet is a catch-all for cleaning products, appliances, and extra supplies.

Solution: Create zones for each function, such as consolidating all paper products on one shelf and using another one for laundry and ironing supplies. Use bins to hold smaller items like sponges, brushes, and cleaners. Choose clear containers or open bins with handles so you can easily find and grab what you need.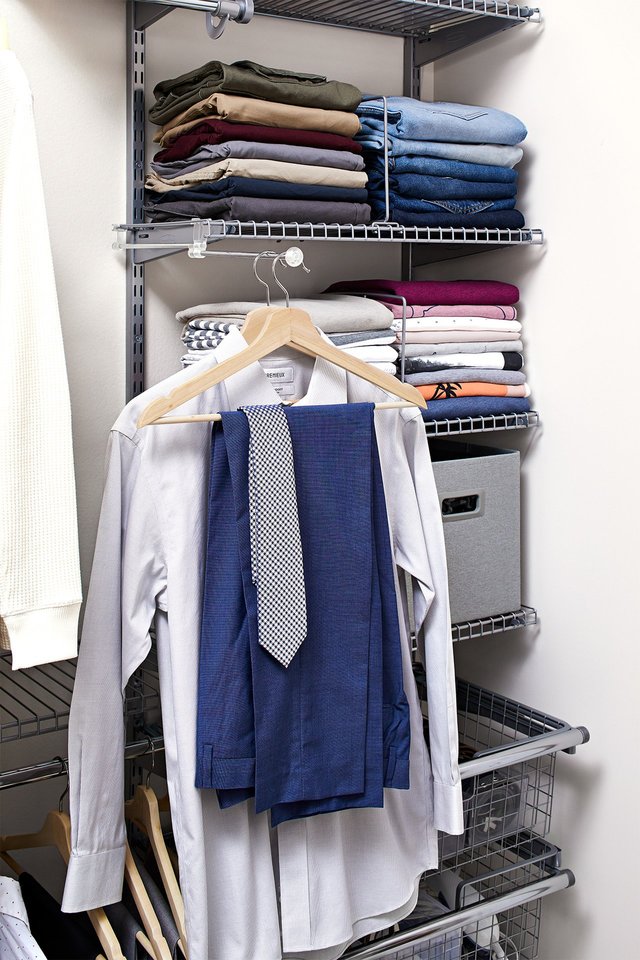 Outfit Planning Station

Problem: You need a place to plan out the next day's outfit.

Solution: Use a valet rod to choose, steam, and hang up tomorrow's clothes the night before. The expandable design lets you tuck it out of the way after you get dressed.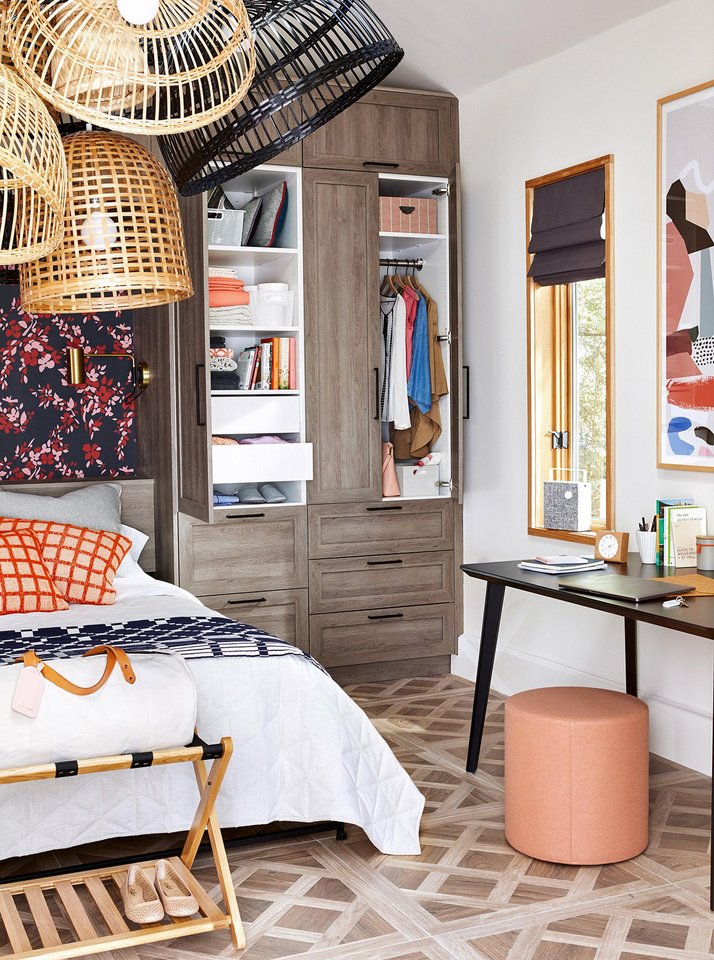 Buildable Closet Solution

Problem: Your small bedroom lacks a proper closet, and a full remodel is out of your budget.

Solution: Create your own custom closet with this bedroom storage idea. Outfit one wall with store-bought storage units that extend nearly floor-to-ceiling to fake a built-in look. Permanently secure the units to the wall for safety, then use the cabinets and drawers as a makeshift closet.